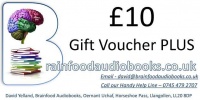 Gift Voucher PLUS 10£10.00
Welcome to the New Brainfood Audiobooks Gift Voucher PLUS! This is a Gift Voucher with a difference.
---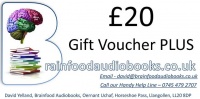 Gift Voucher PLUS 20£20.00
Welcome to the New Brainfood Audiobooks Gift Voucher PLUS! This is a Gift Voucher with a difference.
---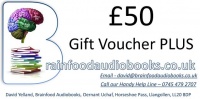 Gift Voucher PLUS 50£50.00
Welcome to the New Brainfood Audiobooks Gift Voucher PLUS!
This is a Gift Voucher with a difference.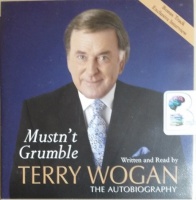 Mustn't Grumble written by Terry Wogan performed by Terry Wogan on CD (Abridged)£4.99
Written in a style familiar to his millions of listeners, rich with warmth and irony, MUSTN'T GRUMBLE is Terry's definitive autobiography. Not only does he introduce the reader to post-Emergency Ireland, his chain-smoking maiden aunts, his quick-witted mother and hard-working father
---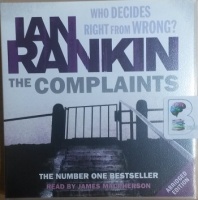 The Complaints written by Ian Rankin performed by James MacPherson on CD (Abridged)£4.99 - £14.99
Nobody likes The Complaints - they're the cops who investigate other cops. Complaints and Conduct Department, to give them their full title, but known colloquially as 'the Dark Side', or simply'The Complaints'. Malcolm Fox works for The Complaints.
---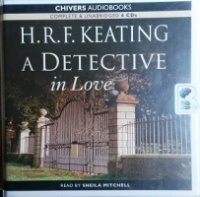 A Detective in Love written by H.R.F. Keating performed by Sheila Mitchell on CD (Unabridged)£9.99 - £29.99
DCI Harriet Martens is nicknamed the Hard Detective. But for Harriet, love proves more dangerous than any of her cases… Britain's number one tennis star, the beautiful Bubbles Xingara, has been murdered in the grounds of her luxurious house.
---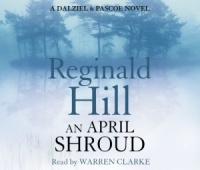 April Shroud written by Reginald Hill performed by Warren Clarke on CD (Abridged)£6.99
Bluff Superintendent Dalziel falls for the recently bereaved Mrs Fielding's ample charms, and has to be rescued from a litter of fresh corpses by Inspector Pascoe.
---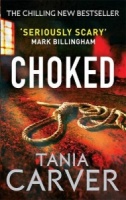 Choked written by Tania Carver performed by Martyn Waites on CD (Abridged)£3.99 - £6.99
'I have something you've lost,' the voice said. 'Your daughter.' He will threaten her. The honeymoon is over for newlywed criminologist Marina Esposito. Her house is in flames. Her cop husband is in a coma. Her baby daughter is missing. And then her phone rings . . .
---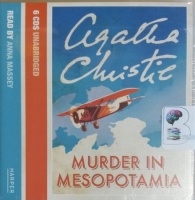 Murder in Mesopotamia written by Agatha Christie performed by Anna Massey on CD (Unabridged)£9.99 - £14.99
Amy Leatheran had never felt the lure of the mysterious East, but when she travels to an ancient site deep in the Iraqi desert to nurse the wife of a celebrated archaeologist, events prove stranger than she could ever have imagined. Her patient's bizarre visions and nervous terror seem unfounded, but as the...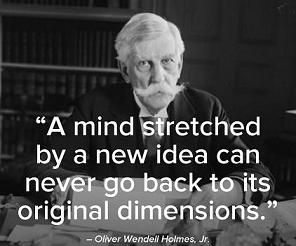 How to Overcome Series Completion Anxiety
or What Next?
For anyone who has been dedicated to the fabulous works of one of our Genius Authors or Genius Performers there is always the looming issue, not so easily deferred, of what to listen to after the final available book has been consumed.
On the first occasion, for myself, this was made slightly more difficult by the underlying fact of the author's demise.
I first came to audiobooks via the radio, which included Shakespeare plays, poetry readings and the fantastically imaginative works of Douglas Adams. Though my first contact with Douglas Adam's work was via the radio performances of The Hitch-Hiker's Guide to the Galaxy, it was the author's own readings of his brilliant comedic prose that started to reveal the potential of this media.
In fact it is the recordings of Douglas Adams' works that bring into sharp relief a central issue when selecting audiobooks. The performance is as defining a factor as the words that constitute the book. In addition it is a rare moment when an author, having trained for many years as a wordsmith, turns her or his hand to performance. No doubt there are great audio performances from some authors, Douglas Adams being an excellent example, but, not surprisingly, the skill of the trained performer shines through and can bring to life a text that might otherwise lay flat on the page. There are many examples of this including Stephen Fry's Harry Potter readings, very much NOT just for children, and one of our favourite performers Tony Britton reading the Dick Francis novels.
One audiobook that stands out both for the quality of it's text and the audio performance is Perfume. This book that won widespread praise when published in 1985, initially in German and then translated into English in 1986, has since been made into a successful feature film. In 1996 it was published by Penguin in audio book form. The extraordinary good fortune of selecting Sean Barrett for this text is to be gleaned by all who take the opportunity to listen to the novel. With a combination of horror and fascination you can find yourself drawn into the nefarious world of scent. There are two desperately sad things about this book. Firstly, it has to end and secondly Patrick Suskind's further novels do not appear to have scaled the same heights as his first. The great positive feeling you may encounter as you finish listening to this work is .... the deep set desire to listen to more Sean Barrett performances. If you choose this path you will not be disappointed!
(UPDATE - We at Brainfood Audiobooks - have just been made aware of a review of Perfume that appeared on the web a few years ago - http://www.rogerebert.com/reviews/perfume-the-story-of-a-murderer-2007 This well respected film reviewer's phrase - "the best audio performance I have ever heard" supports our belief that this book is among the very best of the genre.)
While you take a closer look at Sean Barrett's performances you may wish to benefit from our many years of listening experience and peruse our selection of the best of the best. What we like to call......
The Stamp of Genius
We at Brainfood Audiobooks have been listening to audiobooks for well over 30 years. In our experience the greatest audiobooks are those that we come back to again and again. So, if you're looking for something different or just a view of what we at Brainfood Audiobooks consider to be the very best audiobooks we have ever encountered these are they.
These are audiobooks that break through the barriers of the genre and, through the audio format, show the stamp of genius.
We at Brainfood Audiobooks are constantly listening to a wide variety of titles, on all media types, and it has become clear, over the many years we have been listening, that a few titles stand out as possessing that extraordinary quality - a great story/text, a great performance and wide appeal!
Below we have a selection of these titles - which will, occasionally, grow as we listen to more titles but will definitely reduce as the books are purchased.
If anyone has a suggestion for this list please send us a message via the form on the left of this page.
Fairy Tales written by Terry Jones performed by Bob Hoskins, Helen Mirren, Michael Hordern and Joan Greenwood on CD (Unabridged)£9.99 - £29.99

Terry Jones, Joan Greenwood, Michael Hordern, Bob Hoskins, Helen Mirren and Tim Rice read of a collection of original fairy tales for 8 to 11-year-olds, written by master storyteller Terry Jones, introducing such bizarre creatures as the fly-by-night, the rainbow cat, and the wonderful cake-horse.
---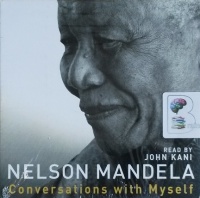 Conversations with Myself written by Nelson Mandela performed by John Kani on CD (Unabridged)£19.99
An unprecedented personal portrait of one of the great leaders of our time, in his own words. Nelson Mandela is one of the most inspiring and iconic figures of our age. Now, after a lifetime of taking pen to paper to record thoughts and events, hardships and victories, he has opened his personal archive, which...
---
---
---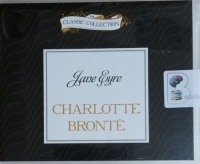 Jane Eyre written by Charlotte Bronte performed by Susan Ericksen on CD (Unabridged)£49.99
Stevie Davies describes Jane Eyre as an "influential feminist text" because of its in depth exploration of a strong female character's feelings. Primarily of the bildungsroman genre, Jane Eyre follows the emotions and experiences of eponymous Jane Eyre, her growth to adulthood, and her love for Mr. Rochester...
---
---
---
---
---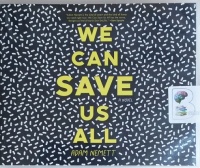 We Can Save Us All written by Adam Nemett performed by Adam Nemett on CD (Unabridged)£29.99
Welcome to The Egg, an off-campus geodesic dome where David Fuffman and his crew of alienated Princeton students train for what might be the end of days: America is in a perpetual state of war, climate disasters create a global state of emergency, and scientists believe time itself may be collapsing.