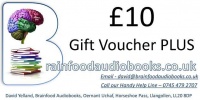 Gift Voucher PLUS 10£10.00
Welcome to the New Brainfood Audiobooks Gift Voucher PLUS! This is a Gift Voucher with a difference.
---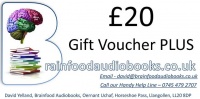 Gift Voucher PLUS 20£20.00
Welcome to the New Brainfood Audiobooks Gift Voucher PLUS! This is a Gift Voucher with a difference.
---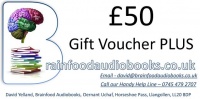 Gift Voucher PLUS 50£50.00
Welcome to the New Brainfood Audiobooks Gift Voucher PLUS!
This is a Gift Voucher with a difference.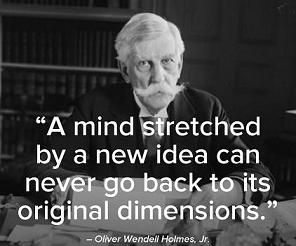 How to Overcome Series Completion Anxiety
or What Next?
For anyone who has been dedicated to the fabulous works of one of our Genius Authors or Genius Performers there is always the looming issue, not so easily deferred, of what to listen to after the final available book has been consumed.
On the first occasion, for myself, this was made slightly more difficult by the underlying fact of the author's demise.
I first came to audiobooks via the radio, which included Shakespeare plays, poetry readings and the fantastically imaginative works of Douglas Adams. Though my first contact with Douglas Adam's work was via the radio performances of The Hitch-Hiker's Guide to the Galaxy, it was the author's own readings of his brilliant comedic prose that started to reveal the potential of this media.
In fact it is the recordings of Douglas Adams' works that bring into sharp relief a central issue when selecting audiobooks. The performance is as defining a factor as the words that constitute the book. In addition it is a rare moment when an author, having trained for many years as a wordsmith, turns her or his hand to performance. No doubt there are great audio performances from some authors, Douglas Adams being an excellent example, but, not surprisingly, the skill of the trained performer shines through and can bring to life a text that might otherwise lay flat on the page. There are many examples of this including Stephen Fry's Harry Potter readings, very much NOT just for children, and one of our favourite performers Tony Britton reading the Dick Francis novels.
One audiobook that stands out both for the quality of it's text and the audio performance is Perfume. This book that won widespread praise when published in 1985, initially in German and then translated into English in 1986, has since been made into a successful feature film. In 1996 it was published by Penguin in audio book form. The extraordinary good fortune of selecting Sean Barrett for this text is to be gleaned by all who take the opportunity to listen to the novel. With a combination of horror and fascination you can find yourself drawn into the nefarious world of scent. There are two desperately sad things about this book. Firstly, it has to end and secondly Patrick Suskind's further novels do not appear to have scaled the same heights as his first. The great positive feeling you may encounter as you finish listening to this work is .... the deep set desire to listen to more Sean Barrett performances. If you choose this path you will not be disappointed!
(UPDATE - We at Brainfood Audiobooks - have just been made aware of a review of Perfume that appeared on the web a few years ago - http://www.rogerebert.com/reviews/perfume-the-story-of-a-murderer-2007 This well respected film reviewer's phrase - "the best audio performance I have ever heard" supports our belief that this book is among the very best of the genre.)
While you take a closer look at Sean Barrett's performances you may wish to benefit from our many years of listening experience and peruse our selection of the best of the best. What we like to call......
The Stamp of Genius
We at Brainfood Audiobooks have been listening to audiobooks for well over 30 years. In our experience the greatest audiobooks are those that we come back to again and again. So, if you're looking for something different or just a view of what we at Brainfood Audiobooks consider to be the very best audiobooks we have ever encountered these are they.
These are audiobooks that break through the barriers of the genre and, through the audio format, show the stamp of genius.
We at Brainfood Audiobooks are constantly listening to a wide variety of titles, on all media types, and it has become clear, over the many years we have been listening, that a few titles stand out as possessing that extraordinary quality - a great story/text, a great performance and wide appeal!
Below we have a selection of these titles - which will, occasionally, grow as we listen to more titles but will definitely reduce as the books are purchased.
If anyone has a suggestion for this list please send us a message via the form on the left of this page.
Fairy Tales written by Terry Jones performed by Bob Hoskins, Helen Mirren, Michael Hordern and Joan Greenwood on CD (Unabridged)£9.99 - £29.99

Terry Jones, Joan Greenwood, Michael Hordern, Bob Hoskins, Helen Mirren and Tim Rice read of a collection of original fairy tales for 8 to 11-year-olds, written by master storyteller Terry Jones, introducing such bizarre creatures as the fly-by-night, the rainbow cat, and the wonderful cake-horse.
---
---
---
---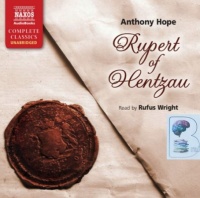 Rupert of Hentzau written by Anthony Hope performed by Rufus Wright on Audio CD (Unabridged)£39.99
Anthony Hope's sequel to The Prisoner of Zenda offers a dramatic and action-packed conclusion to the long-running feud over the Ruriturian throne. The cast of The Prisoner of Zenda returns: the villainous Rupert of Hentzau, the king's look-alike Rudolf Rassendyl and the beautiful Queen Flavia are all entangled in...
---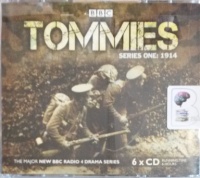 Tommies - Series One: 1914 written by Various Historical Sources performed by Lee Ross, Pippa Nixon, Indira Varma and Alex Wyndham on Audio CD (Unabridged)£14.99
A major new drama series from BBC Radio 4 which follows the lives of those on, and behind, the battlefront of World War One. This first series of six plays is set in 1914 and follows the fortunes of Mickey Bliss (Lee Ross), Horace Greenwood, Maberley Dunster, Walter Oddy and other soldiers in the first few months of the war.
---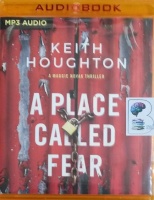 A Place Called Fear written by Keith Houghton performed by Karen Peakes on MP3 CD (Unabridged)£9.99
When cops turn on each other, who can you trust? Florida homicide detective Maggie Novak should be celebrating: it's the start of a new year, and her boyfriend has just proposed. But all she can think about is the alarming news she received earlier that evening - her teammate Detective Clayton Young is...
---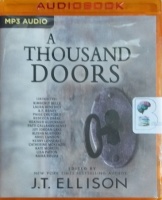 A Thousand Doors written by J.T. Ellison performed by Cassandra Campbell on MP3 CD (Unabridged)£9.99
The day Mia Jensen died, she finally got to live.... What if? We've all played the "what if" game. For Mia Jensen, "what if" is a fact of life. Dissatisfied with her choices, she often dreams about what could have been. Now she has the chance to know. But that knowledge is going to cost her dearly. Only through...
---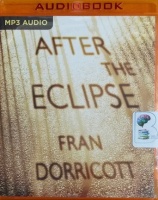 After the Eclipse written by Fran Dorricott performed by Nicola Stephenson and Ainsley Howard on MP3 CD (Unabridged)£14.99
A stunning psychological thriller about loss, sisterhood, and the evil that men do, for readers of Ruth Ware and S.K. Tremeyne Two solar eclipses. Two missing girls. Sixteen years ago a little girl was abducted during the darkness of a solar eclipse while her older sister Cassie was supposed to be watching her.
---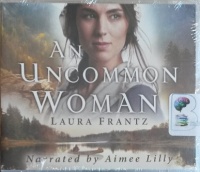 An Uncommon Woman written by Laura Frantz performed by Aimee Lilly on MP3 CD (Unabridged)£9.99
Unflinching and plainspoken, Tessa Swan is not your typical 18th-century woman. Born and bred on the Western Virginia frontier along with her five brothers, she is a force to be reckoned with. Quiet and courageous, Clay Tygart is not your typical 18th-century man. Raised by Lenape Indians, he returns a hero...