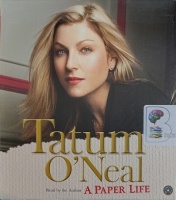 A Paper Life written by Tatum O'Neal performed by Tatum O'Neal on Audio CD (Abridged)£14.99
At age ten, Tatum O'Neal became the youngest Oscar® winner in history for her performance in the film classic Paper Moon. As the sidekick to her father, Ryan O'Neal, she became a fixture at the most glamorous Hollywood parties and counted celebrities among her childhood friends. But behind the glittering...
---
---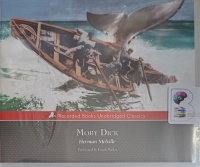 Moby Dick written by Herman Meville performed by Frank Muller on Audio CD (Unabridged)£49.99
Its famous opening line, "Call me Ishmael," dramatic in its stark simplicity, begins an epic that is widely regarded as the greatest novel ever written by an American. Labeled variously a realistic story of whaling, a romance of unusual adventure and eccentric characters, a symbolic allegory, and a drama of...
Welcome to the the Genius Authors
Click on your favourite authors below to see
all of their works we have in stock.
It will show you all the different media formats we have to offer.
Peter Ackroyd

Douglas Adams

Catherine Aird

Margery Allingham

M.C. Beaton

E.F. Benson

Maeve Binchy

Benjamin Black

Lawrence Block

Lilian Jackson Braun

Simon Brett

Bill Bryson

Agatha Christie

Wilkie Collins

Arthur Conan Doyle

Douglas Coupland

Edmund Crispin

Charles Dickens

Daphne Du Maurier

Umberto Eco

Ian Fleming

Dick Francis

Graham Greene

Thomas Hardy

James Herbert

Georgette Heyer

Jack Higgins

Hazel Holt

Christian Jacq

PD James

Daryn Lake

John le Carre

C.S. Lewis

Edward Marston

Alexander

McCall-Smith

A.A. Milne

David Mitchell

Gladys Mitchell

Amy Myers

Valdimir Nabokov

Elizabeth Peters

Ellis Peters

Rosamunde Pilcher

Terry Pratchett

Philip Pullman

Ian Rankin

Ruth Rendell

Candace Robb

JK Rowling

Craig Russell

Dorothy L. Sayers

William Shakespeare

Tom Sharpe

Patrick S

üskind

Donna Tartt

JRR Tolkien

Anthony Trollope

Oscar Wilde

Kerry Wilkinson

P.G. Wodehouse
For any other Authors please use the Search box above
© Sydney Alford / Alamy Stock Photo