Behind The Wall - A Journey Through China written by Colin Thubron performed by Kenneth Haigh on Cassette (Abridged)£39.99
A powerful unforgettable journey through China with one of our greatest travel writers. An achievement of great and lasting brilliance' Patrick Leigh Fermor Having learned Mandarin, and travelling alone by foot, bicycle and train, Colin Thubron set off on a 10,000 mile journey from Beijing to the borders of Burma. He travelled through the wind-swept wastes of the Gobi desert and finished at the far end of the Great Wall. What Thubron reveals is an astonishing diversity...
---
Cents and Sensibility written by Maggie Alderson performed by Nicky Talacko on Audio CD (Unabridged)£19.99
Here's a high-fashion, jet-setting novel from the best-selling author of Pants on Fire and Mad About the Boy. Stella Fain has a rule for men she likes: make them wait. But the gorgeous Jay proves an exception to the rule when he bowls Stella off her Prada wedges at a press junket on the Cote d'Azur. He might seem to have everything going for him, but Stella is about to realize that while jetset lifestyles can be fabulous, her career as a journalist isn't something she wants...
---
The Howards of Caxley written by Mrs Dora Saint as Miss Read performed by June Barrie on Audio CD (Unabridged)£39.99
The attractive town of Caxley became prosperous through its connection with the wool trade, and on market day it is a hive of activity as the townspeople and neighboring villages from Fairacre, Beech Green, and Bent come to shop, chat, and watch the world go by. Families have lived here for generations, but it is the story of the Norths and the Howards in particular that is told in this delightful book. "The Howards of Caxley begins on a fine May morning in the fateful year of...
Welcome to the the Genius Authors
Click on your favourite authors below to see
all of their works we have in stock.
It will show you all the different media formats we have to offer.
Peter Ackroyd

Douglas Adams

Catherine Aird

Margery Allingham

M.C. Beaton

E.F. Benson

Maeve Binchy

Benjamin Black

Lawrence Block

Lilian Jackson Braun

Simon Brett

Bill Bryson

Agatha Christie

Wilkie Collins

Arthur Conan Doyle

Douglas Coupland

Edmund Crispin

Charles Dickens

Daphne Du Maurier

Umberto Eco

Ian Fleming

Dick Francis

Graham Greene

Thomas Hardy

James Herbert

Georgette Heyer

Jack Higgins

Hazel Holt

Christian Jacq

PD James

Daryn Lake

John le Carre

C.S. Lewis

Edward Marston

Alexander

McCall-Smith

A.A. Milne

David Mitchell

Gladys Mitchell

Amy Myers

Valdimir Nabokov

Elizabeth Peters

Ellis Peters

Rosamunde Pilcher

Terry Pratchett

Philip Pullman

Ian Rankin

Ruth Rendell

Candace Robb

JK Rowling

Craig Russell

Dorothy L. Sayers

William Shakespeare

Tom Sharpe

Patrick S

üskind

Donna Tartt

JRR Tolkien

Anthony Trollope

Oscar Wilde

Kerry Wilkinson

P.G. Wodehouse
For any other Authors please use the Search box above
© Sydney Alford / Alamy Stock Photo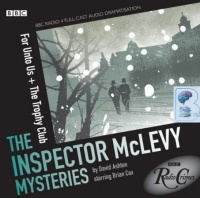 The Inspector McLevy Mysteries - For Unto Us and The Trophy Club written by David Ashton performed by BBC Radio 4 Full-Cast Dramatisation, Brian Cox, Siobhan Redmond and Michael Perceval-Maxwell on CD (Abridged)£4.99
Inspired by the real-life memoirs of a Victorian Inspector in Scotland, James McLevy prowls the dark streets of 1860s Edinburgh bringing criminals to justice, with the assistance of Constable Mulholland.
---
---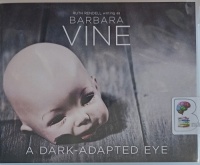 A Dark-Adapted Eye written by Ruth Rendell as Barbara Vine performed by Harriet Walter on Audio CD (Unabridged)£24.99
"A rich, complex and beautifully crafted novel." P. D. James "Compulsively readable a carefully devised plot unfolded with the most cunning art. Wilkie Collins and Dickens would have admired it." Sunday Times Like most families they had their secrets and they hid them under a genteelly respectable veneer. No onlooker would guess that prim Vera Hillyard and her beautiful, adored younger sister, Eden, were locked in a dark...
---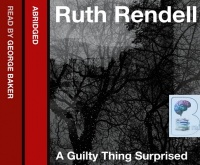 A Guilty Thing Surprised written by Ruth Rendell performed by George Baker on Audio CD (Abridged)£9.99 - £12.99
By the writer of the Wexford novels and read by George Baker
Someone must have had good reason to murder Mrs Elizabeth Nightingale on a dark September night. And as Detective Chief Inspector Wexford investigates, he discovers sinister undercurrents and dramatic secrets beneath the placid surface of the Nightingales' lives…