Welcome to Brainfood Audiobooks

Dominion - The History of England from The Battle of Waterloo to Victoria's Diamond Jubilee written by Peter Ackroyd performed by Derek Perkins on CD (Unabridged)£29.99

Dominion, the fifth volume in Peter Ackroyd's masterful History of England, begins in 1815 as national glory following the Battle of Waterloo gives way to a post-war depression and ends with the death of Queen Victoria in January 1901. Spanning the end of the Regency, Ackroyd takes listeners from the ..

Empress - The Astonishing Reign of Nur Jahan written by Ruby Lal performed by Suzanne Toren on CD (Unabridged)£24.99

In 1611, thirty-four-year-old Nur Jahan, daughter of a Persian noble and widow of a subversive official, became the twentieth and favorite wife of the Emperor Jahangir, who ruled the vast Mughal Empire. An astute politician as well as a devoted partner, she issued imperial orders; coins of the realm bore her name.

Mrs Pringle written by Miss Read performed by Gwen Watford on Cassette (Unabridged)£19.99

Mrs Pringle, the lugubrious school cleaner, has always been a favourite character in the Fairacre series. Here we trace Maud Pringle's life from childhood visits to the village from her Caxley home, through her working days before her marriage to Fred Pringle, and on to her long association with Fariacre School, and we meet again many old friends as they cross Mrs
The Genius Authors
Peter Ackroyd

Douglas Adams

Catherine Aird

Margery Allingham

M.C. Beaton

E.F. Benson

Maeve Binchy

Benjamin Black

Lawrence Block

Lilian Jackson Braun

Simon Brett

Bill Bryson

Agatha Christie

Wilkie Collins

Arthur Conan Doyle

Catherine Cookson

Douglas Coupland

Edmund Crispin

Charles Dickens

Daphne Du Maurier

Umberto Eco

Ian Fleming

Dick Francis

Graham Greene

Thomas Hardy

James Herbert

Georgette Heyer

Jack Higgins

Hazel Holt

Tom Holt

Christian Jacq

PD James

Daryn Lake

John le Carre

C.S. Lewis

Edward Marston

Alexander McCall-Smith

A.A. Milne

David Mitchell

Gladys Mitchell

Amy Myers

Valdimir Nabokov

Elizabeth Peters

Ellis Peters

Rosamunde Pilcher

Terry Pratchett

Philip Pullman

Ian Rankin

Miss Read

(Mrs Dora Saint)

Ruth Rendell

Candace Robb

JK Rowling

Craig Russell

Dorothy L. Sayers

William Shakespeare

Tom Sharpe

Mary Stewart

Patrick S

üskind

Donna Tartt

Dylan Thomas

JRR Tolkien

Anthony Trollope

Oscar Wilde

Kerry Wilkinson

P.G. Wodehouse
For any other Authors please use the Search box above
© Sydney Alford / Alamy Stock Photo

The Genius Performers
Click on your favourite Performers below to see
all of their works we have available.
It will show you all media formats we have to offer.
Douglas Adams

Adjoa Andoh

Nigel Anthony

George Baker

Sean Barrett

Alan Bennett

Kate Binchy

Dirk Bogarde

Samantha Bond

Kenneth Branagh

Tony Britton

Richard Burton

Simon Callow

Ian Carmichael

Benedict Cumberbatch

Emilia Fox

Philip Franks

Hugh Fraser

Stephen Fry

John Gielgud

Jeff Harding

Robert Hardy

Dick Hill

Patricia Hodge

Ian Holm

Michael Hordern

Derek Jacobi

Martin Jarvis

Michael Jayston

Alex Jennings

Penelope Keith

Lorelei King

Christopher Lane

Anton Lesser

Joanna Lumley

Clive Mantle

Anna Massey

Ian McKellen

Clive Merrison

Steven Pacey

Edward Petherbridge

Tim Piggot-Smith

Robert Powell

Griff Rhys Jones

Ralph Richardson

David Rintoul

Tony Robinson

Christian Rodska

Andrew Sachs

Prunella Scales

Paul Scofield

Martin Shaw

Robert Stephens

Juliet Stevenson

David Suchet

David Tennant

Stephen Thorne

Jam

es Warwick

Samuel West

Timothy West
© Sydney Alford / Alamy Stock Photo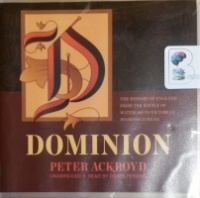 Dominion - The History of England from The Battle of Waterloo to Victoria's Diamond Jubilee written by Peter Ackroyd performed by Derek Perkins on CD (Unabridged)£29.99
Dominion, the fifth volume in Peter Ackroyd's masterful History of England, begins in 1815 as national glory following the Battle of Waterloo gives way to a post-war depression and ends with the death of Queen Victoria in January 1901. Spanning the end of the Regency, Ackroyd takes listeners from the ..
---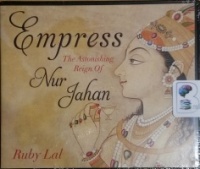 Empress - The Astonishing Reign of Nur Jahan written by Ruby Lal performed by Suzanne Toren on CD (Unabridged)£24.99
In 1611, thirty-four-year-old Nur Jahan, daughter of a Persian noble and widow of a subversive official, became the twentieth and favorite wife of the Emperor Jahangir, who ruled the vast Mughal Empire. An astute politician as well as a devoted partner, she issued imperial orders; coins of the realm bore her name.
---
---
Mrs Pringle written by Miss Read performed by Gwen Watford on Cassette (Unabridged)£19.99
Mrs Pringle, the lugubrious school cleaner, has always been a favourite character in the Fairacre series. Here we trace Maud Pringle's life from childhood visits to the village from her Caxley home, through her working days before her marriage to Fred Pringle, and on to her long association with Fariacre School, and we meet again many old friends as they cross Mrs
---
---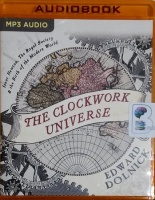 The Clockwork Universe - Isaac Newton, The Royal Society and the Birth of the Modern World written by Edward Dolnick performed by Alan Sklar on MP3 CD (Unabridged)£24.99
The Clockwork Universe is the story of a band of men who lived in a world of dirt and disease but pictured a universe that ran like a perfect machine. A meld of history and science, this book is a group portrait of some of the greatest minds who ever lived as they wrestled with natures most sweeping mysteries....
---
---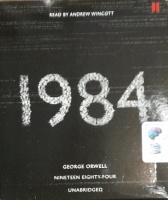 1984 written by George Orwell performed by Andrew Wincott on CD (Unabridged)£19.99
BIG BROTHER IS WATCHING YOU . . . 1984 is the year in which it happens. The world is divided into three superstates. In Oceania, the Party's power is absolute. Every action, word, gesture and thought is monitored under the watchful eye of Big Brother and the Thought Police. In the Ministry of Truth...
---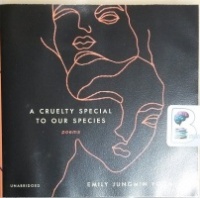 A Cruelty Special to Our Species written by Emily Jungmin Yoon performed by Emily Jungmin Yoon on CD (Unabridged)£14.99
A piercing debut collection of poems exploring gender, race, and violence from a sensational new talent. In her arresting collection, urgently relevant for our times, poet Emily Jungmin Yoon confronts the histories of sexual violence against women, focusing in particular on Korean so-called "comfort women,"