The Genius Performers
Click on your favourite Performers below to see
all of their works we have available.
It will show you all media formats we have to offer.
Douglas Adams

Adjoa Andoh

Nigel Anthony

George Baker

Sean Barrett

Alan Bennett

Kate Binchy

Dirk Bogarde

Samantha Bond

Kenneth Branagh

Tony Britton

Richard Burton

Simon Callow

Ian Carmichael

Benedict Cumberbatch

Emilia Fox

Philip Franks

Hugh Fraser

Stephen Fry

John Gielgud

Jeff Harding

Robert Hardy

Dick Hill

Patricia Hodge

Ian Holm

Michael Hordern

Derek Jacobi

Martin Jarvis

Michael Jayston

Alex Jennings

Penelope Keith

Lorelei King

Christopher Lane

Anton Lesser

Joanna Lumley

Clive Mantle

Anna Massey

Ian McKellen

Clive Merrison

Steven Pacey

Edward Petherbridge

Tim Piggot-Smith

Robert Powell

Griff Rhys Jones

Ralph Richardson

David Rintoul

Tony Robinson

Christian Rodska

Andrew Sachs

Prunella Scales

Paul Scofield

Martin Shaw

Robert Stephens

Juliet Stevenson

David Suchet

David Tennant

Stephen Thorne

Jam

es Warwick

Samuel West

Timothy West
© Sydney Alford / Alamy Stock Photo
Welcome to the the Genius Authors
Peter Ackroyd

Douglas Adams

Catherine Aird

Margery Allingham

M.C. Beaton

E.F. Benson

Maeve Binchy

Benjamin Black

Lawrence Block

Lilian Jackson Braun

Simon Brett

Bill Bryson

Agatha Christie

Wilkie Collins

Arthur Conan Doyle

Catherine Cookson

Douglas Coupland

Edmund Crispin

Charles Dickens

Daphne Du Maurier

Umberto Eco

Ian Fleming

Dick Francis

Graham Greene

Thomas Hardy

James Herbert

Georgette Heyer

Jack Higgins

Hazel Holt

Tom Holt

Christian Jacq

PD James

Daryn Lake

John le Carre

C.S. Lewis

Edward Marston

Alexander McCall-Smith

A.A. Milne

David Mitchell

Gladys Mitchell

Amy Myers

Valdimir Nabokov

Elizabeth Peters

Ellis Peters

Rosamunde Pilcher

Terry Pratchett

Philip Pullman

Ian Rankin

Miss Read

(Mrs Dora Saint)

Ruth Rendell

Candace Robb

JK Rowling

Craig Russell

Dorothy L. Sayers

William Shakespeare

Tom Sharpe

Mary Stewart

Patrick S

üskind

Donna Tartt

Dylan Thomas

JRR Tolkien

Anthony Trollope

Oscar Wilde

Kerry Wilkinson

P.G. Wodehouse
For any other Authors please use the Search box above
© Sydney Alford / Alamy Stock Photo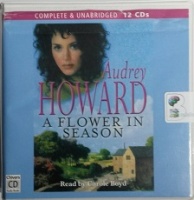 A Flower in Season written by Audrey Howard performed by Carole Boyd on CD (Unabridged)£14.99
Briony Marsden has led a hard life, forced to do the work of a grown man while enduring her drunkard father's taunts and blows. But when he goes too far one day, her fate becomes even worse as she makes her way alone in a heartless world.
---
---
---
---
---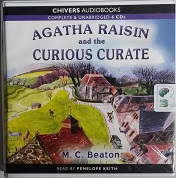 Agatha Raisin and the Curious Curate written by M.C. Beaton performed by Penelope Keith on CD (Unabridged)£39.99
The third volume of the M.C. Beaton mystery series, starring Penelope Keith. When the village curate is found murdered, retired PR guru Agatha Raisin vows to bring his killer to justice, particularly if the investigation also brings her closer to her handsome next-door neighbour, Colonel Lacey.
---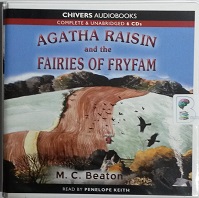 Agatha Raisin and the Fairies of Fryfam written by M.C. Beaton performed by Penelope Keith on CD (Unabridged)£24.99
Feeling jilted and cross, Agatha follows a fortune-teller's advice and rents a cottage in the pretty village of Fryfam, where she hopes good fortune and true love will come chasing after her for a change. Unfortunately, her romantic notions are soon dispelled by the strange goings-on in the village.
---
---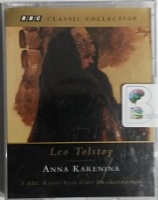 Anna Karenina written by Leo Tolstoy performed by Teresa Gallagher, Toby Stephens, Nicholas Farrell and Stephen Thorne on Cassette (Abridged)£9.99
A dramatization of Tolstoy's great novel set among the highest circles of 19th-century Russian society. After ten empty years of marriage to a pompous bureaucrat, Anna leads a life of meaningless sophistication. When she meets a dynamic and arrogant young officer, her world is turned upside down.