Welcome to Brainfood Audiobooks

The Genius Authors
Peter Ackroyd

Douglas Adams

Catherine Aird

Margery Allingham

M.C. Beaton

E.F. Benson

Maeve Binchy

Benjamin Black

Lawrence Block

Lilian Jackson Braun

Simon Brett

Bill Bryson

Agatha Christie

Wilkie Collins

Arthur Conan Doyle

Catherine Cookson

Douglas Coupland

Edmund Crispin

Charles Dickens

Daphne Du Maurier

Umberto Eco

Ian Fleming

Dick Francis

Graham Greene

Thomas Hardy

James Herbert

Georgette Heyer

Jack Higgins

Hazel Holt

Tom Holt

Christian Jacq

PD James

Daryn Lake

John le Carre

C.S. Lewis

Edward Marston

Alexander McCall-Smith

A.A. Milne

David Mitchell

Gladys Mitchell

Amy Myers

Valdimir Nabokov

Elizabeth Peters

Ellis Peters

Rosamunde Pilcher

Terry Pratchett

Philip Pullman

Ian Rankin

Miss Read

(Mrs Dora Saint)

Ruth Rendell

Candace Robb

JK Rowling

Craig Russell

Dorothy L. Sayers

William Shakespeare

Tom Sharpe

Mary Stewart

Patrick S

üskind

Donna Tartt

Dylan Thomas

JRR Tolkien

Anthony Trollope

Oscar Wilde

Kerry Wilkinson

P.G. Wodehouse
For any other Authors please use the Search box above
© Sydney Alford / Alamy Stock Photo
The Genius Performers
Click on your favourite Performers below to see
all of their works we have available.
It will show you all media formats we have to offer.
Douglas Adams

Adjoa Andoh

Nigel Anthony

George Baker

Sean Barrett

Alan Bennett

Kate Binchy

Dirk Bogarde

Samantha Bond

Kenneth Branagh

Tony Britton

Richard Burton

Simon Callow

Ian Carmichael

Benedict Cumberbatch

Emilia Fox

Philip Franks

Hugh Fraser

Stephen Fry

John Gielgud

Jeff Harding

Robert Hardy

Dick Hill

Patricia Hodge

Ian Holm

Michael Hordern

Derek Jacobi

Martin Jarvis

Michael Jayston

Alex Jennings

Penelope Keith

Lorelei King

Christopher Lane

Anton Lesser

Joanna Lumley

Clive Mantle

Anna Massey

Ian McKellen

Clive Merrison

Steven Pacey

Edward Petherbridge

Tim Piggot-Smith

Robert Powell

Griff Rhys Jones

Ralph Richardson

David Rintoul

Tony Robinson

Christian Rodska

Andrew Sachs

Prunella Scales

Paul Scofield

Martin Shaw

Robert Stephens

Juliet Stevenson

David Suchet

David Tennant

Stephen Thorne

Jam

es Warwick

Samuel West

Timothy West
© Sydney Alford / Alamy Stock Photo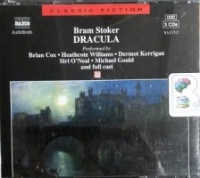 Dracula written by Bran Stoker performed by Brian Cox, Heathcote Williams, Dermot Kerrigan and Full Cast on CD (Abridged)£14.99
"Dracula" is an 1897 Gothic horror novel by Irish author Bram Stoker. Famous for introducing the character of the vampire Count Dracula, the novel tells the story of Dracula's attempt to move from Transylvania to England so he may find new blood and spread undead curse, and the battle between...
---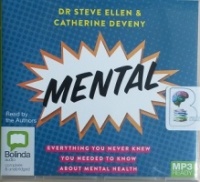 Mental - Everything you Never Knew, you needed to know, about Mental Health written by Dr Steve Ellen and Catherine Deveny performed by Dr Steve Ellen and Catherne Deveny on MP3 CD (Unabridged)£19.99
Psychiatrist Dr Steve Ellen and comedian Catherine Deveny combine forces to demystify the world of mental health. Providing an insider perspective, they share their personal experiences of mental illness and unpack the current knowledge about conditions and treatments. What do we know?
---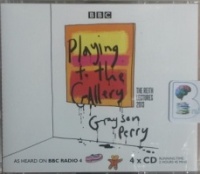 Playing to the Gallery - The Reith Lectures 2013 written by Grayson Perry performed by Grayson Perry on CD (Abridged)£19.99
Turner Prize-winning artist Grayson Perry gives the 2013 Reith Lectures, presented by Sue Lawley. Marcel Duchamp famously declared that a urinal was a work of art. It sometimes seems that anything qualifies, from a pile of sweets on a gallery floor to an Oscar-winning actress asleep in a box.
---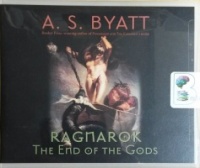 Ragnarok - The End of the Gods written by A.S. Byatt performed by Harriet Walter on CD (Unabridged)£19.99
"Ragnarok" retells the finale of Norse mythology. A story of the destruction of life on this planet and the end of the gods themselves. Just as Wagner used this dramatic and catastrophic struggle for the climax of his Ring Cycle, so A.S. Byatt now reinvents it in all its intensity and glory.
---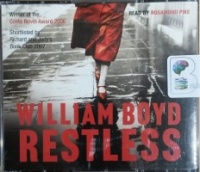 Restless written by William Boyd performed by Rosamund Pike on CD (Abridged)£9.99
Eva Delectorskaya,' I said mystified. ' Who's that?' 'Me,' she said. 'I am Eva Delectorskaya.' What happens to your life when everything you thought you knew about your mother turns out to be an elaborate lie? During the long, hot summer of 1976, Ruth Gilmartin discovers that her very English mother...
---
---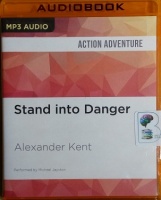 Stand into Danger written by Alexander Kent performed by Michael Jayston on MP3 CD (Unabridged)£19.99
Despatched on a secret mission, the company of a 28-gun frigate must face the hazards of conspiracy, treason, and piracy. And recently appointed third lieutenant Richard Bolitho must learn to accept his new responsibilities as a King's officer.
---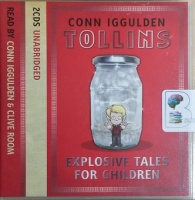 Tollins - Explosive Tales for Children written by Conn Iggulden performed by Conn Iggulden and Clive Room on CD (Unabridged)£9.99
"Tollins are not fairies. Though they both have wings, fairies are delicate creatures and much smaller. Tollins are also a lot less fragile than fairies. In fact, the word 'fragile' can't really be used about them at all. They are about as fragile as a housebrick..." In these three tales, Conn Iggulden introduces...
---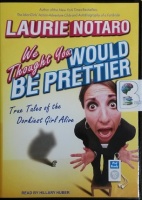 We Thought You Would be Prettier - True Tales of the Dorkiest Girl Alive written by Laurie Notaro performed by Hillary Huber on MP3 CD (Unabridged)£19.99
She thought she'd have more time. Laurie Notaro figured she had at least a few good years yet. But no-it's happened. She has officially lost her marbles. From the kid at the pet-food store checkout line whose coif is so bizarre it makes her seethe "I'm going to kick his hair's ass" to the hapless Sears...