Time to Celebrate Ellis Peters
and her creation
Brother Cadfael!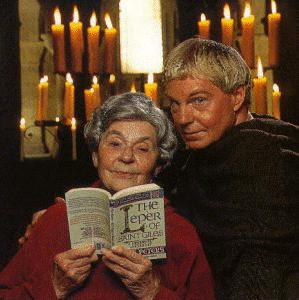 The World's Best Historical Mystery Fiction
UPDATED Breaking News - August 8th 2017 See Below*
I need to start this piece on Ellis Peters with a brief explanation that my knowledge of this wonderful author has come mostly from the brilliant performances of Derek Jacobi, in both the TV series and the abridged performances, and also from Stephen Thorne's perfect unabridged narrations.
That having been said, my task is more to give you the tools to seek out the excellent entertainment that these titles offer rather than to in any way outline matters of biographical interest. So I will restrict myself to just a few words and leave the rest to the experts.
A Very Brief Overview of Her Life
Ellis Peters is the nom de plume of Edith Pargeter. Her literary works span quite a range from Czech translation, through straight history to her best known works - The Chronicles of Cadfael.
For a wonderful short biography on this fascinating writer you can do no better than popping over to the well researched piece done by Paul Wolfe with his biography-of-edith-pargeter
The Cadfael books in Order
There are a total of 21 books in the Cadfael series, most of which we have in stock at any one time. I should mention that these books are getting much harder to source, due to the reason outlined below, and have, rather like the Dorothy L Sayers/Ian Carmichael and PD James/Michael Jayston productions, been cut by Audible (the audiobook download giant).
Major Changes Are Happening
If you have already seen my piece on Dorothy L Sayers then I have only one thing to say.
Ditto.
Now I suggest you get hold of these books as quickly as possible because the clock is ticking.
I can now assume that you have not read my piece on Dorothy L Sayers and so this might well be news to you.
Before I go any further I think it only fair that I cast light on a change that has occurred in the world of downloadable audiobooks. Even though this does not directly effect the world of physical (real) audiobooks it's consequences have already been felt.
As you may well know Amazon/Audible (Audible is a wholly owned subsidiary of Amazon) are the largest audio bookshop in the world. What you may not know is that they adjust their offerings on a regular basis. An example of this is that they have, over the last few years, removed almost all the Stephen Thorne Unabridged performances. They have replaced these brilliant recordings with readings performed by a creditable actress but, as many of the reviews on Audible suggest, these productions are rather disappointing.
As I write, 1st June 2017, only 3 of the Stephen Thorne performances are still available in the UK. What this means is that these recordings are very likely to become exceptionally rare/expensive. Currently we are having to look much further afield in order to find these brilliant productions.
UPDATED with Breaking News - August 8th 2017*
The position with Audible has changed again. Previously they were offering a total of 17 different unabridged recordings of the Cadfael series. Three of these were the Stephen Thorne performances and the rest were by the actress mentioned above.
The position has changed significantly in the last few weeks with the total recordings being reduced to 7. The three Stephen Thorne works are still available but the remainder have been cut from 14 titles to just 4. At the same time my readers will find it no surprise that the cost of unabridged readings has continued to rise. We have kept the price rises to an absolute minimum but our prices do have to reflect the restocking cost of items as they sell. If any Customers have an interest in purchasing any of the Ellis Peters books we have in stock I must recommend that they do so as quickly as possible.
___________________________________________________________________________
I have laid out the different offerings and formats we have to offer below.
Due to the nature of our business the stock levels of the titles below will change. If you wish to be notified of any new titles that may be coming into stock or if you are looking for a particular title, do not hesitate to contact us at david@brainfoodaudiobooks.co.uk
BBC Dramatizations
| | |
| --- | --- |
| Audio CD | Audio Cassette |
| | |
Click on the appropriate image to reveal our current stock
Abridged Performances
| | |
| --- | --- |
| Audio Cassette | Audio CD |
| | |
Click on the appropriate image to reveal our current stock
Unabridged Performances
Audio Cassette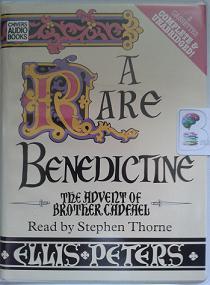 Click on the image above to reveal our current stock