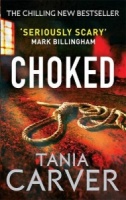 Choked written by Tania Carver performed by Martyn Waites on CD (Abridged)£4.99 - £9.99
'I have something you've lost,' the voice said. 'Your daughter.' He will threaten her. The honeymoon is over for newlywed criminologist Marina Esposito. Her house is in flames. Her cop husband is in a coma. Her baby daughter is missing. And then her phone rings . . .
---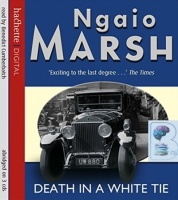 Death in a White Tie written by Ngaio Marsh performed by Benedict Cumberbatch on CD (Abridged)£14.99
A Benedict Cumberbatch Genius Performance!
The season had begun. Débutantes and chaperones were planning their luncheons, teas, dinners, balls. And the blackmailer was planning his strategies, stalking his next victim.
---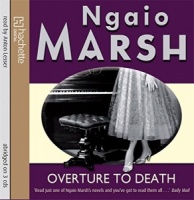 Overture to Death written by Ngaio Marsh performed by Anton Lesser on CD (Abridged)£7.99 - £8.99
A Genius Performance by Anton Lesser!
Inspector Alleyn gets involved when the piano, played by the victim, Miss Campanula, appears to trigger the murdering shot. It was supposed to accompany a play in aid of the piano fund but it has ended with murder. But who loaded the gun and how can Alleyn find him out?
---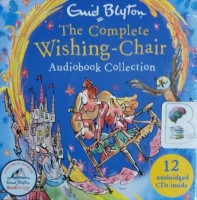 The Complete Wishing-Chair Collection written by Enid Blyton performed by Sarah Ovens on CD (Unabridged)£39.99
Mollie and Peter come across a chair that can fly and grant wishes while out looking for their mother's birthday present and it's not long until they are whisked away to faraway lands and meeting pixies and even Santa Claus!
---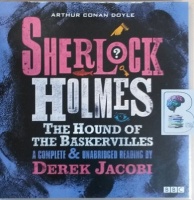 The Hound of the Baskervilles written by Arthur Conan Doyle performed by Derek Jacobi on CD (Unabridged)£19.99 - £24.99
When a country doctor comes to Sherlock Holmes with a far-fetched tale of a sudden death, a devil dog and an ancient curse, Holmes is sceptical. Could the demise of Sir Charles Baskerville really have been caused by the gigantic ghostly hound which is said to have haunted his family for generations?
---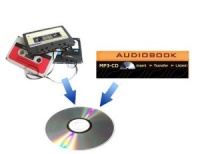 3 Hour Fixed Price Audio Transfer£15.00
This is the fixed price £15 item to be used when ordering conversion of a sub 3 hour Audio Cassette or MP3 CD title.
---
The Stamp of Genius
We at Brainfood Audiobooks have been listening to audiobooks for well over 30 years. In our experience the greatest audiobooks are those that we come back to again and again. So, if you're looking for something different or just a view of what we at Brainfood Audiobooks consider to be the very best audiobooks we have ever encountered these are they.
These are audiobooks that break through the barriers of the genre and, through the audio format, show the stamp of genius.
We at Brainfood Audiobooks are constantly listening to a wide variety of titles, on all media types, and it has become clear, over the many years we have been listening, that a few titles stand out as possessing that extraordinary quality - a great story/text, a great performance and wide appeal!
Below we have a selection of these titles - which will, occasionally, grow as we listen to more titles but will definitely reduce as the books are purchased.
If anyone has a suggestion for this list please send us a message via the form on the left of this page.
Fairy Tales written by Terry Jones performed by Bob Hoskins, Helen Mirren, Michael Hordern and Joan Greenwood on CD (Unabridged)£9.99 - £29.99

Terry Jones, Joan Greenwood, Michael Hordern, Bob Hoskins, Helen Mirren and Tim Rice read of a collection of original fairy tales for 8 to 11-year-olds, written by master storyteller Terry Jones, introducing such bizarre creatures as the fly-by-night, the rainbow cat, and the wonderful cake-horse.
Great New Titles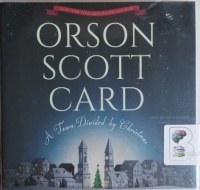 A Town Divided by Christmas written by Orson Scott Card performed by Emily Rankin on CD (Unabridged)£19.99
It began with a quarrel over which newborn should be the baby Jesus in the town's Christmas pageant. Decades later, two scientists arrive to study small-town genetic patterns, only to run up against the invisible walls that split the leading citizens into two congregations that can only be joined by love and...
---
---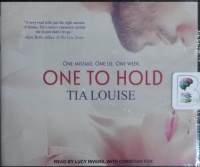 One to Hold written by Tia Louise performed by Lucy Rivers and Christian Fox on CD (Unabridged)£24.99
Derek Alexander is a retired Marine, ex-cop, and the top investigator in his field. Melissa Jones is a small-town girl trying to escape her troubled past. When the two intersect in a bar in Arizona, their sexual chemistry is off the charts. But what is revealed during their "one week stand" only complicates matters...
---
---
---
Timeless written by R.A. Salvatore performed by Victor Bavine on CD (Unabridged)£29.99
At long last, New York Times bestselling author R. A. Salvatore returns with one of fantasy's most beloved and enduring icons, the dark elf Drizzt Do'Urden, in an all-new trilogy full of swordplay, danger, and imaginative thrills. Centuries ago, in the city of Menzoberranzan, the City of Spiders, the city of drow, nestled...
---
---
---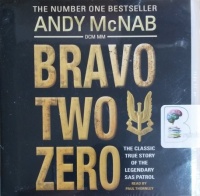 Bravo Two Zero - The Classic True Story of the Legendary SAS Patrol written by Andy McNab performed by Paul Thornley on CD (Unabridged)£19.99
January 1991. IRAQ. Eight members of the SAS regiment embark upon a top secret mission to infiltrate deep behind enemy lines. Under the command of Sergeant Andy McNab, they are to sever a vital underground communication link and to seek and destroy mobile Scud launchers. Their call sign: BRAVO...