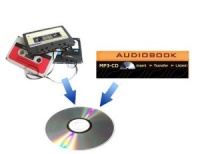 Large Fixed Price Audio Transfer Service£45.00
This is the fixed price £45.00 item to be used when ordering conversion of a 6-9 hour Audio Cassette or MP3 CD title.
---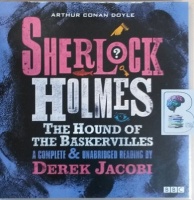 The Hound of the Baskervilles written by Arthur Conan Doyle performed by Derek Jacobi on CD (Unabridged)£24.99 - £39.99
When a country doctor comes to Sherlock Holmes with a far-fetched tale of a sudden death, a devil dog and an ancient curse, Holmes is sceptical. Could the demise of Sir Charles Baskerville really have been caused by the gigantic ghostly hound which is said to have haunted his family for generations?
---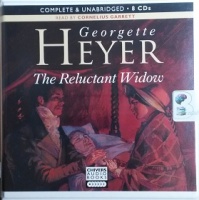 The Reluctant Widow written by Georgette Heyer performed by Cornelius Garrett on CD (Unabridged)£44.99
Penniless Elinor is rather surprised at the carriage that meets her from the stage, and more so at the decayed grandeur of the house to which she's transported. Realising that there has been a case of mistaken identity she agrees to an audacious plan.
---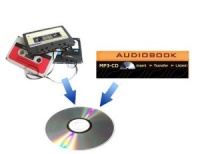 3 Hour Fixed Price Audio Transfer£20.00
This is the fixed price £20 item to be used when ordering conversion of a sub 3 hour Audio Cassette or MP3 CD title.
---
---
---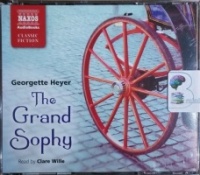 The Grand Sophy written by Georgette Heyer performed by Clare Wille on CD (Abridged)£39.99
Resourceful, adventurous and utterly indefatigable, Sophy is hardly the mild-mannered girl that the Rivenhalls expect when they agree to take her in. Kind-hearted Aunt Lizzy is shocked; stern Cousin Charles and his humourless fiancée Eugenia are disapproving.
The Stamp of Genius
We at Brainfood Audiobooks have been listening to audiobooks for well over 30 years. In our experience the greatest audiobooks are those that we come back to again and again. So, if you're looking for something different or just a view of what we at Brainfood Audiobooks consider to be the very best audiobooks we have ever encountered these are they.
These are audiobooks that break through the barriers of the genre and, through the audio format, show the stamp of genius.
We at Brainfood Audiobooks are constantly listening to a wide variety of titles, on all media types, and it has become clear, over the many years we have been listening, that a few titles stand out as possessing that extraordinary quality - a great story/text, a great performance and wide appeal!
Below we have a selection of these titles - which will, occasionally, grow as we listen to more titles but will definitely reduce as the books are purchased.
If anyone has a suggestion for this list please send us a message via the form on the left of this page.
Fairy Tales written by Terry Jones performed by Bob Hoskins, Helen Mirren, Michael Hordern and Joan Greenwood on CD (Unabridged)£9.99 - £29.99

Terry Jones, Joan Greenwood, Michael Hordern, Bob Hoskins, Helen Mirren and Tim Rice read of a collection of original fairy tales for 8 to 11-year-olds, written by master storyteller Terry Jones, introducing such bizarre creatures as the fly-by-night, the rainbow cat, and the wonderful cake-horse.
Great New Titles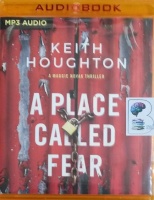 A Place Called Fear written by Keith Houghton performed by Karen Peakes on MP3 CD (Unabridged)£9.99
When cops turn on each other, who can you trust? Florida homicide detective Maggie Novak should be celebrating: it's the start of a new year, and her boyfriend has just proposed. But all she can think about is the alarming news she received earlier that evening - her teammate Detective Clayton Young is...
---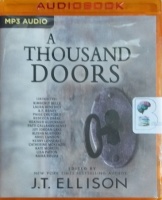 A Thousand Doors written by J.T. Ellison performed by Cassandra Campbell on MP3 CD (Unabridged)£9.99
The day Mia Jensen died, she finally got to live.... What if? We've all played the "what if" game. For Mia Jensen, "what if" is a fact of life. Dissatisfied with her choices, she often dreams about what could have been. Now she has the chance to know. But that knowledge is going to cost her dearly. Only through...
---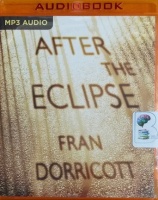 After the Eclipse written by Fran Dorricott performed by Nicola Stephenson and Ainsley Howard on MP3 CD (Unabridged)£14.99
A stunning psychological thriller about loss, sisterhood, and the evil that men do, for readers of Ruth Ware and S.K. Tremeyne Two solar eclipses. Two missing girls. Sixteen years ago a little girl was abducted during the darkness of a solar eclipse while her older sister Cassie was supposed to be watching her.
---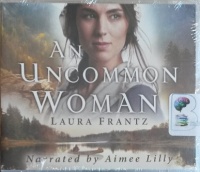 An Uncommon Woman written by Laura Frantz performed by Aimee Lilly on MP3 CD (Unabridged)£9.99
Unflinching and plainspoken, Tessa Swan is not your typical 18th-century woman. Born and bred on the Western Virginia frontier along with her five brothers, she is a force to be reckoned with. Quiet and courageous, Clay Tygart is not your typical 18th-century man. Raised by Lenape Indians, he returns a hero...
---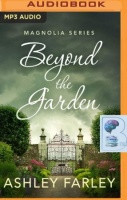 Beyond the Garden written by Ashley Farley performed by Rachel Jacobs on MP3 CD (Unabridged)£9.99
From the best-selling author of the Sweeney Sisters series comes the much-awaited sequel to Magnolia Nights, a novel of fate, discovery, and determination. All is right in Ellie Pringle Hagood's world. Recently married to the man of her dreams and in anticipation of the big family she's always wanted, she focuses...
---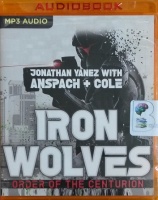 Iron Wolves - Order of the Centurion written by Jonathan Yanez with Anspach and Cole performed by Jonathan Davies on MP3 CD (Unabridged)£9.99
There can be no victory without sacrifice. The Iron Wolves are a company of legionnaires whose legendary exploits date back to the Savage Wars. When they are invited to be guests of honor at a ceremony on a small, backwater planet, they look forward to some precious time away from the constant conflicts...
---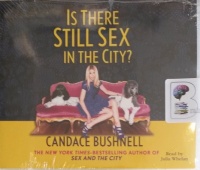 Is There Still Sex In The City? written by Candace Bushnell performed by Julia Whelan on MP3 CD (Unabridged)£9.99
Twenty years after her sharp, seminal first book Sex and the City reshaped the landscape of pop culture and dating with its fly on the wall look at the mating rituals of the Manhattan elite, the trailblazing Candace Bushnell delivers a new book on the wilds and lows of sex and dating after fifty. Set between the...
---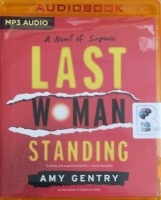 Last Woman Standing written by Amy Gentry performed by Almarie Guerra on MP3 CD (Unabridged)£9.99
From the author of Good as Gone ("So gripping you might want to start to question your own family's past"—Entertainment Weekly) comes a brilliant and timely thriller: Strangers on a Train by way of Thelma and Louise. Dana Diaz is an aspiring stand up comedian—a woman in a man's world. When she meets...
---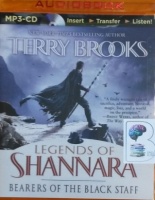 Legends of Shannara - Bearers of the Black Staff written by Terry Brooks performed by Phil Gigante on MP3 CD (Unabridged)£12.99
THE SHANNARA CHRONICLES IS NOW A MAJOR TV SERIES Terry's place is at the head of the fantasy world' Philip Pullman Five hundred years have passed since the devastating demon-led war that almost exterminated humankind. Those who escaped the carnage were led to sanctuary by the boy saviour...