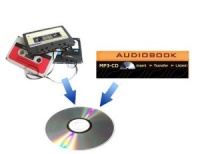 Large Fixed Price Audio Transfer Service£30.00
This is the fixed price £30.00 item to be used when ordering conversion of a 6-9 hour Audio Cassette or MP3 CD title.
---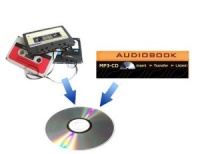 3 Hour Fixed Price Audio Transfer£10.00
This is the fixed price £10 item to be used when ordering conversion of a sub 3 hour Audio Cassette or MP3 CD title.
---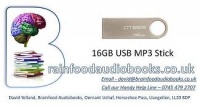 16GB MP3 USB Stick for Audio Transfer Service£20.00
This 16 GB USB memory stick is an additional item for those purchasing our Audio Transfer Service.
---
---
---
---
The Stamp of Genius
We at Brainfood Audiobooks have been listening to audiobooks for well over 30 years. In our experience the greatest audiobooks are those that we come back to again and again. So, if you're looking for something different or just a view of what we at Brainfood Audiobooks consider to be the very best audiobooks we have ever encountered these are they.
These are audiobooks that break through the barriers of the genre and, through the audio format, show the stamp of genius.
We at Brainfood Audiobooks are constantly listening to a wide variety of titles, on all media types, and it has become clear, over the many years we have been listening, that a few titles stand out as possessing that extraordinary quality - a great story/text, a great performance and wide appeal!
Below we have a selection of these titles - which will, occasionally, grow as we listen to more titles but will definitely reduce as the books are purchased.
If anyone has a suggestion for this list please send us a message via the form on the left of this page.
Fairy Tales written by Terry Jones performed by Bob Hoskins, Helen Mirren, Michael Hordern and Joan Greenwood on CD (Unabridged)£49.99

Terry Jones, Joan Greenwood, Michael Hordern, Bob Hoskins, Helen Mirren and Tim Rice read of a collection of original fairy tales for 8 to 11-year-olds, written by master storyteller Terry Jones, introducing such bizarre creatures as the fly-by-night, the rainbow cat, and the wonderful cake-horse.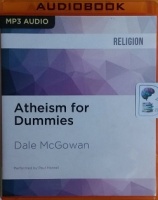 Atheism for Dummies written by Dale McGowan performed by Paul Mantell on MP3 CD (Unabridged)£14.99
The easy way to understand atheism and secular philosophy. For people seeking a non-religious philosophy of life, as well as believers with atheist friends,Atheism For Dummies offers an intelligent exploration of the historical and moral case for atheism.
---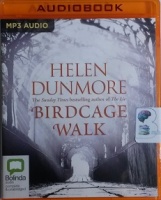 Bridcage Walk written by Helen Dunmore performed by Emma Fenney on MP3 CD (Unabridged)£6.99
It is 1792 and Europe is seized by political turmoil and violence. Lizzie Fawkes has grown up in radical circles where each step of the French Revolution is followed with eager idealism. But she has recently married John Diner Tredevant, a property developer who is heavily invested in Bristol's housing ...
---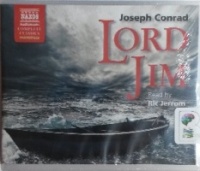 Lord Jim written by Joseph Conrad performed by Ric Jerrom on CD (Unabridged)£39.99
Jim, the first mate aboard a small steamer named the Patna, travels from port to port in the Pacific Ocean. When the ship hits floating wreckage, Jim and the crew are forced to abandon it, leaving hundreds of ethnic travellers on board. However, Jim's reprehensible actions are soon discovered...
---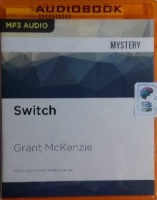 Switch written by Grant McKenzie performed by Noah Michael Levine on MP3 CD (Unabridged)£9.99
How far would you go to save the ones you love? Run five traffic lights in a row? Rob a liquor store at gunpoint? Commit murder? Security guard Sam White's life falls apart when he arrives home to find his house a smoking ruin with the bodies of his wife and daughter inside.
---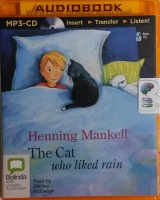 The Cat who liked Rain written by Henning Mankell performed by Stanley McGeagh on MP3 CD (Unabridged)£14.99
This is the story of young Lucas who gets a most precious present for his birthday, a black kitten which he calls Night. Lucas becomes very attached to Night but one day Lucas comes home from school and discovers that his beloved cat has disappeared. He is desperate and no one is able to console him.
---
---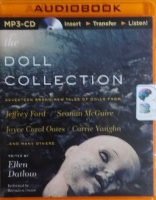 The Doll Collection written by Various Famous Thriller Writers performed by Bernadette Dunne on MP3 CD (Unabridged)£9.99
The Doll Collection is exactly what it sounds like: a treasured toy box of all-original dark stories about dolls of all types, including everything from puppets and poppets to mannequins and baby dolls. Featuring everything from life-sized clockwork dolls to all-too-human Betsy Wetsy-type baby dolls...
---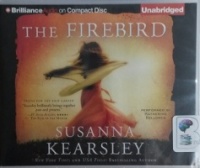 The Firebird written by Susan Kearsley performed by Katherine Kellgren and on CD (Unabridged)£14.99
Nicola Marter was born with a gift. When she touches an object, she sometimes glimpses those who have owned it before. When a woman arrives with a small wooden carving at the gallery Nicola works at, she can see the object's history and knows that it was named after the Firebird ...
---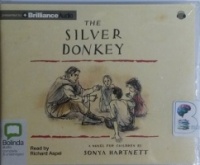 The Silver Donkey written by Sonya Hartnett performed by Richard Aspel on CD (Unabridged)£14.99
One bright spring morning in the woods of France, a soldier, blinded by the war, is found by a little girl named Coco, and her older sister Marcelle. In return for their kindness, the soldier tells the sisters marvellous tales, each story connected to the keepsake he carries in his pocket: a perfect, tiny silver donkey.