Selected Works of Dylan Thomas
---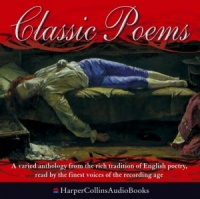 Classic Poems written by Various performed by Sir Ralph Richardson, Dylan Thomas and James Mason on CD (Abridged)£7.99
A Genius Performance by Ralph Richardson and Sir John Gielgud plus many more!
A varied anthology of poets – including Eliot and Auden – reading their own words, and favorite poems by Keats, Browning, Kipling, Tennyson and many more read by the finest voices of the recording age.
---
---
The Stamp of Genius
Spot Light on Genius
Every day we, at Brainfood Audiobooks, are confronted by a huge variety of audio books both new and old, rare and not so rare. Every once in a while a book will slowly emerge as an audiobook classic. Some times the quality of a book might be seen in it's constituents. A great author or a great actor might bring the attention to an audiobook production and there are many of these to choose from including
Paul Scofiled's Four Quartets and Robert Stephen's Richard III
but some times the DNA of an audiobook can appear quite good, strong but not exceptional, then some strange alchemy occurs. A conjoining of two very good, elements, an excellent author with a wonderful performer, can produce an audiobook of such quality that there a few ways of describing the experience.Once such book is .......
Perfume
Written by Patrick Suskind , his first novel, touches on the most elusive of our senses in such a manner that you may never consider it such a passive experience again. Then into this book with dark sensual themes comes the voice of Sean Barrett. We must declare now that we, at Brainfood Audiobooks, are all a big fan of Sean Barrett's audio performances. This performance is truly captivating. For many of us readers/listeners, there have been books that captivate to such an extent that time becomes quite secondary. Another page to finish the chapter and another chapter as the story draws you in. Even sleep can be forestalled as the book appears to become so much more than paper/a tape or CD. This is such a book. If you decide to dip into these waters be prepared for an 8 hour listen......

Top 50 audiobooks New In
We would heartily recommend that you bookmark this page
Over the next few months we will be inserting over 1000 new audiobooks into the shop and,
as our Customers know, many of our audiobooks are of very limited stock.
Forever Young - The Autobiography written by Jimmy Young performed by Jimmy Young on CD (Abridged)£9.99

With a record five-and-a-half million listeners and thirty years as BBC Radio 2's top presenter, Sir Jimmy Young left the BBC at Christmas 2002. It was a controversial departure behind which lies a story he is only now prepared to reveal. In an extraordinary career which first brought him fame ...

The Power of Five - Evil Star written by Anthony Horowitz performed by Paul Panting on CD (Unabridged)£9.99

In this unabridged reading by Paul Panting, fourteen-year-old Matt Freeman thinks his days of battling evil are over after his experiences at Raven's Gate. But soon he is pulled into another horrifying adventure when he discovers a second gate exists.

Charles Dickens Readings by Prunella Scales and Samuel West written by Charles Dickens performed by Prunella Scales and Samuel West on Audio CD (Abridged)£9.99

Actors Prunella Scales and Samuel West read the works of author Charles Dickens, with music of Dickens' time played on Victorian musical boxes and cylinder pianos alternates between the spoken work passages. It contains extracts from "Oliver Twist" (1839), "David Copperfield" (1850), "Little Dorrit" (1857), and the climax, three marvelous scenes from "Great Expectations" (1861).

Everneath written by Brodi Ashton performed by Katherine Fenton on Audio CD (Unabridged)£59.99

"Enthralling and suspenseful, EVERNEATH is pure indulgent escapism!" - Becca Fitzpatrick, NYT Bestselling Author of Hush, Hush Last spring, Nikki Beckett vanished, sucked into an underworld known as the Everneath, where immortals Feed on the emotions of despairing humans. Now she's returned- to her old life, her family, her friends- before being banished back to the underworld... this time forever. She has six months before the Everneath comes to claim her...

For Valour written by Andy McNab performed by Paul Thornley on Audio CD (Unabridged)£19.99

When a young trooper is shot in the head at the Regiment's renowned Killing House, Nick Stone is perfectly qualified to investigate the mysterious circumstances more deeply. He has just returned from Moscow – still trying to come to terms with the fact that his girlfriend and baby son are safer there without him – so combines an unrivalled understanding of the Special Forces landscape with a detachment that should allow him to remain in cover. But less than forty-eight...

Sense and Sensibility written by Joanna Trollope performed by Rachael Sterling on Audio CD (Unabridged)£19.99

Joanna Trollope's much-anticipated contemporary reworking of Jane Austen's Sense and Sensibility will launch The Austen Project and be one of the most talked about books of 2013. Two sisters could hardly be more different. Elinor Dashwood, an architecture student, values discretion above all. Her impulsive sister Marianne displays her creativity everywhere as she dreams of going to art school. But when the family finds itself forced out of Norland Park, their beloved...

The Crazed written by Ha Jin performed by Norm Lee on Audio CD (Unabridged)£39.99

Best-selling, National Book Award-winning author Ha Jin displays his impressive storytelling gifts in this richly textured examination of contemporary China and the civil unrest at Tiananmen Square in 1989. Professor Yang, a respected literature scholar, suffers a stroke and is confined to a hospital bed. Now Jian Wan, Yang's brightest student and future son-in-law, must suspend his rigorous studies to care for his mentor. Jian dutifully keeps watch as Yang begins raving...

What Dreams May Come written by Richard Matheson performed by Robertson Dean on Audio CD (Unabridged)£39.99

What happens to us after we die? Chris Nielsen had no idea, until an unexpected accident cut his life short, separating him from his beloved wife, Annie. Now Chris must discover the true nature of life after death. But even heaven is not complete without Annie, and the divided soul mates will do anything to reach each other across the boundaries between life and death. When tragedy threatens to divide them forever, Chris risks his very soul to save Annie from an eternity...

Behind The Wall - A Journey Through China written by Colin Thubron performed by Kenneth Haigh on Cassette (Abridged)£39.99

A powerful unforgettable journey through China with one of our greatest travel writers. An achievement of great and lasting brilliance' Patrick Leigh Fermor Having learned Mandarin, and travelling alone by foot, bicycle and train, Colin Thubron set off on a 10,000 mile journey from Beijing to the borders of Burma. He travelled through the wind-swept wastes of the Gobi desert and finished at the far end of the Great Wall. What Thubron reveals is an astonishing diversity...

Cents and Sensibility written by Maggie Alderson performed by Nicky Talacko on Audio CD (Unabridged)£19.99

Here's a high-fashion, jet-setting novel from the best-selling author of Pants on Fire and Mad About the Boy. Stella Fain has a rule for men she likes: make them wait. But the gorgeous Jay proves an exception to the rule when he bowls Stella off her Prada wedges at a press junket on the Cote d'Azur. He might seem to have everything going for him, but Stella is about to realize that while jetset lifestyles can be fabulous, her career as a journalist isn't something she wants...

The Howards of Caxley written by Mrs Dora Saint as Miss Read performed by June Barrie on Audio CD (Unabridged)£39.99

The attractive town of Caxley became prosperous through its connection with the wool trade, and on market day it is a hive of activity as the townspeople and neighboring villages from Fairacre, Beech Green, and Bent come to shop, chat, and watch the world go by. Families have lived here for generations, but it is the story of the Norths and the Howards in particular that is told in this delightful book. "The Howards of Caxley begins on a fine May morning in the fateful year of...

The Last Cigarette - The Smoking Diaries Volume 3 written by Simon Gray performed by Simon Gray on Audio CD (Abridged)£19.99

Simon Gray is determined to give up smoking. Really. At last. Can he kick the habit of sixty years? Will he, sometime soon, be able to leave his house without nervously feeling for his two packets of twenty and his two lighters, and add no more singes to his cardigan? As this wonderful, wayward record of Gray's life progresses, these questions are overtaken by much larger ones. What is that lady on the plane to Athens doing with her nose? What was sex like before 1963?

The Town written by Shaun Prescott performed by Tim Potter on Audio CD (Unabridged)£19.99

With this long-awaited and utterly unique debut novel, Shaun Prescott announces himself as a compelling new voice. The Town is magnetic, revealing the true depth of Australia: the good, the bad and the captivatingly ugly. But there had been a war. Everyone was certain of it, though it had been a long time since. This is Australia: an unnamed dead-end town in the heart of the outback. A young writer arrives in New South Wales to research local settlements that are slowly...

Wild Life written by Simon King performed by Simon King on Audio CD (Unabridged)£59.99

Even as a very young child, Simon King was passionate about the natural world. Being savaged by a rabid cheetah, charged at by rhinos and elephants and defecated upon by a long list of birds and other animals may sound like hell to some. But these, along with countless other experiences alongside all things furry, scaly, slimy and feathery have provided him with an enormously rich bank of tales to relive and retell. With his professional life starting aged ten, acting in a...

Dr. Johnson's London written by Liza Picard performed by Fiona Shaw on Cassette (Abridged)£14.99

Like its popular and acclaimed predecessor, Restoration London, this book is the result of the author's passionate interest in the practical details of the everyday life of our ancestors, so often ignored in more conventional history books. Based on every possible contemporary source (diaries, almanacs, newspapers, advice books, memoirs, government papers and reports), Liza Picard examines every aspect of life in London: the streets, houses and gardens; cooking...

Jude The Obscure written by Thomas Hardy performed by Samuel West on Cassette (Abridged)£14.99

Jude Fawley is a rural stone mason with intellectual aspirations. Frustrated by poverty and the indifference of the academic institutions at the University of Christminster, his only chance of fulfilment seems to lie in his relationship with his unconventional cousin, Sue Bridehead. But life as social outcasts proves undermining, and when tragedy occurs, Sue has no resilience and Jude is left in despair. Hardy's portrait of Jude, the idealist and dreamer who is a prisoner of his...

Pepy's Diary written by Samuel Pepys performed by Kenneth Branagh on Cassette (Abridged)£39.99

Enter the life and remarkable times of the lovable Samuel Pepys (pronounced "peeps"). Born in London in 1633, the son of a tailor, he began keeping a diary on January 1, 1660, and continued for nine years, faithfully recording the rich and varied details of seventeenth-century London life. Writing in a form of shorthand-which was not deciphered until 1825-he also painted a vivid picture of Pepys the man. In entries from 1660 through 1663, Pepys strives to establish himself...

Saint Maybe written by Anne Tyler performed by John Lithgow on Cassette (Abridged)£9.99

When 18-year-old Ian Bedloe pricks the bubble of his family's optimistic self-deception, his brother Danny drives into a wall, his sister-in-law falls apart, and his parents age before his eyes. Consumed by guilt, Ian finds the hope of forgiveness at the Church of the Second Chance, and leaves college to cope with the three children he has inherited and his own embarrassing religion. Twenty years on, Ian's prospects of a second chance are receding fast when, out of the heart...

The Blue Afternoon written by William Boyd performed by Lorelei King on Cassette (Unabridged)£39.99

Winner of the Sunday Express Book of the Year Award Los Angeles, 1936. Kay Fischer, a young and ambitious architect, is being followed by an old man. When confronted, he explains that his name is Salvador Carriscant - and that he is her father. In a matter of weeks Kay will join Salvador on an extraordinary journey as they delve back into his past to not only learn the truth behind her own birth, but also to discover the whereabouts of a woman long thought dead...

The Great Fortune written by Olivia Manning performed by Harriet Walter on Cassette (Unabridged)£49.99

It was a strange, uncertain world that Harriet entered when she married Guy Pringle. Guy taught English at the university at Bucharest, a city of vivid contrasts, where professional beggars exist alongside the excesses of mid-European royalty and expatriate journalists with a taste for truffles and quails in aspic. Underlying this is a fitful awareness of the proximity of the Nazi threat to a Romania, which is enjoying an uneasy peace. In this exotic landscape Harriet gets to know...

Ethan Frome written by Edith Wharton performed by Scott Brick on Audio CD (Unabridged)£29.99

Ethan Frome, a poor, downtrodden New England farmer, is trapped in a loveless marriage to his invalid wife, Zeena. His ambition and intelligence are oppressed by Zeena's cold, conniving character. When Zeena's young cousin Mattie arrives to help care for her, Ethan is immediately taken by Mattie's warm, vivacious personality. They fall desperately in love as he realizes how much is missing from his life and marriage. Tragically, their love is doomed by Zeena's...

Farther Afield written by Mrs Dora Saint as Miss Read performed by Carole Boyd on Audio CD (Abridged)£19.99

The end of the school year often brings unmitigated rapture for schoolteachers, and so it should for Miss Read, schoolmistress in the charming English village of Fairacre.

When Miss Read returns, refreshed, to her beloved village, she is ready to tackle the problems that await her.

Horror House written by Mary Hooper performed by Tom Lawrence on Audio CD (Unabridged)£39.99

Jake is sure he's going to hate the village where he's moved with his mum and twin sister, Jenna. There are only about ten houses and a green - boring.

But when Jenna spots the ghost of a cute-looking beagle with a lead in its mouth, Jake and Jenna begin to realize that the village might not be as boring as it first seemed and that there are some very spooky goings-on...not least, the deserted derelict house and the creepy noises that are coming from somewhere inside it....

Niccolo Rising written by Dorothy Dunnett performed by Steven Pacey on Cassette (Unabridged)£59.99

The time is the 15th century, when intrepid merchants became the new knighthood of Europe. Among them, none is bolder or more cunning than Nicholas vander Poele of Bruges, the good-natured dyers apprentice who schemes and swashbuckles his way to the helm of a mercantile empire. Niccolo Rising, book one of the series, finds us in Bruges, 1460. Street smart, brilliant at figures, adept at the subtleties of diplomacy and the well-timed untruth, Dunnett's hero...

Nightbooks written by J.A. White performed by Kirby Heybourne on Audio CD (Unabridged)£39.99

Soon to be a Netflix film. A modern spin on the Scheherazade story, perfect for fans of Coraline and Grimm. A boy is imprisoned by a witch and must tell her a new scary story each night to stay alive. Alex's hair-raising tales are the only thing keeping the witch Natacha happy, but soon he'll run out of pages to read from and be trapped forever. He's loved scary stories his whole life, and he knows most don't have a happily ever after. But now that Alex is trapped in a terrifying...

The Bloke's Bible written by Dave Hopwood performed by Dave Hopwood on Audio CD (Abridged)£19.99

Ever walked into the local pub with your Bible, sat down and tried to make sense of the world? Ever looked around and wondered if the book you're holding is relevant to the poeple at the bar, to the ordinary guy with his pint... or to you? This book is a selection of familiar Bible stories, retold. Running parallel is the story of an ordinary guy who goes to the pub.....

The Nursing Home Murder written by Ngaio Marsh performed by James Saxon on Cassette (Unabridged)£59.99

Sir John Phillips, the Harley Street surgeon, and his beautiful nurse, Jane Harden, are almost too nervous to operate. The emergency case on the table before them is the Home Secretary - and they both have very good, personal reasons to wish him dead.

Within hours he does die, although the operation itself was a complete success, and Chief Detective Inspector Alleyn must find out why....

Lords of the Bow written by Conn Iggulden performed by Russell Boulter on Audio CD (Abridged)£14.99

The gathering of the tribes of the Mongols has been a long time in coming, but finally, triumphantly, Temujin of the Wolves, Genghis Khan, is given the full accolade of overall leader and their oaths. Now he can begin to meld all the previously warring people into one army, one nation. But the task Genghis has set himself, and them, is formidable. He is determined to travel to the land of the long-time enemy, the Chin, and attack them there. The distances and terrain - the...

Magpie Murders written by Anthony Horowitz performed by Samantha Bond and Allan Corduner on Audio CD (Unabridged)£19.99

Once again, Anthony Horowitz proves to be a captivating storyteller in this mysterious crime caper with an old-school twist. Crafting a narrative that is fuller and more intimate at second glance, there is much more than meets the eye. When editor Susan Ryeland is given the tattered manuscript of Alan Conway's latest novel, she has little idea it will change her life. She's worked with the revered crime writer for years, and his detective, Atticus Pund, is renowned for solving...

Now We Are Sixty written by Christopher Matthew performed by Robert Daws, Martin Jarvis, Virginia McKeena and Geoffrey Palmer on Audio CD (Abridged)£6.99

Christopher Matthew's tribute to A. A. Milne's classic poems - such as 'Buckingham Palace', 'Lines and Squares', 'Puppy and I' and 'Rice Pudding' - is the perfect listen for those just turning 60. Publishing for the first time in audio download to coincide with the 20th anniversary. When Christopher was six, the poems of Milne were always on hand to reassure him that other children were just as puzzled and naughty and silly as he was, and that grown-ups could be even sillier.

Short Stories Volume 1 written by Ernest Hemingway performed by Stacy Keach on Audio CD (Unabridged)£39.99

Before he gained wide fame as a novelist, Ernest Hemingway established his literary reputation with his short stories. Set in the varied landscapes of Spain, Africa, and the American Midwest, this definitive audio collection traces the development and maturation of Hemingway's distinct and revolutionary storytelling style -- from the plain bald language of his first story to his mastery of seamless prose that contained a spare, eloquent pathos, as well as a sense...

The Fall written by Simon Mawer performed by Robert Glenister on Cassette (Unabridged)£69.99

Rob and Jamie are great friends from childhood. They have grown up together and become top climbers, but have since become estranged. Rob is nevertheless amazed and grief-stricken when he hears of Jamie's death after a fall on a relatively easy Welsh rockface. The past, though, hides the secret clues behind the tragedy. Layer by layer Simon Mawer peels back what happened, going not only into the friends' childhoods but that of their parents - who were also intimate.

After the Party written by Lisa Jewell performed by Helen Duff on MP3 CD (Unabridged)£19.99

Eleven years ago, Jem Catterick and Ralph McLeary fell deeply in love. They thought it would be forever-that they'd found their happy ending. As everyone agreed, they were the perfect couple. Then two became four, and an apartment became a house. Romantic nights out became sleepless nights in. They soon found that life wasn't quite so simple anymore. But, through it all, Jem and Ralph still loved each other. Of course they did. Now Jem is back at work part-time...

Classic Dharma Talks written by Thich Nhat Hanh performed by Thich Nhat Hanh on MP3 CD (Unabridged)£9.99

Thich Nhat Hanh is a Vietnamese Buddhist monk whose lifelong efforts to generate peace and reconciliation moved Martin Luther King, Jr. to nominate him for the Nobel Peace Prize in 1967. Thay (pronounced Tie), as his followers call him, has written numerous books, travels extensively to offer teachings on the art of mindful living, and has been instrumental in introducing Buddhist concepts to the west. One of the best known and most respected Zen masters in the...

Foxfire, Wolfskin and Other Storie of Shapeshifting Women written by Sharon Blackie performed by Vinette Robinson, Claire Morgan, Gillian Hay and Eilidh Beaton on MP3 CD (Unabridged)£14.99

Charged with drama and beauty, this memorable collection by a master storyteller weaves a magical world of possibility and power from female myths of physical renewal, creation and change. It is an extraordinary immersion into the bodies and voices, mindscapes and landscapes, of the shapeshifting women of our native folklore. Drawing on myth and fairy tales found across Europe from Croatia to Sweden, Ireland to Russia, Sharon Blackie brings to life women's remarkable...

Last Seen Wearing written by Colin Dexter performed by Samuel West on Audio CD (Unabridged)£19.99

Last Seen Wearing is the second Inspector Morse novel in Colin Dexter's Oxford-set detective series.

After leaving home to return to school, teenager Valerie Taylor had completely vanished, and the trail had gone cold.

Until two years, three months and two days after Valerie's disappearance, somebody decides to supply some surprising new evidence for the case and it's up to Morse to solve this curious case.

Nineteen Eighty-Four written by George Orwell performed by Samuel West on CD (Unabridged)£39.99 - £59.99

Another truly Genius Performance by Samuel West!

His reading of this book evokes the menace of Orwell's vision in a way none of us have ever heard before - another Must Listen!

Published in 1949, Ninety Eighty-Four is Orwell's terrifing vision of a totalitarian future. Its hero, Winston Smith, is a worker at the Ministry of Truth, where he falsifies records for the party. Secretly subversive, he and his colleague Julia try to free themselves from political slavery but the price of freedom is betrayal.

Saints of The Shadow Bible written by Ian Rankin performed by James Macpherson on Audio CD (Unabridged)£19.99

Sunday Times number-one best seller Ian Rankin returns with his gripping new Rebus novel. Unabridged edition featuring a bonus interview with Ian Rankin and James MacPherson. Rebus is back on the force, albeit with a demotion and a chip on his shoulder. A 30-year-old case is being reopened, and Rebus' team from back then is suspected of foul play. With Malcolm Fox as the investigating officer, are the past and present about to collide in a shocking and...

Shadowplay written by Joseph O'Connor performed by Barry McGovern and Anna Chancellor on Audio CD (Unabridged)£59.99

When Henry Irving decides to open the Lyceum, his own London theater, with the goal of making it the greatest playhouse on earth, he hires a young Dublin clerk harboring literary ambitions by the name of Abraham Stoker as his assistant. Together, Irving and Stoker fall under the spell of Ellen Terry, a dazzlingly talented Shakespearean actress, known to all as a proto-feminist, and the lives of all three become intertwined with the Lyceum and each other.Set in the...

The Accidental Homo Sapiens written by Ian Tattersall and Rob Desalle performed by Jonathan Todd Ross on MP3 CD (Unabridged)£14.99

What happens now that human population has outpaced biological natural selection? Two leading scientists reveal how we became who we are - and what we might become. When you think of evolution, the picture that most likely comes to mind is a straight-forward progression, the iconic illustration of a primate morphing into a proud, upright human being. But in reality, random events have played huge roles in determining the evolutionary histories of everything from lions...

The Durrells of Corfu written by Michael Haag performed by Paul English on MP3 CD (Unabridged)£19.99

The award-winning TV adaption The Durrells left its seven million fans with questions: What happened to the family - and what took them to Corfu in the first place? This audiobook has the answers.... Simon Nye's TV series, The Durrells, is based loosely on Gerald Durrell's Corfu Trilogy and in particular his much-loved best seller, My Family and Other Animals. These books in turn are based somewhat loosely on actual events. The real-life Durrells went to Corfu at the urging...

We Need to Talk About Mum and Dad written by Jean Kittson performed by Jean Kittson on MP3 CD (Unabridged)£19.99

We Need To Talk About Mum & Dad is a warm and witty practical guide, a one-stop shop for information on how to support your ageing loved ones: how to protect their health and well-being, keep them safe and secure, and enable them to be self-determining and independent for as long as possible. Full of expert advice and first-hand experience, this is your go-to resource to help you: Navigate the bureaucratic maze while remaining sane Understand what is needed for...

Confessions of a Teenage Drama Queen written by Dyan Sheldon performed by Jo Wyatt on Audio CD (Unabridged)£39.99

There is only room for one drama queen - which one will take centre stage? When Lola moves from New York City to boring Dellwood - Deadwood - Falls she thinks her life is over. But she soon discovers a way to shake things up - and it involves taking on the high school's biggest bully, getting the lead in the school play, not to mention crashing a rock star's party! Set in an American high school, this is a fast and funny account of the rivalry between Carla...