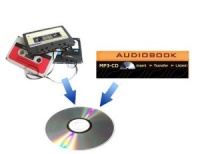 Very Large Fixed Price Audio Transfer Service£40.00
This is the fixed price £40.00 item to be used when ordering conversion of a 10-14 hour Audio Cassette or MP3 CD title.
---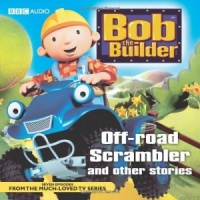 Bob the Builder - Off-Road Scrambler written by Bob the Builder Team performed by Bob the Builder Team on CD (Unabridged)£2.99
This title includes seven episodes from the hugely popular series featuring Bob the Builder, Roley, Lofty, Dizzy, Scoop, Muck and Spud - as seen on BBC TV.
---
---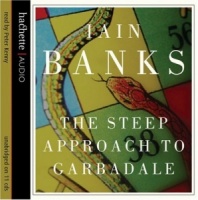 The Steep Approach to Garbadale written by Iain Banks performed by Peter Kenny on CD (Unabridged)£4.99
Dark family secrets, a long-lost love affair and a multi-million pound gaming business lie at the heart of Iain Banks' fabulous new novel. The Wopuld family built their fortune on a board game called Empire - now a wildly successful computer game.
Selected Works of Dylan Thomas
---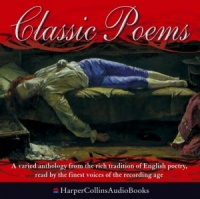 Classic Poems written by Various performed by Sir Ralph Richardson, Dylan Thomas and James Mason on CD (Abridged)£7.99
A Genius Performance by Ralph Richardson and Sir John Gielgud plus many more!
A varied anthology of poets – including Eliot and Auden – reading their own words, and favorite poems by Keats, Browning, Kipling, Tennyson and many more read by the finest voices of the recording age.
---
---
The Stamp of Genius
Spot Light on Genius
Every day we, at Brainfood Audiobooks, are confronted by a huge variety of audio books both new and old, rare and not so rare. Every once in a while a book will slowly emerge as an audiobook classic. Some times the quality of a book might be seen in it's constituents. A great author or a great actor might bring the attention to an audiobook production and there are many of these to choose from including
Paul Scofiled's Four Quartets and Robert Stephen's Richard III
but some times the DNA of an audiobook can appear quite good, strong but not exceptional, then some strange alchemy occurs. A conjoining of two very good, elements, an excellent author with a wonderful performer, can produce an audiobook of such quality that there a few ways of describing the experience.Once such book is .......
Perfume
Written by Patrick Suskind , his first novel, touches on the most elusive of our senses in such a manner that you may never consider it such a passive experience again. Then into this book with dark sensual themes comes the voice of Sean Barrett. We must declare now that we, at Brainfood Audiobooks, are all a big fan of Sean Barrett's audio performances. This performance is truly captivating. For many of us readers/listeners, there have been books that captivate to such an extent that time becomes quite secondary. Another page to finish the chapter and another chapter as the story draws you in. Even sleep can be forestalled as the book appears to become so much more than paper/a tape or CD. This is such a book. If you decide to dip into these waters be prepared for an 8 hour listen......

Top 50 audiobooks New In
We would heartily recommend that you bookmark this page
Over the next few months we will be inserting over 1000 new audiobooks into the shop and,
as our Customers know, many of our audiobooks are of very limited stock.
Emma written by Jane Austen performed by Jenny Agutter on CD (Unabridged)£24.99

Emma Woodhouse is one of Austen's most captivating and vivid characters. Beautiful, spoiled, vain, and irrepressibly witty, Emma organizes the lives of the inhabitants of her sleepy little village, but her attempts at matchmaking lead to misunderstandings and potential heartbreak. Only her friend and ...

Ghost Light written by Joseph O'Connor performed by Marcella Riordan on CD (Unabridged)£24.99

Dublin 1907, a city of whispered rumours. An actress still in her teens begins an affair with a damaged older man, the leading playwright at the theatre where she works. Rebellious, irreverent, beautiful, flirtatious, Molly Allgood is a girl of the inner city tenements, dreaming of stardom in America. Witty and ...

The Lion written by Nelson DeMille performed by Scott Brick on CD (Abridged)£14.99

In this eagerly awaited follow-up to The Lion's Game, John Corey, former NYPD Homicide detective and special agent for the Anti-Terrorist Task Force, is back. And, unfortunately for Corey, so is Asad Khalil, the notorious Libyan terrorist otherwise known as "The Lion." Last we heard from him, Khali had claimed to...

The Old Curiosity Shop written by Charles Dickens performed by Anton Lesser on CD (Abridged)£24.99

The Old Curiosity Shop follows the story of Little Nell who lives with her grandfather in his magical shop of curiosities in London. Her grandfather's attempts to secure an inheritance for Nell lead them into financial trouble with the evil dwarf Quilp. Nell manages to flee and lead her grandfather to safety...

A History of Fascism 1914-1945 written by Stanley G. Payne performed by Michael Kramer on MP3 CD (Unabridged)£29.99

Focusing mostly on Italy and Germany but also considering Spain, Romania, Japan, and movements in other countries, Payne (history, University of Wisconsin) describes fascism as revolutionary ultranationalism based on national rebirth, extreme elitism, mass mobilization, and the promotion of...

Bleak House written by Charles Dickens performed by Sean Barrett and Teresa Gallagher on CD (Abridged)£29.99

The long, drawn-out case of Jarndyce versus Jarndyce provides the background to this novel which takes us into a world of impoverished street-dwellers, lovers fallen on hard times and the grand riches of the upper classes. A generous abridgement spanning 9 CDs

Clockwork Fairy Tales - A Collection of Steampunk Fables written by Various Steampunk Authors performed by John Lee, Robertson Dean, Kaleo Griffith and Anne Flosnik on CD (Unabridged)£24.99

Inspired by Hans Christian Andersen's "The Red Shoes," New York Times bestselling author K. W. Jeter's "La Valse" forges a fable about love, the decadence of technology, and a gala dance that becomes the obsession of a young engineer-and the doom of those who partake in it.In "You Will Attend Until...

If Our Bodies Could Talk written by James Hamblin performed by James Hamblin on CD (Unabridged)£49.99

"If you want to understand the strange workings of the human body, and the future of medicine, you must read this illuminating, engaging book." —Siddhartha Mukherjee, author of The Gene In 2014, James Hamblin launched a series of videos for The Atlantic called "If Our Bodies Could Talk."

Raising Trump written by Ivana Trump performed by Alison Fraser and Ivana Trump on CD (Unabridged)£24.99

In Raising Trump, Ivana Trump reflects on her extraordinary life and the raising of her three children—Donald Jr., Eric, and Ivanka—and recounts the lessons she taught her children as they were growing up. As her former husband takes his place as the 45th President of the United States, his children have...

The Dragon Queen written by William Andrews performed by Todd McLaren and Janet Song on CD (Unabridged)£19.99

From the bestselling author of Daughters of the Dragon comes the story of one of the most extraordinary queens in history. As tensions rise on the Korean peninsula, US diplomat Nate Simon is sent to Seoul to gauge the political situation and advise the president. He also needs to find out why someone sent...

The Nature Fix - Why Nature Makes Us Happier, Healthier and More Creative written by Florence Williams performed by Emily Woo Zeller on CD (Unabridged)£24.99

For centuries, poets and philosophers extolled the benefits of a walk in the woods: Beethoven drew inspiration from rocks and trees; Wordsworth composed while tromping over the heath; Nikola Tesla conceived the electric motor while visiting a park. Intrigued by our storied renewal in the natural world...

The Wonder of Birds - What They Tell Us About Ourselves, The World and a Better Future written by Jim Robbins performed by Danny Campbell on MP3 CD (Unabridged)£24.99

Birds, Jim Robbins posits, are our most vital connection to nature. They compel us to look to the skies, both literally and metaphorically; draw us out into nature to seek their beauty; and let us experience vicariously what it is like to be weightless. Birds have helped us in so many of our human endeavors...

The Year of Our Lord 1943 - Christian Humanism in An Age of Crisis written by Alan Jacobs performed by Paul Boehmer and on CD (Unabridged)£24.99

By early 1943, it had become increasingly clear that the Allies would win the Second World War. Around the same time, it also became increasingly clear to many Christian intellectuals on both sides of the Atlantic that the soon-to-be-victorious nations were not culturally or morally prepared for their success.

They Say, I Say - The Moves that Matter in Academic Writing written by Gerald Graff and Cathy Birkenstein performed by Cyndee Maxwell and Tony Craine on CD (Unabridged)£29.99

"They Say / I Say" identifies the key rhetorical moves in academic writing, showing students how to frame their arguments in the larger context of what others have said and providing templates to help them make those moves. And, because these moves are central across all disciplines, the audiobook ...

A Burnable Book written by Bruce Holsinger performed by Simon Vance on CD (Unabridged)£29.99

A stunning debut historical thriller set in the turbulent 14th century, for fans of C. J. Sansom, The Name of the Rose, and An Instance of the Fingerpost. London, 1385: A city of shadows and fear, in a kingdom ruled by the headstrong young King Richard II, haunted by the spectre of revolt. A place of poetry...

Albert Einstein - Historic Recordings from 1930 to 1947 written by Albert Einstein performed by Albert Einstein on CD (Abridged)£9.99

To celebrate 'Einstein Year' the British Library is proud to release a selection of rare recordings of the celebrated physicist as he talks about his life and work, the Jewish people and the world of science. This CD includes a live recording of the historic fund-raising dinner on behalf of Jewish charities at the...

All Gone - A Memoir of My Mother's Dementia with Refreshments written by Alex Witchel performed by Alex Witchel on CD (Unabridged)£14.99

"Haunting, unflinching and at times unexpectedly hilarious...A powerful affirmation of family bonds." -The New York Times Book Review A daughter's longing love letter to a mother who has slipped beyond reach. Just past seventy, Alex Witchel's smart, adoring, ultracapable mother began to exhibit undeniable..

Ancient Rome - From Romulus to Justinian written by Thomas R. Martin performed by John Lescault on CD (Unabridged)£29.99

With commanding skill, Thomas R. Martin tells the remarkable and dramatic story of how a tiny, poor, and threatened settlement grew to become, during its height, the dominant power in the Mediterranean world for five hundred years. Encompassing the period from Rome's founding in the eighth century...

And the Band Played On - Politics, People and the AIDS Epidemic written by Randy Shilts performed by Victor Bevine on CD (Unabridged)£19.99

By the time Rock Hudson's death in 1985 alerted all America to the danger of the AIDS epidemic, the disease had spread across the nation, killing thousands of people and emerging as the greatest health crisis of the 20th century. America faced a troubling question: What happened? How was this epidemic...

Black Dog Summer written by Miranda Sherry performed by Jilly Bond on CD (Unabridged)£19.99

In this extraordinary debut novel reminiscent of The Lovely Bones and Little Bee, a mother watches from the afterlife as her teenage daughter recovers amidst the startling dysfunction of her extended family.Compulsively readable and stylistically stunning, Black Dog Summer begins with a murder...

Brave written by Rose McGowan performed by Rose McGowan on CD (Unabridged)£29.99

A revealing memoir and empowering manifesto - a voice for generations. Rose McGowan was born in one cult and came of age in another more visible cult: Hollywood. In a strange world where she was continually on display, stardom soon became a personal nightmare of constant exposure and sexualisation.

Drinking - A Love Story written by Caroline Knapp performed by Gabra Zackman on CD (Unabridged)£24.99

Fifteen million Americans a year are plagued with alcoholism. Five million of them are women. Many of them, like Caroline Knapp, started in their early teens and began to use alcohol as "liquid armor", a way to protect themselves against the difficult realities of life. In this extraordinarily candid and revealing..

Everlife written by Gena Showalter performed by Emma Galvin, Zachary Webber, Barrie Kreinik and James Fouhey on CD (Unabridged)£19.99

Don't miss the epic conclusion to the Everlife novels, a series fans calls "vividly unique", "unforgettable", and "exhilarating". New from Gena Showalter, author of the New York Times best-selling The White Rabbit Chronicles, comes a series finale that will keep you on the edge of your seat rooting for the...

Every Little Step - My Story written by Bobby Brown with Nick Chiles performed by Bobby Brown, Lisa Renee Pitts and T.J. Storm on CD (Unabridged)£29.99

NEW YORK TIMES BESTSELLER In Every Little Step, Brown will for the first time tell the full story of his life and set the record straight, particularly about his relationship with Whitney Houston. Bobby Brown has been one of the most compelling American artists of the past thirty years, a magnetic and talented...

Fallout - Disasters, Lies and the Legacy of the Nuclear Age written by Fred Pearce performed by Simon Vance on CD (Unabridged)£19.99

From Hiroshima to Chernobyl, Fukushima to the growing legacy of lethal radioactive waste, humanity's struggle to conquer atomic energy is rife with secrecy, deceit, human error, blatant disregard for life, short-sighted politics and fear. Fallout is an eye-opening odyssey through the first eight decades of...

FInance Basics - 20 Minute Manager written by Harvard Business Review performed by James Edward Thomas on CD (Unabridged)£14.99

Intimidated by corporate finance? The numbers (and the jargon) can feel overwhelming but you have to understand them to manage effectively. Finance Basics explains the fundamentals simply and quickly, introducing you to key terms and concepts such as:

Grunt - The Curious Science of Humans at War written by Mary Roach performed by Abby Elvidge on CD (Unabridged)£19.99

Bestselling author Mary Roach explores the science of keeping human beings intact, awake, sane, uninfected, and uninfested in the bizarre and extreme circumstances of war. Grunt tackles the science behind some of a soldier's most challenging adversaries—panic, exhaustion, heat, noise—and introduces...

How to Grow Old - Ancient Wisdom for the Second Half of Life written by Marcus Tullius Cicero performed by Roger Clark on CD (Unabridged)£19.99

Worried that old age will inevitably mean losing your libido, your health, and possibly your marbles too? Well, Cicero has some good news for you. In How to Grow Old, the great Roman orator and statesman eloquently describes how you can make the second half of life the best part of all-and why you...

Jagannath Stories written by Karin Tidbeck performed by Kirsten Potter on CD (Unabridged)£19.99

A child is born in a tin can. A switchboard operator finds himself in hell. Three corpulent women float somewhere beyond time. Welcome to the weird world of Karin Tidbeck, the visionary Swedish author of literary sci-fi, speculative fiction, and mind-bending fantasy who has captivated readers around the world.

Julius Caesar written by William Shakespeare performed by Oregon Shakespeare Festival Team on CD (Unabridged)£19.99

TOO MUCH POWER IN ONE MAN'S HANDSJulius Caesar is a marked man. Adoring commoners celebrate his battlefield victories, but those higher up the Roman political ladder worry that his ambition has grown too large. On a stormy night full of alarming sights and ominous portents, Cassius...

Kickflip Boys - A Memoir of Freedom, Rebellion and the Chaos of Fatherhood written by Neal Thompson performed by Joe Knezevich on CD (Unabridged)£24.99

What makes a good father, and what makes one a failure? Does less-is-more parenting inspire independence and strength, or does it encourage defiance and trouble? Kickflip Boys is the story of a father's struggle to understand his willful skateboarder sons, challengers of authority and convention, to accept his ...

Kintsugi Wellness written by Candice Kumai performed by Caitlin Kelly on CD (Unabridged)£29.99

From the author of Clean Green Eats, a Japanese-inspired guide to finding balance, joy, and good health-A Life-Changing Magic of Tidying Up for wellness-that emphasizes a simple, streamlined method for cleaning up your eating habits and offers modern-day applications of ancient Japanese healing practices...

Kitty - Book 7 of the Regency Love Series written by Marion Chesney performed by Lindy Nettleton on CD (Unabridged)£19.99

In any given glittering social season, Edwardian London s dizzying whirl had its share of surprises. The latest was Kitty Harrison, once achingly poor, suddenly an heiress and now, thanks to her determined mother, she was about to become a baroness. From the moment Kitty set eyes on Lord Chesworth she...

One Beautiful Dream - The Rollicking Tale of Family Chaos, Personal Passions and Saying Yes to them Both written by Jennifer Fulwiler performed by Jennifer Fulwiler on CD (Unabridged)£19.99

Pursue your passions, love your family, and say goodbye to guilt—pipe dream or possibility? Work and family, individuality and motherhood, the creative life and family life—women are told constantly that they can't have it all. One Beautiful Dream is the deeply personal, often humorous tale of what happened..