Breaking News -
Gravity Waves Discovered
After yesterday's announcement of the discovery of Gravity Waves
we thought it might be time to take another look at
Astronomy, Black Holes and what we really know about the Universe!
A Short History of Nearly Everything written by Bill Bryson performed by William Roberts on CD (Unabridged)£24.99 - £29.99

In A Short History of Nearly Everything, beloved author Bill Bryson confronts his greatest challenge yet: to understand—and, if possible, answer—the oldest, biggest questions we have posed about the universe and ourselves.

The Universe in a Nutshell written by Stephen Hawking performed by Simon Prebble on Cassette (Unabridged)£8.99 - £9.99

Unravelling the latest amazing breakthroughs in theoretical physics, Stephen Hawking guides the reader through the evolution of Einsteinian physics to a universe of ten dimensions and a so-called theory of everything.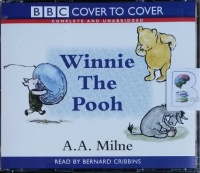 Winnie the Pooh written by A.A. Milne performed by Bernard Cribbins on CD (Unabridged)£14.99 - £29.99
Winnie-the-Pooh may be a bear of very little brain, but thanks to his friends Piglet, Eeyore and, of course, Christopher Robin, he's never far from an adventure. In this story Pooh gets into a tight place, nearly catches a Woozle and heads off on an 'expotition' to the North Pole with the other animals.
---