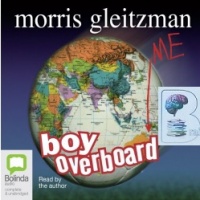 Boy Overboard written by Morris Gleitzman performed by Morris Gleitzman on Audio CD (Unabridged)£14.99
Jamal and Bibi have a dream. To lead Australia to soccer glory in the next World Cup. They know it won't be easy. They'll have to beat some really good teams, plus landmines, pirates, storms, and assassins. But they're sure they can achieve their dream, if only they can get to Australia.
Sometimes, to save the people you love, you have to go overboard. A story of hope, ball control, and an incredible journey.