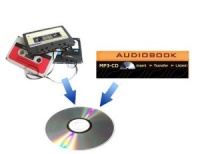 Large Fixed Price Audio Transfer Service£45.00
This is the fixed price £45.00 item to be used when ordering conversion of a 6-9 hour Audio Cassette or MP3 CD title.
---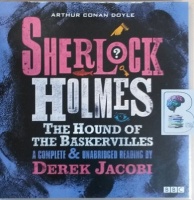 The Hound of the Baskervilles written by Arthur Conan Doyle performed by Derek Jacobi on CD (Unabridged)£24.99 - £29.99
When a country doctor comes to Sherlock Holmes with a far-fetched tale of a sudden death, a devil dog and an ancient curse, Holmes is sceptical. Could the demise of Sir Charles Baskerville really have been caused by the gigantic ghostly hound which is said to have haunted his family for generations?
---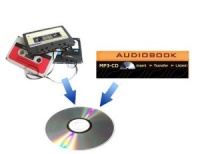 Very Large Fixed Price Audio Transfer Service£55.00
This is the fixed price £55.00 item to be used when ordering conversion of a 9-14 hour Audio Cassette or MP3 CD title.
---
---
---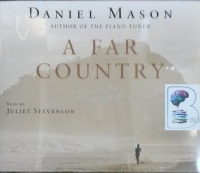 A Far Country written by Daniel Mason performed by Juliet Stevenson on CD (Abridged)£14.99
Throughout their childhood in the dusty cane fields of Saint Michael, Isabel and her older brother Isaias have been inseparable. Life is simple, and for Isabel, happiness is playing by the empty fountain in the village square, or listening to Isaias playing the fiddle. But when Isaias runs away to become a musician...
---
A Series of Unfortunate Events - The Complete Collection written by Lemony Snicket performed by Tim Curry and Lemony Snicket on CD (Unabridged)£69.99
The whole of this quirky, dark and very funny series! The Bad Beginning, The Reptile Room, The Wide Window, The Austere Academy, The Miserable Mill, The Ersatz Elevator, The Vile Village, The Carnivorous Carnival, The Hostile Hospital, The Slippery Slope, The Grim Grotto, The Penultimate Peril and The End.
Epic Works on MP3 CD
All these are single, or sets, of stories which
last over 24 hours!
A Veil of Spears - Book Three of the Song of the Shattered Sands written by Bradley P. Beaulieu performed by Sarah Coomes on MP3 CD (Unabridged)£19.99

The Night of Endless Swords nearly saw the destruction of Sharakhai, and since then the Kings have come down hard on the rebellious Moonless Host. Hundreds have been murdered or given to the Confessor King for questioning. Hundreds more have fled. Including Çeda, who has discovered that Onur...

Alex Rider Missions 1 to 10 written by Anthony Horowitz performed by Jonathan Davies on MP3 CD (Unabridged)£19.99

In the number one bestselling series by Anthony Horowitz, 14-year-old Alex Rider is forcibly recruited into the deadly world of espionage and sent on his first mission. But mortal danger is never far away and the reluctant teenage spy soon finds himself in demand again by MI6. The ever popular and explosive...

At All Costs written by David Weber performed by Allyson Johnson on MP3 CD (Unabridged)£9.99

What price victory? The war with the Republic of Haven has resumed... disastrously for the Star Kingdom of Manticore. Admiral Lady Dame Honor Harrington, Steadholder and Duchess Harrington, the single victorious Allied commander of the opening phase of the new war...

Can You Forgive Her? written by Anthony Trollope performed by Timothy West on MP3 CD (Unabridged)£24.99 - £29.99

* This item is located in my US (New York) warehouse so there will be a 5-7 day delay in dispatch* Can You Forgive Her? is the first of the six in the Palliser series. Trollope inextricably binds together the issues of parliamentary election and marriage, of politics and privacy. The values and aspirations of the...

Congo - (Spanish Language) written by Florencia Bonelli performed by Martin Untrojb on MP3 CD (Unabridged)£14.99

Matilde Martinez parte hacia el Congo para hacerse cargo de la salud de los mas necesitados, dejando atras la posibilidad de consumar su amor con Eliah Al-Saud, quien ha decidido seguir su camino de empresario militar, sin resignarse del todo a perderla. El dolor que produce un amor tan complicado...

Don Quixote written by Miguel de Cervantes performed by George Guidall on MP3 CD (Unabridged)£19.99

Don Quixote is the classic story. Called the first modern novel, this marvelous book has stood the test of time to become irrevocably intertwined with the fabric of society. Sixteenth-century Spanish gentleman Don Quixote, fed by his own delusional fantasies, takes to the road in search...

Egypt, Greece and Rome written by Charles Freeman performed by Jim Meskimen on MP3 CD (Unabridged)£29.99

Long sources of mystery, imagination, and inspiration, the myths and history of the ancient Mediterranean have given rise to artistic, religious, cultural, and intellectual traditions that span the centuries. In this unique and comprehensive introduction to the region's three major civilizations, Egypt, Greece ...

Emerson - The Mind on Fire written by Robert D Richardson performed by Michael McConnohie on MP3 CD (Unabridged)£19.99

Ralph Waldo Emerson is one of the most important figures in the history of American thought, religion, and literature. The vitality of his writings and the unsettling power of his example continue to influence us more than a hundred years after his death.

Forge of Darkness - Book One of the Kharkanas Trilogy written by Steven Erikson performed by Daniel Philpott on MP3 CD (Unabridged)£48.99

Now is the time to tell the story of an ancient realm, a tragic tale that sets the stage for all the tales yet to come and all those already told...
Wonderfully read by Daniel Philpott

Hamish Macbeth Mysteries written by M.C. Beaton performed by Graeme Malcolm on MP3 CD (Unabridged)£49.99 - £59.99

In the Scottish Highlands remote village of Lochdubh, in the real county of Sutherland, lives tall thin red-haired hazel-eyed quietly clever police Sergeant Hamish Macbeth – Scotland's most quick-witted but unambitious policeman. Discover where it all began with this audio collection containing the...

In Death Collection Books 16-20 written by J.D. Robb performed by Susan Ericksen on MP3 CD (Unabridged)£19.99

"Portrait in Death"After a tip from a reporter, Eve Dallas finds the body of a young woman in a Delancey Street dumpster. Just hours before, the news station had mysteriously received a portfolio of professional portraits of the woman.

In Death Collection Books 26-29 written by J.D. Robb performed by Susan Ericksen on MP3 CD (Unabridged)£19.99

"Strangers in Death"Technology may be different in 2060 New York, yet the city is still a place of many cultures and great divides. And as ever, some murders receive more attention than others especially those in which the victim is a prominent businessman, found in his Park Avenue apartment...

In Death Collection Books 30-32 written by J.D. Robb performed by Susan Ericksen on MP3 CD (Unabridged)£14.99

"Fantasy in Death"Bart Minnock, founder of the computer gaming giant U-Play, enters his private room, and eagerly can t wait to lose himself in an imaginary world, to take on the role of a sword-wielding warrior king, in his company s latest top-secret project, Fantastical.

It written by Stephen King performed by Steven Weber on MP3 CD (Unabridged)£29.99

To the children, the town was their whole world. To the adults, knowing better, Derry, Maine, was just their hometown: familiar, well ordered for the most part. A good place to live. It was the children who saw - and felt - what made Derry so horribly different. In the storm drains, in the sewers, IT lurked, taking...

Natasha's Dance - A Cultural History of Russia written by Orlando Figes performed by Ric Jerrom on MP3 CD (Unabridged)£14.99

History on a grand scale - an enchanting masterpiece that explores the making of one of the world's most vibrant civilizations. A People's Tragedy, wrote Eric Hobsbawm, did 'more to help us understand the Russian Revolution than any other book I know'. Now, in Natasha's Dance, internationally renowned...

Nicholas Nickleby written by Charles Dickens performed by Alex Jennings on MP3 CD (Unabridged)£19.99

Nicholas Nickleby combines comedy and tragedy in a tale of triumph over adversity in a story that mirrors Dickens' own rise from poverty to great success. After his father dies, Nicholas Nickleby if left to take care of his mother and sister. His uncle, Ralph Nickleby, a disobliging businessman, dislikes Nicholas...

Paris (Spanish) written by Florencia Bonelli performed by Martin Untrojb on MP3 CD (Unabridged)£9.99

En la primera entrega de la trilogía Caballo de fuego, París se convierte en el escenario de una historia de amor entre un señor de la guerra y una cirujana pediátrica que lucha por la paz. Él es un señor de la guerra. Ella una luchadora por la paz. Eliah Al-Saud es un hombre excéntrico y poderoso,

Perlmann's Silence written by Pascal Mercier performed by Mel Foster on MP3 CD (Unabridged)£19.99

In a quiet seaside town near Genoa, experts are gathering for a linguistics conference. One speaker, Philipp Perlmann is recently widowed and, struggling to contend with his grief, is unable to complete his keynote address.

Phenomenology of Spirit written by G.W.F. Hegel performed by David deVries on MP3 CD (Unabridged)£19.99

Perhaps one of the most revolutionary works of philosophy ever presented, The Phenomenology of Spirit is Hegel's 1807 work that is in numerous ways extraordinary. It begins with a Preface, created after the rest of the manuscript was completed, that explains the core of his method and what sets it apart...

The Baby Book written by William Sears MD et al performed by Mel Foster and Sherry Adams Foster on MP3 CD (Unabridged)£14.99

The million-copy best seller by "the man who remade motherhood" (Time) has now been revised, expanded, and brought thoroughly up-to-date-with the latest information on everything from diapering to day care, from midwifery to hospital birthing rooms, from postpartum nutrition to infant development.

The City of Mirrors written by Justin Cronin performed by Scott Brick on MP3 CD (Unabridged)£29.99

In life I was a scientist called Fanning. Then, in a jungle in Bolivia, I died. I died, and then I was brought back to life.... Prompted by a voice that lives in her blood, the fearsome warrior known as Alicia of Blades is drawn towards one of the great cities of The Time Before. The ruined city of New York.

The Complete Sherlock Holmes written by Arthur Conan Doyle performed by Simon Vance on MP3 CD (Unabridged)£26.99

Winner of the 2014 Audie Award for Classics Sir Arthur Conan Doyle's Sherlock Holmes tales are rightly ranked among the seminal works of mystery and detective fiction. Included in this collection are all four full-length Holmes novels and more than forty short masterpiece.

The Elven written by Bernhard Hennen performed by Michael Page on MP3 CD (Unabridged)£12.99

The international bestseller and epic adventure A fierce and merciless demon has been unleashed on the world, spreading destruction and bloodshed in both the human and the elven realms. Northlander Jarl Mandred witnesses the ruthless attack on his men, and he seeks vengeance with the help ...

The Eustace Diamonds written by Anthony Trollope performed by Timothy West on MP3 CD (Unabridged)£19.99 - £29.99

The third novel in Trollope's Palliser series, The Eustace Diamonds is a wonderfully absorbing blend of dark cynicism and humor. Before Sir Florian Eustace dies, he gives his beloved wife Lizzie a beautiful and expensive diamond necklace valued over £10,000.

The Prime Minister written by Anthony Trollope performed by Timothy West on MP3 CD (Unabridged)£24.99 - £29.99

The Prime Minister is the fifth in Trollope's six-volume Palliser series. Despite his mysterious antecedents, an unscrupulous financial speculator, Ferdinand Lopez, aspires to marry into respectability and wealth and join the ranks of British society. One of the nineteenth century's most memorable....

The Sunlight Dialogues written by John Gardner performed by Michael Butler Murray on MP3 CD (Unabridged)£9.99

John Gardner's sweeping portrait of the collision of opposing philosophical perspectives in 1960s America, centering on the appearance of a mysterious stranger in a small upstate New York town. One summer day, a countercultural drifter known only as the Sunlight Man appears in Batavia, New York. Jailed ...

Warriors written by Various Famous Authors performed by Patrick Lawlor and Christina Traister on MP3 CD (Unabridged)£19.99

People have been telling stories about warriors for as long as they have been telling stories. Since Homer first sang of the wrath of Achilles and the ancient Sumerians set down their tales of Gilgamesh, warriors, soldiers, and fighters have fascinated us; they are a part of every culture,....
Constance written by Rosie Thomas performed by Eve Haddon on Audio CD (Unabridged)£39.99
Connie Thorne was a foundling, a child left by her mother for strangers to find. Forty years on, without ever being able to discover her true identity, she has put all her energy into creating a flawless shell for herself. As a child, she was musical, her sister Jeanette was deaf. One of them was dark, the other sunny. Yet they both fell in...
---
---
---
---
---
---
Over written by Margaret Forster performed by Susan Jameson on Audio CD (Unabridged)£59.99
Don and Louise's eighteen-year-old daughter Miranda has died in a sailing accident. While Louise takes steps to move on with her life, Don cannot come to terms with the chain of events that led to her death. Instead, he is determined to bring someone to account. The surviving children handle the loss of their sister better than their...