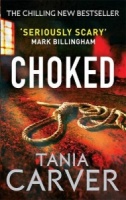 Choked written by Tania Carver performed by Martyn Waites on CD (Abridged)£3.99 - £6.99
'I have something you've lost,' the voice said. 'Your daughter.' He will threaten her. The honeymoon is over for newlywed criminologist Marina Esposito. Her house is in flames. Her cop husband is in a coma. Her baby daughter is missing. And then her phone rings . . .
---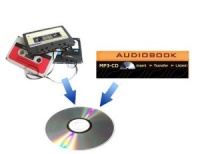 3 Hour Fixed Price Audio Transfer£15.00
This is the fixed price £15 item to be used when ordering conversion of a sub 3 hour Audio Cassette or MP3 CD title.
---
---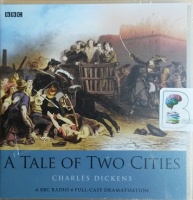 A Tale of Two Cities written by Charles Dickens performed by BBC Full Cast Dramatisation and Robert Lindsay on CD (Abridged)£19.99 - £34.99
Robert Lindsay stars in this BBC Radio 4 full-cast dramatisation of the classic novel by Charles Dickens. From the echo of the first line 'It was the best of times, it was the worst of times' to the final 'It is a far better thing that I do than I have ever done', Dickens' classic novel of the French revolution...
---
---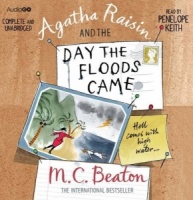 Agatha Raisin and the Day The Floods Came written by M.C. Beaton performed by Penelope Keith on CD (Unabridged)£14.99 - £19.99
A Genius performance by Penelope Keith!
Drowned brides are like buses: nothing for ages, then two come along at the same time . . . ! Abandoned by husband James, Agatha hops on a plane to the South Pacific, hoping to mend her broken heart.
---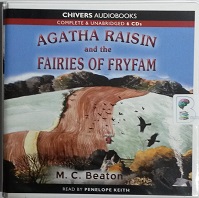 Agatha Raisin and the Fairies of Fryfam written by M.C. Beaton performed by Penelope Keith on CD (Unabridged)£19.99
Feeling jilted and cross, Agatha follows a fortune-teller's advice and rents a cottage in the pretty village of Fryfam, where she hopes good fortune and true love will come chasing after her for a change. Unfortunately, her romantic notions are soon dispelled by the strange goings-on in the village.
Epic Works on Cassette
All these are single, or sets, of stories which
last over 24 hours!
George Orwell written by Gordon Bowker performed by Christopher Kay on Cassette (Unabridged)£29.99

George Orwell was one of the greatest writers England produced in the last century. He left an enduring mark on our language and culture, with concepts such as 'Big Brother' and 'Room 101.' His reputation rests not only on his political shrewdness and his sharp satires....

Green Mars written by Kim Stanley Robinson performed by Richard Ferrone on Cassette (Unabridged)£49.99

The second novel in Kim Stanley Robinsonís Mars trilogy. Wonderfully read by Richard Ferrone.

The Six Wives of Henry VIII written by Antonia Fraser performed by Patricia Gallimore on Cassette (Unabridged)£29.99

"Divorced, beheaded, died; divorced, beheaded, survived." So the six wives of Henry VIII (Catherine of Aragon, Anne Boleyn, Jane Seymour, Anne of Cleves, Katherine Howard, and Catherine Parr) have become defined in a popular sense - not so much by their lives as by the way their lives ended.
Exposed written by Roberta Kray performed by Annie Aldington on CD (Unabridged)£49.99
Eden Chase is head over heels in love with her husband, Tom. He's the sort of man who doesn't give much away, but Eden doesn't mind that - Tom is worth the effort. So when he's accused of a years-old robbery and murder, Eden won't believe it. No, not her Tom - he's not capable of the things they're saying he...
---
Gone Tomorrow written by Lee Child performed by Dick Hill on CD (Abridged)£24.99
Suicide bombers are easy to spot. They give out all kinds of tell-tale signs, mostly because they're nervous. By definition they're all first-timers. Riding the subway in New York at 2:00 in the morning, Reacher knows the 12 giveaway signs to look out for. Watching one of his fellow passengers, he becomes sharply..
---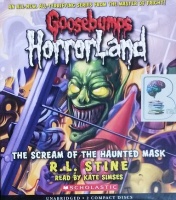 Goosebumps - Horrorland written by R.L. Stine performed by Kate Simses on CD (Unabridged)£9.99
What should Carly Beth be for Halloween this year? TERRIFIED! Late at night, an ugly green mask is mysteriously calling out to her, and ugly green masks don't like to be ignored. If Carly Beth survives the night, even a scary theme park might sound like a vacation. Or maybe not! At HorrorLand, every night is...
---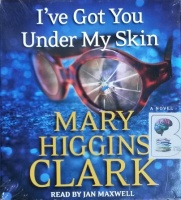 I've Got You Under My Skin written by Mary Higgins Clarke performed by Jan Maxwell on CD (Unabridged)£29.99
In this gripping #1 New York Times bestseller from Queen of Suspense Mary Higgins Clark, a Manhattan ER doctor is brazenly murdered in front of his young son in a city playground. Five years later, his killer is still at large. When Laurie Moran's husband was brutally murdered, only three-year-old Timmy saw the...
---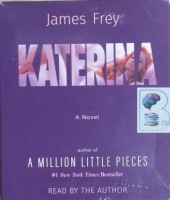 Katerina written by James Frey performed by James Frey on CD (Unabridged)£29.99
The devastating new novel from the author of the international best seller A Million Little Pieces. A kiss, a touch. A smile and a beating heart. Love and sex and dreams, art and drugs and the madness of youth. Betrayal and heartbreak, regret and pain, the melancholy of age. Katerina, the explosive new novel by...
---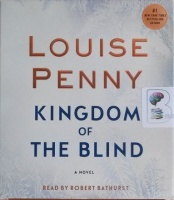 Kingdom of the Blind written by Louise Penny performed by Robert Bathurst on CD (Unabridged)£29.99
The entrancing new crime thriller featuring Chief Inspector Armand Gamache, from number one New York Times bestselling author Louise Penny A wonderful addition to a fantastic series' Elly Griffiths When Armand Gamache receives a letter inviting him to an abandoned farmhouse outside of Three...
---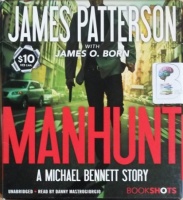 Manhunt written by James Patterson with James O. Born performed by Danny Mastrogiorgio on CD (Unabridged)£9.99
Michael Bennett, be grateful you're alive.
Someone attacked the Thanksgiving Day Parade directly in front of Michael Bennett and his family. The television news called it "holiday terror"--Michael Bennett calls it personal. The hunt is on....