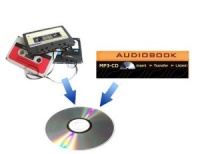 Large Fixed Price Audio Transfer Service£45.00
This is the fixed price £45.00 item to be used when ordering conversion of a 6-9 hour Audio Cassette or MP3 CD title.
---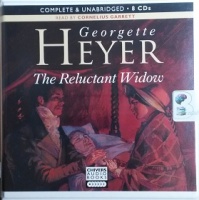 The Reluctant Widow written by Georgette Heyer performed by Cornelius Garrett on CD (Unabridged)£44.99
Penniless Elinor is rather surprised at the carriage that meets her from the stage, and more so at the decayed grandeur of the house to which she's transported. Realising that there has been a case of mistaken identity she agrees to an audacious plan.
---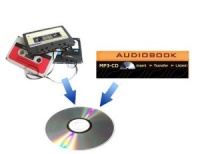 3 Hour Fixed Price Audio Transfer£20.00
This is the fixed price £20 item to be used when ordering conversion of a sub 3 hour Audio Cassette or MP3 CD title.
---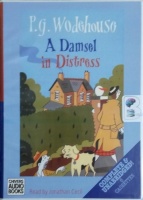 A Damsel in Distress written by P.G. Wodehouse performed by Jonathan Cecil on Cassette (Unabridged)£14.99
Golf-loving American composer George Bevan falls in love with a mysterious young lady who takes refuge in his taxicab one day; when he tracks her down to a romantic rural manor, mistaken identity...
---
---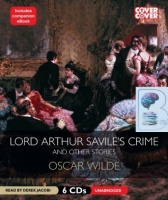 Lord Arthur Savile's Crime and Other Stories written by Oscar Wilde performed by Derek Jacobi on CD (Unabridged)£19.99
A Genius Performance by Derek Jacobi! Lord Arthur Savile is engaged to the lovely Sybil Merton, but a chiromantist reads Arthur Savile's palm and tells him that, in future, he will commit a murder. Lord Arthur wants to marry, but he decides to commit the murder before marrying....
so that his wife may not be caused to blush for his wrongdoing.
---
Nineteen Eighty-Four written by George Orwell performed by Samuel West on CD (Unabridged)£39.99 - £59.99
Another truly Genius Performance by Samuel West!
His reading of this book evokes the menace of Orwell's vision in a way none of us have ever heard before - another Must Listen!
Published in 1949, Ninety Eighty-Four is Orwell's terrifing vision of a totalitarian future. Its hero, Winston Smith, is a worker at the Ministry of Truth, where he falsifies records for the party. Secretly subversive, he and his colleague Julia try to free themselves from political slavery but the price of freedom is betrayal.
Epic Works on Cassette
All these are single, or sets, of stories which
last over 24 hours!
George Orwell written by Gordon Bowker performed by Christopher Kay on Cassette (Unabridged)£29.99

George Orwell was one of the greatest writers England produced in the last century. He left an enduring mark on our language and culture, with concepts such as 'Big Brother' and 'Room 101.' His reputation rests not only on his political shrewdness and his sharp satires....

Green Mars written by Kim Stanley Robinson performed by Richard Ferrone on Cassette (Unabridged)£49.99

The second novel in Kim Stanley Robinsonís Mars trilogy. Wonderfully read by Richard Ferrone.

The Six Wives of Henry VIII written by Antonia Fraser performed by Patricia Gallimore on Cassette (Unabridged)£29.99

"Divorced, beheaded, died; divorced, beheaded, survived." So the six wives of Henry VIII (Catherine of Aragon, Anne Boleyn, Jane Seymour, Anne of Cleves, Katherine Howard, and Catherine Parr) have become defined in a popular sense - not so much by their lives as by the way their lives ended.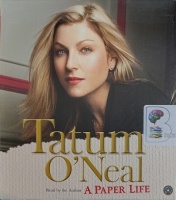 A Paper Life written by Tatum O'Neal performed by Tatum O'Neal on Audio CD (Abridged)£14.99
At age ten, Tatum O'Neal became the youngest Oscar® winner in history for her performance in the film classic Paper Moon. As the sidekick to her father, Ryan O'Neal, she became a fixture at the most glamorous Hollywood parties and counted celebrities among her childhood friends. But behind the glittering...
---
---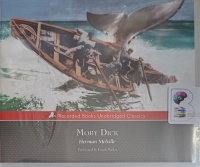 Moby Dick written by Herman Meville performed by Frank Muller on Audio CD (Unabridged)£49.99
Its famous opening line, "Call me Ishmael," dramatic in its stark simplicity, begins an epic that is widely regarded as the greatest novel ever written by an American. Labeled variously a realistic story of whaling, a romance of unusual adventure and eccentric characters, a symbolic allegory, and a drama of...
---
---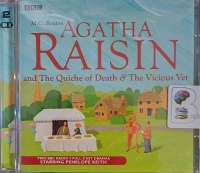 Agatha Raisin and The Quiche of Death and The Vicious Vet written by M.C. Beaton performed by Penelope Keith and Full Cast Radio 4 Team on Audio CD (Abridged)£19.99
Sea, sand ... and the slammer for Agatha! Agatha Raisin thinks she's in for a treat when her ex-husband, James Lacey, invites her on holiday, but - horrors! - his idea of an idyllic break is the small, run-down resort of Burryhill-on-Sea. And from there on, things go from bad to worse. So when a fellow guest in their...
---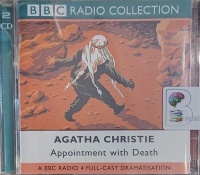 Appointment with Death - BBC Dramatisation written by Agatha Christie performed by John Moffatt and BBC Full Cast Drama Team on Audio CD (Abridged)£19.99
Among the towering red cliffs of Petra, like some monstrous swollen Buddha, sat the corpse of Mrs Boynton. A tiny puncture mark on her wrist was the only sign of the fatal injection that had killed her. With only 24 hours available to solve the mystery, Hercule Poirot recalled a chance remark he'd overheard back...
---