---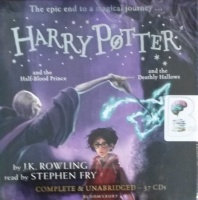 Harry Potter Collection Part 3 - Books 6 and 7 written by J.K. Rowling performed by Stephen Fry on CD (Unabridged)£39.99 - £49.99
Witches and wizards unite as you join the Battle of Hogwarts! Complete the entire series of J.K. Rowling's Harry Potter stories with this enchanting audiobook collection. The 37 CDs cover The Half-Blood Prince and The Deathly Hallows and find Dark Magic rising. Will Harry be able to summon the courage (and the...
---
---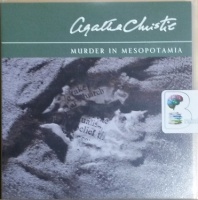 Murder in Mesopotamia written by Agatha Christie performed by Carole Boyd on CD (Abridged)£4.99
An archaeologist's wife is murdered on the shores of the River Tigris in Iraq. It was clear to Amy Leatheran that something sinister was going on at the Hassanieh dig in Iraq; something associated with the presence of 'Lovely Louise', wife of celebrated archaeologist Dr Leidner. In a few days' time Hercule...
---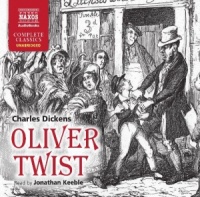 Oliver Twist written by Charles Dickens performed by Jonathan Keeble on CD (Unabridged)£29.99 - £39.99
Oliver Twist, Dickenss second novel, has enthralled generations of readers since its publication in 1838. Orphaned and desolate, Olivers journey to London and subsequent induction into its dingy underworld, is narrated with ceaseless energy by Jonathan Keeble.
---
---
Epic Works on Cassette
All these are single, or sets, of stories which
last over 24 hours!
George Orwell written by Gordon Bowker performed by Christopher Kay on Cassette (Unabridged)£29.99

George Orwell was one of the greatest writers England produced in the last century. He left an enduring mark on our language and culture, with concepts such as 'Big Brother' and 'Room 101.' His reputation rests not only on his political shrewdness and his sharp satires....

Green Mars written by Kim Stanley Robinson performed by Richard Ferrone on Cassette (Unabridged)£49.99

The second novel in Kim Stanley Robinsonís Mars trilogy. Wonderfully read by Richard Ferrone.

The Six Wives of Henry VIII written by Antonia Fraser performed by Patricia Gallimore on Cassette (Unabridged)£29.99

"Divorced, beheaded, died; divorced, beheaded, survived." So the six wives of Henry VIII (Catherine of Aragon, Anne Boleyn, Jane Seymour, Anne of Cleves, Katherine Howard, and Catherine Parr) have become defined in a popular sense - not so much by their lives as by the way their lives ended.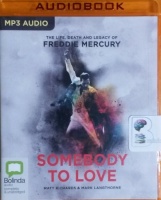 Somebody to Love - The Life, Death and Legacy of Freddie Mercury written by Matt Richards and Mark Langthorne performed by Tim Bruce on MP3 CD (Unabridged)£14.99
When Freddie Mercury died in 1991, aged just 45, the world was rocked by the vibrant and flamboyant star's tragic secret that he had been battling AIDS. The announcement of his diagnosis reached them less than 24-hours before his death, shocking his millions of fans, and fully opening the eyes of the world to...
---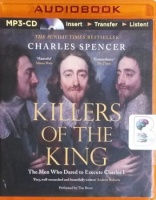 Killers of the King - The Men Who Dared to Execute Charles I written by Charles Spencer performed by Tim Bruce on MP3 CD (Unabridged)£14.99
January, 1649. After seven years of fighting in the bloodiest war in Britain's history, Parliament had overpowered King Charles I and now faced a problem: what to do with a defeated king, a king who refused to surrender?Parliamentarians resolved to do the unthinkable, to disregard the Divine Right of Kings ...
---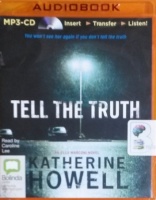 Tell the Truth written by Katherine Howell performed by Caroline Lee and on MP3 CD (Unabridged)£14.99
Detective Ella Marconi has her work cut out for her trying to unravel the lies surrounding her latest, thrilling case. Paramedic Stacey Durham has an idyllic life: her dream job, a beautiful house, and a devoted husband. Until her car is found abandoned and covered in her blood. Detective Ella Marconi knows...
---
---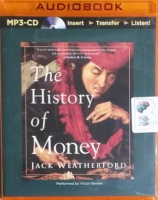 The History of Money written by Jack Weatherford performed by Victor Bevine and on MP3 CD (Unabridged)£24.99
From primitive man's cowrie shells to the electronic cash card, from the markets of Timbuktu to the New York Stock Exchange, The History of Money explores how money and the many forms of exchange have affected us, and how they will continue to shape all aspects of our lives - economic, political, and personal.
---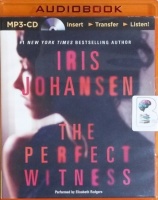 The Perfect Witness written by Iris Johansen performed by Elisabeth Rodgers on MP3 CD (Unabridged)£14.99
From the #1 New York Times bestselling author comes an explosive new thriller She had the perfect life. She had the perfect cover. She was the perfect witness. Until they found her. From the blockbuster bestselling author of the Eve Duncan novels comes a new, stand alone thriller about a woman with a...
---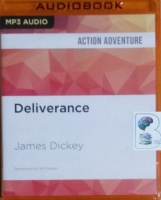 Deliverance written by James Dickey performed by Will Patton on MP3 CD (Unabridged)£14.99
The smash-hit best seller that inspired the acclaimed 1972 film starring Jon Voight, Burt Reynolds, Ned Beatty, and Ronny Cox is now available in unabridged audio for the very first time. The setting is the Georgia wilderness, where the state's most remote white-water river awaits. In the thundering froth of that...