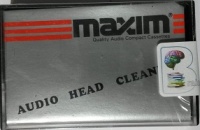 Audio Head Cleaner written by Maxim performed by Maxim on Cassette (Unabridged)£6.99
Very few of us like spending time cleaning. But...... cleaning the head of your tape player can give impressive results. If you haven't used a head cleaner for a significant period of time you should introduce it's use slowly. There may well be an accumulation of deposits on the rubber rollers ...
---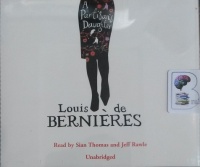 A Partisan's Daughter written by Louis de Bernieres performed by Sian Thomas and Jeff Rawle on Audio CD (Unabridged)£19.99
The new audiobook from the acclaimed author of Birds Without Wings and Captain Corelli's Mandolin is a love story at once raw and sweetly funny, wry and heartbreakingly sad. Chris is bored, lonely, trapped in a loveless, sexless marriage. In his forties, he's a stranger to the 1970s youth culture of London, a...
---
---
---
---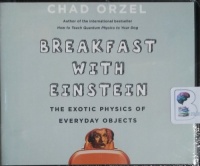 Breakfast with Einstein written by Chad Orzel performed by Jonathan Todd Ross on CD (Unabridged)£24.99
Your alarm goes off, and you head to the kitchen to make yourself some toast and a cup of coffee. Little do you know, as you savor the aroma of the steam rising from your cup, that your ordinary morning routine depends on some of the weirdest phenomena ever discovered. The world of quantum physics is...
---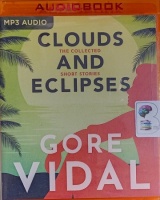 Clouds and Eclipses - The Collected Short Stories written by Gore Vidal performed by Emily Sutton-Smith and Christopher Lane on MP3 CD (Unabridged)£19.99
Celebrated for more than fifty years as a world-renowned novelist, essayist, and political figure and commentator, Gore Vidal is less known for the exquisitely crafted short fiction he wrote as a young man. Like the work of Truman Capote and Tennessee Williams, his stories have been overshadowed by the...
Epic Stories
All these are single stories which
last over 24 hours!
It's time to take a few days off and enjoy
the experience of these Epic Stories
A Clash of Kings - Game of Thrones Book 2 written by George R.R. Martin performed by Roy Dotrice on CD (Unabridged)£24.99 - £39.99

George R. R. Martinís superb fantasy epic continues in consummate style as bloodshed and alchemy lay waste the Seven Kingdoms. This second volume of A Song of Ice and Fire is unabridged and on 30 CDs.

Beautiful Creatures written by Kami Garcia and Margaret Stohl performed by Kevin T. Collins and Eve Bianco on CD (Unabridged)£8.99

Is falling in love the beginning...or the end? In Ethan Wate's hometown there lies the darkest of secrets. There is a girl. Slowly, she pulled the hood from her head. Green eyes, black hair. Lena Duchannes.

Forge of Darkness - Book One of the Kharkanas Trilogy written by Steven Erikson performed by Daniel Philpott on MP3 CD (Unabridged)£48.99

Now is the time to tell the story of an ancient realm, a tragic tale that sets the stage for all the tales yet to come and all those already told...
Wonderfully read by Daniel Philpott

Green Mars written by Kim Stanley Robinson performed by Richard Ferrone on Cassette (Unabridged)£49.99

The second novel in Kim Stanley Robinsonís Mars trilogy. Wonderfully read by Richard Ferrone.

Red Mars written by Kim Stanley Robinson performed by Richard Ferrone on Cassette (Unabridged)£74.99 - £98.99

The first novel in Kim Stanley Robinson's Mars trilogy, brilliantly read by Richard Ferrone.

Mars – the barren, forbidding planet that epitomises mankind's dreams of space conquest.

From the first pioneers who looked back at Earth and saw a small blue star, to the first colonists – hand-picked scientists with the skills necessary to create life from cold desert – Red Mars is the story of a new genesis.