Related Books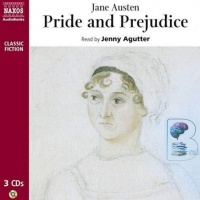 Pride and Prejudice written by Jane Austen performed by Jenny Agutter on Audio CD (Abridged)£14.99
It is a truth universally acknowledged, that a single man in possession of a good fortune, must be in want of a wife. So opens this famous novel which has become Jane Austens best loved and best known work. It was in this book that all Jane Austens talents combined to create not only the most wonderful love story, but dialogue that sparkles with wit and irony, an ingenious and compelling...
Cents and Sensibility written by Maggie Alderson performed by Nicky Talacko on Audio CD (Unabridged)£19.99
Here's a high-fashion, jet-setting novel from the best-selling author of Pants on Fire and Mad About the Boy. Stella Fain has a rule for men she likes: make them wait. But the gorgeous Jay proves an exception to the rule when he bowls Stella off her Prada wedges at a press junket on the Cote d'Azur. He might seem to have everything going for him, but Stella is about to realize that while jetset lifestyles can be fabulous, her career as a journalist isn't something she wants...