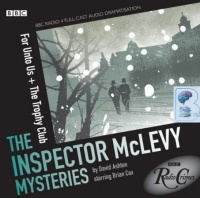 The Inspector McLevy Mysteries - For Unto Us and The Trophy Club written by David Ashton performed by BBC Radio 4 Full-Cast Dramatisation, Brian Cox, Siobhan Redmond and Michael Perceval-Maxwell on CD (Abridged)£4.99
Inspired by the real-life memoirs of a Victorian Inspector in Scotland, James McLevy prowls the dark streets of 1860s Edinburgh bringing criminals to justice, with the assistance of Constable Mulholland.
---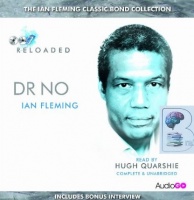 Dr No written by Ian Fleming performed by Hugh Quarshie on CD (Unabridged)£4.99 - £9.99
Dr Julius No is a man with a mysterious past. Nobody knows what secrets are hidden on his Caribbean island, and all those who have attempted to investigate further have disappeared.
---
---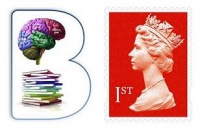 1st Class Postage Charge for Sub 1kg Orders£4.45
This is the fixed price 1st Class Postage Charge to be used when sub 1kg orders are processed.
---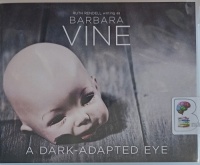 A Dark-Adapted Eye written by Ruth Rendell as Barbara Vine performed by Harriet Walter on Audio CD (Unabridged)£24.99
"A rich, complex and beautifully crafted novel." P. D. James "Compulsively readable a carefully devised plot unfolded with the most cunning art. Wilkie Collins and Dickens would have admired it." Sunday Times Like most families they had their secrets and they hid them under a genteelly respectable veneer. No onlooker would guess that prim Vera Hillyard and her beautiful, adored younger sister, Eden, were locked in a dark...
---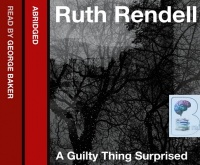 A Guilty Thing Surprised written by Ruth Rendell performed by George Baker on Audio CD (Abridged)£9.99 - £12.99
By the writer of the Wexford novels and read by George Baker
Someone must have had good reason to murder Mrs Elizabeth Nightingale on a dark September night. And as Detective Chief Inspector Wexford investigates, he discovers sinister undercurrents and dramatic secrets beneath the placid surface of the Nightingales' lives…
---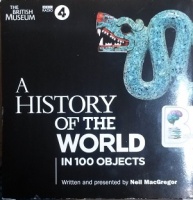 A History of the World in 100 Objects written by Neil MacGregor performed by Neil MacGregor on CD (Unabridged)£19.99 - £39.99
In 2010, the BBC and the British Museum embarked on an ambitious project: to tell the story of two million years of human history using one hundred objects selected from the Museum's vast and renowned collection. Presented by the British Museum's Director Neil MacGregor....
---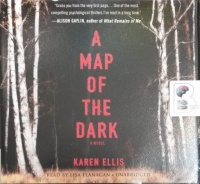 A Map of The Dark written by Karen Ellis performed by Lisa Flanagan on Audio CD (Unabridged)£19.99
A girl missing. A woman searching. A killer planning.... A thrilling new FBI series for fans of Tess Gerritsen and Karin Slaughter. FBI Agent Elsa Myers finds missing people. She knows how it feels to be lost.... Though her father lies dying in a hospital north of New York City, Elsa cannot refuse a call for help.
---
Welcome to All Our Chivers Customers
Below you can click on the relevant image to search the whole of our shop
this will display every title we have in stock
We currently offer Over 5,305 Unabridged audiobooks on CD
We currently offer Over 1120 Unabridged audiobooks on Cassette
We currently offer Over 1150 Unabridged audiobooks on MP3 CD
| | | |
| --- | --- | --- |
| Unabridged CD | Unabridged Cassette | Unabridged MP3 CD |
| | | |
| Unabridged CD | Unabridged Cassette | Unabridged MP3 CD |
Stamp of Genius Collection
Fairy Tales written by Terry Jones performed by Bob Hoskins, Helen Mirren, Michael Hordern and Joan Greenwood on CD (Unabridged)£9.99 - £19.99

Terry Jones, Joan Greenwood, Michael Hordern, Bob Hoskins, Helen Mirren and Tim Rice read of a collection of original fairy tales for 8 to 11-year-olds, written by master storyteller Terry Jones, introducing such bizarre creatures as the fly-by-night, the rainbow cat, and the wonderful cake-horse.
Great New Titles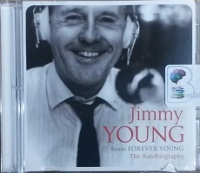 Forever Young - The Autobiography written by Jimmy Young performed by Jimmy Young on CD (Abridged)£9.99
With a record five-and-a-half million listeners and thirty years as BBC Radio 2's top presenter, Sir Jimmy Young left the BBC at Christmas 2002. It was a controversial departure behind which lies a story he is only now prepared to reveal. In an extraordinary career which first brought him fame ...
---
---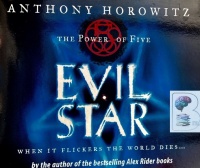 The Power of Five - Evil Star written by Anthony Horowitz performed by Paul Panting on CD (Unabridged)£9.99
In this unabridged reading by Paul Panting, fourteen-year-old Matt Freeman thinks his days of battling evil are over after his experiences at Raven's Gate. But soon he is pulled into another horrifying adventure when he discovers a second gate exists.
---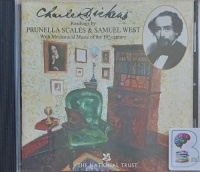 Charles Dickens Readings by Prunella Scales and Samuel West written by Charles Dickens performed by Prunella Scales and Samuel West on Audio CD (Abridged)£9.99
Actors Prunella Scales and Samuel West read the works of author Charles Dickens, with music of Dickens' time played on Victorian musical boxes and cylinder pianos alternates between the spoken work passages. It contains extracts from "Oliver Twist" (1839), "David Copperfield" (1850), "Little Dorrit" (1857), and the climax, three marvelous scenes from "Great Expectations" (1861).
---
---
Everneath written by Brodi Ashton performed by Katherine Fenton on Audio CD (Unabridged)£59.99
"Enthralling and suspenseful, EVERNEATH is pure indulgent escapism!" - Becca Fitzpatrick, NYT Bestselling Author of Hush, Hush Last spring, Nikki Beckett vanished, sucked into an underworld known as the Everneath, where immortals Feed on the emotions of despairing humans. Now she's returned- to her old life, her family, her friends- before being banished back to the underworld... this time forever. She has six months before the Everneath comes to claim her...
---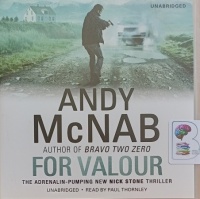 For Valour written by Andy McNab performed by Paul Thornley on Audio CD (Unabridged)£19.99
When a young trooper is shot in the head at the Regiment's renowned Killing House, Nick Stone is perfectly qualified to investigate the mysterious circumstances more deeply. He has just returned from Moscow – still trying to come to terms with the fact that his girlfriend and baby son are safer there without him – so combines an unrivalled understanding of the Special Forces landscape with a detachment that should allow him to remain in cover. But less than forty-eight...
---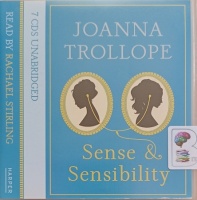 Sense and Sensibility written by Joanna Trollope performed by Rachael Sterling on Audio CD (Unabridged)£19.99
Joanna Trollope's much-anticipated contemporary reworking of Jane Austen's Sense and Sensibility will launch The Austen Project and be one of the most talked about books of 2013. Two sisters could hardly be more different. Elinor Dashwood, an architecture student, values discretion above all. Her impulsive sister Marianne displays her creativity everywhere as she dreams of going to art school. But when the family finds itself forced out of Norland Park, their beloved...