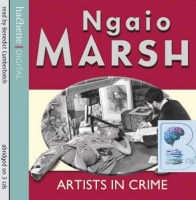 Artists in Crime written by Ngaio Marsh performed by Benedict Cumberbatch on CD (Abridged)£9.99 - £14.99
A Benedict Cumberbatch Genius Performance!
It started as a student exercise, the knife under the drape, the model's pose chalked in place. But before Agatha Troy, artist and instructor, returns to the class, the pose has been re-enacted in earnest....