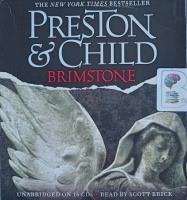 Brimstone written by Douglas Preston and Lincoln Child performed by Scott Brick on Audio CD (Unabridged)£19.99
A body is found in the attic of a fabulous Long Island estate.
There is a claw print scorched into the wall, and the stench of sulfur chokes the air.
When FBI Special Agent Pendergast investigates the gruesome crime, he discovers that thirty years ago four men conjured something unspeakable.
Has the devil come to claim his due?
Some thing can't be undone.