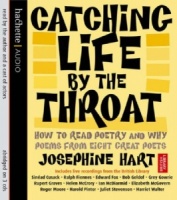 Catching Life by the Throat written by Josephine Hart performed by Famous British Actors on CD (Abridged)£7.99 - £14.99
A Magnificent production for anyone interested in poetry! This set features live recordings from the Josephine Hart Poetry Hour: Eight of the greatest poets in the English language.
---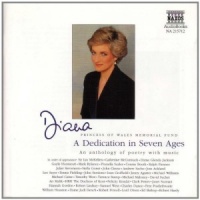 Diana - A Dedication in Seven Ages written by Various Famous Poets performed by Various Famous Actors on CD (Abridged)£5.99
An anthology of poetry accompanied by classical music, based on Lord Owen's "Seven Ages: Poetry for a Lifetime".
The CDs feature over 100 poems read by 40 actors.
They include: Michael Caine reading Rudyard Kipling's "If"; Ralph Fiennes reading Thomas Hood's "I Remember, I Remember"; John Cleese reading "The Owl and the Pussycat"; and Pete Postlethwaite reading "Kubla Khan".
---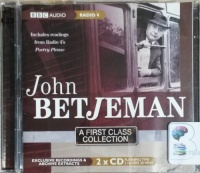 John Betjeman - A First Class Collection written by John Betjeman performed by John Betjeman on CD (Abridged)£14.99 - £19.99
Sir John Betjeman's unique relationship with the BBC left a lasting legacy of poetry, readings and performances. "A First Class Collection" features a selection of some of his most memorable and best-loved poetry.
---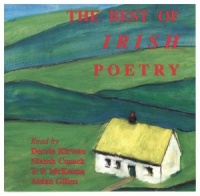 The Best of Irish Poetry written by Various performed by Various Famous Actors on CD (Abridged)£9.99
A fantastic collection of Irish poetry including poems by Oscar Wilde, W.B. Yeats, Seamus Heaney, James Joyce and many others.
Poems are read by Niamh Cusack, Dervla Kirwan, T.P. McKenna and Aidan Gillen.
---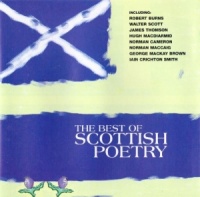 The Best Scottish Poetry written by Various Scottish Poets performed by Alan Cumming, Hannah Gordon, Daniela Nardini and David Rintoul on CD (Abridged)£5.99
A Genius Performance by David Rintoul!
A brilliant selection of great poetry by some of the very best Scottish poets including Robert Burns, Sir Walter Scott, James Thomson and Hugh MacDiarmid.
---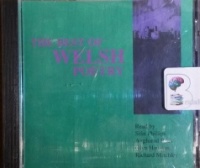 The Best Welsh Poetry written by Famous Welsh Poets performed by Sian Phillips, Angharad Rees, Glyn Houston and Richard Mitchley on CD (Abridged)£9.99
A collection of 39 pieces of Welsh poetry from the last 300 years on CD, read by Sian Phillips, Angharad Rees, Glyn Houston and Richard Mitchley.
---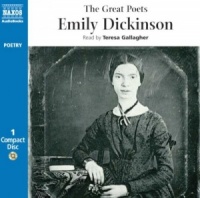 The Great Poets - Emily Dickinson written by Emily Dickinson performed by Teresa Gallagher on CD (Unabridged)£5.99
Some of the finest poems by Emily Dickinson (1830-1886), a unique voice in American poetry. She is known for her short poems, full of acute observations and deft use of language.
---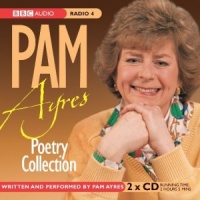 The Pam Ayres Poetry Collection written by Pam Ayres performed by Pam Ayres on CD (Unabridged)£8.99
Writer, poet and broadcaster Pam Ayres has been making her fans smile for more than 30 years since her first television appearance on Opportunity Knocks. This audiobook contains a collection of her poetry.
---
---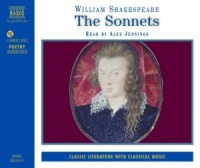 The Sonnets written by William Shakespeare performed by Alex Jennings on CD (Unabridged)£4.99
This new edition focuses on the Sonnets as poetry - sometimes strikingly individual poems, but often subtly interlinked in thematic, imagistic and other groupings.
---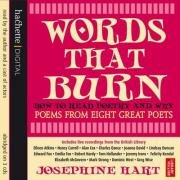 Words that Burn written by Josephine Hart performed by Various Famous Actors on CD (Abridged)£11.99 - £24.99
More wonderful Poetry from Milton, Byron, Keats, Shelley, Browning, Frost and Lowell.
Performed genius actors including Eileen Atkins, Nancy Carroll, Alan Cox, Charles Dance, Joanna David, Lindsay Duncan, Edward Fox, Emilia Fox, Robert Hardy, Tom Hollander, Jeremy Irons, Felicity Kendall, Elizabeth McGovern, Mark Strong, Dominic West, Greg Wise
Which is the Best Performance of .......
Charles Dickens - A Christmas Carol
As Christmas approaches thoughts turn to what has to be THE audiobook for this time of year.
If the media is a deciding factor, and you don't want to use our Audio Transfer service, then you may well be restricted to what are good performances but not the best. Again if you must have an Unabridged performance then, though the performances are excellent, the very best performance will not be available to you.
We will take a look at each performance and rate them on pace, passion and pizzazz!
Unabridged - CD
The choice here is between an old favourite Anton Lesser and Miriam Margolyes. After listening to both of these recordings I have to say there is little to separate them in terms of Pace. Both these massively experienced actors perform the book at almost exactly the same pace. Even the durations of the performances come in within 3 mins of each other. Anton Lesser is a trifle more staccato in has attack but both show their classical talents wonderfully well.
Passion is a critical factor in audiobook performance. With a story such as this, and an author such as Dickens, passion has to be controlled very precisely. Again there is little to divide the 2 performances in this regard. Though, it should not be forgotten that one's own experience with a performer can play a significant role. We are very aware that with Anton Lesser, current with over 20 performances in stock, we have a long standing admiration of his work. On the other hand we do have 10 titles performed by Miriam Margolyes and have, to this day, never found any of them less than excellent.
Finally we come to Pizzazz. This most subjective of aspects will be deeply influenced by our experience with the performer. With that aspect in mind we have to give Anton Lesser the edge. His characterisations, through changes in voice and pace, appear smoother and less forced that that of Miriam Margolyes.
Abridged - CD
In this classification there are again only two options. For those of us who want the gist of the story and have only 75 mins to spend, perhaps this is just long enough for younger children, David Jason does en excellent job. Anton Lesser's production is, almost the whole story, coming in at over 2 and a half hours, so a direct comparison is not appropriate. A real comparison with David Jason's performance needs to be with the other abridged performances and unfortunately this one is clearly not the best available. For that we must wait until the cassette versions. But, if time is limited and a packaged CD is required then David Jason's version will suit very well.
Unabridged - Cassette
Just a quick reminder of our Audio Transfer Service - Format is no longer a limit!
Now we come to what may well be the best unabridged performance of this work. Geoffrey Palmer's performance is very good. In terms of his pacing, the duration of the recording comes in at around 3 hours 30 mins and his style is something to be enjoyed. This one is for those of us to want to be entertained for a whole afternoon. Geoffrey Palmer's reading is in equal part characterful, in the best sense, and almost musical in nature. The characters sound very distinctive and he navigates the story like a true maestro. It is only a shame that he performed so few audiobooks. To conclude this is the best recording when an unabridged performance is wanted.
Abridged - Cassette
There is a distinction required between "reading" performances and dramatisation performances. Patrick Stewart's work is rather more a dramatisation than a "reading". This lends the production to being perhaps the most accessible to the youngest of children. This work is less likely to please the adult listener as many of the characters are voiced rather over-emphatically. At just under 2 hours this one will suit the under 10 age group quite well.
Now to the reading performances.
John Gielgud's reading comes in at around 60 mins and would suit those looking for a great reading, with passion and lovely characterisations, all crammed into an hour. There is little time during this production for any pizzazz but it should be remembered that Gielgud's performance is never less than supremely entertaining so this should not be a problem.
Paul Scofield's production is, as always, beautifully rendered. The pace is never slow and time is given to each character. Passion is communicated with exceptional control - a true maestro working at near the top of his game. Pizzazz is not something that this great actor is associated with very often and this is no exception. This work is ideal for those of us who value and enjoy Mr Scofield's brilliant classical tone.
Now we come to a performance that we at Brainfood Audiobooks have come to rate as one of our Stamp of Genius series. After many 1000s of audiobooks there are very few that make it into our top 20 audiobooks ever and this is a long time member of that club.
What is it about this production that makes it so extra-ordinary? Well the pacing is just right. The reading comes in at just under 2 hours and the pacing is never pressured. There is in no way a lull in the performance. Every word is essential. Passion? The deftness of Mr Rossiter's performance is quite sublime. It is a terrible shame that he did so few audio productions as his talent for them is without doubt exceptional. Each character lives from beginning to end. The laughs are there as are the tears in the sadder moments. A great artist at work. Perhaps his comic timing is at the root of why this production is so wonderful? We can only conclude in saying that whenever this performance graces our audio player there is nothing to do but sit back and listen!
Audio CD

Audio Cassette

Unabridged

Abridged

Unabridged

Abridged

Dramatisation
Stamp of Genius Collection
Fairy Tales written by Terry Jones performed by Bob Hoskins, Helen Mirren, Michael Hordern and Joan Greenwood on CD (Unabridged)£9.99 - £29.99

Terry Jones, Joan Greenwood, Michael Hordern, Bob Hoskins, Helen Mirren and Tim Rice read of a collection of original fairy tales for 8 to 11-year-olds, written by master storyteller Terry Jones, introducing such bizarre creatures as the fly-by-night, the rainbow cat, and the wonderful cake-horse.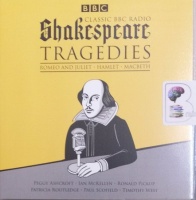 Classic BBC Radio Shakespeare Tragedies - Romeo and Juliet - Hamlet - Macbeth written by William Shakespeare performed by Peggy Ashcroft, Ian McKellen, Ronald Pickup and Timothy West on Audio CD (Unabridged)£29.99
Three powerful radio productions from the BBC archives starring Ian McKellen, Ronald Pickup and Paul Scofield and a host of celebrated acting talent. These three legendary plays, performed by some of the best-known theatrical actors of the 20th century, are the perfect way to commemorate England's greatest...
---
Crossfire written by Dick Francis and Felix Francis performed by Martin Jarvis on Audio CD (Unabridged)£19.99
Captain Thomas Forsyth's second tour of Afghanistan is cut brutally short when he's badly wounded by a roadside bomb. Tom's world is torn apart by the injury – the Army is his life. The thought of never rejoining his regiment is a terrifying prospect and one that he is not willing to entertain. Tom returns...
---
---
---
---
---
---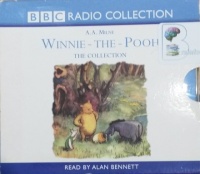 Winnie-The-Pooh - The Collection written by A.A. Milne performed by Alan Bennett on Audio CD (Abridged)£19.99
This set includes the stories - The House at Pooh Corner, A Party for Pooh and Winnie-the-Pooh
---
---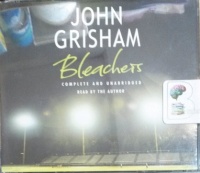 Bleachers written by John Grisham performed by John Grisham on Audio CD (Unabridged)£12.99
Neely Crenshaw was once star quarterback for Messina High School's football team. His playing days ended with a sickening injury. Afterwards his life went nowhere: his marriage foundered and his real estate business drifted. For fifteen years he's been trying to forget his glorious past as sporting hero but...
---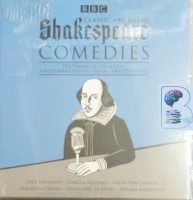 Classic BBC Radio Shakespeare Comedies - The Taming of the Shrew - A Midsummer Night's Dream - Twelfth Night written by William Shakespeare performed by Paul Daneman, Fenella Fielding, Nigel Hawthorne and Geraldine McEwan on Audio CD (Unabridged)£24.99 - £29.99
Three classic radio productions from the BBC archives starring Nigel Hawthorne, Miriam Margolyes, Geraldine McEwan and a host of celebrated acting talent. These three legendary plays, performed by some of the best-known theatrical actors of the 20th century, are the perfect way to commemorate England's...
---