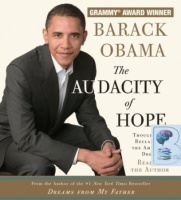 The Audacity of Hope - Thoughts on Reclaiming the American Dream written by Barack Obama performed by Barack Obama on CD (Abridged)£19.99
Shortlisted for the British Book Awards, Author of the Year, 2009.
Winner of a Grammys Award for Best Spoken Word Album, 2008.
In July 2004, Barack Obama electrified the Democratic National Convention with an address that spoke to Americans across the political spectrum.