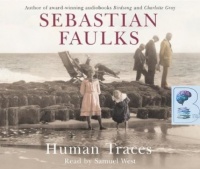 Human Traces written by Sebastian Faulks performed by Samuel West on CD (Abridged)£14.99
A Genius Performance by Samuel West!
Human Traces explores the question of what kind of beings men and women really are.
Jacques Rebière and Thomas Midwinter, both sixteen when the story starts in 1876, come from different countries and contrasting families. They are united by an ambition to understand how the mind works and whether madness is the price we pay for being human.