Related Books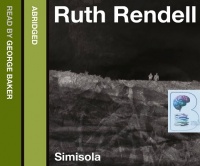 Simisola written by Ruth Rendell performed by George Baker on CD (Abridged)£9.99
A Genius Performance by George Baker! "We're all racist in this country" said Wexford. "Without exception. People over 40 are the worst and that's about all you can say. " But until he became involved with the Akandes, whose daughter had gone missing, Wexford hadn't applied that reality to himself. Melanie Akande was black, one of only eighteen black people living in Kingsmarkham, and her father Raymond ...
Cents and Sensibility written by Maggie Alderson performed by Nicky Talacko on Audio CD (Unabridged)£19.99
Here's a high-fashion, jet-setting novel from the best-selling author of Pants on Fire and Mad About the Boy. Stella Fain has a rule for men she likes: make them wait. But the gorgeous Jay proves an exception to the rule when he bowls Stella off her Prada wedges at a press junket on the Cote d'Azur. He might seem to have everything going for him, but Stella is about to realize that while jetset lifestyles can be fabulous, her career as a journalist isn't something she wants...