Related Books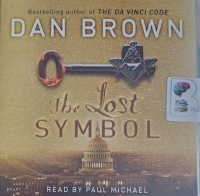 The Lost Symbol written by Dan Brown performed by Paul Michael on Audio CD (Abridged)£9.99
Six years in the writing, "The Lost Symbol" is Dan Brown's extraordinary sequel to his internationally bestselling Robert Langdon thrillers, "Angels & Demons" and "The Da Vinci Code". Nothing is ever what it first appears in a Dan Brown novel. Set over a breathtaking 12 hour time span, the book's narrative takes the reader on an exhilarating journey through a masterful and unexpected...
Confessions of a Teenage Drama Queen written by Dyan Sheldon performed by Jo Wyatt on Audio CD (Unabridged)£39.99
There is only room for one drama queen - which one will take centre stage? When Lola moves from New York City to boring Dellwood - Deadwood - Falls she thinks her life is over. But she soon discovers a way to shake things up - and it involves taking on the high school's biggest bully, getting the lead in the school play, not to mention crashing a rock star's party! Set in an American high school, this is a fast and funny account of the rivalry between Carla...