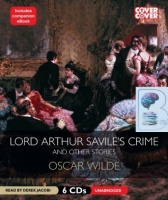 Lord Arthur Savile's Crime and Other Stories written by Oscar Wilde performed by Derek Jacobi on CD (Unabridged)£19.99
A Genius Performance by Derek Jacobi! Lord Arthur Savile is engaged to the lovely Sybil Merton, but a chiromantist reads Arthur Savile's palm and tells him that, in future, he will commit a murder. Lord Arthur wants to marry, but he decides to commit the murder before marrying....
so that his wife may not be caused to blush for his wrongdoing.