Related Books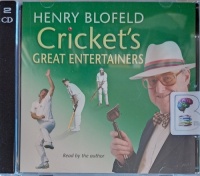 Cricket's Great Entertainers written by Henry Blofeld performed by Henry Blofeld on Audio CD (Abridged)£3.99 - £4.99
As a widely respected cricket historian, with an encyclopaedic knowledge of the game, and also a writer with a great sense of fun, Henry Blofeld is the ideal man to select the great characters of cricket who have livened up the sport. We learn of the exploits of the legendary Ian Botham, a man who made up his own rules and has been at the centre of controversy on countless occasions; Garry Sobers, an immensely...
Confessions of a Teenage Drama Queen written by Dyan Sheldon performed by Jo Wyatt on Audio CD (Unabridged)£39.99
There is only room for one drama queen - which one will take centre stage? When Lola moves from New York City to boring Dellwood - Deadwood - Falls she thinks her life is over. But she soon discovers a way to shake things up - and it involves taking on the high school's biggest bully, getting the lead in the school play, not to mention crashing a rock star's party! Set in an American high school, this is a fast and funny account of the rivalry between Carla...