Selected Works of Dylan Thomas
---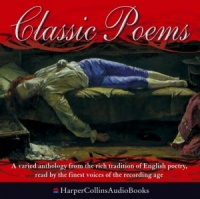 Classic Poems written by Various performed by Sir Ralph Richardson, Dylan Thomas and James Mason on CD (Abridged)£7.99
A Genius Performance by Ralph Richardson and Sir John Gielgud plus many more!
A varied anthology of poets – including Eliot and Auden – reading their own words, and favorite poems by Keats, Browning, Kipling, Tennyson and many more read by the finest voices of the recording age.
---
---
The Stamp of Genius
Spot Light on Genius
Every day we, at Brainfood Audiobooks, are confronted by a huge variety of audio books both new and old, rare and not so rare. Every once in a while a book will slowly emerge as an audiobook classic. Some times the quality of a book might be seen in it's constituents. A great author or a great actor might bring the attention to an audiobook production and there are many of these to choose from including
Paul Scofiled's Four Quartets and Robert Stephen's Richard III
but some times the DNA of an audiobook can appear quite good, strong but not exceptional, then some strange alchemy occurs. A conjoining of two very good, elements, an excellent author with a wonderful performer, can produce an audiobook of such quality that there a few ways of describing the experience.Once such book is .......
Perfume
Written by Patrick Suskind , his first novel, touches on the most elusive of our senses in such a manner that you may never consider it such a passive experience again. Then into this book with dark sensual themes comes the voice of Sean Barrett. We must declare now that we, at Brainfood Audiobooks, are all a big fan of Sean Barrett's audio performances. This performance is truly captivating. For many of us readers/listeners, there have been books that captivate to such an extent that time becomes quite secondary. Another page to finish the chapter and another chapter as the story draws you in. Even sleep can be forestalled as the book appears to become so much more than paper/a tape or CD. This is such a book. If you decide to dip into these waters be prepared for an 8 hour listen......
New In May 2017 Part 2
Alert written by James Patterson and Michael Ledwidge performed by Danny Mastrogiorgio and Henry Leyva on CD (Unabridged)£6.99

Every New Yorker's worst nightmare is about to become a reality. New York has seen more than its fair share of horrific attacks, but the city is about to be shaken in a way it never has before. After two devastating catastrophes in quick succession, everyone is on edge.

Dream Master - Arabian Nights written by Teresa Breslin performed by Clifford Norgate on CD (Unabridged)£14.99

Every dream has a Dream Master to control it. But Cy has such a vivid imagination that he has met his Dream Master and can travel with him through Time and Space to actually live his dreams. But what would happen if a character from Cy's dream decided to come and live in his Time and Space?

Life Lines - Poets for Oxfam written by Various Modern Poets performed by Simon Armitage, Pam Ayres, Wendy Cope and Benjamin Zephaniah on CD (Unabridged)£4.99

69 of the English-speaking world's most acclaimed poets each perform a short piece selected from their own repertoire. They have donated their time, and waived all publishing & performance rights for this CD. All profits from the sale of this unique CD go towards Oxfam's work in more than 60 countries.

Maximum Ride - The Angel Experiment written by James Patterson performed by Laurel Lefkow on CD (Unabridged)£14.99 - £19.99

Welcome to my nightmare! Do not put this book down. I'm dead serious - your life could depend on it. I'm risking everything by telling you - but you need to know. Strap yourself in for the thrill ride you'll want to take again and again!

My Side written by David Beckham performed by Tom Watts on CD (Abridged)£4.99

David Beckham is one of the world's foremost media icons, his popularity transcending sport and cultural divides. This is his own in-depth account of his career to date, for Manchester United and England, and of his childhood, family and personal life.

Never Never written by James Patterson and Candice Fox performed by Federay Holmes on CD (Unabridged)£9.99

When Sydney police department sex crimes detective Harriet Blue is called into her boss's office, she never imagined it would be to tell her that her brother is the prime suspect in the brutal murders of three women.

Othello written by William Shakespeare performed by Ewan McGregor, Tom Hiddleston, Alastair Sims and Chiwetel Ejiofor on CD (Abridged)£9.99

Shakespeare's Othello is one of his finest and most famous tragedies. This highly acclaimed performance, which ran between November 2007 and February 2008 at the Donmar Warehouse in London, features Chiwetel Ejiofor as the Moor Othello, Ewan McGregor as the scheming Iago ...

Running with Scissors written by Augusten Burroughs performed by Augusten Burroughs on CD (Unabridged)£13.99

This is the story of a boy whose mother (a poet with delusions of grandeur) gave him away to be raised by her psychiatrist, a dead ringer for Santa Claus and a certifiable lunatic into the bargain. Suddenly at the age of 12, Augusten found himself living in a dilapidated Victorian house in perfect squalor.

Sleep Programming written by Dick Sutphen performed by Dick Sutphen on CD (Unabridged)£29.99

All Sessions are approximately 50 minutes long: Session 1 Anything is possible. Session 2 Self-Discipline. Session 3 Learning Acceleration. Session 4 I Am Secure & Confident. Session 5 Be Assertive. Session 6 Increase Your $ Income.

Truth or Die written by James Patterson and Howard Roughan performed by Edoardo Ballerini on CD (Unabridged)£6.99

The truth will set you free – if it doesn't kill you first. New York attorney Trevor Mann's world shatters when he receives a phone call telling him his girlfriend has been shot dead in a mugging. But the circumstances point to something more calculated than a random attack.

Voices of History written by Key Historical World Figures performed by William Ewart Gladstone, Christabel Pankhurst, Josiah Wedgwood and Mahatma Gandhi on CD (Abridged)£9.99

69 of the English-speaking world's most acclaimed poets each perform a short piece selected from their own repertoire.