Selected Works of Dylan Thomas
---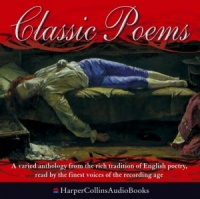 Classic Poems written by Various performed by Sir Ralph Richardson, Dylan Thomas and James Mason on CD (Abridged)£7.99
A Genius Performance by Ralph Richardson and Sir John Gielgud plus many more!
A varied anthology of poets – including Eliot and Auden – reading their own words, and favorite poems by Keats, Browning, Kipling, Tennyson and many more read by the finest voices of the recording age.
---
---
The Stamp of Genius
Spot Light on Genius
Every day we, at Brainfood Audiobooks, are confronted by a huge variety of audio books both new and old, rare and not so rare. Every once in a while a book will slowly emerge as an audiobook classic. Some times the quality of a book might be seen in it's constituents. A great author or a great actor might bring the attention to an audiobook production and there are many of these to choose from including
Paul Scofiled's Four Quartets and Robert Stephen's Richard III
but some times the DNA of an audiobook can appear quite good, strong but not exceptional, then some strange alchemy occurs. A conjoining of two very good, elements, an excellent author with a wonderful performer, can produce an audiobook of such quality that there a few ways of describing the experience.Once such book is .......
Perfume
Written by Patrick Suskind , his first novel, touches on the most elusive of our senses in such a manner that you may never consider it such a passive experience again. Then into this book with dark sensual themes comes the voice of Sean Barrett. We must declare now that we, at Brainfood Audiobooks, are all a big fan of Sean Barrett's audio performances. This performance is truly captivating. For many of us readers/listeners, there have been books that captivate to such an extent that time becomes quite secondary. Another page to finish the chapter and another chapter as the story draws you in. Even sleep can be forestalled as the book appears to become so much more than paper/a tape or CD. This is such a book. If you decide to dip into these waters be prepared for an 8 hour listen......
New In May 2017 Part 1
Courier Collection Service for Audio Transfer£15.00

This is the Courier Collection Service offered to Customers who have ordered our Audio Transfer Service.

Fairy Tales written by Terry Jones performed by Bob Hoskins, Helen Mirren, Michael Hordern and Joan Greenwood on CD (Unabridged)£9.99 - £19.99

Terry Jones, Joan Greenwood, Michael Hordern, Bob Hoskins, Helen Mirren and Tim Rice read of a collection of original fairy tales for 8 to 11-year-olds, written by master storyteller Terry Jones, introducing such bizarre creatures as the fly-by-night, the rainbow cat, and the wonderful cake-horse.

Fifty Shades Darker written by E.L. James performed by Becca Battoe and on CD (Unabridged)£5.99

Romantic, liberating and totally addictive, the Fifty Shades trilogy will obsess you, possess you, and stay with you for ever ... Daunted by the dark secrets of the tormented young entrepreneur Christian Grey, Ana Steele has broken off their relationship to start a new career with a US publishing house.

Murder On the Orient Express written by Agatha Christie performed by David Suchet on CD (Unabridged)£9.99

Just after midnight, a snowdrift stopped the Orient Express in its tracks. The luxurious train was surprisingly full for the time of the year. But by the morning there was one passenger fewer. An American lay dead in his compartment, stabbed a dozen times, his door locked from the inside.

No Orchids for Miss Blandish written by James Hadley Chase performed by Jeff Harding on CD (Unabridged)£7.99

Exciting, hard-hitting and gruesome by turn, this 1939 novel delivers violent, bloody fiction. American heiress Miss Blandish is kidnapped by a gang of inept criminals trying their hand at big-time crime.

Parliamo Glasgow by Stanley Baxter performed by Stanley Baxter Abridged on CD£19.99

This is a hilarious and essential guide to understanding the intricacies and nuances of one of Britain's most colourful dialects. It has been immensely popular over the years and has provided the inspiration for a number of acts explaining the idiosyncrasies of local and national dialects from Dundonian to Australian.

Play Dead written by Harlan Coben performed by Scott Brick on CD (Abridged)£4.99

Ex fashion model and successful business woman Laura Ayars' perfect world is shattered at a time which should have been the happiest of her life. On her honeymoon, her sports superstar husband goes for a swim - and never returns. But what has happened to David - can he really be dead?

Rod - The Autobiography written by Rod Stewart performed by Simon Vance on CD (Unabridged)£14.99

Rod Stewart was born the working-class son of a Scottish plumber in North London. Despite some early close shaves with a number of diverse career paths, ranging from gravedigging to professional football, it was music that truly captured his heart – and he never looked back.

Sly Moves written by Sylvester Stallone performed by Robb Webb on CD (Unabridged)£11.99 - £14.99

Are you ready to be a contender? Sylvester Stallone's action–oriented program for getting fit and eating right is also a revealing portrait of one of Hollywood's biggest stars. Sly Moves is more than just a handbook on fitness and nutrition.

The Big Bad Wolf written by James Patterson performed by Kerry Shale on CD (Abridged)£19.99

Who's Afraid? Alex Cross's first case since joining the FBI has his new colleagues perplexed. Across the country, men and women are kidnapped in broad daylight. They are not being taken for ransom, Alex realises, but being bought and sold.

The Blue Zone written by Andrew Gross performed by Ilyana Kadushin on CD (Unabridged)£7.99

A breathtaking novel of suspense from the co-author of five bestselling James Patterson novels, including 'Judge and Jury' and 'Lifeguard'. They were the perfect family. And he was the perfect family man. One day changed it all.

The Girl On The Train written by Paula Hawkins performed by Clare Corbett, India Fisher and Louise Brealey on CD (Unabridged)£9.99 - £14.99

THE NUMBER ONE BESTSELLER. YOU DON'T KNOW HER. BUT SHE KNOWS YOU. Rear Window meets Gone Girl, in this exceptional and startling psychological thriller Gripping, enthralling - a top-notch thriller and a compulsive read' S J WATSON, bestselling author of Before I Go To Sleep.