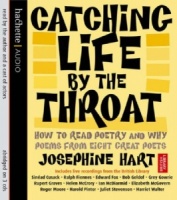 Catching Life by the Throat written by Josephine Hart performed by Famous British Actors on CD (Abridged)£7.99 - £14.99
A Magnificent production for anyone interested in poetry! This set features live recordings from the Josephine Hart Poetry Hour: Eight of the greatest poets in the English language.
---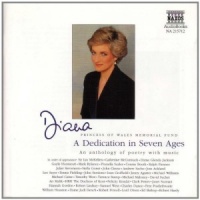 Diana - A Dedication in Seven Ages written by Various Famous Poets performed by Various Famous Actors on CD (Abridged)£5.99
An anthology of poetry accompanied by classical music, based on Lord Owen's "Seven Ages: Poetry for a Lifetime".
The CDs feature over 100 poems read by 40 actors.
They include: Michael Caine reading Rudyard Kipling's "If"; Ralph Fiennes reading Thomas Hood's "I Remember, I Remember"; John Cleese reading "The Owl and the Pussycat"; and Pete Postlethwaite reading "Kubla Khan".
---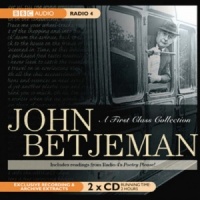 John Betjeman - A First Class Collection written by John Betjeman performed by John Betjeman on CD (Abridged)£14.99 - £19.99
Sir John Betjeman's unique relationship with the BBC left a lasting legacy of poetry, readings and performances. "A First Class Collection" features a selection of some of his most memorable and best-loved poetry.
---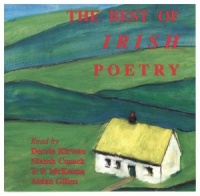 The Best of Irish Poetry written by Various performed by Various Famous Actors on CD (Abridged)£9.99
A fantastic collection of Irish poetry including poems by Oscar Wilde, W.B. Yeats, Seamus Heaney, James Joyce and many others.
Poems are read by Niamh Cusack, Dervla Kirwan, T.P. McKenna and Aidan Gillen.
---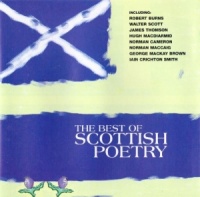 The Best Scottish Poetry written by Various Scottish Poets performed by Alan Cumming, Hannah Gordon, Daniela Nardini and David Rintoul on CD (Abridged)£5.99
A Genius Performance by David Rintoul!
A brilliant selection of great poetry by some of the very best Scottish poets including Robert Burns, Sir Walter Scott, James Thomson and Hugh MacDiarmid.
---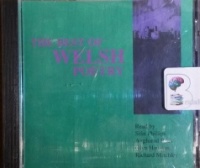 The Best Welsh Poetry written by Famous Welsh Poets performed by Sian Phillips, Angharad Rees, Glyn Houston and Richard Mitchley on CD (Abridged)£9.99
A collection of 39 pieces of Welsh poetry from the last 300 years on CD, read by Sian Phillips, Angharad Rees, Glyn Houston and Richard Mitchley.
---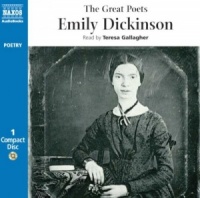 The Great Poets - Emily Dickinson written by Emily Dickinson performed by Teresa Gallagher on CD (Unabridged)£5.99
Some of the finest poems by Emily Dickinson (1830-1886), a unique voice in American poetry. She is known for her short poems, full of acute observations and deft use of language.
---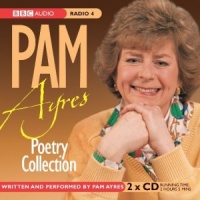 The Pam Ayres Poetry Collection written by Pam Ayres performed by Pam Ayres on CD (Unabridged)£8.99
Writer, poet and broadcaster Pam Ayres has been making her fans smile for more than 30 years since her first television appearance on Opportunity Knocks. This audiobook contains a collection of her poetry.
---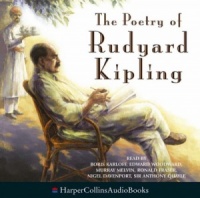 The Poetry of Rudyard Kipling written by Rudyard Kipling performed by Various Famous Actors, Edward Woodward, Anthony Quayle and Boris Karloff on CD (Abridged)£39.99
There is in the eminently quotable lines of Kipling's poetry a varying shimmer of greatness. His poems convey strong emotions of bitterness, humanity and sentiment. They are poems of kinship with humankind, of nobility, of reflected glory and the futilities of our own time.
---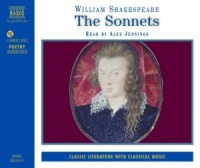 The Sonnets written by William Shakespeare performed by Alex Jennings on CD (Unabridged)£3.99
This new edition focuses on the Sonnets as poetry - sometimes strikingly individual poems, but often subtly interlinked in thematic, imagistic and other groupings.
---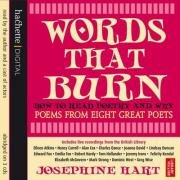 Words that Burn written by Josephine Hart performed by Various Famous Actors on CD (Abridged)£11.99 - £24.99
More wonderful Poetry from Milton, Byron, Keats, Shelley, Browning, Frost and Lowell.
Performed genius actors including Eileen Atkins, Nancy Carroll, Alan Cox, Charles Dance, Joanna David, Lindsay Duncan, Edward Fox, Emilia Fox, Robert Hardy, Tom Hollander, Jeremy Irons, Felicity Kendall, Elizabeth McGovern, Mark Strong, Dominic West, Greg Wise
New In July 2017 Part 3
(in alphabetical order)
All The World's A Stage written by William Shakespeare performed by Laurence Olivier, Paul Scofield, Peggy Ashcroft, Vivien Leigh, Richard Burton, Ralph Richardson, Venessa Redgrave, Derek Jacobi, Robert Stephens and John Guilgud on Cassette (Abridged)£14.99

A wonderful variety of excerpts from the works of the Bard with some of the best voices ever.

Artemis Fowl and the Lost Colony written by Eoin Colfer performed by Adrian Dunbar on CD (Abridged)£6.99

Ten millennia ago, the fairy people were defeated in a great battle with mankind, forcing them to move underground. Only the 8th family of fairies remained undefeated: the demons. But now one demon has discovered the secrets of the fairy world, and if humans get hold of this information, the fairies are in BIG trouble.

Artemis Fowl The Opal Deception written by Eoin Colfer performed by Adrian Dunbar on CD (Abridged)£6.99

Evil pixie, Opal Koboi is back and she's more dangerous than ever. This time she doesn't just want power over the fairy People, this time she wants the lot. Everyone is under threat - humans and fairies alike. Captain Holly Short is the only fairy with a hope of stopping her, but as Holly knows, it takes one genius criminal ....

Danny the Champion of the World written by Roald Dahl performed by Will Young on CD (Unabridged)£9.99

Danny lives in a gipsy caravan with his father, the most marvellous and exciting father any boy ever had. All the land around them belongs to Mr Victor Hazell, a rich snob with a great glistening beery face and tiny piggy eyes. Nobody likes him, not one-little bit.

Elephants Can Remember written by Agatha Christie performed by Hugh Fraser on CD (Unabridged)£11.99

Hercule Poirot stood on the cliff-top. For here, many years earlier, there had been a tragic accident – the broken body of a woman was discovered on the rocks at the foot of the cliff. This was followed by the grisly discovery of two more bodies – a husband and wife – shot dead.

Feeling Fine Affirmations written by Louise L. Hay performed by Louise L. Hay on CD (Unabridged)£4.99

Subliminal messages work because they are recorded and inserted electronically under music and environmental sounds and are heard by the subconscious mind without conscious interference. This CD contains subliminal affirmations such as 'I approve of myself', 'I enjoy all of my life' and 'I am worthy of success' to enhance your ....

finding happiness - Monastic Steps for a Fulfilling Life written by Abbot Christopher Jamison performed by Abbot Christopher Jamison on CD (Unabridged)£9.99

Why is 'being happy' such an imperative nowadays? What meaning do people give happiness? In this book Abbot Christopher turns to monastic wisdom to offer answers, and to explain that in essence, happiness is a gift, not an achievement, the fruit of giving and receiving blessings.

Fool Moon written by Jim Butcher performed by James Marsters on MP3 CD (Unabridged)£4.99

Meet Harry Dresden, Chicago's first (and only) Wizard P.I. Turns out the 'everyday' world is full of strange and magical things - and most of them don't play well with humans. That's where Harry comes in. Business has been slow lately for Harry Dresden. Okay, business has been dead.

Hamlet written by William Shakespeare performed by Paul Scofield, Diana Wynyard, Wilfred Lawson and Michael Hordern on Cassette (Unabridged)£14.99

The tragedy of "Hamlet", probably the most famous in literature, has become a basic part of the culture of the western world. The problems it raises, of the ability of a man of good will to act effectively upon a corrupt world, have been stated nowhere so movingly.

Julius Caesar written by William Shakespeare performed by Gerard Murphy, Stella Gonet, Nicholas Farrell and Samantha Bond on Cassette (Abridged)£9.99

A radio dramatization of Shakespeare's "Julius Caesar". The play is introduced by Richard Eyre, former Director of The Royal National Theatre. The sleeve notes include a scene-by-scene synopsis, full character analysis, and an essay on interpretation from the producer.

Macbeth written by William Shakespeare performed by Denis Quilley, Hannah Gordon, Clifford Rose and Sean Barrett on Cassette (Abridged)£7.99

Macbeth is one of Shakespeare's four great tragedies, encompassing witchcraft, bloody murder, ghostly apparitions as well as high poetry, blended in such a way as to demonstrate the assured dramatic touch of Shakespeare's maturity. Macbeth's tragedy is that of a good, brave and honourable man turned ...

Making Divorce Work written by Keith Barret performed by Keith Barret on CD (Unabridged)£4.99

An hilarious spoof Self Help book from the star of MARION & GEOFF and host of the new hit BBC comedy THE KEITH BARRET SHOW. "I don't feel like I have lost a wife but that I have gained a friend. I would never have met Geoff if Marion hadn't left me."

Mr Timothy written by Louis Bayard performed by Mark Honan on CD (Unabridged)£29.99

Welcome to the world of a grown-up Timothy Cratchit, as created by the astonishing imagination of author Louis Bayard. Mr. Timothy Cratchit has just buried his father. He's also struggling to bury his past as a cripple and shed his financial ties to his benevolent "Uncle" Ebenezer by losing himself in the thick of London's underbelly.

Self-Esteem Affirmations written by Louise L. Hay performed by Louise L. Hay on CD (Unabridged)£4.99

This powerful CD, created and narrated by Louise L. Hay, contains a series of positive affirmations that will help you experience the joy, fulfillment, love, and wonder that are present in you right now. Hearing affirmations audibly or subliminally is like the planting of seeds in a well-tended garden.

Shift - The Sequel to Shade written by Jeri Smith-Ready performed by Christian Hvam on CD (Unabridged)£14.99

Aura's life is anything but easy. Her boyfriend, Logan, died, and his slides between ghost and shade have left her reeling. Aura knows he needs her now more than ever. She loves Logan, but she can't deny her connection with the totally supportive, totally gorgeous Zachary.

Slouching Towards Bethlehem written by Joan Didion performed by Diane Keaton on MP3 CD (Unabridged)£11.99

The first nonfiction work by one of the most distinctive prose stylists of our era, Joan Didion'sSlouching Towards Bethlehem remains, decades after its first publication, the essential portrait of America--particularly California--in the sixties. It focuses on such subjects as John Wayne and Howard Hughes, growing up a girl ...

Spanking New on 7 - The Best New Stand-Up Comedy written by BBC Radio Comedy performed by Robin Ince, Miles Jupp, Natalie Haynes and Andy Zaltzman on CD (Abridged)£4.49 - £4.99

Spanking New on 7 is BBC7's first original comedy series. Compered by Robin Ince (from BBC2's The Office, E4's The Pilot Show and Radio 4's The In-Crowd) it showcases new or unknown stand-up comedians. This release features the best of the first series, including material not featured in the original BBC7 broadcasts.

Tess of the D'Urbervilles written by Thomas Hardy performed by Martin Shaw and Lindsay Duncan on CD (Abridged)£5.99

A Genius Performance by Martin Shaw!

Set in Hardy's Wessex, Tess is a moving novel of hypocrisy and double standards. Its challenging sub-title, A Pure Woman, infuriated critics when the book was first published in 1891, and it was condemned as immoral and pessimistic.

The Girl with the Lower Back Tattoo written by Amy Schumer performed by Amy Schumer on CD (Unabridged)£9.99

The highly anticipated first book from award-winning comedian, writer, producer and actress, Amy Schumer. In The Girl with the Lower Back Tattoo, Amy shares stories about her family, her relationships, her career, good – and bad – sex, recounting the experiences that have shaped who she is today:

The Hours written by Michael Cunningham performed by Patricia Hodge on CD (Unabridged)£9.99

Exiled in Richmond in the 1920s, Virginia Woolf struggles to tame her rebellious mind and make a start on her new novel. In 1990s New York, Clarissa Vaughan goes shopping for flowers for a party for her AIDS-suffering poet-friend. This novel meditates on artistic behaviour, love and madness.

The Ice Cream Girls written by Dorothy Koomson performed by Adjoa Andoh and Julie Maisey on MP3 CD (Unabridged)£4.99

As teenagers, Poppy Carlisle and Serena Gorringe were the only witnesses to a tragic event. Amid heated public debate, the two seemingly glamorous teens were dubbed 'The Ice Cream Girls' by the press and were dealt with by the courts.

The Low-GL Diet Bible written by Patrick Holford performed by Patrick Holford on CD (Abridged)£14.99

Patrick is at the forefront of research into fast, safe and lasting weight loss, pinpointing that the secret of successful weight loss is to balance your blood sugar. By eating foods with a low glycemic load (GL), you can balance your blood sugar and not only lose weight quickly but keep it off, feel full of energy and enjoy greatly improved health.

The Pacific - Hell was and Ocean Away written by Hugh Ambrose performed by Mike Chamberlain on CD (Unabridged)£9.99

THE PACIFIC is a gripping piece of historical writing following the extraordinary true stories of four U.S. Marines and a U.S. Navy carrier pilot fighting in the Pacific region during World War II. Between America's retreat from China in late November 1941 and the moment General MacArthur's airplane touched down ....

The Shakespeare Collection written by William Shakespeare performed by Simon Callow, Lindsay Duncan, Paul Rhys and Harriet Walter on CD (Abridged)£39.99

This collection of wonderful scenes from a wide selection of the bard's works. Excepts are from, Macbeth, Twelfth Night, Richard II, The Merry Wives of Windsor, Henry V, As You Like It, Sonnets, Much Ado About Nothing, Cymbeline, A Midsummer Night's Dream and Othello.

The Story of Classical Music written by Darren Henley performed by Aled Jones on CD (Abridged)£4.99

This unusual and special production by two of the most important brand names in classical music includes more than 150 musical excerpts. The fourth CD has an additional CD-ROM element with text, pictures of composers, sheet music and quizzes.

The Tempest written by William Shakespeare performed by Michael Redgrave, Hugh Griffith, Vanessa Redgrave and Anna Massey on Cassette (Unabridged)£14.99 - £29.99

"The Tempest" is Shakespeare's greatest dramatic poem and for that reason - unlike most of his other plays - it is usually more enjoyable to read and to hear than to watch on stage! As an entertainment for a court that delighted in masques (however), it has that sophisticated intellectual pageantry, and it has traces of ......

The Wind Singer - The Wind on Fire Trilogy written by William Nicholson performed by William Nicholson on CD (Abridged)£7.99

Smarties award-winning novel, read by the author. "I hate school! I hate ratings! I won't reach higher! I won't strive harder! I won't make tomorrow better than today!" In the walled city of Aramanth, exams are everything – not only for children, but for whole families.
Stamp of Genius Collection
Fairy Tales written by Terry Jones performed by Bob Hoskins, Helen Mirren, Michael Hordern and Joan Greenwood on CD (Unabridged)£29.99

Terry Jones, Joan Greenwood, Michael Hordern, Bob Hoskins, Helen Mirren and Tim Rice read of a collection of original fairy tales for 8 to 11-year-olds, written by master storyteller Terry Jones, introducing such bizarre creatures as the fly-by-night, the rainbow cat, and the wonderful cake-horse.
---
---
---
---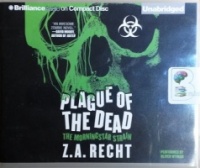 Plague of the Dead - The Morningstar Strain written by Z.A. Recht performed by Oliver Wyman on CD (Unabridged)£9.99
The end begins with a viral outbreak unlike anything mankind has ever encountered before. The infected are subject to delirium, fever, a dramatic increase in violent behavior, and a one-hundred percent mortality rate. Death. But it doesn't end there. The victims return from death to walk the earth.
---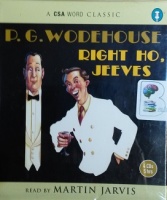 Right Ho, Jeeves written by P.G. Wodehouse performed by Martin Jarvis on CD (Abridged)£19.99
Can Bertie Wooster become Jeeves, at least in the problem-solving department? The odds aren't good, given the mess he makes of everybody's love life when he starts playing rescuer. Gussie Fink-Nottle, who's in love with Madeline Basset, and Tuppy Glossop, who's sometimes engaged to...
---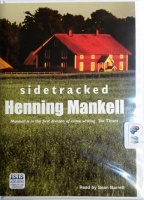 Sidetracked written by Henning Mankell performed by Sean Barrett on Cassette (Unabridged)£29.99
Midsummer approaches, and Wallander prepares for a holiday with the new woman in his life, hopeful that his wayward daughter and his ageing father will cope without him. But his summer is ruined when a girl commits suicide before his eyes, and a former minister of justice is butchered in the...
---
---
---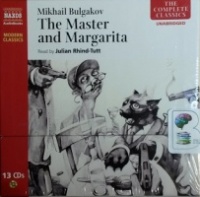 The Master and Margarita written by Mikhail Bulgakov performed by Julian Rhind-Tutt on CD (Unabridged)£39.99
The Devil comes to Moscow; but he isn't all bad. Pontius Pilate sentences a charismatic leader to his death, but yearns for redemption; and a writer tries to destroy his greatest tale, but discovers that manuscripts don't burn. Multilayered and entrancing, blending sharp satire with glorious fantasy...
---
---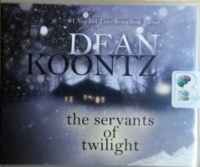 The Servents of Twilight written by Dean Koontz performed by Angela Dawe on CD (Unabridged)£14.99
An ordinary parking lot in southern California. Christine Scavello and her six-year-old son are accosted by a strange old woman. "I know who you are," the woman snaps at the boy. "I know what you are." A scream, a threat - and then a grotesque act of violence. Suddenly Christine's pride and joy...