---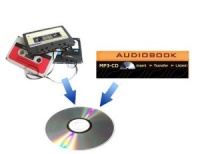 Large Fixed Price Audio Transfer Service£35.00
This is the fixed price £35.00 item to be used when ordering conversion of a 6-9 hour Audio Cassette or MP3 CD title.
---
---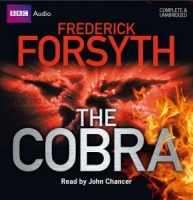 The Cobra written by Frederick Forsyth performed by John Chancer on CD (Unabridged)£9.99
The Cocaine industry is worth billions of dollars a year to the drug cartels who spread their evil seed across Western society. Its usage causes incalculable misery, poverty and death.
---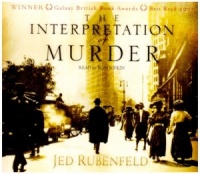 The Interpretation of Murder written by Jed Rubenfeld performed by Ron Rifkin on CD (Abridged)£4.99
A dazzling literary thriller - the story of Sigmund Freud assisting a Manhattan murder investigation. Think SHADOW OF THE WIND meets THE HISTORIAN. THE INTERPRETATION OF MURDER is an inventive tour de force inspired by Sigmund Freud's 1909 visit to America, accompanied by protégé and rival Carl Jung.
---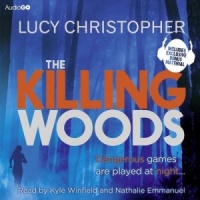 The Killing Woods written by Lucy Christopher performed by Kyle Winfield and Nethalie Emmanuel on CD (Unabridged)£4.99
Emily's dad is accused of murdering a teenage girl in the woods behind her house, the place she played in as a child.
She's sure he's innocent, but what did happen? Determined to find out, and afraid of what she might discover, Emily seeks out the boyfriend of the murdered girl.
---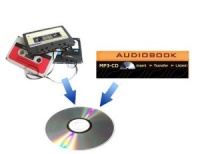 Very Large Fixed Price Audio Transfer Service£40.00
This is the fixed price £40.00 item to be used when ordering conversion of a 10-14 hour Audio Cassette or MP3 CD title.
---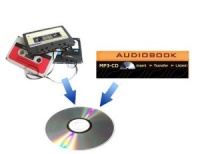 3 Hour Fixed Price Audio Transfer£15.00
This is the fixed price £15 item to be used when ordering conversion of a sub 3 hour Audio Cassette or MP3 CD title.
---
New In September 2018 Part 4
(in alphabetical order)
Exile's Gate written by C.J. Cherryh performed by Jessica Almasy on MP3 CD (Unabridged)£19.99

Morgaine must meet her greatest challenge, Gault, who is both human and alien, and also seeks control of the world and its Gate. She will meet the true Gatemaster, a mysterious lord with power as great, or greater, than her own.

Game of Thrones and Philosophy written by William Irwin and Henry Jacoby performed by Robin Sachs and on MP3 CD (Unabridged)£19.99

An in-depth look at the philosophical issues behind HBO's Game of Thrones television series and the books that inspired it George R.R. Martin's New York Times bestselling epic fantasy book series, A Song of Ice and Fire, and the HBO television show adapted from it, have earned critical acclaim...

Jailbird written by Kurt Vonnegut performed by Richard Ferrone on CD (Unabridged)£19.99

Walter Starbuck, a career humanist and eventual low-level aide in the Nixon White House, is implicated in Watergate and jailed, after which he (like Howard Campbell in Mother Night) works on his memoirs. Starbuck is innocent (his office was used as a base for the Watergate shenanigans, of which he ..

Life Class written by Pat Barker performed by Russell Boulter on MP3 CD (Unabridged)£29.99

In the spring of 1914, a group of young students gather in an art studio for a life-drawing class. Paul Tarrant and Elinor Brooke are two components of a love triangle, and at the outset of the war, they turn to each other. After volunteering for the Red Cross, Paul must confront the fact that life, love...

Lord of the Isles written by David Drake performed by Michael Page on MP3 CD (Unabridged)£14.99

Into this world, as the wellsprings of magical power rise to a millennial height, a sorceress from a thousand years past is cast upon the shore of a small island. She has survived the cataclysm that destroyed the powerful empire of the Isles in her time. She finds herself in a small town far from ...

Man on Wire written by Philippe Petit performed by Andrew Heyl on MP3 CD (Unabridged)£19.99

More than a quarter-century before September 11, 2001, the World Trade Center was immortalized by an act of unprecedented daring and beauty. In August 1974, a young Frenchman named Philippe Petit boldly - and illegally - fixed a rope between the tops of the still-young Twin Towers...

Momzillas written by Jill Kargman performed by Renee Raudman on CD (Abridged)£9.99

In a hilarious parody of motherhood among the upper echelons of Manhattan society, Hannah Foster finds herself caught up in the competitive whirl of high-stakes parenting, thanks to her chic new friends and overbearing, socially conscious mother-in-law.

Notes from a Blue Bike - The Art of Living Intentionally in a Chaotic World written by Tsh Oxenreider performed by Tsh Oxenreider and on MP3 CD (Unabridged)£19.99

Life is chaotic. But we can choose to live it differently. It doesn't always feel like it, but we do have the freedom to creatively change the everyday little things in our lives so that our path better aligns with our values and passions. The popular blogger and founder of the internationally recognized ...

On Shakespeare's Macbeth written by Cliffs Notes Team performed by Joyce Bean on MP3 CD (Abridged)£4.99

This CliffsNotes study guide on William Shakespeare's Macbeth supplements the original literary work, giving you background information about the author, an introduction to the work, and critical commentaries, all for you to use as an educational tool that will allow you to better understand the work.

Red Tide - The Stellar Guild Series written by Larry Niven with Brad R. Torgersen and Matthew J. Harrington performed by Steven Menasche on MP3 CD (Unabridged)£14.99

Loosely based on Larry Niven's 1973 novella Flash Crowd, Red Tide continues to examine the social consequences of the impact of having instantaneous teleportation, where humans can instantly travel long distances in milliseconds. This is a theme that has fascinated the author throughout his...

Reflected in You written by Sylvia Day performed by Jill Redfield on MP3 CD (Unabridged)£19.99

Gideon Cross: As beautiful and flawless on the outside as he was damaged and tormented on the inside. He was a bright, scorching flame that singed me with the darkest of pleasures. I couldn't stay away. I didn't want to. He was my addiction...my every desire...mine.

Sanctum written by Sarah Fine performed by Amy McFadden on MP3 CD (Unabridged)£24.99

A week ago, 17-year-old Lela Santos' best friend, Nadia, killed herself. Today, thanks to a farewell ritual gone awry, Lela is standing in paradise, looking upon a vast gated city in the distance - hell. No one willingly walks through the Suicide Gates, into a place smothered in darkness and infested ...

Sand. written by Hugh Howey performed by Karen Chilton on MP3 CD (Unabridged)£19.99

The incredible new novel and brand new world from the international bestselling author of the Wool trilogy. The old world is buried. A new one has been forged atop the shifting dunes. Here in this land of howling wind and infernal sand, four siblings find themselves scattered and lost.

Socrates Now written by Plato performed by Yannis Simonides on MP3 CD (Abridged)£14.99

Take a seat in the court of ancient Athens as Socrates goes on trial for his life. Hear the philosopher face his accusers with his trademark wit, his cutting logic and the courage of his ideals. Consider his arguments on virtue, justice, politics, love of life and hope in death, and make your own judgement.

Tales of Terror written by Various Famous Writers performed by Kimberly Schraf and Ralph Cosham on MP3 CD (Unabridged)£14.99

"The Monkey's Paw" Jacobs was considered a humorist in turn of the century England, but here he gives us a masterpiece of horror. "The Monkey's Paw" is a Gothic tale, warning us how easily wishes can go awry. "The Pit and the Pendulum" One of Poe's most familiar works, "The Pit and the Pendulum" is...

the first-hand account of a prisoner during the Spanish Inquisition. It is a classic Gothic tale which deals with the experience of entrapment and torture.

The Biggest Liar in Los Angeles written by Ken Kuhlken performed by Ray Porter on MP3 CD (Unabridged)£19.99

Praise for The Biggest Liar in Los Angeles..."Kuhlken demonstrates his command of keeping a story moving with a meticulously thought-out plot while populating it with believable characters." -Library Journal In 1926, musician Tom Hickey reads about a lynching the Los Angeles newspapers failed ....

The Case of the Missing Boyfriend written by Nick Alexander performed by Suzy Aitchison on MP3 CD (Unabridged)£14.99

Thirty-nine year old CC is living the urban dream: a high-powered job in advertising, a beautiful flat, and a wild bunch of gay friends to spend the weekends with. And yet she feels like the Titanic - slowly, inexorably, and against all expectation, sinking. The truth is, CC would rather be digging turnips on a ...

The Thinking Life written by P.M. Forni performed by David Drummond on MP3 CD (Unabridged)£19.99

P. M. Forni, founder of the Civility Initiative at Johns Hopkins, is America's civility expert. In his first two books, Choosing Civility and The Civility Solution, he taught people the rules of civil behavior and ways of responding to rudeness. Now, in The Thinking Life, he looks at the importance of thinking in our lives:

The Underground City written by Jules Verne performed by John Bolen on MP3 CD (Unabridged)£24.99

How can humans survive and prosper 1,500 feet below the earth's surface? Jules Verne successfully weaves a dark yet magnificent story into this equally dark world. The book takes place in a revived and now prosperous coal mine. Amazingly, life in the mine has everything that one could desire...

Turn Back Time written by Radclyffe performed by Nicole Vilencia on MP3 CD (Unabridged)£19.99

Love has a way of derailing the best of plans. Wynter Thompson, divorced with a young child, struggles to balance the demands of her surgical residency with the responsibilities of motherhood - and between the two, discovers there is little time left for anything else.

Un-Agoraphobic - Over coming Anxiety, Panic Attacks and Agoraphobia for good written by Hal Mathew performed by Jeff Cummings on MP3 CD (Unabridged)£19.99

Un-Agoraphobic offers a comprehensive, step-by-step self-help program for overcoming agoraphobia and panic attacks. Since overcoming his own disorder twenty years ago, Mathew has been leading support groups and recovery programs for people with agoraphobia. He understands what agoraphobes...

Where There's A Will written by John Mortimer performed by Bill Wallis on MP3 CD (Unabridged)£19.99

Following the best-selling Summer of a Dormouse, Sir John Mortimer - playwright, novelist, octogenarian, and erstwhile QC - offers up more lessons in living and growing old disgracefully. What would we like to leave to our descendants? Not a third-rate painting or our PEPS, according to Sir John....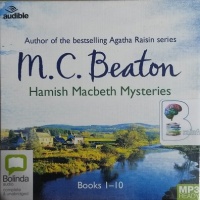 Hamish Macbeth Mysteries written by M.C. Beaton performed by Graeme Malcolm on MP3 CD (Unabridged)£49.99
In the Scottish Highlands remote village of Lochdubh, in the real county of Sutherland, lives tall thin red-haired hazel-eyed quietly clever police Sergeant Hamish Macbeth – Scotland's most quick-witted but unambitious policeman. Discover where it all began with this audio collection containing the...
---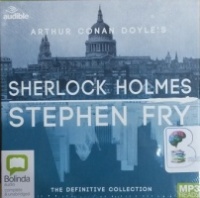 Sherlock Holmes - The Definitive Collection written by Arthur Conan Doyle performed by Stephen Fry on MP3 CD (Unabridged)£49.99
Ever since he made his first appearance in A Study In Scarlet, Sherlock Holmes has enthralled and delighted millions of fans throughout the world. Now Stephen Fry, a lifelong fan of Doyle's detective fiction, has brought to life Arthur Conan Doyle's complete works – four novels and five collections....
---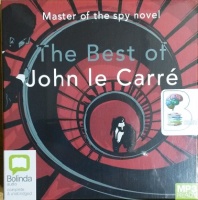 The Best of John Le Carre written by John Le Carre performed by Michael Jayston on MP3 CD (Unabridged)£59.99
Master of the spy novel' John le Carre's ingenious and gripping espionage thrillers have had his legion of fans on the edge of their seat for the last half-century making him one of the greatest British writers of today. His works have all been international bestsellers, with many being adapted into...
---
---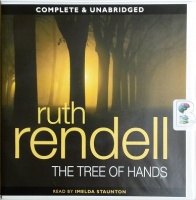 The Tree of Hands written by Ruth Rendell performed by Imelda Staunton on CD (Unabridged)£29.99
Once when Benet was about fourteen she and her mother had been alone in a train carriage - and Mopsa had tried to stab her with a carving knife. It was some time since Benet had seen her psychologically disturbed mother. So when Mopsa arrived at the airport looking drab and colourless in a...
---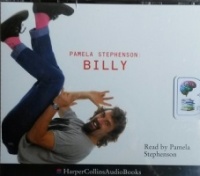 Billy written by Pamela Stephenson performed by Pamela Stephenson on CD (Abridged)£4.99
From welding to folk singing to comedy to writing to acting, Billy Connolly has proved his versatility and sheer determination. Here, his wife Pamela gives the reader an insider's view of this talented musician, singer, TV presenter, comedian and actor.
---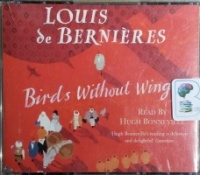 Birds Without Wings written by Louis de Bernieres performed by Hugh Bonneville on CD (Abridged)£6.99
Birds Without Wings tells of the inhabitants of a small coastal town in south-west Anatolia in the dying days of the Ottoman empire. When jihad is declared against the Allies the young men of the town are sent to war. Karatavuk soon finds himself at Gallipoli where he experiences the intimate brutality...
---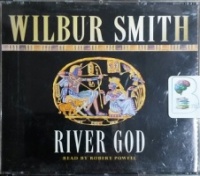 River God written by Wilbur Smith performed by Robert Powell on CD (Abridged)£4.99
At the festival of Osiris, loyal subjects of the Pharaoh gather to pay homage to their leader. Only Taita - a wise and formidably gifted enunch slave - sees him as a symbol of the kingdon's fading glory. Danger surounds all those who oppose the ruling elite. But together with his proteges, Lostris ...
---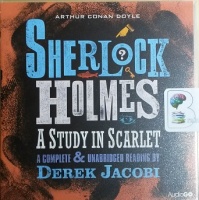 Sherlock Holmes - A Study in Scarlet written by Arthur Conan Doyle performed by Derek Jacobi on CD (Unabridged)£9.99
'There's the scarlet thread of murder running through the colourless skein of life, and our duty is to unravel it, and isolate it, and expose every inch of it'. Arriving in the wilderness of London and in need of lodgings, Dr John Watson finds himself living at 221B Baker Street with one Sherlock Holmes.