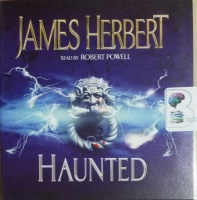 Haunted written by James Herbert performed by Robert Powell on CD (Abridged)£4.99
A ghostly twist. Three nights of terror at the house called Edbrook. Three nights in which David Ash, there to investigate a haunting, will be victim of horrifying games. Three nights in which he will face the blood-chilling enigma of his own past.
---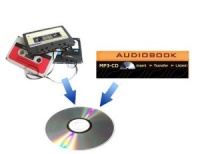 Large Fixed Price Audio Transfer Service£35.00
This is the fixed price £35.00 item to be used when ordering conversion of a 6-9 hour Audio Cassette or MP3 CD title.
---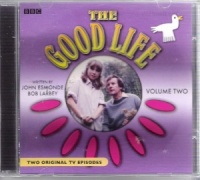 The Good Life written by John Esmonde and Bob Larbey performed by Richard Briers and Felicity Kendal on CD (Abridged)£3.99
Two episodes of the wonderful TV show!
---
---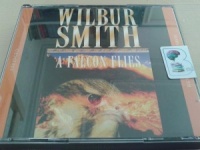 A Falcon Flies written by Wilbur Smith performed by Martin Jarvis on CD (Abridged)£4.99 - £8.99
A Falcon Flies is the first bestselling novel in Wilbur Smith's epic tale of Africa, The Ballantyne Novels. In search of a father they barely remember, Zouga and Dr Robyn Ballantyne board Mungo St John's magnificent clipper to speed them to Africa.
---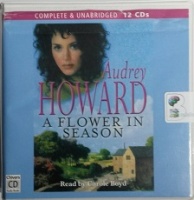 A Flower in Season written by Audrey Howard performed by Carole Boyd on CD (Unabridged)£14.99 - £24.99
Briony Marsden has led a hard life, forced to do the work of a grown man while enduring her drunkard father's taunts and blows. But when he goes too far one day, her fate becomes even worse as she makes her way alone in a heartless world.
---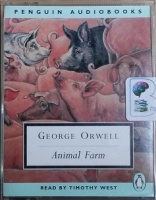 Animal Farm written by George Orwell performed by Timothy West on Cassette (Unabridged)£9.99
All animals are equal - but some are more equal than others' When the downtrodden animals of Manor Farm overthrow their master Mr Jones and take over the farm themselves, they imagine it is the beginning of a life of freedom and equality.
---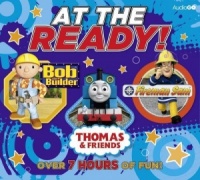 At The Ready! written by Various Childrens Authors performed by Various Famous Actors on CD (Abridged)£39.99
This box set contains over 7 hours of fun from Bob the Builder, Fireman Sam and Tomas the Tank Engine! This would make a brilliant gift that will last considerably longer than the New Year!
---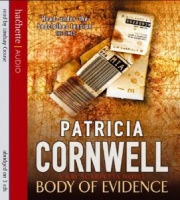 Body of Evidence written by Patricia Cornwell performed by Lindsay Crouse on CD (Abridged)£9.99
A reclusive writer is dead. And her final manuscript has disappeared ...Someone is stalking Beryl Madison.
---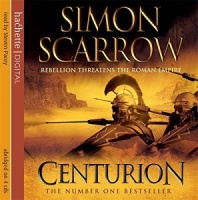 Centurion - Rebellion Threatens the Roman Empire written by Simon Scarrow performed by Steven Pacey on CD (Abridged)£17.99 - £18.99
In the first century AD the Roman Empire faces a new threat from its long-standing enemy Parthia. Parthia is vying with Rome for control of Palmyra an officially neutral kingdom.
---
---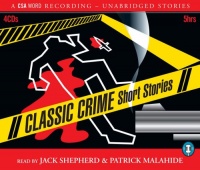 Classic Crime Short Stories written by Various Famous Crime Writers performed by Jack Shepherd and Patrick Malahide on CD (Unabridged)£4.99 - £9.99
Discover a world of heroes and villains, suspense and intrigue. This riveting and comprehensive collection brings together some of the best crime writing of all time.
---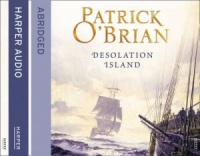 Desolation Island written by Patrick O'Brian performed by Robert Hardy on CD (Abridged)£8.99
A Genius Performance by Robert Hardy!
Commissioned to rescue Governor Bligh of Bounty fame, Captain Jack Aubrey and his friend and surgeon, Stephen Maturin, sail the Leopard to Australia with a hold full of convicts. Among them is a beautiful and dangerous spy — and a treacherous disease which decimates the crew.
---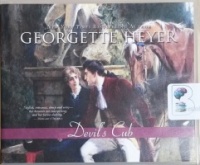 Devil's Cub written by Georgette Heyer performed by Michael Drew on CD (Unabridged)£24.99
The excesses of the young Marquis of Vidal are even wilder than his father's before him. Not for nothing is the reckless duellist and gamester called "the Devil's Cub". But when he is forced to leave the country, Mary Challoner discovers his fiendish plan to abduct her sister. Any only by daring to impersonate...
---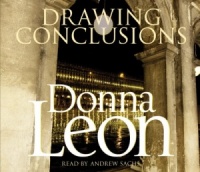 Drawing Conclusions written by Donna Leon performed by Andrew Sachs on CD (Abridged)£4.99 - £5.99
A Genius Performance by Andrew Sachs! When Anna Maria Giusti finds her elderly neighbour Constanza Altavilla dead, with blood on the floor near her head, she calls the police. Brunetti is called to the scene and it seems the woman has suffered a heart attack. Patta, the Vice-Questore, is eager to dismiss the case...
---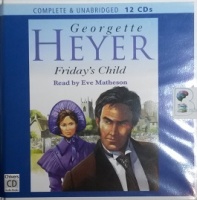 Friday's Child written by Georgette Heyer performed by Eve Matheson on CD (Unabridged)£29.99
This story of mistaken love is a romantic fiction set in the English Regency period. It centers on Lord Sheringham who has been rejected by the woman he loves but the woman who has secretly loved him since childhood is waiting.
---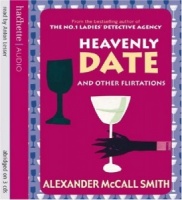 Heavenly Date and Other Flirtations written by Alexander McCall-Smith performed by Anton Lesser on CD (Abridged)£5.99
A Genius Performance by Anton Lesser!
Alexander McCall-Smith's short stories show the interest and intrigue, complexity and completeness that can come from the briefest meeting or a life long love. A lovely set of stories that have something for everyone.
---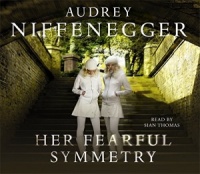 Her Fearful Symmetry written by Audrey Niffenegger performed by Sian Thomas on CD (Abridged)£4.49 - £4.99
dearest e, I told you I would let you know-so here it is-goodbye. I try to imagine what it would feel like if it was you-but it's impossible to conjure the world without you, even though we've been apart so long. I didn't leave you anything. You got to live my life.
---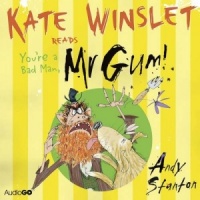 Kate Winslet reads You're a Bad Man Mr Gum written by Andy Stanton performed by Kate Winslet on CD (Unabridged)£6.99 - £8.99
Good evening. Mr Gum is a complete horror who hates children, animals, fun and corn on the cob. This book's all about him. And an angry fairy who lives in his bathtub. And Jake the dog, and a little girl called Polly. And there's heroes and sweets and adventures and EVERYTHING.
---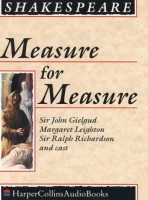 Measure for Measure written by William Shakespeare performed by Sir John Gielgud, Margaret Leighton and Sir Ralph Richardson on Cassette (Unabridged)£19.99
This is one of Shakespeare's so-called black comedies. This thought-provoking play poses the stark question: when a young woman is offered the choice of saving a man's life at the price of her own chastity, what should she do?
---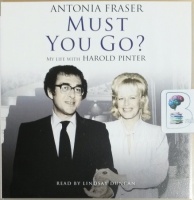 Must You Go? - My Life with Harold Pinter written by Antonia Fraser performed by Lindsay Duncan on CD (Abridged)£4.99 - £9.99
I first saw Harold across a crowded room, but it was lunchtime, not some enchanted evening, and we did not speak...' When Antonia Fraser met Harold Pinter she was a celebrated biographer and he was Britain's finest playwright.
---
New In September 2018 Part 2
(in alphabetical order)
A Handful of Dust written by Evelyn Waugh performed by Andrew Sachs on Cassette (Unabridged)£39.99

After seven years of marriage, the beautiful Lady Brenda Last has grown bored with life at Hetton Abbey, the Gothic mansion that is the pride and joy of her husband, Tony. She drifts into an affair with the shallow socialite John Beaver and forsakes Tony for the Belgravia set.

American Outrage written by Tim Green performed by Scott Brick on CD (Abridged)£14.99

Jake Carlson, a correspondent for the television news show American Outrage, inhabits a world of sensational trials and crazed celebrities. One of the nation's top television journalists, he's used to dragging himself through the dirt to get to the truth.

Bellman and Black written by Diane Setterfield performed by Daniel Phipott on CD (Unabridged)£19.99

Caught up in a moment of boyhood competition, William Bellman recklessly aims his slingshot at a rook resting on a branch, killing the bird instantly. It is a small but cruel act, and is soon forgotten. By the time he is grown, with a wife and children of his own, William seems to have put the whole....

Black and White written by Rob Childs performed by Glen McCready on CD (Unabridged)£19.99

Josh is soccer-mad and can't wait to show off his ball skills to his new classmates. After all, he is the nephew of Ossie Williams - the best footballer in the country. Josh's arrival gives shy Matthew more confidence, but it is not welcomed by Rajesh, the school goalkeeper and captain.

Broken Glass written by Arthur Miller performed by JoBeth Williams, Linda Purl, Lawrence Pressman and David Dukes on CD (Abridged)£19.99

Set in 1938 Brooklyn, this gripping psychological mystery begins when attractive, level-headed Sylvia Gellburg suddenly loses her ability to walk. The only clue lies in Sylvia's obsession with news accounts from Germany. Safe in Brooklyn, she is terrified by Nazi violence or is it something closer to home?

Cravings written by Judy Collins performed by Judy Collins on CD (Unabridged)£19.99

A no-holds-barred account of folk legend Judy Collins's harrowing struggle with compulsive overeating and of the journey that led her to a solution. Since childhood Judy Collins has had a tumultuous, fraught relationship with food. Her issues with overeating nearly claimed her career and her life.

Dickens Confidential - Railway Kings and Darker Than You Think written by Mike Walker performed by Jamie Glover and BBC Full Cast on CD (Unabridged)£6.99

The young Charles Dickens started his career in journalism, and these two plays take an imaginative look at how his desire to bring the news to the masses could have introduced him to a world of crime and corruption. In "Railway Kings", Dickens is Editor of campaigning weekly The Herald, and has...

Dr. Feelgood - The Shocking Story of the Doctor who.... written by Richard A. Lertzman and William J. Birnes performed by Don Fernando Azevedo on CD (Unabridged)£19.99

Doctor Max Jacobson, whom the Secret Service under President John F. Kennedy code-named "Dr. Feelgood," developed a unique "energy formula" that altered the paths of some of the twentieth century's most iconic figures, including President and Jackie Kennedy, Marilyn Monroe, Frank Sinatra, and Elvis.

Enough - Our Fight to Keep America Safe from Gun Violence written by Gabrielle Giffords and Mark Kelly performed by Mark Kelly on CD (Unabridged)£19.99

Former Congresswoman Gabrielle Giffords and her husband, astronaut Mark Kelly, share their impassioned argument for responsible gun ownership. After the 2011 Tucson shooting that nearly took her life, basic questions consumed Gabby Giffords and her family:

Firstborn written by Tor Seidler performed by Jenni Barber on CD (Unabridged)£9.99

A young wolf seeks the bravery to be himself in this lyrical homage to challenging societal stereotypes, from the author of National Book Award Finalist Mean Margaret and The Wainscott Weasel. Wolves. Predators of the wild. Stalkers of the forests. Born into rankings and expected to live up to their roles.

Going Wrong written by Ruth Rendell performed by Dermot Crowley on CD (Unabridged)£29.99

In Rendell's evocative portrayal of West London, the slums of Notting Hill Gate and the mews houses of Holland Park may, geographically, only be streets apart but, socially, they are worlds apart. When these two worlds collide, the repercussions are fatal.

Green Hell - A Jack Taylor Novel written by Ken Bruen performed by John Lee on CD (Unabridged)£14.99

Ireland's master of poetic crime fiction, called "an Irish treasure" by Shelf Awareness, spins a new alcohol-fueled Jack Taylor plot, featuring a Rhodes scholar gone astray, and professor with a violent streak, and a young woman who almost makes Jack look tame.

Hothouse Flower written by Rose Impey performed by Sophie Aldred on CD (Unabridged)£19.99

Who would have thought that being run over by a bus could save your life? Chloe is the only child of egg-head parents - and she's been home-schooled for years because her parents are sure it's the best way to nurture her 'special talents'. So Chloe feels isolated and doesn't have any friends of her own age.

Last Ditch written by G.M. Ford performed by Jeff Harding on CD (Unabridged)£19.99

Leo Waterman's late father used to be one of the region's most powerful and colourful political characters. But just how seriously Waterman senior transgressed during his time on earth comes into question when a human skeleton is uncovered in Dad's back yard.

Lips Touch - Three Times written by Laini Taylor performed by Cassandra Campbell on CD (Unabridged)£14.99

A girl who's always been in the shadows finds herself pursued by the unbelievably attractive new boy at school, who may or may not be the death of her. Another girl grows up mute because of a curse placed on her by a vindictive spirit, and later must decide whether to utter her first words...

Methuselah's Children written by Robert A. Heinlein performed by MacLeod Andrews on CD (Unabridged)£19.99

After the fall of the American Ayatollahs as foretold in Stranger in a Strange Land and chronicled in Revolt in 2100, the United States of America at last fulfills the promise inherent in its first Revolution: for the first time in human history there is a nation with Liberty and Justice for All.

Oedipus the King written by Sophocles performed by Michael Sheen and Full Cast on Cassette (Unabridged)£9.99

The anguished tale of Oedipus, who having solved the riddle of the Sphinx, and become King of Thebes, gradually realizes the crimes he unwittingly committed, remains a drama of unremitting power 2,500 years after it was written.

Permanent Rose written by Hilary McKay performed by Sophie Aldred on CD (Unabridged)£14.99

It's a long hot summer - to Permanent Rose it seems never ending. Rose misses Tom, Indigo's friend who went back to America. New friend David is not a good enough replacement. Caddy's fiancé, Michael, tries to cheer her up by delivering a rose every day, but that just provides temporary relief.

Skin Deep written by Nora Roberts performed by Marie Caliendo on CD (Unabridged)£4.49 - £4.99

Chantel O'Hurley has parlayed talent, breathtaking beauty and will into stardom.She lights up the screen - larger than life and untouchable. But every day she receives a dozen red roses, with a threatening letter attached. A crazed fan has turned everyday into a nightmare and she has no choice...

Summer Nights - A Fool's Gold Romance written by Susan Mallery performed by Tanya Eby on CD (Unabridged)£19.99

Horse whisperer Shane Stryker is done with passion. This time around, he's determined to meet someone who will be content with the quiet life of a rancher's wife. And the fiery, pint-size redhead who dazzles him at the local bar definitely does not fit the bill.

The Copper Beech written by Maeve Binchy performed by Kate Binchy on CD (Unabridged)£29.99 - £39.99

By the school house at Shancarrig stands a copper beech, its bark scarred with the names and dreams of the pupils who have grown up under its branches.

The Girl from Krakow written by Alex Rosenberg performed by Michael Page on CD (Unabridged)£19.99

It's 1935. Rita Feuerstahl comes to the university in Krakow intent on enjoying her freedom. But life has other things in store—marriage, a love affair, a child, all in the shadows of the oncoming war. When the war arrives, Rita is armed with a secret so enormous that it could cost the Allies everything..

The Long Johns written by John Bird and John Fortune performed by John Bird and John Fortune on Cassette (Abridged)£4.99

A selection of satirical sketches from the television series LONG JOHNS, presenting their humorous political and financial commentaries in the form of mock one-to-one interviews.

The Memory Bible written by Gary Small M.D. performed by Gary Small M.D. on CD (Unabridged)£19.99

This brain fitness program has helped thousands of people improve their ability to remember everyday issues. Based on Dr. Small's scientific discoveries, The Memory Bible can immediately improve your mental performance. It includes a "brain diet," brain exercises, brain training tips, effective drugs...

The Nest written by Kenneth Oppel performed by Gibson Frazier on CD (Unabridged)£14.99

"The first time I saw them, I thought they were angels." The baby is sick. Mom and Dad are sad. And all Steve has to do is say, "Yes" to fix everything. But yes is a powerful word. It is also a dangerous one. And once it is uttered, can it be taken back? Treading the thin line between dreams and reality,

The Rocky Road to Romance written by Janet Evanovich performed by C.J. Critt on CD (Unabridged)£9.99

When the delightful, daffy Dog Lady of station WZZZ offered to take on the temporary job of traffic reporter, Steve Crow tried to think of reasons to turn Daisy Adams down. Perhaps he knew that sharing the close quarters of a car with her for hours would give the handsome program director...

The World of Chrestomanci - The Lives of Christopher Chant written by Diana Wynne Jones performed by Samuel West on Cassette (Abridged)£4.99

The childhood of Chrestomanci. Everything in this story happens at least twenty-five years before Charmed Life… Discovering that he has nine lives and is destined to be the next 'Chrestomanci' is not part of Christopher's plans for the future: he'd much rather play cricket and wander around his ....

The Yes Factor - Get What You Want. Say What You Mean. Secrets of Persuasive Communication written by Tonya Reiman performed by Tonya Reiman on CD (Unabridged)£19.99

Yes-a small word, but the key to opening doors both professional and personal. The power of the "yes factor" gets you the job, the promotion, or the second date. But getting a "yes" can be tricky. Tonya Reiman explains how communications works...what the words you speak actually say about you...

Things to Make and Mend written by Ruth Thomas performed by Finty Williams on CD (Unabridged)£19.99

Sally Tuttle and Rowena Cresswell were friends whose lives were changed at the age of 15 by a shocking event. Now in their late 30s, they are estranged, both single mothers, both haunted with memories of their intense friendship.

This Is Where I Leave You written by Jonathan Tropper performed by Trevor White on CD (Unabridged)£29.99

A side-splitting and heartbreaking tale, now a major Hollywood movie starring Tina Fey, Connie Britton, and Jason Bateman. Poor Judd Foxman returns home early to find his wife in bed with his boss - in the act. He now faces the twin threats of both divorce and unemployment.

Thriller 2.2 written by Famous Thriller Writers performed by Natalie Ross, Luke Daniels, David Colacci and Dan John Miller on CD (Unabridged)£9.99

The House on Pine Terrace is an intricate puzzle a crime that leads to a romance that triggers another crime that ends with a mystery, which makes you question every event in the story. The Desert Here and the Desert Far Away is a haunting exploration of the wounds our warriors bear, not all of which...

Treasures from the Attic - The Extraordinary Story of Anne Frank's Family written by Mirjam Pressler performed by Sherry Adams Foster on CD (Unabridged)£19.99

Anne Frank wrote a diary from the age of 13 as she hid for over two years in the back of an Amsterdam warehouse escaping the horrors of Nazi occupation. An intimate record of adolescence and confinement, anger and heartbreak, it is among the most enduring documents of the 20th century.

Uganda Be Kidding Me written by Chelsea Handler performed by Chelsea Handler on CD (Unabridged)£19.99

Wherever Chelsea Handler travels, one thing is certain: she always ends up in the land of the ridiculous. Now, in this uproarious collection, she sneaks her sharp wit through airport security and delivers her most absurd and hilarious stories ever. On safari in Africa, it's anyone's guess as to what's...

Unfaithful Music and Disappearing Ink written by Elvis Costello performed by Elvis Costello on CD (Unabridged)£49.99

Unfaithful Music and Disappearing Ink is the long-awaited memoir from Elvis Costello, one of rock and roll's most iconic stars. Born Declan Patrick MacManus, Elvis Costello was raised in London and Liverpool, grandson of a trumpet player on the White Star Line and son of a jazz musician who became a successful radio dance band vocalist.

Unstolen written by Wendy Jean performed by Lorelei King on CD (Unabridged)£29.99

The thing about being the unstolen one is that you'd better be strong, you'd better stay safe, you'd better not rock any boats or surely they will sink. People depend on you, people who can't take any more stress in their lives and you'd better count yourself lucky because after all, you weren't taken...

Utopia written by Sir Thomas More performed by James Adams on CD (Unabridged)£19.99

Sixteenth-century classic by brilliant humanist, churchman and scholar envisioned a patriarchal island kingdom that practiced religious tolerance, in which everybody worked, all goods were community-owned, and violence, bloodshed, and vice were nonexistent.

Walk Out Walk On written by Margaret Wheatley and Deborah Frieze performed by Margaret Wheatley and Deborah Frieze on MP3 CD (Unabridged)£14.99

At a time when most communities' resources are stretched past the breaking point, how is it possible to deal with the enormous challenges that families, neighborhoods, cities, regions, and nations face today? This inspiring tale takes readers to seven communities around the world where the people...

Wild Swans written by Jung Chang performed by Rowena Cooper on Cassette (Unabridged)£19.99

Few books have had such an impact as Wild Swans: a popular best seller and a critically acclaimed history of China that opened up the country to the world. Through the story of three generations of women in her own family - the grandmother given to the warlord as a concubine..

Wishful Drinking written by Carrie Fisher performed by Carrie Fisher on CD (Unabridged)£14.99 - £19.99

In WISHFUL DRINKING, Carrie Fisher tells the true and intoxicating story of her life with inimitable wit. Born to celebrity parents, she was picked to play a princess in a little movie called Star Warswhen only 19 years old. "But it isn't all sweetness and light sabres."

Working with Difficult People written by William Lundin, PhD and Kathleen Lundin and Michael S. Dobson performed by Full Cast Performance on CD (Unabridged)£9.99

Working with difficult people can reduce your morale, threaten your productivity, deplete your energy, and waste your time. But you don't have to be helpless in the face of other people's craziness! Knowing how to handle coworkers' disruptive behavior is one of the most important career skills ...
---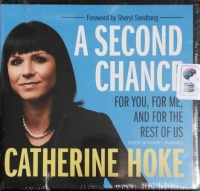 A Second Chance - For You, For Me and For the Rest of US written by Catherine Hoke performed by Catherine Hoke on CD (Unabridged)£9.99
What if you were only known for the worst thing you've ever done? For millions of Americans, this isn't just a hypothetical nightmare. Not only does the United States have the highest rate of incarceration in the world, it also makes certain that the stigma of a felony conviction follows people who have already..
---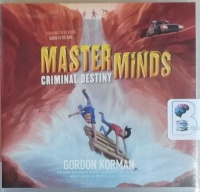 Masterminds - Criminal Destiny written by Gordon Korman performed by Ramon De Campo, Tarah Consoli, Kelly Jean Badgley and Mike Rylander on CD (Unabridged)£9.99
The clones of Project Osiris are free - but they're being hunted.... After their narrow escape from their "perfect" hometown, Eli, Tori, Amber, and Malik are finally in the real world and determined to expose the leaders of Serenity. They decide to track down Tamara Dunleavy, the mysterious billionaire and ...
---
---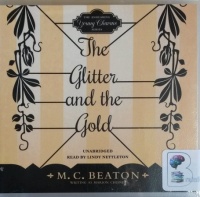 The Glitter and the Gold - Young Charms Series written by M.C. Beaton writing as Marion Chesney performed by Lindy Nettleton on CD (Unabridged)£19.99
Fanny and her bridegroom had been tricked. Both sets of parents had decided to recoup their familes' losses by marrying their children to a wealthy neighbour. But niether family had a penny to their name. As they set out to help each other find a partner with money, they discover that true love might...
---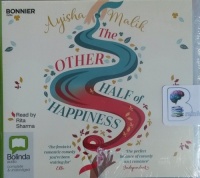 The Other Half of Happiness written by Ayisha Malik performed by Rita Sharma on CD (Unabridged)£9.99
The hilarious new novel from the acclaimed author of Sofia Khan Is Not Obliged. Sofia Khan is just married. But no-one told her life was going to be this way.... Her living situation is in dire straits, her husband Conall is distant and his annoyingly attractive colleague is ringing all sorts of alarm bells.
---
---
---
---
---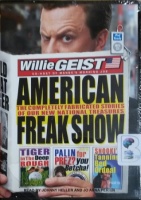 American Freak Show - The Completely Fabricated Stories of Our New National Treasures written by Willie Geist performed by Johnny Heller and Jo Anna Perrin on MP3 CD (Unabridged)£24.99
In just three short years, Willie Geist has gone from behind-the-scenes producer at MSNBC to rising on-air star, as the host of Way Too Early with Willie Geist and cohost of Morning Joe. He's fast, he's funny-something of an early-morning Jon Stewart.Now, in his first book, Geist focuses on America's ongoing parade...
---
---
---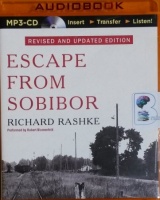 Escape from Sobibor - Revised and Updated written by Richard Rashke performed by Robert Blumenfeld on MP3 CD (Unabridged)£14.99
On October 14, 1943, 600 Jews imprisoned in Sobibor, a secret Nazi death camp in eastern Poland, revolted. They killed a dozen SS officers and guards, trampled the barbed wire fences, and raced across an open field filled with anti-tank mines. Against all odds, more than three hundred made it safely into ...
---
---
---
---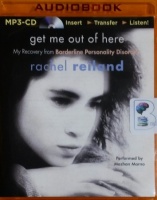 Get Me Out of Here - My Recovery from Borderline Personality Disorder written by Rachel Reiland performed by Mazhan Marno on MP3 CD (Unabridged)£9.99
Borderline Personality Disorder. "What the hell was that?" raged Rachel Reiland when she read the diagnosis written in her medical chart. As the 29-year-old accountant, wife, and mother of young children would soon discover, it was the diagnosis that finally explained her explosive anger, manipulative behaviors...
---
---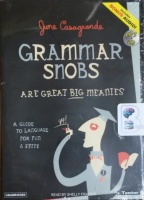 Grammar Snobs are Great Big Meanies - A Guide to Language for Fun and Spite written by June Casagrande performed by Shelly Frasier on MP3 CD (Unabridged)£14.99
Here's some good news for everyone who's ever been bullied into believing they can't speak their own language: The grammar snobs are bluffing. Half the "rules" they use to humiliate others are really just judgment calls and the rest they don't even understand themselves. Grammar Snobs Are Great Big ...