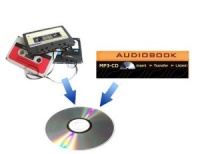 Very Large Fixed Price Audio Transfer Service£40.00
This is the fixed price £40.00 item to be used when ordering conversion of a 10-14 hour Audio Cassette or MP3 CD title.
---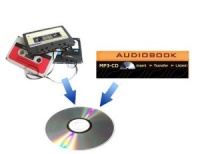 3 Hour Fixed Price Audio Transfer£15.00
This is the fixed price £15 item to be used when ordering conversion of a sub 3 hour Audio Cassette or MP3 CD title.
---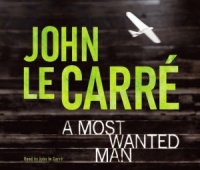 A Most Wanted Man written by John le Carre performed by John le Carre on CD (Abridged)£9.99
A half-starved young Russian man in a long black overcoat is smuggled into Hamburg at dead of night. He has an improbable amount of cash secreted in a purse round his neck. He is a devout Muslim. Or is he? He says his name is Issa.
---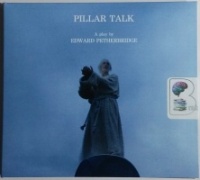 Pillar Talk - A Play written by Edward Petherbridge performed by Edward Petherbridge on CD (Unabridged)£14.99
Exclusive to Brainfood Audiobooks! Esteemed actor Edward (Nicholas Nickleby) Petherbridge uses the story of Symeon Stylites, the 5th century monk who lived on a pillar for thirty-six years, as a framework for an existential inquiry into imagination, belief, doubt, miracles and why one would live 'as I live.'
---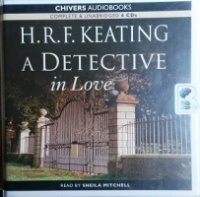 A Detective in Love written by H.R.F. Keating performed by Sheila Mitchell on CD (Unabridged)£9.99 - £14.99
DCI Harriet Martens is nicknamed the Hard Detective. But for Harriet, love proves more dangerous than any of her cases… Britain's number one tennis star, the beautiful Bubbles Xingara, has been murdered in the grounds of her luxurious house.
---
---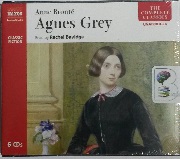 Agnes Grey written by Anne Bronte performed by Rachel Bavidge on CD (Unabridged)£24.99 - £29.99
For all those captivated by the trials of Jane Eyre, Anne Brontës heroine Agnes Grey is the ideal counterpoint. Agnes Grey is widely considered to be the best record of the precarious position of the governess in Victorian society, and the insolence, neglect and dependence that the gentle ....
---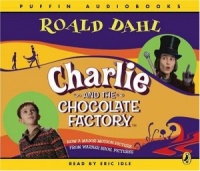 Charlie and the Chocolate Factory written by Roald Dahl performed by Eric Idle on CD (Unabridged)£4.99
This is a special audio edition of Charlie and the Chocolate Factory, read by Eric Idle, which will be published at the same time as the Warner Bros film.
Charlie Bucket thinks he's the luckiest boy alive when he unwraps one of Willy Wonka's Whipple-Scrumptious Fudgemallow Delights to find the last golden ticket.
---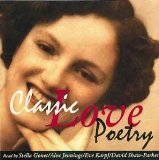 Classic Love Poetry written by Various Famous Poets performed by Various Famous Actors on CD (Abridged)£3.99 - £4.99
From "My True Love Hath My Heart" to September by Ted Hughes - there are 40 poems selected from the last millennia.
All performed by Stella Gonet, David Shaw-Parker, Alex Jennings and Eve Karpf.
---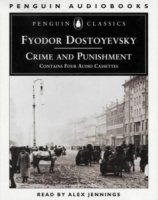 Crime and Punishment written by Fyodor Dostoyevsky performed by Alex Jennings on Cassette (Abridged)£6.99
Crime and Punishment is a novel by the Russian author Fyodor Dostoyevsky. It was first published in the literary journal The Russian Messenger in twelve monthly installments during 1866. It was later published in a single volume.
---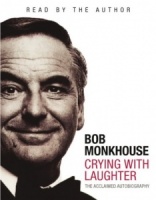 Crying with Laughter written by Bob Monkhouse performed by Bob Monkhouse on Cassette (Abridged)£18.99
Bob Monkhouse has been a star in show business for over 40 years during which time he has known both triumph and tragedy.
His first son was born disabled with cerebral palsy; he has suffered a life-long estrangement from his brother and he was arrested in 1978.
---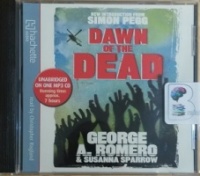 Dawn of the Dead written by George A. Romero and Susanna Sparrow performed by Christopher Ragland on MP3 CD (Unabridged)£4.99
When there is no more room in hell, the dead will walk the Earth. George A. Romero's iconic film and novel terrified generations. Now Dawn of the Dead is back to terrify once more. The world is being devastated by zombies. No one knows how far they have spread, or how to stop them.
---
---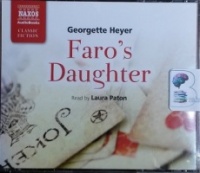 Faro's Daughter written by Georgette Heyer performed by Laura Paton on CD (Abridged)£11.99 - £19.99
Fiery, strong-willed Deb Grantham, who runs a gaming house with her aunt, is hardly the perfect wife for the young and naïve Lord Mablethorpe. His lordship's family are scandalised that he proposes to marry one of faro's daughters', and his cousin the proud, wealthy Max Ravenscar....
---
Five Red Herrings written by Dorothy L. Sayers performed by BBC Full Cast Dramatisation and Ian Carmichael on CD (Abridged)£13.99 - £18.99
A Genius Performance by Ian Carmichael and Cast!
When Sandy Campbell's body is found at the foot of a cliff near the small town of Kircdubright, the local constabulary are convinced that the argumentative painter is a victim of a tragic accident. But when Lord Peter Wimsey turns up, the hunt begins for an ingenious killer. Faced with six men, all of whom have a motive for murder, the aristocratic amateur sleuth must deduce which are the five red herrings and which has blood on his hands.
---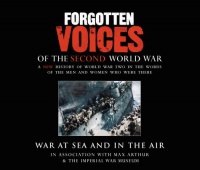 Forgotten Voices of the Second World War - War at Sea and in the Air written by Max Arthur performed by Timothy West and Various Second World War Survivors on CD (Abridged)£6.99
The first British major success of World War two was when Royal Navy forced the preying pocket Battle ship the Graf Spee, to scuttle at sea. Hitler had ordered a blockade of the British Isles and for some months German U-boats and warships caused havoc among allied merchant shipping carrying vital supplies.
---
---
---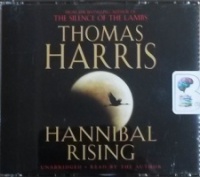 Hannibal Rising written by Thomas Harris performed by Thomas Harris on CD (Unabridged)£8.99
Hannibal Lecter emerges from the nightmare of the Eastern Front, a boy in the snow, mute, with a chain around his neck. He seems utterly alone, but he has brought his demons with him.
---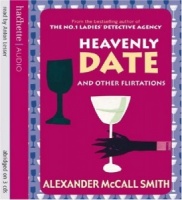 Heavenly Date and Other Flirtations written by Alexander McCall-Smith performed by Anton Lesser on CD (Abridged)£5.99
A Genius Performance by Anton Lesser!
Alexander McCall-Smith's short stories show the interest and intrigue, complexity and completeness that can come from the briefest meeting or a life long love. A lovely set of stories that have something for everyone.
---
New In September 2018 Part 2
(in alphabetical order)
A Handful of Dust written by Evelyn Waugh performed by Andrew Sachs on Cassette (Unabridged)£39.99

After seven years of marriage, the beautiful Lady Brenda Last has grown bored with life at Hetton Abbey, the Gothic mansion that is the pride and joy of her husband, Tony. She drifts into an affair with the shallow socialite John Beaver and forsakes Tony for the Belgravia set.

American Outrage written by Tim Green performed by Scott Brick on CD (Abridged)£14.99

Jake Carlson, a correspondent for the television news show American Outrage, inhabits a world of sensational trials and crazed celebrities. One of the nation's top television journalists, he's used to dragging himself through the dirt to get to the truth.

Bellman and Black written by Diane Setterfield performed by Daniel Phipott on CD (Unabridged)£19.99

Caught up in a moment of boyhood competition, William Bellman recklessly aims his slingshot at a rook resting on a branch, killing the bird instantly. It is a small but cruel act, and is soon forgotten. By the time he is grown, with a wife and children of his own, William seems to have put the whole....

Black and White written by Rob Childs performed by Glen McCready on CD (Unabridged)£19.99

Josh is soccer-mad and can't wait to show off his ball skills to his new classmates. After all, he is the nephew of Ossie Williams - the best footballer in the country. Josh's arrival gives shy Matthew more confidence, but it is not welcomed by Rajesh, the school goalkeeper and captain.

Broken Glass written by Arthur Miller performed by JoBeth Williams, Linda Purl, Lawrence Pressman and David Dukes on CD (Abridged)£19.99

Set in 1938 Brooklyn, this gripping psychological mystery begins when attractive, level-headed Sylvia Gellburg suddenly loses her ability to walk. The only clue lies in Sylvia's obsession with news accounts from Germany. Safe in Brooklyn, she is terrified by Nazi violence or is it something closer to home?

Cravings written by Judy Collins performed by Judy Collins on CD (Unabridged)£19.99

A no-holds-barred account of folk legend Judy Collins's harrowing struggle with compulsive overeating and of the journey that led her to a solution. Since childhood Judy Collins has had a tumultuous, fraught relationship with food. Her issues with overeating nearly claimed her career and her life.

Dickens Confidential - Railway Kings and Darker Than You Think written by Mike Walker performed by Jamie Glover and BBC Full Cast on CD (Unabridged)£6.99

The young Charles Dickens started his career in journalism, and these two plays take an imaginative look at how his desire to bring the news to the masses could have introduced him to a world of crime and corruption. In "Railway Kings", Dickens is Editor of campaigning weekly The Herald, and has...

Dr. Feelgood - The Shocking Story of the Doctor who.... written by Richard A. Lertzman and William J. Birnes performed by Don Fernando Azevedo on CD (Unabridged)£19.99

Doctor Max Jacobson, whom the Secret Service under President John F. Kennedy code-named "Dr. Feelgood," developed a unique "energy formula" that altered the paths of some of the twentieth century's most iconic figures, including President and Jackie Kennedy, Marilyn Monroe, Frank Sinatra, and Elvis.

Enough - Our Fight to Keep America Safe from Gun Violence written by Gabrielle Giffords and Mark Kelly performed by Mark Kelly on CD (Unabridged)£19.99

Former Congresswoman Gabrielle Giffords and her husband, astronaut Mark Kelly, share their impassioned argument for responsible gun ownership. After the 2011 Tucson shooting that nearly took her life, basic questions consumed Gabby Giffords and her family:

Firstborn written by Tor Seidler performed by Jenni Barber on CD (Unabridged)£9.99

A young wolf seeks the bravery to be himself in this lyrical homage to challenging societal stereotypes, from the author of National Book Award Finalist Mean Margaret and The Wainscott Weasel. Wolves. Predators of the wild. Stalkers of the forests. Born into rankings and expected to live up to their roles.

Going Wrong written by Ruth Rendell performed by Dermot Crowley on CD (Unabridged)£29.99

In Rendell's evocative portrayal of West London, the slums of Notting Hill Gate and the mews houses of Holland Park may, geographically, only be streets apart but, socially, they are worlds apart. When these two worlds collide, the repercussions are fatal.

Green Hell - A Jack Taylor Novel written by Ken Bruen performed by John Lee on CD (Unabridged)£14.99

Ireland's master of poetic crime fiction, called "an Irish treasure" by Shelf Awareness, spins a new alcohol-fueled Jack Taylor plot, featuring a Rhodes scholar gone astray, and professor with a violent streak, and a young woman who almost makes Jack look tame.

Hothouse Flower written by Rose Impey performed by Sophie Aldred on CD (Unabridged)£19.99

Who would have thought that being run over by a bus could save your life? Chloe is the only child of egg-head parents - and she's been home-schooled for years because her parents are sure it's the best way to nurture her 'special talents'. So Chloe feels isolated and doesn't have any friends of her own age.

Last Ditch written by G.M. Ford performed by Jeff Harding on CD (Unabridged)£19.99

Leo Waterman's late father used to be one of the region's most powerful and colourful political characters. But just how seriously Waterman senior transgressed during his time on earth comes into question when a human skeleton is uncovered in Dad's back yard.

Lips Touch - Three Times written by Laini Taylor performed by Cassandra Campbell on CD (Unabridged)£14.99

A girl who's always been in the shadows finds herself pursued by the unbelievably attractive new boy at school, who may or may not be the death of her. Another girl grows up mute because of a curse placed on her by a vindictive spirit, and later must decide whether to utter her first words...

Methuselah's Children written by Robert A. Heinlein performed by MacLeod Andrews on CD (Unabridged)£19.99

After the fall of the American Ayatollahs as foretold in Stranger in a Strange Land and chronicled in Revolt in 2100, the United States of America at last fulfills the promise inherent in its first Revolution: for the first time in human history there is a nation with Liberty and Justice for All.

Oedipus the King written by Sophocles performed by Michael Sheen and Full Cast on Cassette (Unabridged)£9.99

The anguished tale of Oedipus, who having solved the riddle of the Sphinx, and become King of Thebes, gradually realizes the crimes he unwittingly committed, remains a drama of unremitting power 2,500 years after it was written.

Permanent Rose written by Hilary McKay performed by Sophie Aldred on CD (Unabridged)£14.99

It's a long hot summer - to Permanent Rose it seems never ending. Rose misses Tom, Indigo's friend who went back to America. New friend David is not a good enough replacement. Caddy's fiancé, Michael, tries to cheer her up by delivering a rose every day, but that just provides temporary relief.

Robert B. Parker's - Debt to Pay written by Reed Farrel Coleman performed by James Naughton on CD (Unabridged)£14.99

The brilliant new novel in Robert B. Parker's New York Times best-selling series featuring police chief Jesse Stone. All is quiet in Paradise, except for a spate of innocuous vandalism. Good thing, too, because Jesse Stone is preoccupied with the women in his life, both past and present.

Skin Deep written by Nora Roberts performed by Marie Caliendo on CD (Unabridged)£4.49 - £4.99

Chantel O'Hurley has parlayed talent, breathtaking beauty and will into stardom.She lights up the screen - larger than life and untouchable. But every day she receives a dozen red roses, with a threatening letter attached. A crazed fan has turned everyday into a nightmare and she has no choice...

Summer Nights - A Fool's Gold Romance written by Susan Mallery performed by Tanya Eby on CD (Unabridged)£19.99

Horse whisperer Shane Stryker is done with passion. This time around, he's determined to meet someone who will be content with the quiet life of a rancher's wife. And the fiery, pint-size redhead who dazzles him at the local bar definitely does not fit the bill.

The Copper Beech written by Maeve Binchy performed by Kate Binchy on CD (Unabridged)£29.99 - £39.99

By the school house at Shancarrig stands a copper beech, its bark scarred with the names and dreams of the pupils who have grown up under its branches.

The Girl from Krakow written by Alex Rosenberg performed by Michael Page on CD (Unabridged)£19.99

It's 1935. Rita Feuerstahl comes to the university in Krakow intent on enjoying her freedom. But life has other things in store—marriage, a love affair, a child, all in the shadows of the oncoming war. When the war arrives, Rita is armed with a secret so enormous that it could cost the Allies everything..

The Long Johns written by John Bird and John Fortune performed by John Bird and John Fortune on Cassette (Abridged)£4.99

A selection of satirical sketches from the television series LONG JOHNS, presenting their humorous political and financial commentaries in the form of mock one-to-one interviews.

The Memory Bible written by Gary Small M.D. performed by Gary Small M.D. on CD (Unabridged)£19.99

This brain fitness program has helped thousands of people improve their ability to remember everyday issues. Based on Dr. Small's scientific discoveries, The Memory Bible can immediately improve your mental performance. It includes a "brain diet," brain exercises, brain training tips, effective drugs...

The Nest written by Kenneth Oppel performed by Gibson Frazier on CD (Unabridged)£14.99

"The first time I saw them, I thought they were angels." The baby is sick. Mom and Dad are sad. And all Steve has to do is say, "Yes" to fix everything. But yes is a powerful word. It is also a dangerous one. And once it is uttered, can it be taken back? Treading the thin line between dreams and reality,

The Rocky Road to Romance written by Janet Evanovich performed by C.J. Critt on CD (Unabridged)£9.99

When the delightful, daffy Dog Lady of station WZZZ offered to take on the temporary job of traffic reporter, Steve Crow tried to think of reasons to turn Daisy Adams down. Perhaps he knew that sharing the close quarters of a car with her for hours would give the handsome program director...

The World of Chrestomanci - The Lives of Christopher Chant written by Diana Wynne Jones performed by Samuel West on Cassette (Abridged)£4.99

The childhood of Chrestomanci. Everything in this story happens at least twenty-five years before Charmed Life… Discovering that he has nine lives and is destined to be the next 'Chrestomanci' is not part of Christopher's plans for the future: he'd much rather play cricket and wander around his ....

The Yes Factor - Get What You Want. Say What You Mean. Secrets of Persuasive Communication written by Tonya Reiman performed by Tonya Reiman on CD (Unabridged)£19.99

Yes-a small word, but the key to opening doors both professional and personal. The power of the "yes factor" gets you the job, the promotion, or the second date. But getting a "yes" can be tricky. Tonya Reiman explains how communications works...what the words you speak actually say about you...

Things to Make and Mend written by Ruth Thomas performed by Finty Williams on CD (Unabridged)£19.99

Sally Tuttle and Rowena Cresswell were friends whose lives were changed at the age of 15 by a shocking event. Now in their late 30s, they are estranged, both single mothers, both haunted with memories of their intense friendship.

This Is Where I Leave You written by Jonathan Tropper performed by Trevor White on CD (Unabridged)£29.99

A side-splitting and heartbreaking tale, now a major Hollywood movie starring Tina Fey, Connie Britton, and Jason Bateman. Poor Judd Foxman returns home early to find his wife in bed with his boss - in the act. He now faces the twin threats of both divorce and unemployment.

Thriller 2.2 written by Famous Thriller Writers performed by Natalie Ross, Luke Daniels, David Colacci and Dan John Miller on CD (Unabridged)£9.99

The House on Pine Terrace is an intricate puzzle a crime that leads to a romance that triggers another crime that ends with a mystery, which makes you question every event in the story. The Desert Here and the Desert Far Away is a haunting exploration of the wounds our warriors bear, not all of which...

Treasures from the Attic - The Extraordinary Story of Anne Frank's Family written by Mirjam Pressler performed by Sherry Adams Foster on CD (Unabridged)£19.99

Anne Frank wrote a diary from the age of 13 as she hid for over two years in the back of an Amsterdam warehouse escaping the horrors of Nazi occupation. An intimate record of adolescence and confinement, anger and heartbreak, it is among the most enduring documents of the 20th century.

Uganda Be Kidding Me written by Chelsea Handler performed by Chelsea Handler on CD (Unabridged)£19.99

Wherever Chelsea Handler travels, one thing is certain: she always ends up in the land of the ridiculous. Now, in this uproarious collection, she sneaks her sharp wit through airport security and delivers her most absurd and hilarious stories ever. On safari in Africa, it's anyone's guess as to what's...

Unfaithful Music and Disappearing Ink written by Elvis Costello performed by Elvis Costello on CD (Unabridged)£49.99

Unfaithful Music and Disappearing Ink is the long-awaited memoir from Elvis Costello, one of rock and roll's most iconic stars. Born Declan Patrick MacManus, Elvis Costello was raised in London and Liverpool, grandson of a trumpet player on the White Star Line and son of a jazz musician who became a successful radio dance band vocalist.

Unstolen written by Wendy Jean performed by Lorelei King on CD (Unabridged)£29.99

The thing about being the unstolen one is that you'd better be strong, you'd better stay safe, you'd better not rock any boats or surely they will sink. People depend on you, people who can't take any more stress in their lives and you'd better count yourself lucky because after all, you weren't taken...

Utopia written by Sir Thomas More performed by James Adams on CD (Unabridged)£19.99

Sixteenth-century classic by brilliant humanist, churchman and scholar envisioned a patriarchal island kingdom that practiced religious tolerance, in which everybody worked, all goods were community-owned, and violence, bloodshed, and vice were nonexistent.

Walk Out Walk On written by Margaret Wheatley and Deborah Frieze performed by Margaret Wheatley and Deborah Frieze on MP3 CD (Unabridged)£14.99

At a time when most communities' resources are stretched past the breaking point, how is it possible to deal with the enormous challenges that families, neighborhoods, cities, regions, and nations face today? This inspiring tale takes readers to seven communities around the world where the people...

Wild Swans written by Jung Chang performed by Rowena Cooper on Cassette (Unabridged)£19.99

Few books have had such an impact as Wild Swans: a popular best seller and a critically acclaimed history of China that opened up the country to the world. Through the story of three generations of women in her own family - the grandmother given to the warlord as a concubine..

Wishful Drinking written by Carrie Fisher performed by Carrie Fisher on CD (Unabridged)£14.99 - £19.99

In WISHFUL DRINKING, Carrie Fisher tells the true and intoxicating story of her life with inimitable wit. Born to celebrity parents, she was picked to play a princess in a little movie called Star Warswhen only 19 years old. "But it isn't all sweetness and light sabres."

Working with Difficult People written by William Lundin, PhD and Kathleen Lundin and Michael S. Dobson performed by Full Cast Performance on CD (Unabridged)£9.99

Working with difficult people can reduce your morale, threaten your productivity, deplete your energy, and waste your time. But you don't have to be helpless in the face of other people's craziness! Knowing how to handle coworkers' disruptive behavior is one of the most important career skills ...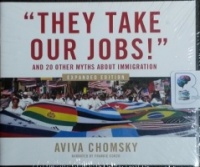 "They Take Our Jobs!" and 20 Other Myths About Immigration - Expanded Edition written by Aviva Chomsky performed by Frankie Corzo on CD (Unabridged)£19.99
In They Take Our Jobs! Aviva Chomsky challenges the underlying assumptions that fuel misinformed claims about immigrants, radically altering our notions of citizenship, discrimination, and U.S. history. Since it was first published, many of the same myths about immigration such as immigrants take...
---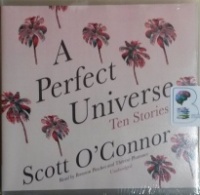 A Perfect Universe - Ten Stories written by Scott O'Connor performed by Bronson Pinchot and Therese Plummer on CD (Unabridged)£19.99
Scott O'Connor's novels have been hailed as "astonishing" (Library Journal), and "so insistently stirring, you want to lean in close to catch every word" (The New York Times Book Review). Now, from the author of Untouchable and Half World comes A Perfect Universe, a piercingly emotional cycle...
---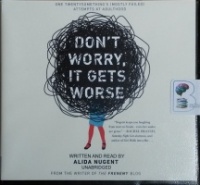 Don't Worry, It Gets Worse written by Alida Nugent performed by Alida Nugent on CD (Unabridged)£19.99
Alida Nugent graduated college with a degree in one hand and a drink in the other, eager to trade in parties and all-nighters for "the real world". But post-grad wasn't the glam life she imagined. Soon buried under a pile of bills, laundry, and three-dollar bottles of wine, it quickly became clear that she...
---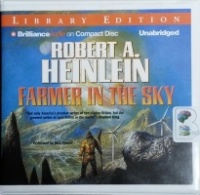 Farmer in the Sky written by Robert A. Heinlein performed by Nick Podehl on CD (Unabridged)£24.99
Farmer In The Sky is a 1953 science fiction novel by Robert A. Heinlein about a teenage boy who emigrates with his family to Jupiter's moon Ganymede, which is in the process of being terraformed. A condensed version of the novel was published in serial form in 1950 in Boys' Life magazine.
---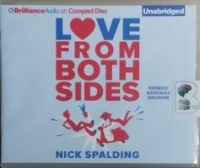 Love From Both Sides written by Nick Spalding performed by Heather Wilds and Napoleon Ryan on CD (Unabridged)£24.99
Sometimes, the hardest part of finding love is keeping a straight face.... For Jamie Newman, being a single guy isn't proving to be much fun, especially when confronted with a sexually belligerent divorcee and a goddess so far out of his league she might as well be a different species. Mind you, being a...
---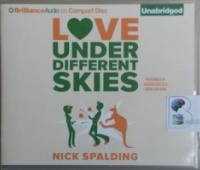 Love Under Different Skies written by Nick Spalding performed by Heather Wilds and Napoleon Ryan on CD (Unabridged)£19.99
Sometimes, the hardest part of staying together is keeping a straight face... Ever wish you could leave all your problems behind and make a fresh start somewhere else? Trade the stresses and strains of everyday life for your own slice of sun-kissed paradise on the other side of the world?
---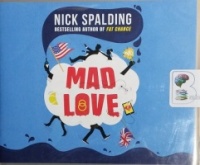 Mad Love written by Nick Spalding performed by Nico Evers-Swindell and Amy London on CD (Unabridged)£19.99
Can two people who have never met make a marriage work? Popular dating site Sociality thinks so, and is marrying London lad Adam to California girl Jessica to prove it. What better way to show that your 'love algorithms' work than to put two complete strangers together in an expensive publicity stunt?
---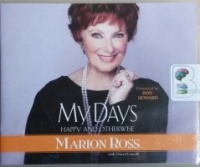 My Happy Days - Happy and Otherwise written by Marion Ross performed by Marion Ross and The Cast of Happy Days on CD (Unabridged)£29.99
For eleven seasons, Marion Ross was head of one of America's favorite television households. Now meet the lovable real-life woman behind the Happy Days mom . . . Before she was affectionately known to millions as "Mrs. C.," Marion Ross began her career as a Paramount starlet who went on to...
---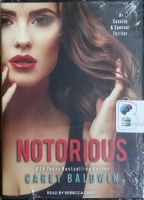 Notorious written by Carey Baldwin performed by Rebecca Gibel on MP3 CD (Unabridged)£19.99
Dallas socialite Cynthia Langhorne is infamous for her beauty, her philanthropy, and her home wrecking-until she's found shot through the heart and posed nude at a fundraising ball. The case is high profile, and there's a bigger problem: Cindy is the wife of a decorated FBI special agent-the prime...
---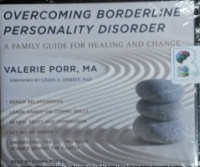 Overcoming Borderline Personality Disorder written by Valerie Porr, MA performed by Donna Postel on CD (Unabridged)£39.99
Overcoming Borderline Personality Disorder is a compassionate and informative guide to understanding this profoundly unsettling-and widely misunderstood-mental illness, believed to affect approximately six percent of the general population.Rather than viewing people with BPD as ...
---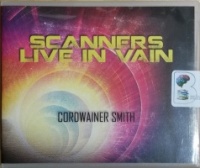 Scanners Live in Vain written by Cordwainer Smith performed by Christopher Strong on CD (Unabridged)£9.99
Man has conquered space, but not without costs. To maintain the space lanes, Scanners have to undergo an operation in which their brain is severed from their sensory inputs to block the pain of space. Scanner Martel has made this sacrifice. He must monitor his vital functions via implanted dials...
---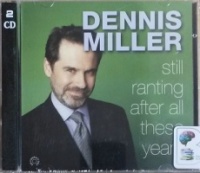 Still Ranting After All These Years written by Dennis Miller performed by Dennis Miller on CD (Unabridged)£9.99
If you thought Dennis Miller was done ranting, guess again. In Still Ranting After All These Years, recorded in early 2002, Miller is in fine form, commenting on everything from "War and Terrorism" to Enron; from "Obsessed Parents" to the "End of Class;" to "Truth in the Media," and so much more.
---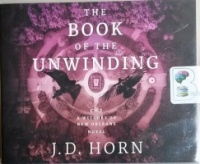 The Book of The Unwinding - A Witches of New Orleans Novel written by J.D. Horn performed by Sophie Amoss on CD (Unabridged)£19.99
The struggle for power continues in the sequel to The King of Bones and Ashes from Wall Street Journal bestselling author J.D. Horn. With their magic diminishing, warring factions of New Orleans witches desperately search for the Book of the Unwinding—a legendary grimoire, hidden by spells, that...
---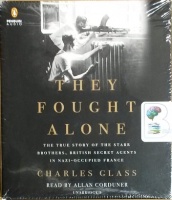 They Fought Alone - The True Story of the Starr Brothers, British Secret Agents in Nazi-Occupied France written by Charles Glass performed by Allan Corduner on CD (Unabridged)£29.99
"Highly detailed and fast-paced, Charles Glass's They Fought Alone is a must-read for those whose passion is the Resistance literature of World War II." —Alan Furst, author of A Hero of France From the bestselling author of Americans in Paris and The Deserters, the astounding story of Britain's...
---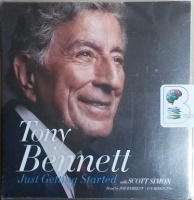 Tony Bennett - Just Getting Started written by Tony Bennett with Scott Simon performed by Joe Barrett on CD (Unabridged)£19.99
At 90, musician and singer Tony Bennett is as vibrant and productive as ever. In addition to his prodigious musical output, including albums, concerts, and personal appearances, this beloved and enduring artist has written his second book. In 2012's Life Is a Gift, Tony reflected on the lessons he has...
---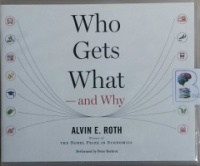 Who Gets What - and Why written by Alvin E. Roth performed by Peter Berkrot on CD (Unabridged)£14.99
"In his fluent and accessible book, Mr. Roth vividly describes the successes of market design." -- Economist.com​ "In this fascinating, often surprising book, Alvin Roth guides us through the jungles of modern life, pointing to the many markets that are hidden in plain view all around us." -- Dan Ariely, author...
---
---
---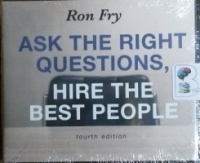 Ask The Right Questions, Hire The Right People - Fourth Edition written by Ron Fry performed by Patrick Lawlor on CD (Unabridged)£19.99
In this completely updated new edition, the best-selling author of 101 Great Answers to the Toughest Interview Questions and 101 Smart Questions to Ask on Your Interview takes you step by step through the hiring process. Whether you're replacing an employee who's leaving or creating a new position...
---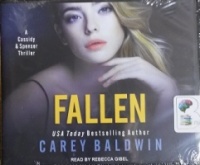 Fallen written by Carey Baldwin performed by Rebecca Gibel on CD (Unabridged)£29.99
A body just fell from the sky onto Hollywood Boulevard.When a beautiful prostitute is dumped onto the Walk of Fame, FBI profiler Atticus Spenser and forensic psychiatrist Dr. Caitlin Cassidy are called in to solve one of their most baffling cases yet. The media's dubbed him the Fallen Angel Killer...