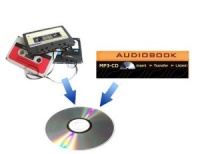 3 Hour Fixed Price Audio Transfer£15.00
This is the fixed price £15 item to be used when ordering conversion of a sub 3 hour Audio Cassette or MP3 CD title.
---
---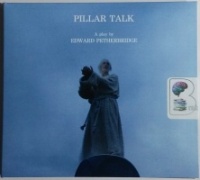 Pillar Talk - A Play written by Edward Petherbridge performed by Edward Petherbridge on CD (Unabridged)£14.99
Exclusive to Brainfood Audiobooks! Esteemed actor Edward (Nicholas Nickleby) Petherbridge uses the story of Symeon Stylites, the 5th century monk who lived on a pillar for thirty-six years, as a framework for an existential inquiry into imagination, belief, doubt, miracles and why one would live 'as I live.'
---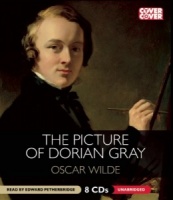 The Picture of Dorian Gray written by Oscar Wilde performed by Edward Petherbridge on CD (Unabridged)£29.99 - £34.99
A Genius Performance by Edward Petherbridge!
Dorian Gray is a child of his time. A young man who is only interested in appearances and, as the story continues, not so much about reality. He has a picture painted and makes a deal with the "devil" so that all the sins he commits are visited on the painting and not on him. This tale has something to say to every generation and is performed by the Genius that is Edward Petherbridge!
---
---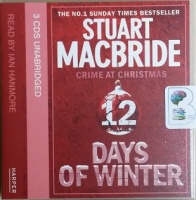 12 Days of Winter written by Stuart MacBride performed by Ian Hanmore on CD (Unabridged)£19.99 - £29.99
A collection of interlinked tales of crime and retribution laced with dark humour, set around the festive season – from the No. 1 bestseller Stuart MacBride
Thieves, drug dealers, lap-dancers, gangsters and even the odd good guy populate these twelve tales exploring the seedier side of life in North East Scotland.
---
---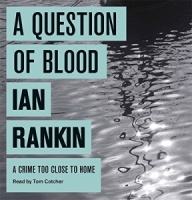 A Question of Blood written by Ian Rankin performed by Tom Cotcher on CD (Unabridged)£29.99
Two seventeen-year-olds are killed by an ex-Army loner who has gone off the rails. The mystery takes Rebus into the heart of a shattered community.
---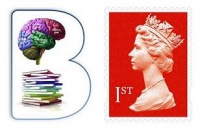 Additional Airmail Postage for Edward Petherbridges Gift to Austrilia£15.00
This is the Additional Postage charge for Edward Petherbridge's audiobook order as one item is required to be sent to Australia.
---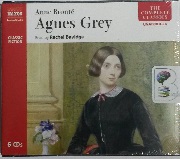 Agnes Grey written by Anne Bronte performed by Rachel Bavidge on CD (Unabridged)£24.99 - £29.99
For all those captivated by the trials of Jane Eyre, Anne Brontës heroine Agnes Grey is the ideal counterpoint. Agnes Grey is widely considered to be the best record of the precarious position of the governess in Victorian society, and the insolence, neglect and dependence that the gentle ....
---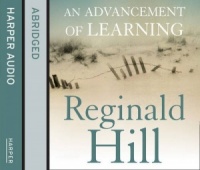 An Advancement of Learning written by Reginald Hill performed by Warren Clarke on CD (Abridged)£4.99 - £14.99
Lecturers having it away with students, witches' sabbaths on the sand dunes, a body buried under a statue in the gardens, and a fresh rash of killings.
---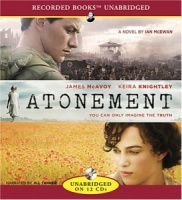 Atonement written by Ian McEwan performed by Jill Tanner on CD (Unabridged)£21.99
On the hottest day of the summer of 1934, thirteen-year-old Briony Tallis sees her sister Cecilia strip off her clothes and plunge into the fountain in the garden of their country house. Watching her is Robbie Turner, her childhood friend who, like Cecilia, has recently come down from Cambridge.
---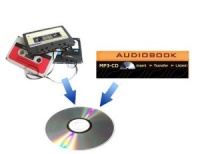 Audio Repair and Audio Transfer for Customers Own Tapes£35.00
Audio Repair and Audio Transfer of Customer Own Tapes
If you have a damaged audio tape that needs repairing and then transferring to Audio CD this is the service for you.
You should place an order for this item for each tape that requires repair and recording.
---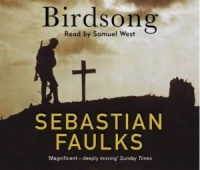 Birdsong written by Sebastian Faulks performed by Samuel West on CD (Abridged)£6.99 - £9.99
A Genius Performance by Samuel West!
Set before and during the Great War, Birdsong captures the drama of that era on both a national and a personal scale. It is the story of Stephen, a young Englishman, who arrives in Amiens in 1910.
---
---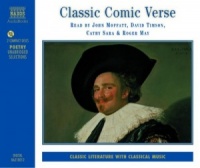 Classic Comic Verse written by Various Famous Poets performed by John Moffat, David Timson, Cathy Sara and Roger May on CD (Abridged)£4.99 - £6.99
Poetry by definition, achieves its effects by rhythm, sound patterns and imagery. One of the most popular areas of audiobooks -- spoken poetic form -- evokes emotions and sensations by bringing the voice of the poet to life in an appropriately intimate way, directly to the ear and mind of the listener.
---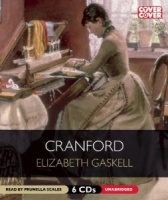 Cranford written by Elizabeth Gaskell performed by Prunella Scales on CD (Unabridged)£19.99
"I'll not listen to reason," she said, now in full possession of her voice, which had been rather choked with sobbing. "Reason always means what someone else has got to say."'
New In October 2018 Part 3
(in alphabetical order)
3 Para - Afghanistan, Summer 2006. This is War. written by Patrick Bishop performed by Christian Rodska on CD (Abridged)£9.99

Afghanistan, Summer 2006. This is war. Afghanistan in the summer of 2006. In blazing heat in remote outposts the 3 Para battlegroup is pitted against a stubborn enemy who keep on coming. Until now, the full story of what happened there has not been told. This is it.

A Christmas Carol written by Charles Dickens performed by Martin Jarvis on CD (Abridged)£14.99

Christmas would not be the same without the most famous Christmas story ever written. A Christmas Carol in Prose, Being a Ghost Story of Christmas, commonly shortened to A Christmas Carol, is a true classic. Its central character, Ebeneezer Scrooge, is the meanest, most miserly and...

All Quiet on the Western Front written by Erich Maria Remarque performed by Tom Lawrence on CD (Unabridged)£24.99

The story is told by a young 'unknown soldier' in the trenches of Flanders during the First World War. Through his eyes we see all the realities of war; under fire, on patrol, waiting in the trenches, at home on leave, and in hospitals and dressing stations. Although there are vividly described incidents...

An Infamous Army written by Georgette Heyer performed by Claire Higgins on CD (Unabridged)£24.99

In 1815, beneath the aegis of the Army of Occupation, Brussels is the gayest town in Europe. And the widow Lady Barbara Childe, renowned for being as outrageous as she is beautiful, is at the centre of all that is fashionable and light-hearted. When she meets Charles Audley, dashing aide-de-camp...

Behold, Here's Poison written by Georgette Heyer performed by Ulli Birve on CD (Unabridged)£39.99

It's no ordinary morning at the Poplars – the master is found dead in his bed, and it seems his high blood pressure was not the cause. When an autopsy reveals a sinister poison, it's up to the quietly resourceful Inspector Hannasyde to catch the murderer in time to spare the next victim.

Bleeding Through - A Rachel Goddard Mystery written by Sandra Parshall performed by Tavia Gilbert on MP3 CD (Unabridged)£24.99

When veterinarian Rachel Goddard and Deputy Sheriff Tom Bridger take teenagers on an outing to clean up roadside trash in rural Mason County, Virginia, they make a grisly discovery: the plastic-wrapped body of a young woman. One teen peers at the face through the plastic and screams.

Blood Hunt written by Ian Rankin performed by Steven Pacey on CD (Unabridged)£39.99

It begins with a phone call. Gordon Reeve's brother has been found dead in his car in San Diego - the car was locked from the inside, a gun in his hand. In the US to identify the body Gordon comes to realise that his brother has in fact been murdered. What's more, it is soon obvious that his own life is in danger.

Confessions of an English Opium-Eater written by Thomas De Quincey performed by Gunnar Cauthery on CD (Unabridged)£19.99

Confessions of an English Opium-Eater, Thomas De Quincey's best-known work, is an account of his early life and opium addiction, in prose that is by turns witty, conversational, and nightmarish. The Confessions involve the listener in De Quincey's childhood and schooling, describing in detail his...

Dawn of the Dead written by George A. Romero and Susanna Sparrow performed by Christopher Ragland on MP3 CD (Unabridged)£4.99

When there is no more room in hell, the dead will walk the Earth. George A. Romero's iconic film and novel terrified generations. Now Dawn of the Dead is back to terrify once more. The world is being devastated by zombies. No one knows how far they have spread, or how to stop them.

Great Scientists and their Discoveries written by David Angus performed by Clare Corbett and Benjamin Soames on CD (Abridged)£4.99

How did the great scientists make their remarkable discoveries? And what kind of men were they? This companion volume to "Inventors and their Inventions" introduces the work of 10 men to younger readers, and range from the world of Ancient Greece to the 20th century discovery of DNA.

Invisible written by Paul Auster performed by Paul Auster on CD (Unabridged)£8.99 - £9.99

Sinuously constructed in four interlocking parts, Invisible opens in New York City in the spring of 1967 when twenty-year-old Adam Walker, an aspiring poet and student at Columbia University meets the enigmatic Frenchman Rudolf Born, and his silent and seductive girlfriend Margot.

John Ilhan - A Crazy Life written by Stephen Dabkowski and Annie Reid performed by Adrian Mulraney on CD (Unabridged)£9.99

John Ilhan: A Crazy Life tells the fascinating story of John Ilhan - a working-class immigrant who overcame incredible odds to become one of the richest men in Australia. Founder of the phenomenally successful mobile telephone company Crazy John's, Ilhan tragically passed away in 2007 at the age of 42.

Little Dorrit written by Charles Dickens performed by Anton Lesser on CD (Abridged)£24.99

In Little Dorrit, Charles Dickens created one of his most penetrating satires on the weaknesses of government in the Victorian era. He chose Marshalsea debtors prison as the setting, where his own father had been imprisoned. The story revolves around a complex mystery involving conspiracy...

Little Lord Fauntleroy written by Frances Hodgson Burnett performed by Donada Peters on MP3 CD (Unabridged)£29.99

Young Cedric Errol lives in poverty in New York with his mother. When his father, who was disinherited for marrying an American, dies, Cedric is summoned to his grandfather's English estate. Although the old Earl has planned to transform the boy into a docile, traditional lord, it is Little Lord Fauntleroy...

Millennium People written by J.G. Ballard performed by David Rintoul on CD (Unabridged)£19.99

Millennium People tells the story of David Markham, a psychologist who is searching for the truth behind a bomb that exploded on a Heathrow baggage carousel, killing his ex?wife. Infiltrating a shadowy protest group responsible for her death, David finds himself succumbing to the charismatic...

On the Genealogy of Morals written by Friedrich Nietzsche performed by Duncan Steen on CD (Unabridged)£14.99 - £19.99

We are going back to our brain-food roots with this title. This brilliant work will make you think and do the world of good to all our brains! This is one of the most accessible of Nietzsche's works. It was published in 1887, a year after Beyond Good and Evil, and he intended it to be a continuation ...

One Fifth Avenue written by Candace Bushnell performed by Carrington MacDuffie on CD (Unabridged)£24.99

One Fifth Avenue is THE building - the choicest, the hottest, with all the best people. Within its luxuriously thick walls the lives of New York City's elite play out. There is Schiffer Diamond, an over-forty actress who had given up making movies and moved to Europe, until the call to come home...

One Soldier's Story - A Memoir written by Bob Dole performed by Paul Hecht and Cynthia Darlowe on CD (Abridged)£4.99

Before he became one of America's most respected statesmen, Bob Dole was an average citizen serving heroically for his country. The bravery he showed after suffering near-fatal injuries in the final days of World War II is the stuff of legend. Now, for the first time in his own words, Dole tells the moving...

Relaxation Focus and Memory Training written by Daniel G. Amen MD performed by Daniel G. Amen MD on CD (Unabridged)£9.99

Research at the Amen Clinics verifies that the brain can heal itself at any stage of life - and that we can amplify the process through simple measures. With Relaxation, Focus, and Memory Training, Daniel Amen, MD, provides us with one of the most effective tools he uses with his own patients: a visualization..

Saving Tarboo Creek - One Family's Quest to Heal the Land written by Scott Freeman performed by Mike Chamberlain on CD (Unabridged)£19.99

When the Freeman family decided to restore a damaged creek in Washington's Olympic Peninsula-to transform it from a drainage ditch into a stream that could again nurture salmon-they knew the task would be formidable and the rewards plentiful. In Saving Tarboo Creek, Scott Freeman artfully blends...

Seer - A Prequel to the Mongoliad written by Mark Teppo performed by Luke Daniels on CD (Unabridged)£9.99

When a merchant appears at the Catalonian chapter house of the Shield-Brethren, seeking to hire guards for his caravan, young Andreas is suspicious. Knights with his martial prowess are above protecting mere cargo wagons. Yet Andreas's wanderlust outweighs his concern, and soon the group...

The Betrothed written by Umberto Eco performed by Peter Noble on CD (Unabridged)£9.99

Lorenzo and Lucia, both from peasant families, are planning their wedding. However, after meeting the villainous Don Rodrigo, the couple are forced to flee their village. Their dangerous journey in exile takes them through one of the most dramatic eras in Italian history, filled with war, famine, and plague.

The Bone Triangle - Unspeakable Things written by B.V. Larson performed by Benjamin L. Darcie on CD (Unabridged)£29.99

Beyond the din and dancing lights of the Las Vegas strip, a young woman has mysteriously gone missing. All the facts point to something sinister - even paranormal. Quentin Draith, supernatural crime investigator, is hired to assist. However, the deeper Draith digs, the more otherworldly his...

The Color of Secrets written by Lindsay Ashford performed by Heather Wilds on CD (Unabridged)£14.99

Everyone has secrets, but some can change your life forever.... In the midst of the Second World War, Eva receives the devastating news that her husband is missing and presumed dead. Neither wife nor widow, she lives in a numb state of limbo until, in the heat of an English summer, she meets Bill...

The Daughters of Cain written by Colin Dexter performed by Kevin Whately on CD (Abridged)£5.99

Bizarre and bewildering - that's what so many murder investigations in the past had proved to be . . . In this respect, at least, Lewis was correct in his thinking. What he could not have known was what unprecedented anguish the present case would cause to Morse's soul.

The Essential John Milton - Paradise Lost, Paradise Regained, Shorter Poems, Prose and Biography written by John Milton performed by Anton Lesser, Samantha Bond and Derek Jacobi on CD (Abridged)£29.99

This thoughtful collection of John Milton's finest poetry marks the quarter centenary of the poet's birth in 1608. It is read by several of Britain's foremost classical actors, including Anton Lesser, Samantha Bond and Derek Jacobi. Milton's uncompromising views set him firmly on the side of Cromwell....

The Finest Nonsense of Edward Lear written by Edward Lear performed by Derek Jacobi on CD (Unabridged)£9.99

Nearly 150 years since his poetry was first published, Lear's nonsense rhymes are still popular today. In this lively and colourful audiobook recording, Derek Jacobi reads Lear's most famous poems and most fantastic creations, including The Owl and the Pussy-Cat, The Daddy Long-Legs and the Fly,

The Golden Notebook written by Doris Lessing performed by Juliet Stevenson on CD (Unabridged)£49.99

One of the most important books of the growing feminist movement of the 1950s, it was brought to a wider public by the Nobel Prize award to Doris Lessing in 2007. Authoress Anna Wulf attempts to overcome writers block by writing a comprehensive golden notebook which draws together...

The Happy Prince and Other Stories written by Oscar Wilde performed by Anton Lesser on CD (Abridged)£9.99 - £14.99

These fantasies and true-to-life fables were created by Oscar Wilde for his own sons. Here is the tale of the Prince who is not as happy as he seems, of the Selfish Giant who learns how to love children, and of the Star-Child who suffers bitter trials when he rejects his parents.

The Infinite - The Sequel to Gates of Tread and Stone written by Lori M. Lee performed by Jessica Almasy on CD (Unabridged)£14.99

The walls of Ninurta keep its citizens safe. Kai always believed the only danger to the city came from within. Now, with a rebel force threatening the fragile government, the walls have become more of a prison than ever. To make matters worse, as Avan explores his new identity as an Infinite...

The Invisible Man written by H.G. Wells performed by Daniel Philpott on CD (Unabridged)£24.99

A mysterious man wrapped in bandages, wearing large goggles and a hat pulled tightly down over his face arrives at the small town of Iping. A series of strange, inexplicable events are traced back to the newcomer, and it soon becomes clear that appearances are deceiving.

The Knife of Never Letting Go written by Patrick Ness performed by Nick Podehl on CD (Unabridged)£9.99 - £14.99

Todd Hewitt is the only boy in a town of men. Ever since the settlers were infected with the Noise germ, Todd can hear everything the men think, and they hear everything he thinks. Todd is just a month away from becoming a man, but in the midst of the cacophony, he knows that the town is hiding...

The Lessons of Ubantu written by Mark Mathabane performed by JD Jackson on MP3 CD (Unabridged)£29.99

Mark Mathabane touched the hearts of millions with his sensational memoir, Kaffir Boy,. A book highly-praised by Oprah and President Clinton for inspiring hope, Kaffir Boy described the effects of South Africa's system of legalized racism and oppression on black lives in vivid prose.

The Serpent's Shadow written by Mercedes Lackey performed by Michelle Ford on CD (Unabridged)£14.99

From the magical mysteries of India to the gaslit streets of Victorian London, Mercedes Lackey's unique departure from her Valdemar series follows a young woman doctor as she searches for the secret behind the sorcery in her blood.

The Tell-Tale Brain - A Neuroscientist's Quest for What Makes Us Human written by V.S. Ramachandran performed by David Drummond on CD (Unabridged)£29.99

V. S. Ramachandran is at the forefront of his field-so much so that Richard Dawkins dubbed him the "Marco Polo of neuroscience." Now, in a major new work, Ramachandran sets his sights on the mystery of human uniqueness. Taking us to the frontiers of neurology, he reveals what baffling...

Vanity Fair written by William Makepeace Thackeray performed by Georgina Sutton on CD (Unabridged)£59.99

Vanity Fair, with its rich cast of characters, takes place on the snakes-and-ladders board of life. Amelia Sedley, daughter of a wealthy merchant, has a loving mother to supervise her courtship. Becky Sharp, an orphan, has to use her wit, charm, and resourcefulness to escape from her destiny as a governess.

Where the Road Takes Me written by Jay McLean performed by Nick Podehl and Laura Hamilton on CD (Unabridged)£14.99

Chloe has one plan for the future, and one plan only: the road. She's made a promise to herself: don't let anyone in, and don't let anyone love her. She's learned the hard way what happens if she breaks her rules. So she's focused on being invisible and waiting until she can set out on the road--her dream..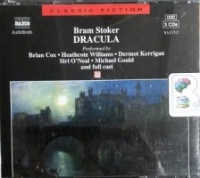 Dracula written by Bran Stoker performed by Brian Cox, Heathcote Williams, Dermot Kerrigan and Full Cast on CD (Abridged)£14.99
"Dracula" is an 1897 Gothic horror novel by Irish author Bram Stoker. Famous for introducing the character of the vampire Count Dracula, the novel tells the story of Dracula's attempt to move from Transylvania to England so he may find new blood and spread undead curse, and the battle between...
---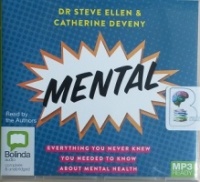 Mental - Everything you Never Knew, you needed to know, about Mental Health written by Dr Steve Ellen and Catherine Deveny performed by Dr Steve Ellen and Catherne Deveny on MP3 CD (Unabridged)£19.99
Psychiatrist Dr Steve Ellen and comedian Catherine Deveny combine forces to demystify the world of mental health. Providing an insider perspective, they share their personal experiences of mental illness and unpack the current knowledge about conditions and treatments. What do we know?
---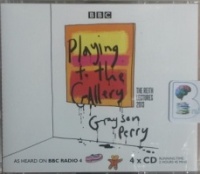 Playing to the Gallery - The Reith Lectures 2013 written by Grayson Perry performed by Grayson Perry on CD (Abridged)£19.99
Turner Prize-winning artist Grayson Perry gives the 2013 Reith Lectures, presented by Sue Lawley. Marcel Duchamp famously declared that a urinal was a work of art. It sometimes seems that anything qualifies, from a pile of sweets on a gallery floor to an Oscar-winning actress asleep in a box.
---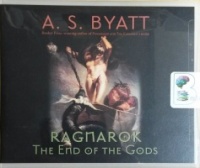 Ragnarok - The End of the Gods written by A.S. Byatt performed by Harriet Walter on CD (Unabridged)£19.99
"Ragnarok" retells the finale of Norse mythology. A story of the destruction of life on this planet and the end of the gods themselves. Just as Wagner used this dramatic and catastrophic struggle for the climax of his Ring Cycle, so A.S. Byatt now reinvents it in all its intensity and glory.
---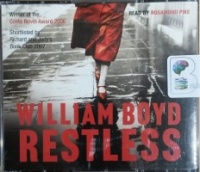 Restless written by William Boyd performed by Rosamund Pike on CD (Abridged)£9.99
Eva Delectorskaya,' I said mystified. ' Who's that?' 'Me,' she said. 'I am Eva Delectorskaya.' What happens to your life when everything you thought you knew about your mother turns out to be an elaborate lie? During the long, hot summer of 1976, Ruth Gilmartin discovers that her very English mother...
---
---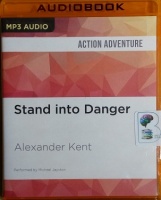 Stand into Danger written by Alexander Kent performed by Michael Jayston on MP3 CD (Unabridged)£19.99
Despatched on a secret mission, the company of a 28-gun frigate must face the hazards of conspiracy, treason, and piracy. And recently appointed third lieutenant Richard Bolitho must learn to accept his new responsibilities as a King's officer.
---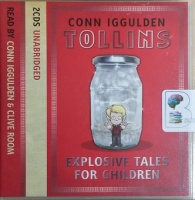 Tollins - Explosive Tales for Children written by Conn Iggulden performed by Conn Iggulden and Clive Room on CD (Unabridged)£9.99
"Tollins are not fairies. Though they both have wings, fairies are delicate creatures and much smaller. Tollins are also a lot less fragile than fairies. In fact, the word 'fragile' can't really be used about them at all. They are about as fragile as a housebrick..." In these three tales, Conn Iggulden introduces...
---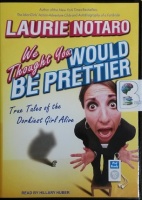 We Thought You Would be Prettier - True Tales of the Dorkiest Girl Alive written by Laurie Notaro performed by Hillary Huber on MP3 CD (Unabridged)£19.99
She thought she'd have more time. Laurie Notaro figured she had at least a few good years yet. But no-it's happened. She has officially lost her marbles. From the kid at the pet-food store checkout line whose coif is so bizarre it makes her seethe "I'm going to kick his hair's ass" to the hapless Sears...
---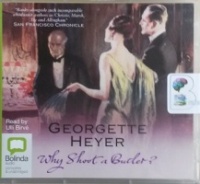 Why Shoot a Butler? written by Georgette Heyer performed by Ulli Birve on CD (Unabridged)£24.99
On a dark night, along a lonely country road, barrister Frank Amberley stops to help a young lady in distress and discovers a sports car with a corpse behind the wheel. The girl protests her innocence, and Amberley believes her – at least until he gets drawn into the mystery and the clues...
---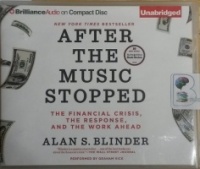 After The Music Stopped - The Financial Crisis, The Response, And the Work Ahead written by Alan S. Blinder performed by Graham Vick on CD (Unabridged)£19.99
Named one of the 10 best books of 2013 by Michiko Kakutani and the New York Times Book Review Alan S. Blinder - esteemed Princeton professor, Wall Street Journal columnist, and former vice chairman of the Federal Reserve Board under Alan Greenspan - is one of our wisest and most...
---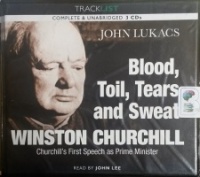 Blood, Toil, Tears and Sweat - Winston Churchill's First Speech as Prime Minister written by John Lukacs performed by John Lee on CD (Unabridged)£19.99
On 13 May 1940, Winston Churchill stood before the House of Parliament to deliver his first speech as prime minister. German troops were advancing across Europe Neville Chamberlain's government had fallen three days earlier. Churchill needed to prove himself an able leader, and he also needed...
---
---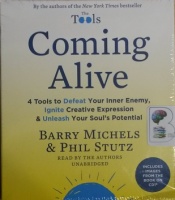 Coming Alive - The Tools - 4 Tools to Defeat Your Inner Enemy written by Barry Michels and Phil Stutz performed by Barry Michels and Phil Stutz on CD (Unabridged)£19.99
Tap into the life force to deepen your emotional and spiritual experience and realize your full potential with this transformative book by the New York Times bestselling authors of The Tools (and the resident shrinks on Goop). In The Tools, Barry Michels and Phil Stutz revolutionized the world ...
---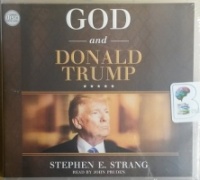 God and Donald Trump written by Stephen E. Strang performed by John Pruden on CD (Unabridged)£19.99
With pundits asking, "How did he win?" this book explores whether there was a supernatural element involved. Christian leaders prophesied before the election that God had raised up Donald Trump to lead the nation through a time of crisis. But could this billionaire reality-TV star actually convince...
---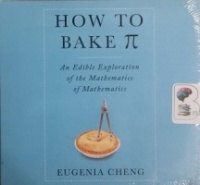 How to Bake Pi written by Eugenia Cheng performed by Tavia Gilbert on CD (Unabridged)£24.99
What is math? And how exactly does it work? In How to Bake Pi, math professor Eugenia Cheng provides and accessible introduction to the logic of mathematics-sprinkled throughout with recipes for everything from crispy duck to cornbread-that illustrates to the general listener the beauty of math.