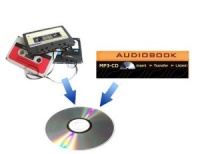 3 Hour Fixed Price Audio Transfer for Customers Own Tapes£25.00
This is the fixed price £25.00 item to be used by Customers when ordering conversion of their own sub 3 hour Audio Cassette or MP3 CD title.
---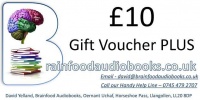 Gift Voucher PLUS 10£10.00
Welcome to the New Brainfood Audiobooks Gift Voucher PLUS! This is a Gift Voucher with a difference.
---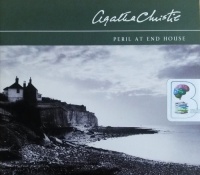 Peril at End House written by Agatha Christie performed by Hugh Fraser on CD (Abridged)£3.99 - £4.99
Nick Buckley was an unusual name for a pretty young woman. But then she had led an unusual life. First, on a treacherous Cornish hillside, the brakes on her car failed. Then, on a coastal path, a falling boulder missed her by inches. Later, an oil painting fell and almost crushed her in bed.
---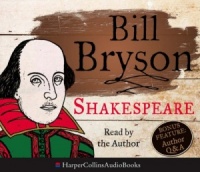 Shakespeare written by Bill Bryson performed by Bill Bryson on CD (Unabridged)£6.99 - £7.99
This short biography of William Shakespeare by world famous writer Bill Bryson brims with the authorís inimitable wit and intelligence.
---
---
---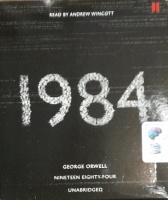 1984 written by George Orwell performed by Andrew Wincott on CD (Unabridged)£19.99
BIG BROTHER IS WATCHING YOU . . . 1984 is the year in which it happens. The world is divided into three superstates. In Oceania, the Party's power is absolute. Every action, word, gesture and thought is monitored under the watchful eye of Big Brother and the Thought Police. In the Ministry of Truth...
---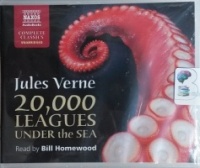 20,000 Leagues Under the Sea written by Jules Verne performed by Bill Homewood on CD (Unabridged)£39.99
The most exciting underwater adventure ever! In 1866, a mysterious giant whale savagely attacks shipping in international seas. A famous French marine biologist, Pierre Aronnax, joins the hunt to track down and incapacitate the creature. With him are his loyal servant Conseil and the redoubtable ...
---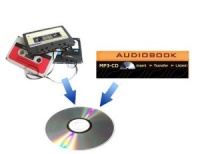 3 Hour Fixed Price Audio Transfer£15.00
This is the fixed price £15 item to be used when ordering conversion of a sub 3 hour Audio Cassette or MP3 CD title.
---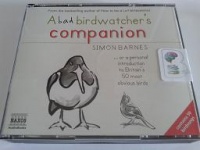 A Bad Birdwatcher's Companion written by Simon Barnes performed by SImon Barnes on CD (Abridged)£9.99
Simon Barnes is one of Britain's leading bird writers and humorists. His weekly column in The Times, his essays for the RSPB magazine and his two books on bad bird-watching have made him one of the characters of the bird world.
---
---
---
---
---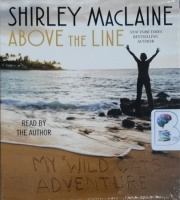 Above the Line - My Wild Oats Adventure written by Shirley MacLaine performed by Shirley MacLaine on CD (Unabridged)£24.99
Read by New York Times best-selling author and Academy Award winner Shirley MacLaine, a funny, fierce, imaginative memoir chronicling her remarkable experiences filming Wild Oats in the Canary Islands and the extraordinary memories her time there brought forth of a past life on the lost continent...
---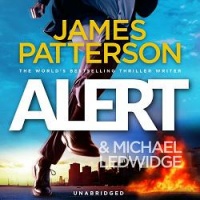 Alert written by James Patterson and Michael Ledwidge performed by Danny Mastrogiorgio and Henry Leyva on CD (Unabridged)£6.99
Every New Yorker's worst nightmare is about to become a reality. New York has seen more than its fair share of horrific attacks, but the city is about to be shaken in a way it never has before. After two devastating catastrophes in quick succession, everyone is on edge.
---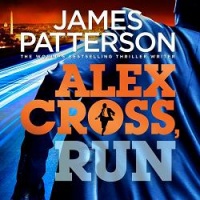 Alex Cross, Run written by James Patterson performed by Michael Boatman on CD (Abridged)£4.99
Detective Alex Cross arrests renowned plastic surgeon Elijah Creem for sleeping with teenage girls. Now, his life ruined, Creem is out of jail, and he's made sure that no one will recognize him - by giving himself a new face. A young woman is found hanging from a sixth-floor window, and Alex is called to the scene.
New In October 2018 Part 3
(in alphabetical order)
3 Para - Afghanistan, Summer 2006. This is War. written by Patrick Bishop performed by Christian Rodska on CD (Abridged)£9.99

Afghanistan, Summer 2006. This is war. Afghanistan in the summer of 2006. In blazing heat in remote outposts the 3 Para battlegroup is pitted against a stubborn enemy who keep on coming. Until now, the full story of what happened there has not been told. This is it.

A Christmas Carol written by Charles Dickens performed by Martin Jarvis on CD (Abridged)£14.99

Christmas would not be the same without the most famous Christmas story ever written. A Christmas Carol in Prose, Being a Ghost Story of Christmas, commonly shortened to A Christmas Carol, is a true classic. Its central character, Ebeneezer Scrooge, is the meanest, most miserly and...

All Quiet on the Western Front written by Erich Maria Remarque performed by Tom Lawrence on CD (Unabridged)£24.99

The story is told by a young 'unknown soldier' in the trenches of Flanders during the First World War. Through his eyes we see all the realities of war; under fire, on patrol, waiting in the trenches, at home on leave, and in hospitals and dressing stations. Although there are vividly described incidents...

An Infamous Army written by Georgette Heyer performed by Claire Higgins on CD (Unabridged)£24.99

In 1815, beneath the aegis of the Army of Occupation, Brussels is the gayest town in Europe. And the widow Lady Barbara Childe, renowned for being as outrageous as she is beautiful, is at the centre of all that is fashionable and light-hearted. When she meets Charles Audley, dashing aide-de-camp...

Behold, Here's Poison written by Georgette Heyer performed by Ulli Birve on CD (Unabridged)£29.99

It's no ordinary morning at the Poplars – the master is found dead in his bed, and it seems his high blood pressure was not the cause. When an autopsy reveals a sinister poison, it's up to the quietly resourceful Inspector Hannasyde to catch the murderer in time to spare the next victim.

Bleeding Through - A Rachel Goddard Mystery written by Sandra Parshall performed by Tavia Gilbert on MP3 CD (Unabridged)£24.99

When veterinarian Rachel Goddard and Deputy Sheriff Tom Bridger take teenagers on an outing to clean up roadside trash in rural Mason County, Virginia, they make a grisly discovery: the plastic-wrapped body of a young woman. One teen peers at the face through the plastic and screams.

Blood Hunt written by Ian Rankin performed by Steven Pacey on CD (Unabridged)£39.99

It begins with a phone call. Gordon Reeve's brother has been found dead in his car in San Diego - the car was locked from the inside, a gun in his hand. In the US to identify the body Gordon comes to realise that his brother has in fact been murdered. What's more, it is soon obvious that his own life is in danger.

Confessions of an English Opium-Eater written by Thomas De Quincey performed by Gunnar Cauthery on CD (Unabridged)£19.99

Confessions of an English Opium-Eater, Thomas De Quincey's best-known work, is an account of his early life and opium addiction, in prose that is by turns witty, conversational, and nightmarish. The Confessions involve the listener in De Quincey's childhood and schooling, describing in detail his...

Dawn of the Dead written by George A. Romero and Susanna Sparrow performed by Christopher Ragland on MP3 CD (Unabridged)£4.99

When there is no more room in hell, the dead will walk the Earth. George A. Romero's iconic film and novel terrified generations. Now Dawn of the Dead is back to terrify once more. The world is being devastated by zombies. No one knows how far they have spread, or how to stop them.

Great Scientists and their Discoveries written by David Angus performed by Clare Corbett and Benjamin Soames on CD (Abridged)£4.99

How did the great scientists make their remarkable discoveries? And what kind of men were they? This companion volume to "Inventors and their Inventions" introduces the work of 10 men to younger readers, and range from the world of Ancient Greece to the 20th century discovery of DNA.

Invisible written by Paul Auster performed by Paul Auster on CD (Unabridged)£8.99 - £9.99

Sinuously constructed in four interlocking parts, Invisible opens in New York City in the spring of 1967 when twenty-year-old Adam Walker, an aspiring poet and student at Columbia University meets the enigmatic Frenchman Rudolf Born, and his silent and seductive girlfriend Margot.

John Ilhan - A Crazy Life written by Stephen Dabkowski and Annie Reid performed by Adrian Mulraney on CD (Unabridged)£9.99

John Ilhan: A Crazy Life tells the fascinating story of John Ilhan - a working-class immigrant who overcame incredible odds to become one of the richest men in Australia. Founder of the phenomenally successful mobile telephone company Crazy John's, Ilhan tragically passed away in 2007 at the age of 42.

Little Dorrit written by Charles Dickens performed by Anton Lesser on CD (Abridged)£24.99

In Little Dorrit, Charles Dickens created one of his most penetrating satires on the weaknesses of government in the Victorian era. He chose Marshalsea debtors prison as the setting, where his own father had been imprisoned. The story revolves around a complex mystery involving conspiracy... Naxos

Little Lord Fauntleroy written by Frances Hodgson Burnett performed by Donada Peters on MP3 CD (Unabridged)£29.99

Young Cedric Errol lives in poverty in New York with his mother. When his father, who was disinherited for marrying an American, dies, Cedric is summoned to his grandfather's English estate. Although the old Earl has planned to transform the boy into a docile, traditional lord, it is Little Lord Fauntleroy...

Millennium People written by J.G. Ballard performed by David Rintoul on CD (Unabridged)£19.99

Millennium People tells the story of David Markham, a psychologist who is searching for the truth behind a bomb that exploded on a Heathrow baggage carousel, killing his ex?wife. Infiltrating a shadowy protest group responsible for her death, David finds himself succumbing to the charismatic...

On the Genealogy of Morals written by Friedrich Nietzsche performed by Duncan Steen on CD (Unabridged)£14.99 - £19.99

We are going back to our brain-food roots with this title. This brilliant work will make you think and do the world of good to all our brains! This is one of the most accessible of Nietzsche's works. It was published in 1887, a year after Beyond Good and Evil, and he intended it to be a continuation ...

One Fifth Avenue written by Candace Bushnell performed by Carrington MacDuffie on CD (Unabridged)£24.99

One Fifth Avenue is THE building - the choicest, the hottest, with all the best people. Within its luxuriously thick walls the lives of New York City's elite play out. There is Schiffer Diamond, an over-forty actress who had given up making movies and moved to Europe, until the call to come home...

One Soldier's Story - A Memoir written by Bob Dole performed by Paul Hecht and Cynthia Darlowe on CD (Abridged)£4.99

Before he became one of America's most respected statesmen, Bob Dole was an average citizen serving heroically for his country. The bravery he showed after suffering near-fatal injuries in the final days of World War II is the stuff of legend. Now, for the first time in his own words, Dole tells the moving...

Relaxation Focus and Memory Training written by Daniel G. Amen MD performed by Daniel G. Amen MD on CD (Unabridged)£9.99

Research at the Amen Clinics verifies that the brain can heal itself at any stage of life - and that we can amplify the process through simple measures. With Relaxation, Focus, and Memory Training, Daniel Amen, MD, provides us with one of the most effective tools he uses with his own patients: a visualization..

Saving Tarboo Creek - One Family's Quest to Heal the Land written by Scott Freeman performed by Mike Chamberlain on CD (Unabridged)£19.99

When the Freeman family decided to restore a damaged creek in Washington's Olympic Peninsula-to transform it from a drainage ditch into a stream that could again nurture salmon-they knew the task would be formidable and the rewards plentiful. In Saving Tarboo Creek, Scott Freeman artfully blends...

Seer - A Prequel to the Mongoliad written by Mark Teppo performed by Luke Daniels on CD (Unabridged)£9.99

When a merchant appears at the Catalonian chapter house of the Shield-Brethren, seeking to hire guards for his caravan, young Andreas is suspicious. Knights with his martial prowess are above protecting mere cargo wagons. Yet Andreas's wanderlust outweighs his concern, and soon the group...

The Betrothed written by Umberto Eco performed by Peter Noble on CD (Unabridged)£9.99

Lorenzo and Lucia, both from peasant families, are planning their wedding. However, after meeting the villainous Don Rodrigo, the couple are forced to flee their village. Their dangerous journey in exile takes them through one of the most dramatic eras in Italian history, filled with war, famine, and plague.

The Bone Triangle - Unspeakable Things written by B.V. Larson performed by Benjamin L. Darcie on CD (Unabridged)£29.99

Beyond the din and dancing lights of the Las Vegas strip, a young woman has mysteriously gone missing. All the facts point to something sinister - even paranormal. Quentin Draith, supernatural crime investigator, is hired to assist. However, the deeper Draith digs, the more otherworldly his...

The Color of Secrets written by Lindsay Ashford performed by Heather Wilds on CD (Unabridged)£14.99

Everyone has secrets, but some can change your life forever.... In the midst of the Second World War, Eva receives the devastating news that her husband is missing and presumed dead. Neither wife nor widow, she lives in a numb state of limbo until, in the heat of an English summer, she meets Bill...

The Daughters of Cain written by Colin Dexter performed by Kevin Whately on CD (Abridged)£5.99

Bizarre and bewildering - that's what so many murder investigations in the past had proved to be . . . In this respect, at least, Lewis was correct in his thinking. What he could not have known was what unprecedented anguish the present case would cause to Morse's soul.

The Essential John Milton - Paradise Lost, Paradise Regained, Shorter Poems, Prose and Biography written by John Milton performed by Anton Lesser, Samantha Bond and Derek Jacobi on CD (Abridged)£29.99

This thoughtful collection of John Milton's finest poetry marks the quarter centenary of the poet's birth in 1608. It is read by several of Britain's foremost classical actors, including Anton Lesser, Samantha Bond and Derek Jacobi. Milton's uncompromising views set him firmly on the side of Cromwell.... Naxos

The Finest Nonsense of Edward Lear written by Edward Lear performed by Derek Jacobi on CD (Unabridged)£9.99

Nearly 150 years since his poetry was first published, Lear's nonsense rhymes are still popular today. In this lively and colourful audiobook recording, Derek Jacobi reads Lear's most famous poems and most fantastic creations, including The Owl and the Pussy-Cat, The Daddy Long-Legs and the Fly,

The Golden Notebook written by Doris Lessing performed by Juliet Stevenson on CD (Unabridged)£49.99

One of the most important books of the growing feminist movement of the 1950s, it was brought to a wider public by the Nobel Prize award to Doris Lessing in 2007. Authoress Anna Wulf attempts to overcome writers block by writing a comprehensive golden notebook which draws together...

The Guns of Navarone written by Alistair MacLean performed by Bob Peck on CD (Abridged)£9.99

The Guns of Navarone and its three sequels, in which the same characters are sent on other wartime missions, together in one volume for the first time to mark the 50th anniversary of the original book . THE GUNS OF NAVARONE Mallory, Miller and Andrea are united into a lethally effective team.

The Happy Prince and Other Stories written by Oscar Wilde performed by Anton Lesser on CD (Abridged)£9.99 - £14.99

These fantasies and true-to-life fables were created by Oscar Wilde for his own sons. Here is the tale of the Prince who is not as happy as he seems, of the Selfish Giant who learns how to love children, and of the Star-Child who suffers bitter trials when he rejects his parents. Naxos

The Infinite - The Sequel to Gates of Tread and Stone written by Lori M. Lee performed by Jessica Almasy on CD (Unabridged)£14.99

The walls of Ninurta keep its citizens safe. Kai always believed the only danger to the city came from within. Now, with a rebel force threatening the fragile government, the walls have become more of a prison than ever. To make matters worse, as Avan explores his new identity as an Infinite...

The Invisible Man written by H.G. Wells performed by Daniel Philpott on CD (Unabridged)£24.99

A mysterious man wrapped in bandages, wearing large goggles and a hat pulled tightly down over his face arrives at the small town of Iping. A series of strange, inexplicable events are traced back to the newcomer, and it soon becomes clear that appearances are deceiving.

The Knife of Never Letting Go written by Patrick Ness performed by Nick Podehl on CD (Unabridged)£9.99 - £14.99

Todd Hewitt is the only boy in a town of men. Ever since the settlers were infected with the Noise germ, Todd can hear everything the men think, and they hear everything he thinks. Todd is just a month away from becoming a man, but in the midst of the cacophony, he knows that the town is hiding...

The Lessons of Ubantu written by Mark Mathabane performed by JD Jackson on MP3 CD (Unabridged)£29.99

Mark Mathabane touched the hearts of millions with his sensational memoir, Kaffir Boy,. A book highly-praised by Oprah and President Clinton for inspiring hope, Kaffir Boy described the effects of South Africa's system of legalized racism and oppression on black lives in vivid prose.

The Serpent's Shadow written by Mercedes Lackey performed by Michelle Ford on CD (Unabridged)£14.99

From the magical mysteries of India to the gaslit streets of Victorian London, Mercedes Lackey's unique departure from her Valdemar series follows a young woman doctor as she searches for the secret behind the sorcery in her blood.

The Tell-Tale Brain - A Neuroscientist's Quest for What Makes Us Human written by V.S. Ramachandran performed by David Drummond on CD (Unabridged)£29.99

V. S. Ramachandran is at the forefront of his field-so much so that Richard Dawkins dubbed him the "Marco Polo of neuroscience." Now, in a major new work, Ramachandran sets his sights on the mystery of human uniqueness. Taking us to the frontiers of neurology, he reveals what baffling...

Where the Road Takes Me written by Jay McLean performed by Nick Podehl and Laura Hamilton on CD (Unabridged)£14.99

Chloe has one plan for the future, and one plan only: the road. She's made a promise to herself: don't let anyone in, and don't let anyone love her. She's learned the hard way what happens if she breaks her rules. So she's focused on being invisible and waiting until she can set out on the road--her dream..
---
---
---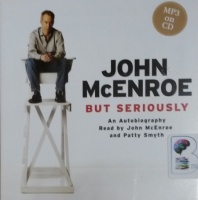 But Seriously written by John McEnroe performed by John McEnroe and Patty Smith on MP3 CD (Unabridged)£19.99
Read by John McEnroe and Patty Smyth He is one of the most controversial sportsmen in history and a legend of Open Era tennis. But after reaching the top of his game - what came next? A decade after his international number-one bestseller SERIOUS, John McEnroe is back and ready to talk. Now the undisputed..
---
Cell 7 written by Kerry Drewery performed by Rosie Jones on CD (Unabridged)£34.99
A world where justice and the fate of those accused of murder is decided by the public, but has moved on from the Roman Gladiator 'thumbs up or thumbs down' public vote, to a public vote by telephone. If you are voted innocent you are set free; if you are voted guilty you are committed to death by electric...
---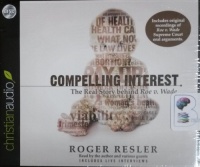 Compelling Interest - The Real Story of Roe vs. Wade written by Roger Resler performed by Roger Resler on CD (Unabridged)£24.99
Is a fetus a person? Is "pro-choice" a neutral position? For 40 years since the landmark Roe v. Wade Supreme Court decision, the abortion debate has been highly charged and politicized. Questions like these - and passionate but widely varying answers - have become the common language of the public dialogue..
---
---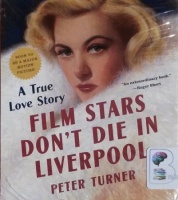 Film Stars Don't Die In Liverpool - A True Love Story written by Peter Turner performed by Peter Kenny on CD (Unabridged)£19.99
Now a major motion picture starring Academy Award nominee, Annette Bening, and BAFTA Award winners Jamie Bell and Julie Walters. On Digital Download from 11th March and DVD & Blu-ray 19th March. On 29 September 1981, Peter Turner received a phone call that would change his life. His former lover...
---
---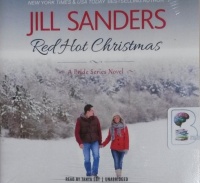 Red Hot Christmas written by Jill Sanders performed by Tanya Eby on CD (Unabridged)£24.99
Just in time for the holidays, take another wonderful trip to Oregon. Enjoy this sweet story about some new small-town people and learn about the lives and loves of a hot young couple. Don't miss this opportunity to catch up on some of your favorite book people and the enchanting town of Pride. Amber is new ...
---
---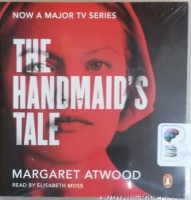 The Handmaid's Tale written by Margaret Atwood performed by Elisabeth Moss on CD (Unabridged)£19.99
Read by Elisabeth Moss, star of the hit Channel 4 TV series. The Republic of Gilead offers Offred only one function: to breed. If she deviates, she will, like dissenters, be hanged at the wall or sent out to die slowly of radiation sickness. But even a repressive state cannot obliterate desire - neither Offred's nor ...
---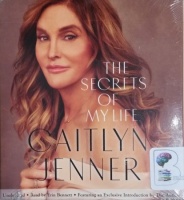 The Secrets of My Life written by Caitlyn Jenner performed by Erin Bennett on CD (Unabridged)£24.99
In this remarkable memoir former Olympian and Kardashian family member Caitlyn Jenner reveals shocking and heartbreaking stories from her journey to become a transgender woman and fight for the LGBTQ+ community. "Imagine denying your core and soul. Then add to it the most impossible expectations...
---
---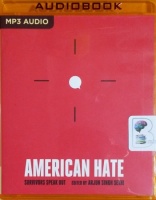 American Hate - Survivours Speak Out written by Various Survivors of American Hate performed by Edoardo Ballerini and Rashida High on MP3 CD (Unabridged)£19.99
"Amid the ugly realities of contemporary America, American Hate affirms our courage and inspiration, opening a road map to reconciliation by means of the victims' own words." (NPR Books) "The collection offers possible solutions for how people, on their own or working with others, can confront hate." (San Francisco Chronicle)...
---