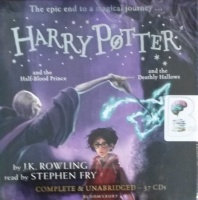 Harry Potter Collection Part 3 - Books 6 and 7 written by J.K. Rowling performed by Stephen Fry on CD (Unabridged)£39.99 - £59.99
Witches and wizards unite as you join the Battle of Hogwarts! Complete the entire series of J.K. Rowling's Harry Potter stories with this enchanting audiobook collection. The 37 CDs cover The Half-Blood Prince and The Deathly Hallows and find Dark Magic rising. Will Harry be able to summon the courage (and the...
---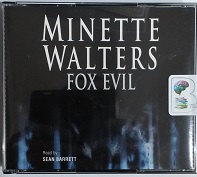 Fox Evil written by Minette Walters performed by Sean Barrett on CD (Abridged)£4.99 - £6.99
When elderly Ailsa Lockyer-Fox is found dead in her garden, dressed only in night clothes and with blood stains on the ground near her body, the finger of suspicion points at her wealthy, landowning husband, Colonel James Lockyer-Fox.
---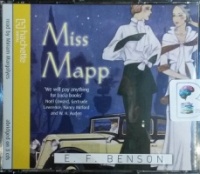 Miss Mapp written by E.F. Benson performed by Miriam Margolyes on CD (Abridged)£4.99
Nothing escapes the snooping opera glasses of Miss Elizabeth Mapp. She whiles away her busy hours observing the small English village of Tilling, and recording the antics in her notebook. But her observations are set to be disrupted by amorous advances of two retired army generals, both vying for her affection.
---
---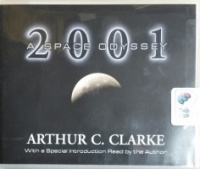 2001 - A Space Odyssey written by Arthur C. Clarke performed by Arthur C. Clarke and Dick Hill on CD (Unabridged)£19.99
It has been more than forty years since the publication of this classic science fiction novel that changed the way we look at the stars and ourselves. From the savannas of Africa at the dawn of mankind to the rings of Saturn as man adventures to the outer rim of our solar system, 2001: A Space Odyssey is a ...
---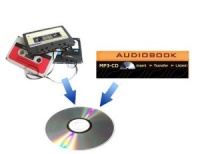 3 Hour Fixed Price Audio Transfer£15.00
This is the fixed price £15 item to be used when ordering conversion of a sub 3 hour Audio Cassette or MP3 CD title.
---
---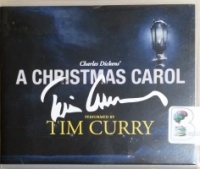 A Christmas Carol written by Charles Dickens performed by Tim Curry on CD (Unabridged)£16.99
This version of Charles Dickens's A Christmas Carol, masterfully narrated by Tim Curry, was available for a limited time last year, and now it's back. This one-of-a-kind performance puts a unique spin on a treasured classic, and served as the inspiration for the exciting new line of Audible Signature Classics...
---
---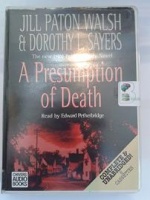 A Presumption of Death written by Jill Paton Walsh and Dorothy L Sayers performed by Edward Petherbridge on Cassette (Unabridged)£29.99 - £39.99
The story opens in 1940. Harriet Vane - now Lady Peter Wimsey - has taken her children to safety in the country. But the war has followed them: glamorous RAF pilots and even more glamorous land-girls scandalise the villagers; the blackout makes the night-time lanes as sinister as the back alleys of London.
---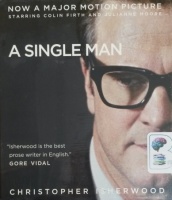 A Single Man written by Christopher Isherwood performed by Simon Prebble on CD (Unabridged)£19.99
Celebrated as a masterpiece from its first publication, A Single Man is the story of George, an English professor in suburban California left heartbroken after the death of his lover, Jim. With devastating clarity and humour, Christopher Isherwood shows George's determination to carry on, evoking the unexpected...
---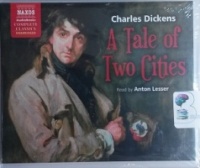 A Tale of Two Cities written by Charles Dickens performed by Anton Lesser on CD (Unabridged)£49.99 - £59.99
It was the best of times and the worst of times'. In one of the most famous openings of any novel, Dickens masterfully presents the turmoil of the French Revolution which is the backdrop for a novel of love, patience, hope and self-sacrifice. It is read by Anton Lesser whose award-winning Dickens... Naxos
---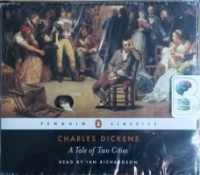 A Tale of Two Cities written by Charles Dickens performed by Ian Richardson on CD (Abridged)£5.99 - £9.99
After 18 years as a political prisoner in the Bastille the aging Dr Manette is finally released and reunited with his daughter in England.
---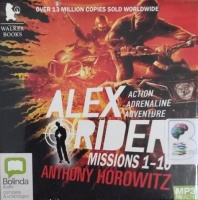 Alex Rider Missions 1 to 10 written by Anthony Horowitz performed by Jonathan Davies on MP3 CD (Unabridged)£29.99
In the number one bestselling series by Anthony Horowitz, 14-year-old Alex Rider is forcibly recruited into the deadly world of espionage and sent on his first mission. But mortal danger is never far away and the reluctant teenage spy soon finds himself in demand again by MI6. The ever popular and explosive...
---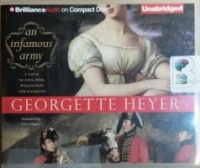 An Infamous Army written by Georgette Heyer performed by Claire Higgins on CD (Unabridged)£24.99 - £34.99
In 1815, beneath the aegis of the Army of Occupation, Brussels is the gayest town in Europe. And the widow Lady Barbara Childe, renowned for being as outrageous as she is beautiful, is at the centre of all that is fashionable and light-hearted. When she meets Charles Audley, dashing aide-de-camp...
---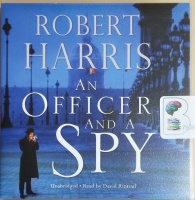 An Officer and a Spy written by Robert Harris performed by David Rintoul on CD (Unabridged)£14.99
They lied to protect their country. He told the truth to save it. A gripping historical thriller from the bestselling author of FATHERLAND. January 1895. On a freezing morning in the heart of Paris, an army officer, Georges Picquart, witnesses a convicted spy, Captain Alfred Dreyfus, being publicly humiliated in front..
---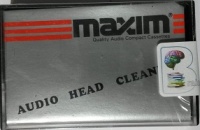 Audio Head Cleaner written by Maxim performed by Maxim on Cassette (Unabridged)£4.99
Very few of us like spending time cleaning. But...... cleaning the head of your tape player can give impressive results. If you haven't used a head cleaner for a significant period of time you should introduce it's use slowly. There may well be an accumulation of deposits on the rubber rollers ...
---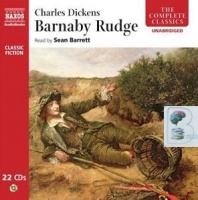 Barnaby Rudge written by Charles Dickens performed by Sean Barrett on CD (Unabridged)£40.00 - £69.99
Dickens' first historical novel is set in 1780s England at the time of the Gordon Riots. In a case of mistaken identification, Barnaby Rudge, a pale half-wit with long red hair who dresses all in green and carries a large raven on his back, is arrested as the leader of a mob of anti-Catholic rioters. Naxos
---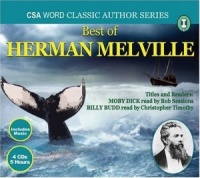 Best of Herman Melville written by Herman Melville performed by Bob Sessions and Christopher Timothy on CD (Abridged)£6.99
This set includes Billy Budd and Moby Dick (abriged)
New In October 2018 Part 2
(in alphabetical order)
A Curious Mind - The Secret to a Bigger Life written by Brian Grazer and Charles Fishman performed by Norbert Leo Butz and Brian Grazer on CD (Unabridged)£22.99 - £24.99

From Academy Award-winning producer Brian Grazer and acclaimed business journalist Charles Fishman comes a brilliantly entertaining peek into the weekly "curiosity conversations" that have inspired Grazer to create some of America's favorite and iconic movies and television shows -

Changes - Book Three of the Collegium Chronicles written by Mercedes Lackey performed by Nick Podehl on CD (Unabridged)£14.99

A Kingdom under threat... After an assassination attempt is made against the King within palace walls, Herald Trainee Mags is selected by the King's own herald, Nikolas, to assist him with a special assignment: seek out the infiltrators and find out where they came from—and who they work for.

Coming Clean written by Kimberly Rae Miller performed by Kimberly Rae Miller on MP3 CD (Unabridged)£14.99

Kimberly Rae Miller is an immaculately put-together woman with a great career, a loving boyfriend, and a beautifully tidy apartment in Brooklyn. You would never guess that behind the closed doors of her family's idyllic Long Island house hid teetering stacks of aging newspaper, broken computers...

Contagious Optimism written by David Mezzapelle performed by David Kelly and Terri McMahon on CD (Unabridged)£29.99

Contagious Optimism is an uplifting book of stories and parables about amazing life turnarounds. A compendium of encouragement, it includes advice and guidance from business leaders, visionaries, and just plain folk. Nowadays, many people have lost confidence in themselves and the world around ...

Crucifixion Creek - The Belltree Trilogy 1 written by Barry Maitland performed by Peter Hosking on CD (Unabridged)£19.99

Homicide detective Harry Belltree wouldn't usually be looking too hard at an elderly couple's suicide pact. Especially now, when his brother-in-law Greg has just been stabbed to death. But it seems Greg and the old couple had ties to the same man, a bent moneylender with friends in high places - and low.

For the Love of Lilah written by Nora Roberts performed by Kate Rudd on CD (Unabridged)£9.99

Adrift in a storm, Professor Max Quartermain thought he must have hallucinated the beautiful mermaid who came to his rescue. But Lilah was no mystical creature--she was a woman of flesh and blood, and undeniably attracted to the intense and mysterious stranger....

Frankenstein - Lost Souls written by Dean Koontz performed by Chistopher Lane on MP3 CD (Unabridged)£14.99

In Frankenstein: Lost Souls, Dean Koontz puts a singular twist on this classic tale of ambition and science gone wrong, to forge a new legend uniquely suited to our times. It is a story of revenge, redemption, and the thin line that separates human from inhuman. The work of creation has begun again.

Gather Yourselves Together written by Philip K Dick performed by Luke Daniels on CD (Unabridged)£14.99

Gather Yourselves Together is one of Philip K. Dick's earliest novels, written when he was just 24 years old. It tells the story of three American workers left behind in China by their employer, biding their time as the Communists advance. As they while away the days, both the young and naïve Carl Fitter...

God's Favorite Place on Earth written by Frank Viola performed by Tom Parks on CD (Unabridged)£9.99

He was rejected everywhere He went. There was only one exception...a little village called Bethany. What does God really want from you? Christians face profound challenges today, including doubt, discouragement, fear, guilt, rejection, materialism, and spiritual apathy.

Hard Limit written by Meredith Wild performed by Jennifer Stark and Victor Bevine on MP3 CD (Unabridged)£9.99

Blake Landon is a man who has everything - wealth, good looks, and the love of Erica Hathaway. The power couple has been through hell and back, and when life has torn them apart, somehow they have always found their way back to each other, more in love and stronger than ever.

Hitlerland - American Eyewitnesses to the Nazi Rise to Power written by Andrew Nagorski performed by Robert Fass on CD (Unabridged)£29.99

"Hitlerland is a bit of a guilty pleasure. Reading about the Nazis is not supposed to be fun, but Nagorski manages to make it so. Readers new to this story will find it fascinating" (The Washington Post). Hitler's rise to power, Germany's march to the abyss, as seen through the eyes of Americans--diplomats...

Hocus Pocus versus the Stinky Pong written by Laura Milligan performed by Mary-Anne Fahey on CD (Unabridged)£14.99

Once upon a time, a young witch called Lucy lived on a floating elephant-shaped island called Hocus Pocus.... Hocus Pocus is the most magical place to live in the entire world - until it's invaded by a mysterious (and very stinky!) pong. Nobody knows what to do, so it's up to young witch Lucy and her...

I Will Not Die and Unlived Life - Reclaiming Purpose and Passion written by Dawna Markova performed by Ann Marie Lee on CD (Unabridged)£14.99

In I Will Not Die an Unlived Life, one of the most charismatic teachers and thinkers of today speaks from her heart. Twenty years ago, faced with a life-threatening illness, Dawna Markova began a journey of rediscovery. This audiobook follows her path to finding deeper meaning in life.

In the Middle of Nowhere written by Terry Underwood performed by Terry Underwood on CD (Unabridged)£14.99

This remarkable journey of a young city convert following her man and his dream to the back of beyond involves the listener with rare intimacy. In one of the most remote locations in the world, you share their hopes and heartaches, joys and laughter, with emotions as deep as the love of....

Knitting Yarns - Writers on Knitting written by Various Famous Authors performed by Ann Hood and Sam Adrain on CD (Unabridged)£19.99

A collection of poignant essays about the transformative power of knitting by twenty-seven extraordinary writers. "The impressive collection of writers here have contributed essays that celebrate knitting and knitters. They share their knitting triumphs and disasters as well as their life triumphs and disasters. . . .

Midnight Sacrifice written by Melinda Leigh performed by Christopher Lane on CD (Unabridged)£19.99

One by one, people are mysteriously disappearing from a small Maine town. Four months ago, a ruthless murderer killed two people and kidnapped three more, including Danny Sullivan's sister, who barely escaped. Unfortunately so did the killer, vanishing without a trace into the vast wilderness.

Nexus - Mankind Gets an Upgrade written by Ramez Naam performed by Luke Daniels on CD (Unabridged)£19.99

"Nexus is the most brilliant hard SF thriller I've read in years. It's smart, it's gripping, and it describes a chilling reality that is all-too-plausible. Ramez Naam is a name to watch for." (Brenda Cooper, author of The Silver Ship and the Sea and The Creative Fire Mankind Gets an Upgrade) In the near future...

Paddy's Pot of Gold written by Dick King-Smith performed by Josie Lawrence on MP3 CD (Unabridged)£9.99

On her birthday, Brigid meets Patrick Victorious Wellington Right-Handed O'Reilly, or Paddy for short, a leprechaun who teaches her the ways of the little people without ever mentioning a pot of gold.

Play with Me - Book Three in the With Me In Seattle Series written by Kristen Proby performed by Eric Michael Summerer and Jennifer Mack on CD (Unabridged)£14.99

Will Montgomery is a successful professional football player and seemingly has it all. He's not used to being told no, and certainly doesn't take no for an answer. So when he turns his charms on his sister's sexy rocker-chick friend Meg, he's not only turned down, but met with open hostility....

Rapid Japanese written by Berlitz performed by Berlitz Earworms Team on CD (Abridged)£9.99

Good music, easy conversation, and plenty of non-boring repetition make this a very enjoyable way to learn conversational Japanese very useful for when travelling. Highly recommend this very unique way of learning!

Reckless - An It Girl Novel written by Cecily Von Ziegesar performed by Joyce Bean on CD (Unabridged)£14.99

Jenny was totally enjoying the attention of the three hottest guys on campus. But she's ecstatic now that she's bagged arty Easy Walsh as her boyfriend. Unfortunately he used to belong to someone else...Jenny's roommate: gorgeous, popular Callie Vernon. It doesn't take long for Tinsley to use this...

Red Team - How to Succeed by Thinking Like the Enemy written by Micah Zenko performed by Christopher Lane on CD (Unabridged)£19.99

Red teaming. It is a practice as old as the Devil's Advocate, the 11th-century Vatican official charged with discrediting candidates for sainthood. Today, red teams - comprised primarily of fearless skeptics and those assuming the role of saboteurs who seek to better understand the interests, intentions...

Scoring with the Wrong Twin written by Naima Simone performed by C.J. Bloom on CD (Unabridged)£14.99

Shy, awkward Sophia Cruz has a hard time telling her vivacious identical twin "no". But when her sister begs her to swap places for a modeling shoot, she caves...again. Then Zephirin Black walks onto the set. The brooding, aloof, and gorgeous tight end for the Washington Warriors.

Smooth-Talking Cowboy - A Gold Valley Novel written by Maisey Yates performed by Suzanne Elise Freeman on CD (Unabridged)£19.99

Welcome to Gold Valley, Oregon, where a rough-and-tumble rancher and the girl next door are about to learn that opposites attract Olivia Logan has a plan: win back her ex by making him see what he's missing. But first she needs to find a man who's willing to play along.

Tales from Both Sides of the Brain written by Michael S. Gazzaniga performed by Johnny Heller on CD (Unabridged)£29.99 - £34.99

Michael S. Gazzaniga, one of the most important neuroscientists of the twentieth century, gives us an exciting behind-the-scenes look at his seminal work on that unlikely couple, the right and left brain. Foreword by Steven Pinker. In the mid-twentieth century, Michael S. Gazzaniga, "the father of...

Technomancer - Unspeakable Things written by B.V. Larson performed by Christopher Lane on CD (Unabridged)£19.99

When Quentin Draith wakes up in a private sanatorium, he has no memory of who he is or how he received the injuries riddling his body. All he knows is that he has to get out, away from the drugs being pumped into him and back to the real world to search for answers.

The GenoType Diet written by Dr. Peter J. D'Adamo performed by Patrick Lawlor on MP3 CD (Unabridged)£29.99

Presents a customized approach to dieting that works with one's genetic makeup to maximize overall health and weight loss, explaining how to use family history, blood type, and simple diagnostic tools to determine which GenoType plan is the best.

The Greeblies - Five Tall Stories about Gross Little Bugs written by Robert Greenberg performed by Stig Wemyss on CD (Unabridged)£14.99

Bobby and Georgia live in a normal house with their mum and their dad and their pet dog, Rory. But in that house, there's a whole world going on that they know nothing about... the world of the greeblies! Greeblies like Hemi the bedbug, Spritzer the dust mite, Darren the blowfly and Nick the tick.

The Love Response written by Eva M. Selhub, M.D. performed by Eva M. Selhub, M.D. on CD (Unabridged)£14.99

An innovative program designed to prevent and eliminate the debilitating impact of stress, fear, anger, and anxiety on one's health explains how to use "the love response" to activate a series of biochemical reactions in the body to lower blood pressure, pulse, respiration, and adrenaline levels...

The Messenger of Athens written by Anne Zouroudi performed by Gildart Jackson on MP3 CD (Unabridged)£19.99

Idyllic but remote, the Greek island of Thiminos seems untouched by the modern world. So when the battered body of a young woman is discovered at the foot of a cliff, the local police - governed more by archaic rules of honor than by the law - are quick to close the case, dismissing her death as an accident.

The Misadventures of Max Crumbly - Middle School Mayhem written by Rachel Renee Russell performed by Kyle Beltran on CD (Unabridged)£14.99

From #1 New York Times bestselling Dork Diaries author Rachel Renee Russell comes the second book in an all-new series about Max Crumbly and his daily ups and downs in middle school. When we last left our hero, Max Crumbly, he had crash-landed on top of a Mighty Meat Monster pizza ....

The Single Woman - Life, Love, and a Dash of Sass written by Mandy Hale performed by Mandy Hale on CD (Unabridged)£14.99

Smart, strong, independent Single women can live a fabulous life. Husband not required. Mandy Hale, also known by her many blog readers and Twitter fans as The Single Woman, shares her stories, advice, and enthusiasm for living life as an empowered, confident, God-centered woman who doesn't....

Transparent Things written by Vladimir Nabokov performed by Christopher Lane on MP3 CD (Unabridged)£9.99

"Transparent Things revolves around the four visits of the hero - sullen, gawky Hugh Person - to Switzerland.... As a young publisher, Hugh is sent to interview R., falls in love with Armande on the way, wrests her, after multiple humiliations, from a grinning Scandinavian and returns to NY with his bride....

War of the Worlds - Global Dispatches written by Various Famous Sci-Fi Writers performed by Macleod Andrews on CD (Unabridged)£39.99

Nineteen gut-wrenching reports from the front lines of the War of the Worlds, as logged by Albert Einstein, Mark Twain, Theodore Roosevelt, H.P. Lovecraft, Winston Churchill, Jules Verne, and many of the other most famous writers of the time. The most popular and acclaimed science fiction writers...

Who is My Shelter? Yada Yada House of Hope Novel written by Neta Jackson performed by Ann Harrison on CD (Unabridged)£9.99

Gabby knows God is the God of second chances. But can she give one to the man who betrayed her? When she was thrown out of the penthouse she shared with her husband and their sons, Gabby didn't know if she'd ever find a soft place to land. But after seeking refuge at the shelter where she works,

Write Better Right Now written by Mary-Kate Mackey performed by Tanya Eby on CD (Unabridged)£14.99

In almost any career, you must know how to write—even if it's not part of your job description. But if you are a reluctant writer, producing even the simplest memo may be a struggle. Write Better Right Now is the springboard to get you ahead in any job, passion project, or situation that requires...
---
---
Dillinger written by Jack Higgins performed by Dick Hill on CD (Unabridged)£39.99
The dramatic final moments of the legendary outlaw's career - retold by the world's master storyteller, Jack Higgins. Early March 1934, America's most notorious criminal makes his spectacular escape from Lake County Jail, Indiana. Three months later, John Dillinger, the last American outlaw, is gunned down..
---
---
---
---
---
---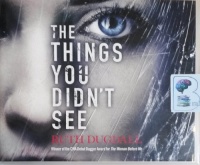 The Things You Didn't See written by Ruth Dugdall performed by Elizabeth Knowelden on CD (Unabridged)£39.99
Her instincts are telling her something isn't right... On a chilly morning in rural Suffolk, Cassandra Hawke is woken by a gunshot. Her mother is clinging on to her life, the weapon still lying nearby. Everyone thinks it's attempted suicide - but none of it makes any sense to Cass. She's certain there's more to it than...
---
---
---
---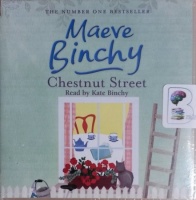 Chestnut Street written by Maeve Binchy performed by Kate Binchy on CD (Unabridged)£19.99
Just round the corner from St Jarlath's Crescent (featured in MINDING FRANKIE) is Chestnut Street. Here, the lives of the residents are revealed in Maeve Binchy's wonderfully compelling tales: Bucket Maguire, the window cleaner, who must do more than he bargained for to protect his son. Nessa Byrne...
---
---
---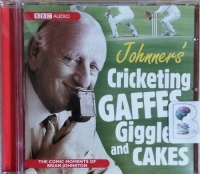 Johnners' Cricketing Gaffes, Giggles and Cakes written by Brian Johnston performed by Brian Johnston on CD (Abridged)£4.99 - £9.99
A compilation of cricketing moments including the letter from William H Tit, the streakers commentaries, the chocolate cake mouthfuls, Johnners numerous scoring mix ups, the resemblance between Fred Trueman and a turnip, cricket for the blind, Jim'll Fix it voiceover, Ned Sherrin interviewing Johnners on his...
---
K-Pax written by Gene Brewer performed by Tom Casaletto on MP3 CD (Unabridged)£39.99
When a man who claims to be from outer space is brought into the Manhattan Institute, the mental ward seems to be just the place for him. However, this patient is unlike anyone psychiatrist Dr. Gene Brewer has met before. Clever, inscrutable and utterly charismatic, Robert Porter calls himself 'prot' and has ...