---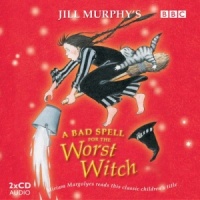 A Bad Spell for the Worst Witch written by Jill Murphy performed by Miriam Margolyes on CD (Abridged)£13.99
Mildred gets off to a good start in her second year at Miss Cackle's Academy, but her sworn enemy, Ethel Hallow, is plotting misfortune, setting Mildred up for a very bad spell, indeed.
---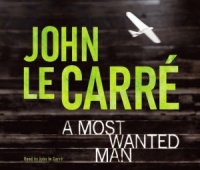 A Most Wanted Man written by John le Carre performed by John le Carre on CD (Abridged)£9.99
A half-starved young Russian man in a long black overcoat is smuggled into Hamburg at dead of night. He has an improbable amount of cash secreted in a purse round his neck. He is a devout Muslim. Or is he? He says his name is Issa.
---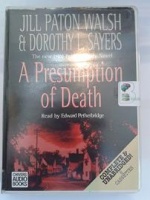 A Presumption of Death written by Jill Paton Walsh and Dorothy L Sayers performed by Edward Petherbridge on Cassette (Unabridged)£29.99 - £39.99
The story opens in 1940. Harriet Vane - now Lady Peter Wimsey - has taken her children to safety in the country. But the war has followed them: glamorous RAF pilots and even more glamorous land-girls scandalise the villagers; the blackout makes the night-time lanes as sinister as the back alleys of London.
---
---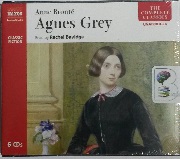 Agnes Grey written by Anne Bronte performed by Rachel Bavidge on CD (Unabridged)£19.99
For all those captivated by the trials of Jane Eyre, Anne Brontës heroine Agnes Grey is the ideal counterpoint. Agnes Grey is widely considered to be the best record of the precarious position of the governess in Victorian society, and the insolence, neglect and dependence that the gentle ....
---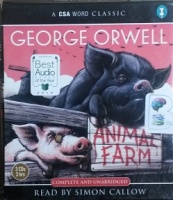 Animal Farm written by George Orwell performed by Simon Callow on CD (Unabridged)£19.99
George Orwell's 1945 satire on the perils of Stalinism has proved magnificently long-lived as a parable about totalitarianism anywhere and has given the world at least one immortal phrase: "Everyone is equal, but some are more equal than others."
---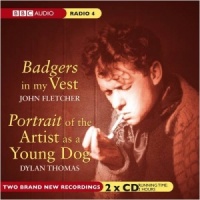 Badgers in My Vest and Portrait of the Artist as a Young Dog written by Dylan Thomas performed by BBC Full Cast Dramatisation on CD (Unabridged)£4.99 - £6.99
Badgers in My Vest is a new, darkly funny play by an acclaimed contemporary playwright, based on a true incident in Dylan Thomas' life.
---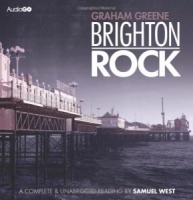 Brighton Rock written by Graham Greene performed by Samuel West on CD (Unabridged)£29.99 - £39.99
A truely Genius Performance by Samuel West!
His reading of this book makes it come alive in a way none of us have ever heard before - a Must Listen if ever we heard one!
A gang war is raging through the dark underworld of Brighton. Untouched by human feeling, Pinkie is isolated, a figure of pure evil. Believing he can escape retribution, he is unprepared for the courageous, life-embracing Ida Arnold, who is determined to avenge Hale's death.
---
---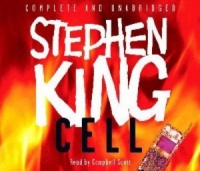 Cell written by Stephen King performed by Campbell Scott on CD (Unabridged)£39.99
'Civilization slipped into its second dark age on an unsurprising track of blood but with a speed that could not have been foreseen by even the most pessimistic futurist. By Halloween, every major city from New York to Moscow stank to the empty heavens and the world as it had been was a memory.
---
---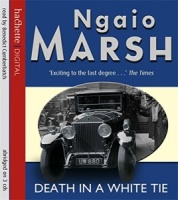 Death in a White Tie written by Ngaio Marsh performed by Benedict Cumberbatch on CD (Abridged)£7.99 - £11.99
A Benedict Cumberbatch Genius Performance!
The season had begun. Débutantes and chaperones were planning their luncheons, teas, dinners, balls. And the blackmailer was planning his strategies, stalking his next victim.
---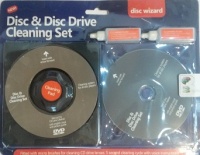 Disk and Disk Drive Cleaning Set written by Disk Wizard performed by Disk Wizard on CD (Unabridged)£4.99
This is an excellent tool to maintain your CD player or computer CD/DVD drive in tip-top condition. Regular use of this disk will ensure you maximise the life of your CD listening device.
---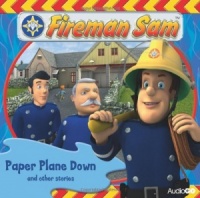 Fireman Sam - Paper Plane Down written by BBC Childrens Team performed by BBC Childrens on CD (Abridged)£4.99 - £9.99
This title includes seven episodes from the hugely popular all-new animated series featuring Fireman Sam and his friends from Pontypandy - as seen on TV.
It includes "Paper Plane Down Hot", "Cold Running Sniffer Dog"; "Perilous Path"; "The New Hero Next Door"; "Santa Overboard"; "Best Foot Forward"; and, "Baa Baa Baby".
---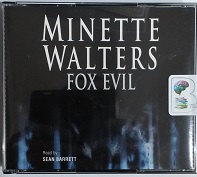 Fox Evil written by Minette Walters performed by Sean Barrett on CD (Abridged)£4.99 - £6.99
When elderly Ailsa Lockyer-Fox is found dead in her garden, dressed only in night clothes and with blood stains on the ground near her body, the finger of suspicion points at her wealthy, landowning husband, Colonel James Lockyer-Fox.
New In October 2017 Part 2
(in alphabetical order)
A Christmas Carol written by Charles Dickens performed by Patrick Stewart on Cassette (Abridged)£4.99

A wonderful dramatisation of this classic story. Discover the meanness of Scrooge, a man unable to participate in the joy of Christmas, his cruelty to Bob Cratchit and Tiny Tim, and his eventual redemption after the ghosts of Marley, Christmas Past, Present and Future visit him.

A Dark-Adapted Eye written by Ruth Rendell as Barbara Vine performed by Harriet Walter on Cassette (Unabridged)£14.99

Like most families, they had their secrets... ...and they hid them under a genteelly respectable veneer. No onlooker would guess that prim Vera Hillyard and her beautiful, adored younger sister, Eden, were locked in a dark and bitter combat over one of those secrets.

Angels in the Gloom written by Anne Perry performed by Cornelius Garrett on CD (Unabridged)£24.99

It's March 1916, and Joseph Reavley is on sick leave and finding recovery slow and hard. His sister Hannah is caring for him at home, and it's a delight to them both when Shanley Corcoran, an old friend, comes to visit. Corcoran confides in Joseph that he's come very close to completing an ...

Arthur and George written by Julian Barnes performed by Nigel Anthony and on Cassette (Unabridged)£14.99 - £19.99

Arthur and George grow up worlds and miles apart in late 19th-century Britain: Arthur in shabby-genteel Edinburgh, and George in the vicarage of a small Staffordshire village. Arthur becomes a doctor, and then a writer; George a solicitor in Birmingham.

Audio Repair and Audio Transfer for Customers Own Tapes£45.00

Audio Repair and Audio Transfer of Customer Own Tapes

If you have a damaged audio tape that needs repairing and then transferring to Audio CD this is the service for you.

You should place an order for this item for each tape that requires repair and recording.

Brand New Friend written by Mike Gayle performed by Dave John and on CD (Unabridged)£9.99

When Rob's girlfriend asks him to leave London and live with her in Manchester not only will it mean moving cities and changing the only job he's ever had, it'll also mean leaving behind his best mate in the entire world. Believing that love conquers all and convinced of his ability ....

Callisto written by Torsten Krol performed by Curt Skinner on CD (Unabridged)£9.99

Set in Kansas, described as a fast-paced tale exploring "America's dark heart" and combining everything from terrorists and torture to body parts in the freezer, Callisto is already acclaimed in the UK and in continental Europe, with rights sold in 12 languages and mounting.

Dark Summit written by Nick Heil performed by David Drummond on MP3 CD (Unabridged)£14.99

"A dramatic story, ably and convincingly told . . . A chilling look at the precarious line between success and tragedy."--Kirkus Reviews On May 15, 2006, a young British climber named David Sharp lay dying near the top of Mount Everest while forty other climbers walked past him on their way to the summit.

Dublin 4 written by Maeve Binchy performed by Kate Binchy on Cassette (Unabridged)£24.99

A society hostess entertains her husband's mistress to dinner; a country girl savours the delights of city life; a student faces the dilemma of unmarried pregnancy; and a drink-ridden photographer tries to relaunch a shattered career...

English Majors - A Comedy Collecion for the Highly Literate written by English Majors performed by Garrison Keillor, Allen Ginsberg, Billy Collins and Calvin Trillin on CD (Abridged)£14.99

You know who you are and here is a double-CD celebrating the secret society of those who, though they may be chauffeuring kids to swim lessons or writing Unix programs or frying cheeseburgers, still could, if need be, write a term paper on the water imagery in 'The Waste Land'.

High Stakes written by Dick Francis performed by Tony Britton on Cassette (Unabridged)£14.99

Steven Scott is relatively new to horses. A successful, wealthy inventor, he takes up horse racing as a hobby – a hobby that soon brings him winner after winner under the inspired guidance of his trainer, Jody Leeds. Currently both their reputations are wrapped up in a beautiful black hurdler named Energise.

Nights of Rain and Stars written by Maeve Binchy performed by Terry Donnelly on Cassette (Unabridged)£19.99

Four strangers, with nothing in common but a need to escape, meet in a Greek taverna high above the small village of Aghia Anna. From Ireland, America, Germany and England, they have each left their homes and their old lives, when a shocking tragedy throws them unexpectedly together.

Scarlet Feather written by Maeve Binchy performed by Kate Binchy on Cassette (Unabridged)£19.99

Cathy Scarlet and Tom Feather have decided to create the best catering company in Dublin. They have the perfect premises, heaps of talent and even a few contacts, but not everyone seems as pleased by the idea of 'Scarlet Feather' as they are. Tom's parents are disappointed that he has turned ...

The Blood Doctor written by Ruth Rendell as Barbara Vine performed by Robert Powell on Cassette (Unabridged)£29.99

The Blood Doctor by Barbara Vine - a crime masterpiece about ambition, obsession and bad blood An outstandingly original book' Sunday Times The current Lord Nanther, experiencing the reform of the House of Lords, embarks on a biography of his great-grandfather, the first Lord Nanther ...

The Blue Bedroom and Other Stories written by Rosamunde Pilcher performed by Lynn Redgrave on CD (Abridged)£24.99

The big bedroom was lovely: all pale, blue and white, satin and muslin, cool and airy, the windows looking out over the garden to the creek. But to fourteen-year-old Emily, beautiful though it was, it was all wrong. Her stepmother's bedroom now: everything changed since her own mother had died.

The Copper Beech written by Maeve Binchy performed by Kate Binchy and on Cassette (Unabridged)£19.99

By the school house at Shancarrig stands a copper beech, its bark scarred with the names and dreams of the pupils who have grown up under its branches. Under Junior Assistant Mistress Maddy Ross's careful gaze the children play, but out of school Maddy's gaze lingers where it shouldn't.

The Diary of a Young Girl - The Definitive Edition written by Anne Frank performed by Helena Bonham Carter on Cassette (Unabridged)£14.99

This diary from the Dutch girl who hid from the Nazis during World War II, offers insights into a life typical of any teenager. It reveals her curiosity about her emerging sexuality, the conflicts with her mother, her passion for Peter, a boy whose family hid with hers, and her acute portraits of her ...

The Hollow Hills written by Mary Stewart performed by Stephen Thorne on Cassette (Unabridged)£19.99

The story of Merlin and the boyhood of Arthur, from his birth to his accession to the throne. It is a picture of an ancestral hero coming to manhood, painfully distinguishing friends from enemies, but never failing to follow his destiny, and all around him the strange figure of Merlin.

The Martian written by Andy Weir performed by R.C. Bray on MP3 CD (Unabridged)£14.99

I'm stranded on Mars. I have no way to communicate with Earth. I'm in a Habitat designed to last 31 days. If the Oxygenator breaks down, I'll suffocate. If the Water Reclaimer breaks down, I'll die of thirst. If the Hab breaches, I'll just kind of explode.

The Midden written by Tom Sharpe performed by Simon Callow on Cassette (Abridged)£9.99

When Timothy Bright's stockbroking career goes wrong he turns to gambling to regain his financial losses. Gaining more debts, Timothy is persuaded into a touch of villainy where an encounter with an Australian substance known as Toad precipitates Timothy into the bed of a Chief Constable's wife.

The Mill on the Floss written by George Eliot performed by Laura Patton on CD (Unabridged)£43.99

Maggie Tulliver has two lovers: Philip Wakem, son of her fathers enemy, and Stephen Guest, already promised to her cousin. But the love she wants most in the world is that of her brother Tom. Maggies struggle against her passionate and sensual nature leads her to a deeper understanding and to tragedy.

The Prince and The Pilgrim written by Mary Stewart performed by Richard Mitchley on Cassette (Unabridged)£19.99

In this classic Arthurian adventure, Alexander seeks to avenge his father and sets out on a journey to Camelot, in quest of justice. Meanwhile, Alice becomes embroiled in the rescue of a young fugitive, who insists he has the Holy Grail. It all brings Alexander and Alice together to find what they seek.

The Strange Case of Dr. Jekyll and Mr. Hyde written by Robert Louis Stevenson performed by Ian Holm on CD (Unabridged)£14.99

The Strange Case of Dr. Jekyll and Mr. Hyde is a terrifying glimpse into both a horrific gothic scenario and a psychological phenomenon. One of the first literary works to fully tackle the concept of a 'split' or 'dual' personality, the novel was streets ahead of its time in 1886 and continues to be a ...

The Wind-Up Bird Chronicle written by Haruki Murakami performed by Rupert Degas on CD (Unabridged)£59.99

Toru Okada is going through a difficult time. He is without a job, his cat has disappeared and his wife is behaving strangely. Into this unbalanced world, come a variety of curious characters, a young girl sunbathing in a nearby garden, sisters who are very peculiar indeed, an old war veteran ...

What Fresh Lunacy Is This? written by Robert Sellers performed by Sean Barrett on MP3 CD (Unabridged)£19.99

Oliver Reed may not have been Britain's biggest film star - for a period in the early 70s he came within a hairsbreadth of replacing Sean Connery as James Bond - but he is an august member of that small band of people, like George Best and Eric Morecambe, who transcended their chosen medium ....

World War One - A Short History written by Norman Stone performed by Sean Barrett on Cassette (Unabridged)£69.99

The First World War was the overwhelming disaster from which everything else in the twentieth century stemmed. Fourteen million combatants died, a further twenty million were wounded, four empires were destroyed and even the victors' empires were fatally damaged.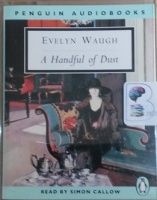 A Handful of Dust written by Evelyn Waugh performed by Simon Callow on Cassette (Abridged)£14.99
After seven years of marriage, Lady Brenda is bored with country life at Hetton Abbey. She drifts into an affair with shallow young socialite John Beaver and forsakes her unsuspecting husband Tony as she becomes more and more involved with the glamorous Belgravia set.
---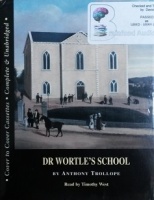 Dr Wortle's School written by Anthony Trollope performed by Timothy West on Cassette (Unabridged)£19.99
Can it be right to persist in a bigamous marriage? Mr. Peacocke, a classical scholar, has come to Broughtonshire with his beautiful American wife to live as a schoolmaster. But when the blackmailing brother of her first husband - a reprobate from Louisiana - appears at the school gates...
---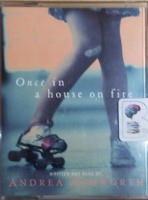 Once in a House on Fire written by Andrea Ashworth performed by Andrea Ashworth on Cassette (Abridged)£4.99
Andrea Ashworth's father stopped on the way home from work one night to take a leak. He slipped in some mud, hit his head on a rock and drowned face-down in a stream less than four inches deep. Andrea was five years old; her sister was three; her mother was twenty-five.
---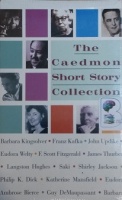 The Caedmon Short Story Collection written by Various Great Modern Authors performed by David McCallum, Claire Bloom, Celia Johnson and John Updike on Cassette (Abridged)£19.99
This collection, culled from the Caedmon archives of the past fifty years, includes such selections as John Updike's "Persistence of Desire" and Eudora Welty's "Why I Live at the P.O.," both read by the respective authors.
---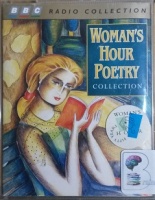 Women's Hour Poetry Collection written by Various Famous Poets performed by Jan Francis, Hannah Gordon, Trevor Nichols and Maggie Steed on Cassette (Abridged)£4.99
This anthology contains work by over 80 female poets, including Elizabeth Barrett Browning, Emily Bronte, Emily Dickinson, Fiona Pitt-Kethley and Liz Lochead.
---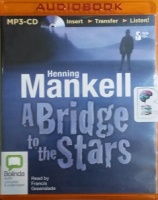 A Bridge to the Stars written by Henning Mankell performed by Francis Greenslade on MP3 CD (Unabridged)£9.99
This poignant novel explores how a unilateral decision can change a life. Two things are hard for Joel Gustafson to cope with: not knowing why, and not being able to do anything about it. Joel's father was once a sailor who lived by the sea. Joel's mother once lived with them.
---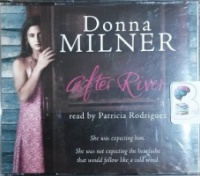 After River written by Donna Milner performed by Patricia Rodriguez on CD (Abridged)£4.99
Growing up on a dairy farm in the mountains of British Columbia in the 1960s, three kilometres north of the American border, Natalie Ward knew little of the outside world. But she had her family. A family so close and loving that Natalie believed they were the envy of the nearby town....
---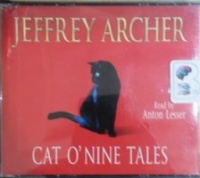 Cat O'Nine Tales written by Jeffrey Archer performed by Anton Lesser on CD (Unabridged)£19.99
Cat O' Nine Tales is the sixth collection of irresistible short stories from the master storyteller,illustrated by the internationally acclaimed artist, Ronald Searle, creator of Molesworth. These twelve yarns are satisfying and ingeniously plotted, featuring richly drawn characters and Jeffrey Archer's ...
---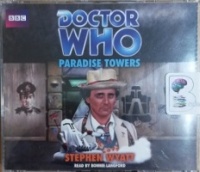 Doctor Who - Paradise Towers written by Stephen Wyatt performed by Bonnie Langford on CD (Unabridged)£29.99
Much in need of a holiday, Mel and the Doctor head for Paradise Towers: a luxury man-made planet with sparkling fountains, sunny streets, exotic flowers and a shimmering blue swimming pool. But when the TARDIS materialises in a dark, rubbish-filled, rat-infested alley it seems that this....
---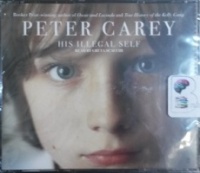 His Illegal Self written by Peter Carey performed by Greta Scacchi on CD (Abridged)£9.99
Seven-year-old Che was abandoned by his radical Havard-student parents during the upheaval of the 1960s, and since then has been raised in isolated privilege by his New York grandmother. He yearns to see or hear news of his famous outlaw parents, but his grandmother refuses to tell him anything.
---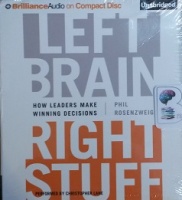 Left Brain - Right Stuff - How Leaders Make Winning Decisions written by Phil Rosenweig performed by Christopher Lane on CD (Unabridged)£11.99
Dozens of books have been published recently on the errors and biases that affect our judgments and choices. Drawing on cognitive science, their lessons are excellent for many kinds of decisions - consumer choice and financial investments, for example - but stop short of addressing many of....
---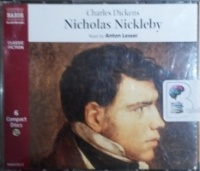 Nicholas Nickleby written by Charles Dickens performed by Anton Lesser on CD (Abridged)£11.99
One of Dickens' earlier novels, dating from 1839, it charts the fortunes of an honourable young man, Nicholas Nickleby, who has set out to make his way in the world. Dickens presents his remarkably vivid display of Victorian characters and the life they lead, from the generous to the fated to crushed.
---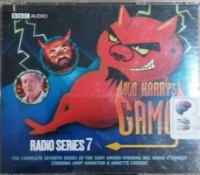 Old Harry's Game - Radio Series 7 written by BBC Comedy Team performed by Andy Hamilton, Annette Crosbie and Timothy West on CD (Abridged)£19.99
Jean Paul Sartre said, 'Hell is other people'. But, as Satan will tell you, Hell is actually a fiery, unendingly cruel domain where Oliver Reed can never quite catch the barman's eye and Yves St Laurent is forced to wear a donkey jacket. But Hell is about to become more hellish for Satan himself (Andy Hamilton).
---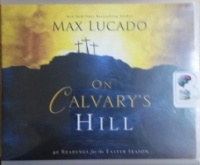 On Calvary's Hill written by Max Lucado performed by Ben Holland on CD (Unabridged)£9.99
It's early in the final week. The props and players for Friday's drama are in position. Five-inch spikes are in the bin. A cross-beam leans against a shed wall. The players are nearing the stage—Pilate, Annas and Caiaphas, Judas, the centurions. Players and props. Only this is no play; it's a divine plan.
---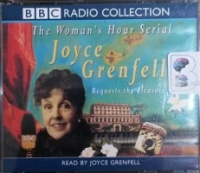 Requests the Pleasure written by Joyce Grenfell performed by Joyce Grenfell on CD (Abridged)£9.99
Actress, comedienne and raconteur Joyce Grenfell tells the fascinating story of her life working in radio, film, the stage and war-time entertainment tours with her usual charm and much humour. Her glamorous and madcap American mother, her aunt Nancy Astor and her husband Reggie...