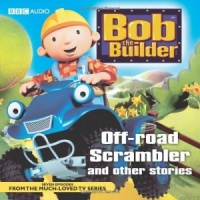 Bob the Builder - Off-Road Scrambler written by Bob the Builder Team performed by Bob the Builder Team on CD (Unabridged)£2.99
This title includes seven episodes from the hugely popular series featuring Bob the Builder, Roley, Lofty, Dizzy, Scoop, Muck and Spud - as seen on BBC TV.
---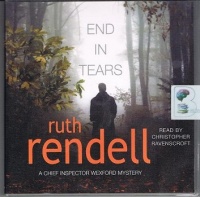 End in Tears written by Ruth Rendell performed by Christopher Ravenscroft on CD (Abridged)£4.99
A lump of concrete dropped deliberately from a little stone bridge kills the wrong person. The young woman in the car behind is spared. But only for a while...
---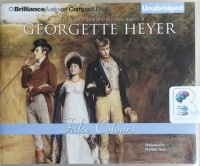 False Colours written by Georgette Heyer performed by Phyllida Nash on CD (Unabridged)£24.99
The honourable Christopher Fancot, on leave from the Diplomatic Service in the summer of 1817, is startled to find his entrancing but incorrigibly extravagant mother on the brink of financial and social ruin - and more than alarmed that his identical twin, Evelyn, Earl of Denville, has disappeared ...
---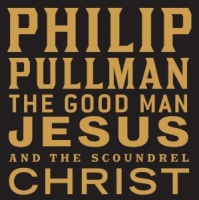 The Good Man Jesus and the Scoundrel Christ written by Philip Pullman performed by Philip Pullman on CD (Unabridged)£3.99
This is not a gospel. This is a story. In this ingenious and spell-binding retelling of the life of Jesus, Philip Pullman revisits the most influential story ever told.
---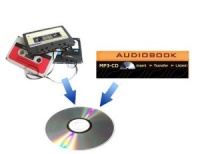 3 Hour Fixed Price Audio Transfer£15.00
This is the fixed price £15 item to be used when ordering conversion of a sub 3 hour Audio Cassette or MP3 CD title.
---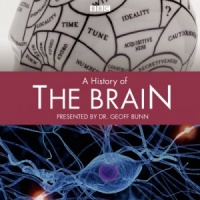 A History of the Brain written by Dr Geoff Bunn performed by Dr Geoff Bunn on CD (Unabridged)£6.99 - £7.29
This set covers 10 x 15 minute series on Radio 4 which was part of a two-week "Brain Season".
It explains in clear terms the latest discoveries in neuroscience. In this unprecedented journey, covering over 2,500 years of development in our understanding of what it is to be human.
---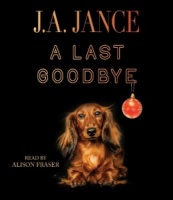 A Last Goodbye written by J.A. Jance performed by Alison Fraser on CD (Unabridged)£6.99
Ali Reynolds is finally getting married to her longtime love B. Simpson. They wanted a simple Christmas Eve wedding, but nothing is ever simple with Ali.
---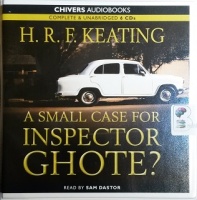 A Small Case for Inspector Ghote? written by H.R.F. Keating performed by Sam Dastor on CD (Unabridged)£34.99
In his proud new position in the prestigious Bombay Police Crime Branch, Inspector Ganesh Ghote sees his career finally take off with the prospect of only the most high-profile murders to investigate. Unfortunately, the Assistant Commissioner of Police has other ideas and chooses to keep Ghote...
---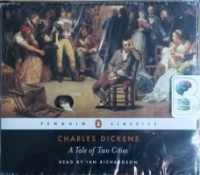 A Tale of Two Cities written by Charles Dickens performed by Ian Richardson on CD (Abridged)£5.99 - £9.99
After 18 years as a political prisoner in the Bastille the aging Dr Manette is finally released and reunited with his daughter in England.
---
---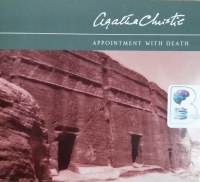 Appointment with Death written by Agatha Christie performed by Carole Boyd on CD (Abridged)£4.99
Among the towering red cliffs of Petra, like some monstrous swollen Buddha, sat the corpse of Mrs Boynton. A tiny puncture mark on her wrist was the only sign of the fatal injection that had killed her.
---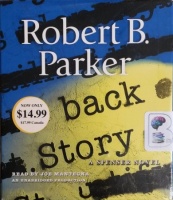 Back Story - A Spencer Novel written by Robert B. Parker performed by Joe Mantegna on CD (Unabridged)£9.99
Renaissance man Spenser - he of the acerbic social commentary, the gourmet cookery, and the steely abs - turns his considerable talents to the unraveling of a thirty-year-old murder mystery. During a 1974 holdup in a Boston bank by a revolutionary group calling itself the Dread Scott Brigade, Emily Gordon, a...
---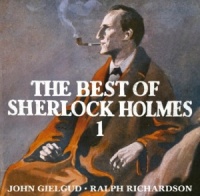 Best of Sherlock Holmes: v. 1 written by Arthur Conan Doyle performed by Sir John Gielgud and Sir Ralph Richardson on CD (Abridged)£6.99
A Genius Performance by Ralph Richardson and John Gielgud!
Recognised as the ultimate dramatisation of Conan Doyle's famous stories, these recordings have been acclaimed since their reissue by Hodder Headline Audiobooks in 1994.
---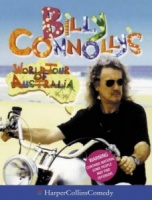 Billy Connolly's World Tour of Australia written by Billy Connolly performed by Billy Connolly on CD (Abridged)£7.99
Travelling by plane, motorbike, boat and foot, Billy Connolly tours the country performing his stage show and delivers and individual commentary on all things Australian.
---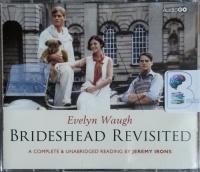 Brideshead Revisited written by Evelyn Waugh performed by Jeremy Irons on CD (Unabridged)£29.99 - £39.99
Brideshead Revisited is Evelyn Waugh's stunning novel of duty and desire set amongst the decadent, faded glory of the English aristocracy in the run-up to the Second World War.
Performed brilliantly by Jeremy Irons
---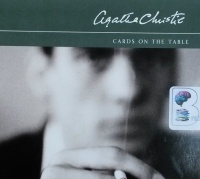 Cards on the Table written by Agatha Christie performed by Geraldine James on CD (Abridged)£4.99
Mr Shaitana was famous as a flamboyant party host. Nevertheless, he was a man of whom everybody was a little afraid. So, when he boasted to Poirot that he considered murder an art form, the detective had some reservations about accepting a party invitation to view Shaitana's private collection.
New In October 2017 Part 2
(in alphabetical order)
A Christmas Carol written by Charles Dickens performed by Patrick Stewart on Cassette (Abridged)£4.99

A wonderful dramatisation of this classic story. Discover the meanness of Scrooge, a man unable to participate in the joy of Christmas, his cruelty to Bob Cratchit and Tiny Tim, and his eventual redemption after the ghosts of Marley, Christmas Past, Present and Future visit him.

A Dark-Adapted Eye written by Ruth Rendell as Barbara Vine performed by Harriet Walter on Cassette (Unabridged)£14.99

Like most families, they had their secrets... ...and they hid them under a genteelly respectable veneer. No onlooker would guess that prim Vera Hillyard and her beautiful, adored younger sister, Eden, were locked in a dark and bitter combat over one of those secrets.

Angels in the Gloom written by Anne Perry performed by Cornelius Garrett on CD (Unabridged)£24.99

It's March 1916, and Joseph Reavley is on sick leave and finding recovery slow and hard. His sister Hannah is caring for him at home, and it's a delight to them both when Shanley Corcoran, an old friend, comes to visit. Corcoran confides in Joseph that he's come very close to completing an ...

Arthur and George written by Julian Barnes performed by Nigel Anthony on Cassette (Unabridged)£14.99 - £19.99

Arthur and George grow up worlds and miles apart in late 19th-century Britain: Arthur in shabby-genteel Edinburgh, and George in the vicarage of a small Staffordshire village. Arthur becomes a doctor, and then a writer; George a solicitor in Birmingham.

Audio Repair and Audio Transfer for Customers Own Tapes£35.00

Audio Repair and Audio Transfer of Customer Own Tapes

If you have a damaged audio tape that needs repairing and then transferring to Audio CD this is the service for you.

You should place an order for this item for each tape that requires repair and recording.

Brand New Friend written by Mike Gayle performed by Dave John and on CD (Unabridged)£9.99

When Rob's girlfriend asks him to leave London and live with her in Manchester not only will it mean moving cities and changing the only job he's ever had, it'll also mean leaving behind his best mate in the entire world. Believing that love conquers all and convinced of his ability ....

Callisto written by Torsten Krol performed by Curt Skinner on CD (Unabridged)£9.99

Set in Kansas, described as a fast-paced tale exploring "America's dark heart" and combining everything from terrorists and torture to body parts in the freezer, Callisto is already acclaimed in the UK and in continental Europe, with rights sold in 12 languages and mounting.

Dark Summit written by Nick Heil performed by David Drummond on MP3 CD (Unabridged)£14.99

"A dramatic story, ably and convincingly told . . . A chilling look at the precarious line between success and tragedy."--Kirkus Reviews On May 15, 2006, a young British climber named David Sharp lay dying near the top of Mount Everest while forty other climbers walked past him on their way to the summit.

English Majors - A Comedy Collecion for the Highly Literate written by English Majors performed by Garrison Keillor, Allen Ginsberg, Billy Collins and Calvin Trillin on CD (Abridged)£14.99

You know who you are and here is a double-CD celebrating the secret society of those who, though they may be chauffeuring kids to swim lessons or writing Unix programs or frying cheeseburgers, still could, if need be, write a term paper on the water imagery in 'The Waste Land'.

Nights of Rain and Stars written by Maeve Binchy performed by Terry Donnelly on Cassette (Unabridged)£19.99

Four strangers, with nothing in common but a need to escape, meet in a Greek taverna high above the small village of Aghia Anna. From Ireland, America, Germany and England, they have each left their homes and their old lives, when a shocking tragedy throws them unexpectedly together.

Scarlet Feather written by Maeve Binchy performed by Kate Binchy on Cassette (Unabridged)£19.99

Cathy Scarlet and Tom Feather have decided to create the best catering company in Dublin. They have the perfect premises, heaps of talent and even a few contacts, but not everyone seems as pleased by the idea of 'Scarlet Feather' as they are. Tom's parents are disappointed that he has turned ...

The Blood Doctor written by Ruth Rendell as Barbara Vine performed by Robert Powell on Cassette (Unabridged)£29.99

The Blood Doctor by Barbara Vine - a crime masterpiece about ambition, obsession and bad blood An outstandingly original book' Sunday Times The current Lord Nanther, experiencing the reform of the House of Lords, embarks on a biography of his great-grandfather, the first Lord Nanther ...

The Blue Bedroom and Other Stories written by Rosamunde Pilcher performed by Lynn Redgrave on CD (Abridged)£24.99

The big bedroom was lovely: all pale, blue and white, satin and muslin, cool and airy, the windows looking out over the garden to the creek. But to fourteen-year-old Emily, beautiful though it was, it was all wrong. Her stepmother's bedroom now: everything changed since her own mother had died.

The Copper Beech written by Maeve Binchy performed by Kate Binchy and on Cassette (Unabridged)£29.99

By the school house at Shancarrig stands a copper beech, its bark scarred with the names and dreams of the pupils who have grown up under its branches. Under Junior Assistant Mistress Maddy Ross's careful gaze the children play, but out of school Maddy's gaze lingers where it shouldn't.

The Diary of a Young Girl - The Definitive Edition written by Anne Frank performed by Helena Bonham Carter on Cassette (Unabridged)£14.99

This diary from the Dutch girl who hid from the Nazis during World War II, offers insights into a life typical of any teenager. It reveals her curiosity about her emerging sexuality, the conflicts with her mother, her passion for Peter, a boy whose family hid with hers, and her acute portraits of her ...

The Midden written by Tom Sharpe performed by Simon Callow on Cassette (Abridged)£9.99

When Timothy Bright's stockbroking career goes wrong he turns to gambling to regain his financial losses. Gaining more debts, Timothy is persuaded into a touch of villainy where an encounter with an Australian substance known as Toad precipitates Timothy into the bed of a Chief Constable's wife.

The Mill on the Floss written by George Eliot performed by Laura Patton on CD (Unabridged)£54.99

Maggie Tulliver has two lovers: Philip Wakem, son of her fathers enemy, and Stephen Guest, already promised to her cousin. But the love she wants most in the world is that of her brother Tom. Maggies struggle against her passionate and sensual nature leads her to a deeper understanding and to tragedy.

The Prince and The Pilgrim written by Mary Stewart performed by Richard Mitchley on Cassette (Unabridged)£19.99

In this classic Arthurian adventure, Alexander seeks to avenge his father and sets out on a journey to Camelot, in quest of justice. Meanwhile, Alice becomes embroiled in the rescue of a young fugitive, who insists he has the Holy Grail. It all brings Alexander and Alice together to find what they seek.

The Strange Case of Dr. Jekyll and Mr. Hyde written by Robert Louis Stevenson performed by Ian Holm on CD (Unabridged)£14.99

The Strange Case of Dr. Jekyll and Mr. Hyde is a terrifying glimpse into both a horrific gothic scenario and a psychological phenomenon. One of the first literary works to fully tackle the concept of a 'split' or 'dual' personality, the novel was streets ahead of its time in 1886 and continues to be a ...

The Wind-Up Bird Chronicle written by Haruki Murakami performed by Rupert Degas on CD (Unabridged)£59.99

Toru Okada is going through a difficult time. He is without a job, his cat has disappeared and his wife is behaving strangely. Into this unbalanced world, come a variety of curious characters, a young girl sunbathing in a nearby garden, sisters who are very peculiar indeed, an old war veteran ...

What Fresh Lunacy Is This? written by Robert Sellers performed by Sean Barrett on MP3 CD (Unabridged)£19.99

Oliver Reed may not have been Britain's biggest film star - for a period in the early 70s he came within a hairsbreadth of replacing Sean Connery as James Bond - but he is an august member of that small band of people, like George Best and Eric Morecambe, who transcended their chosen medium ....

World War One - A Short History written by Norman Stone performed by Sean Barrett on Cassette (Unabridged)£69.99

The First World War was the overwhelming disaster from which everything else in the twentieth century stemmed. Fourteen million combatants died, a further twenty million were wounded, four empires were destroyed and even the victors' empires were fatally damaged.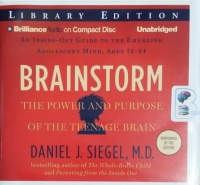 Brainstorm - The Power and Purpose of the Teenage Brain written by Daniel J. Siegel MD performed by Daniel J. Siegel MD on CD (Unabridged)£24.99
Between the ages of 12 and 24, the brain changes in important and often maddening ways. It's no wonder that many parents approach their child's adolescence with fear and trepidation. According to renowned neuropsychiatrist Daniel Siegel, however, if parents and teens can work together to form a...
---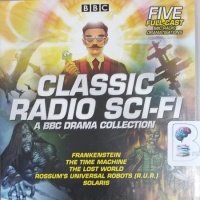 Classic Radio Sci-Fi - A BBC Drama Collection written by Various Great Sci-Fi Authors performed by Robert Glenister, Francis de Wolff, Carleton Hobbs and Joanne Froggatt on CD (Abridged)£19.99
Five seminal science fiction classics are brought vividly to life in these gripping BBC Radio dramatisations, with casts including Robert Glenister, William Gaunt, Carleton Hobbs and Joanne Froggatt. "Frankenstein" (1994) is adapted from one of the first science fiction novels, Mary Shelley's tale of a scientist who tries ...
---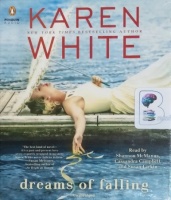 Dreams of Falling written by Karen White performed by Shannon McManus, Cassandra Campbell and Susan Larkin on CD (Unabridged)£24.99
One of PureWow's "Best Beach Reads of Summer 2018" New York Times best-selling author Karen White crafts evocative relationships in this contemporary women's fiction novel, set in the Lowcountry of South Carolina, about lifelong friends who share a devastating secret. On the banks of the North Santee ...
---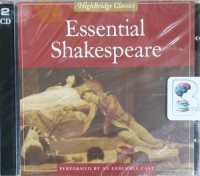 Essential Shakespeare written by William Shakespeare performed by Simon Callow, Lindsay Duncan, Paul Rhys and Harriet Walter on CD (Unabridged)£14.99
Experience some of the most thrilling poetry and drama in world literature. This unique collection includes two sonnets and famous scenes from 11 of Shakespeare's plays: Macbeth, Othello, Twelfth Night, As You Like It, Romeo and Juliet, Much Ado About Nothing, A Midsummer Night's Dream, Richard II...
---
---
---
---
---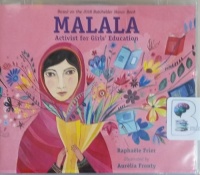 Malala - Activist for Girls' Education written by Raphaele Frier performed by Caroline McLaughlin on CD (Unabridged)£9.99
Despite an attempt on her life by the Taliban, Malala Yousafzai has continued to fight for the rights of children to become educated. As the youngest person to be awarded the Nobel Peace Prize, her courage and conviction continue to push her to fight for what she believes in. This riveting and inspiring ...
---
---
---
---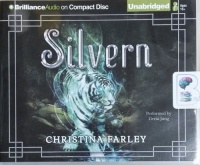 Silvern written by Christina Farley performed by Greta Jung on CD (Unabridged)£9.99
Jae Hwa Lee is ready to forget about immortals and move on with her life. Until the god of darkness, Kud, sends an assassin to kill her. She escapes with the knowledge that Kud is seeking the lost White Tiger Orb, and joins the Guardians of Shinshi to seek out the orb before Kud can find it. But Kud is a stronger...
---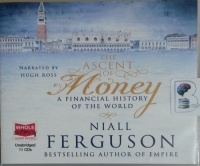 The Ascent of Money - A Financial History of the World written by Niall Ferguson performed by Hugh Ross on CD (Unabridged)£24.99
Bread, cash, dosh, dough, loot: Call it what you like, it matters. To Christians, love of it is the root of all evil. To generals, it's the sinews of war. To revolutionaries, it's the chains of labour. But in The Ascent of Money, Niall Ferguson shows that finance is in fact the foundation of human progress.
---