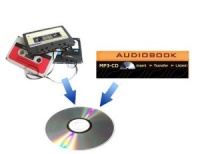 3 Hour Fixed Price Audio Transfer for Customers Own Tapes£25.00
This is the fixed price £25.00 item to be used by Customers when ordering conversion of their own sub 3 hour Audio Cassette or MP3 CD title.
---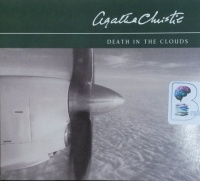 Death in the Clouds written by Agatha Christie performed by David Timson on CD (Abridged)£4.99
From seat No.9, Hercule Poirot was ideally placed to observe his fellow air passengers. Over to his right sat a pretty young woman, ahead, across the gangway in seat No.8, a detective writer was being troubled by an aggressive wasp. What Poirot did not yet realize was that behind him, in seat No.2, sat the ...
---
---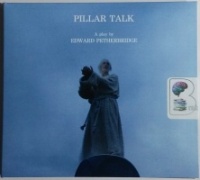 Pillar Talk - A Play written by Edward Petherbridge performed by Edward Petherbridge on CD (Unabridged)£14.99
Exclusive to Brainfood Audiobooks! Esteemed actor Edward (Nicholas Nickleby) Petherbridge uses the story of Symeon Stylites, the 5th century monk who lived on a pillar for thirty-six years, as a framework for an existential inquiry into imagination, belief, doubt, miracles and why one would live 'as I live.'
---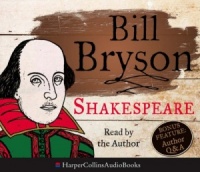 Shakespeare written by Bill Bryson performed by Bill Bryson on CD (Unabridged)£6.99 - £7.99
This short biography of William Shakespeare by world famous writer Bill Bryson brims with the authorís inimitable wit and intelligence.
---
---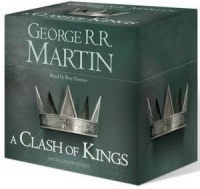 A Clash of Kings written by George R.R. Martin performed by Roy Dotrice on CD (Unabridged)£38.99
George R. R. Martinís superb fantasy epic continues in consummate style as bloodshed and alchemy lay waste the Seven Kingdoms. This second volume of A Song of Ice and Fire is unabridged and on 30 CDs.
---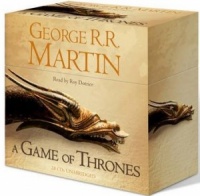 A Game of Thrones written by George R.R. Martin performed by Roy Dotrice on CD (Unabridged)£38.99
This first volume in the hugely popular and highly acclaimed epic fantasy series A SONG OF ICE AND FIRE is unabridged on 28 CDs.
---
---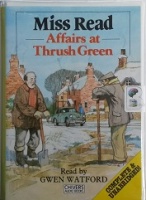 Affairs at Thrush Green written by Mrs Dora Saint as Miss Read performed by Gwen Watford on Cassette (Unabridged)£16.99 - £19.99
When Charles Henstock, rector of Thrush Green, moves a mile downhill to the parish of Lulling, his many friends rejoice in his promotion. But an unfortunate skirmish with one of his wealthy parishioners over the Lady Chapel kneelers saddens him. England, 1930s.
---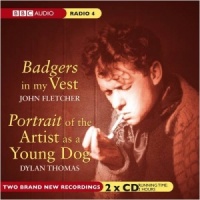 Badgers in My Vest and Portrait of the Artist as a Young Dog written by Dylan Thomas performed by BBC Full Cast Dramatisation on CD (Unabridged)£4.99 - £6.99
Badgers in My Vest is a new, darkly funny play by an acclaimed contemporary playwright, based on a true incident in Dylan Thomas' life.
---
---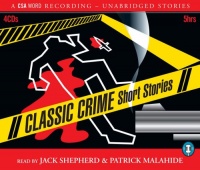 Classic Crime Short Stories written by Various Famous Crime Writers performed by Jack Shepherd and Patrick Malahide on CD (Unabridged)£4.99 - £9.99
Discover a world of heroes and villains, suspense and intrigue. This riveting and comprehensive collection brings together some of the best crime writing of all time.
---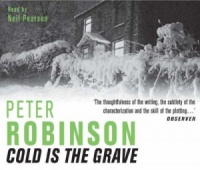 Cold is the Grave written by Peter Robinson performed by Neil Pearson on CD (Abridged)£19.99
Detective Inspector Alan Banks relationship with Chief Constable Riddle has always been strained. So Banks is more than a little surprised when Riddle summons him late one night and begs for his help.
---
---
New In October 2017 Part 2
(in alphabetical order)
A Christmas Carol written by Charles Dickens performed by Patrick Stewart on Cassette (Abridged)£4.99

A wonderful dramatisation of this classic story. Discover the meanness of Scrooge, a man unable to participate in the joy of Christmas, his cruelty to Bob Cratchit and Tiny Tim, and his eventual redemption after the ghosts of Marley, Christmas Past, Present and Future visit him.

A Dark-Adapted Eye written by Ruth Rendell as Barbara Vine performed by Harriet Walter on Cassette (Unabridged)£14.99

Like most families, they had their secrets... ...and they hid them under a genteelly respectable veneer. No onlooker would guess that prim Vera Hillyard and her beautiful, adored younger sister, Eden, were locked in a dark and bitter combat over one of those secrets.

Angels in the Gloom written by Anne Perry performed by Cornelius Garrett on CD (Unabridged)£24.99

It's March 1916, and Joseph Reavley is on sick leave and finding recovery slow and hard. His sister Hannah is caring for him at home, and it's a delight to them both when Shanley Corcoran, an old friend, comes to visit. Corcoran confides in Joseph that he's come very close to completing an ...

Arthur and George written by Julian Barnes performed by Nigel Anthony on Cassette (Unabridged)£14.99 - £19.99

Arthur and George grow up worlds and miles apart in late 19th-century Britain: Arthur in shabby-genteel Edinburgh, and George in the vicarage of a small Staffordshire village. Arthur becomes a doctor, and then a writer; George a solicitor in Birmingham.

Audio Repair and Audio Transfer for Customers Own Tapes£35.00

Audio Repair and Audio Transfer of Customer Own Tapes

If you have a damaged audio tape that needs repairing and then transferring to Audio CD this is the service for you.

You should place an order for this item for each tape that requires repair and recording.

Brand New Friend written by Mike Gayle performed by Dave John and on CD (Unabridged)£9.99

When Rob's girlfriend asks him to leave London and live with her in Manchester not only will it mean moving cities and changing the only job he's ever had, it'll also mean leaving behind his best mate in the entire world. Believing that love conquers all and convinced of his ability ....

Callisto written by Torsten Krol performed by Curt Skinner on CD (Unabridged)£9.99

Set in Kansas, described as a fast-paced tale exploring "America's dark heart" and combining everything from terrorists and torture to body parts in the freezer, Callisto is already acclaimed in the UK and in continental Europe, with rights sold in 12 languages and mounting.

Dark Summit written by Nick Heil performed by David Drummond on MP3 CD (Unabridged)£14.99

"A dramatic story, ably and convincingly told . . . A chilling look at the precarious line between success and tragedy."--Kirkus Reviews On May 15, 2006, a young British climber named David Sharp lay dying near the top of Mount Everest while forty other climbers walked past him on their way to the summit.

English Majors - A Comedy Collecion for the Highly Literate written by English Majors performed by Garrison Keillor, Allen Ginsberg, Billy Collins and Calvin Trillin on CD (Abridged)£14.99

You know who you are and here is a double-CD celebrating the secret society of those who, though they may be chauffeuring kids to swim lessons or writing Unix programs or frying cheeseburgers, still could, if need be, write a term paper on the water imagery in 'The Waste Land'.

Nights of Rain and Stars written by Maeve Binchy performed by Terry Donnelly on Cassette (Unabridged)£19.99

Four strangers, with nothing in common but a need to escape, meet in a Greek taverna high above the small village of Aghia Anna. From Ireland, America, Germany and England, they have each left their homes and their old lives, when a shocking tragedy throws them unexpectedly together.

Scarlet Feather written by Maeve Binchy performed by Kate Binchy on Cassette (Unabridged)£19.99

Cathy Scarlet and Tom Feather have decided to create the best catering company in Dublin. They have the perfect premises, heaps of talent and even a few contacts, but not everyone seems as pleased by the idea of 'Scarlet Feather' as they are. Tom's parents are disappointed that he has turned ...

The Blood Doctor written by Ruth Rendell as Barbara Vine performed by Robert Powell on Cassette (Unabridged)£29.99

The Blood Doctor by Barbara Vine - a crime masterpiece about ambition, obsession and bad blood An outstandingly original book' Sunday Times The current Lord Nanther, experiencing the reform of the House of Lords, embarks on a biography of his great-grandfather, the first Lord Nanther ...

The Blue Bedroom and Other Stories written by Rosamunde Pilcher performed by Lynn Redgrave on CD (Abridged)£24.99

The big bedroom was lovely: all pale, blue and white, satin and muslin, cool and airy, the windows looking out over the garden to the creek. But to fourteen-year-old Emily, beautiful though it was, it was all wrong. Her stepmother's bedroom now: everything changed since her own mother had died.

The Copper Beech written by Maeve Binchy performed by Kate Binchy and on Cassette (Unabridged)£29.99

By the school house at Shancarrig stands a copper beech, its bark scarred with the names and dreams of the pupils who have grown up under its branches. Under Junior Assistant Mistress Maddy Ross's careful gaze the children play, but out of school Maddy's gaze lingers where it shouldn't.

The Diary of a Young Girl - The Definitive Edition written by Anne Frank performed by Helena Bonham Carter on Cassette (Unabridged)£14.99

This diary from the Dutch girl who hid from the Nazis during World War II, offers insights into a life typical of any teenager. It reveals her curiosity about her emerging sexuality, the conflicts with her mother, her passion for Peter, a boy whose family hid with hers, and her acute portraits of her ...

The Midden written by Tom Sharpe performed by Simon Callow on Cassette (Abridged)£9.99

When Timothy Bright's stockbroking career goes wrong he turns to gambling to regain his financial losses. Gaining more debts, Timothy is persuaded into a touch of villainy where an encounter with an Australian substance known as Toad precipitates Timothy into the bed of a Chief Constable's wife.

The Mill on the Floss written by George Eliot performed by Laura Paton on CD (Unabridged)£54.99

Maggie Tulliver has two lovers: Philip Wakem, son of her fathers enemy, and Stephen Guest, already promised to her cousin. But the love she wants most in the world is that of her brother Tom. Maggies struggle against her passionate and sensual nature leads her to a deeper understanding and to tragedy.

The Prince and The Pilgrim written by Mary Stewart performed by Richard Mitchley on Cassette (Unabridged)£19.99

In this classic Arthurian adventure, Alexander seeks to avenge his father and sets out on a journey to Camelot, in quest of justice. Meanwhile, Alice becomes embroiled in the rescue of a young fugitive, who insists he has the Holy Grail. It all brings Alexander and Alice together to find what they seek.

The Strange Case of Dr. Jekyll and Mr. Hyde written by Robert Louis Stevenson performed by Ian Holm on CD (Unabridged)£14.99

The Strange Case of Dr. Jekyll and Mr. Hyde is a terrifying glimpse into both a horrific gothic scenario and a psychological phenomenon. One of the first literary works to fully tackle the concept of a 'split' or 'dual' personality, the novel was streets ahead of its time in 1886 and continues to be a ...

The Wind-Up Bird Chronicle written by Haruki Murakami performed by Rupert Degas on CD (Unabridged)£59.99

Toru Okada is going through a difficult time. He is without a job, his cat has disappeared and his wife is behaving strangely. Into this unbalanced world, come a variety of curious characters, a young girl sunbathing in a nearby garden, sisters who are very peculiar indeed, an old war veteran ...

What Fresh Lunacy Is This? written by Robert Sellers performed by Sean Barrett on MP3 CD (Unabridged)£19.99

Oliver Reed may not have been Britain's biggest film star - for a period in the early 70s he came within a hairsbreadth of replacing Sean Connery as James Bond - but he is an august member of that small band of people, like George Best and Eric Morecambe, who transcended their chosen medium ....

World War One - A Short History written by Norman Stone performed by Sean Barrett on Cassette (Unabridged)£69.99

The First World War was the overwhelming disaster from which everything else in the twentieth century stemmed. Fourteen million combatants died, a further twenty million were wounded, four empires were destroyed and even the victors' empires were fatally damaged.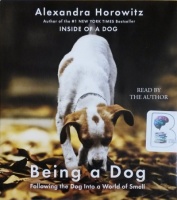 Being a Dog written by Alexandra Horowitz performed by Alexandra Horowitz on CD (Unabridged)£24.99
A New York Times Bestseller A Science Friday and Library Journal Best Science Book of the Year Alexandra Horowitz, the author of the lively, highly informative New York Times bestselling blockbuster Inside of a Dog, explains how dogs perceive the world through their most spectacular organ--the nose--and how we...
---
---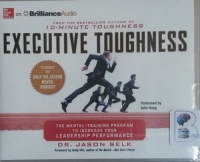 Executive Toughness - The Mental Training Program to Increase Your Leadership Performance written by Dr. Jason Selk performed by John Haag on CD (Unabridged)£14.99
Take your professional game to the next level-in 100 seconds or less! People with inborn talent may be good at what they do-but only the mentally tough reach the highest plateaus in their field. And here's the best news of all: mental toughness is something anyone can learn. Director of mental training for the..
---
Farside written by Ben Bova performed by Stefan Rudnicki on CD (Unabridged)£39.99
When an Earth-sized planet circling a star some 30 light-years away is detected, the race is on to build an astronomical observatory on Farside, the side of the Moon that never faces Earth a dangerous task that is plagued by accidents, mental and emotional breakdowns and a discovery that will forever change the human race.
---
---
---
---
---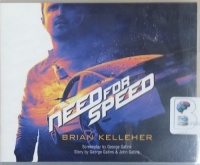 Need for Speed written by Brian Kelleher performed by Alexander Cendese on CD (Unabridged)£9.99
A near-impossible cross-country race against time - one that begins as a mission for revenge, but proves to be one of redemption. Based on the most successful racing video game franchise ever with over 140 million copies sold, Need for Speed captures the freedom and excitement of the game in a...
---
---
---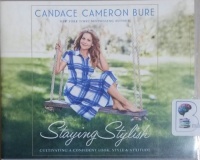 Staying Stylish written by Candace Cameron Bure performed by Candace Cameron Bure on CD (Unabridged)£19.99
Candace Cameron Bure, best known as D. J. Tanner from Full House and Fuller House and a New York Times best-selling author, whose faith and wit have delighted audiences for decades, lets you in on her best-kept secrets for Staying Stylish. This gorgeous manual for beauty, style, health, and spiritual ...
---
---
---