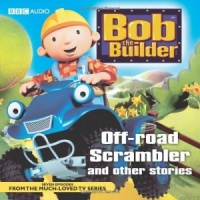 Bob the Builder - Off-Road Scrambler written by Bob the Builder Team performed by Bob the Builder Team on CD (Unabridged)£2.99
This title includes seven episodes from the hugely popular series featuring Bob the Builder, Roley, Lofty, Dizzy, Scoop, Muck and Spud - as seen on BBC TV.
---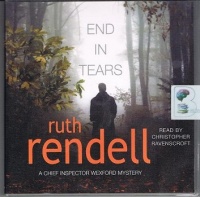 End in Tears written by Ruth Rendell performed by Christopher Ravenscroft on CD (Abridged)£4.99
A lump of concrete dropped deliberately from a little stone bridge kills the wrong person. The young woman in the car behind is spared. But only for a while...
---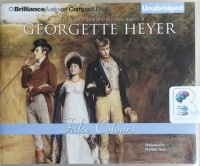 False Colours written by Georgette Heyer performed by Phyllida Nash on CD (Unabridged)£24.99
The honourable Christopher Fancot, on leave from the Diplomatic Service in the summer of 1817, is startled to find his entrancing but incorrigibly extravagant mother on the brink of financial and social ruin - and more than alarmed that his identical twin, Evelyn, Earl of Denville, has disappeared ...
---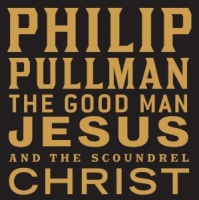 The Good Man Jesus and the Scoundrel Christ written by Philip Pullman performed by Philip Pullman on CD (Unabridged)£3.99
This is not a gospel. This is a story. In this ingenious and spell-binding retelling of the life of Jesus, Philip Pullman revisits the most influential story ever told.
---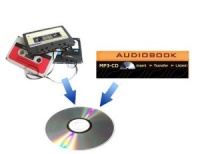 3 Hour Fixed Price Audio Transfer£15.00
This is the fixed price £15 item to be used when ordering conversion of a sub 3 hour Audio Cassette or MP3 CD title.
---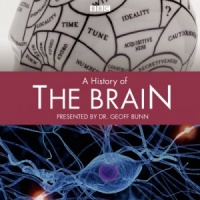 A History of the Brain written by Dr Geoff Bunn performed by Dr Geoff Bunn on CD (Unabridged)£6.99 - £7.29
This set covers 10 x 15 minute series on Radio 4 which was part of a two-week "Brain Season".
It explains in clear terms the latest discoveries in neuroscience. In this unprecedented journey, covering over 2,500 years of development in our understanding of what it is to be human.
---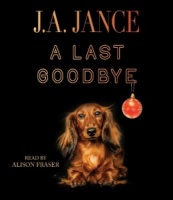 A Last Goodbye written by J.A. Jance performed by Alison Fraser on CD (Unabridged)£6.99
Ali Reynolds is finally getting married to her longtime love B. Simpson. They wanted a simple Christmas Eve wedding, but nothing is ever simple with Ali.
---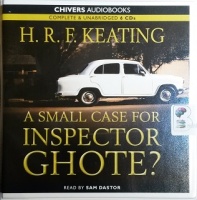 A Small Case for Inspector Ghote? written by H.R.F. Keating performed by Sam Dastor on CD (Unabridged)£34.99
In his proud new position in the prestigious Bombay Police Crime Branch, Inspector Ganesh Ghote sees his career finally take off with the prospect of only the most high-profile murders to investigate. Unfortunately, the Assistant Commissioner of Police has other ideas and chooses to keep Ghote...
---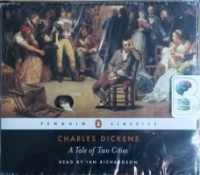 A Tale of Two Cities written by Charles Dickens performed by Ian Richardson on CD (Abridged)£5.99 - £9.99
After 18 years as a political prisoner in the Bastille the aging Dr Manette is finally released and reunited with his daughter in England.
---
---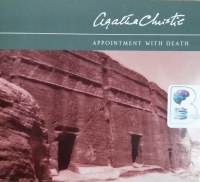 Appointment with Death written by Agatha Christie performed by Carole Boyd on CD (Abridged)£4.99
Among the towering red cliffs of Petra, like some monstrous swollen Buddha, sat the corpse of Mrs Boynton. A tiny puncture mark on her wrist was the only sign of the fatal injection that had killed her.
---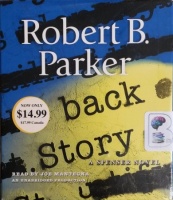 Back Story - A Spencer Novel written by Robert B. Parker performed by Joe Mantegna on CD (Unabridged)£9.99
Renaissance man Spenser - he of the acerbic social commentary, the gourmet cookery, and the steely abs - turns his considerable talents to the unraveling of a thirty-year-old murder mystery. During a 1974 holdup in a Boston bank by a revolutionary group calling itself the Dread Scott Brigade, Emily Gordon, a...
---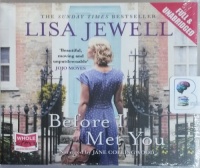 Before I Met You written by Lisa Jewell performed by Jane Collingwood on CD (Unabridged)£19.99
An uplifting, warm and unforgettable story of two women in two different times from the Sunday Times Top Ten bestselling author Betty Dean can't wait to leave her quiet upbringing in Guernsey and begin her mission to find Clara Pickle - the mysterious beneficiary in her grandmother's will. She arrives in ...
---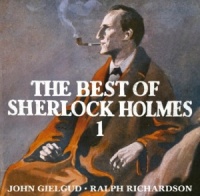 Best of Sherlock Holmes: v. 1 written by Arthur Conan Doyle performed by Sir John Gielgud and Sir Ralph Richardson on CD (Abridged)£6.99
A Genius Performance by Ralph Richardson and John Gielgud!
Recognised as the ultimate dramatisation of Conan Doyle's famous stories, these recordings have been acclaimed since their reissue by Hodder Headline Audiobooks in 1994.
---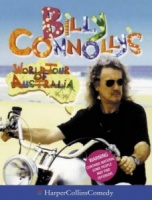 Billy Connolly's World Tour of Australia written by Billy Connolly performed by Billy Connolly on CD (Abridged)£7.99
Travelling by plane, motorbike, boat and foot, Billy Connolly tours the country performing his stage show and delivers and individual commentary on all things Australian.
---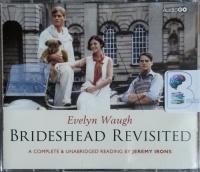 Brideshead Revisited written by Evelyn Waugh performed by Jeremy Irons on CD (Unabridged)£29.99 - £39.99
Brideshead Revisited is Evelyn Waugh's stunning novel of duty and desire set amongst the decadent, faded glory of the English aristocracy in the run-up to the Second World War.
Performed brilliantly by Jeremy Irons
---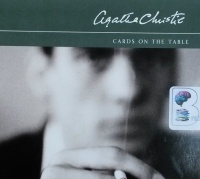 Cards on the Table written by Agatha Christie performed by Geraldine James on CD (Abridged)£4.99
Mr Shaitana was famous as a flamboyant party host. Nevertheless, he was a man of whom everybody was a little afraid. So, when he boasted to Poirot that he considered murder an art form, the detective had some reservations about accepting a party invitation to view Shaitana's private collection.
New In November 2018 Part 2
(in alphabetical order)
Chasing Gold - The Incredible Story of How the Nazis Stole Europe's Bullion written by George M. Taber performed by Robertson Dean on CD (Unabridged)£49.99

In the highly anticipated new book from the best-selling author of Judgment of Paris,George M. Taber reveals the integral role gold played in World War II, from its influence on the Nazi war machine to the ultimate triumph by the Allies and the fall of Berlin. For the entire history of human civilization...

Cider with Rosie written by Laurie Lee performed by Laurie Lee on CD (Unabridged)£69.99

Cider with Rosie is a vivid memoir of childhood in a remote Cotswold village, a village before electricity or cars, a timeless place on the verge of change. Growing up amongst the fields and woods and characters of the place, Laurie Lee depicts a world that is both immediate and real and belongs to a now-distant past.

D-Day - The Battle for Normandy written by Antony Beevor performed by Cameron Stewart on MP3 CD (Unabridged)£19.99 - £39.99

The Normandy Landings that took place on D-Day involved by far the largest invasion fleet ever known. The scale of the undertaking was simply awesome. What followed them was some of the most cunning and ferocious fighting of the war, at times as savage as anything seen on the Eastern Front.

Emma written by Jane Austen performed by Juliet Stevenson on CD (Unabridged)£19.99 - £39.99

Arrogant, self-willed and egotistical, Emma is Jane Austen's most unusual heroine. Her interfering ways and inveterate matchmaking are at once shocking and comic. She is 'handsome, clever and rich' and has 'a disposition to think too well of herself'. When she decides to introduce the humble...

En Honor Al Espiritu Santo written by Cash Luna performed by Cash Luna on CD (Unabridged)£4.99

El renombrado autor Cash Luna presenta una versión renovada del clásico best seller En honor al Espíritu Santo. El autor basa el contenido de este libro en su experiencia personal. A partir de ella, imparte una profunda enseñanza sobre el poder del Espíritu Santo y cómo obra en la vida de las personas.

Exposed - A Maggie O'Dell Novel written by Alex Kava performed by Tanya Eby on CD (Unabridged)£14.99

Agent Maggie O'Dell believes she's responding to a threat, but instead walks into a trap. The killer's weapon is a deadly virus, virtually invisible and totally unexpected. Maggie knows dangerous minds – from hauntingly perverse child predators to cunningly twisted serial killers.

Methuselah's Children written by Robert A. Heinlein performed by MacLeod Andrews on CD (Unabridged)£19.99

After the fall of the American Ayatollahs as foretold in Stranger in a Strange Land and chronicled in Revolt in 2100, the United States of America at last fulfills the promise inherent in its first Revolution: for the first time in human history there is a nation with Liberty and Justice for All.

My Journey with Maya written by Tavis Smiley with David Ritz performed by Tavis Smiley on CD (Unabridged)£19.99

Tavis Smiley and Maya Angelou met in 1986, when he was twenty-one and she was fifty-eight. For the next twenty-eight years, Angelou was a teacher and a maternal figure to Smiley, and they talked often of art, politics, history, music, religion, and race. In My Journey with Maya, Smiley beautifully...

Right Ho, Jeeves written by P.G. Wodehouse performed by Martin Jarvis on CD (Abridged)£19.99

Can Bertie Wooster become Jeeves, at least in the problem-solving department? The odds aren't good, given the mess he makes of everybody's love life when he starts playing rescuer. Gussie Fink-Nottle, who's in love with Madeline Basset, and Tuppy Glossop, who's sometimes engaged to...

Road Dog - Life and Reflections from the Road as a Stand-Up Comic written by Dov Davidoff performed by Dov Davidoff on MP3 CD (Unabridged)£19.99

Road Dog is comedian, actor, and writer, Dov Davidoff's unflinching memoir told through reflections of twelve months on the road. Davidoff travels across the country from college campuses to local theaters doing stand-up comedy and telling it like it is. He's been known to wax poetic about everything...

Science Fiction Writers written by British Library performed by Douglas Adams, Brian Aldiss, Isaac Asimov and J G Ballard on CD (Abridged)£7.99 - £9.99

What is science fiction? Are science fiction writers under-appreciated compared to literary novelists? Is their prime mission to predict the future or to comment on the present? These and other questions are discussed by major writers including Isaac Asimov, Douglas Adams, Brian Aldiss, .....

Sidetracked written by Henning Mankell performed by Sean Barrett on Cassette (Unabridged)£29.99

Midsummer approaches, and Wallander prepares for a holiday with the new woman in his life, hopeful that his wayward daughter and his ageing father will cope without him. But his summer is ruined when a girl commits suicide before his eyes, and a former minister of justice is butchered in the...

The Casebook of Sherlock Holmes written by Arthur Conan Doyle performed by Derek Jacobi on CD (Unabridged)£24.99 - £39.99

A Genius Performance by Derek Jacobi!
The Complete and Unabridged version of this fantastic author's last stories. Probably the best adventure stories ever told!

The Complete Sherlock Holmes written by Arthur Conan Doyle performed by Simon Vance on MP3 CD (Unabridged)£7.28 £26.99

Winner of the 2014 Audie Award for Classics Sir Arthur Conan Doyle's Sherlock Holmes tales are rightly ranked among the seminal works of mystery and detective fiction. Included in this collection are all four full-length Holmes novels and more than forty short masterpiece.

The Copper Beech written by Maeve Binchy performed by Kate Binchy on CD (Unabridged)£29.99 - £39.99

By the school house at Shancarrig stands a copper beech, its bark scarred with the names and dreams of the pupils who have grown up under its branches.

The Love Dare for Parents written by Dare Test.com performed by Adam Verner on CD (Unabridged)£19.99

While parents long to better influence and express love to their children, they often have no clear plan of action. As a result, daily hopes turn into years of missed opportunities. The Love Dare for Parents helps busy moms and dads more fully cherish, enjoy, and impact each of their children during ...

The Master and Margarita written by Mikhail Bulgakov performed by Julian Rhind-Tutt on CD (Unabridged)£39.99

The Devil comes to Moscow; but he isn't all bad. Pontius Pilate sentences a charismatic leader to his death, but yearns for redemption; and a writer tries to destroy his greatest tale, but discovers that manuscripts don't burn. Multilayered and entrancing, blending sharp satire with glorious fantasy...

The Servents of Twilight written by Dean Koontz performed by Angela Dawe on CD (Unabridged)£14.99

An ordinary parking lot in southern California. Christine Scavello and her six-year-old son are accosted by a strange old woman. "I know who you are," the woman snaps at the boy. "I know what you are." A scream, a threat - and then a grotesque act of violence. Suddenly Christine's pride and joy...

Tropic of Squalor - Poems written by Mary Karr performed by Mary Karr on CD (Unabridged)£14.99

Long before she earned accolades for her genre-defining memoirs, Mary Karr was winning poetry prizes. Now the beloved author returns with a collection of bracing poems as visceral and deeply felt and hilarious as her memoirs. In Tropic of Squalor, Karr dares to address the numinous-that mystery...

Undercurrent - A Siren Novel written by Tricia Rayburn performed by Nicola Barber on CD (Unabridged)£19.99

The sirens are back, but Vanessa may be the biggest threat of all.... Nothing has been normal since Vanessa Sands learned that her sister was murdered by siren femme fatales of the watery depths and that everything she believed about her family was a lie. Her boyfriend, Simon, has been the only...

What Remains True written by Janis Thomas performed by Lauren Ezzo, Scott Lange, Mikael Naramore and Nick Podehl on CD (Unabridged)£14.99

In this mesmerizing drama, one life-altering event catapults a family into turmoil, revealing secrets that may leave them fractured forever...or bind them together tighter than ever before. From the outside, the Davenports look like any other family living a completely ordinary life - until that...

Wrath of the Titans - Radio Drama written by Darren G. Davies and Scott Davis performed by The Colonial Radio Theatre, J.T. Turner and Alex Bookstein on CD (Unabridged)£14.99

Five years have passed since the legendary Perseus defeated the evil Gorgon Medusa, killed the Kraken and assumed the crown of Argos. Things seemed idyllic throughout the kingdom and the news of an heir put the citizens in a celebratory mood. Yet lurking in the shadows is the one being...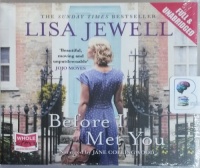 Before I Met You written by Lisa Jewell performed by Jane Collingwood on CD (Unabridged)£19.99
An uplifting, warm and unforgettable story of two women in two different times from the Sunday Times Top Ten bestselling author Betty Dean can't wait to leave her quiet upbringing in Guernsey and begin her mission to find Clara Pickle - the mysterious beneficiary in her grandmother's will. She arrives in ...
---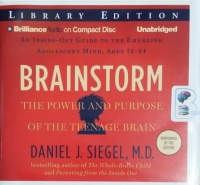 Brainstorm - The Power and Purpose of the Teenage Brain written by Daniel J. Siegel MD performed by Daniel J. Siegel MD on CD (Unabridged)£24.99
Between the ages of 12 and 24, the brain changes in important and often maddening ways. It's no wonder that many parents approach their child's adolescence with fear and trepidation. According to renowned neuropsychiatrist Daniel Siegel, however, if parents and teens can work together to form a...
---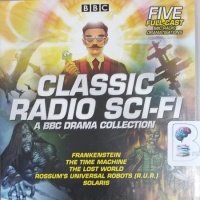 Classic Radio Sci-Fi - A BBC Drama Collection written by Various Great Sci-Fi Authors performed by Robert Glenister, Francis de Wolff, Carleton Hobbs and Joanne Froggatt on CD (Abridged)£19.99
Five seminal science fiction classics are brought vividly to life in these gripping BBC Radio dramatisations, with casts including Robert Glenister, William Gaunt, Carleton Hobbs and Joanne Froggatt. "Frankenstein" (1994) is adapted from one of the first science fiction novels, Mary Shelley's tale of a scientist who tries ...
---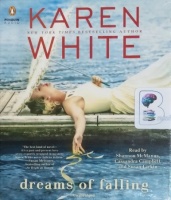 Dreams of Falling written by Karen White performed by Shannon McManus, Cassandra Campbell and Susan Larkin on CD (Unabridged)£24.99
One of PureWow's "Best Beach Reads of Summer 2018" New York Times best-selling author Karen White crafts evocative relationships in this contemporary women's fiction novel, set in the Lowcountry of South Carolina, about lifelong friends who share a devastating secret. On the banks of the North Santee ...
---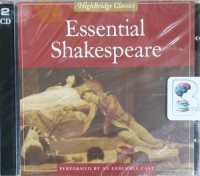 Essential Shakespeare written by William Shakespeare performed by Simon Callow, Lindsay Duncan, Paul Rhys and Harriet Walter on CD (Unabridged)£14.99
Experience some of the most thrilling poetry and drama in world literature. This unique collection includes two sonnets and famous scenes from 11 of Shakespeare's plays: Macbeth, Othello, Twelfth Night, As You Like It, Romeo and Juliet, Much Ado About Nothing, A Midsummer Night's Dream, Richard II...
---
---
---
---
---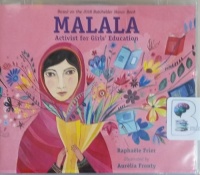 Malala - Activist for Girls' Education written by Raphaele Frier performed by Caroline McLaughlin on CD (Unabridged)£9.99
Despite an attempt on her life by the Taliban, Malala Yousafzai has continued to fight for the rights of children to become educated. As the youngest person to be awarded the Nobel Peace Prize, her courage and conviction continue to push her to fight for what she believes in. This riveting and inspiring ...
---
---
---
---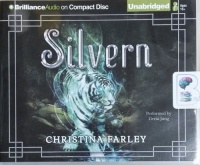 Silvern written by Christina Farley performed by Greta Jung on CD (Unabridged)£9.99
Jae Hwa Lee is ready to forget about immortals and move on with her life. Until the god of darkness, Kud, sends an assassin to kill her. She escapes with the knowledge that Kud is seeking the lost White Tiger Orb, and joins the Guardians of Shinshi to seek out the orb before Kud can find it. But Kud is a stronger...
---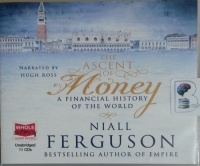 The Ascent of Money - A Financial History of the World written by Niall Ferguson performed by Hugh Ross on CD (Unabridged)£24.99
Bread, cash, dosh, dough, loot: Call it what you like, it matters. To Christians, love of it is the root of all evil. To generals, it's the sinews of war. To revolutionaries, it's the chains of labour. But in The Ascent of Money, Niall Ferguson shows that finance is in fact the foundation of human progress.
---