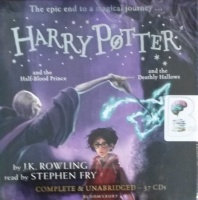 Harry Potter Collection Part 3 - Books 6 and 7 written by J.K. Rowling performed by Stephen Fry on CD (Unabridged)£39.99 - £59.99
Witches and wizards unite as you join the Battle of Hogwarts! Complete the entire series of J.K. Rowling's Harry Potter stories with this enchanting audiobook collection. The 37 CDs cover The Half-Blood Prince and The Deathly Hallows and find Dark Magic rising. Will Harry be able to summon the courage (and the...
---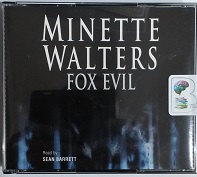 Fox Evil written by Minette Walters performed by Sean Barrett on CD (Abridged)£4.99 - £6.99
When elderly Ailsa Lockyer-Fox is found dead in her garden, dressed only in night clothes and with blood stains on the ground near her body, the finger of suspicion points at her wealthy, landowning husband, Colonel James Lockyer-Fox.
---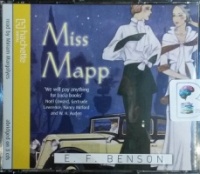 Miss Mapp written by E.F. Benson performed by Miriam Margolyes on CD (Abridged)£4.99
Nothing escapes the snooping opera glasses of Miss Elizabeth Mapp. She whiles away her busy hours observing the small English village of Tilling, and recording the antics in her notebook. But her observations are set to be disrupted by amorous advances of two retired army generals, both vying for her affection.
---
---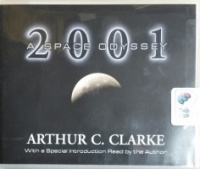 2001 - A Space Odyssey written by Arthur C. Clarke performed by Arthur C. Clarke and Dick Hill on CD (Unabridged)£19.99
It has been more than forty years since the publication of this classic science fiction novel that changed the way we look at the stars and ourselves. From the savannas of Africa at the dawn of mankind to the rings of Saturn as man adventures to the outer rim of our solar system, 2001: A Space Odyssey is a ...
---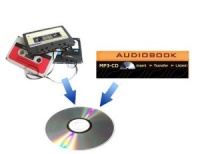 3 Hour Fixed Price Audio Transfer£15.00
This is the fixed price £15 item to be used when ordering conversion of a sub 3 hour Audio Cassette or MP3 CD title.
---
---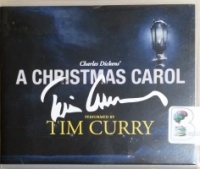 A Christmas Carol written by Charles Dickens performed by Tim Curry on CD (Unabridged)£16.99
This version of Charles Dickens's A Christmas Carol, masterfully narrated by Tim Curry, was available for a limited time last year, and now it's back. This one-of-a-kind performance puts a unique spin on a treasured classic, and served as the inspiration for the exciting new line of Audible Signature Classics...
---
---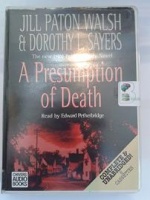 A Presumption of Death written by Jill Paton Walsh and Dorothy L Sayers performed by Edward Petherbridge on Cassette (Unabridged)£29.99 - £39.99
The story opens in 1940. Harriet Vane - now Lady Peter Wimsey - has taken her children to safety in the country. But the war has followed them: glamorous RAF pilots and even more glamorous land-girls scandalise the villagers; the blackout makes the night-time lanes as sinister as the back alleys of London.
---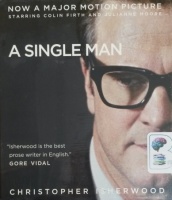 A Single Man written by Christopher Isherwood performed by Simon Prebble on CD (Unabridged)£19.99
Celebrated as a masterpiece from its first publication, A Single Man is the story of George, an English professor in suburban California left heartbroken after the death of his lover, Jim. With devastating clarity and humour, Christopher Isherwood shows George's determination to carry on, evoking the unexpected...
---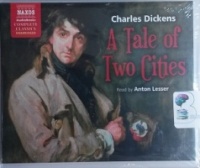 A Tale of Two Cities written by Charles Dickens performed by Anton Lesser on CD (Unabridged)£49.99 - £59.99
It was the best of times and the worst of times'. In one of the most famous openings of any novel, Dickens masterfully presents the turmoil of the French Revolution which is the backdrop for a novel of love, patience, hope and self-sacrifice. It is read by Anton Lesser whose award-winning Dickens... Naxos
---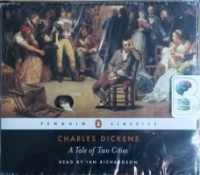 A Tale of Two Cities written by Charles Dickens performed by Ian Richardson on CD (Abridged)£5.99 - £9.99
After 18 years as a political prisoner in the Bastille the aging Dr Manette is finally released and reunited with his daughter in England.
---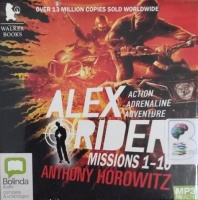 Alex Rider Missions 1 to 10 written by Anthony Horowitz performed by Jonathan Davies on MP3 CD (Unabridged)£29.99
In the number one bestselling series by Anthony Horowitz, 14-year-old Alex Rider is forcibly recruited into the deadly world of espionage and sent on his first mission. But mortal danger is never far away and the reluctant teenage spy soon finds himself in demand again by MI6. The ever popular and explosive...
---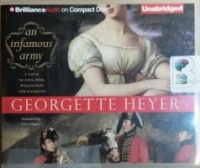 An Infamous Army written by Georgette Heyer performed by Claire Higgins on CD (Unabridged)£24.99 - £34.99
In 1815, beneath the aegis of the Army of Occupation, Brussels is the gayest town in Europe. And the widow Lady Barbara Childe, renowned for being as outrageous as she is beautiful, is at the centre of all that is fashionable and light-hearted. When she meets Charles Audley, dashing aide-de-camp...
---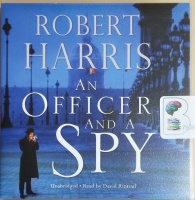 An Officer and a Spy written by Robert Harris performed by David Rintoul on CD (Unabridged)£14.99
They lied to protect their country. He told the truth to save it. A gripping historical thriller from the bestselling author of FATHERLAND. January 1895. On a freezing morning in the heart of Paris, an army officer, Georges Picquart, witnesses a convicted spy, Captain Alfred Dreyfus, being publicly humiliated in front..
---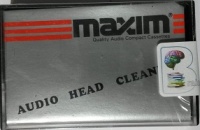 Audio Head Cleaner written by Maxim performed by Maxim on Cassette (Unabridged)£4.99
Very few of us like spending time cleaning. But...... cleaning the head of your tape player can give impressive results. If you haven't used a head cleaner for a significant period of time you should introduce it's use slowly. There may well be an accumulation of deposits on the rubber rollers ...
New In November 2018 Part 2
(in alphabetical order)
Chasing Gold - The Incredible Story of How the Nazis Stole Europe's Bullion written by George M. Taber performed by Robertson Dean on CD (Unabridged)£49.99

In the highly anticipated new book from the best-selling author of Judgment of Paris,George M. Taber reveals the integral role gold played in World War II, from its influence on the Nazi war machine to the ultimate triumph by the Allies and the fall of Berlin. For the entire history of human civilization...

Cider with Rosie written by Laurie Lee performed by Laurie Lee on CD (Unabridged)£69.99

Cider with Rosie is a vivid memoir of childhood in a remote Cotswold village, a village before electricity or cars, a timeless place on the verge of change. Growing up amongst the fields and woods and characters of the place, Laurie Lee depicts a world that is both immediate and real and belongs to a now-distant past.

D-Day - The Battle for Normandy written by Antony Beevor performed by Cameron Stewart on MP3 CD (Unabridged)£19.99 - £39.99

The Normandy Landings that took place on D-Day involved by far the largest invasion fleet ever known. The scale of the undertaking was simply awesome. What followed them was some of the most cunning and ferocious fighting of the war, at times as savage as anything seen on the Eastern Front.

Emma written by Jane Austen performed by Juliet Stevenson on CD (Unabridged)£19.99 - £39.99

Arrogant, self-willed and egotistical, Emma is Jane Austen's most unusual heroine. Her interfering ways and inveterate matchmaking are at once shocking and comic. She is 'handsome, clever and rich' and has 'a disposition to think too well of herself'. When she decides to introduce the humble...

En Honor Al Espiritu Santo written by Cash Luna performed by Cash Luna on CD (Unabridged)£4.99

El renombrado autor Cash Luna presenta una versión renovada del clásico best seller En honor al Espíritu Santo. El autor basa el contenido de este libro en su experiencia personal. A partir de ella, imparte una profunda enseñanza sobre el poder del Espíritu Santo y cómo obra en la vida de las personas.

Exposed - A Maggie O'Dell Novel written by Alex Kava performed by Tanya Eby on CD (Unabridged)£14.99

Agent Maggie O'Dell believes she's responding to a threat, but instead walks into a trap. The killer's weapon is a deadly virus, virtually invisible and totally unexpected. Maggie knows dangerous minds – from hauntingly perverse child predators to cunningly twisted serial killers.

Methuselah's Children written by Robert A. Heinlein performed by MacLeod Andrews on CD (Unabridged)£19.99

After the fall of the American Ayatollahs as foretold in Stranger in a Strange Land and chronicled in Revolt in 2100, the United States of America at last fulfills the promise inherent in its first Revolution: for the first time in human history there is a nation with Liberty and Justice for All.

My Journey with Maya written by Tavis Smiley with David Ritz performed by Tavis Smiley on CD (Unabridged)£19.99

Tavis Smiley and Maya Angelou met in 1986, when he was twenty-one and she was fifty-eight. For the next twenty-eight years, Angelou was a teacher and a maternal figure to Smiley, and they talked often of art, politics, history, music, religion, and race. In My Journey with Maya, Smiley beautifully...

Road Dog - Life and Reflections from the Road as a Stand-Up Comic written by Dov Davidoff performed by Dov Davidoff on MP3 CD (Unabridged)£19.99

Road Dog is comedian, actor, and writer, Dov Davidoff's unflinching memoir told through reflections of twelve months on the road. Davidoff travels across the country from college campuses to local theaters doing stand-up comedy and telling it like it is. He's been known to wax poetic about everything...

Science Fiction Writers written by British Library performed by Douglas Adams, Brian Aldiss, Isaac Asimov and J G Ballard on CD (Abridged)£7.99 - £9.99

What is science fiction? Are science fiction writers under-appreciated compared to literary novelists? Is their prime mission to predict the future or to comment on the present? These and other questions are discussed by major writers including Isaac Asimov, Douglas Adams, Brian Aldiss, .....

Sidetracked written by Henning Mankell performed by Sean Barrett on Cassette (Unabridged)£29.99

Midsummer approaches, and Wallander prepares for a holiday with the new woman in his life, hopeful that his wayward daughter and his ageing father will cope without him. But his summer is ruined when a girl commits suicide before his eyes, and a former minister of justice is butchered in the...

The Casebook of Sherlock Holmes written by Arthur Conan Doyle performed by Derek Jacobi on CD (Unabridged)£24.99 - £39.99

A Genius Performance by Derek Jacobi!
The Complete and Unabridged version of this fantastic author's last stories. Probably the best adventure stories ever told!

The Complete Sherlock Holmes written by Arthur Conan Doyle performed by Simon Vance on MP3 CD (Unabridged)£7.28 £26.99

Winner of the 2014 Audie Award for Classics Sir Arthur Conan Doyle's Sherlock Holmes tales are rightly ranked among the seminal works of mystery and detective fiction. Included in this collection are all four full-length Holmes novels and more than forty short masterpiece.

The Copper Beech written by Maeve Binchy performed by Kate Binchy on CD (Unabridged)£29.99 - £39.99

By the school house at Shancarrig stands a copper beech, its bark scarred with the names and dreams of the pupils who have grown up under its branches.

The Love Dare for Parents written by Dare Test.com performed by Adam Verner on CD (Unabridged)£19.99

While parents long to better influence and express love to their children, they often have no clear plan of action. As a result, daily hopes turn into years of missed opportunities. The Love Dare for Parents helps busy moms and dads more fully cherish, enjoy, and impact each of their children during ...

The Master and Margarita written by Mikhail Bulgakov performed by Julian Rhind-Tutt on CD (Unabridged)£39.99

The Devil comes to Moscow; but he isn't all bad. Pontius Pilate sentences a charismatic leader to his death, but yearns for redemption; and a writer tries to destroy his greatest tale, but discovers that manuscripts don't burn. Multilayered and entrancing, blending sharp satire with glorious fantasy...

The Servents of Twilight written by Dean Koontz performed by Angela Dawe on CD (Unabridged)£14.99

An ordinary parking lot in southern California. Christine Scavello and her six-year-old son are accosted by a strange old woman. "I know who you are," the woman snaps at the boy. "I know what you are." A scream, a threat - and then a grotesque act of violence. Suddenly Christine's pride and joy...

Tropic of Squalor - Poems written by Mary Karr performed by Mary Karr on CD (Unabridged)£14.99

Long before she earned accolades for her genre-defining memoirs, Mary Karr was winning poetry prizes. Now the beloved author returns with a collection of bracing poems as visceral and deeply felt and hilarious as her memoirs. In Tropic of Squalor, Karr dares to address the numinous-that mystery...

Undercurrent - A Siren Novel written by Tricia Rayburn performed by Nicola Barber on CD (Unabridged)£19.99

The sirens are back, but Vanessa may be the biggest threat of all.... Nothing has been normal since Vanessa Sands learned that her sister was murdered by siren femme fatales of the watery depths and that everything she believed about her family was a lie. Her boyfriend, Simon, has been the only...

What Remains True written by Janis Thomas performed by Lauren Ezzo, Scott Lange, Mikael Naramore and Nick Podehl on CD (Unabridged)£14.99

In this mesmerizing drama, one life-altering event catapults a family into turmoil, revealing secrets that may leave them fractured forever...or bind them together tighter than ever before. From the outside, the Davenports look like any other family living a completely ordinary life - until that...

Wrath of the Titans - Radio Drama written by Darren G. Davies and Scott Davis performed by The Colonial Radio Theatre, J.T. Turner and Alex Bookstein on CD (Unabridged)£14.99

Five years have passed since the legendary Perseus defeated the evil Gorgon Medusa, killed the Kraken and assumed the crown of Argos. Things seemed idyllic throughout the kingdom and the news of an heir put the citizens in a celebratory mood. Yet lurking in the shadows is the one being...
---
---
Dillinger written by Jack Higgins performed by Dick Hill on CD (Unabridged)£39.99
The dramatic final moments of the legendary outlaw's career - retold by the world's master storyteller, Jack Higgins. Early March 1934, America's most notorious criminal makes his spectacular escape from Lake County Jail, Indiana. Three months later, John Dillinger, the last American outlaw, is gunned down..
---
---
---
---
---
---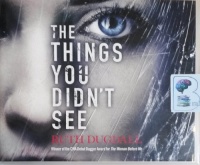 The Things You Didn't See written by Ruth Dugdall performed by Elizabeth Knowelden on CD (Unabridged)£39.99
Her instincts are telling her something isn't right... On a chilly morning in rural Suffolk, Cassandra Hawke is woken by a gunshot. Her mother is clinging on to her life, the weapon still lying nearby. Everyone thinks it's attempted suicide - but none of it makes any sense to Cass. She's certain there's more to it than...
---
---
---
---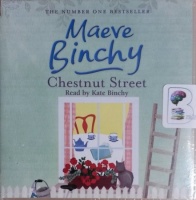 Chestnut Street written by Maeve Binchy performed by Kate Binchy on CD (Unabridged)£19.99
Just round the corner from St Jarlath's Crescent (featured in MINDING FRANKIE) is Chestnut Street. Here, the lives of the residents are revealed in Maeve Binchy's wonderfully compelling tales: Bucket Maguire, the window cleaner, who must do more than he bargained for to protect his son. Nessa Byrne...
---
---
---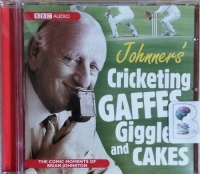 Johnners' Cricketing Gaffes, Giggles and Cakes written by Brian Johnston performed by Brian Johnston on CD (Abridged)£4.99 - £9.99
A compilation of cricketing moments including the letter from William H Tit, the streakers commentaries, the chocolate cake mouthfuls, Johnners numerous scoring mix ups, the resemblance between Fred Trueman and a turnip, cricket for the blind, Jim'll Fix it voiceover, Ned Sherrin interviewing Johnners on his...