---
---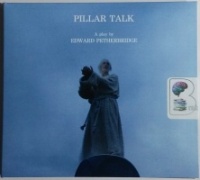 Pillar Talk - A Play written by Edward Petherbridge performed by Edward Petherbridge on CD (Unabridged)£14.99
Exclusive to Brainfood Audiobooks! Esteemed actor Edward (Nicholas Nickleby) Petherbridge uses the story of Symeon Stylites, the 5th century monk who lived on a pillar for thirty-six years, as a framework for an existential inquiry into imagination, belief, doubt, miracles and why one would live 'as I live.'
---
---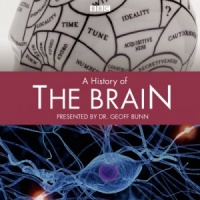 A History of the Brain written by Dr Geoff Bunn performed by Dr Geoff Bunn on CD (Unabridged)£6.99 - £7.29
This set covers 10 x 15 minute series on Radio 4 which was part of a two-week "Brain Season".
It explains in clear terms the latest discoveries in neuroscience. In this unprecedented journey, covering over 2,500 years of development in our understanding of what it is to be human.
---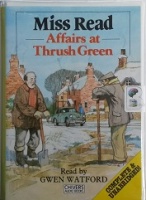 Affairs at Thrush Green written by Mrs Dora Saint as Miss Read performed by Gwen Watford on Cassette (Unabridged)£16.99 - £19.99
When Charles Henstock, rector of Thrush Green, moves a mile downhill to the parish of Lulling, his many friends rejoice in his promotion. But an unfortunate skirmish with one of his wealthy parishioners over the Lady Chapel kneelers saddens him. England, 1930s.
---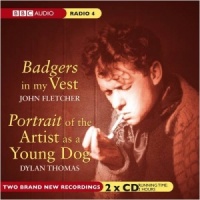 Badgers in My Vest and Portrait of the Artist as a Young Dog written by Dylan Thomas performed by BBC Full Cast Dramatisation on CD (Unabridged)£4.99 - £6.99
Badgers in My Vest is a new, darkly funny play by an acclaimed contemporary playwright, based on a true incident in Dylan Thomas' life.
---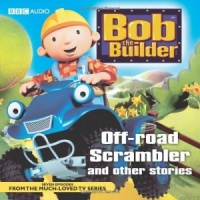 Bob the Builder - Off-Road Scrambler written by Bob the Builder Team performed by Bob the Builder Team on CD (Unabridged)£2.99
This title includes seven episodes from the hugely popular series featuring Bob the Builder, Roley, Lofty, Dizzy, Scoop, Muck and Spud - as seen on BBC TV.
---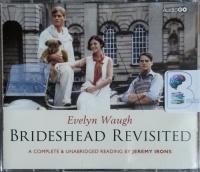 Brideshead Revisited written by Evelyn Waugh performed by Jeremy Irons on CD (Unabridged)£29.99 - £39.99
Brideshead Revisited is Evelyn Waugh's stunning novel of duty and desire set amongst the decadent, faded glory of the English aristocracy in the run-up to the Second World War.
Performed brilliantly by Jeremy Irons
---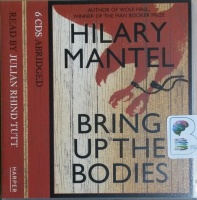 Bring Up The Bodies written by Hilary Mantel performed by Julian Rhind Tutt on CD (Abridged)£5.99
Winner of the Man Booker Prize 2012 Winner of the 2012 Costa Book of the Year Shortlisted for the 2013 Women's Prize for Fiction 'Simply exceptional…I envy anyone who hasn't yet read it'Daily Mail 'A gripping story of tumbling fury and terror'Independent on Sunday With this historic win for Bring Up the Bodies...
---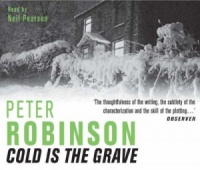 Cold is the Grave written by Peter Robinson performed by Neil Pearson on CD (Abridged)£19.99
Detective Inspector Alan Banks relationship with Chief Constable Riddle has always been strained. So Banks is more than a little surprised when Riddle summons him late one night and begs for his help.
---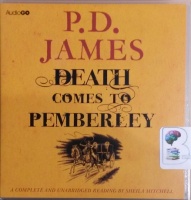 Death Comes to Pemberley written by P.D. James performed by Sheila Mitchell on CD (Unabridged)£4.99 - £9.99
The year is 1803, and Darcy and Elizabeth have been married for six years.
There are now two handsome and healthy sons in the nursery, Elizabeth's beloved sister Jane and her husband Bingley live nearby and the orderly world of Pemberley seems unassailable.
---
---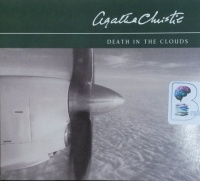 Death in the Clouds written by Agatha Christie performed by David Timson on CD (Abridged)£4.99
From seat No.9, Hercule Poirot was ideally placed to observe his fellow air passengers. Over to his right sat a pretty young woman, ahead, across the gangway in seat No.8, a detective writer was being troubled by an aggressive wasp. What Poirot did not yet realize was that behind him, in seat No.2, sat the ...
---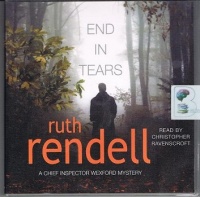 End in Tears written by Ruth Rendell performed by Christopher Ravenscroft on CD (Abridged)£4.99
A lump of concrete dropped deliberately from a little stone bridge kills the wrong person. The young woman in the car behind is spared. But only for a while...
---
---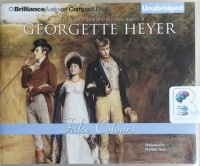 False Colours written by Georgette Heyer performed by Phyllida Nash on CD (Unabridged)£19.99 - £24.99
The honourable Christopher Fancot, on leave from the Diplomatic Service in the summer of 1817, is startled to find his entrancing but incorrigibly extravagant mother on the brink of financial and social ruin - and more than alarmed that his identical twin, Evelyn, Earl of Denville, has disappeared ...
---
---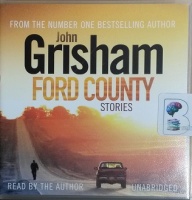 Ford County - Stories written by John Grisham performed by John Grisham on CD (Unabridged)£4.99
In his first collection of short stories John Grisham takes us back to Ford County, Mississippi, the setting of his first novel, A TIME TO KILL. ·Wheelchair-bound Inez Graney and her two older sons, Leon and Butch, take a bizarre road trip through the Mississippi Delta to visit the youngest Graney brother...
---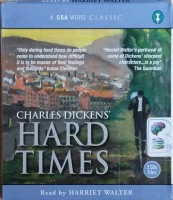 Hard Times written by Charles Dickens performed by Harriet Walter on CD (Abridged)£9.99
Set in the north of England during the 19th century, 'Hard Times' is the story of Thomas Gradgrind, a schoolmaster, who has strong and overbearing views on how his children, Louisa and Tom, should behave in order to become 'models in society'.
---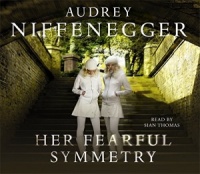 Her Fearful Symmetry written by Audrey Niffenegger performed by Sian Thomas on CD (Abridged)£4.49 - £4.99
dearest e, I told you I would let you know-so here it is-goodbye. I try to imagine what it would feel like if it was you-but it's impossible to conjure the world without you, even though we've been apart so long. I didn't leave you anything. You got to live my life.
---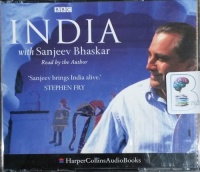 India written by Sanjeev Bhaskar performed by Sanjeev Bhaskar on CD (Unabridged)£9.99
Exotic and diverse, richly colourful and intriguingly complex: India is one of the most exciting countries to visit in the world today. Sanjeev Bhaskar, of Goodness Gracious Me and The Kumars at No. 42, grew up in 70s surburban West London, so his regular family visits to India to see his relatives gave him ...
New In November 2018 Part 1
(in alphabetical order)
A Funeral in Blue written by Anne Perry performed by Terrence Hardiman on Cassette (Unabridged)£19.99

When her brother arrives on her doorstep, Hester Monk is shocked - as much by the unexpectedness of the visit as by the reason for it. For since her marriage to Monk, Charles and his elegant wife, Imogen, have kept their distance. But now Charles needs Hester's help.

A Sudden Fearful Death written by Anne Perry performed by Terrence Hardiman on Cassette (Unabridged)£24.99

Death might be commonplace in 1857 at the Royal Free Hospital in London's Gray's Inn Road, but murder certainly isn't. When the body of Prudence Barrymore, a gently bred, dedicated and passionate nurse, is discovered stuffed into a laundry chute, no-one - high born or low - can be beyond suspicion.

A Tale of Two Cities written by Charles Dickens performed by BBC Full Cast Dramatisation and Robert Lindsay on CD (Abridged)£24.99 - £34.99

Robert Lindsay stars in this BBC Radio 4 full-cast dramatisation of the classic novel by Charles Dickens. From the echo of the first line 'It was the best of times, it was the worst of times' to the final 'It is a far better thing that I do than I have ever done', Dickens' classic novel of the French revolution...

Bedford Square written by Anne Perry performed by Terrence Hardiman on Cassette (Unabridged)£19.99

When a man is found murdered on the doorstep of a respectable house in Bedford Square, Victorian England's finest and most controversial policeman, Thomas Pitt, is called immediately to the scene. The only clue to the victim's identity is a silver snuff box found on the body, curiously at odds...

Blue Diary written by Alice Hoffman performed by Joyce Bean on CD (Unabridged)£24.99

The revelation of a dark secret about Ethan Ford's true identity and his past threatens to turn a small Massachusetts town upside down as the truth shatters Monroe's small-town peace and tests the bonds between family and friends.

Choose Them Wisely - Thoughts Become Things! written by Mike Dooley performed by Mike Dooley on CD (Unabridged)£19.99

Choose Them Wiselyis a reminder that thoughts are powerful catalysts in the life listeners want to live. Filled with inspiring, uplifting messages, Choose Them Wiselyis a joyful expression of an abundant life. Mike Dooley is a contributor to The Secretand his website www.TUT.com delivers messages...

Death of a Stranger written by Anne Perry performed by Terrence Hardiman on Cassette (Unabridged)£19.99

Every night Hester Monk tends to women of the streets who have been injured as a result of their trade. But the injuries are becoming more serious, and now a body has been discovered in one of the area's brothels. The dead man is the respected head of a successful railway company, Nolan Baltimore.

Forgotten Voices of the Second World War written by Max Arthur and Imperial War Museum Archives performed by Timothy West on Cassette (Unabridged)£14.99

Taken from the archives of the Imperial War Museum, this is a collection of audiobooks that tell the real story of WWII in sound. Programme 1 covers September 1939 - June 1941 and includes the outbreak of war- Dunkirk - Battle of Britain - the Blitz - sinking of the Bismark - Battle of Crete - Hitler...

Lieutenant Hornblower written by C.S. Forester performed by Ioan Gruffudd on CD (Abridged)£3.99 - £4.99

The nineteenth century dawns and the Napoleonic Wars rage as Horatio Hornblower faces the fury of the French and Spanish fleets combined.

Long Spoon Lane written by Anne Perry performed by Terry Wale on Cassette (Unabridged)£24.99

You need a very long spoon indeed to dine with the devil. Early one morning, two bombs explode in an East London street. Forewarned of the attack, Thomas Pitt of the Special Branch, arrives in time to chase the bombers to a tenement in Long Spoon Lane. There, two men are arrested and...

Mansfield Park written by Jane Austen performed by Juliet Stevenson on CD (Unabridged)£39.99

Fanny Price moves from poverty to the opulence of Mansfield Park at the age of ten when she is adopted by rich relations. As she grows up she faces a constant battle with the burden of her past as her relatives try to keep her in her place.

Mrs Dalloway written by Virginia Woolf performed by Juliet Stevenson on CD (Unabridged)£14.99 - £19.99

Virginia Woolfs masterwork Mrs Dalloway was at the vanguard of experimental, modernist novel-writing, and remains one of the supreme examples today. As Clarissa Dalloway prepares for a party in the evening, seemingly trivial incidents prompt her to undertake a searching reconnaissance into her...

O'Hara's Choice written by Leon Uris performed by John Bedford Lloyd on CD (Abridged)£9.99

Two decades after the Civil War, first-generation Irish-American Zachary O'Hara, son of a legendary Marine and a force of a man in his own right, finds himself playing a critical role as the very existence of the Marine Corps is being decided. If he can help persuade the Secretary of the Navy that the...

Pride and Prejudice written by Jane Austen performed by Emilia Fox on CD (Unabridged)£24.99

Jane Austen's most popular novel, originally published in 1813, some 17 years after it was first written, presents the Bennet family of Longbourn. Against the background of gossipy Mrs Bennet and the detached Mr Bennet, the quest is on for husbands for the five daughters.

Shoulder the Sky written by Anne Perry performed by Cornelius Garrett on Cassette (Unabridged)£19.99

It is the spring of 1915, but deep in the trenches, there is no summer in sight... Shoulder the Sky is the second novel in Anne Perry's insightful and harrowing quintet charting the English experience of the First World War. Perfect for fans of Pat Barker and Sebastian Barry.

Skeleton Hill written by Peter Lovesey performed by Simon Prebble on CD (Unabridged)£24.99

On Lansdown Hill, near Bath, England, a battle between Roundheads and Cavaliers that took place over 350 years ago is annually reenacted. Two of the reenactors discover a skeleton that is female, headless, and only about twenty years old. One of them, a professor who played a Cavalier...

Slaves and Obsession written by Anne Perry performed by Terrence Hardiman on Cassette (Unabridged)£24.99

It is 1861, and the American Civil War has just begun. London arms dealer Daniel Alberton is becoming a very wealthy man, and his quiet dinner party seems remote indeed from the passions rending America. Yet investigator William Monk and his bride, Hester, sense growing tensions...

Southampton Row written by Anne Perry performed by Terrence Hardiman on Cassette (Unabridged)£19.99

A riveting new Thomas and Charlotte Pitt novel, in which Anne Perry again proves her mastery of the people, the mores, and the politics of theVictorian era she has made her own. A general election is approaching and Thomas is called to monitor the bitter struggle for one crucial London seat.

Tale of A One Way Street written by Joan Aiken performed by Jane Asher on MP3 CD (Unabridged)£9.99

A magical collection of short stories from bestselling author Joan Aiken. We are taken to peculiar lands where all the magical things that only seem to happen in dreams really do happen. We meet strange creatures by going the wrong way up a one-way street.

Tanner on Ice written by Lawrence Block performed by Lawrence Block on Cassette (Abridged)£9.99

Presenting EVAN TANNER—the first series character created by Lawrence Block, bestselling author of A WALK AMONG THE TOMBSTONES... Ever since a shred of shrapnel did a number on his brain's sleep center, Even Tanner has been awake 24/7. This gives him more time than your average underachiever.

The Dogs of Riga written by Henning Mankell performed by Sean Barrett on Cassette (Unabridged)£14.99 - £19.99

A few days later what they have been warned of comes to pass: a life raft is washed up on a beach. In it are two men, dressed in expensive suits, shot dead.The dead men were Eastern European criminals, victims of what seems to have been a gangland hit. But what appears in Sweden to be an open-and-shut case soon takes on ...

The History of Classical Music written by Richard Fawkes performed by Robert Powell on CD (Abridged)£9.99

A superb crossover title of enormous appeal to the vast selection of the population that enjoys classical music, but would like to know more about it. From Gregorian Chant to Henryk Gorecki, the first living classical composer to get into the pop album charts, here is the fascinating story of over...

The Hope Quotient - Measure it - Raise it - You'll Never Be the Same written by Ray Johnston performed by Dave Hoffman on MP3 CD (Unabridged)£9.99

A revolutionary new method for gauging your level of hope, the seven essentials that will help you increase it, and why it s so important. Underneath every thriving person, every thriving marriage, kid, and business is one factor: hope. Hope, the confident expectation that God has better days ahead...

The Man Who Ate the World - In search of the Perfect Dinner written by Jay Rayner performed by Jay Rayner on CD (Unabridged)£14.99

It's about the globalisation of high culture, the market in taste and the money spent on it. From Las Vegas to Moscow, Dubai to Tokyo and New York to London, Jay Rayner chronicles the revolution in high-end gastronomy that has been sweeping the world since the late eighties.

The Story of My Teeth written by Valeria Luiselli performed by Armando Duran and Thom Rivera on MP3 CD (Unabridged)£29.99

Gustavo 'Highway' Sanchez is a man with a mission: he is planning to replace every last one of his unsightly teeth. He has a few skills that might help him on his way: he can imitate Janis Joplin after two rums, he can interpret Chinese fortune cookies, he can stand an egg upright on a table...

The Tenth Power written by Kate Constable performed by Lina Patel on CD (Unabridged)£34.99

When she returns home from the Meithuran Empire, Calwyn is weak and without magic, thus arriving to find her land in ruins and her people deathly sick, the once powerful Calwyn must use the remaining strength she has to regain her powers and help those she loves the most.

The Thirst written by Jo Nesbo performed by Sean Barrett on CD (Unabridged)£8.99 - £19.99

HARRY HOLE IS BACK! A BLISTERING NEW THRILLER FROM THE NUMBER 1 BESTSELLING AUTHOR OF THE SNOWMAN AND POLICE. THERE'S A NEW KILLER ON THE STREETS... A woman is found murdered after an internet date. The marks left on her body show the police that they are dealing...

The Twisted Root written by Anne Perry performed by Terrence Hardiman on Cassette (Unabridged)£29.99

For Miriam Gardiner, at her engagement party at the London home of her fiancé, Lucius Stourbridge, it should have been one of the happiest days of her life. But, leaving suddenly, Miriam disappears without a trace. Reluctant to cause a scandal, Lucius seeks out William Monk and tells him that...

The Vigilantes - A Badge of Honor Novel written by W.E.B. Griffin and William E. Butterworth IV performed by Scott Brick on CD (Unabridged)£19.99 - £24.99

Murders are on the rise in Philadelphia-but no one seems to mind because the victims are all fugitives with histories of heinous sex crimes against women and children. Worse for Homicide Sergeant Matt Payne, the main suspect is leaving evidence for police to find. But when copycat killings start...

The Whitechapel Conspiracy written by Anne Perry performed by Terrence Hardiman on Cassette (Unabridged)£19.99

It is 1892 and the grisly killings of Whitechapel prostitutes by a man dubbed Jack the Ripper remain a frightening enigma. And in a packed Old Bailey courtroom, distinguished soldier John Adinett is sentenced to hang for the inexplicable murder of his friend Martin Fetters.

The Worst-Case Scenario Survival Handbook: Dating and Sex written by Joshua Piven, David Borgenicht and Jennifer Worick performed by Laura Hamilton on Cassette (Unabridged)£14.99

A guide to negotiating the perils of dating offers advice on escaping from a bad date, fending off a pick-up artist, dealing with a drunken date, and ending a relationship, and includes a list of useful excuses and a guide to body language. Read by Laura Hamilton.

Things the Grandchildren Should Know written by Mark Oliver Everett performed by The Chet on CD (Unabridged)£9.99

Mark Oliver Everett's upbringing was 'ridiculous, sometimes tragic and always unsteady'. His father - a quantum mechanic who worked for the Pentagon - was a genius who had corresponded with Einstein aged 13. He rarely spoke, and following his own miserable childhood had eccentric ideas of how...

We Shall Not Sleep written by Anne Perry performed by Cornelius Garrett on Cassette (Unabridged)£24.99

The fifth, and final, book in Anne Perry's powerful series of novels set during World War One. The war is coming to a close. Joseph Reavley's regiment has suffered huge losses but all live in hope that peace will soon be upon them, when a further, brutal tragedy strikes the Front.

Why We Make Things and Why It Matters written by Peter Korn performed by Traber Burns on MP3 CD (Unabridged)£19.99

Drawing from the author's search for meaning in the world of furniture making, explores the nature and satisfactions of creative practice and considers what the process of making things reveals about their creators and society.
---
---
---
---
---
---
---
---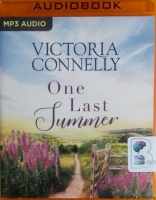 One Last Summer written by Victoria Connelly performed by Jan Cramer on MP3 CD (Unabridged)£14.99
They have the whole summer ahead of them. Is it enough to rekindle the friendship they once shared? Harriet Greenleaf dreams of spending the summer in a beautiful ancient priory on the Somerset coast with her two best friends - but her dream is bittersweet. On the one hand, it's a chance to reconnect three...
---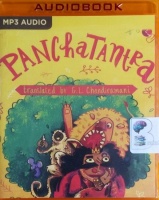 Panchatantra written by Pandit Vishnu Sharma performed by Shernaz Patel on MP3 CD (Unabridged)£9.99
The oldest surviving collection of India fables, the Panchatantra, was probably written around 200 BC by the great Hindu scholar Pandit Vishnu Sharma. The Panchatantra is a book of niti, the wise conduct of life, written in the form a chain of simple stories. Each of these stories has a moral and philosophical...
---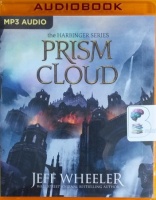 Prism Cloud - The Harbinger Series written by Jeff Wheeler performed by Kate Rudd on MP3 CD (Unabridged)£14.99
Friendship is strained to its breaking point in Wall Street Journal bestselling author Jeff Wheeler's fourth Harbinger novel. When the emperor is assassinated, Sera Fitzempress is the noble most eligible to inherit the empire. Her upcoming marriage to the prince would cement her position. And as a champion for...
---
---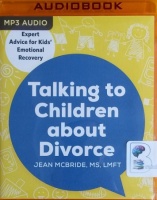 Talking to Children About Divorce - Expert Advice for Kids' Emotional Recovery written by Jean McBride MS LMFT performed by Kristin Price on MP3 CD (Unabridged)£14.99
Marriage and family therapist Jean McBride has helped more than 20,000 families navigate divorce. Now she shares her expertise with an in-depth guide to discussing divorce with your kids so you can support your child's adjustment throughout the entire divorce process. In Talking to Children About Divorce...
---
---
---
---
---
---
---