---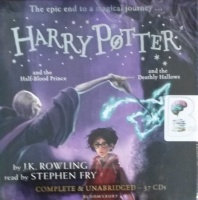 Harry Potter Collection Part 3 - Books 6 and 7 written by J.K. Rowling performed by Stephen Fry on CD (Unabridged)£39.99 - £49.99
Witches and wizards unite as you join the Battle of Hogwarts! Complete the entire series of J.K. Rowling's Harry Potter stories with this enchanting audiobook collection. The 37 CDs cover The Half-Blood Prince and The Deathly Hallows and find Dark Magic rising. Will Harry be able to summon the courage (and the...
---
---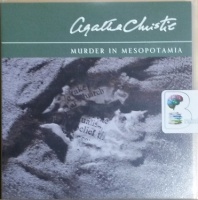 Murder in Mesopotamia written by Agatha Christie performed by Carole Boyd on CD (Abridged)£4.99
An archaeologist's wife is murdered on the shores of the River Tigris in Iraq. It was clear to Amy Leatheran that something sinister was going on at the Hassanieh dig in Iraq; something associated with the presence of 'Lovely Louise', wife of celebrated archaeologist Dr Leidner. In a few days' time Hercule...
---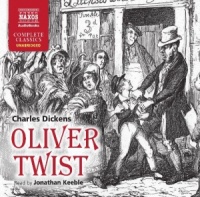 Oliver Twist written by Charles Dickens performed by Jonathan Keeble on CD (Unabridged)£29.99 - £39.99
Oliver Twist, Dickenss second novel, has enthralled generations of readers since its publication in 1838. Orphaned and desolate, Olivers journey to London and subsequent induction into its dingy underworld, is narrated with ceaseless energy by Jonathan Keeble.
---
---
---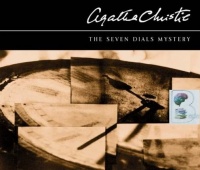 The Seven Dials Mystery written by Agatha Christie performed by Jenny Funnell on CD (Abridged)£4.99
When a practical joke played on Gerry Wade involving alarm clocks turns out to be murder the case is taken up by Lady 'Bundle' Brent and Jimmy Thesiger. Trying to work out the significance of the seven clocks found at the murder scene, they come across the Seven Dials Club.
---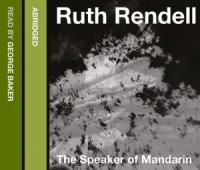 The Speaker of Mandarin written by Ruth Rendell performed by George Baker on CD (Abridged)£4.99 - £9.99
A Genius Performance by George Baker!
China both delighted and frustrated Wexford; the beauty, the history, all of that brought immense pleasure. But the unending attention of Mr Sung of the Chinese Tourist Board was hugely irritating – and that an old woman with bound feet should haunt him was puzzling and slightly frightening, without explanation.
---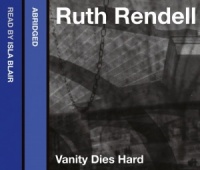 Vanity Dies Hard written by Ruth Rendell performed by George Baker on CD (Abridged)£13.99
A Genius Performance by George Baker!
Who would have believed that Alice Whittaker's life could change? She was 37, rich and dowdy with no career. Her life a lonely failure, she had got by with the one thing she did have - money....
---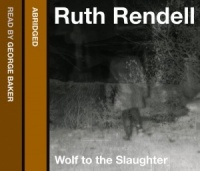 Wolf to the Slaughter written by Ruth Rendell performed by George Baker on CD (Abridged)£5.99 - £9.99
A Genius Performance by George Baker!
Anita Margolis had vanished. There was no body, no crime - nothing more than an anonymous letter and the intriguing name of Smith. According to HQ, it wasn't to be a murder enquiry at all...
---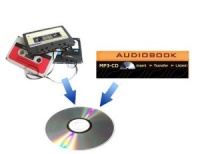 3 Hour Fixed Price Audio Transfer£15.00
This is the fixed price £15 item to be used when ordering conversion of a sub 3 hour Audio Cassette or MP3 CD title.
---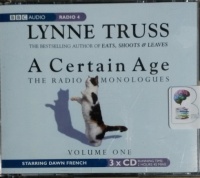 A Certain Age - The Radio Monologues Volume One written by Lynne Truss performed by Dawn French on CD (Abridged)£4.99
The original six radio monologues written by Lynne Truss, author of the phenomenal bestsellers 'Eats, Shoots & Leaves' and 'Talk to the Hand'. In the tradition of Alan Bennett's 'Talking Heads' come Lynne Truss's female monologues: six bittersweet tales of love, romance, friendship and family from the classic BBC...
---
---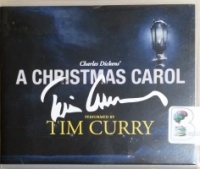 A Christmas Carol written by Charles Dickens performed by Tim Curry on CD (Unabridged)£16.99
This version of Charles Dickens's A Christmas Carol, masterfully narrated by Tim Curry, was available for a limited time last year, and now it's back. This one-of-a-kind performance puts a unique spin on a treasured classic, and served as the inspiration for the exciting new line of Audible Signature Classics...
---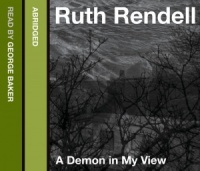 A Demon in My View written by Ruth Rendell performed by George Baker on CD (Abridged)£11.99 - £14.99
Her white face, beautiful, unmarked by any flaw of skin or feature, stared blankly back at him. He fancied that she had cringed, her slim body pressing further into the wall behind her. He didn't speak. He had never known how to talk to women.
---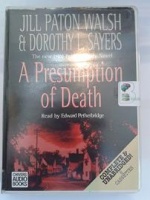 A Presumption of Death written by Jill Paton Walsh and Dorothy L Sayers performed by Edward Petherbridge on Cassette (Unabridged)£29.99 - £39.99
The story opens in 1940. Harriet Vane - now Lady Peter Wimsey - has taken her children to safety in the country. But the war has followed them: glamorous RAF pilots and even more glamorous land-girls scandalise the villagers; the blackout makes the night-time lanes as sinister as the back alleys of London.
---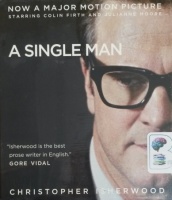 A Single Man written by Christopher Isherwood performed by Simon Prebble on CD (Unabridged)£19.99
Celebrated as a masterpiece from its first publication, A Single Man is the story of George, an English professor in suburban California left heartbroken after the death of his lover, Jim. With devastating clarity and humour, Christopher Isherwood shows George's determination to carry on, evoking the unexpected...
---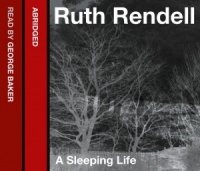 A Sleeping Life written by Ruth Rendell performed by George Baker on CD (Abridged)£19.99
The body found under the hedge was that of a middle-aged woman, biggish and gaunt. The grey eyes were wide and staring, and in them Detective Chief Inspector Wexford thought he saw a sardonic gleam, a glare, even in death, of scorn. But that must have been his imagination...
---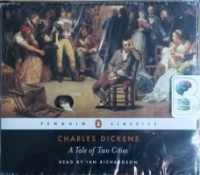 A Tale of Two Cities written by Charles Dickens performed by Ian Richardson on CD (Abridged)£5.99 - £9.99
After 18 years as a political prisoner in the Bastille the aging Dr Manette is finally released and reunited with his daughter in England.
---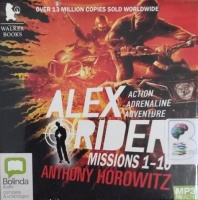 Alex Rider Missions 1 to 10 written by Anthony Horowitz performed by Jonathan Davies on MP3 CD (Unabridged)£29.99
In the number one bestselling series by Anthony Horowitz, 14-year-old Alex Rider is forcibly recruited into the deadly world of espionage and sent on his first mission. But mortal danger is never far away and the reluctant teenage spy soon finds himself in demand again by MI6. The ever popular and explosive...
---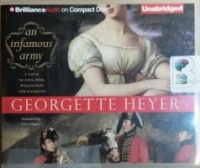 An Infamous Army written by Georgette Heyer performed by Claire Higgins on CD (Unabridged)£24.99 - £34.99
In 1815, beneath the aegis of the Army of Occupation, Brussels is the gayest town in Europe. And the widow Lady Barbara Childe, renowned for being as outrageous as she is beautiful, is at the centre of all that is fashionable and light-hearted. When she meets Charles Audley, dashing aide-de-camp...
New In November 2018 Part 1
(in alphabetical order)
A Funeral in Blue written by Anne Perry performed by Terrence Hardiman on Cassette (Unabridged)£19.99

When her brother arrives on her doorstep, Hester Monk is shocked - as much by the unexpectedness of the visit as by the reason for it. For since her marriage to Monk, Charles and his elegant wife, Imogen, have kept their distance. But now Charles needs Hester's help.

A Sudden Fearful Death written by Anne Perry performed by Terrence Hardiman on Cassette (Unabridged)£24.99

Death might be commonplace in 1857 at the Royal Free Hospital in London's Gray's Inn Road, but murder certainly isn't. When the body of Prudence Barrymore, a gently bred, dedicated and passionate nurse, is discovered stuffed into a laundry chute, no-one - high born or low - can be beyond suspicion.

A Tale of Two Cities written by Charles Dickens performed by BBC Full Cast Dramatisation and Robert Lindsay on CD (Abridged)£24.99 - £34.99

Robert Lindsay stars in this BBC Radio 4 full-cast dramatisation of the classic novel by Charles Dickens. From the echo of the first line 'It was the best of times, it was the worst of times' to the final 'It is a far better thing that I do than I have ever done', Dickens' classic novel of the French revolution...

Blue Diary written by Alice Hoffman performed by Joyce Bean on CD (Unabridged)£24.99

The revelation of a dark secret about Ethan Ford's true identity and his past threatens to turn a small Massachusetts town upside down as the truth shatters Monroe's small-town peace and tests the bonds between family and friends.

Choose Them Wisely - Thoughts Become Things! written by Mike Dooley performed by Mike Dooley on CD (Unabridged)£19.99

Choose Them Wiselyis a reminder that thoughts are powerful catalysts in the life listeners want to live. Filled with inspiring, uplifting messages, Choose Them Wiselyis a joyful expression of an abundant life. Mike Dooley is a contributor to The Secretand his website www.TUT.com delivers messages...

Death of a Stranger written by Anne Perry performed by Terrence Hardiman on Cassette (Unabridged)£19.99

Every night Hester Monk tends to women of the streets who have been injured as a result of their trade. But the injuries are becoming more serious, and now a body has been discovered in one of the area's brothels. The dead man is the respected head of a successful railway company, Nolan Baltimore.

Forgotten Voices of the Second World War written by Max Arthur and Imperial War Museum Archives performed by Timothy West on Cassette (Unabridged)£14.99

Taken from the archives of the Imperial War Museum, this is a collection of audiobooks that tell the real story of WWII in sound. Programme 1 covers September 1939 - June 1941 and includes the outbreak of war- Dunkirk - Battle of Britain - the Blitz - sinking of the Bismark - Battle of Crete - Hitler...

Lieutenant Hornblower written by C.S. Forester performed by Ioan Gruffudd on CD (Abridged)£3.99 - £4.99

The nineteenth century dawns and the Napoleonic Wars rage as Horatio Hornblower faces the fury of the French and Spanish fleets combined.

Long Spoon Lane written by Anne Perry performed by Terry Wale on Cassette (Unabridged)£24.99

You need a very long spoon indeed to dine with the devil. Early one morning, two bombs explode in an East London street. Forewarned of the attack, Thomas Pitt of the Special Branch, arrives in time to chase the bombers to a tenement in Long Spoon Lane. There, two men are arrested and...

Mrs Dalloway written by Virginia Woolf performed by Juliet Stevenson on CD (Unabridged)£14.99 - £19.99

Virginia Woolfs masterwork Mrs Dalloway was at the vanguard of experimental, modernist novel-writing, and remains one of the supreme examples today. As Clarissa Dalloway prepares for a party in the evening, seemingly trivial incidents prompt her to undertake a searching reconnaissance into her...

O'Hara's Choice written by Leon Uris performed by John Bedford Lloyd on CD (Abridged)£9.99

Two decades after the Civil War, first-generation Irish-American Zachary O'Hara, son of a legendary Marine and a force of a man in his own right, finds himself playing a critical role as the very existence of the Marine Corps is being decided. If he can help persuade the Secretary of the Navy that the...

Pride and Prejudice written by Jane Austen performed by Emilia Fox on CD (Unabridged)£24.99

Jane Austen's most popular novel, originally published in 1813, some 17 years after it was first written, presents the Bennet family of Longbourn. Against the background of gossipy Mrs Bennet and the detached Mr Bennet, the quest is on for husbands for the five daughters.

Shoulder the Sky written by Anne Perry performed by Cornelius Garrett on Cassette (Unabridged)£19.99

It is the spring of 1915, but deep in the trenches, there is no summer in sight... Shoulder the Sky is the second novel in Anne Perry's insightful and harrowing quintet charting the English experience of the First World War. Perfect for fans of Pat Barker and Sebastian Barry.

Skeleton Hill written by Peter Lovesey performed by Simon Prebble on CD (Unabridged)£24.99

On Lansdown Hill, near Bath, England, a battle between Roundheads and Cavaliers that took place over 350 years ago is annually reenacted. Two of the reenactors discover a skeleton that is female, headless, and only about twenty years old. One of them, a professor who played a Cavalier...

Slaves and Obsession written by Anne Perry performed by Terrence Hardiman on Cassette (Unabridged)£24.99

It is 1861, and the American Civil War has just begun. London arms dealer Daniel Alberton is becoming a very wealthy man, and his quiet dinner party seems remote indeed from the passions rending America. Yet investigator William Monk and his bride, Hester, sense growing tensions...

Southampton Row written by Anne Perry performed by Terrence Hardiman on Cassette (Unabridged)£19.99

A riveting new Thomas and Charlotte Pitt novel, in which Anne Perry again proves her mastery of the people, the mores, and the politics of theVictorian era she has made her own. A general election is approaching and Thomas is called to monitor the bitter struggle for one crucial London seat.

Tale of A One Way Street written by Joan Aiken performed by Jane Asher on MP3 CD (Unabridged)£9.99

A magical collection of short stories from bestselling author Joan Aiken. We are taken to peculiar lands where all the magical things that only seem to happen in dreams really do happen. We meet strange creatures by going the wrong way up a one-way street.

Tanner on Ice written by Lawrence Block performed by Lawrence Block on Cassette (Abridged)£9.99

Presenting EVAN TANNER—the first series character created by Lawrence Block, bestselling author of A WALK AMONG THE TOMBSTONES... Ever since a shred of shrapnel did a number on his brain's sleep center, Even Tanner has been awake 24/7. This gives him more time than your average underachiever.

The Dogs of Riga written by Henning Mankell performed by Sean Barrett on Cassette (Unabridged)£14.99 - £19.99

A few days later what they have been warned of comes to pass: a life raft is washed up on a beach. In it are two men, dressed in expensive suits, shot dead.The dead men were Eastern European criminals, victims of what seems to have been a gangland hit. But what appears in Sweden to be an open-and-shut case soon takes on ...

The History of Classical Music written by Richard Fawkes performed by Robert Powell on CD (Abridged)£9.99

A superb crossover title of enormous appeal to the vast selection of the population that enjoys classical music, but would like to know more about it. From Gregorian Chant to Henryk Gorecki, the first living classical composer to get into the pop album charts, here is the fascinating story of over...

The Hope Quotient - Measure it - Raise it - You'll Never Be the Same written by Ray Johnston performed by Dave Hoffman on MP3 CD (Unabridged)£9.99

A revolutionary new method for gauging your level of hope, the seven essentials that will help you increase it, and why it s so important. Underneath every thriving person, every thriving marriage, kid, and business is one factor: hope. Hope, the confident expectation that God has better days ahead...

The Man Who Ate the World - In search of the Perfect Dinner written by Jay Rayner performed by Jay Rayner on CD (Unabridged)£14.99

It's about the globalisation of high culture, the market in taste and the money spent on it. From Las Vegas to Moscow, Dubai to Tokyo and New York to London, Jay Rayner chronicles the revolution in high-end gastronomy that has been sweeping the world since the late eighties.

The Story of My Teeth written by Valeria Luiselli performed by Armando Duran and Thom Rivera on MP3 CD (Unabridged)£29.99

Gustavo 'Highway' Sanchez is a man with a mission: he is planning to replace every last one of his unsightly teeth. He has a few skills that might help him on his way: he can imitate Janis Joplin after two rums, he can interpret Chinese fortune cookies, he can stand an egg upright on a table...

The Tenth Power written by Kate Constable performed by Lina Patel on CD (Unabridged)£34.99

When she returns home from the Meithuran Empire, Calwyn is weak and without magic, thus arriving to find her land in ruins and her people deathly sick, the once powerful Calwyn must use the remaining strength she has to regain her powers and help those she loves the most.

The Thirst written by Jo Nesbo performed by Sean Barrett on CD (Unabridged)£8.99 - £19.99

HARRY HOLE IS BACK! A BLISTERING NEW THRILLER FROM THE NUMBER 1 BESTSELLING AUTHOR OF THE SNOWMAN AND POLICE. THERE'S A NEW KILLER ON THE STREETS... A woman is found murdered after an internet date. The marks left on her body show the police that they are dealing...

The Twisted Root written by Anne Perry performed by Terrence Hardiman on Cassette (Unabridged)£29.99

For Miriam Gardiner, at her engagement party at the London home of her fiancé, Lucius Stourbridge, it should have been one of the happiest days of her life. But, leaving suddenly, Miriam disappears without a trace. Reluctant to cause a scandal, Lucius seeks out William Monk and tells him that...

The Vigilantes - A Badge of Honor Novel written by W.E.B. Griffin and William E. Butterworth IV performed by Scott Brick on CD (Unabridged)£19.99 - £24.99

Murders are on the rise in Philadelphia-but no one seems to mind because the victims are all fugitives with histories of heinous sex crimes against women and children. Worse for Homicide Sergeant Matt Payne, the main suspect is leaving evidence for police to find. But when copycat killings start...

The Worst-Case Scenario Survival Handbook: Dating and Sex written by Joshua Piven, David Borgenicht and Jennifer Worick performed by Laura Hamilton on Cassette (Unabridged)£14.99

A guide to negotiating the perils of dating offers advice on escaping from a bad date, fending off a pick-up artist, dealing with a drunken date, and ending a relationship, and includes a list of useful excuses and a guide to body language. Read by Laura Hamilton.

Things the Grandchildren Should Know written by Mark Oliver Everett performed by The Chet on CD (Unabridged)£9.99

Mark Oliver Everett's upbringing was 'ridiculous, sometimes tragic and always unsteady'. His father - a quantum mechanic who worked for the Pentagon - was a genius who had corresponded with Einstein aged 13. He rarely spoke, and following his own miserable childhood had eccentric ideas of how...

We Shall Not Sleep written by Anne Perry performed by Cornelius Garrett on Cassette (Unabridged)£24.99

The fifth, and final, book in Anne Perry's powerful series of novels set during World War One. The war is coming to a close. Joseph Reavley's regiment has suffered huge losses but all live in hope that peace will soon be upon them, when a further, brutal tragedy strikes the Front.

Why We Make Things and Why It Matters written by Peter Korn performed by Traber Burns on MP3 CD (Unabridged)£19.99

Drawing from the author's search for meaning in the world of furniture making, explores the nature and satisfactions of creative practice and considers what the process of making things reveals about their creators and society.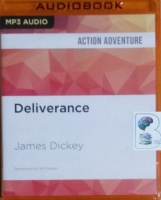 Deliverance written by James Dickey performed by Will Patton on MP3 CD (Unabridged)£14.99
The smash-hit best seller that inspired the acclaimed 1972 film starring Jon Voight, Burt Reynolds, Ned Beatty, and Ronny Cox is now available in unabridged audio for the very first time. The setting is the Georgia wilderness, where the state's most remote white-water river awaits. In the thundering froth of that...
---
---
---
---
---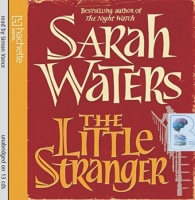 The Little Stranger written by Sarah Waters performed by Simon Vance on CD (Unabridged)£16.99 - £19.99
After her award-winning trilogy of Victorian novels, Sarah Waters turned to the 1940s and wrote THE NIGHT WATCH, a tender and tragic novel set against the backdrop of wartime Britain. Shortlisted for both the Orange and the Man Booker, it went straight to number one in the bestseller chart. In a dusty post-war...
---
---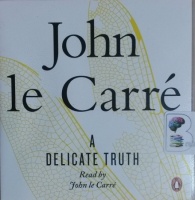 A Delicate Truth written by John le Carre performed by John le Carre on CD (Unabridged)£19.99
A counter-terror operation, codenamed Wildlife, is being mounted in Britain's most precious colony, Gibraltar. Its purpose: to capture and abduct a high-value jihadist arms-buyer.
---
---
---
---
---
---
---
---
---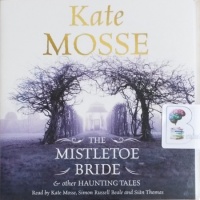 The Mistletoe Bride and Other Haunting Tales written by Kate Mosse performed by Kate Mosse, Simon Russell Beale and Sian Thomas on CD (Unabridged)£19.99
A wonderfully atmospheric collection of stories from one of our most captivating writers, inspired by ghost stories, traditional folk tales and country legends from England and France. These tales are richly populated by spirits and ghosts seeking revenge; by grief-stricken women and haunted men coming to ...
---
---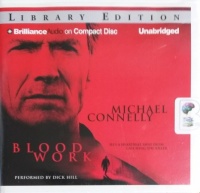 Blood Work written by Michael Connelly performed by Dick Hill on CD (Unabridged)£24.99
Thanks to a heart transplant, former FBI agent Terrell McCaleb is enjoying a quiet retirement, renovating the fishing boat he lives on in Los Angeles Harbor. But McCaleb's calm seas turn choppy when a story in the "What Happened To?" column of the LA Times brings him face-to-face with the sister of the woman..
---