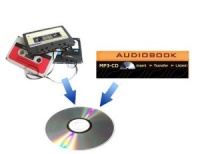 3 Hour Fixed Price Audio Transfer£10.00
This is the fixed price £10 item to be used when ordering conversion of a sub 3 hour Audio Cassette or MP3 CD title.
---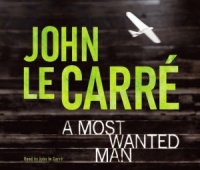 A Most Wanted Man written by John le Carre performed by John le Carre on CD (Abridged)£9.99
A half-starved young Russian man in a long black overcoat is smuggled into Hamburg at dead of night. He has an improbable amount of cash secreted in a purse round his neck. He is a devout Muslim. Or is he? He says his name is Issa.
---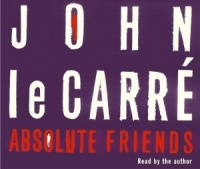 Absolute Friends written by John le Carre performed by John le Carre on CD (Abridged)£6.99
Absolute Friends is a superbly paced novel spanning fifty-six years, a theatrical masterstroke of tragi-comic writing, and a savage fable of our times, almost of our hours.
---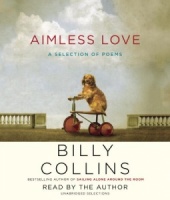 Aimless Love written by Billy Collins performed by Billy Collins on CD (Unabridged)£12.99
From the two-term Poet Laureate of the United States Billy Collins comes his first compilation of new and selected poems in twelve years. Aimless Love combines new poems with selections from four previous books—Nine Horses, The Trouble with Poetry, Ballistics, and Horoscopes for the Dead.
---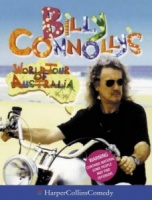 Billy Connolly's World Tour of Australia written by Billy Connolly performed by Billy Connolly on CD (Abridged)£7.99
Travelling by plane, motorbike, boat and foot, Billy Connolly tours the country performing his stage show and delivers and individual commentary on all things Australian.
---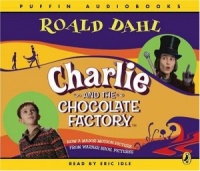 Charlie and the Chocolate Factory written by Roald Dahl performed by Eric Idle on CD (Unabridged)£4.99
This is a special audio edition of Charlie and the Chocolate Factory, read by Eric Idle, which will be published at the same time as the Warner Bros film.
Charlie Bucket thinks he's the luckiest boy alive when he unwraps one of Willy Wonka's Whipple-Scrumptious Fudgemallow Delights to find the last golden ticket.
---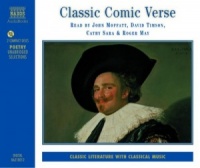 Classic Comic Verse written by Various Famous Poets performed by John Moffat, David Timson, Cathy Sara and Roger May on CD (Abridged)£4.99 - £6.99
Poetry by definition, achieves its effects by rhythm, sound patterns and imagery. One of the most popular areas of audiobooks -- spoken poetic form -- evokes emotions and sensations by bringing the voice of the poet to life in an appropriately intimate way, directly to the ear and mind of the listener.
---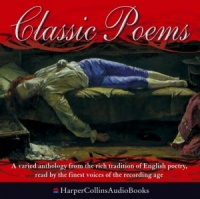 Classic Poems written by Various performed by Sir Ralph Richardson, Dylan Thomas and James Mason on CD (Abridged)£7.99
A Genius Performance by Ralph Richardson and Sir John Gielgud plus many more!
A varied anthology of poets – including Eliot and Auden – reading their own words, and favorite poems by Keats, Browning, Kipling, Tennyson and many more read by the finest voices of the recording age.
---
---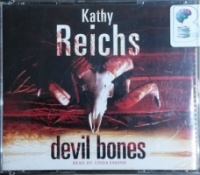 Devil Bones written by Kathy Reichs performed by Linda Emond on CD (Abridged)£4.99 - £5.99
An underground chamber is exposed in a seedy, dilapidated house with sagging trim and peeling paint... When a careless plumber accidentally knocks through a wall, he is horrified by what he uncovers. Called to the scene is forensic anthropologist Dr Temperance Brennan.
---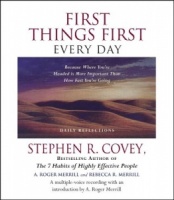 First Things First Every Day written by Stephen R. Covey performed by Stephen R. Covey, A. Roger Merrill and Rebecca R. Merril on CD (Abridged)£9.99
A lovely collection of powerful thoughts with which to start your day! This cd set has become a regular event on our CD player.
---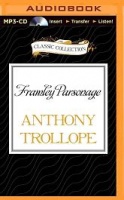 Framley Parsonage written by Anthony Trollope performed by Timothy West on MP3 CD (Unabridged)£19.99
The Reverend Mark Robarts makes a mistake. Drawn into a social set at odds with his clerical responsibilities, he guarantees the debts of an unscrupulous Member of Parliament. He stands to lose his reputation, and his family, future, and home are all in peril.
---
---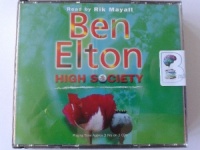 High Society written by Ben Elton performed by Rik Mayall on CD (Abridged)£4.99
The war on drugs has been lost but for want of the courage to face the fact that the whole world is rapidly becoming one vast criminal network. From pop stars and princes to crack whores and street kids. From the Groucho Club toilets to the poppy fields of Afghanistan, we are all partners in crime.
---
---
New In November 2017 Part 6
(in alphabetical order)
A Proper Woman written by Lillian Beckworth performed by Hannah Gordon on Cassette (Unabridged)£19.99

Anna is a child living in a remote Hebridean community when she meets the enigmatic and romantic Jimmy Pearl. She carries the memory of their meeting through to adult life - a life that is full of hardships. Anna's parents die and her brother and his wife sell the family croft ...

All That Remains written by Patricia Cornwell performed by Lorelei King on Cassette (Unabridged)£19.99

In Richmond, Virginia, young lovers are dying. So far, four couples in the area have disappeared, only to be found months later as mutilated corpses. When the daughter of the president's newest drug czar vanishes along with her boyfriend, Dr Kay Scarpetta knows time is short.

Betrayal written by Clare Francis performed by Simon Russell Beale on Cassette (Unabridged)£19.99

For businessman Hugh Wellesley, the violent waking nightmare begins with the sparse report in the morning newspaper. A woman's body recovered from the River Dart in Devon . . . identified as that of Sylvie Mathieson . . . the corpse stabbed and bound . . . Should he admit that she had once been his lover?

Blood Lines - Long and Short Stories written by Ruth Rendell performed by Nigel Anthony on Cassette (Unabridged)£19.99

I think you know who killed your stepfather', said Wexford. So begins this scintillating collection of long and short stories by Ruth Rendell. It was clear both to Wexford and Burden that Tom Peterlee was not killed for 360 pounds, but various people would have liked them to think he was...

Blow Fly written by Patricia Cornwell performed by Lorelei King on Cassette (Unabridged)£19.99

In Blow Fly, Kay Scarpetta stands at the threshold of a new life after her work as Virginia's Chief Medical Examiner has come to a jarring end. At the close of The Last Precinct, she knew she would have to leave Richmond if she were to find any peace. She feared that she was about to be fired by the governor.

China Lake written by Meg Gardiner performed by Lorelei King on Cassette (Unabridged)£19.99

Evan Delaney is a heroine of our times: a woman with a big heart, a quick tongue and a hot temper that gets her into trouble. She is shocked to discover that Tabitha, her ex-sister-in-law, has joined the Remnant - the Reverend Pete Wyoming's fanatical band of disciples.

Classic Crime Short Stories written by Various Famous Crime Writers performed by Jack Shepherd and Patrick Malahide on CD (Unabridged)£4.99 - £9.99

Discover a world of heroes and villains, suspense and intrigue. This riveting and comprehensive collection brings together some of the best crime writing of all time.

Come to Grief written by Dick Francis performed by Tony Britton on Cassette (Unabridged)£14.99

The bestselling author of "Decider" is back with another suspenseful ride The hero of "Whip Hand" returns Although more than a decade has passed since the publication of "Whip Hand, " little time has elapsed in Sid Halley's life. Still in his mid-thirties, he remains troubled, courageous, unwilling ....

Death of an Expert Witness written by P.D. James performed by Michael Jayston on Cassette (Unabridged)£24.99

An Adam Dalgliesh Mystery. From P.D. James, one of the masters of British crime fiction, comes the seventh Adam Dalgliesh novel, set against the bleak fens of East Anglia. Death of An Expert Witness is a classic work of detective fiction packed with forensic detail, intrigue and suspense.

Getting Out of the House written by Isla Dewar performed by Ruth Sillers on Cassette (Unabridged)£19.99

As a child Nora waged war on her mother, Maisie. It relieved the hurt she felt when she overheard Maisie say she preferred her older daughter, Cathryn. Now, Nora lives in Edinburgh, far from her gaudily decorated suburban London home and the volatile Maisie.

Girl from the South written by Joanna Trollope performed by Lorelei King on Cassette (Unabridged)£19.99

Set partly in London and partly in South Carolina, Girl From the South follows the fortunes of a small group of the young and the single; the children, in fact, of sixties swingers. They have, it seems, infinite opportunity, but are bedeviled by indecision, by the inflexibility of tradition...

Hornet's Nest written by Patricia Cornwell performed by Lorelei King on Cassette (Unabridged)£14.99

By the creator of the "Kay Scarpetta" novels. Deputy Chief Virginia West likes and respects her boss, but she finds it hard to accept that a rookie reporter, Brazil, should ride on patrol with her as she investigates a series of murders where the killer paints his victims bright orange.

Is There Anything You Want? written by Margaret Forster performed by Susan Jameson on Cassette (Unabridged)£9.99

What do Mrs H., Rachel, Edwina, Ida, Sarah, Dot, Chrissie have in common? They're all women, but they're fat, thin, old, young, married or single - and appear as diverse as human nature can be. But they are all survivors. This enthralling novel follows the ripples that go out into ordinary lives ....

Marrying The Mistress written by Joanna Trollope performed by Lindsay Duncan on Cassette (Unabridged)£19.99

Merrion Palmer has been Judge Guy Stockdale's mistress for the last seven years and his wife and two grown-up sons know absolutely nothing about her. Up until now, Guy and Merrion have enjoyed a blissfully, uncomplicated relationship in stolen moments in Merrion's flat, and to the rest of the world...

Moonlit Eyes written by Emma Blair performed by Rowena Cooper on Cassette (Unabridged)£29.99

When Pee Wee Poston and his wife Beulah are offered the chance to swap New York for London, they jump at the chance. Pee Wee, a highly talented saxophonist, has been asked to help launch a new jazz club in Soho. By accepting, the couple can be close to their son Julius, a high-flying diplomat ....

Shroud for a Nightingale written by P.D. James performed by Michael Jayston on Cassette (Unabridged)£19.99

The young women of Nightingale House are there to learn to nurse and comfort the suffering. But when one of the students plays patient in a demonstration of nursing skills, she is horribly, brutally killed. Another student dies equally mysteriously and it is up to Adam Dalgliesh to .....

The Golden Straw written by Catherine Cookson performed by Susan Jameson on Cassette (Unabridged)£19.99

It all began with a straw hat – a large, broad-brimmed hat, dyed in an elusive mixture of colours to produce a distinctive shade of pale gold. It was presented to Emily Pearson by her long-time friend and employer Mabel Arkwright, a milliner with a little store in the West End of London.

The Kiss written by Danielle Steel performed by Joseph Siravo on Cassette (Unabridged)£24.99

Isabelle Forrester is the exquisite wife of a prominent Parisian banker who has long since shut her out of his heart. For lonely years, Isabelle has lived a life of isolation, pouring her passions into caring for her desperately ill son, Teddy, and into making their Paris home as happy as possible for her ....

The Secret of Annexe 3 written by Colin Dexter performed by Michael Pennington on Cassette (Unabridged)£9.99

Morse sought to hide his disappointment. So many people in the Haworth Hotel that fateful evening had been wearing some sort of disguise - a change of dress, a change of make-up, a change of partner, a change of attitude, a change of life almost; and the man who had died had been the .....

The Tailor of Panama written by John Le Carre performed by Michael Jayston on Cassette (Unabridged)£19.99

Harry Pendel is the charismatic proprietor of Pendel and Braithwaite Limitada of Panama, through whose doors everyone who is anyone in Central America passes. Andrew Osnard, mysterious and fleshy, is a spy. His secret mission is two-pronged: to keep a watchful eye on the political .....

The Way Through the Woods written by Colin Dexter performed by Michael Pennington on Cassette (Unabridged)£19.99

Morse is enjoying a rare if unsatisfying holiday in Dorset when the first letter appears in The Times. A year before, a stunning Swedish student disappeared from Oxfordshire, leaving behind a rucksack with her identification. As the lady was dishy, young, and traveling alone, the Thames Valley Police ......

Thirteen Steps Down written by Ruth Rendell performed by Ric Jerrom on Cassette (Unabridged)£14.99

Mix Cellini (which he pronounces with an S rather than a C) is superstitious about the number 13 and has always felt dogged by ill-luck. In the house where he lives, there are 13 steps down to the landing below his rooms. His landlady lives her life almost exclusively through her library, blind to .....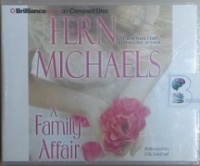 A Family Affair written by Fern Michaels performed by Cris Dukehart on CD (Unabridged)£19.99
From number-one New York Times best-selling author Fern Michaels comes a captivating and heartfelt novel, as a young dancer finds an unexpected partner - and gains the courage to live according to her heart.... In a city built on dreams, Trisha Holiday makes her living moving like one.
---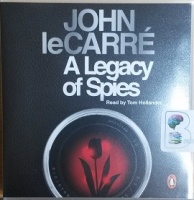 A Legacy of Spies written by John Le Carre performed by Tom Hollander on CD (Unabridged)£14.99
Penguin presents the unabridged downloadable audiobook edition of A Legacy of Spies by John le Carré, read by Tom Hollander. This is the first novel in over 25 years to feature George Smiley, le Carré's most beloved character. Peter Guillam, staunch colleague and disciple of George Smiley....
---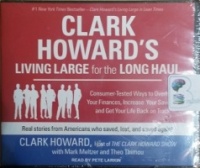 Clark Howard's Living Large for the Long Haul written by Clark Howard performed by Clark Howard on CD (Unabridged)£19.99
Americans from all walks of life are still feeling the roller-coaster effects of the Great Recession. For many, home values are still too low and unemployment is still too high. Others have prospered despite the ups and downs. In Clark Howard's Living Large for the Long Haul, the renowned broadcaster...
---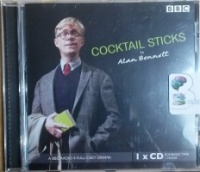 Cocktail Sticks written by Alan Bennett performed by Alex Jennings on CD (Abridged)£4.99
A radio adaptation of Alan Bennett's short autobiographical play, originally directed by Nicholas Hytner for the National Theatre. Alan looks back on his early life with affection and sadness, revisiting some of the themes and conversations of his memoir 'A Life Like other People's'.
---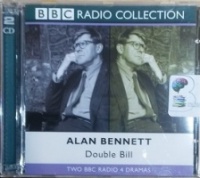 Double Bill written by Alan Bennett performed by Patricia Routledge, John Gielgud, Paul Eddington and Alan Bennett on CD (Abridged)£4.99
Alan Bennett stars in a new production of his own acclaimed satrical comedy, 30 years after its original West End debut. The Headmaster has been at Albion House for 50 years, man and boy. Now he is retiring and takes part in the end-of-year entertainment for the last time.
---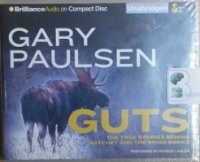 Guts - The True Stories Behind Hatchet and The Brian Books written by Gary Paulsen performed by Patrick Lawlor on CD (Unabridged)£9.99
Here are the real events that inspired Gary Paulsen to write Brian Robeson's story in Hatchet, The River, Brian's Winter, Brian's Return, and Brian's Hunt: a stint as a volunteer emergency worker; the death that became the pilot's death in Hatchet; plane crashes he's seen; and his own near misses.
---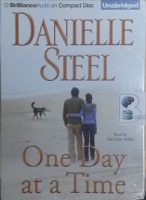 One Day at a Time written by Danielle Steel performed by Dan John Miller on CD (Unabridged)£9.99
Coco Barrington was born into a legendary Hollywood family: her mother Florence is a mega-best-selling author, and her sister Jane is one of Hollywood's top producers. Jane has lived with her partner, Liz, for 10 years, in a solid relationship.
---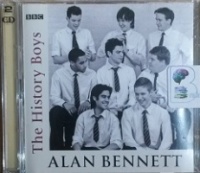 The History Boys written by Alan Bennett performed by Radio 3 and National Theatre Cast on CD (Abridged)£4.99
After a sell-out national tour and an extended stage run, Alan Bennett's phenomenally successful play transferred to BBC Radio 3, with Richard Griffiths, Clive Merrison and Frances de la Tour starring as part of the National Theatre cast. At a boys' grammar school in Sheffield, eight boys are being ....
---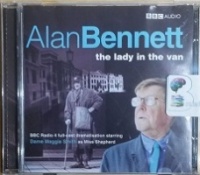 The Lady in the Van written by Alan Bennett performed by Maggie Smith on CD (Abridged)£4.99
An eccentric old lady moves into a quiet street in Camden Town. There she remains, installed in her van in glorious self-sufficiency, until the council instructs her to move on. A kind homeowner invites her to move her van into his garden. A bizarre tale in itself, but when the homeowner is writer....
---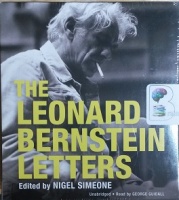 The Leonard Bernstein Letters written by Leonard Bernstein (ed Nigel Simeone) performed by George Guidall on CD (Unabridged)£29.99
Leonard Bernstein was a charismatic and versatile musician - a brilliant conductor who attained international super-star status, and a gifted composer of Broadway musicals (West Side Story), symphonies (Age of Anxiety), choral works (Chichester Psalms), film scores (On the Waterfront), and much more.
---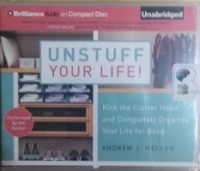 Unstuff Your Life! written by Andrew J Mellen performed by Andrew J Mellen on CD (Unabridged)£14.99
One of the country's most sought-after professional organizers here makes his foolproof rescue plan available for everyone. Arguably the most organized man in America, Andrew J. Mellen has created unique, lasting techniques for streamlined living, bringing order out of chaos for a client....
---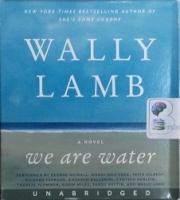 We are Water written by Wally Lamb performed by George Guidall, Maggi-Meg Reed, Tavia Gilbert and Richard Ferrone on CD (Unabridged)£14.99
After twenty-seven years of marriage and three children, Annie Oh--wife, mother, and outsider artist--has fallen in love with Viveca, the Manhattan art dealer who orchestrated her professional success. Annie and Viveca plan to wed in the Oh family's hometown of Three Rivers, Connecticut, where...
---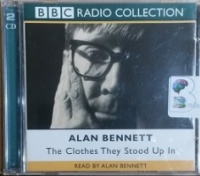 The Clothes They Stood Up In written by Alan Bennett performed by Alan Bennett on CD (Abridged)£4.99
The Ransomes had been burgled. 'Robbed,' Mrs Ransome said. 'Burgled,' Mr Ransome corrected. Premises were burgled; persons were robbed. Mr Ransome was a solicitor by profession and thought words mattered... The fact is that the Ransomes have been cleaned out.
---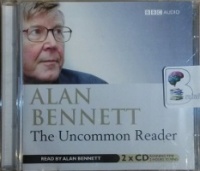 The Uncommon Reader written by Alan Bennett performed by Alan Bennett on CD (Abridged)£4.99
It was the corgis' fault. When they strayed through the grounds of Buckingham Palace, the Queen discovered the City of Westminster travelling library. The Queen has never had much time for reading – pleasure has always come second place to duty – though now that one is here I suppose ....
---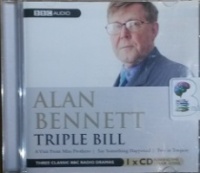 Triple Bill written by Alan Bennett performed by Patricia Routledge, Hugh Lloyd, Judi Dench and Thora Hird on CD (Abridged)£4.99
A collection of three BBC Radio dramas from award-winning author Alan Bennett. A Visit from Miss Prothero features Mr Dodsworth, a retiree who has all the time in the world. Then he has a visitor from his old firm – Miss Prothero, who is eager to tell him all the news...