---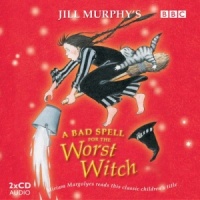 A Bad Spell for the Worst Witch written by Jill Murphy performed by Miriam Margolyes on CD (Abridged)£13.99
Mildred gets off to a good start in her second year at Miss Cackle's Academy, but her sworn enemy, Ethel Hallow, is plotting misfortune, setting Mildred up for a very bad spell, indeed.
---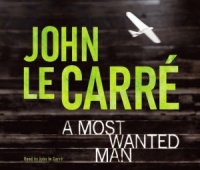 A Most Wanted Man written by John le Carre performed by John le Carre on CD (Abridged)£9.99
A half-starved young Russian man in a long black overcoat is smuggled into Hamburg at dead of night. He has an improbable amount of cash secreted in a purse round his neck. He is a devout Muslim. Or is he? He says his name is Issa.
---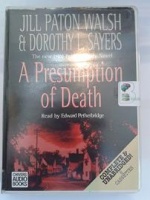 A Presumption of Death written by Jill Paton Walsh and Dorothy L Sayers performed by Edward Petherbridge on Cassette (Unabridged)£29.99 - £39.99
The story opens in 1940. Harriet Vane - now Lady Peter Wimsey - has taken her children to safety in the country. But the war has followed them: glamorous RAF pilots and even more glamorous land-girls scandalise the villagers; the blackout makes the night-time lanes as sinister as the back alleys of London.
---
---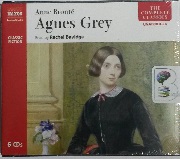 Agnes Grey written by Anne Bronte performed by Rachel Bavidge on CD (Unabridged)£19.99
For all those captivated by the trials of Jane Eyre, Anne Brontës heroine Agnes Grey is the ideal counterpoint. Agnes Grey is widely considered to be the best record of the precarious position of the governess in Victorian society, and the insolence, neglect and dependence that the gentle ....
---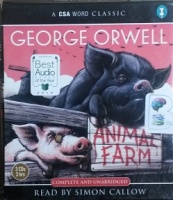 Animal Farm written by George Orwell performed by Simon Callow on CD (Unabridged)£19.99
George Orwell's 1945 satire on the perils of Stalinism has proved magnificently long-lived as a parable about totalitarianism anywhere and has given the world at least one immortal phrase: "Everyone is equal, but some are more equal than others."
---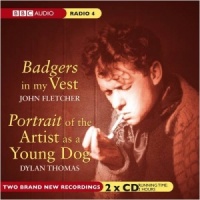 Badgers in My Vest and Portrait of the Artist as a Young Dog written by Dylan Thomas performed by BBC Full Cast Dramatisation on CD (Unabridged)£4.99 - £6.99
Badgers in My Vest is a new, darkly funny play by an acclaimed contemporary playwright, based on a true incident in Dylan Thomas' life.
---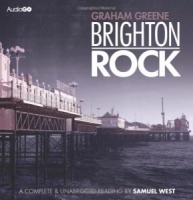 Brighton Rock written by Graham Greene performed by Samuel West on CD (Unabridged)£29.99 - £39.99
A truely Genius Performance by Samuel West!
His reading of this book makes it come alive in a way none of us have ever heard before - a Must Listen if ever we heard one!
A gang war is raging through the dark underworld of Brighton. Untouched by human feeling, Pinkie is isolated, a figure of pure evil. Believing he can escape retribution, he is unprepared for the courageous, life-embracing Ida Arnold, who is determined to avenge Hale's death.
---
---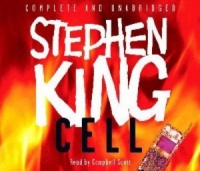 Cell written by Stephen King performed by Campbell Scott on CD (Unabridged)£39.99
'Civilization slipped into its second dark age on an unsurprising track of blood but with a speed that could not have been foreseen by even the most pessimistic futurist. By Halloween, every major city from New York to Moscow stank to the empty heavens and the world as it had been was a memory.
---
---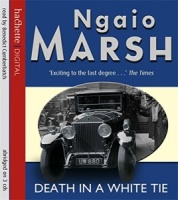 Death in a White Tie written by Ngaio Marsh performed by Benedict Cumberbatch on CD (Abridged)£7.99 - £11.99
A Benedict Cumberbatch Genius Performance!
The season had begun. Débutantes and chaperones were planning their luncheons, teas, dinners, balls. And the blackmailer was planning his strategies, stalking his next victim.
---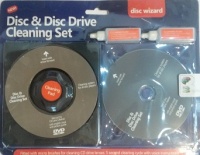 Disk and Disk Drive Cleaning Set written by Disk Wizard performed by Disk Wizard on CD (Unabridged)£4.99
This is an excellent tool to maintain your CD player or computer CD/DVD drive in tip-top condition. Regular use of this disk will ensure you maximise the life of your CD listening device.
---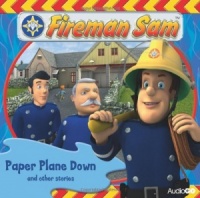 Fireman Sam - Paper Plane Down written by BBC Childrens Team performed by BBC Childrens on CD (Abridged)£4.99 - £9.99
This title includes seven episodes from the hugely popular all-new animated series featuring Fireman Sam and his friends from Pontypandy - as seen on TV.
It includes "Paper Plane Down Hot", "Cold Running Sniffer Dog"; "Perilous Path"; "The New Hero Next Door"; "Santa Overboard"; "Best Foot Forward"; and, "Baa Baa Baby".
---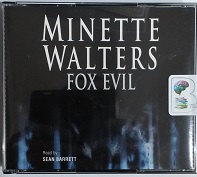 Fox Evil written by Minette Walters performed by Sean Barrett on CD (Abridged)£4.99 - £6.99
When elderly Ailsa Lockyer-Fox is found dead in her garden, dressed only in night clothes and with blood stains on the ground near her body, the finger of suspicion points at her wealthy, landowning husband, Colonel James Lockyer-Fox.
New In November 2017 Part 6
(in alphabetical order)
A Proper Woman written by Lillian Beckworth performed by Hannah Gordon on Cassette (Unabridged)£19.99

Anna is a child living in a remote Hebridean community when she meets the enigmatic and romantic Jimmy Pearl. She carries the memory of their meeting through to adult life - a life that is full of hardships. Anna's parents die and her brother and his wife sell the family croft ...

All That Remains written by Patricia Cornwell performed by Lorelei King on Cassette (Unabridged)£19.99

In Richmond, Virginia, young lovers are dying. So far, four couples in the area have disappeared, only to be found months later as mutilated corpses. When the daughter of the president's newest drug czar vanishes along with her boyfriend, Dr Kay Scarpetta knows time is short.

Betrayal written by Clare Francis performed by Simon Russell Beale on Cassette (Unabridged)£19.99

For businessman Hugh Wellesley, the violent waking nightmare begins with the sparse report in the morning newspaper. A woman's body recovered from the River Dart in Devon . . . identified as that of Sylvie Mathieson . . . the corpse stabbed and bound . . . Should he admit that she had once been his lover?

Blood Lines - Long and Short Stories written by Ruth Rendell performed by Nigel Anthony on Cassette (Unabridged)£19.99

I think you know who killed your stepfather', said Wexford. So begins this scintillating collection of long and short stories by Ruth Rendell. It was clear both to Wexford and Burden that Tom Peterlee was not killed for 360 pounds, but various people would have liked them to think he was...

Blow Fly written by Patricia Cornwell performed by Lorelei King on Cassette (Unabridged)£19.99

In Blow Fly, Kay Scarpetta stands at the threshold of a new life after her work as Virginia's Chief Medical Examiner has come to a jarring end. At the close of The Last Precinct, she knew she would have to leave Richmond if she were to find any peace. She feared that she was about to be fired by the governor.

China Lake written by Meg Gardiner performed by Lorelei King on Cassette (Unabridged)£19.99

Evan Delaney is a heroine of our times: a woman with a big heart, a quick tongue and a hot temper that gets her into trouble. She is shocked to discover that Tabitha, her ex-sister-in-law, has joined the Remnant - the Reverend Pete Wyoming's fanatical band of disciples.

Classic Crime Short Stories written by Various Famous Crime Writers performed by Jack Shepherd and Patrick Malahide on CD (Unabridged)£4.99 - £9.99

Discover a world of heroes and villains, suspense and intrigue. This riveting and comprehensive collection brings together some of the best crime writing of all time.

Come to Grief written by Dick Francis performed by Tony Britton on Cassette (Unabridged)£14.99

The bestselling author of "Decider" is back with another suspenseful ride The hero of "Whip Hand" returns Although more than a decade has passed since the publication of "Whip Hand, " little time has elapsed in Sid Halley's life. Still in his mid-thirties, he remains troubled, courageous, unwilling ....

Death of an Expert Witness written by P.D. James performed by Michael Jayston on Cassette (Unabridged)£24.99

An Adam Dalgliesh Mystery. From P.D. James, one of the masters of British crime fiction, comes the seventh Adam Dalgliesh novel, set against the bleak fens of East Anglia. Death of An Expert Witness is a classic work of detective fiction packed with forensic detail, intrigue and suspense.

Getting Out of the House written by Isla Dewar performed by Ruth Sillers on Cassette (Unabridged)£19.99

As a child Nora waged war on her mother, Maisie. It relieved the hurt she felt when she overheard Maisie say she preferred her older daughter, Cathryn. Now, Nora lives in Edinburgh, far from her gaudily decorated suburban London home and the volatile Maisie.

Girl from the South written by Joanna Trollope performed by Lorelei King on Cassette (Unabridged)£19.99

Set partly in London and partly in South Carolina, Girl From the South follows the fortunes of a small group of the young and the single; the children, in fact, of sixties swingers. They have, it seems, infinite opportunity, but are bedeviled by indecision, by the inflexibility of tradition...

Hornet's Nest written by Patricia Cornwell performed by Lorelei King on Cassette (Unabridged)£14.99

By the creator of the "Kay Scarpetta" novels. Deputy Chief Virginia West likes and respects her boss, but she finds it hard to accept that a rookie reporter, Brazil, should ride on patrol with her as she investigates a series of murders where the killer paints his victims bright orange.

Is There Anything You Want? written by Margaret Forster performed by Susan Jameson on Cassette (Unabridged)£9.99

What do Mrs H., Rachel, Edwina, Ida, Sarah, Dot, Chrissie have in common? They're all women, but they're fat, thin, old, young, married or single - and appear as diverse as human nature can be. But they are all survivors. This enthralling novel follows the ripples that go out into ordinary lives ....

Marrying The Mistress written by Joanna Trollope performed by Lindsay Duncan on Cassette (Unabridged)£19.99

Merrion Palmer has been Judge Guy Stockdale's mistress for the last seven years and his wife and two grown-up sons know absolutely nothing about her. Up until now, Guy and Merrion have enjoyed a blissfully, uncomplicated relationship in stolen moments in Merrion's flat, and to the rest of the world...

Moonlit Eyes written by Emma Blair performed by Rowena Cooper on Cassette (Unabridged)£29.99

When Pee Wee Poston and his wife Beulah are offered the chance to swap New York for London, they jump at the chance. Pee Wee, a highly talented saxophonist, has been asked to help launch a new jazz club in Soho. By accepting, the couple can be close to their son Julius, a high-flying diplomat ....

Shroud for a Nightingale written by P.D. James performed by Michael Jayston on Cassette (Unabridged)£19.99

The young women of Nightingale House are there to learn to nurse and comfort the suffering. But when one of the students plays patient in a demonstration of nursing skills, she is horribly, brutally killed. Another student dies equally mysteriously and it is up to Adam Dalgliesh to .....

The Golden Straw written by Catherine Cookson performed by Susan Jameson on Cassette (Unabridged)£19.99

It all began with a straw hat – a large, broad-brimmed hat, dyed in an elusive mixture of colours to produce a distinctive shade of pale gold. It was presented to Emily Pearson by her long-time friend and employer Mabel Arkwright, a milliner with a little store in the West End of London.

The Kiss written by Danielle Steel performed by Joseph Siravo on Cassette (Unabridged)£24.99

Isabelle Forrester is the exquisite wife of a prominent Parisian banker who has long since shut her out of his heart. For lonely years, Isabelle has lived a life of isolation, pouring her passions into caring for her desperately ill son, Teddy, and into making their Paris home as happy as possible for her ....

The Secret of Annexe 3 written by Colin Dexter performed by Michael Pennington on Cassette (Unabridged)£9.99

Morse sought to hide his disappointment. So many people in the Haworth Hotel that fateful evening had been wearing some sort of disguise - a change of dress, a change of make-up, a change of partner, a change of attitude, a change of life almost; and the man who had died had been the .....

The Tailor of Panama written by John Le Carre performed by Michael Jayston on Cassette (Unabridged)£19.99

Harry Pendel is the charismatic proprietor of Pendel and Braithwaite Limitada of Panama, through whose doors everyone who is anyone in Central America passes. Andrew Osnard, mysterious and fleshy, is a spy. His secret mission is two-pronged: to keep a watchful eye on the political .....

The Way Through the Woods written by Colin Dexter performed by Michael Pennington on Cassette (Unabridged)£19.99

Morse is enjoying a rare if unsatisfying holiday in Dorset when the first letter appears in The Times. A year before, a stunning Swedish student disappeared from Oxfordshire, leaving behind a rucksack with her identification. As the lady was dishy, young, and traveling alone, the Thames Valley Police ......

Thirteen Steps Down written by Ruth Rendell performed by Ric Jerrom on Cassette (Unabridged)£14.99

Mix Cellini (which he pronounces with an S rather than a C) is superstitious about the number 13 and has always felt dogged by ill-luck. In the house where he lives, there are 13 steps down to the landing below his rooms. His landlady lives her life almost exclusively through her library, blind to .....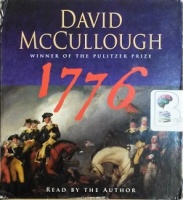 1776 written by David McCullough performed by David McCullough on CD (Abridged)£14.99
The two-time Pulitzer Prize-winning historian draws on personal correspondence and period diaries to present a landmark history of the American Revolution that ranges from the siege of Boston, to the American defeat at Brooklyn and retreat across New Jersey, to the stunning American victory...
---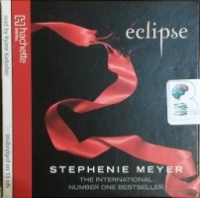 Eclipse written by Stephenie Meyer performed by Ilyana Kadushin on CD (Unabridged)£14.99
Bella?' Edward's soft voice came from behind me. I turned to see him spring lightly up the porch steps, his hair windblown from running. He pulled me into his arms at once, and kissed me again. His kiss frightened me. There was too much tension, too strong an edge to the way his lips crushed mine....
---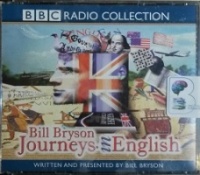 Journeys in English written by Bill Bryson performed by Bill Bryson on CD (Abridged)£9.99
This highly entertaining BBC Radio 4 series is written and presented by Bill Bryson and based on his bestselling book, 'Mother Tongue'. In it he romps through the history of Britain to reveal how English became such an infuriatingly complex – but ultimately world-beating – language.
---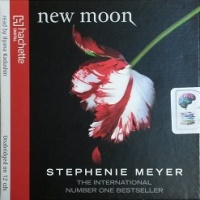 New Moon written by Stephenie Meyer performed by Ilyana Kadushin on CD (Unabridged)£14.99
I stuck my finger under the edge of the paper and jerked it under the tape. 'Shoot,' I muttered when the paper sliced my finger. A single drop of blood oozed from the tiny cut. It all happened very quickly then. 'No!' Edward roared ...
---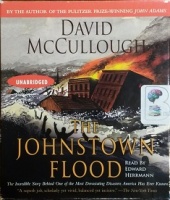 The Johnstown Flood written by David McCullough performed by Edward Herrmann on CD (Unabridged)£14.99
The stunning story of one of America's great disasters, a preventable tragedy of Gilded Age America, brilliantly told by master historian David McCullough. At the end of the nineteenth century, Johnstown, Pennsylvania, was a booming coal-and-steel town filled with hardworking families striving...
---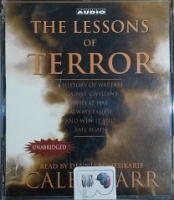 The Lessons of Terror written by Caleb Carr performed by Dennis Boutsikaris on CD (Unabridged)£14.99
Although terrorism seems a relatively modern phenomenon, novelist and military historian Caleb Carr illustrates that it has been a constant of military history. In ancient times, warring armies raped and slaughtered civilians and gratuitously destroyed homes and cities;
---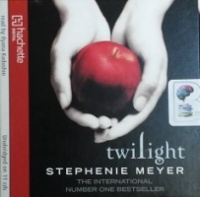 Twilight written by Stephenie Meyer performed by Ilyana Kadushin on CD (Unabridged)£14.99
When seventeen-year-old Isabella Swan moves to Forks, Washington to live with her father she expects that her new life will be as dull as the town itself. In spite of her awkward manner and low expectations, she finds that her new classmates are drawn to this pale, dark-haired new girl in town.
---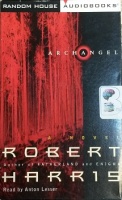 Archangel written by Robert Harris performed by Anton Lesser on Cassette (Abridged)£4.99
While in Moscow, historian Fluke Kelso is approached by someone claiming to have been present when Stalin died, but a simple check into the old man's story turns into a murderous chase into the dark forests of northern Russia near the White Sea port of Archangel.
---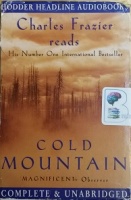 Cold Mountain written by Charles Frazier performed by Charles Frazier on Cassette (Unabridged)£19.99
A soldier wounded in the Civil War, Inman turns his back on the carnage of the battlefield and begins the treacherous journey home to Cold Mountain, and to Ada, the woman he loved before the war began. As Inman attempts to make his way across the mountains, through the devastated landscape....
---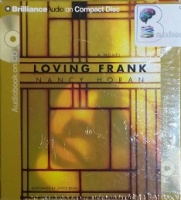 Loving Frank written by Nancy Horan performed by Joyce Bean on CD (Abridged)£9.99
In the internationally bestselling vein of The Paris Wife and Z: a novel of Zelda Fitzgerald this biographical novel is set in the early 1900s when polite Chicago society was rocked by terrible scandal when renowned architect, Frank Lloyd Wright, ran off with Mamah Cheney, a client's wife.
---
---
---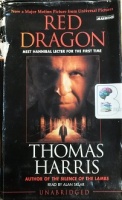 Red Dragon written by Thomas Harris performed by Alan Sklar on Cassette (Unabridged)£14.99
A quiet summer night...a neat suburban house...and another happy family is shattered -- the latest victims of a grisly series of hideous sacrificial killings that no one understands, and no one can stop. Nobody lives to tell of the unimaginable carnage. Only the blood-stained walls bear witness.
---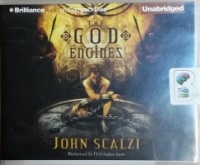 The God Engines written by John Scalzi performed by Christopher Lane on CD (Unabridged)£19.99
Captain Ean Tephe is a man of faith, whose allegiance to his lord and to his ship is uncontested. The Bishopry Militant knows this - and so, when it needs a ship and crew to undertake a secret, sacred mission to a hidden land, Tephe is the captain to whom the task is given.
---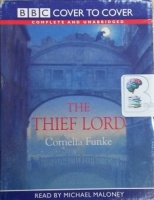 The Thief Lord written by Cornelia Funke performed by Michael Maloney on Cassette (Unabridged)£14.99
Two orphaned children are on the run, hiding among the crumbling canals and misty alleyways of the city. Befriended by a gang of street children and their mysterious leader, the Thief Lord, they shelter in an old, disused cinema. On their trail is a bungling detective, obsessed with disguises and the health...