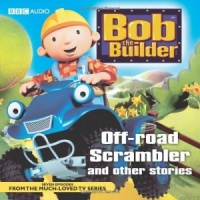 Bob the Builder - Off-Road Scrambler written by Bob the Builder Team performed by Bob the Builder Team on CD (Unabridged)£2.99
This title includes seven episodes from the hugely popular series featuring Bob the Builder, Roley, Lofty, Dizzy, Scoop, Muck and Spud - as seen on BBC TV.
---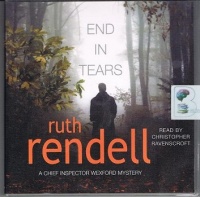 End in Tears written by Ruth Rendell performed by Christopher Ravenscroft on CD (Abridged)£4.99
A lump of concrete dropped deliberately from a little stone bridge kills the wrong person. The young woman in the car behind is spared. But only for a while...
---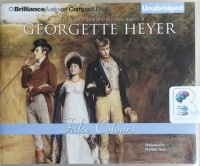 False Colours written by Georgette Heyer performed by Phyllida Nash on CD (Unabridged)£24.99
The honourable Christopher Fancot, on leave from the Diplomatic Service in the summer of 1817, is startled to find his entrancing but incorrigibly extravagant mother on the brink of financial and social ruin - and more than alarmed that his identical twin, Evelyn, Earl of Denville, has disappeared ...
---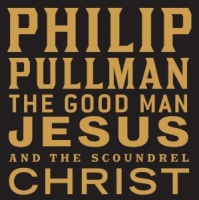 The Good Man Jesus and the Scoundrel Christ written by Philip Pullman performed by Philip Pullman on CD (Unabridged)£3.99
This is not a gospel. This is a story. In this ingenious and spell-binding retelling of the life of Jesus, Philip Pullman revisits the most influential story ever told.
---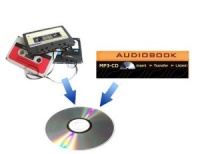 3 Hour Fixed Price Audio Transfer£15.00
This is the fixed price £15 item to be used when ordering conversion of a sub 3 hour Audio Cassette or MP3 CD title.
---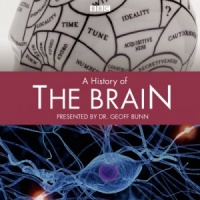 A History of the Brain written by Dr Geoff Bunn performed by Dr Geoff Bunn on CD (Unabridged)£6.99 - £7.29
This set covers 10 x 15 minute series on Radio 4 which was part of a two-week "Brain Season".
It explains in clear terms the latest discoveries in neuroscience. In this unprecedented journey, covering over 2,500 years of development in our understanding of what it is to be human.
---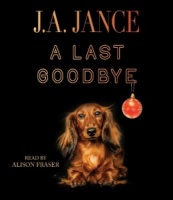 A Last Goodbye written by J.A. Jance performed by Alison Fraser on CD (Unabridged)£6.99
Ali Reynolds is finally getting married to her longtime love B. Simpson. They wanted a simple Christmas Eve wedding, but nothing is ever simple with Ali.
---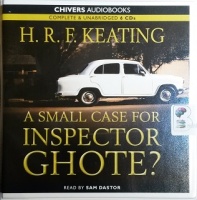 A Small Case for Inspector Ghote? written by H.R.F. Keating performed by Sam Dastor on CD (Unabridged)£34.99
In his proud new position in the prestigious Bombay Police Crime Branch, Inspector Ganesh Ghote sees his career finally take off with the prospect of only the most high-profile murders to investigate. Unfortunately, the Assistant Commissioner of Police has other ideas and chooses to keep Ghote...
---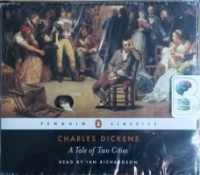 A Tale of Two Cities written by Charles Dickens performed by Ian Richardson on CD (Abridged)£5.99 - £9.99
After 18 years as a political prisoner in the Bastille the aging Dr Manette is finally released and reunited with his daughter in England.
---
---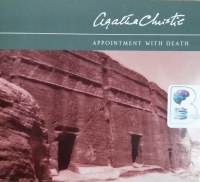 Appointment with Death written by Agatha Christie performed by Carole Boyd on CD (Abridged)£4.99
Among the towering red cliffs of Petra, like some monstrous swollen Buddha, sat the corpse of Mrs Boynton. A tiny puncture mark on her wrist was the only sign of the fatal injection that had killed her.
---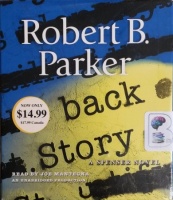 Back Story - A Spencer Novel written by Robert B. Parker performed by Joe Mantegna on CD (Unabridged)£9.99
Renaissance man Spenser - he of the acerbic social commentary, the gourmet cookery, and the steely abs - turns his considerable talents to the unraveling of a thirty-year-old murder mystery. During a 1974 holdup in a Boston bank by a revolutionary group calling itself the Dread Scott Brigade, Emily Gordon, a...
---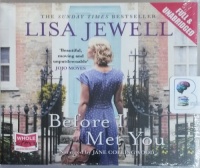 Before I Met You written by Lisa Jewell performed by Jane Collingwood on CD (Unabridged)£19.99
An uplifting, warm and unforgettable story of two women in two different times from the Sunday Times Top Ten bestselling author Betty Dean can't wait to leave her quiet upbringing in Guernsey and begin her mission to find Clara Pickle - the mysterious beneficiary in her grandmother's will. She arrives in ...
---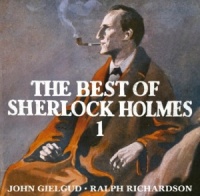 Best of Sherlock Holmes: v. 1 written by Arthur Conan Doyle performed by Sir John Gielgud and Sir Ralph Richardson on CD (Abridged)£6.99
A Genius Performance by Ralph Richardson and John Gielgud!
Recognised as the ultimate dramatisation of Conan Doyle's famous stories, these recordings have been acclaimed since their reissue by Hodder Headline Audiobooks in 1994.
---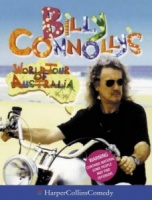 Billy Connolly's World Tour of Australia written by Billy Connolly performed by Billy Connolly on CD (Abridged)£7.99
Travelling by plane, motorbike, boat and foot, Billy Connolly tours the country performing his stage show and delivers and individual commentary on all things Australian.
---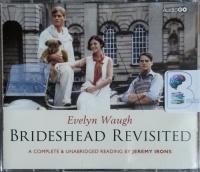 Brideshead Revisited written by Evelyn Waugh performed by Jeremy Irons on CD (Unabridged)£29.99 - £39.99
Brideshead Revisited is Evelyn Waugh's stunning novel of duty and desire set amongst the decadent, faded glory of the English aristocracy in the run-up to the Second World War.
Performed brilliantly by Jeremy Irons
New In November 2017 Part 5
(in alphabetical order)
A Perfectly Good Family written by Lionel Shriver performed by Susan Ericksen on CD (Unabridged)£14.99

Following the death of her worthy liberal parents, Corlis McCrea moves back into her family's grand Reconstruction mansion in North Carolina, willed to all three siblings. Her timid younger brother has never left home. When her bullying black-sheep older brother moves into "his" house as well, it's war.

Among Others written by Jo Walton performed by Katherine Kellgren on CD (Unabridged)£19.99

It doesn't matter. I have books, new books, and I can bear anything as long as there are books.'Fifteen-year-old Morwenna lives in Wales with her twin sister and a mother who spins dark magic for ill. One day, Mori and her mother fight a powerful, magical battle that kills her sister and leaves Mori crippled.

Anatomy of An Epidemic written by Robert Whitaker performed by Ken Kliban on MP3 CD (Unabridged)£14.99

In this astonishing and startling audiobook, award-winning science and history writer Robert Whitaker investigates a medical mystery: Why has the number of disabled mentally ill in the United States tripled over the past two decades? Every day, 1,100 adults and children are added to the government ....

Because You Loved Me - An Online Love Affair - A Real-time Murder written by M. William Phelps performed by J Charles on CD (Abridged)£14.99

A Life Taken Jeanne Dominico's fiancé found her body on her kitchen floor. More than forty stab wounds and blows to her head with a blunt instrument had cut her life short. What monster had struck in the heart of a peaceful New England town? A Trust Betrayed Jeanne was a hard-working single mother.

Behind the Staffroom Door - The Very Best of Brian Moses written by Brian Moses performed by Brian Moses on CD (Abridged)£4.99

Brian Moses' greatest hits!This brilliant book is packed with old friends - What Teachers Wear in Bed, An Alien Stole My Underpants, Shopping Trolley and Monster Crazy - and introduces us to some wonderful new poems too.

BZRK Reloaded written by Michael Grant performed by Nico Evers-Swindell on MP3CD (Unabridged)£9.99

BZRK has lost its first battle with the Armstrong Twins. But the war goes on... As the Bug Man rewires the brain of the President of the United States, Plath tries to heal Vincent's shattered mind. Meanwhile, the eyes of the world are turning to the Armstrongs. Awkward questions are being raised.

Cracked written by James Davies performed by Eric Martin on MP3CD (Unabridged)£14.99

An expose of the current state of psychiatry that reveals how the pursuit of pharmaceutical riches has compromised the patients' well-being. In an effort to enlighten a new generation about its growing reliance on psychiatry, this illuminating volume investigates why psychiatry has become the ....

Dick Barton - The Mystery of the Missing Formula written by BBC Team performed by Toby Stephens on CD (Abridged)£9.99 - £14.99

Where has George Cameron disappeared to? What deadly formula has he discovered? Why is his daughter Lucy in such terrible danger? And why was the meek chemist Tibbs so ruthlessly killed? The fate of the country lies in the hands of one man...

Fox Evil written by Minette Walters performed by Sean Barrett on CD (Abridged)£4.99 - £6.99

When elderly Ailsa Lockyer-Fox is found dead in her garden, dressed only in night clothes and with blood stains on the ground near her body, the finger of suspicion points at her wealthy, landowning husband, Colonel James Lockyer-Fox.

Her Way written by Catherine Cookson performed by Catherine Cookson on Cassette (Abridged)£9.99

A cassette containing renditions of such classics as My Way, Danny Boy and The Last Rose of Summer, together with Cookson's own composition, Falling Leaves. Interspersed with these songs are personal stories from her past, giving a deep insight into Catherine Cookson's philosophy of life.

Hope written by Richard Zoglin performed by Malcolm Hillgartner on MP3CD (Unabridged)£14.99

Born in 1903, and until his death in 2003, Bob Hope was the only entertainer to achieve top-rated success in every major mass-entertainment medium, from vaudeville to television and everything in between. He virtually invented modern stand-up comedy.

King Lear written by William Shakespeare performed by Paul Scofield, Kenneth Branagh, Harriet Walter and Emilia Fox on Cassette (Unabridged)£19.99

Paul Scofield plays Shakespeare's King Lear in this new recording for the acclaimed Naxos AudioBooks series. A full supporting cast, including Kenneth Branagh as the Fool, performs the complete, unabridged New Cambridge Shakespeare text of the play, with sound effects and accompanying music.

Lucian Freud - Eyes Wide Open written by Phoebe Hoban performed by Laural Merlington on MP3CD (Unabridged)£19.99

Phoebe Hoban, author of authoritative biographies of Jean-Michel Basquiat and Alice Neel, now turns her attention to Lucian Freud, the grandson of Sigmund and one of the greatest painters England has produced. Lucian Freud: Eyes Wide Open is the first biography to assess Freud's work ....

My Life in Middlemarch written by Rebecca Mead performed by Kate Reading on MP3CD (Unabridged)£19.99

A "New Yorker" writer explores the themes and complex influence of George Eliot's "Middlemarch," discussing how her own repeated readings of the literary classic shaped her education, career, relationships, and family life.

Never Hit a Jellyfish with a Spade written by Guy Browning performed by Simon Vance on MP3CD (Unabridged)£14.99

A whimsical collection of trivial trivia and lighthearted advice is culled from the popular Guardian "How to..." column and includes such tidbits as how to pretend to laugh at a joke, what an atheist should say when someone sneezes, and getting desired results at the barber's shop.

Once Upon a Time written by Debbie Macomber performed by Beth DeVries on CD (Unabridged)£19.99

From one of America's favorite storytellers comes a heartwarming, inspirational book to help readers understand their lives as one continuous, never-ending story. "What I didn't understand at that time was that not only would all my writing dreams come true (and even above and beyond ......

Only His - A Fool's Gold Romance written by Susan Mallery performed by Tanya Eby on CD (Unabridged)£14.99

Wedding bells are ringing in Fool's Gold, but not for Nevada Hendrix. Her triplet sisters are engaged, and even her mother has a more active love life than she does. Determined to make a fresh start, she applies for her dream job, only to discover that her new boss is her first love.

Optimize - How to Attract and Engage more Customers .... written by Lee Odden performed by JD Hart on MP3CD (Unabridged)£14.99

Attract, engage, and inspire your customers with an "Optimize and Socialize" content marketing strategy. Optimize is designed to give listeners a practical approach to integrating search and social media optimization with content marketing to boost relevance, visibility, and customer engagement.

Red Phoenix Burning written by Larry Bond and Chris Carlson performed by Patrick Lawlor on MP3CD (Unabridged)£9.99

North Korea has one of the world's largest standing armies, capable of unleashing a massive arsenal of chemical and nuclear weapons. With an unstable government, led by the Kim dynasty under absolute dictator Kim Jong Un, North Korea more closely resembles an organized crime ring than a real nation-state.

Sanctus - Revelation or Devastation? written by Simon Toyne performed by Jonathan Keeble on CD (Unabridged)£9.99

The bestselling thriller debut of 2011 – the apocalyptic conspiracy thriller that has set the world alight… REVELATION OR DEVASTATION? The certainties of the modern world are about to be blown apart by a three thousand year-old conspiracy nurtured by blood and lies …

Savor the Moment - Book Three in the Bride Quartet written by Nora Roberts performed by Angela Dawe on CD (Unabridged)£14.99

Childhood friends Mackensie, Parker, Laurel and Emmaline have formed a very successful wedding-planning business together but, despite helping thousands of happy couples organise the biggest day of their lives, all four women are unlucky in love.

Someone Who Was written by Brian Johnston performed by Brian Johnston on Cassette (Abridged)£4.99

Published to celebrate Brian Johnston's 80th birthday, this book contains thoughts and reminiscences in A-Z format, ranging from prep school, the author's early working life in the family coffee business in Brazil, his war experiences in the Grenadier Guards, being hypnotized, spending a night in the ....

Surfing For God written by Michael John Cusick performed by Nick Podehl on CD (Unabridged)£9.99

In a world where there are 68 million searches for pornography every day and where over 70 percent of Christian men report viewing porn in the last year, it's no surprise that more and more men struggle with an addiction to this false fantasy.

The Curse Breakers written by Denise Grover Swank performed by Shannon McManus on CD (Unabridged)£14.99

For more than four hundred years, the Curse Keepers guarded the barrier between the human and spirit realms. All that changed the day Ellie Lancaster met Collin Dailey. Prophecy demanded they defend the world from evil...even as it ignited a passion that threatened to consume them both.

The Curse of the Vampire's Socks and Other Doggerel written by Terry Jones performed by Terry Jones on Cassette (Unabridged)£9.99

A fabulous collection of 32 rhymes from Terry Jones. Hear about the clothes that rebelled against "the tyrants who have worn us". Or go on an adventure with the Sewer Kangaro who grants wishes. There is Moby Duck, the "terror of the river" and Bill's eraser that rubs out the world.

The Dr. Seuss Collection written by Dr. Seuss performed by Rik Mayall on Cassette (Unabridged)£4.99

A compilation of four zany favourites, with specially composed music and ridiculous sound effects: Stories are - Dr Seuss's ABC / How the Grinch Stole Christmas / The Lorax / One Fish, Two Fish, Red Fish, Blue Fish

The Dukan Diet written by Dr Pierre Dukan performed by Nicholas Bell on MP3CD (Unabridged)£19.99

Devised by Dr Pierre Dukan, a French medical doctor who has spent his career helping people to lose weight permanently, The Dukan Diet is the culmination of thirty-five years clinical experience. Without any of the usual marketing hype, The Dukan Diet swept across France, championed .....

The Great Santini written by Pat Conroy performed by Dick Hill on CD (Abridged)£14.99

Step into the powerhouse life of Bull Meecham. He's all Marine - fighter pilot, king of the clouds, and absolute ruler of his family. Lillian is his wife - beautiful, southern-bred, with a core of velvet steel. Without her cool head, her kids would be in real trouble.

The Oracle written by Catherine Fisher performed by Judith Boyd on MP3CD (Unabridged)£14.99

In the distant land of deserts and islands, the servants of the god rule the land, his wishes conveyed through the Oracle and interpreted by the High Priestess. Mirany is the new Bearer, afraid of her perilous duties for the god in the rituals of the Oracle, and fearful of her secret questioning...

The Pallbearers written by Stephen J. Cannell performed by Scott Brick on CD (Unabridged)£14.99

Abandoned by his parents as an infant, Scully was reared in an orphange, Huntington House. The only positive thing in his young life was the attention of the Home's director, Walter 'Pop' Dix. Pop, an avid surfer, would take a small group of kids for early morning surfing.

The Reluctant Dragon written by Kenneth Grahame performed by Anton Lesser on CD (Unabridged)£4.99

A Genius Performance by Anton Lesser! From the author of The Wind in the Willows comes this story of a boy who befriends a lazy, but quite pleasant dragon that takes up residence nearby. When the townspeople call in St. George, the eminent dragon-slayer, to do battle, it's up to the boy to sort things out .....

The Sacred Year written by Michael Yankoski performed by Mark Smeby on MP3CD (Unabridged)£19.99

Frustrated and disillusioned with his life as a Christian motivational speaker, Michael Yankoski was determined to stop merely talking about living a life of faith and start experiencing it. The result was a year of focused engagement with spiritual practices-both ancient and modern-that fundamentally...

The Sound of a Wild Snail Eating written by Elizabeth Tova Bailey performed by Renee Raudman on MP3CD (Unabridged)£14.99

Elisabeth Tova Bailey tells the intimate and inspiring story of her year-long encounter with a snail. While an illness keeps her bedridden, she becomes an astute and amused observer of the snail's surprising nocturnal adventures as it lives in a flowerpot on her nightstand.

This Immortal written by Roger Zelazny performed by Victor Bevine on MP3CD (Unabridged)£19.99

After a devastating war and decades of occupation by the Vegans, a decimated Earth faces final destruction by the Vegans and the possible elimination of the human race.

Tis written by Frank McCourt performed by Frank McCourt on CD (Unabridged)£34.99

Frank McCourt's glorious childhood memoir, Angela's Ashes, has been loved and celebrated by readers everywhere for its spirit, its wit and its profound humanity. A tale of redemption, in which storytelling itself is the source of salvation, it won the National Book Critics Circle Award and the Pulitzer Prize.

Twelfth Night written by William Shakespeare performed by Stella Gonet, Gerard Murphy and Jonathan Keeble on Cassette (Unabridged)£5.99

One of Shakespeare's finest comedies, Twelfth Night was written at the same time as Hamlet and Troilus and Cressida, and whilst it shares their fascination with sex, death and confused identities, its exuberant comedy and linguistic inventiveness rises above the introspection of these plays.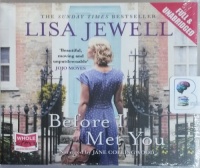 Before I Met You written by Lisa Jewell performed by Jane Collingwood on CD (Unabridged)£19.99
An uplifting, warm and unforgettable story of two women in two different times from the Sunday Times Top Ten bestselling author Betty Dean can't wait to leave her quiet upbringing in Guernsey and begin her mission to find Clara Pickle - the mysterious beneficiary in her grandmother's will. She arrives in ...
---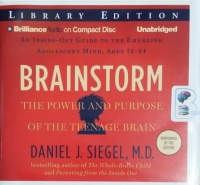 Brainstorm - The Power and Purpose of the Teenage Brain written by Daniel J. Siegel MD performed by Daniel J. Siegel MD on CD (Unabridged)£24.99
Between the ages of 12 and 24, the brain changes in important and often maddening ways. It's no wonder that many parents approach their child's adolescence with fear and trepidation. According to renowned neuropsychiatrist Daniel Siegel, however, if parents and teens can work together to form a...
---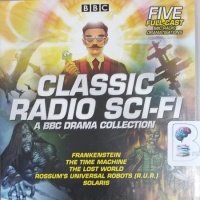 Classic Radio Sci-Fi - A BBC Drama Collection written by Various Great Sci-Fi Authors performed by Robert Glenister, Francis de Wolff, Carleton Hobbs and Joanne Froggatt on CD (Abridged)£19.99
Five seminal science fiction classics are brought vividly to life in these gripping BBC Radio dramatisations, with casts including Robert Glenister, William Gaunt, Carleton Hobbs and Joanne Froggatt. "Frankenstein" (1994) is adapted from one of the first science fiction novels, Mary Shelley's tale of a scientist who tries ...
---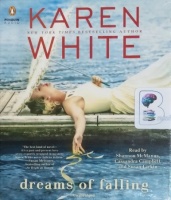 Dreams of Falling written by Karen White performed by Shannon McManus, Cassandra Campbell and Susan Larkin on CD (Unabridged)£24.99
One of PureWow's "Best Beach Reads of Summer 2018" New York Times best-selling author Karen White crafts evocative relationships in this contemporary women's fiction novel, set in the Lowcountry of South Carolina, about lifelong friends who share a devastating secret. On the banks of the North Santee ...
---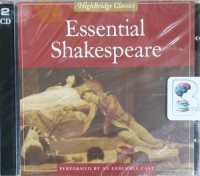 Essential Shakespeare written by William Shakespeare performed by Simon Callow, Lindsay Duncan, Paul Rhys and Harriet Walter on CD (Unabridged)£14.99
Experience some of the most thrilling poetry and drama in world literature. This unique collection includes two sonnets and famous scenes from 11 of Shakespeare's plays: Macbeth, Othello, Twelfth Night, As You Like It, Romeo and Juliet, Much Ado About Nothing, A Midsummer Night's Dream, Richard II...
---
---
---
---
---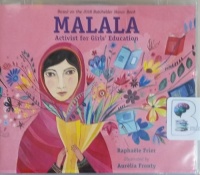 Malala - Activist for Girls' Education written by Raphaele Frier performed by Caroline McLaughlin on CD (Unabridged)£9.99
Despite an attempt on her life by the Taliban, Malala Yousafzai has continued to fight for the rights of children to become educated. As the youngest person to be awarded the Nobel Peace Prize, her courage and conviction continue to push her to fight for what she believes in. This riveting and inspiring ...
---
---
---
---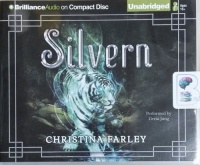 Silvern written by Christina Farley performed by Greta Jung on CD (Unabridged)£9.99
Jae Hwa Lee is ready to forget about immortals and move on with her life. Until the god of darkness, Kud, sends an assassin to kill her. She escapes with the knowledge that Kud is seeking the lost White Tiger Orb, and joins the Guardians of Shinshi to seek out the orb before Kud can find it. But Kud is a stronger...
---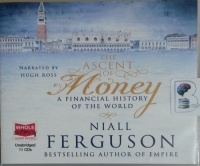 The Ascent of Money - A Financial History of the World written by Niall Ferguson performed by Hugh Ross on CD (Unabridged)£24.99
Bread, cash, dosh, dough, loot: Call it what you like, it matters. To Christians, love of it is the root of all evil. To generals, it's the sinews of war. To revolutionaries, it's the chains of labour. But in The Ascent of Money, Niall Ferguson shows that finance is in fact the foundation of human progress.