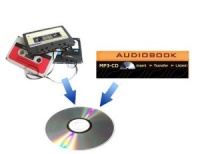 3 Hour Fixed Price Audio Transfer for Customers Own Tapes£25.00
This is the fixed price £25.00 item to be used by Customers when ordering conversion of their own sub 3 hour Audio Cassette or MP3 CD title.
---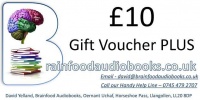 Gift Voucher PLUS 10£10.00
Welcome to the New Brainfood Audiobooks Gift Voucher PLUS! This is a Gift Voucher with a difference.
---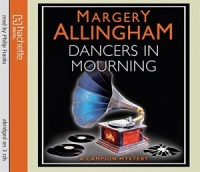 Dancers in Mourning written by Margery Allingham performed by Philip Franks on CD (Abridged)£16.99
A Genius Performance by Philip Franks!
Everyone fell under the spell of Jimmy Sutane, the charming and talented song-and-dance man.
---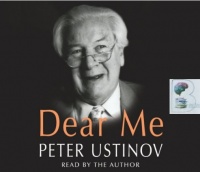 Dear Me written by Peter Ustinov performed by Peter Ustinov on CD (Abridged)£4.99 - £9.99
Sir Peter Ustinov's beautifully crafted autobiography is told with exquisite wit and insight. From his birth in April 1921, it spans his extraordinary career as actor, playwright, film star and director, confirming his early belief that he is 'irrevocably betrothed to laughter'.
---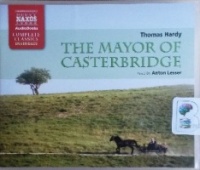 The Mayor of Casterbridge written by Thomas Hardy performed by Anton Lesser on CD (Unabridged)£29.99
Thomas Hardy's novels about the cruel twists of fate that blight our lives have a timeless power to move us. In The Mayor Casterbridge, a young Michael Henchard makes a rash, alcohol-fuelled decision to sell his wife. Despite abstaining from alcohol from this point forward and living an upstanding life.... Naxos
---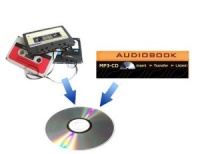 3 Hour Fixed Price Audio Transfer£15.00
This is the fixed price £15 item to be used when ordering conversion of a sub 3 hour Audio Cassette or MP3 CD title.
---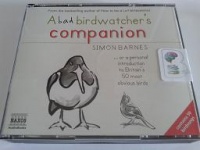 A Bad Birdwatcher's Companion written by Simon Barnes performed by SImon Barnes on CD (Abridged)£9.99
Simon Barnes is one of Britain's leading bird writers and humorists. His weekly column in The Times, his essays for the RSPB magazine and his two books on bad bird-watching have made him one of the characters of the bird world.
---
---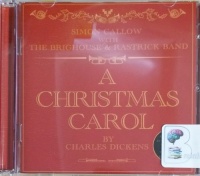 A Christmas Carol written by Charles Dickens performed by Simon Callow and The Brighouse and Rastrick Band on CD (Abridged)£9.99 - £11.99
Marking the 175 anniversary of Charles Dickens' immortal classic 'A Christmas Carol', celebrated actor Simon Callow and one of the world's most respected brass bands The Brighouse and Rastrick Band join forces for this very special Christmas album. It combines Simon Callow's acclaimed adaptation of Charles...
---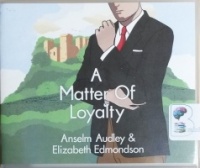 A Matter of Loyalty written by Anselm Audley and Elizabeth Edmondson performed by Michael Page on CD (Unabridged)£19.99
January 1954. Mists cover the hills around Selchester. Someone at the research facility known as the Atomic is leaking secrets to Soviet Russia, and when nuclear scientist Bruno Rothesay goes missing, the British Intelligence Services are convinced he's the mole. Hugo Hawksworth isn't so sure.
---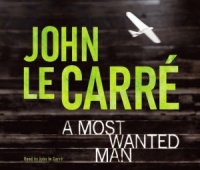 A Most Wanted Man written by John le Carre performed by John le Carre on CD (Abridged)£9.99
A half-starved young Russian man in a long black overcoat is smuggled into Hamburg at dead of night. He has an improbable amount of cash secreted in a purse round his neck. He is a devout Muslim. Or is he? He says his name is Issa.
---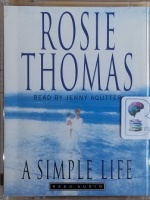 A Simple Life written by Rosie Thomas performed by Jenny Agutter on Cassette (Abridged)£4.99
A new saga from the author of OTHER PEOPLE'S MARRIAGES, about a woman living in America, who has a happy, normal family life, but who also has a secret connected with England which could tear her marriage apart.
---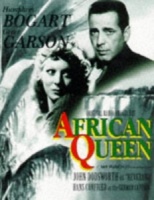 African Queen written by Mr Punch performed by Humphrey Bogart and Greer Garson on Cassette (Unabridged)£5.99
Set in 1915 on the treacherous rivers of war-torn Africa, this production features Charlie Allnut, a gin-drinking river trader, who reluctantly agrees to help the prim missionary, Rose Sayer, to travel down the river and destroy a German gun boat.
---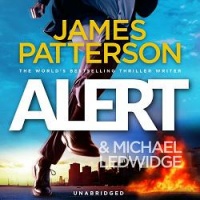 Alert written by James Patterson and Michael Ledwidge performed by Danny Mastrogiorgio and Henry Leyva on CD (Unabridged)£6.99
Every New Yorker's worst nightmare is about to become a reality. New York has seen more than its fair share of horrific attacks, but the city is about to be shaken in a way it never has before. After two devastating catastrophes in quick succession, everyone is on edge.
---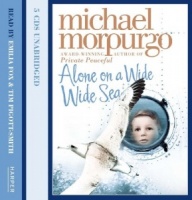 Alone in a Wide Wide Sea written by Michael Morpurgo performed by Tim Pigott-Smith and Emilia Fox on CD (Abridged)£4.99
A Genius Performance by Emilia Fox!
When orphaned Arthur Hobhouse is shipped to Australia after WWII he loses his sister, his country and everything he knows.
---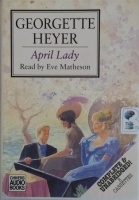 April Lady written by Georgette Heyer performed by Eve Matheson on Cassette (Unabridged)£19.99
When Lord Cardross married 18 year old Lady Helen he also undertook the task of staving off financial disaster for her father, and settled the more pressing gambling debts of her brother. Has Lady Helen only married him for his money?
New In November 2017 Part 4
(in alphabetical order)
A Flower in Season written by Audrey Howard performed by Carole Boyd on CD (Unabridged)£14.99 - £24.99

Briony Marsden has led a hard life, forced to do the work of a grown man while enduring her drunkard father's taunts and blows. But when he goes too far one day, her fate becomes even worse as she makes her way alone in a heartless world.

Agatha Raisin and the Curious Curate written by M.C. Beaton performed by Penelope Keith on CD (Unabridged)£39.99

The third volume of the M.C. Beaton mystery series, starring Penelope Keith. When the village curate is found murdered, retired PR guru Agatha Raisin vows to bring his killer to justice, particularly if the investigation also brings her closer to her handsome next-door neighbour, Colonel Lacey.

Agatha Raisin and the Fairies of Fryfam written by M.C. Beaton performed by Penelope Keith on CD (Unabridged)£19.99

Feeling jilted and cross, Agatha follows a fortune-teller's advice and rents a cottage in the pretty village of Fryfam, where she hopes good fortune and true love will come chasing after her for a change. Unfortunately, her romantic notions are soon dispelled by the strange goings-on in the village.

Agatha Raisin and the Love from Hell written by M.C. Beaton performed by Penelope Keith on CD (Unabridged)£9.99 - £24.99

A Genius performance by Penelope Keith!

No happily ever after for her! Recently married to neighbour James Lacey, Agatha quickly finds that love is not all it's cracked up to be - soon the newly-weds are living in separate cottages and accusing each other of infidelity.

Anna Karenina written by Leo Tolstoy performed by Teresa Gallagher, Toby Stephens, Nicholas Farrell and Stephen Thorne on Cassette (Abridged)£9.99

A dramatization of Tolstoy's great novel set among the highest circles of 19th-century Russian society. After ten empty years of marriage to a pompous bureaucrat, Anna leads a life of meaningless sophistication. When she meets a dynamic and arrogant young officer, her world is turned upside down.

Drum-Taps and Memoranda During the War written by Walt Whitman performed by Bronson Pinchot on CD (Unabridged)£14.99

Walt Whitman experienced first-hand the ravages of the Civil War as a volunteer nurse in the hospitals of Washington D.C. During that time, he filled notebooks with ?impromptu jottings" that became the basis of two works: Drum-Taps, a collection of 71 poems including

Heart and Soul written by Maeve Binchy performed by Maureen O'Brien on CD (Unabridged)£19.99 - £29.99

Clara Casey has more than enough on her plate. Her daughters Adi and Linda were no problem at all during the usually turbulent teens. Now in their twenties, Adi is always fighting for or against something: the environment or the whale or battery farming; while Linda lurches from one unsatisfactory relationship to the next. As if this wasn't enough, Clara, a senior cardiac specialist, has a new job to cope with...

Laughing Gas written by P.G. Wodehouse performed by Jonathan Cecil on CD (Unabridged)£44.99

Joey Cooley is a golden-curled child film star, the idol of American motherhood. Reginald, Third Earl of Havershot, is a boxing blue on a mission to save his wayward cousin from the fleshpots of Hollywood. Both are under anaesthetic at the dentists when something strange happens - and their identities .....

Making a Good Brain Great written by Daniel G. Amen M.D. performed by Daniel G. Amen M.D. on CD (Abridged)£24.99

Daniel Amen, M.D., one of the world's foremost authorities on the brain, has news for you: your brain is involved in everything you do--learn to care for it properly, and you will be smarter, healthier, and happier in as little as 15 days! You probably run, lift weights, or do yoga to keep your body in great shape;

Meet Mr Mulliner written by P.G. Wodehouse performed by Jonathan Cecil on CD (Unabridged)£39.99

In the Angler's Rest, drinking hot scotch and lemon, sits one of Wodehouse's greatest raconteurs. Mr Mulliner, his vivid imagination lubricated by Miss Postlethwaite the barmaid, has fabulous stories to tell of the extraordinary behaviour of his far-flung family ...

Scarlet Ribbons written by Emma Blair performed by Eve Karpf on CD (Unabridged)£39.99

Sadie Smith can't believe her luck when she is told that soon she will be like all other children and her mother buys her a pair of scarlet ribbons. For Sadie, born with a degenerative hip, is unable to walk. When she arrives at Babies Castle, a Dr Barnardo's home, she is so excited that she fails to realize ......

The Babes in the Wood written by Ruth Rendell performed by Nigel Anthony on CD (Unabridged)£29.99

There hadn't been anything like this kind of rain in living memory. The River Brede had burst its banks, and not a single house in the valley had escaped flooding. Even where Wexford lived, higher up in Kingsmarkham, the waters had nearly reached the mulberry tree in his once immaculate garden...

The Go-Between written by L.P. Hartley performed by Sean Barrett on CD (Unabridged)£39.99

"The past is a foreign country: they do things differently there." Haunting, moving, evocative, The Go-Between is L.P. Hartley's heart-breaking novel about social constraints and childhood innocence. During the long hot summer of 1900, young Leo Colston is invited to stay for a month at a lordly.... Naxos

The Murder Room written by P.D. James performed by Michael Jayston on CD (Unabridged)£9.99 - £29.99

A Genius Performance by Michael Jayston! The Dupayne, a small private museum in London devoted to the interwar years 1919 -- 1939, is in turmoil. As its trustees argue over whether it should be closed, one of them is brutally and mysteriously murdered. Yet even as Commander Dalgliesh and his team ...

The Nations Favourite Shakespeare written by William Shakespeare performed by Eleanor Bron, Alex Jennings, Robert Powell and Imogen Stubbs on CD (Abridged)£14.99

This audio production contains a collection of Shakespeare's best-known and best-loved sonnets, soliloquies and speeches.

The No.1 Ladies' Detective Agency Audiobook Collection written by Alexander McCall Smith performed by Adjoa Andoh on CD (Abridged)£29.99

Collected for the first time, the first four titles in Alexander McCall Smith's famous Mma Ramotswe series. Includes free bonus CD featuring a previously unheard short story about Mma Ramotswe and Mma Makutsi, plus an interview with Alexander McCall Smith.

The Speaker of Manderin written by Ruth Rendell performed by Michael Bryant on CD (Unabridged)£19.99

China both delighted and frustrated Wexford; the beauty, the history, all of that brought immense pleasure. But the unending attention of Mr Sung of the Chinese Tourist Board was hugely irritating – and that an old woman with bound feet should haunt him was puzzling and slightly frightening,

This Sceptred Isle Twentieth Century written by Christopher Lee performed by Anna Massey on Cassette (Unabridged)£29.99

The boxed set of ten audio cassettes that includes all five volumes of "This Sceptred Isle" covering the 20th-century history of Britain.

Waterloo written by Bernard Cornwell performed by Bernard Cornwell and Dugald B. Lockhart on CD (Unabridged)£19.99

On the 18th June 1815 the armies of France, Britain and Prussia descended upon a quiet valley south of Brussels. In the previous three days the French army had beaten the British at Quatre-Bras and the Prussians at Ligny. The Allies were in retreat.
---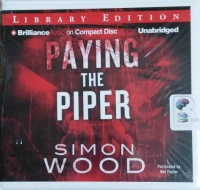 Paying the Piper written by Simon Wood performed by Mel Foster on CD (Unabridged)£19.99
For years, the serial kidnapper known as the Piper got rich by abducting children from San Francisco's wealthiest families. When crime reporter Scott Fleetwood gets a call from a man identifying himself as the Piper and offers an exclusive interview, Fleetwood jumps at the chance. But the caller turns out ...
---
---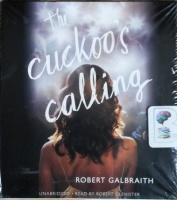 The Cuckoo's Calling written by Robert Galbraith performed by Robert Glenister on CD (Unabridged)£19.99
Now a major BBC drama: The Strike series. When a troubled model falls to her death from a snow-covered Mayfair balcony, it is assumed that she has committed suicide. However, her brother has his doubts, and calls in private investigator Cormoran Strike to look into the case. Strike is a war veteran -...
---
---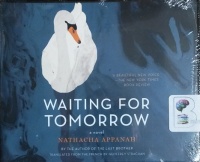 Waiting for Tomorrow written by Nathacha Appanah performed by Teri Schnaubelt on CD (Unabridged)£24.99
Anita is waiting for Adam to be released from prison. They met twenty years ago at a New Year's Eve party in Paris, a city where they both felt out of place?he as a recent arrival from the provinces, and she as an immigrant from the island of Mauritius. They quickly fell in love, married, and moved to a village in...
---
Wonderful Today - The Autobiography written by Pattie Boyd with Penny Junor performed by Pattie Boyd on CD (Unabridged)£39.99
Pattie Boyd was the Queen of the 60s and beyond...a drop-dead gorgeous model, photographer, and the inspiration for the timeless songs "Something", "Layla", and "Wonderful Tonight". Her story is one of drama, struggle, and, ultimately, affirmation, but her struggles (against addiction, tragedy, infertility)...
---
---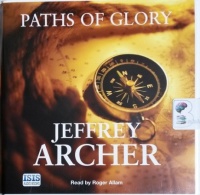 Paths of Glory written by Jeffrey Archer performed by Roger Allam on CD (Unabridged)£39.99
This is the story of a man who loved two women, and one of them killed him. Some people have dreams that are so outrageous that if they were to achieve them, their place in history would be guaranteed. Francis Drake, Robert Scott, Percy Fawcett, Charles Lindbergh, Amy Johnson, Edmund Hillary and Neil...
---
---
---
---
Wintering written by Derek Johns performed by Clive Mantle on CD (Unabridged)£39.99
Arriving at harvest-time in a sleepy rural village on the outskirts of Wells, the Palmer family are making a fresh start. At first, this smaller, slower world seems to offer few distractions, but even before winter has arrived, the open fields, cobbled streets, and steamy coffee shops begin to yield opportunities ...
---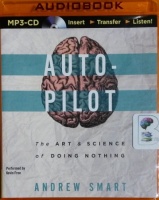 Auto-Pilot - The Art and Science of Doing Nothing written by Andrew Smart performed by Kevin Free on MP3 CD (Unabridged)£14.99
Andrew Smart wants you to sit and do nothing much more often - and he has the science to explain why. At every turn we're pushed to do more, faster, and more efficiently: That drumbeat resounds throughout our wage-slave society. Multitasking is not only a virtue, it's a necessity. Books such as Getting Things...
---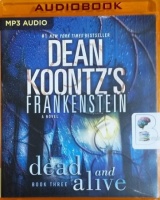 Dead and Alive - Book 3 of Frankenstein written by Dean Koontz performed by Christopher Lane on MP3 CD (Unabridged)£9.99
From the celebrated imagination of Dean Koontz comes a powerful reworking of one of the classic stories of all time. If you think you know the legend, you know only half the truth. Now the mesmerizing saga concludes. . . . As a devastating hurricane approaches, as the benighted creations of Victor Helios begin...