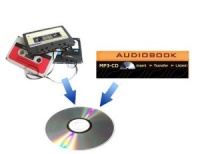 3 Hour Fixed Price Audio Transfer£10.00
This is the fixed price £10 item to be used when ordering conversion of a sub 3 hour Audio Cassette or MP3 CD title.
---
---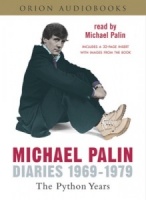 Michael Palin Diaries 1969-1979 - The Python Years written by Michael Palin performed by Michael Palin on CD (Abridged)£3.99 - £4.99
Michael Palin's diaries begin when he was newly married and struggling to make a name for himself in the world of television comedy. But Monty Python was just around the corner . . .
---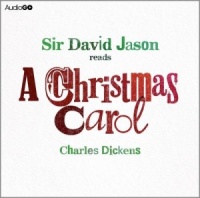 A Christmas Carol written by Charles Dickens performed by David Jason on CD (Abridged)£9.99
Dickens's story of solitary miser Ebenezer Scrooge, who is taught the true meaning of Christmas by the three ghosts of Christmas past, present and future, has been adapted into countless film and stage versions and is today the most famous and loved of all Christmas tales.
---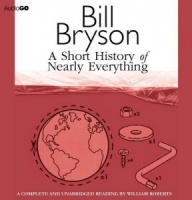 A Short History of Nearly Everything written by Bill Bryson performed by William Roberts on CD (Unabridged)£24.99 - £29.99
In A Short History of Nearly Everything, beloved author Bill Bryson confronts his greatest challenge yet: to understand—and, if possible, answer—the oldest, biggest questions we have posed about the universe and ourselves.
---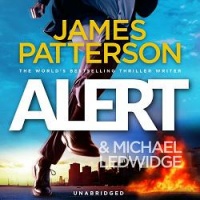 Alert written by James Patterson and Michael Ledwidge performed by Danny Mastrogiorgio and Henry Leyva on CD (Unabridged)£6.99
Every New Yorker's worst nightmare is about to become a reality. New York has seen more than its fair share of horrific attacks, but the city is about to be shaken in a way it never has before. After two devastating catastrophes in quick succession, everyone is on edge.
---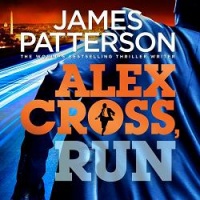 Alex Cross, Run written by James Patterson performed by Michael Boatman on CD (Abridged)£4.99
Detective Alex Cross arrests renowned plastic surgeon Elijah Creem for sleeping with teenage girls. Now, his life ruined, Creem is out of jail, and he's made sure that no one will recognize him - by giving himself a new face. A young woman is found hanging from a sixth-floor window, and Alex is called to the scene.
---
---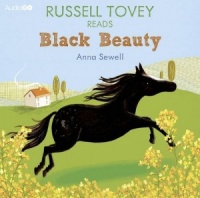 Black Beauty written by Anna Sewell performed by Russell Tovey on CD (Abridged)£5.99
Russell Tovey reads the story of the handsome and spirited horse, Black Beauty."'I hope you will grow up gentle and good, and never learn bad ways; do your work with a good will, lift your feet up well when you trot, and never bite or kick..."
---
---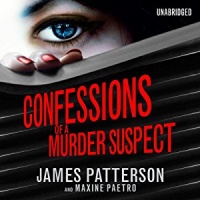 Confessions of a Murder Suspect written by James Patterson and Maxine Paetro performed by Emma Galvin on CD (Unabridged)£11.99
On the night Malcolm and Maud Angel are murdered, their daughter Tandy knows just three things: 1) She was one of the last people to see her parents alive. 2) The suspect list only includes Tandy and her three siblings. 3) She can't trust anyone--maybe not even herself.
---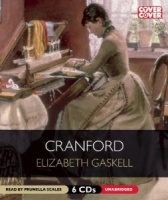 Cranford written by Elizabeth Gaskell performed by Prunella Scales on CD (Unabridged)£19.99
"I'll not listen to reason," she said, now in full possession of her voice, which had been rather choked with sobbing. "Reason always means what someone else has got to say."'
---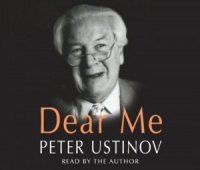 Dear Me written by Peter Ustinov performed by Peter Ustinov on CD (Abridged)£4.99 - £9.99
Sir Peter Ustinov's beautifully crafted autobiography is told with exquisite wit and insight. From his birth in April 1921, it spans his extraordinary career as actor, playwright, film star and director, confirming his early belief that he is 'irrevocably betrothed to laughter'.
---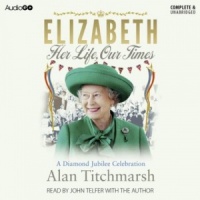 Elizabeth - Her Life, Our Times written by Alan Titchmarsh performed by Alan Titchmarsh and John Telfer on CD (Unabridged)£7.99 - £14.99
On 2 June 1953, 27-year-old Princess Elizabeth of York was crowned Queen, the eyes of the world upon her as she dedicated herself to her country.
---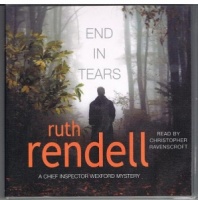 End in Tears written by Ruth Rendell performed by Christopher Ravenscroft on CD (Abridged)£5.99
A lump of concrete dropped deliberately from a little stone bridge kills the wrong person. The young woman in the car behind is spared. But only for a while...
---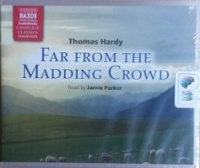 Far From The Madding Crowd written by Thomas Hardy performed by Jamie Parker on CD (Unabridged)£39.99
In a remote corner of early Victorian England, where traditional practices remain untouched by time, Bathsheba Everdene stands out as a beacon of female independence and self-reliance. However, when confronted with three suitors, among them the dashing Captain Troy...
New In November 2017 Part 4
(in alphabetical order)
A Flower in Season written by Audrey Howard performed by Carole Boyd on CD (Unabridged)£14.99

Briony Marsden has led a hard life, forced to do the work of a grown man while enduring her drunkard father's taunts and blows. But when he goes too far one day, her fate becomes even worse as she makes her way alone in a heartless world.

Agatha Raisin and the Curious Curate written by M.C. Beaton performed by Penelope Keith on CD (Unabridged)£39.99

The third volume of the M.C. Beaton mystery series, starring Penelope Keith. When the village curate is found murdered, retired PR guru Agatha Raisin vows to bring his killer to justice, particularly if the investigation also brings her closer to her handsome next-door neighbour, Colonel Lacey.

Agatha Raisin and the Fairies of Fryfam written by M.C. Beaton performed by Penelope Keith on CD (Unabridged)£19.99

Feeling jilted and cross, Agatha follows a fortune-teller's advice and rents a cottage in the pretty village of Fryfam, where she hopes good fortune and true love will come chasing after her for a change. Unfortunately, her romantic notions are soon dispelled by the strange goings-on in the village.

Agatha Raisin and the Love from Hell written by M.C. Beaton performed by Penelope Keith on CD (Unabridged)£9.99 - £24.99

A Genius performance by Penelope Keith!

No happily ever after for her! Recently married to neighbour James Lacey, Agatha quickly finds that love is not all it's cracked up to be - soon the newly-weds are living in separate cottages and accusing each other of infidelity.

Drum-Taps and Memoranda During the War written by Walt Whitman performed by Bronson Pinchot on CD (Unabridged)£14.99

Walt Whitman experienced first-hand the ravages of the Civil War as a volunteer nurse in the hospitals of Washington D.C. During that time, he filled notebooks with ?impromptu jottings" that became the basis of two works: Drum-Taps, a collection of 71 poems including

Heart and Soul written by Maeve Binchy performed by Maureen O'Brien on CD (Unabridged)£19.99 - £29.99

Clara Casey has more than enough on her plate. Her daughters Adi and Linda were no problem at all during the usually turbulent teens. Now in their twenties, Adi is always fighting for or against something: the environment or the whale or battery farming; while Linda lurches from one unsatisfactory relationship to the next. As if this wasn't enough, Clara, a senior cardiac specialist, has a new job to cope with...

Laughing Gas written by P.G. Wodehouse performed by Jonathan Cecil on CD (Unabridged)£24.99

Joey Cooley is a golden-curled child film star, the idol of American motherhood. Reginald, Third Earl of Havershot, is a boxing blue on a mission to save his wayward cousin from the fleshpots of Hollywood. Both are under anaesthetic at the dentists when something strange happens - and their identities .....

Making a Good Brain Great written by Daniel G. Amen M.D. performed by Daniel G. Amen M.D. on CD (Abridged)£24.99

Daniel Amen, M.D., one of the world's foremost authorities on the brain, has news for you: your brain is involved in everything you do--learn to care for it properly, and you will be smarter, healthier, and happier in as little as 15 days! You probably run, lift weights, or do yoga to keep your body in great shape;

Meet Mr Mulliner written by P.G. Wodehouse performed by Jonathan Cecil on CD (Unabridged)£29.99

In the Angler's Rest, drinking hot scotch and lemon, sits one of Wodehouse's greatest raconteurs. Mr Mulliner, his vivid imagination lubricated by Miss Postlethwaite the barmaid, has fabulous stories to tell of the extraordinary behaviour of his far-flung family ...

Scarlet Ribbons written by Emma Blair performed by Eve Karpf on CD (Unabridged)£39.99

Sadie Smith can't believe her luck when she is told that soon she will be like all other children and her mother buys her a pair of scarlet ribbons. For Sadie, born with a degenerative hip, is unable to walk. When she arrives at Babies Castle, a Dr Barnardo's home, she is so excited that she fails to realize ......

The Babes in the Wood written by Ruth Rendell performed by Nigel Anthony on CD (Unabridged)£29.99

There hadn't been anything like this kind of rain in living memory. The River Brede had burst its banks, and not a single house in the valley had escaped flooding. Even where Wexford lived, higher up in Kingsmarkham, the waters had nearly reached the mulberry tree in his once immaculate garden...

The Go-Between written by L.P. Hartley performed by Sean Barrett on CD (Unabridged)£39.99

"The past is a foreign country: they do things differently there." Haunting, moving, evocative, The Go-Between is L.P. Hartley's heart-breaking novel about social constraints and childhood innocence. During the long hot summer of 1900, young Leo Colston is invited to stay for a month at a lordly....

The Murder Room written by P.D. James performed by Michael Jayston on CD (Unabridged)£16.99 - £29.99

A Genius Performance by Michael Jayston!

The Dupayne, a small private museum in London devoted to the interwar years 1919 -- 1939, is in turmoil.

The Nations Favourite Shakespeare written by William Shakespeare performed by Eleanor Bron, Alex Jennings, Robert Powell and Imogen Stubbs on CD (Abridged)£14.99

This audio production contains a collection of Shakespeare's best-known and best-loved sonnets, soliloquies and speeches.

The No.1 Ladies' Detective Agency Audiobook Collection written by Alexander McCall Smith performed by Adjoa Andoh on CD (Abridged)£29.99

Collected for the first time, the first four titles in Alexander McCall Smith's famous Mma Ramotswe series. Includes free bonus CD featuring a previously unheard short story about Mma Ramotswe and Mma Makutsi, plus an interview with Alexander McCall Smith.

The Speaker of Manderin written by Ruth Rendell performed by Michael Bryant on CD (Unabridged)£19.99

China both delighted and frustrated Wexford; the beauty, the history, all of that brought immense pleasure. But the unending attention of Mr Sung of the Chinese Tourist Board was hugely irritating – and that an old woman with bound feet should haunt him was puzzling and slightly frightening,

This Sceptred Isle Twentieth Century written by Christopher Lee performed by Anna Massey on Cassette (Unabridged)£29.99

The boxed set of ten audio cassettes that includes all five volumes of "This Sceptred Isle" covering the 20th-century history of Britain.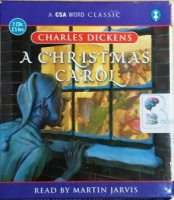 A Christmas Carol written by Charles Dickens performed by Martin Jarvis on CD (Abridged)£14.99
Christmas would not be the same without the most famous Christmas story ever written. A Christmas Carol in Prose, Being a Ghost Story of Christmas, commonly shortened to A Christmas Carol, is a true classic. Its central character, Ebeneezer Scrooge, is the meanest, most miserly and...
---
---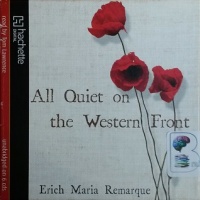 All Quiet on the Western Front written by Erich Maria Remarque performed by Tom Lawrence on CD (Unabridged)£24.99
The story is told by a young 'unknown soldier' in the trenches of Flanders during the First World War. Through his eyes we see all the realities of war; under fire, on patrol, waiting in the trenches, at home on leave, and in hospitals and dressing stations. Although there are vividly described incidents...
---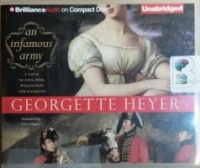 An Infamous Army written by Georgette Heyer performed by Claire Higgins on CD (Unabridged)£24.99
In 1815, beneath the aegis of the Army of Occupation, Brussels is the gayest town in Europe. And the widow Lady Barbara Childe, renowned for being as outrageous as she is beautiful, is at the centre of all that is fashionable and light-hearted. When she meets Charles Audley, dashing aide-de-camp...
---
---
---
---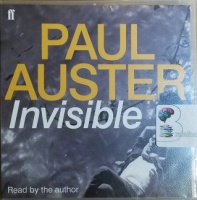 Invisible written by Paul Auster performed by Paul Auster on CD (Unabridged)£9.99
Sinuously constructed in four interlocking parts, Invisible opens in New York City in the spring of 1967 when twenty-year-old Adam Walker, an aspiring poet and student at Columbia University meets the enigmatic Frenchman Rudolf Born, and his silent and seductive girlfriend Margot.
---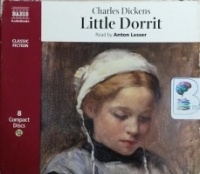 Little Dorrit written by Charles Dickens performed by Anton Lesser on CD (Abridged)£24.99
In Little Dorrit, Charles Dickens created one of his most penetrating satires on the weaknesses of government in the Victorian era. He chose Marshalsea debtors prison as the setting, where his own father had been imprisoned. The story revolves around a complex mystery involving conspiracy...
---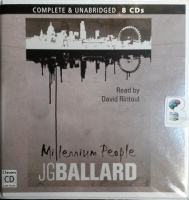 Millennium People written by J.G. Ballard performed by David Rintoul on CD (Unabridged)£19.99
Millennium People tells the story of David Markham, a psychologist who is searching for the truth behind a bomb that exploded on a Heathrow baggage carousel, killing his ex?wife. Infiltrating a shadowy protest group responsible for her death, David finds himself succumbing to the charismatic...
---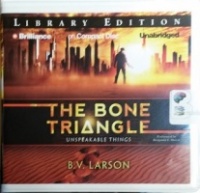 The Bone Triangle - Unspeakable Things written by B.V. Larson performed by Benjamin L. Darcie on CD (Unabridged)£29.99
Beyond the din and dancing lights of the Las Vegas strip, a young woman has mysteriously gone missing. All the facts point to something sinister - even paranormal. Quentin Draith, supernatural crime investigator, is hired to assist. However, the deeper Draith digs, the more otherworldly his...
---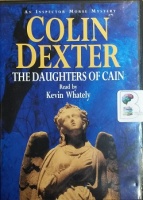 The Daughters of Cain written by Colin Dexter performed by Kevin Whately on CD (Abridged)£5.99
Bizarre and bewildering - that's what so many murder investigations in the past had proved to be . . . In this respect, at least, Lewis was correct in his thinking. What he could not have known was what unprecedented anguish the present case would cause to Morse's soul.
---
---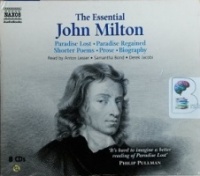 The Essential John Milton - Paradise Lost, Paradise Regained, Shorter Poems, Prose and Biography written by John Milton performed by Anton Lesser, Samantha Bond and Derek Jacobi on CD (Abridged)£29.99
This thoughtful collection of John Milton's finest poetry marks the quarter centenary of the poet's birth in 1608. It is read by several of Britain's foremost classical actors, including Anton Lesser, Samantha Bond and Derek Jacobi. Milton's uncompromising views set him firmly on the side of Cromwell....
---