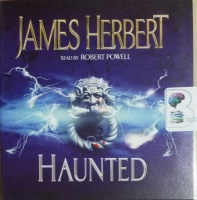 Haunted written by James Herbert performed by Robert Powell on CD (Abridged)£4.99
A ghostly twist. Three nights of terror at the house called Edbrook. Three nights in which David Ash, there to investigate a haunting, will be victim of horrifying games. Three nights in which he will face the blood-chilling enigma of his own past.
---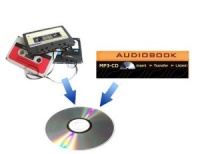 Large Fixed Price Audio Transfer Service£35.00
This is the fixed price £35.00 item to be used when ordering conversion of a 6-9 hour Audio Cassette or MP3 CD title.
---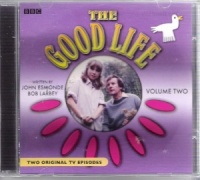 The Good Life written by John Esmonde and Bob Larbey performed by Richard Briers and Felicity Kendal on CD (Abridged)£3.99
Two episodes of the wonderful TV show!
---
---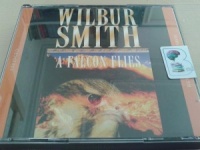 A Falcon Flies written by Wilbur Smith performed by Martin Jarvis on CD (Abridged)£4.99 - £8.99
A Falcon Flies is the first bestselling novel in Wilbur Smith's epic tale of Africa, The Ballantyne Novels. In search of a father they barely remember, Zouga and Dr Robyn Ballantyne board Mungo St John's magnificent clipper to speed them to Africa.
---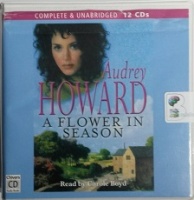 A Flower in Season written by Audrey Howard performed by Carole Boyd on CD (Unabridged)£14.99 - £24.99
Briony Marsden has led a hard life, forced to do the work of a grown man while enduring her drunkard father's taunts and blows. But when he goes too far one day, her fate becomes even worse as she makes her way alone in a heartless world.
---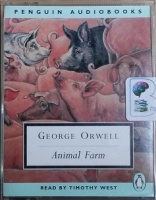 Animal Farm written by George Orwell performed by Timothy West on Cassette (Unabridged)£9.99
All animals are equal - but some are more equal than others' When the downtrodden animals of Manor Farm overthrow their master Mr Jones and take over the farm themselves, they imagine it is the beginning of a life of freedom and equality.
---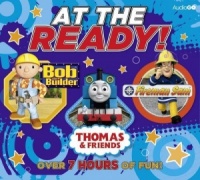 At The Ready! written by Various Childrens Authors performed by Various Famous Actors on CD (Abridged)£39.99
This box set contains over 7 hours of fun from Bob the Builder, Fireman Sam and Tomas the Tank Engine! This would make a brilliant gift that will last considerably longer than the New Year!
---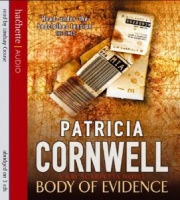 Body of Evidence written by Patricia Cornwell performed by Lindsay Crouse on CD (Abridged)£9.99
A reclusive writer is dead. And her final manuscript has disappeared ...Someone is stalking Beryl Madison.
---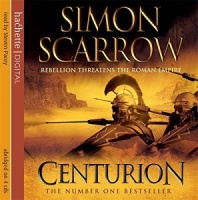 Centurion - Rebellion Threatens the Roman Empire written by Simon Scarrow performed by Steven Pacey on CD (Abridged)£17.99 - £18.99
In the first century AD the Roman Empire faces a new threat from its long-standing enemy Parthia. Parthia is vying with Rome for control of Palmyra an officially neutral kingdom.
---
---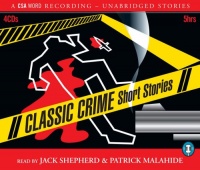 Classic Crime Short Stories written by Various Famous Crime Writers performed by Jack Shepherd and Patrick Malahide on CD (Unabridged)£4.99 - £9.99
Discover a world of heroes and villains, suspense and intrigue. This riveting and comprehensive collection brings together some of the best crime writing of all time.
---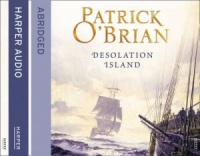 Desolation Island written by Patrick O'Brian performed by Robert Hardy on CD (Abridged)£8.99
A Genius Performance by Robert Hardy!
Commissioned to rescue Governor Bligh of Bounty fame, Captain Jack Aubrey and his friend and surgeon, Stephen Maturin, sail the Leopard to Australia with a hold full of convicts. Among them is a beautiful and dangerous spy — and a treacherous disease which decimates the crew.
---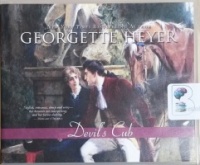 Devil's Cub written by Georgette Heyer performed by Michael Drew on CD (Unabridged)£24.99
The excesses of the young Marquis of Vidal are even wilder than his father's before him. Not for nothing is the reckless duellist and gamester called "the Devil's Cub". But when he is forced to leave the country, Mary Challoner discovers his fiendish plan to abduct her sister. Any only by daring to impersonate...
---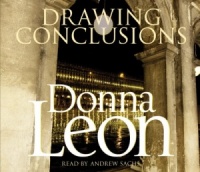 Drawing Conclusions written by Donna Leon performed by Andrew Sachs on CD (Abridged)£4.99 - £5.99
A Genius Performance by Andrew Sachs! When Anna Maria Giusti finds her elderly neighbour Constanza Altavilla dead, with blood on the floor near her head, she calls the police. Brunetti is called to the scene and it seems the woman has suffered a heart attack. Patta, the Vice-Questore, is eager to dismiss the case...
---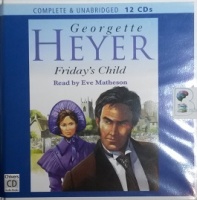 Friday's Child written by Georgette Heyer performed by Eve Matheson on CD (Unabridged)£29.99
This story of mistaken love is a romantic fiction set in the English Regency period. It centers on Lord Sheringham who has been rejected by the woman he loves but the woman who has secretly loved him since childhood is waiting.
New In November 2017 Part 2
(in alphabetical order)
A Christmas Carol written by Charles Dickens performed by Anton Lesser on CD (Abridged)£9.99

This has become the most famous Christmas story of all, with the miserly figure of Scrooge, the epitome of the callous employer, sadly crippled Tiny Tim, and the three specters -- the ghost of Christmas Past, Christmas Present and Christmas Future. Naxos

Agatha Raisin Kissing Christmas Goodbye written by M.C. Beaton performed by Penelope Keith on CD (Unabridged)£14.99 - £29.99

A Genius performance by Penelope Keith!

During the dark, grey days of early December Agatha is obsessed by two things - the loming festivities, and her ex, James Lacey. In order to drive the latter from her thoughts, Agatha concentrates on planning the perfect Christmas for her friends.

Emma written by Jane Austen performed by Fiona Shaw on Cassette (Abridged)£4.99

Emma Woodhouse dominates this novel as she believed herself to dominate her little world of Highbury. Her progress through the mismanagement of other people's affairs to the crisis and resolution of her own, is a whole comedy of self-deceit and self-discovery.

Farewell to Fairacre written by Mrs Dora Saint as Miss Read performed by Sian Phillips on Cassette (Unabridged)£14.99

Miss Read must face the future in another delightful slice of village life... Now that Fairacre school no longer faces the threat of closure, Miss Read is looking forward to a few more years of teaching before retirement. But the best-laid plans often go awry.

Legacy of Love written by Joanna Trollope as Caroline Harvey performed by Harriet Walter on Cassette (Unabridged)£14.99

Beautiful Charlotte married a soldier bound for Kabul to escape the respectability of Victorian Richmond. Fascinated by Afghanistan - and by Alexander Bewick, the scandalous adventurer - Charlotte was forced to choose between the two men. Later generations reflect Charlotte's influence.

Me, Myself and Us - The Science of Personality and the Art of Well-being written by Brian R. Little performed by Patrick Lawlor on MP3 CD (Unabridged)£14.99

How does your personality shape your life , and what, if anything, can you do about it?Are you hardwired for happiness, or born to brood? Do you think you're in charge of your future, or do you surf the waves of unknowable fate? Would you be happier, or just less socially adept,

Over the Gate written by Mrs Dora Saint as Miss Read performed by Gwen Watford on Cassette (Unabridged)£14.99

Throughout her years as schoolmistress, Miss Read has gathered excellent accounts of the rich and varied history of her beloved country village, often through neighborly conversation over the gate. Fairacre has garnered its share of odd incidents, entertaining episodes, and village folklore,

Paul Temple and the Tyler Mystery written by Francis Durbridge performed by Anthony Head on CD (Abridged)£29.99

While on patrol outside Oxford, two policemen notice a stolen car parked in a layby. On further investigation, they discover the dead body of a young woman huddled in the boot, strangled with a headscarf. Planning a trip to Paris, Paul and Steve Temple have no intention of becoming .......

The Christmas Collection - Selected by Christina Hardyment written by Various Great Authors performed by Peter Jeffrey, John Moffat, David Timson and Susan Engel on CD (Abridged)£9.99

Christmas brings out the best and worst in us, as can be seen in this evocative anthology. Among what Thomas Love Peacock calls the 'many poetical charms in the heraldings of Christmas' there are eulogies by saints and diatribes from curmudgeons. Naxos

The Howards of Caxley written by Mrs Dora Saint as Miss Read performed by June Barrie on Cassette (Unabridged)£24.99

The Howards of Caxley begins on a fine May morning in the fateful year of 1939, and then follows the path of the two families and the little town through the Second World War, towards hope for happier times ahead.

The Wicked Day written by Mary Stewart performed by Gwen Watford on Cassette (Unabridged)£29.99

Mordred is the son of King Arthur, bastard child of his union with his half-sister Morgause. Prophesied by Merlin to kill Arthur, Mordred is stolen away from his mother and raised in secrecy by a kind couple on an isolated Orkney island in the hopes that he will defy his fate.

Tom Clancy's Power Plays - Politika, Ruthless.com, Shadow Watch written by Jerome Preisler performed by Jay O. Sanders on CD (Abridged)£19.99

A Collection of three stories - Politika, Ruthless and Shadow Watch. The sudden death of Russia's president has thrown the Russian Federation into chaos. The country is in the grip of famine and an uprising is inevitable. One of the provisional leaders asks the American president for help,

Tyler's Row written by Mrs Dora Saint as Miss Read performed by Gwen Watford on Cassette (Unabridged)£24.99

The two-hundred-year-old cottages known as Tyler's Row, with charming leaded-glass windows and an arched thorn hedge over the gateway, are supposed to provide a haven of peace for their new owners, Peter and Diana Hale.
---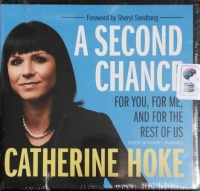 A Second Chance - For You, For Me and For the Rest of US written by Catherine Hoke performed by Catherine Hoke on CD (Unabridged)£9.99
What if you were only known for the worst thing you've ever done? For millions of Americans, this isn't just a hypothetical nightmare. Not only does the United States have the highest rate of incarceration in the world, it also makes certain that the stigma of a felony conviction follows people who have already..
---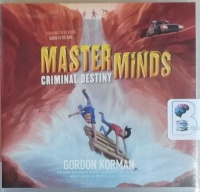 Masterminds - Criminal Destiny written by Gordon Korman performed by Ramon De Campo, Tarah Consoli, Kelly Jean Badgley and Mike Rylander on CD (Unabridged)£9.99
The clones of Project Osiris are free - but they're being hunted.... After their narrow escape from their "perfect" hometown, Eli, Tori, Amber, and Malik are finally in the real world and determined to expose the leaders of Serenity. They decide to track down Tamara Dunleavy, the mysterious billionaire and ...
---
---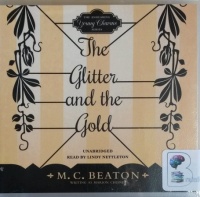 The Glitter and the Gold - Young Charms Series written by M.C. Beaton writing as Marion Chesney performed by Lindy Nettleton on CD (Unabridged)£19.99
Fanny and her bridegroom had been tricked. Both sets of parents had decided to recoup their familes' losses by marrying their children to a wealthy neighbour. But niether family had a penny to their name. As they set out to help each other find a partner with money, they discover that true love might...
---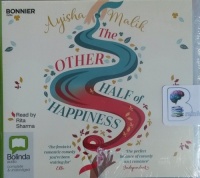 The Other Half of Happiness written by Ayisha Malik performed by Rita Sharma on CD (Unabridged)£9.99
The hilarious new novel from the acclaimed author of Sofia Khan Is Not Obliged. Sofia Khan is just married. But no-one told her life was going to be this way.... Her living situation is in dire straits, her husband Conall is distant and his annoyingly attractive colleague is ringing all sorts of alarm bells.
---
---
---
---
---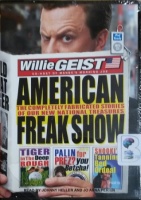 American Freak Show - The Completely Fabricated Stories of Our New National Treasures written by Willie Geist performed by Johnny Heller and Jo Anna Perrin on MP3 CD (Unabridged)£24.99
In just three short years, Willie Geist has gone from behind-the-scenes producer at MSNBC to rising on-air star, as the host of Way Too Early with Willie Geist and cohost of Morning Joe. He's fast, he's funny-something of an early-morning Jon Stewart.Now, in his first book, Geist focuses on America's ongoing parade...
---
---
---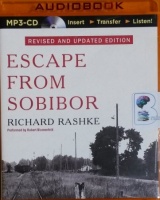 Escape from Sobibor - Revised and Updated written by Richard Rashke performed by Robert Blumenfeld on MP3 CD (Unabridged)£14.99
On October 14, 1943, 600 Jews imprisoned in Sobibor, a secret Nazi death camp in eastern Poland, revolted. They killed a dozen SS officers and guards, trampled the barbed wire fences, and raced across an open field filled with anti-tank mines. Against all odds, more than three hundred made it safely into ...
---