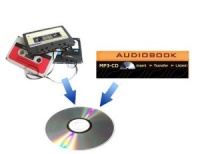 3 Hour Fixed Price Audio Transfer for Customers Own Tapes£25.00
This is the fixed price £25.00 item to be used by Customers when ordering conversion of their own sub 3 hour Audio Cassette or MP3 CD title.
---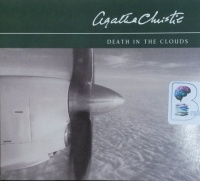 Death in the Clouds written by Agatha Christie performed by David Timson on CD (Abridged)£4.99
From seat No.9, Hercule Poirot was ideally placed to observe his fellow air passengers. Over to his right sat a pretty young woman, ahead, across the gangway in seat No.8, a detective writer was being troubled by an aggressive wasp. What Poirot did not yet realize was that behind him, in seat No.2, sat the ...
---
---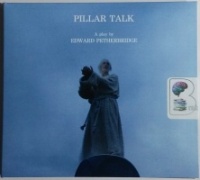 Pillar Talk - A Play written by Edward Petherbridge performed by Edward Petherbridge on CD (Unabridged)£14.99
Exclusive to Brainfood Audiobooks! Esteemed actor Edward (Nicholas Nickleby) Petherbridge uses the story of Symeon Stylites, the 5th century monk who lived on a pillar for thirty-six years, as a framework for an existential inquiry into imagination, belief, doubt, miracles and why one would live 'as I live.'
---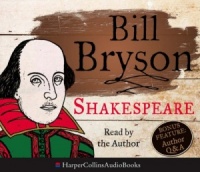 Shakespeare written by Bill Bryson performed by Bill Bryson on CD (Unabridged)£6.99 - £7.99
This short biography of William Shakespeare by world famous writer Bill Bryson brims with the authorís inimitable wit and intelligence.
---
---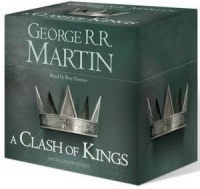 A Clash of Kings written by George R.R. Martin performed by Roy Dotrice on CD (Unabridged)£38.99
George R. R. Martinís superb fantasy epic continues in consummate style as bloodshed and alchemy lay waste the Seven Kingdoms. This second volume of A Song of Ice and Fire is unabridged and on 30 CDs.
---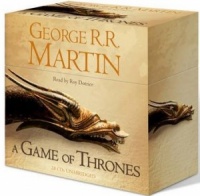 A Game of Thrones written by George R.R. Martin performed by Roy Dotrice on CD (Unabridged)£38.99
This first volume in the hugely popular and highly acclaimed epic fantasy series A SONG OF ICE AND FIRE is unabridged on 28 CDs.
---
---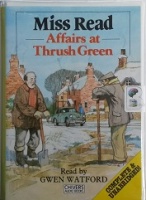 Affairs at Thrush Green written by Mrs Dora Saint as Miss Read performed by Gwen Watford on Cassette (Unabridged)£16.99 - £19.99
When Charles Henstock, rector of Thrush Green, moves a mile downhill to the parish of Lulling, his many friends rejoice in his promotion. But an unfortunate skirmish with one of his wealthy parishioners over the Lady Chapel kneelers saddens him. England, 1930s.
---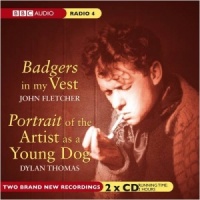 Badgers in My Vest and Portrait of the Artist as a Young Dog written by Dylan Thomas performed by BBC Full Cast Dramatisation on CD (Unabridged)£4.99 - £6.99
Badgers in My Vest is a new, darkly funny play by an acclaimed contemporary playwright, based on a true incident in Dylan Thomas' life.
---
---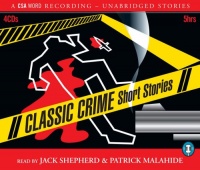 Classic Crime Short Stories written by Various Famous Crime Writers performed by Jack Shepherd and Patrick Malahide on CD (Unabridged)£4.99 - £9.99
Discover a world of heroes and villains, suspense and intrigue. This riveting and comprehensive collection brings together some of the best crime writing of all time.
---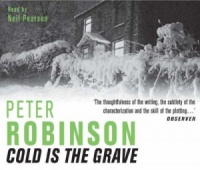 Cold is the Grave written by Peter Robinson performed by Neil Pearson on CD (Abridged)£19.99
Detective Inspector Alan Banks relationship with Chief Constable Riddle has always been strained. So Banks is more than a little surprised when Riddle summons him late one night and begs for his help.
---
---
New In November 2017 Part 2
(in alphabetical order)
A Christmas Carol written by Charles Dickens performed by Anton Lesser on CD (Abridged)£9.99

This has become the most famous Christmas story of all, with the miserly figure of Scrooge, the epitome of the callous employer, sadly crippled Tiny Tim, and the three specters -- the ghost of Christmas Past, Christmas Present and Christmas Future. Naxos

Agatha Raisin Kissing Christmas Goodbye written by M.C. Beaton performed by Penelope Keith on CD (Unabridged)£14.99 - £29.99

A Genius performance by Penelope Keith!

During the dark, grey days of early December Agatha is obsessed by two things - the loming festivities, and her ex, James Lacey. In order to drive the latter from her thoughts, Agatha concentrates on planning the perfect Christmas for her friends.

Farewell to Fairacre written by Mrs Dora Saint as Miss Read performed by Sian Phillips on Cassette (Unabridged)£19.99

Miss Read must face the future in another delightful slice of village life... Now that Fairacre school no longer faces the threat of closure, Miss Read is looking forward to a few more years of teaching before retirement. But the best-laid plans often go awry.

Legacy of Love written by Joanna Trollope as Caroline Harvey performed by Harriet Walter on Cassette (Unabridged)£14.99

Beautiful Charlotte married a soldier bound for Kabul to escape the respectability of Victorian Richmond. Fascinated by Afghanistan - and by Alexander Bewick, the scandalous adventurer - Charlotte was forced to choose between the two men. Later generations reflect Charlotte's influence.

Me, Myself and Us - The Science of Personality and the Art of Well-being written by Brian R. Little performed by Patrick Lawlor on MP3 CD (Unabridged)£14.99

How does your personality shape your life , and what, if anything, can you do about it?Are you hardwired for happiness, or born to brood? Do you think you're in charge of your future, or do you surf the waves of unknowable fate? Would you be happier, or just less socially adept,

Over the Gate written by Mrs Dora Saint as Miss Read performed by Gwen Watford on Cassette (Unabridged)£14.99

Throughout her years as schoolmistress, Miss Read has gathered excellent accounts of the rich and varied history of her beloved country village, often through neighborly conversation over the gate. Fairacre has garnered its share of odd incidents, entertaining episodes, and village folklore,

Paul Temple and the Tyler Mystery written by Francis Durbridge performed by Anthony Head on CD (Abridged)£29.99

While on patrol outside Oxford, two policemen notice a stolen car parked in a layby. On further investigation, they discover the dead body of a young woman huddled in the boot, strangled with a headscarf. Planning a trip to Paris, Paul and Steve Temple have no intention of becoming .......

The Christmas Collection - Selected by Christina Hardyment written by Various Great Authors performed by Peter Jeffrey, John Moffat, David Timson and Susan Engel on CD (Abridged)£9.99

Christmas brings out the best and worst in us, as can be seen in this evocative anthology. Among what Thomas Love Peacock calls the 'many poetical charms in the heraldings of Christmas' there are eulogies by saints and diatribes from curmudgeons. Naxos

The Howards of Caxley written by Mrs Dora Saint as Miss Read performed by June Barrie on Cassette (Unabridged)£24.99

The Howards of Caxley begins on a fine May morning in the fateful year of 1939, and then follows the path of the two families and the little town through the Second World War, towards hope for happier times ahead.

The Wicked Day written by Mary Stewart performed by Stephen Thorne on Cassette (Unabridged)£29.99

Mordred is the son of King Arthur, bastard child of his union with his half-sister Morgause. Prophesied by Merlin to kill Arthur, Mordred is stolen away from his mother and raised in secrecy by a kind couple on an isolated Orkney island in the hopes that he will defy his fate.

Tom Clancy's Power Plays - Politika, Ruthless.com, Shadow Watch written by Jerome Preisler performed by Jay O. Sanders on CD (Abridged)£19.99

A Collection of three stories - Politika, Ruthless and Shadow Watch. The sudden death of Russia's president has thrown the Russian Federation into chaos. The country is in the grip of famine and an uprising is inevitable. One of the provisional leaders asks the American president for help,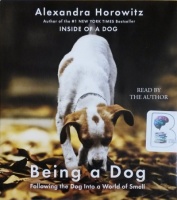 Being a Dog written by Alexandra Horowitz performed by Alexandra Horowitz on CD (Unabridged)£24.99
A New York Times Bestseller A Science Friday and Library Journal Best Science Book of the Year Alexandra Horowitz, the author of the lively, highly informative New York Times bestselling blockbuster Inside of a Dog, explains how dogs perceive the world through their most spectacular organ--the nose--and how we...
---
---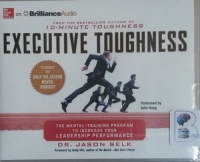 Executive Toughness - The Mental Training Program to Increase Your Leadership Performance written by Dr. Jason Selk performed by John Haag on CD (Unabridged)£14.99
Take your professional game to the next level-in 100 seconds or less! People with inborn talent may be good at what they do-but only the mentally tough reach the highest plateaus in their field. And here's the best news of all: mental toughness is something anyone can learn. Director of mental training for the..
---
Farside written by Ben Bova performed by Stefan Rudnicki on CD (Unabridged)£39.99
When an Earth-sized planet circling a star some 30 light-years away is detected, the race is on to build an astronomical observatory on Farside, the side of the Moon that never faces Earth a dangerous task that is plagued by accidents, mental and emotional breakdowns and a discovery that will forever change the human race.
---
---
---
---
---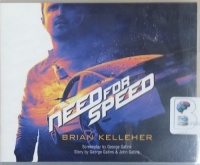 Need for Speed written by Brian Kelleher performed by Alexander Cendese on CD (Unabridged)£9.99
A near-impossible cross-country race against time - one that begins as a mission for revenge, but proves to be one of redemption. Based on the most successful racing video game franchise ever with over 140 million copies sold, Need for Speed captures the freedom and excitement of the game in a...
---
---
---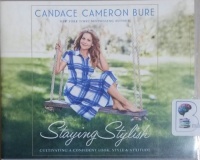 Staying Stylish written by Candace Cameron Bure performed by Candace Cameron Bure on CD (Unabridged)£19.99
Candace Cameron Bure, best known as D. J. Tanner from Full House and Fuller House and a New York Times best-selling author, whose faith and wit have delighted audiences for decades, lets you in on her best-kept secrets for Staying Stylish. This gorgeous manual for beauty, style, health, and spiritual ...
---
---
---