---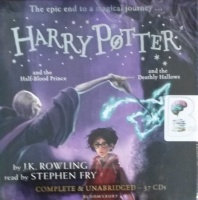 Harry Potter Collection Part 3 - Books 6 and 7 written by J.K. Rowling performed by Stephen Fry on CD (Unabridged)£39.99 - £49.99
Witches and wizards unite as you join the Battle of Hogwarts! Complete the entire series of J.K. Rowling's Harry Potter stories with this enchanting audiobook collection. The 37 CDs cover The Half-Blood Prince and The Deathly Hallows and find Dark Magic rising. Will Harry be able to summon the courage (and the...
---
---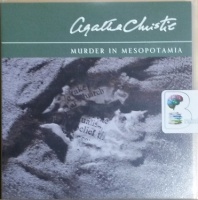 Murder in Mesopotamia written by Agatha Christie performed by Carole Boyd on CD (Abridged)£4.99
An archaeologist's wife is murdered on the shores of the River Tigris in Iraq. It was clear to Amy Leatheran that something sinister was going on at the Hassanieh dig in Iraq; something associated with the presence of 'Lovely Louise', wife of celebrated archaeologist Dr Leidner. In a few days' time Hercule...
---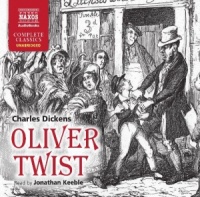 Oliver Twist written by Charles Dickens performed by Jonathan Keeble on CD (Unabridged)£29.99 - £39.99
Oliver Twist, Dickenss second novel, has enthralled generations of readers since its publication in 1838. Orphaned and desolate, Olivers journey to London and subsequent induction into its dingy underworld, is narrated with ceaseless energy by Jonathan Keeble.
---
---
---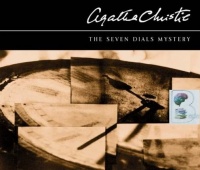 The Seven Dials Mystery written by Agatha Christie performed by Jenny Funnell on CD (Abridged)£4.99
When a practical joke played on Gerry Wade involving alarm clocks turns out to be murder the case is taken up by Lady 'Bundle' Brent and Jimmy Thesiger. Trying to work out the significance of the seven clocks found at the murder scene, they come across the Seven Dials Club.
---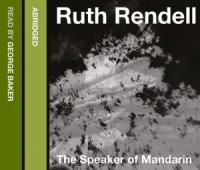 The Speaker of Mandarin written by Ruth Rendell performed by George Baker on CD (Abridged)£4.99 - £9.99
A Genius Performance by George Baker!
China both delighted and frustrated Wexford; the beauty, the history, all of that brought immense pleasure. But the unending attention of Mr Sung of the Chinese Tourist Board was hugely irritating – and that an old woman with bound feet should haunt him was puzzling and slightly frightening, without explanation.
---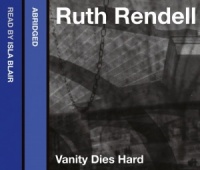 Vanity Dies Hard written by Ruth Rendell performed by George Baker on CD (Abridged)£13.99
A Genius Performance by George Baker!
Who would have believed that Alice Whittaker's life could change? She was 37, rich and dowdy with no career. Her life a lonely failure, she had got by with the one thing she did have - money....
---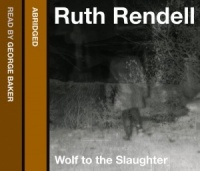 Wolf to the Slaughter written by Ruth Rendell performed by George Baker on CD (Abridged)£5.99 - £9.99
A Genius Performance by George Baker!
Anita Margolis had vanished. There was no body, no crime - nothing more than an anonymous letter and the intriguing name of Smith. According to HQ, it wasn't to be a murder enquiry at all...
---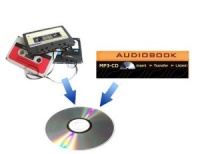 3 Hour Fixed Price Audio Transfer£15.00
This is the fixed price £15 item to be used when ordering conversion of a sub 3 hour Audio Cassette or MP3 CD title.
---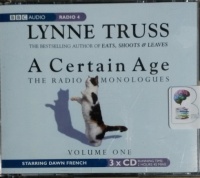 A Certain Age - The Radio Monologues Volume One written by Lynne Truss performed by Dawn French on CD (Abridged)£4.99
The original six radio monologues written by Lynne Truss, author of the phenomenal bestsellers 'Eats, Shoots & Leaves' and 'Talk to the Hand'. In the tradition of Alan Bennett's 'Talking Heads' come Lynne Truss's female monologues: six bittersweet tales of love, romance, friendship and family from the classic BBC...
---
---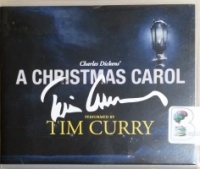 A Christmas Carol written by Charles Dickens performed by Tim Curry on CD (Unabridged)£16.99
This version of Charles Dickens's A Christmas Carol, masterfully narrated by Tim Curry, was available for a limited time last year, and now it's back. This one-of-a-kind performance puts a unique spin on a treasured classic, and served as the inspiration for the exciting new line of Audible Signature Classics...
---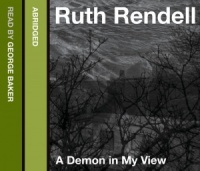 A Demon in My View written by Ruth Rendell performed by George Baker on CD (Abridged)£11.99 - £14.99
Her white face, beautiful, unmarked by any flaw of skin or feature, stared blankly back at him. He fancied that she had cringed, her slim body pressing further into the wall behind her. He didn't speak. He had never known how to talk to women.
---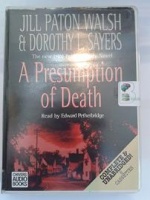 A Presumption of Death written by Jill Paton Walsh and Dorothy L Sayers performed by Edward Petherbridge on Cassette (Unabridged)£29.99 - £39.99
The story opens in 1940. Harriet Vane - now Lady Peter Wimsey - has taken her children to safety in the country. But the war has followed them: glamorous RAF pilots and even more glamorous land-girls scandalise the villagers; the blackout makes the night-time lanes as sinister as the back alleys of London.
---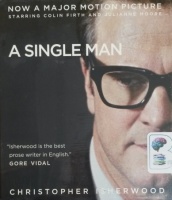 A Single Man written by Christopher Isherwood performed by Simon Prebble on CD (Unabridged)£19.99
Celebrated as a masterpiece from its first publication, A Single Man is the story of George, an English professor in suburban California left heartbroken after the death of his lover, Jim. With devastating clarity and humour, Christopher Isherwood shows George's determination to carry on, evoking the unexpected...
---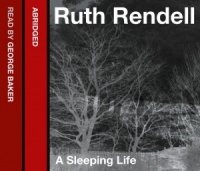 A Sleeping Life written by Ruth Rendell performed by George Baker on CD (Abridged)£19.99
The body found under the hedge was that of a middle-aged woman, biggish and gaunt. The grey eyes were wide and staring, and in them Detective Chief Inspector Wexford thought he saw a sardonic gleam, a glare, even in death, of scorn. But that must have been his imagination...
---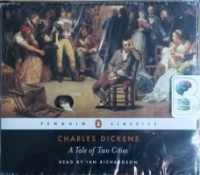 A Tale of Two Cities written by Charles Dickens performed by Ian Richardson on CD (Abridged)£5.99 - £9.99
After 18 years as a political prisoner in the Bastille the aging Dr Manette is finally released and reunited with his daughter in England.
---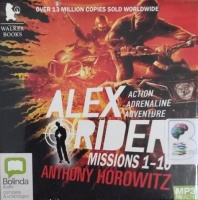 Alex Rider Missions 1 to 10 written by Anthony Horowitz performed by Jonathan Davies on MP3 CD (Unabridged)£29.99
In the number one bestselling series by Anthony Horowitz, 14-year-old Alex Rider is forcibly recruited into the deadly world of espionage and sent on his first mission. But mortal danger is never far away and the reluctant teenage spy soon finds himself in demand again by MI6. The ever popular and explosive...
---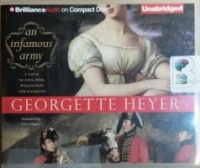 An Infamous Army written by Georgette Heyer performed by Claire Higgins on CD (Unabridged)£24.99 - £34.99
In 1815, beneath the aegis of the Army of Occupation, Brussels is the gayest town in Europe. And the widow Lady Barbara Childe, renowned for being as outrageous as she is beautiful, is at the centre of all that is fashionable and light-hearted. When she meets Charles Audley, dashing aide-de-camp...
---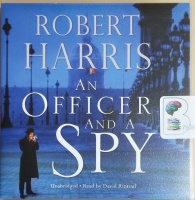 An Officer and a Spy written by Robert Harris performed by David Rintoul on CD (Unabridged)£14.99
They lied to protect their country. He told the truth to save it. A gripping historical thriller from the bestselling author of FATHERLAND. January 1895. On a freezing morning in the heart of Paris, an army officer, Georges Picquart, witnesses a convicted spy, Captain Alfred Dreyfus, being publicly humiliated in front..
---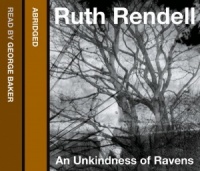 An Unkindness of Ravens written by Ruth Rendell performed by George Baker on CD (Abridged)£19.99
A Genius Performance by George Baker! Rodney Williams was neither handsome nor wealthy, but he had an unerring eye for a pretty girl and when he disappeared and two other men were later attacked by a young woman, Chief Inspector Wexford couldn't help wondering if there was a connection. If there wasn't, where was ...
---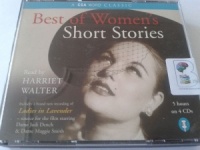 Best of Women's Short Stories written by Various Famous Authors performed by Harriet Walter on CD (Abridged)£14.99
This is an inspirational collection of complete and unabridged stories written by, or about, incredible women. This first volume includes tales from classic authors such as Edith Wharton, Elizabeth Gaskell and Katherine Mansfield, as well as a brand new recording of "Ladies in Lavender", the inspiration for the hit British move starring Dame Judi Dench and Dame Maggie Smith.
---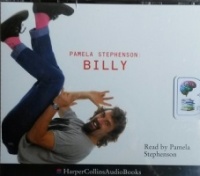 Billy written by Pamela Stephenson performed by Pamela Stephenson on CD (Abridged)£4.99
From welding to folk singing to comedy to writing to acting, Billy Connolly has proved his versatility and sheer determination. Here, his wife Pamela gives the reader an insider's view of this talented musician, singer, TV presenter, comedian and actor.
We're currently listening to...
New In May 2019 Part 4
(in alphabetical order)
Alexanderplatz - Berlin written by Georg Diez performed by Christopher Lane on CD (Unabridged)£4.99

Alexanderplatz has long survived as the symbol of a city burdened by its ruinous past. In 2012, twenty-year-old Jonny K. was beaten to death on this infamous Berlin square - and Germany's first multicultural murder brought another shock to a country that's seen its share.

Atmospheric Disturbances written by Rivka Galchen performed by Malcolm Hillgartner on CD (Unabridged)£19.99

Convinced that his wife has disappeared and left behind a duplicate of herself who fools everyone else, Dr. Leo Liebenstein embarks on a quixotic journey to reclaim his lost love, aided by a deluded psychiatric patient and an enigmatic meteorologist.

Bonnie and Clyde - The Making of a Legend written by Karen Blumenthal performed by Gabra Zackman on CD (Unabridged)£24.99

Bonnie and Clyde may be the most notorious-and celebrated-outlaw couple America has ever known. This is the true story of how they got that way.Bonnie and Clyde-we've been on a first name basis with them for almost a hundred years. Immortalized in movies, songs, and pop culture references, they are...

Breakers written by Edward W. Robertson performed by Ray Chase on CD (Unabridged)£24.99

In New York, Walt Lawson is about to lose his girlfriend Vanessa. In Los Angeles, Raymond and Mia James are about to lose their house. Within days, none of it will matter. When Vanessa dies of the flu, Walt is devastated. But she isn't the last. The virus quickly kills billions, reducing New York to an open grave and...

broken written by Karen Slaughter performed by Natalie Ross on CD (Abridged)£5.99

When the body of a young woman is discovered deep beneath the icy waters of Lake Grant, a note left under a rock by the shore points to suicide. But within minutes, it becomes clear that this is no suicide. It's a brutal, cold-blooded murder.

Charles Dickens a Portrait in Letters written by Charles Dickens and David Timson performed by David Timson and Simon Callow on CD (Unabridged)£14.99 - £19.99

Charles Dickens was a prolific writer of letters throughout his life. There are extant more than 13,000 letters that he wrote to friends, family, fellow authors and actors as well as many letters written to people involved in good causes he espoused. In the hands of actor and writer Simon Callow, one of the most...

Deal Breakers - When to Work on a Relationship and When to Walk Away written by Dr. Bethany Marshall performed by Renee Raudman on CD (Unabridged)£19.99

Counsels women on how to discern between relationships that can and cannot be saved, making recommendations for addressing key points of contention between men and women in order to promote healthier interpersonal communications.

Drive - The Surprising Truth about What Motivates Us written by Daniel H. Pink performed by Daniel H. Pink on CD (Unabridged)£14.99

A book that will change how you think and transform how you live. Forget everything you thought you knew about how to motivate people - at work, at school, at home. It is wrong. As Daniel H. Pink explains in his paradigm-shattering book Drive, the secret to high performance and satisfaction in today's...

Each Journey Begins with a Single Step - The Taoist Book of Life written by Deng Ming-Dao performed by Lloyd James on CD (Unabridged)£19.99

This is a book of guidance for life's journey rooted in the wisdom of ancient China. Best-selling author Deng Ming-Dao provides key poetic lines that distill the essence of Taoism, organizing them in the form of a journey. The material here is from three sources: The Tao Te Ching, The Yijing, and 300 Tang Poems.

Earthsea and The Left Hand of Darkness written by Ursula Le Guin performed by BBC Radio Full Cast Drama Team on CD (Unabridged)£19.99

Ursula Le Guin's groundbreaking fantasy sagas form the basis of these two BBC Radio full-cast dramatisations. Earthsea' is based on the first three books in the 'Earthsea' cycle. It tells the stories of Ged and Tenar, inhabitants of a vast archipelago where magic is part of life. Young wizard Ged releases a terrible...

Evil in the 1st House - A Starlight Detective Agency Mystery written by Mitchell Scott Lewis performed by John Lescault on CD (Unabridged)£24.99

In his most personal case yet, astrologer/detective David Lowell is presented with a briefcase containing one million dollars in cash and the promise of another million upon success, by Dr. Ethan Williamson, to find his dying son's twin for a life-saving kidney transplant. A rare blood type has made a ...

Freedom - My Book of Firsts written by Jaycee Dugard performed by Jaycee Dugard on CD (Unabridged)£14.99

In the follow-up to her number-one best-selling memoir, A Stolen Life, Jaycee Dugard tells the story of her first experiences after years in captivity: the joys that accompanied her newfound freedom and the challenges of adjusting to life on her own. When Jaycee Dugard was 11 years old, she was abducted from...

Grand Canyon written by Jason Chin performed by Qarie Marshall on CD (Unabridged)£14.99

Rivers wind through the earth, cutting down and eroding the soil for millions of years, creating a cavity in the ground 277 miles long, 18 miles wide, and more than a mile deep known as the Grand Canyon. Home to an astonishing variety of plants and animals that have lived and evolved within its walls for millennia..

Great Britain's Great War written by Jeremy Paxman performed by Roy McMillan on CD (Unabridged)£9.99

We may think we know about it, but what was life really like for the British people during the First World War? The well-known images - the pointing finger of Lord Kitchener; a Tommy buried in the mud of the Western Front; the memorial poppies of remembrance day - all reinforce the idea that it was a pointless...

Great Expectations written by Charles Dickens performed by Tom Baker on CD (Abridged)£9.99

Great Expectations chronicles the progress of Pip from childhood through adulthood. As he moves from the marshes of Kent to London society, he encounters a variety of extraordinary characters: from Magwitch, the escaped convict, to Miss Havisham and her ward, the arrogant and beautiful Estella.

Haunted written by James Herbert performed by Robert Powell on CD (Abridged)£4.99

A ghostly twist. Three nights of terror at the house called Edbrook. Three nights in which David Ash, there to investigate a haunting, will be victim of horrifying games. Three nights in which he will face the blood-chilling enigma of his own past.

In Pieces written by Sally Field performed by Sally Field on CD (Unabridged)£34.99

In this intimate, haunting literary memoir and New York Times Notable Book of the year, an American icon tells her own story for the first time -- about a challenging and lonely childhood, the craft that helped her find her voice, and a powerful emotional legacy that shaped her journey as a daughter ...

Ingo written by Helen Dunmore performed by Niamh Cusack on CD (Abridged)£6.99

A spellbinding magical adventure. Master storyteller Helen Dunmore writes the story of Sapphire and her brother Conor, and their discovery of INGO, a powerful and exciting world under the sea. You'll find the mermaid of Zennor inside Zennor church. She fell in love with a human, but she was a Mer ...

Into The Wild written by Jon Krakauer performed by Philip Franklin on CD (Unabridged)£9.99 - £14.99

In April 1992 a young man from a well-to-do family hitchhiked to Alaska and walked alone into the wilderness north of Mt. McKinley. His name was Christopher Johnson McCandless. He had given $25,000 in savings to charity, abandoned his car and most of his possessions, burned all the cash in his...

James Bond - Tomorrow Never Dies written by Raymond Benson performed by Simon Vance on CD (Unabridged)£9.99

Elliot Carver - the ultra-rich media mogul - has found a way to "create" news and broadcast it all over the world as it happens. Now he has devised the ultimate plan: to start a war between Great Britain and China. The conflict will reach every television in the world and garner the highest ratings in history.

Jango written by William Nicholson performed by Michael Page on CD (Unabridged)£19.99

Seeker, Morning Star and the Wild Man return in this mesmerising sequel to "Seeker". In "Jango", the friends discover that the mysterious warrior sect they had been so desperate to join is not quite what it appears from the outside. Disillusioned they leave to find their own way in the world. But now at least they..

Mightier Than The Sword - Book 5 of The Clifton Chronicles written by Jeffrey Archer performed by Alex Jennings on CD (Unabridged)£24.99

Mightier than the Sword opens with an IRA bomb exploding during the MV Buckingham's maiden voyage across the Atlantic - but how many passengers lose their lives?

O.M.D. - Change The World by Changing One Meal a Day written by Suzy Amis Cameron performed by Suzy Amis Cameron, Rebecca Amis and Dean Ornish MD on CD (Unabridged)£24.99

Change the world by changing one meal a day. Suzy Amis Cameron - environmental advocate, former actor, and mom of five - presents a clear-eyed and accessible guide for you to improve your health and shrink your personal carbon footprint simply by swapping one meat- and dairy-based meal for a ...

Smoke Signals - A Social History of Marijuana - Medical, Recreational and Scientific written by Martin A. Lee performed by Nick Podehl on CD (Unabridged)£29.99

"Hallelujah and glory be to Smoke Signals, Martin Lee's bodacious new book...Lee chronicles everything and everyone worth chronicling in the annals of marijuana" (High Times). This is the great American pot story, a dramatic social exploration of a plant that sits at the nexus of political, legal, medical...

Someone Like You written by Roald Dahl performed by Richard E. Grant, Juliet Stevenson, Stephen Mangan and Richard Griffiths on CD (Unabridged)£24.99 - £29.99

Penguin Audiobooks presents a brand new recording of Someone Like You, Roald Dahl's first collection of his world famous dark and sinister adult stories, brought to life by an all-star cast including Julian Rhind-Tutt, Stephen Mangan, Tamsin Greig, Derek Jacobi, Richard Griffiths, Will Self, Jessica Hynes ....

Spontaneous Happiness - A New Path to Emotional Well-Being written by Andrew Weil MD performed by Andrew Weil MD on CD (Unabridged)£9.99

Everyone wants to be happy. But what does that really mean? Increasingly, scientific evidence shows us that true satisfaction and well-being come only from within. Dr. Andrew Weil has proven that the best way to maintain optimum physical health is to draw on both conventional and alternative medicine.

Steering Through It - Navigating Life-Treatening Illness... Acceptance, Survival and Healing written by Lynn McLaughlin performed by Marnye Young on CD (Unabridged)£19.99

A life-threatening illness crushes the world around you and around those you love. How do we cope with diagnosis physically, emotionally, and spiritually? How do we move on? What are the most helpful ways to support others in crisis? In the end, what does it all mean? The author shares her most personal...

The Diary of a Young Girl - The Definitive Edition written by Anne Frank performed by Helena Bonham Carter on Cassette (Unabridged)£14.99

This diary from the Dutch girl who hid from the Nazis during World War II, offers insights into a life typical of any teenager. It reveals her curiosity about her emerging sexuality, the conflicts with her mother, her passion for Peter, a boy whose family hid with hers, and her acute portraits of her ...

The Infinities written by John Banville performed by Julian Rhind-Tutt on CD (Unabridged)£9.99

The dazzling new novel from the Man Booker Prize-winning author of The Sea Old Adam Godley's time on earth is drawing to an end, and as his wife and children gather at the family home, little do they realize that they are not the only ones who have come to observe the spectacle. The mischievous Greek...

The Perfect Assassin written by Ward Larsen performed by Amy McFadden on CD (Unabridged)£14.99

The Atlantic: A young woman sailing solo across the Atlantic makes an incredible discovery - a man narrowly clinging to life in the open ocean. But the desperate survivor is more than he appears. He is a Kidon - an Israeli assassin - who forcibly commandeers her boat with a new destination in mind: England.

The Winter Sea written by Di Morrissey performed by Kate Hood on CD (Unabridged)£14.99

Escaping an unhappy marriage and an unsatisfactory job, Cassie Holloway moves to the little NSW coastal town of Whitby Point. Here she meets the Aquino family, whose fishing business was founded by their ancestor, Giuseppe, an immigrant Italian, some ninety years before.Life for Cassie on the south west...

The Women's Book of Courage - Meditations for Empowerment and Peace of Mind written by Sue Patton Thoele performed by Sandra Burr on CD (Unabridged)£19.99

The Woman's Book of Courage is a little audiobook with a big message - we can take charge of our lives, stop trying to please all of the (other) people all of the time, and live happily with ourselves and others right now. Since it was first published, this book has touched the lives of many thousands of women.

This is Just My Face - Try Not to Stare written by Gabourey Sidibe performed by Gabourey Sidibe on CD (Unabridged)£14.99

The Oscar-nominated Precious star and Empire actress delivers a much-awaited memoir which is wise, complex, smart and funny. This Is Just My Face is the whirlwind tour of Gabourey Sidibe's life so far. In it, we meet her polygamous father, her gifted mother who fed the family by busking on the subway, and...

Through a Glass Brightly written by David P. Barash performed by Charles Constant on CD (Unabridged)£24.99

In Through a Glass Brightly, noted scientist David P. Barash explores the process by which science has, throughout time, cut humanity "down to size," and how humanity has responded. A good paradigm is a tough thing to lose, especially when its replacement leaves us feeling more vulnerable and less special.

Who We Were Before written by Leah Mercer performed by Simon Mattacks and Henrietta Meire on CD (Unabridged)£14.99

Zoe knows that it wasn't really her fault. Of course it wasn't. But if she'd just grasped harder, run faster, lunged quicker, she might have saved him. And Edward doesn't really blame her, though his bitter words at the time still haunt her, and he can no more take them back than she can halt the car that killed...

Write Better Right Now - The Reluctant Writer's Guide to Confident Communication and Self-Assured Style written by Mary-Kate Mackey performed by Tanya Eby on CD (Unabridged)£9.99

In almost any career, you must know how to write—even if it's not part of your job description. But if you are a reluctant writer, producing even the simplest memo may be a struggle. Write Better Right Now is the springboard to get you ahead in any job, passion project, or situation that requires writing skills.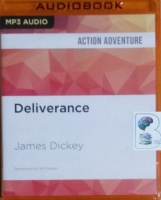 Deliverance written by James Dickey performed by Will Patton on MP3 CD (Unabridged)£14.99
The smash-hit best seller that inspired the acclaimed 1972 film starring Jon Voight, Burt Reynolds, Ned Beatty, and Ronny Cox is now available in unabridged audio for the very first time. The setting is the Georgia wilderness, where the state's most remote white-water river awaits. In the thundering froth of that...
---
---
---
---
---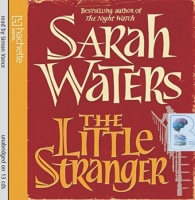 The Little Stranger written by Sarah Waters performed by Simon Vance on CD (Unabridged)£16.99 - £19.99
After her award-winning trilogy of Victorian novels, Sarah Waters turned to the 1940s and wrote THE NIGHT WATCH, a tender and tragic novel set against the backdrop of wartime Britain. Shortlisted for both the Orange and the Man Booker, it went straight to number one in the bestseller chart. In a dusty post-war...
---
---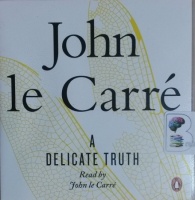 A Delicate Truth written by John le Carre performed by John le Carre on CD (Unabridged)£19.99
A counter-terror operation, codenamed Wildlife, is being mounted in Britain's most precious colony, Gibraltar. Its purpose: to capture and abduct a high-value jihadist arms-buyer.
---
---
---
---
---
---
---
---
---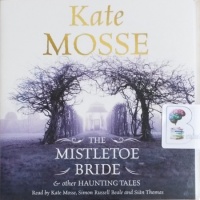 The Mistletoe Bride and Other Haunting Tales written by Kate Mosse performed by Kate Mosse, Simon Russell Beale and Sian Thomas on CD (Unabridged)£19.99
A wonderfully atmospheric collection of stories from one of our most captivating writers, inspired by ghost stories, traditional folk tales and country legends from England and France. These tales are richly populated by spirits and ghosts seeking revenge; by grief-stricken women and haunted men coming to ...
---
---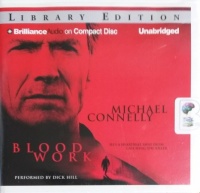 Blood Work written by Michael Connelly performed by Dick Hill on CD (Unabridged)£24.99
Thanks to a heart transplant, former FBI agent Terrell McCaleb is enjoying a quiet retirement, renovating the fishing boat he lives on in Los Angeles Harbor. But McCaleb's calm seas turn choppy when a story in the "What Happened To?" column of the LA Times brings him face-to-face with the sister of the woman..
---
---
---
---
---
---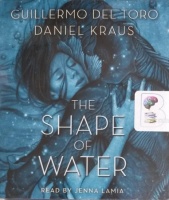 The Shape of Water written by Guillermo Del Toro and Daniel Kraus performed by Jenna Lamia on CD (Unabridged)£24.99
*Winner of the 2018 Academy Awards for Best Picture and Best Director* Now a major motion picture from Fox Searchlight Visionary storyteller Guillermo del Toro and celebrated author Daniel Kraus combine their estimable talent in this haunting, heartbreaking audiobook. The Shape of Water is set in Cold ...
---