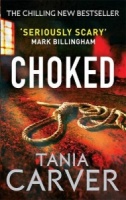 Choked written by Tania Carver performed by Martyn Waites on CD (Abridged)£4.99 - £9.99
'I have something you've lost,' the voice said. 'Your daughter.' He will threaten her. The honeymoon is over for newlywed criminologist Marina Esposito. Her house is in flames. Her cop husband is in a coma. Her baby daughter is missing. And then her phone rings . . .
---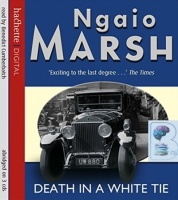 Death in a White Tie written by Ngaio Marsh performed by Benedict Cumberbatch on CD (Abridged)£14.99
A Benedict Cumberbatch Genius Performance!
The season had begun. Débutantes and chaperones were planning their luncheons, teas, dinners, balls. And the blackmailer was planning his strategies, stalking his next victim.
---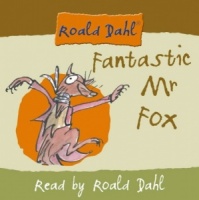 Fantastic Mr Fox written by Roald Dahl performed by Roald Dahl on CD (Unabridged)£3.99 - £4.99
New look for this backlist classic favourite, read by Roald Dahl, himself. Boggis, Bunce and Bean are just about the nastiest and meanest three farmers you could meet – and they hate Mr Fox!
---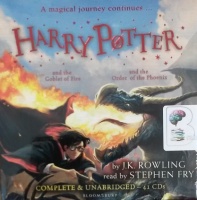 Harry Potter Collection Part 2 - Books 4 and 5 written by J.K. Rowling performed by Stephen Fry on CD (Unabridged)£59.99
The first unabridged Harry Potter audiobook collection left so many wizards, witches and Muggles spellbound and now we are so excited to give you the chance to hear Stephen Fry read Harry Potter and the Goblet of Fire and Harry Potter and the Order of the Phoenix (books 4 and 5 from J.K. Rowling's ...
---
---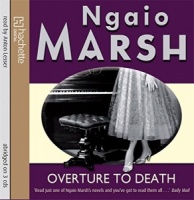 Overture to Death written by Ngaio Marsh performed by Anton Lesser on CD (Abridged)£7.99 - £8.99
A Genius Performance by Anton Lesser!
Inspector Alleyn gets involved when the piano, played by the victim, Miss Campanula, appears to trigger the murdering shot. It was supposed to accompany a play in aid of the piano fund but it has ended with murder. But who loaded the gun and how can Alleyn find him out?
---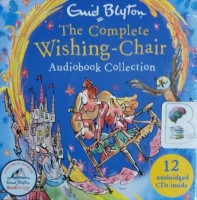 The Complete Wishing-Chair Collection written by Enid Blyton performed by Sarah Ovens on CD (Unabridged)£39.99
Mollie and Peter come across a chair that can fly and grant wishes while out looking for their mother's birthday present and it's not long until they are whisked away to faraway lands and meeting pixies and even Santa Claus!
---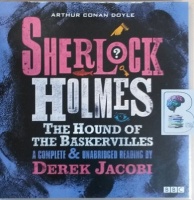 The Hound of the Baskervilles written by Arthur Conan Doyle performed by Derek Jacobi on CD (Unabridged)£19.99 - £24.99
When a country doctor comes to Sherlock Holmes with a far-fetched tale of a sudden death, a devil dog and an ancient curse, Holmes is sceptical. Could the demise of Sir Charles Baskerville really have been caused by the gigantic ghostly hound which is said to have haunted his family for generations?
---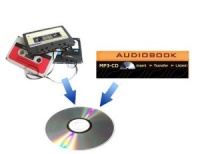 3 Hour Fixed Price Audio Transfer£15.00
This is the fixed price £15 item to be used when ordering conversion of a sub 3 hour Audio Cassette or MP3 CD title.
---
---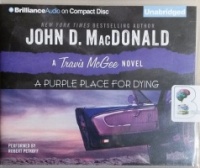 A Purple Place for Dying - A Travis McGee novel written by John D. MacDonald performed by Robert Petkoff on CD (Unabridged)£9.99
John D. MacDonald created a staggering quantity of wonderful books, each rich with characterization, suspense, and an almost intoxicating sense of place. Jonathan Kellerman Travis McGee is taking his retirement in installments while he's still young enough to enjoy it. But sooner or later, his money runs...
---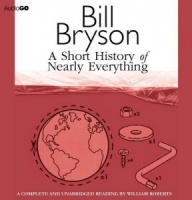 A Short History of Nearly Everything written by Bill Bryson performed by William Roberts on CD (Unabridged)£24.99 - £29.99
In A Short History of Nearly Everything, beloved author Bill Bryson confronts his greatest challenge yet: to understand—and, if possible, answer—the oldest, biggest questions we have posed about the universe and ourselves.
---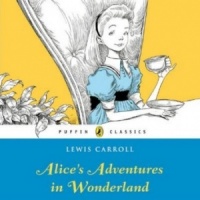 Alice's Adventures in Wonderland written by Lewis Carroll performed by Susan Jameson and James Saxon on CD (Abridged)£5.99
On an ordinary summer's afternoon, Alice tumbles down a hole and an extraordinary adventure begins.
In a strange world with even stranger characters, she meets a rabbit with a pocket watch, joins a Mad Hatter's Tea Party, and plays croquet with the Queen! Lost in this fantasy land, Alice finds herself growing more and more curious by the minute . . .
---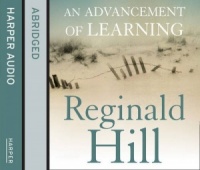 An Advancement of Learning written by Reginald Hill performed by Warren Clarke on CD (Abridged)£4.99 - £14.99
Lecturers having it away with students, witches' sabbaths on the sand dunes, a body buried under a statue in the gardens, and a fresh rash of killings.
---
---
---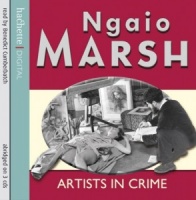 Artists in Crime written by Ngaio Marsh performed by Benedict Cumberbatch on CD (Abridged)£7.99 - £12.99
A Benedict Cumberbatch Genius Performance!
It started as a student exercise, the knife under the drape, the model's pose chalked in place. But before Agatha Troy, artist and instructor, returns to the class, the pose has been re-enacted in earnest....
---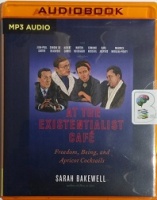 At The Existentialist Cafe written by Sarah Bakewell performed by Antonia Beamish on MP3 CD (Unabridged)£9.99
Named one of the Ten Best Books of 2016 by the New York Times, a spirited account of a major intellectual movement of the twentieth century and the revolutionary thinkers who came to shape it, by the best-selling author of How to Live Sarah Bakewell.
---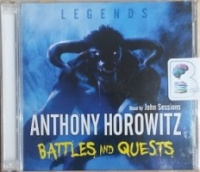 Battles and Quests written by Anthony Horowitz performed by John Sessions on CD (Abridged)£3.99 - £4.99
There was a time when monsters and dragons roamed the earth and the gods walked among us. A time of blood, swords and furious battles. A time of legends, heroes, darkness and death . . . The first in a series of masterful retellings of classic myths from Anthony Horowitz.
---
---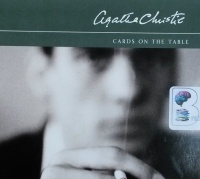 Cards on the Table written by Agatha Christie performed by Geraldine James on CD (Abridged)£4.99
Mr Shaitana was famous as a flamboyant party host. Nevertheless, he was a man of whom everybody was a little afraid. So, when he boasted to Poirot that he considered murder an art form, the detective had some reservations about accepting a party invitation to view Shaitana's private collection.
---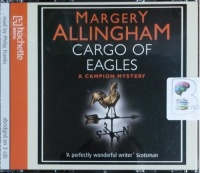 Cargo of Eagles written by Margery Allingham performed by Philip Franks on CD (Abridged)£14.99 - £19.99
Albert Campion sets out to plumb the secrets of Saltey, an ancient hamlet on the Essex marshes. Once the haunt of smugglers, now it hides a secret rich and mysterious enough to trap all who enter - and someone in the village is willing to terrorise, murder and raise the very devil to keep that secret to themselves.
---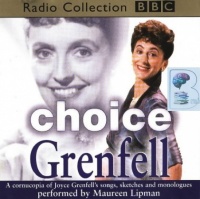 Choice Grenfell - BBC Radio Collection written by Joyce Grenfell performed by Maureen Lipman on CD (Abridged)£9.99 - £19.99
A retrospective of the genteel wit of the broadcaster, comedienne, pianist and poet, Joyce Grenfell. Monologues, sketches, songs and letters from the Grenfell archive are performed and read by Maureen Lipman, who portrayed her in the stage show, "Re:Joyce!".
---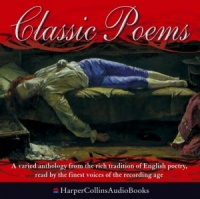 Classic Poems written by Various performed by Sir Ralph Richardson, Dylan Thomas and James Mason on CD (Abridged)£7.99
A Genius Performance by Ralph Richardson and Sir John Gielgud plus many more!
A varied anthology of poets – including Eliot and Auden – reading their own words, and favorite poems by Keats, Browning, Kipling, Tennyson and many more read by the finest voices of the recording age.
---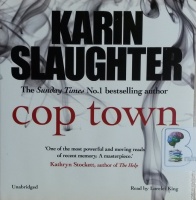 Cop Town written by Karen Slaughter performed by Lorelei King on CD (Unabridged)£9.99 - £19.99
The compelling stand-alone novel from the Sunday Times best-selling author of Unseen and Criminal. 1970s Atlanta: A time of great change and yet for many the fierce desire to keep things exactly the same is still strong. For women like Maggie Lawson and Kate Murphy every day is a battle. From different sides ...
---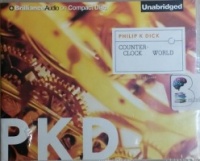 Counter-Clock World written by Philip K Dick performed by Patrick Lawlor on CD (Unabridged)£19.99
In a world where time has begun moving backward, powerful prophet Anarch Peak is among those who have risen from the dead, but that may not last long, as a number of groups seek to send him back to the grave.
We're currently listening to...
New In May 2019 Part 4
(in alphabetical order)
Alexanderplatz - Berlin written by Georg Diez performed by Christopher Lane on CD (Unabridged)£4.99

Alexanderplatz has long survived as the symbol of a city burdened by its ruinous past. In 2012, twenty-year-old Jonny K. was beaten to death on this infamous Berlin square - and Germany's first multicultural murder brought another shock to a country that's seen its share.

Atmospheric Disturbances written by Rivka Galchen performed by Malcolm Hillgartner on CD (Unabridged)£19.99

Convinced that his wife has disappeared and left behind a duplicate of herself who fools everyone else, Dr. Leo Liebenstein embarks on a quixotic journey to reclaim his lost love, aided by a deluded psychiatric patient and an enigmatic meteorologist.

Bonnie and Clyde - The Making of a Legend written by Karen Blumenthal performed by Gabra Zackman on CD (Unabridged)£24.99

Bonnie and Clyde may be the most notorious-and celebrated-outlaw couple America has ever known. This is the true story of how they got that way.Bonnie and Clyde-we've been on a first name basis with them for almost a hundred years. Immortalized in movies, songs, and pop culture references, they are...

Breakers written by Edward W. Robertson performed by Ray Chase on CD (Unabridged)£24.99

In New York, Walt Lawson is about to lose his girlfriend Vanessa. In Los Angeles, Raymond and Mia James are about to lose their house. Within days, none of it will matter. When Vanessa dies of the flu, Walt is devastated. But she isn't the last. The virus quickly kills billions, reducing New York to an open grave and...

Charles Dickens a Portrait in Letters written by Charles Dickens and David Timson performed by David Timson and Simon Callow on CD (Unabridged)£14.99 - £19.99

Charles Dickens was a prolific writer of letters throughout his life. There are extant more than 13,000 letters that he wrote to friends, family, fellow authors and actors as well as many letters written to people involved in good causes he espoused. In the hands of actor and writer Simon Callow, one of the most...

Deal Breakers - When to Work on a Relationship and When to Walk Away written by Dr. Bethany Marshall performed by Renee Raudman on CD (Unabridged)£19.99

Counsels women on how to discern between relationships that can and cannot be saved, making recommendations for addressing key points of contention between men and women in order to promote healthier interpersonal communications.

Drive - The Surprising Truth about What Motivates Us written by Daniel H. Pink performed by Daniel H. Pink on CD (Unabridged)£14.99

A book that will change how you think and transform how you live. Forget everything you thought you knew about how to motivate people - at work, at school, at home. It is wrong. As Daniel H. Pink explains in his paradigm-shattering book Drive, the secret to high performance and satisfaction in today's...

Each Journey Begins with a Single Step - The Taoist Book of Life written by Deng Ming-Dao performed by Lloyd James on CD (Unabridged)£19.99

This is a book of guidance for life's journey rooted in the wisdom of ancient China. Best-selling author Deng Ming-Dao provides key poetic lines that distill the essence of Taoism, organizing them in the form of a journey. The material here is from three sources: The Tao Te Ching, The Yijing, and 300 Tang Poems.

Earthsea and The Left Hand of Darkness written by Ursula Le Guin performed by BBC Radio Full Cast Drama Team on CD (Unabridged)£29.99

Ursula Le Guin's groundbreaking fantasy sagas form the basis of these two BBC Radio full-cast dramatisations. Earthsea' is based on the first three books in the 'Earthsea' cycle. It tells the stories of Ged and Tenar, inhabitants of a vast archipelago where magic is part of life. Young wizard Ged releases a terrible...

Evil in the 1st House - A Starlight Detective Agency Mystery written by Mitchell Scott Lewis performed by John Lescault on CD (Unabridged)£24.99

In his most personal case yet, astrologer/detective David Lowell is presented with a briefcase containing one million dollars in cash and the promise of another million upon success, by Dr. Ethan Williamson, to find his dying son's twin for a life-saving kidney transplant. A rare blood type has made a ...

Freedom - My Book of Firsts written by Jaycee Dugard performed by Jaycee Dugard on CD (Unabridged)£14.99

In the follow-up to her number-one best-selling memoir, A Stolen Life, Jaycee Dugard tells the story of her first experiences after years in captivity: the joys that accompanied her newfound freedom and the challenges of adjusting to life on her own. When Jaycee Dugard was 11 years old, she was abducted from...

Grand Canyon written by Jason Chin performed by Qarie Marshall on CD (Unabridged)£14.99

Rivers wind through the earth, cutting down and eroding the soil for millions of years, creating a cavity in the ground 277 miles long, 18 miles wide, and more than a mile deep known as the Grand Canyon. Home to an astonishing variety of plants and animals that have lived and evolved within its walls for millennia..

Great Britain's Great War written by Jeremy Paxman performed by Roy McMillan on CD (Unabridged)£9.99

We may think we know about it, but what was life really like for the British people during the First World War? The well-known images - the pointing finger of Lord Kitchener; a Tommy buried in the mud of the Western Front; the memorial poppies of remembrance day - all reinforce the idea that it was a pointless...

Great Expectations written by Charles Dickens performed by Tom Baker on CD (Abridged)£9.99

Great Expectations chronicles the progress of Pip from childhood through adulthood. As he moves from the marshes of Kent to London society, he encounters a variety of extraordinary characters: from Magwitch, the escaped convict, to Miss Havisham and her ward, the arrogant and beautiful Estella.

Haunted written by James Herbert performed by Robert Powell on CD (Abridged)£4.99

A ghostly twist. Three nights of terror at the house called Edbrook. Three nights in which David Ash, there to investigate a haunting, will be victim of horrifying games. Three nights in which he will face the blood-chilling enigma of his own past.

In Pieces written by Sally Field performed by Sally Field on CD (Unabridged)£34.99

In this intimate, haunting literary memoir and New York Times Notable Book of the year, an American icon tells her own story for the first time -- about a challenging and lonely childhood, the craft that helped her find her voice, and a powerful emotional legacy that shaped her journey as a daughter ...

Ingo written by Helen Dunmore performed by Niamh Cusack on CD (Abridged)£6.99

A spellbinding magical adventure. Master storyteller Helen Dunmore writes the story of Sapphire and her brother Conor, and their discovery of INGO, a powerful and exciting world under the sea. You'll find the mermaid of Zennor inside Zennor church. She fell in love with a human, but she was a Mer ...

Into The Wild written by Jon Krakauer performed by Philip Franklin on CD (Unabridged)£9.99 - £14.99

In April 1992 a young man from a well-to-do family hitchhiked to Alaska and walked alone into the wilderness north of Mt. McKinley. His name was Christopher Johnson McCandless. He had given $25,000 in savings to charity, abandoned his car and most of his possessions, burned all the cash in his...

Jango written by William Nicholson performed by Michael Page on CD (Unabridged)£19.99

Seeker, Morning Star and the Wild Man return in this mesmerising sequel to "Seeker". In "Jango", the friends discover that the mysterious warrior sect they had been so desperate to join is not quite what it appears from the outside. Disillusioned they leave to find their own way in the world. But now at least they..

Mightier Than The Sword - Book 5 of The Clifton Chronicles written by Jeffrey Archer performed by Alex Jennings on CD (Unabridged)£24.99

Mightier than the Sword opens with an IRA bomb exploding during the MV Buckingham's maiden voyage across the Atlantic - but how many passengers lose their lives?

O.M.D. - Change The World by Changing One Meal a Day written by Suzy Amis Cameron performed by Suzy Amis Cameron, Rebecca Amis and Dean Ornish MD on CD (Unabridged)£24.99

Change the world by changing one meal a day. Suzy Amis Cameron - environmental advocate, former actor, and mom of five - presents a clear-eyed and accessible guide for you to improve your health and shrink your personal carbon footprint simply by swapping one meat- and dairy-based meal for a ...

Smoke Signals - A Social History of Marijuana - Medical, Recreational and Scientific written by Martin A. Lee performed by Nick Podehl on CD (Unabridged)£29.99

"Hallelujah and glory be to Smoke Signals, Martin Lee's bodacious new book...Lee chronicles everything and everyone worth chronicling in the annals of marijuana" (High Times). This is the great American pot story, a dramatic social exploration of a plant that sits at the nexus of political, legal, medical...

Someone Like You written by Roald Dahl performed by Richard E. Grant, Juliet Stevenson, Stephen Mangan and Richard Griffiths on CD (Unabridged)£24.99 - £29.99

Penguin Audiobooks presents a brand new recording of Someone Like You, Roald Dahl's first collection of his world famous dark and sinister adult stories, brought to life by an all-star cast including Julian Rhind-Tutt, Stephen Mangan, Tamsin Greig, Derek Jacobi, Richard Griffiths, Will Self, Jessica Hynes ....

Spontaneous Happiness - A New Path to Emotional Well-Being written by Andrew Weil MD performed by Andrew Weil MD on CD (Unabridged)£9.99

Everyone wants to be happy. But what does that really mean? Increasingly, scientific evidence shows us that true satisfaction and well-being come only from within. Dr. Andrew Weil has proven that the best way to maintain optimum physical health is to draw on both conventional and alternative medicine.

Steering Through It - Navigating Life-Treatening Illness... Acceptance, Survival and Healing written by Lynn McLaughlin performed by Marnye Young on CD (Unabridged)£19.99

A life-threatening illness crushes the world around you and around those you love. How do we cope with diagnosis physically, emotionally, and spiritually? How do we move on? What are the most helpful ways to support others in crisis? In the end, what does it all mean? The author shares her most personal...

The Diary of a Young Girl - The Definitive Edition written by Anne Frank performed by Helena Bonham Carter on Cassette (Unabridged)£14.99

This diary from the Dutch girl who hid from the Nazis during World War II, offers insights into a life typical of any teenager. It reveals her curiosity about her emerging sexuality, the conflicts with her mother, her passion for Peter, a boy whose family hid with hers, and her acute portraits of her ...

The Infinities written by John Banville performed by Julian Rhind-Tutt on CD (Unabridged)£9.99

The dazzling new novel from the Man Booker Prize-winning author of The Sea Old Adam Godley's time on earth is drawing to an end, and as his wife and children gather at the family home, little do they realize that they are not the only ones who have come to observe the spectacle. The mischievous Greek...

The Perfect Assassin written by Ward Larsen performed by Amy McFadden on CD (Unabridged)£14.99

The Atlantic: A young woman sailing solo across the Atlantic makes an incredible discovery - a man narrowly clinging to life in the open ocean. But the desperate survivor is more than he appears. He is a Kidon - an Israeli assassin - who forcibly commandeers her boat with a new destination in mind: England.

The Winter Sea written by Di Morrissey performed by Kate Hood on CD (Unabridged)£14.99

Escaping an unhappy marriage and an unsatisfactory job, Cassie Holloway moves to the little NSW coastal town of Whitby Point. Here she meets the Aquino family, whose fishing business was founded by their ancestor, Giuseppe, an immigrant Italian, some ninety years before.Life for Cassie on the south west...

The Women's Book of Courage - Meditations for Empowerment and Peace of Mind written by Sue Patton Thoele performed by Sandra Burr on CD (Unabridged)£19.99

The Woman's Book of Courage is a little audiobook with a big message - we can take charge of our lives, stop trying to please all of the (other) people all of the time, and live happily with ourselves and others right now. Since it was first published, this book has touched the lives of many thousands of women.

This is Just My Face - Try Not to Stare written by Gabourey Sidibe performed by Gabourey Sidibe on CD (Unabridged)£14.99

The Oscar-nominated Precious star and Empire actress delivers a much-awaited memoir which is wise, complex, smart and funny. This Is Just My Face is the whirlwind tour of Gabourey Sidibe's life so far. In it, we meet her polygamous father, her gifted mother who fed the family by busking on the subway, and...

Through a Glass Brightly written by David P. Barash performed by Charles Constant on CD (Unabridged)£24.99

In Through a Glass Brightly, noted scientist David P. Barash explores the process by which science has, throughout time, cut humanity "down to size," and how humanity has responded. A good paradigm is a tough thing to lose, especially when its replacement leaves us feeling more vulnerable and less special.

Who We Were Before written by Leah Mercer performed by Simon Mattacks and Henrietta Meire on CD (Unabridged)£14.99

Zoe knows that it wasn't really her fault. Of course it wasn't. But if she'd just grasped harder, run faster, lunged quicker, she might have saved him. And Edward doesn't really blame her, though his bitter words at the time still haunt her, and he can no more take them back than she can halt the car that killed...

Write Better Right Now - The Reluctant Writer's Guide to Confident Communication and Self-Assured Style written by Mary-Kate Mackey performed by Tanya Eby on CD (Unabridged)£9.99

In almost any career, you must know how to write—even if it's not part of your job description. But if you are a reluctant writer, producing even the simplest memo may be a struggle. Write Better Right Now is the springboard to get you ahead in any job, passion project, or situation that requires writing skills.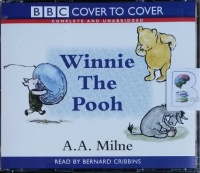 Winnie the Pooh written by A.A. Milne performed by Bernard Cribbins on CD (Unabridged)£14.99 - £29.99
Winnie-the-Pooh may be a bear of very little brain, but thanks to his friends Piglet, Eeyore and, of course, Christopher Robin, he's never far from an adventure. In this story Pooh gets into a tight place, nearly catches a Woozle and heads off on an 'expotition' to the North Pole with the other animals.
---
---
---
Bossypants written by Tina Fey performed by Tina Fey on CD (Unabridged)£29.99
Once in a generation a woman comes along who changes everything. Tina Fey is not that woman, but she met that woman once and acted weird around her. Before 30 Rock, Mean Girls and 'Sarah Palin', Tina Fey was just a young girl with a dream: a recurring stress dream that she was being chased through a ...
---
---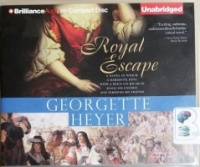 Royal Escape written by Georgette Heyer performed by Cornelius Garrett on CD (Unabridged)£34.99
A fascinating look into a tumultuous interlude in British history and the life of Bonnie Prince Charlie This brilliantly entertaining novel is a fictionalization of the true story of Charles II (May 29, 1630—February 6, 1685), charting his daring flight to France after the Battle of Worcester, where Cromwell and...
---
---
---
---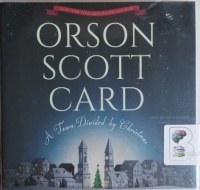 A Town Divided by Christmas written by Orson Scott Card performed by Emily Rankin on CD (Unabridged)£19.99
It began with a quarrel over which newborn should be the baby Jesus in the town's Christmas pageant. Decades later, two scientists arrive to study small-town genetic patterns, only to run up against the invisible walls that split the leading citizens into two congregations that can only be joined by love and...
---
---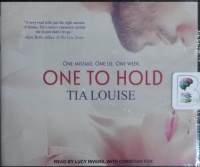 One to Hold written by Tia Louise performed by Lucy Rivers and Christian Fox on CD (Unabridged)£24.99
Derek Alexander is a retired Marine, ex-cop, and the top investigator in his field. Melissa Jones is a small-town girl trying to escape her troubled past. When the two intersect in a bar in Arizona, their sexual chemistry is off the charts. But what is revealed during their "one week stand" only complicates matters...
---
---
---
Timeless written by R.A. Salvatore performed by Victor Bavine on CD (Unabridged)£29.99
At long last, New York Times bestselling author R. A. Salvatore returns with one of fantasy's most beloved and enduring icons, the dark elf Drizzt Do'Urden, in an all-new trilogy full of swordplay, danger, and imaginative thrills. Centuries ago, in the city of Menzoberranzan, the City of Spiders, the city of drow, nestled...
---
---
---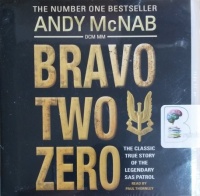 Bravo Two Zero - The Classic True Story of the Legendary SAS Patrol written by Andy McNab performed by Paul Thornley on CD (Unabridged)£19.99
January 1991. IRAQ. Eight members of the SAS regiment embark upon a top secret mission to infiltrate deep behind enemy lines. Under the command of Sergeant Andy McNab, they are to sever a vital underground communication link and to seek and destroy mobile Scud launchers. Their call sign: BRAVO...
---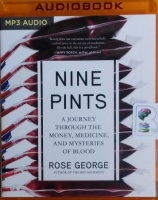 Nine Pints - A Journey Through the Money, Medicine and Mysteries of Blood written by Rose George performed by Karen Cass on MP3 CD (Unabridged)£19.99
An eye-opening exploration of blood, the lifegiving substance with the power of taboo, the value of diamonds and the promise of breakthrough science Blood carries life, yet the sight of it makes people faint. It is a waste product and a commodity pricier than oil. It can save lives and transmit deadly infections.
---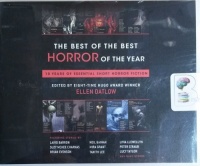 The Best of The Best Horror of the Year - 10 Years of Essential Short Horror Fiction written by Various Famous Horror Authors performed by Tim Campbell and Emily Sutton-Smith on CD (Unabridged)£24.99
***One of Publishers Weekly's "Most Anticipated Books of Fall 2018"*** A group of mountain climbers, caught in the dark, fight to survive their descent; in the British countryside, hundreds of magpies ascend into the sky, higher and higher, until they seem to vanish into the heavens; a professor and his student...
---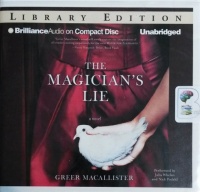 The Magician's Lie written by Greer Macallister performed by Julia Whelan and Nick Podehl on CD (Unabridged)£24.99
Water for Elephants meets The Night Circus in The Magician's Lie, a debut novel in which the country's most notorious female illusionist stands accused of her husband's murder - and she has only one night to convince a small-town policeman of her innocence. The Amazing Arden is the most famous female...
---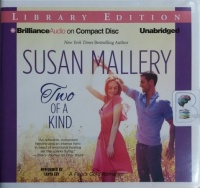 Two of a Kind written by Susan Mallery performed by Tanya Eby on CD (Unabridged)£24.99
Felicia Swift never dreamed she'd hear a deep, sexy voice from her past in tiny Fool's Gold, California. The last time Gideon Boylan whispered in her ear was half a world away…on the morning after the hottest night of her life. Her freaky smarts have limited her close friendships, and romance, but she came to...
---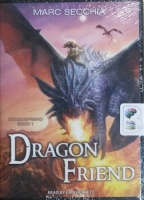 Dragonfriend written by Marc Secchia performed by Erin Bennett on MP3 CD (Unabridged)£19.99
Stabbed. Burned by a dragon. Abandoned for the windrocs to pick over. The traitor Ra'aba tried to silence Hualiama forever, but he reckoned without the strength of a dragonet's paw and the courage of a girl who refused to die.Only an extraordinary friendship will save Hualiama's beloved kingdom of Fra'anior..
---
---
Marlena written by Julie Buntin performed by Emma Galvin on CD (Unabridged)£39.99
Cat is fifteen and the lonely new girl in town. Until she meets her neighbour, the manic, beautiful, pill-popping Marlena. Cat is quickly lured into Marlena's roller-coaster orbit by little more than an arched eyebrow and a shake of white-blonde hair. Within one intense, obsessive year of friendship, Marlena is ...
---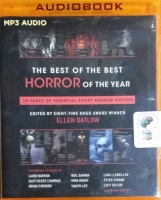 The Best of The Best Horror of the Year - 10 Years of Essential Short Horror Fiction written by Various Famous Horror Authors performed by Tim Campbell and Emily Sutton-Smith on MP3 CD (Unabridged)£19.99
***One of Publishers Weekly's "Most Anticipated Books of Fall 2018"*** A group of mountain climbers, caught in the dark, fight to survive their descent; in the British countryside, hundreds of magpies ascend into the sky, higher and higher, until they seem to vanish into the heavens; a professor and his student track a zombie...