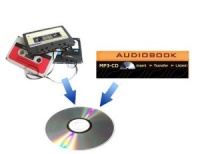 3 Hour Fixed Price Audio Transfer for Customers Own Tapes£25.00
This is the fixed price £25.00 item to be used by Customers when ordering conversion of their own sub 3 hour Audio Cassette or MP3 CD title.
---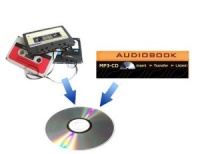 3 Hour Fixed Price Audio Transfer£15.00
This is the fixed price £15 item to be used when ordering conversion of a sub 3 hour Audio Cassette or MP3 CD title.
---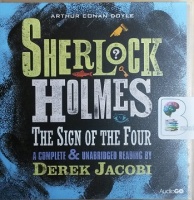 Sherlock Holmes The Sign of the Four written by Arthur Conan Doyle performed by Derek Jacobi on CD (Unabridged)£7.99 - £9.99
A Genius Performance by Derek Jacobi!
Mary Morstan reports two seemingly unconnected and inexplicable events: the disappearance of her father, a British Indian Army Captain, and the arrival of pearls by post from an unknown sender.
---
---
---
---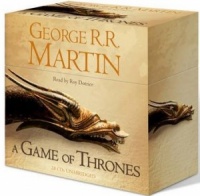 A Game of Thrones written by George R.R. Martin performed by Roy Dotrice on CD (Unabridged)£38.99
This first volume in the hugely popular and highly acclaimed epic fantasy series A SONG OF ICE AND FIRE is unabridged on 28 CDs.
---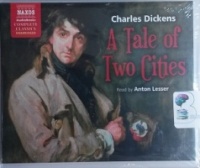 A Tale of Two Cities written by Charles Dickens performed by Anton Lesser on CD (Unabridged)£29.99 - £39.99
It was the best of times and the worst of times'. In one of the most famous openings of any novel, Dickens masterfully presents the turmoil of the French Revolution which is the backdrop for a novel of love, patience, hope and self-sacrifice. It is read by Anton Lesser whose award-winning Dickens... Naxos
---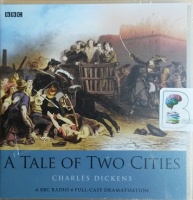 A Tale of Two Cities written by Charles Dickens performed by BBC Full Cast Dramatisation and Robert Lindsay on CD (Abridged)£24.99 - £34.99
Robert Lindsay stars in this BBC Radio 4 full-cast dramatisation of the classic novel by Charles Dickens. From the echo of the first line 'It was the best of times, it was the worst of times' to the final 'It is a far better thing that I do than I have ever done', Dickens' classic novel of the French revolution...
---
---
---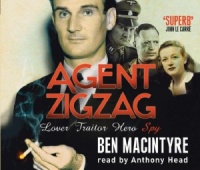 Agent Zigzag written by Ben Macintyre performed by Anthony Head on CD (Abridged)£23.99
Eddie Chapman: rogue, criminal, confidence trickster, hero to both sides and betrayer of all. At the start of the Second World War, Chapman was recruited by the German Secret Service. He was a highly prized Nazi agent.
---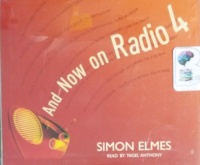 And Now on Radio 4 written by Simon Elmes performed by Nigel Anthony on CD (Abridged)£9.99
And Now on Radio 4 offers an enthusiast's guide to the shows that have made Radio 4 what it is, and also explores some of the wonderful corners of the network's history that are long forgotten by all but a few. Who, for instance, now recalls Ronnie Barker's starring role on Radio 4 in a sophisticated ...
---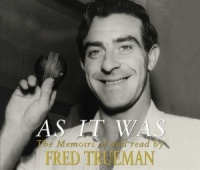 As It Was written by Fred Trueman performed by Fred Trueman on CD (Abridged)£28.99
Fred Trueman was a national treasure, a legend not only to cricket fans the world over but also to those who only ever took a passing interest in the game.
---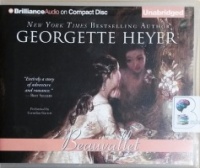 Beauvallet written by Georgette Heyer performed by Cornelius Garrett on CD (Unabridged)£24.99
Sir Nicholas Beauvallet has fallen in love with a Spanish noblewoman. She and her father were aboard a galleon captured by Sir Nicholas. He vows to make her his bride even though it means returning the pair to Spain and entering the lion's den.
---
---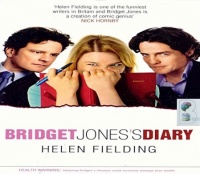 Bridget Jones's Diary written by Helen Fielding performed by Tracie Bennett on CD (Abridged)£4.99
Bridget Jones wants to have it all - and once she's given up smoking and got down to 8st 7 she will.
Based on Helen Fielding's diary in the Independent newspaper, this is a novel about a year in the life of a single girl on an optimistic but doomed quest for self-improvement and Inner Poise.
---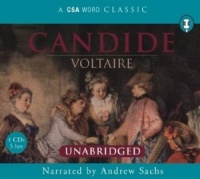 Candide written by Voltaire performed by Andrew Sachs on CD (Unabridged)£19.99
A Genius Performance by Andrew Sachs!
Candide and his tutor Pangloss journey the earth, following the philosophy: All is for the best in this, the best of all possible worlds - A point made by Liebnitz and earlier by Aquinas. This adage, however, is disproved at many turns, with the characters encountering opposition to their outlook. The initially naive Candide realises some of the dark truths of the eighteenth-century world, but could there be any light at the end of the tunnel?
---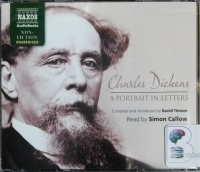 Charles Dickens a Portrait in Letters written by Charles Dickens and David Timson performed by David Timson and Simon Callow on CD (Unabridged)£14.99 - £19.99
Charles Dickens was a prolific writer of letters throughout his life. There are extant more than 13,000 letters that he wrote to friends, family, fellow authors and actors as well as many letters written to people involved in good causes he espoused. In the hands of actor and writer Simon Callow, one of the most...
---
---
---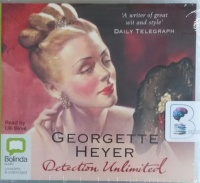 Detection Unlimited - Book 4 of The Inspector Hemmingway Series written by Georgette Heyer performed by Ulli Birve on CD (Unabridged)£19.99
Slumped on a seat under an oak tree is old Sampson Warrenby, with a bullet through his head. Everybody in the village is ready to tell Chief Inspector Hemingway who did it. Could the murderer have been the dead man's niece? Or perhaps it was the other town solicitor? The couple at the farm had a guilty...
---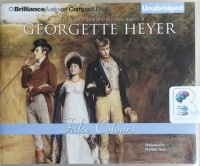 False Colours written by Georgette Heyer performed by Phyllida Nash on CD (Unabridged)£19.99 - £24.99
The honourable Christopher Fancot, on leave from the Diplomatic Service in the summer of 1817, is startled to find his entrancing but incorrigibly extravagant mother on the brink of financial and social ruin - and more than alarmed that his identical twin, Evelyn, Earl of Denville, has disappeared ...
New In May 2019 Part 3
(in alphabetical order)
A Call to Action - Women, Religion, Violence and Power written by Jimmy Carter performed by Jimmy Carter on CD (Unabridged)£19.99

The world's discrimination and violence against women and girls is the most serious, pervasive, and ignored violation of basic human rights: This is President Jimmy Carter's call to action. President Carter was encouraged to write this book by a wide coalition of leaders of all faiths. His urgent report is current.

A Knight of the Seven Kingdoms written by George R.R. Martin performed by Harry Lloyd on CD (Unabridged)£19.99

A century before A GAME OF THRONES, two unlikely heroes wandered Westeros… A KNIGHT OF THE SEVEN KINGDOMS compiles the first three official prequel novellas to George R.R. Martin's ongoing masterwork, A SONG OF ICE AND FIRE. Before Tyrion Lannister and Podrick Payne there was Dunk and Egg.

A Single Man written by Christopher Isherwood performed by Simon Prebble on CD (Unabridged)£19.99

Celebrated as a masterpiece from its first publication, A Single Man is the story of George, an English professor in suburban California left heartbroken after the death of his lover, Jim. With devastating clarity and humour, Christopher Isherwood shows George's determination to carry on, evoking the unexpected...

Auschwitz Lullaby written by Mario Escobar performed by Hayley Cresswell on CD (Unabridged)£19.99

Based on the true story of a brave German nurse tasked with caring for Auschwitz's youngest prisoners. "Auschwitz Lullaby grabbed my heart and drew me in. A great choice for readers of historical fiction." (Irma Joubert, author of The Girl from the Train) Auschwitz Lullaby brings to life the story of Helene...

Cabbages and Kings written by O. Henry performed by Sean Pratt on CD (Unabridged)£29.99

This book was written while by a man on the lam, literally, in Honduras. O. Henry (whose real name was William Sydney Porter) was awaiting trial over bank embezzlement changes, and his father in law posted bail to keep him out of jail -- but the day before Porter was due to stand trial he fled, first to ...

Economics - The User's Guide written by Ha-Joon Chang performed by John Lee on MP3 CD (Unabridged)£14.99

What is economics? How does the global economy work? What do different economic theories tell us about the world? In Economics: The User's Guide, best-selling author Ha-Joon Chang explains how the global economy works and why anyone can understand the dismal science. Unlike many economists who...

Flanagan's Run written by Tom McNab performed by Rupert Degas on CD (Unabridged)£24.99

Daunted by the prospect of running a marathon? The 3,000-mile Transamerica epic race that is the subject of this novel puts it very much in perspective. It is depression-era America and notorious huckster, Flanagan, plans the ultimate race, reeling in contestants with the promise of a glittering jackpot prize.

God Spelled Backwards - The Journey of an Actress into the World of Dog Rescue written by Sylva Kelegian performed by Kathe Mazur on CD (Unabridged)£34.99

When newlywed actress Sylva Kelegian shows up at a Manhattan veterinary clinic to walk a rescue dog, a strawberry-blonde puppy stumbles down the stairs and into her heart - opening it to the plight of hurt and abandoned dogs everywhere. After a move to Los Angeles with her actor husband, Sylva finds her...

Hemingway in Love - His Own Story written by A.E. Hotchner performed by A.E. Hotchner, Joan Baker, Susan Hanfield and Alex Hyde-White on CD (Unabridged)£19.99

In June of 1961, A.E. Hotchner visited an old friend in the psychiatric ward of St. Mary's Hospital. It would be the last time they spoke: a few weeks later, Ernest Hemingway was released home, where he took his own life.

I Thought My Father was God written by Paul Auster performed by Paul Auster on CD (Unabridged)£14.99

When Paul Auster was asked to join NPR's Weekend All Things Considered program to tell stories, he turned the proposition on its head: he would let the stories come to him. He invited listeners to submit brief, true-life anecdotes about events that touched their lives. And so the National Story Project was born.

Inside the Atheist Mind - Unmasking the Religion of Those Who Say There is No God written by Anthony DeStefano performed by Anthony DeStefano on CD (Unabridged)£19.99

From USA Today best-selling author Anthony DeStefano, an entertaining retort to atheism and its proponents, revealing the intellectual bankruptcy at atheism's core and equipping Christians to respond to its hollow arguments. A witty and devastating takedown of the "new" atheist position, Inside the...

Into the Black - Odyssey One written by Evan Currie performed by Benjamin L. Darcie on CD (Unabridged)£24.99

Beyond the confines of our small world, far from the glow of our star, lies a galaxy and universe much larger and more varied than anyone on Earth can possibly imagine. For the new NAC spacecraft Odyssey and her crew, the unimaginable facets of this untouched world are about to become reality.

It's All Relative - Adventures Up and Down the World's Family Tree written by A.J. Jacobs performed by A.J. Jacobs on CD (Unabridged)£19.99

New York Times bestselling author of The Know-It-All and The Year of Living Biblically, A.J. Jacobs undergoes a hilarious, heartfelt quest to understand what constitutes family—where it begins and how far it goes—and attempts to untangle the true meaning of the "Family of Humankind." A.J. Jacobs has received...

Keep Smiling written by Charlotte Church performed by Charlotte Church on CD (Abridged)£6.99

Charlotte Church burst onto the music scene when she was only 12 years old. She went straight to the top of the charts with VOICE OF AN ANGEL and sang for the Pope, the US President and royalty across the world. She has released five classical albums, one pop album, hosted her own....

Mother of Invention written by Caeli Wolfson Widger performed by Christina Traister on CD (Unabridged)£14.99

What will a mother sacrifice to have it all? Meet Silicon Valley executive Tessa Callahan, a woman passionate about the power of technology to transform women's lives. Her company's latest invention, the Seahorse Solution, includes a breakthrough procedure that safely accelerates human pregnancy from...

No Time to Wave Goodbye written by Jacquelyn Mitchard performed by Susan Denaker on CD (Unabridged)£39.99

New York Times best-selling author Jacquelyn Mitchard captured the heart of a nation with The Deep End of the Ocean, her celebrated debut novel about mother Beth Cappadora, a child kidnapped, a family in crisis. Now, in No Time to Wave Goodbye, the unforgettable Cappadoras are in peril once again...

Odysseus Ascendant - Odyssey One written by Evan Currie performed by David de Vries on CD (Unabridged)£24.99

A mysterious entity may be the key to a starship's survival - or a terrifying new threat - as the Odyssey One series continues... The Empire has set its sights on its next target: human Terrans. As effective allies of the Priminae, the denizens of Earth have proven themselves enemies to the Empire, and now the ...

Proof written by Dick Francis performed by Charles Dance on Cassette (Abridged)£9.99

A classic mystery from Dick Francis, the champion of English storytellers. Wine merchant Tony Beach will do anything for a quiet life. But when a party to celebrate the end of the racing season ends in eight violent deaths, he is drawn reluctantly into the subsequent investigation. Meanwhile, the police, having...

Rogue Spooks - The Intelligence War on Donald Trump written by Dick Morris and Eileen McGann performed by John Pruden on CD (Unabridged)£19.99

This is the story of an attempted coup d'état--now in progress--by rogue intelligence agents. The goal: to overthrow the presidency of Donald Trump and subvert the will of the electorate. Donald Trump's first 100 days in office were roiled by allegations of treasonous contacts between his campaign team ...

Stage Four written by Sander Kollaard performed by Michele Hutchinson on CD (Unabridged)£14.99

From an award-winning Dutch author comes a heartbreaking and poetic novel about a couple's lasting love and their dedication to living out their dream. Dutch couple Sarie and Barend Vervoort celebrate their retirement by buying a camper van and hitting the road. Their intention is to drive around Europe...

Tea at Five written by Matthew Lombardo performed by Kate Mulgrew on CD (Unabridged)£14.99

Joins us for a cup of tea, won't you? Katharine Hepburn beckons us into her Connecticut home for a cozy chat and an intimate look at the legend, and the woman behind the legend. Based on the critically acclaimed New York production, the independent, intelligent, feisty Hepburn comes alive once again when..

The China Mission - George Marshall's Unfinished War 1945-1947 written by Daniel Kurtz-Phelan performed by Malcolm Hillgartner on CD (Unabridged)£24.99

At the end of World War II, General George Marshall took on what he thought was a final mission-this time not to win a war, but to stop one. In China, conflict between Communists and Nationalists threatened to suck in the United States and escalate into revolution. Marshall's charge was to cross the Pacific...

The Clockwork Three written by Matthew J. Kirby performed by Marc Thompson on CD (Unabridged)£29.99

Three ordinary children are brought together by extraordinary events. . . Giuseppe is an orphaned street musician from Italy, who was sold by his uncle to work as a slave for an evil padrone in the U.S. But when a mysterious green violin enters his life he begins to imagine a life of freedom. Hannah is a ...

The Dragon Queen written by William Andrews performed by Todd McLaren and Janet Song on CD (Unabridged)£19.99

From the bestselling author of Daughters of the Dragon comes the story of one of the most extraordinary queens in history. As tensions rise on the Korean peninsula, US diplomat Nate Simon is sent to Seoul to gauge the political situation and advise the president. He also needs to find out why someone sent...

The Edge of the Sky - All You Need to Know About the All-There-Is written by Roberto Trotta performed by Bronson Pinchot on CD (Unabridged)£14.99

From the big bang to black holes, dark matter to dark energy, the origins of the universe to its ultimate destiny, The Edge of the Sky tells the story of the most important discoveries and mysteries in modern cosmology -- with a twist. The book's lexiconis limited to the thousand most common words in the English...

The Girl of the Lake - Stories written by Bill Roorbach performed by Will Damron on CD (Unabridged)£19.99

In The Girl of the Lake, Bill Roorbach conjures vivid, complex characters whose layered interior worlds feel at once familiar and extraordinary. Among the unforgettable characters Roorbach creates are an adventurous boy who learns what courage really is when an aging nobleman recounts history to him ...

The Heart of Matter - Odyssey One written by Evan Currie performed by Benjamin L. Darcie on CD (Unabridged)£24.99

After an epic maiden voyage that introduced Earth to a larger universe - and a cosmos full of terrifying new enemies - Captain Eric Weston and the crew of the NAC spacecraft Odyssey have spent months cooling their heels under their admiral's watchful eye. But when Earth's newest ally, the Priminae, strike a...

The Madoffs Among Us written by William M. Francavilla CFP performed by Sam Osheroff on CD (Unabridged)£19.99

Each year Americans lose billions of dollars to fraudulent activity. The Madoffs Among Us explains in graphic detail how and why people fall prey. Most importantly, it tells you how to easily identify the people who perpetrate these crimes and avoid their deceitful practices. Why do smart people fall for these...

The Moonstone written by Wilkie Collins performed by Peter Jeffrey on MP3 CD (Unabridged)£19.99 - £24.99

The Moonstone, a priceless Indian diamond which had been brought to England as spoils of war, is given to Rachel Verrinder on her eighteenth birthday. That very night, the stone is stolen. Suspicion then falls on a hunchbacked housemaid, on Rachel's cousin Franklin Blake, on a troupe of mysterious Indian jugglers, and on Rachel herself.

The Yellow House written by Emily O'Grady performed by Danielle Baynes on CD (Unabridged)£19.99

Winner of The Australian/Vogel's Literary Award Even before I knew anything about Granddad Les, Wally and me sometimes dared each other to see how close to the knackery we could get. It was way out in the bottom paddock, and Dad had banned us from going further than the dam. Wally said it was...

Things That Helped - On Postpartum Depression written by Jessica Friedmann performed by Shiromi Arserio on CD (Unabridged)£19.99

Things That Helped is a memoir in essays, detailing the Australian writer Jessica Friedmann's recovery from postpartum depression. In each essay she focuses on a separate totemic object-from pho to red lips to the musician Anohni-to tell a story that is both deeply personal and culturally resonant. Drawing on...

True Stories from An Unreliable Eyewitness - A Feminist Coming of Age written by Christine Lahti performed by Christine Lahti on CD (Unabridged)£24.99

A fiercely intelligent, hilarious, and deeply feminist collection of interrelated personal stories from Academy, Emmy, and Golden Globe Award-winning actress and director Christine Lahti. For decades, actress and director Christine Lahti has captivated the hearts and minds of her audience through iconic roles...

Unconditional Love - A Guide to Navigating the Joys and Challenges of Being A Grandparent Today written by Jane Isay performed by Joyce Bean on CD (Unabridged)£24.99

A beautiful meditation on the joys of being a grandparent and a practical guide to help you and your adult children make the most of your relationship with a grandchild. For many grandparents, a grandchild offers a second chance to become the parent they didn't have the time or the energy to be when raising...

What Keeps You Up at Night - How To Find Peace While Chasing Your Dreams written by Pete Wilson performed by Van Tracy on CD (Unabridged)£19.99

It's easy to feel paralyzed by uncertainty. We want our questions answered, our decisions affirmed, and our plans applauded. But life doesn't come with an instruction manual and rarely follows a straight path. How would your life change if you learned to lean into uncertainty instead of waiting on the sidelines...

What The Future Looks Like - Scientists Predict the Next Great Discoveries.... written by Jim Al-Khalili performed by Pete Cross on CD (Unabridged)£24.99

Science fact, not science fiction, on the cutting-edge developments that are already changing the course of our future Every day, scientists conduct pioneering experiments with the potential to transform how we live. Yet it isn't every day you hear from the scientists themselves! Now, award-winning author...

Wild Swans: Three Daughters of China written by Jung Chang performed by Pik-Sen Lim on CD (Unabridged)£29.99

Few books have had such an impact as Wild Swans: a popular best seller and a critically acclaimed history of China that opened up the country to the world. Through the story of three generations of women in her own family - the grandmother given to the warlord as a concubine, the Communist mother, and the...

Without The Moon written by Cathi Unsworth performed by Jon Glover on CD (Unabridged)£24.99

London during the long, dark days of the Blitz: a city outwardly in ruins, weakened by exhaustion and rationing - and DCI Edward Greenaway keeps a careful eye on everyone. Out on the streets, something nastier is stirring: London's prostitutes are being murdered, their bodies left mutilated to taunt the police.

Wobegon Boy written by Garrison Keillor performed by Garrison Keillor on CD (Abridged)£19.99

Keillor's follow up to Lake Wobegon Days has his protagonist, John Tollefson, now a forty-something radio station manager living in upstate New York, return to Minnesota for a life-changing visit.

Women Don't Ask - Negotiation and the Gender Divide written by Linda Babcock and Sara Laschever performed by Sasha Dunbrooke on CD (Unabridged)£14.99

When Linda Babcock asked why so many male graduate students were teaching their own courses and most female students were assigned as assistants, her dean said: "More men ask. The women just don't ask." It turns out that whether they want higher salaries or more help at home, women often find it...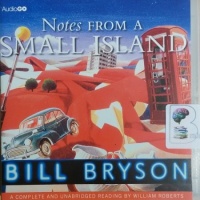 Notes from a Small Island written by Bill Bryson performed by William Roberts on CD (Unabridged)£24.99
"Suddenly, in the space of a moment, I realized what it was that I loved about Britain--which is to say, all of it. Every last bit of it, good and bad--old churches, country lanes, people saying 'Mustn't grumble' and 'I'm terribly sorry but,' people apologizing to me when I conk them with a careless elbow, milk in bottles, beans on toast ...
---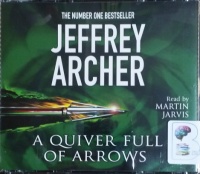 A Quiver Full of Arrows written by Jeffrey Archer performed by Martin Jarvis on CD (Abridged)£9.99
This collection of 12 short stories will draw the listener into each story, whether it is "Old Love", the tale of two undergraduates at Oxford in the 30s and their bitter rivalry, which ends in a memorable love story; or "Broken Routine", which tells of an insurance claim advisor and his surprising encounter on the train...
---
---
---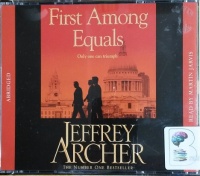 First Among Equals written by Jeffrey Archer performed by Martin Jarvis on CD (Abridged)£9.99
In the 1960s, four ambitious new MPs take their seats at Westminster. Over three decades they share the turbulent passions of the race for power with their wives and families, men and women caught up in a dramatic game for the highest stakes of all. But only one can gain the ultimate goal - Prime Minister . . .
---
Forward written by Abby Wambach performed by Abby Wambach on CD (Unabridged)£29.99
Abby Wambach has always pushed the limits of what is possible. Named by Time magazine as one of the most influential people of 2015, the iconic soccer player captured the nation's heart when she led her team to its recent World Cup championship. Admired for her fearlessness and passion, Abby is a vocal...
---
---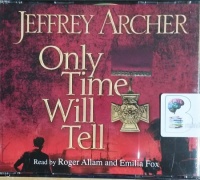 Only Time Will Tell written by Jeffrey Archer performed by Roger Allam and Emilia Fox on CD (Abridged)£9.99
The Clifton Chronicles is Jeffrey Archer's most ambitious work in four decades as an international bestselling author. The epic tale of Harry Clifton's life begins in 1919, in the backstreets of Bristol. His father was a war hero, but it will be twenty-one tumultuous years before Harry discovers the truth about how his...
---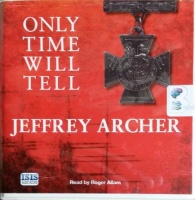 Only Time Will Tell written by Jeffrey Archer performed by Roger Allam on CD (Unabridged)£19.99
The Clifton Chronicles is Jeffrey Archer's most ambitious work in four decades as an international best-selling author. The epic tale of Harry Clifton's life begins in 1920, with the chilling words, 'I was told that my father was killed in the war.' But it will be another 20 years before Harry discovers how his father...
---
---
---
---
---
---
---
---
---
---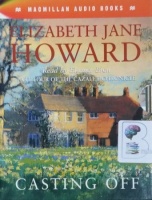 Casting Off - Part Four of the Cazalet Chronicle written by Elizabeth Jane Howard performed by Eleanor Bron on Cassette (Abridged)£9.99
The fourth and final volume of the "Cazalet Chronicle" opens in July 1945. At the end of "Confusion", Rupert has finally been found. Now, as the novel progresses through to 1947, we follow Rupert's life as he struggles with normality and the difficulty of finding his position back in the family.
---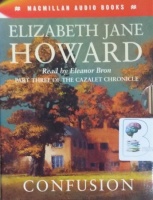 Confusion - Part Three of the Cazalet Chronicle written by Elizabeth Jane Howard performed by Eleanor Bron on Cassette (Abridged)£9.99
This is the third novel in a four-volume saga. The book takes up the story of the Cazalet family in the spring of 1942, and follows them through the war to VE day, 8th May 1945. Polly and Clary have left Home Place for London, Louise has married, and Archie and Polly fall in love.
---