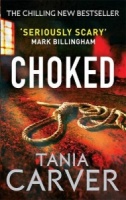 Choked written by Tania Carver performed by Martyn Waites on CD (Abridged)£3.99 - £6.99
'I have something you've lost,' the voice said. 'Your daughter.' He will threaten her. The honeymoon is over for newlywed criminologist Marina Esposito. Her house is in flames. Her cop husband is in a coma. Her baby daughter is missing. And then her phone rings . . .
---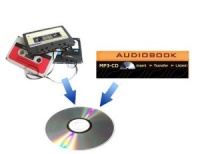 3 Hour Fixed Price Audio Transfer£15.00
This is the fixed price £15 item to be used when ordering conversion of a sub 3 hour Audio Cassette or MP3 CD title.
---
---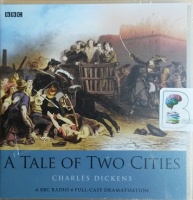 A Tale of Two Cities written by Charles Dickens performed by BBC Full Cast Dramatisation and Robert Lindsay on CD (Abridged)£19.99 - £34.99
Robert Lindsay stars in this BBC Radio 4 full-cast dramatisation of the classic novel by Charles Dickens. From the echo of the first line 'It was the best of times, it was the worst of times' to the final 'It is a far better thing that I do than I have ever done', Dickens' classic novel of the French revolution...
---
---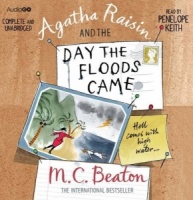 Agatha Raisin and the Day The Floods Came written by M.C. Beaton performed by Penelope Keith on CD (Unabridged)£14.99 - £19.99
A Genius performance by Penelope Keith!
Drowned brides are like buses: nothing for ages, then two come along at the same time . . . ! Abandoned by husband James, Agatha hops on a plane to the South Pacific, hoping to mend her broken heart.
---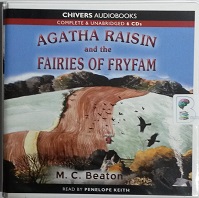 Agatha Raisin and the Fairies of Fryfam written by M.C. Beaton performed by Penelope Keith on CD (Unabridged)£19.99
Feeling jilted and cross, Agatha follows a fortune-teller's advice and rents a cottage in the pretty village of Fryfam, where she hopes good fortune and true love will come chasing after her for a change. Unfortunately, her romantic notions are soon dispelled by the strange goings-on in the village.
---
---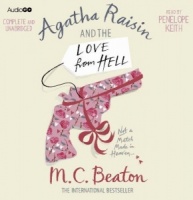 Agatha Raisin and the Love from Hell written by M.C. Beaton performed by Penelope Keith on CD (Unabridged)£14.99 - £24.99
A Genius performance by Penelope Keith!
No happily ever after for her! Recently married to neighbour James Lacey, Agatha quickly finds that love is not all it's cracked up to be - soon the newly-weds are living in separate cottages and accusing each other of infidelity.
---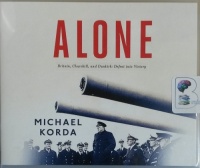 Alone - Britain, Churchill and Dunkirk: Defeat into Victory written by Michael Korda performed by John Lee on CD (Unabridged)£24.99
Combining epic history with rich family stories, Michael Korda chronicles the outbreak of World War II and the great events that led to Dunkirk. An epic of remarkable originality, Alone captures the heroism of World War II as movingly as any book in recent memory. Bringing to vivid life the world leaders...
---
And Another Thing written by Eoin Colfer performed by Simon Jones on CD (Unabridged)£19.99
"And Another Thing ..." will be the sixth novel in the now improbably named "Hitchhiker's Guide to the Galaxy" trilogy.
Eight years after the death of its creator, Douglas Adams, the author's widow, Jane Belson, has given her approval for the project to be continued by the international number one bestselling children's writer, Eoin Colfer
---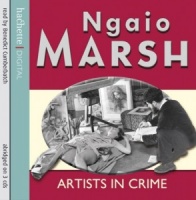 Artists in Crime written by Ngaio Marsh performed by Benedict Cumberbatch on CD (Abridged)£7.99 - £12.99
A Benedict Cumberbatch Genius Performance!
It started as a student exercise, the knife under the drape, the model's pose chalked in place. But before Agatha Troy, artist and instructor, returns to the class, the pose has been re-enacted in earnest....
---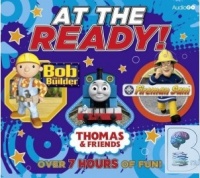 At The Ready! written by Various Childrens Authors performed by Various Famous Actors on CD (Abridged)£39.99
This box set contains over 7 hours of fun from Bob the Builder, Fireman Sam and Tomas the Tank Engine! This would make a brilliant gift that will last considerably longer than the New Year! Consisting of Bob the Builder: Project Build It / Bob the Builder: Off-Road Scrambler and other stories / Fireman Sam: Paper Plane Down and other...
---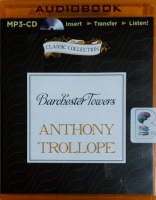 Barchester Towers written by Anthony Trollope performed by Stephen Thorne on MP3 CD (Unabridged)£29.99
Barchester Towers, Trollope's most popular novel, is the second of the six Chronicles of Barsetshire.
---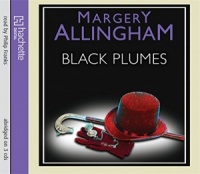 Black Plumes written by Margery Allingham performed by Philip Franks on CD (Abridged)£19.99
A Genius Performance by Philip Franks!
The slashing of a valuable painting at the renowned Ivory Gallery in London, followed by the murder of the proprietor's son-in-law, Robert, sets the stage for another finely tuned Allingham mystery. The proprietor's mother, 90-year-old Gabrielle Ivory, holds the key to the web of intrigue and danger that permeates the gallery.
---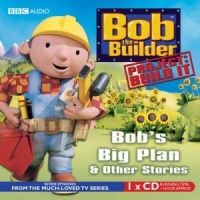 Bob the Builder - Bob's Big Plan written by Bob the Builder Team performed by Bob the Builder Team on CD (Unabridged)£11.99
You'll love these great new stories about "Bob the Builder" and his friends! In "Bob's Big Plan", a special extended episode, Bob hears that Sunflower Valley, where he and his brother Tom used to camp, is being developed.
---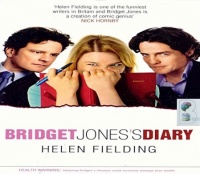 Bridget Jones's Diary written by Helen Fielding performed by Tracie Bennett on CD (Abridged)£4.99
Bridget Jones wants to have it all - and once she's given up smoking and got down to 8st 7 she will.
Based on Helen Fielding's diary in the Independent newspaper, this is a novel about a year in the life of a single girl on an optimistic but doomed quest for self-improvement and Inner Poise.
---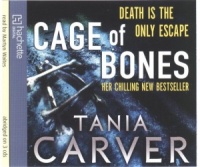 Cage of Bones written by Tania Carver performed by Martyn Waites on CD (Abridged)£6.99
Into the house. Down the stairs. Through the dripping dark of the cellar. Someone is there. Someone that shouldn't be there.
As a building awaits demolition, a horrifying discovery is made inside the basement: a cage made of human bones
---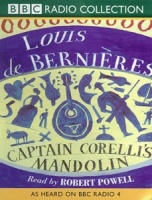 Captain Corelli's Mandolin written by Louis de Bernieres performed by Robert Powell on Cassette (Abridged)£4.99
A Genius Performance by Robert Powell!
Set on the Greek island of Cephallonia during World War II, this is the story of a beautiful young woman and her two suitors: a gentle fisherman turned ruthless guerrilla, and the charming mandolin-playing head of the Italian garrison on the island.
---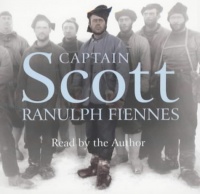 Captain Scott written by Ranulph Fiennes performed by Ranulph Fiennes on CD (Abridged)£6.99 - £9.99
Sir Ranulph Fiennes is uniquely qualified to write a new biography of Captain Scott. This is the first biography of Scott by someone who has experienced the deprivations.
---
---
Coroner's Pidgin written by Margery Allingham performed by Philip Franks on CD (Abridged)£7.99 - £28.99
A Genius Performance by Philip Franks!
Campion returns from three years work for the War Office in Europe to find that Lugg, his manservant, has brought him an unusual gift: the black silk nightdress-clad body of a dead woman, an apparent suicide. Wanting only to get away to a well-deserved rest, Campion must instead assist Detective Chief Inspector Oates and Superintendent Yeo in unravelling a tangled plot of deception and murder, as the war draws to its conclusion.
---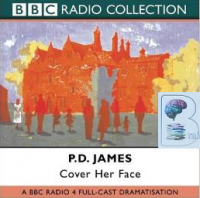 Cover Her Face written by P.D. James performed by BBC Full Cast Dramatisation on CD (Abridged)£9.99
A BBC Radio 4 dramatization of an Adam Dalgliesh mystery. Called in to investigate a murder at an Elizabethan manor house, Dalgliesh soon discovers that there is no shortage of motives.
---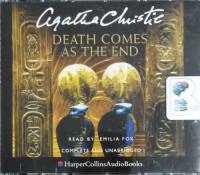 Death Comes as The End written by Agatha Christie performed by Emilia Fox on CD (Unabridged)£9.99
Agatha Christie's acclaimed novel of anger, jealousy, betrayal and murder in Ancient Egypt, is now available as unabridged audio. It is Egypt, 2000 BC, where death gives meaning to life. At the foot of a cliff lies the broken, twisted body of Nofret, concubine to a Ka-priest. Young, beautiful and venomous, most ...
---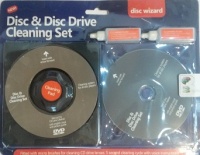 Disk and Disk Drive Cleaning Set written by Disk Wizard performed by Disk Wizard on CD (Unabridged)£4.99
This is an excellent tool to maintain your CD player or computer CD/DVD drive in tip-top condition. Regular use of this disk will ensure you maximise the life of your CD listening device.
---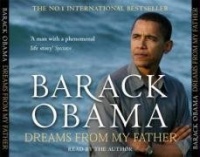 Dreams from My Father written by Barack Obama performed by Barack Obama on CD (Abridged)£9.99
Grammy Award Winner for Best Spoken Album 2006!
The son of a black African father and a white American mother, Obama was only two years old when his father walked out on the family.
New In May 2019 Part 2
(in alphabetical order)
A Feast of Science - Intriging Morsels from the Science of Everyday Life written by Dr. Joe Schwarcz performed by Stephen Graybill on MP3 CD (Unabridged)£14.99

An entertaining and digestible volume that demystifies science, from the author of 16 best-selling popular science books Crave answers? A Feast of Science demystifies the chemistry of everyday life, serving up practical knowledge to both inform and entertain. Guaranteed to satiate your hunger for palatable...

A History of the Middle East written by Peter Mansfield performed by Richard Brown on CD (Unabridged)£34.99 - £49.99

In this masterly work of synthesis, Peter Mansfield, drawing on his experience as a journalist and a historian, explores two centuries of history in the Middle East. He forms a picture of the historical, political, and social history of the meeting point of Occident and Orient, from Bonaparte's marauding invasion...

A Sense of the Mysterious - Science and the Human Spirit written by Alan Lightman performed by Bronson Pinchot on CD (Unabridged)£19.99

From the best-selling author of Einstein's Dreams comes this lyrical and insightful collection of science writing that delves into the mysteries of the scientific process - physics, astronomy, mathematics - and exposes its beauty and intrigue. In these brilliant essays, Lightman explores the emotional life of science...

American Sketches written by Walter Isaacson performed by Cotter Smith on CD (Unabridged)£19.99

By the author of the bestselling biographies of Albert Einstein and Benjamin Franklin, a reflection on: What are the roots of creativity? What makes for great leadership? In this collection of essays, Walter Isaacson reflects on the lessons to be learned from Benjamin Franklin, Albert Einstein, Bill Gates, Henry...

Casting Off written by Elizabeth Jane Howard performed by Jill Balcon on Cassette (Unabridged)£29.99

This is the final volume of The Cazalet Chronicle, the quartet of novels chronicling the lives of a British family before, during, and after the Second World War. VE Day has been celebrated, but the war with Japan goes on. Polly, Clary, and Louise are grown up, discovering loneliness, loss, and passion. Rupert, missing...

Chaos Monkeys - Obscene Fortune and Random Failure in Silicon Valley written by Antonio Garcia Martinez performed by Dan John Miller and on CD (Unabridged)£29.99

An adrenaline-fuelled exposé of life inside the tech bubble, Chaos Monkeys lays bare the secrets, power plays and lifestyle excesses of the visionaries, grunts, sociopaths, opportunists and money cowboys who are revolutionising our world. Written by startup CEO and industry provocateur Antonio García Martínez...

Chomsky - On Anarchism written by Noam Chomsky performed by Eric Martin on CD (Unabridged)£19.99

On Anarchism provides the reasoning behind Noam Chomsky's fearless lifelong questioning of the legitimacy of entrenched power. In these essays, Chomsky redeems one of the most maligned ideologies, anarchism, and places it at the foundation of his political thinking. Chomsky's anarchism is distinctly ...

Daily Wisdom for Why Does He Do That? - Encouragement for Women Involved with Angry and Controlling Men written by Lundy Bancroft performed by Gary Galone on MP3 CD (Unabridged)£34.99

Even if you've read Why Does He Do That?, it may be hard to see the truth of what is happening to you. You may feel overwhelmed by confusion, loss, and fear, and find yourself looking away from the truth and falling back into traumatic patterns.Like a constant friend, this collection of meditations is a...

Deliverance written by James Dickey performed by Will Patton on MP3 CD (Unabridged)£19.99

The smash-hit best seller that inspired the acclaimed 1972 film starring Jon Voight, Burt Reynolds, Ned Beatty, and Ronny Cox is now available in unabridged audio for the very first time. The setting is the Georgia wilderness, where the state's most remote white-water river awaits. In the thundering froth of that...

Empathy - A History written by Susan Lanzoni performed by Suzanne Toren on MP3 CD (Unabridged)£24.99

A surprising, sweeping, and deeply researched history of empathy - from late 19th-century German aesthetics to mirror neurons Empathy: A History tells the fascinating and largely unknown story of the first appearance of "empathy" in 1908 and tracks its shifting meanings over the following century.

Fat Chance written by Nick Spalding performed by Heather Wilds and Napoleon Ryan on CD (Unabridged)£14.99

Meet Zoe and Greg Milton, a married couple who have let themselves go a bit. Zoe was a stunner in her college days, but the intervening decades have added five stone, and removed most of her self-esteem. Greg's rugby-playing days are well and truly behind him, thanks to countless pints of beer and chicken...

Galactic North written by Alastair Reynolds performed by John Lee on MP3 CD (Unabridged)£24.99

Centuries from now, the basic right to expand human intelligence beyond its natural limits has become a war-worthy cause for the Demarchists and Conjoiners. Only vast lighthugger starships bind these squabbling colonies together, manned by the panicky and paranoid Ultras. And the hyper pigs just try...

Heartstones written by Ruth Rendell performed by Geraldine Somerville on CD (Unabridged)£19.99

Sixteen-year-old Elvira's mother is dead. Elvira is sad, of course, but not so sad as her younger sister Spinny. Spinny is afraid their father, Luke, will be heartbroken, but Elvira knows better - after all, Luke has her to take her mother's place. But then Luke brings home a pretty young woman and introduces ...

Insecure in Love - How Anxious Attachment Can Make You Feel Jealous, Needy and Worried and What You Can Do About It written by Leslie Becker-Phelps PhD performed by Susan Boyce on MP3 CD (Unabridged)£19.99

Has your romantic partner called you clingy, insecure, desperate, or jealous? No one wants to admit that they possess these qualities, but if you find yourself constantly on the alert, anxious, or worried when it comes to your significant other, you may suffer from anxious attachment, a fear of abandonment that is...

Michelle Obama - A Life written by Peter Slevin performed by Robin Miles on MP3 CD (Unabridged)£14.99

An inspiring story of a modern American icon, here is the first comprehensive account of the life and times of Michelle Obama. With disciplined reporting and a storyteller's eye for revealing detail, Peter Slevin follows Michelle to the White House from her working-class childhood on Chicago's largely segregated...

Neanderthal Man - In Search of Lost Genomes written by Svante Paabo performed by Dennis Holland on MP3 CD (Unabridged)£9.99 - £14.99

A preeminent geneticist hunts the Neanderthal genome to answer the biggest question of them all: What does it mean to be human? What can we learn from the genes of our closest evolutionary relatives? Neanderthal Man tells the story of geneticist Svante Pbo's mission to answer that question, beginning with ...

Paint the Bird written by Georgeann Packard performed by Robin Miles and Kirby Heyborne on CD (Unabridged)£19.99

The Reverend Sarah Obadias is broken, bitter, and stripped of the reassurance of faith when she walks into a West Village restaurant in Manhattan. Here she encounters Abraham Darby, a rumpled but well-regarded painter who seduces the minister into his life of excess and emotional intensity. "I've run away ...

Pure - Inside the Evangelical Movement That Shamed a Generation of Young Women and How I Broke Free written by Linda Kay Klein performed by Linda Kay Klein on CD (Unabridged)£24.99

From a woman who has been there and back, the first inside look at the devastating effects evangelical Christianity's purity culture has had on a generation of young women - in a potent combination of journalism, cultural commentary, and memoir. In the 1990s, a "purity industry" emerged out of the white...

Testosterone Rex - Myths of Sex, Science and Society written by Cordelia Fine performed by Cat Gould on CD (Unabridged)£24.99

Many people believe that, at its core, biological sex is a fundamental, diverging force in our development. According to this familiar story, differences between the sexes are shaped by past evolutionary pressures-women are more cautious and parenting-focused, men seek status to attract more mates-re-created in ..

The Brightest Sun written by Adrienne Benson performed by Rachel Fulginiti on CD (Unabridged)£24.99

An illuminating debut following three women in sub-Saharan Africa as they search for home and family. Leona, an isolated American anthropologist, gives birth to a baby girl in a remote Maasai village and must decide how she can be a mother, in spite of her own grim childhood. Jane, a lonely expat wife...

The Case Against Fragrance written by Kate Grenville performed by Belinda McClory on MP3 CD (Unabridged)£24.99

Kate Grenville had always associated perfume with elegance and beauty. Then the headaches started. Like perhaps a quarter of the population, Grenville reacts badly to the artificial fragrances around us: other people's perfumes and all those scented cosmetics, cleaning products and air fresheners.

The Chimes written by Charles Dickens performed by Richard Armitage on MP3 CD (Unabridged)£19.99

The magnificent Richard Armitage (Hamlet: King of Denmark: A Novel) performs The Chimes by Charles Dickens. This classic story is the second in a series of five Christmas books Dickens was commissioned to write.

The Choice written by Eliyahu M. Goldratt and Efrat Goldratt-Ashlag performed by Stephen R. Thorne on CD (Unabridged)£19.99

The Theory of Constraints (TOC) has been successfully applied in almost every area of human endeavor, from industry to healthcare to education. And while Eli Goldratt is indeed a scientist, an educator and a business leader, he is first and foremost a philosopher; some say a genius. He is a thinker who provokes...

The Diary of a Bookseller written by Shaun Bythell performed by Robin Laing on CD (Unabridged)£29.99

Shaun Bythell owns The Bookshop, Scotland's largest second-hand bookshop. It contains 100,000 books, spread over a mile of shelving, with twisting corridors and roaring fires, and all set in a beautiful, rural town by the edge of the sea. A book-lover's paradise? Well, almost ... In these wry and hilarious...

The End of Illness written by David B. Agus MD performed by Holter Graham on CD (Unabridged)£29.99

From one of the world's foremost physicians and researchers, a monumental work that radically redefines our conventional conceptions of health and illness to offer new methods for living a long, healthy life. Can we live robustly until our last breath? Do we have to suffer from debilitating conditions and sickness?

The Fall of the Roman Empire written by Peter Heather performed by Allan Robertson on MP3 CD (Unabridged)£24.99

The death of the Roman Empire is one of the perennial mysteries of world history. Now, in this groundbreaking book, Peter Heather proposes a stunning new solution: Centuries of imperialism turned the neighbors Rome called barbarians into an enemy capable of dismantling an Empire that had dominated their...

The Garner Files - A Memoir written by James Garner and Jon Winokur performed by Michael Kramer on MP3 CD (Unabridged)£24.99

After suffering physical abuse at the hands of his stepmother, James Garner left home at fourteen. He became Oklahoma's first draftee of the Korean War and was awarded with two Purple Hearts before returning to the United States and settling in Los Angeles to become an actor. Working alongside some...

The Homework Myth - Why Our Kids Get Too Much of a Bad Thing written by Alfie Kohn performed by Alfie Kohn on CD (Unabridged)£19.99

Death and taxes come later; what seems inevitable for children is the idea that, after spending the day at school, they must then complete more academic assignments at home. The predictable results: stress and conflict, frustration and exhaustion. Parents respond by reassuring themselves that at least the...

The Moral Molecule written by Paul J. Zak performed by Paul J. Zak on CD (Unabridged)£29.99

Is morality universal? Why are men less faithful than women? Why do some businesses succeed while others collapse?

If we have a natural impulse to empathise and care for each other, why are there psychopaths? Neuroscientist and economist Paul Zak has spent 10 years researching to answer these questions and discovering the chemical driver of our behaviour.

The Navigator - A Kurt Austin Adventure written by Clive Cussler with Paul Kemprecos performed by Scott Brick on CD (Unabridged)£19.99

The Navigator, Clive Cussler and Paul Kemprecos's fast-moving action adventure from the NUMA Files novels. Read by the award winning narrator Scott Brick. Years ago, an ancient Phoenician statue known as the Navigator was stolen from the Baghdad museum, and there are men who would do anything to...

The Wayfinders - Why Ancient Wisdom Matters in the Modern World written by Wade Davies performed by Tom Perkins on CD (Unabridged)£29.99

Every culture is a unique answer to a fundamental question: What does it mean to be human and alive? In The Wayfinders, renowned anthropologist, winner of the prestigious Samuel Johnson Prize, and National Geographic Explorer-in-Residence Wade Davis leads us on a thrilling journey to celebrate the wisdom...

There Are No Grown-Ups - A Midlife Coming-of-Age Story written by Pamela Druckerman performed by Pamela Druckerman on CD (Unabridged)£24.99

Random House presents the audiobook edition of There Are No Grown-Ups, written and read by Pamela Druckerman. Author of the number one best seller French Children Don't Throw Food, Pamela Druckerman reveals the things it took her 40 years to learn. There are no grown-ups. Everyone else is winging it too.

Trump Revealed - An American Journey of Ambition, Ego, Money and Power written by Michael Kranish and Marc Fisher performed by Campbell Scott on CD (Unabridged)£14.99

A comprehensive biography of Donald Trump, the Republican front runner in the presidential election campaign. Trump Revealed is reported by a team of award-winning Washington Post journalists and coauthored by investigative political reporter Michael Kranish and senior editor Marc Fisher.

Vanity Dies Hard written by Ruth Rendell performed by Eva Haddon on CD (Unabridged)£19.99

Wealthy Alice Whittaker is known for her generosity, and when her friend Nesta vanishes Alice is determined to find her and help her. If that means money, well, Alice has plenty of it. Then the handsome Mr Fielding enters her life, ten years younger than Alice and they marry. But when Alice starts to feel sick ...

Wild Cards Volume 1 written by Various Fiction Authors performed by Luke Daniels on CD (Unabridged)£14.99

There is a secret history of the world--a history in which an alien virus struck the Earth in the aftermath of World War II, endowing a handful of survivors with extraordinary powers. Some were called Aces--those with superhuman mental and physical abilities. Others were termed Jokers--cursed with bizarre mental...

You Can Be Happy No Matter What - Five Principles for Keeping Life in Perspective written by Richard Carlson PhD performed by Richard Carlson PhD on MP3 CD (Unabridged)£14.99

Most of us believe that our happiness depends on the outside world - and that by solving our problems, improving our relationships, or achieving success, we will find contentment. In You Can Be Happy No Matter What, Dr. Richard Carlson shows that happiness has nothing to do with forces beyond our control.

Young Fredle written by Cynthia Voigt performed by Wendy Carter on CD (Unabridged)£19.99

Cynthia Voigt crafts a novel about discovery, perspective, and the meaning of home - all through the eyes of an affable and worried little mouse. Fredle is an earnest young fellow suddenly cast out of his cozy home behind the kitchen cabinets - into the outside. It's a new world of color and texture and grass and...
Exposed written by Roberta Kray performed by Annie Aldington on CD (Unabridged)£49.99
Eden Chase is head over heels in love with her husband, Tom. He's the sort of man who doesn't give much away, but Eden doesn't mind that - Tom is worth the effort. So when he's accused of a years-old robbery and murder, Eden won't believe it. No, not her Tom - he's not capable of the things they're saying he...
---
Gone Tomorrow written by Lee Child performed by Dick Hill on CD (Abridged)£24.99
Suicide bombers are easy to spot. They give out all kinds of tell-tale signs, mostly because they're nervous. By definition they're all first-timers. Riding the subway in New York at 2:00 in the morning, Reacher knows the 12 giveaway signs to look out for. Watching one of his fellow passengers, he becomes sharply..
---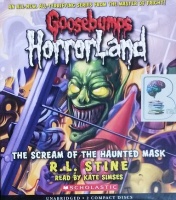 Goosebumps - Horrorland written by R.L. Stine performed by Kate Simses on CD (Unabridged)£9.99
What should Carly Beth be for Halloween this year? TERRIFIED! Late at night, an ugly green mask is mysteriously calling out to her, and ugly green masks don't like to be ignored. If Carly Beth survives the night, even a scary theme park might sound like a vacation. Or maybe not! At HorrorLand, every night is...
---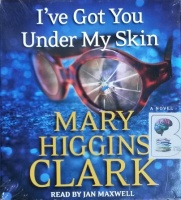 I've Got You Under My Skin written by Mary Higgins Clarke performed by Jan Maxwell on CD (Unabridged)£29.99
In this gripping #1 New York Times bestseller from Queen of Suspense Mary Higgins Clark, a Manhattan ER doctor is brazenly murdered in front of his young son in a city playground. Five years later, his killer is still at large. When Laurie Moran's husband was brutally murdered, only three-year-old Timmy saw the...
---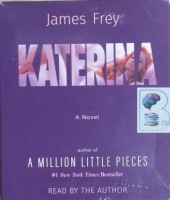 Katerina written by James Frey performed by James Frey on CD (Unabridged)£29.99
The devastating new novel from the author of the international best seller A Million Little Pieces. A kiss, a touch. A smile and a beating heart. Love and sex and dreams, art and drugs and the madness of youth. Betrayal and heartbreak, regret and pain, the melancholy of age. Katerina, the explosive new novel by...
---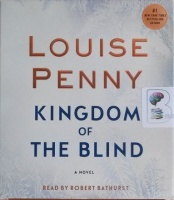 Kingdom of the Blind written by Louise Penny performed by Robert Bathurst on CD (Unabridged)£29.99
The entrancing new crime thriller featuring Chief Inspector Armand Gamache, from number one New York Times bestselling author Louise Penny A wonderful addition to a fantastic series' Elly Griffiths When Armand Gamache receives a letter inviting him to an abandoned farmhouse outside of Three...
---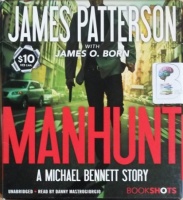 Manhunt written by James Patterson with James O. Born performed by Danny Mastrogiorgio on CD (Unabridged)£9.99
Michael Bennett, be grateful you're alive.
Someone attacked the Thanksgiving Day Parade directly in front of Michael Bennett and his family. The television news called it "holiday terror"--Michael Bennett calls it personal. The hunt is on....
---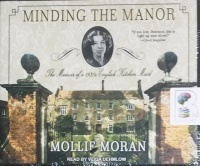 Minding the Manor - The Memoir of a 1930's English Kitchen Maid written by Mollie Moran performed by Veida Dehmlow on CD (Unabridged)£29.99
Mollie Moran is one of the few people alive today who can recall working "downstairs" in the early 1930s before the outbreak of World War II. In Minding the Manor, she provides a rare and fascinating insight into a world that has long since vanished. Mollie left school at age fourteen and became a scullery maid ...
---
---
---
---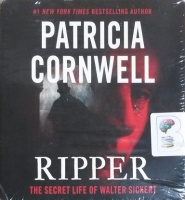 Ripper - The Secret Life of Walter Sickert written by Patricia Cornwell performed by Mary Stuart Masterson on CD (Unabridged)£29.99
From New York Times bestselling author Patricia Cornwell comes Ripper: The Secret Life of Walter Sickert, a comprehensive and intriguing exposé of one of the world's most chilling cases of serial murder - and the police force that failed to solve it. Vain and charismatic Walter Sickert made a name for himself as a..
---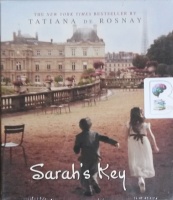 Sarah's Key written by Tatiana de Rosnay performed by Polly Stone on CD (Unabridged)£34.99
Paris, July 1942: Sarah, a ten year-old girl, is brutally arrested with her family by the French police in the Vel' d'Hiv' roundup, but not before she locks her younger brother in a cupboard in the family's apartment, thinking that she will be back within a few hours. Paris, May 2002: On Vel' d'Hiv's 60th anniversary...
---
---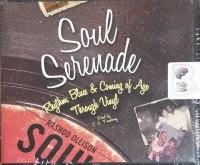 Soul Serenade - Rhythm, Blue and Coming of Age Through Vinyl written by Rashod Ollison performed by C.S. Treadway on CD (Unabridged)£29.99
Soul Serenade is the memoir of pop music critic Rashod Ollison, whose love for soul music was fostered by his father, a disturbed Vietnam vet. After his parents' volatile marriage ended in divorce when Rashod was six years old, he retreated into the records his father left behind-discovering that the music of...
---
---
---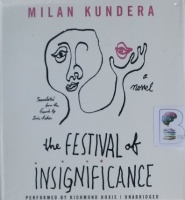 The Festival of Insignificance written by Milan Kundera performed by Richmond Hoxie on CD (Unabridged)£24.99
An ode to friendship set in present-day Paris follows the long-running discourse among four companions on sex, desire, history, art, and the meaning of human existence.
---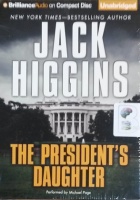 The President's Daughter written by Jack Higgins performed by Michael Page on CD (Unabridged)£29.99
In 1969, Jake Cazalet saved the life of a Frenchwoman in Vietnam, and a brief, passionate affair ensued. Years later in Paris, he was introduced to another beautiful young woman - his daughter. For many reasons, their relationship remained a secret.Now Jake Cazalet is president of the United States. Somehow...
---
---
---
---