---
---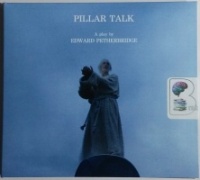 Pillar Talk - A Play written by Edward Petherbridge performed by Edward Petherbridge on CD (Unabridged)£14.99
Exclusive to Brainfood Audiobooks! Esteemed actor Edward (Nicholas Nickleby) Petherbridge uses the story of Symeon Stylites, the 5th century monk who lived on a pillar for thirty-six years, as a framework for an existential inquiry into imagination, belief, doubt, miracles and why one would live 'as I live.'
---
---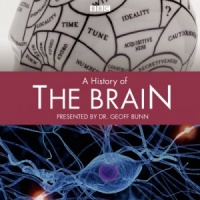 A History of the Brain written by Dr Geoff Bunn performed by Dr Geoff Bunn on CD (Unabridged)£6.99 - £7.29
This set covers 10 x 15 minute series on Radio 4 which was part of a two-week "Brain Season".
It explains in clear terms the latest discoveries in neuroscience. In this unprecedented journey, covering over 2,500 years of development in our understanding of what it is to be human.
---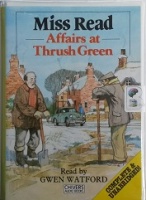 Affairs at Thrush Green written by Mrs Dora Saint as Miss Read performed by Gwen Watford on Cassette (Unabridged)£16.99 - £19.99
When Charles Henstock, rector of Thrush Green, moves a mile downhill to the parish of Lulling, his many friends rejoice in his promotion. But an unfortunate skirmish with one of his wealthy parishioners over the Lady Chapel kneelers saddens him. England, 1930s.
---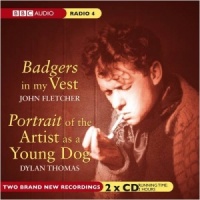 Badgers in My Vest and Portrait of the Artist as a Young Dog written by Dylan Thomas performed by BBC Full Cast Dramatisation on CD (Unabridged)£4.99 - £6.99
Badgers in My Vest is a new, darkly funny play by an acclaimed contemporary playwright, based on a true incident in Dylan Thomas' life.
---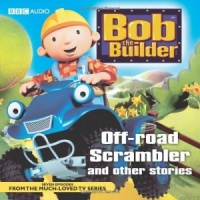 Bob the Builder - Off-Road Scrambler written by Bob the Builder Team performed by Bob the Builder Team on CD (Unabridged)£2.99
This title includes seven episodes from the hugely popular series featuring Bob the Builder, Roley, Lofty, Dizzy, Scoop, Muck and Spud - as seen on BBC TV.
---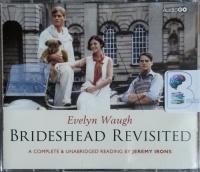 Brideshead Revisited written by Evelyn Waugh performed by Jeremy Irons on CD (Unabridged)£29.99 - £39.99
Brideshead Revisited is Evelyn Waugh's stunning novel of duty and desire set amongst the decadent, faded glory of the English aristocracy in the run-up to the Second World War.
Performed brilliantly by Jeremy Irons
---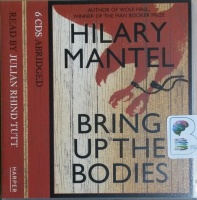 Bring Up The Bodies written by Hilary Mantel performed by Julian Rhind Tutt on CD (Abridged)£5.99
Winner of the Man Booker Prize 2012 Winner of the 2012 Costa Book of the Year Shortlisted for the 2013 Women's Prize for Fiction 'Simply exceptional…I envy anyone who hasn't yet read it'Daily Mail 'A gripping story of tumbling fury and terror'Independent on Sunday With this historic win for Bring Up the Bodies...
---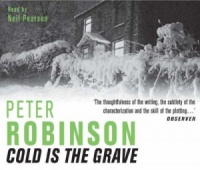 Cold is the Grave written by Peter Robinson performed by Neil Pearson on CD (Abridged)£19.99
Detective Inspector Alan Banks relationship with Chief Constable Riddle has always been strained. So Banks is more than a little surprised when Riddle summons him late one night and begs for his help.
---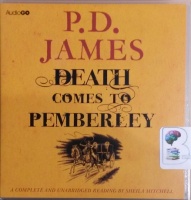 Death Comes to Pemberley written by P.D. James performed by Sheila Mitchell on CD (Unabridged)£4.99 - £9.99
The year is 1803, and Darcy and Elizabeth have been married for six years.
There are now two handsome and healthy sons in the nursery, Elizabeth's beloved sister Jane and her husband Bingley live nearby and the orderly world of Pemberley seems unassailable.
---
---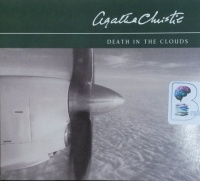 Death in the Clouds written by Agatha Christie performed by David Timson on CD (Abridged)£4.99
From seat No.9, Hercule Poirot was ideally placed to observe his fellow air passengers. Over to his right sat a pretty young woman, ahead, across the gangway in seat No.8, a detective writer was being troubled by an aggressive wasp. What Poirot did not yet realize was that behind him, in seat No.2, sat the ...
---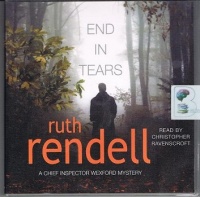 End in Tears written by Ruth Rendell performed by Christopher Ravenscroft on CD (Abridged)£4.99
A lump of concrete dropped deliberately from a little stone bridge kills the wrong person. The young woman in the car behind is spared. But only for a while...
---
---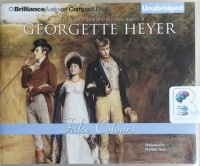 False Colours written by Georgette Heyer performed by Phyllida Nash on CD (Unabridged)£19.99 - £24.99
The honourable Christopher Fancot, on leave from the Diplomatic Service in the summer of 1817, is startled to find his entrancing but incorrigibly extravagant mother on the brink of financial and social ruin - and more than alarmed that his identical twin, Evelyn, Earl of Denville, has disappeared ...
---
---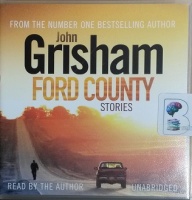 Ford County - Stories written by John Grisham performed by John Grisham on CD (Unabridged)£4.99
In his first collection of short stories John Grisham takes us back to Ford County, Mississippi, the setting of his first novel, A TIME TO KILL. ·Wheelchair-bound Inez Graney and her two older sons, Leon and Butch, take a bizarre road trip through the Mississippi Delta to visit the youngest Graney brother...
---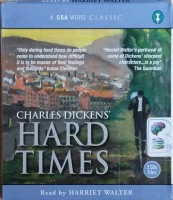 Hard Times written by Charles Dickens performed by Harriet Walter on CD (Abridged)£9.99
Set in the north of England during the 19th century, 'Hard Times' is the story of Thomas Gradgrind, a schoolmaster, who has strong and overbearing views on how his children, Louisa and Tom, should behave in order to become 'models in society'.
---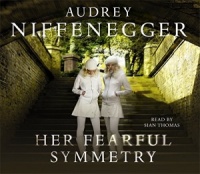 Her Fearful Symmetry written by Audrey Niffenegger performed by Sian Thomas on CD (Abridged)£4.49 - £4.99
dearest e, I told you I would let you know-so here it is-goodbye. I try to imagine what it would feel like if it was you-but it's impossible to conjure the world without you, even though we've been apart so long. I didn't leave you anything. You got to live my life.
---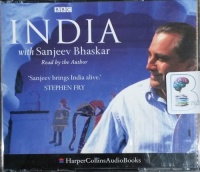 India written by Sanjeev Bhaskar performed by Sanjeev Bhaskar on CD (Unabridged)£9.99
Exotic and diverse, richly colourful and intriguingly complex: India is one of the most exciting countries to visit in the world today. Sanjeev Bhaskar, of Goodness Gracious Me and The Kumars at No. 42, grew up in 70s surburban West London, so his regular family visits to India to see his relatives gave him ...
---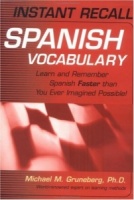 Instant Recall - Spanish Vocabulary written by Michael M. Gruneberg Ph.D. performed by Michael M. Gruneberg, Ph.D. on CD (Unabridged)£4.99
The Instant Recall series presents a technique for learning vocabulary that has been scientifically proven up to three times more effective than conventional methods.
Ideal for travelers or students as young as 10, these programs will teach 200 key words...
---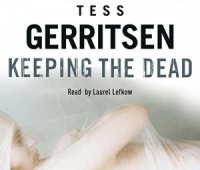 Keeping the Dead written by Tess Gerritsen performed by Laurel Lefkow on CD (Abridged)£4.99 - £7.99
She's Pilgrim Hospital's most unusual patient, and on this Saturday night, a media circus is gathered to record every minute of her visit to the X-ray department.
---
---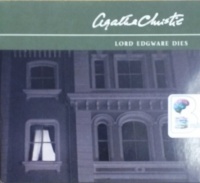 Lord Edgware Dies written by Agatha Christie performed by Michael Cochrane on CD (Abridged)£4.99
Poirot had been present when Jane bragged of her plan to "get rid of" her estranged husband. Now the monstrous man was dead. And yet the great Belgian detective couldn't help feeling he was being taken for a ride. After all, how could Jane have stabbed Lord Edgware to death in his library at exactly the same...
New In May 2019 Part 2
(in alphabetical order)
A Feast of Science - Intriging Morsels from the Science of Everyday Life written by Dr. Joe Schwarcz performed by Stephen Graybill on MP3 CD (Unabridged)£14.99

An entertaining and digestible volume that demystifies science, from the author of 16 best-selling popular science books Crave answers? A Feast of Science demystifies the chemistry of everyday life, serving up practical knowledge to both inform and entertain. Guaranteed to satiate your hunger for palatable...

A History of the Middle East written by Peter Mansfield performed by Richard Brown on CD (Unabridged)£34.99 - £49.99

In this masterly work of synthesis, Peter Mansfield, drawing on his experience as a journalist and a historian, explores two centuries of history in the Middle East. He forms a picture of the historical, political, and social history of the meeting point of Occident and Orient, from Bonaparte's marauding invasion...

A Sense of the Mysterious - Science and the Human Spirit written by Alan Lightman performed by Bronson Pinchot on CD (Unabridged)£19.99

From the best-selling author of Einstein's Dreams comes this lyrical and insightful collection of science writing that delves into the mysteries of the scientific process - physics, astronomy, mathematics - and exposes its beauty and intrigue. In these brilliant essays, Lightman explores the emotional life of science...

American Sketches written by Walter Isaacson performed by Cotter Smith on CD (Unabridged)£19.99

By the author of the bestselling biographies of Albert Einstein and Benjamin Franklin, a reflection on: What are the roots of creativity? What makes for great leadership? In this collection of essays, Walter Isaacson reflects on the lessons to be learned from Benjamin Franklin, Albert Einstein, Bill Gates, Henry...

Casting Off written by Elizabeth Jane Howard performed by Jill Balcon on Cassette (Unabridged)£29.99

This is the final volume of The Cazalet Chronicle, the quartet of novels chronicling the lives of a British family before, during, and after the Second World War. VE Day has been celebrated, but the war with Japan goes on. Polly, Clary, and Louise are grown up, discovering loneliness, loss, and passion. Rupert, missing...

Chaos Monkeys - Obscene Fortune and Random Failure in Silicon Valley written by Antonio Garcia Martinez performed by Dan John Miller and on CD (Unabridged)£29.99

An adrenaline-fuelled exposé of life inside the tech bubble, Chaos Monkeys lays bare the secrets, power plays and lifestyle excesses of the visionaries, grunts, sociopaths, opportunists and money cowboys who are revolutionising our world. Written by startup CEO and industry provocateur Antonio García Martínez...

Chomsky - On Anarchism written by Noam Chomsky performed by Eric Martin on CD (Unabridged)£19.99

On Anarchism provides the reasoning behind Noam Chomsky's fearless lifelong questioning of the legitimacy of entrenched power. In these essays, Chomsky redeems one of the most maligned ideologies, anarchism, and places it at the foundation of his political thinking. Chomsky's anarchism is distinctly ...

Daily Wisdom for Why Does He Do That? - Encouragement for Women Involved with Angry and Controlling Men written by Lundy Bancroft performed by Gary Galone on MP3 CD (Unabridged)£34.99

Even if you've read Why Does He Do That?, it may be hard to see the truth of what is happening to you. You may feel overwhelmed by confusion, loss, and fear, and find yourself looking away from the truth and falling back into traumatic patterns.Like a constant friend, this collection of meditations is a...

Deliverance written by James Dickey performed by Will Patton on MP3 CD (Unabridged)£19.99

The smash-hit best seller that inspired the acclaimed 1972 film starring Jon Voight, Burt Reynolds, Ned Beatty, and Ronny Cox is now available in unabridged audio for the very first time. The setting is the Georgia wilderness, where the state's most remote white-water river awaits. In the thundering froth of that...

Empathy - A History written by Susan Lanzoni performed by Suzanne Toren on MP3 CD (Unabridged)£24.99

A surprising, sweeping, and deeply researched history of empathy - from late 19th-century German aesthetics to mirror neurons Empathy: A History tells the fascinating and largely unknown story of the first appearance of "empathy" in 1908 and tracks its shifting meanings over the following century.

Fat Chance written by Nick Spalding performed by Heather Wilds and Napoleon Ryan on CD (Unabridged)£14.99

Meet Zoe and Greg Milton, a married couple who have let themselves go a bit. Zoe was a stunner in her college days, but the intervening decades have added five stone, and removed most of her self-esteem. Greg's rugby-playing days are well and truly behind him, thanks to countless pints of beer and chicken...

Galactic North written by Alastair Reynolds performed by John Lee on MP3 CD (Unabridged)£24.99

Centuries from now, the basic right to expand human intelligence beyond its natural limits has become a war-worthy cause for the Demarchists and Conjoiners. Only vast lighthugger starships bind these squabbling colonies together, manned by the panicky and paranoid Ultras. And the hyper pigs just try...

Grimoire of the Thorn-Blooded Witch written by Raven Grimassi performed by Fred Stella on CD (Unabridged)£9.99

For the first time in more than a decade, Grimassi introduces listeners to a new system of witchcraft, one that draws upon the old ways and the old days to teach the practitioner how to master all that it is to be a Witch. Chock full of spells and rituals, Grimassi takes listeners deep into the woods to learn the...

Heartstones written by Ruth Rendell performed by Geraldine Somerville on CD (Unabridged)£19.99

Sixteen-year-old Elvira's mother is dead. Elvira is sad, of course, but not so sad as her younger sister Spinny. Spinny is afraid their father, Luke, will be heartbroken, but Elvira knows better - after all, Luke has her to take her mother's place. But then Luke brings home a pretty young woman and introduces ...

Insecure in Love - How Anxious Attachment Can Make You Feel Jealous, Needy and Worried and What You Can Do About It written by Leslie Becker-Phelps PhD performed by Susan Boyce on MP3 CD (Unabridged)£19.99

Has your romantic partner called you clingy, insecure, desperate, or jealous? No one wants to admit that they possess these qualities, but if you find yourself constantly on the alert, anxious, or worried when it comes to your significant other, you may suffer from anxious attachment, a fear of abandonment that is...

Man's Search for Meaning written by Viktor E. Frankl performed by Simon Vance on CD (Unabridged)£24.99

A prominent Viennese psychiatrist recounts his experiences in a Nazi concentration camp that led to the development of his existentialist approach to psychotherapy.

Michelle Obama - A Life written by Peter Slevin performed by Robin Miles on MP3 CD (Unabridged)£14.99

An inspiring story of a modern American icon, here is the first comprehensive account of the life and times of Michelle Obama. With disciplined reporting and a storyteller's eye for revealing detail, Peter Slevin follows Michelle to the White House from her working-class childhood on Chicago's largely segregated...

Neanderthal Man - In Search of Lost Genomes written by Svante Paabo performed by Dennis Holland on MP3 CD (Unabridged)£9.99 - £14.99

A preeminent geneticist hunts the Neanderthal genome to answer the biggest question of them all: What does it mean to be human? What can we learn from the genes of our closest evolutionary relatives? Neanderthal Man tells the story of geneticist Svante Pbo's mission to answer that question, beginning with ...

Paint the Bird written by Georgeann Packard performed by Robin Miles and Kirby Heyborne on CD (Unabridged)£19.99

The Reverend Sarah Obadias is broken, bitter, and stripped of the reassurance of faith when she walks into a West Village restaurant in Manhattan. Here she encounters Abraham Darby, a rumpled but well-regarded painter who seduces the minister into his life of excess and emotional intensity. "I've run away ...

Pure - Inside the Evangelical Movement That Shamed a Generation of Young Women and How I Broke Free written by Linda Kay Klein performed by Linda Kay Klein on CD (Unabridged)£24.99

From a woman who has been there and back, the first inside look at the devastating effects evangelical Christianity's purity culture has had on a generation of young women - in a potent combination of journalism, cultural commentary, and memoir. In the 1990s, a "purity industry" emerged out of the white...

Testosterone Rex - Myths of Sex, Science and Society written by Cordelia Fine performed by Cat Gould on CD (Unabridged)£24.99

Many people believe that, at its core, biological sex is a fundamental, diverging force in our development. According to this familiar story, differences between the sexes are shaped by past evolutionary pressures-women are more cautious and parenting-focused, men seek status to attract more mates-re-created in ..

The Brightest Sun written by Adrienne Benson performed by Rachel Fulginiti on CD (Unabridged)£24.99

An illuminating debut following three women in sub-Saharan Africa as they search for home and family. Leona, an isolated American anthropologist, gives birth to a baby girl in a remote Maasai village and must decide how she can be a mother, in spite of her own grim childhood. Jane, a lonely expat wife...

The Case Against Fragrance written by Kate Grenville performed by Belinda McClory on MP3 CD (Unabridged)£24.99

Kate Grenville had always associated perfume with elegance and beauty. Then the headaches started. Like perhaps a quarter of the population, Grenville reacts badly to the artificial fragrances around us: other people's perfumes and all those scented cosmetics, cleaning products and air fresheners.

The Chimes written by Charles Dickens performed by Richard Armitage on MP3 CD (Unabridged)£19.99

The magnificent Richard Armitage (Hamlet: King of Denmark: A Novel) performs The Chimes by Charles Dickens. This classic story is the second in a series of five Christmas books Dickens was commissioned to write.

The Choice written by Eliyahu M. Goldratt and Efrat Goldratt-Ashlag performed by Stephen R. Thorne on CD (Unabridged)£19.99

The Theory of Constraints (TOC) has been successfully applied in almost every area of human endeavor, from industry to healthcare to education. And while Eli Goldratt is indeed a scientist, an educator and a business leader, he is first and foremost a philosopher; some say a genius. He is a thinker who provokes...

The Diary of a Bookseller written by Shaun Bythell performed by Robin Laing on CD (Unabridged)£29.99

Shaun Bythell owns The Bookshop, Scotland's largest second-hand bookshop. It contains 100,000 books, spread over a mile of shelving, with twisting corridors and roaring fires, and all set in a beautiful, rural town by the edge of the sea. A book-lover's paradise? Well, almost ... In these wry and hilarious...

The End of Illness written by David B. Agus MD performed by Holter Graham on CD (Unabridged)£29.99

From one of the world's foremost physicians and researchers, a monumental work that radically redefines our conventional conceptions of health and illness to offer new methods for living a long, healthy life. Can we live robustly until our last breath? Do we have to suffer from debilitating conditions and sickness?

The Fall of the Roman Empire written by Peter Heather performed by Allan Robertson on MP3 CD (Unabridged)£24.99

The death of the Roman Empire is one of the perennial mysteries of world history. Now, in this groundbreaking book, Peter Heather proposes a stunning new solution: Centuries of imperialism turned the neighbors Rome called barbarians into an enemy capable of dismantling an Empire that had dominated their...

The Garner Files - A Memoir written by James Garner and Jon Winokur performed by Michael Kramer on MP3 CD (Unabridged)£24.99

After suffering physical abuse at the hands of his stepmother, James Garner left home at fourteen. He became Oklahoma's first draftee of the Korean War and was awarded with two Purple Hearts before returning to the United States and settling in Los Angeles to become an actor. Working alongside some...

The Great Democracies written by Winston Churchill performed by Christian Rodska on MP3 CD (Unabridged)£19.99

The fourth and last volume in Churchill's famous account spans 1815 to 1901. It closes when the British Empire is at its peak, with a staggering one-fifth of the human race presided over by the longest reigning monarch in British history: Queen Victoria. In America he assesses the position of the "Great Republic"

The Homework Myth - Why Our Kids Get Too Much of a Bad Thing written by Alfie Kohn performed by Alfie Kohn on CD (Unabridged)£19.99

Death and taxes come later; what seems inevitable for children is the idea that, after spending the day at school, they must then complete more academic assignments at home. The predictable results: stress and conflict, frustration and exhaustion. Parents respond by reassuring themselves that at least the...

The Moral Molecule written by Paul J. Zak performed by Paul J. Zak on CD (Unabridged)£29.99

Is morality universal? Why are men less faithful than women? Why do some businesses succeed while others collapse?

If we have a natural impulse to empathise and care for each other, why are there psychopaths? Neuroscientist and economist Paul Zak has spent 10 years researching to answer these questions and discovering the chemical driver of our behaviour.

The Navigator - A Kurt Austin Adventure written by Clive Cussler with Paul Kemprecos performed by Scott Brick on CD (Unabridged)£19.99

The Navigator, Clive Cussler and Paul Kemprecos's fast-moving action adventure from the NUMA Files novels. Read by the award winning narrator Scott Brick. Years ago, an ancient Phoenician statue known as the Navigator was stolen from the Baghdad museum, and there are men who would do anything to...

The Wayfinders - Why Ancient Wisdom Matters in the Modern World written by Wade Davies performed by Tom Perkins on CD (Unabridged)£29.99

Every culture is a unique answer to a fundamental question: What does it mean to be human and alive? In The Wayfinders, renowned anthropologist, winner of the prestigious Samuel Johnson Prize, and National Geographic Explorer-in-Residence Wade Davis leads us on a thrilling journey to celebrate the wisdom...

There Are No Grown-Ups - A Midlife Coming-of-Age Story written by Pamela Druckerman performed by Pamela Druckerman on CD (Unabridged)£24.99

Random House presents the audiobook edition of There Are No Grown-Ups, written and read by Pamela Druckerman. Author of the number one best seller French Children Don't Throw Food, Pamela Druckerman reveals the things it took her 40 years to learn. There are no grown-ups. Everyone else is winging it too.

Trump Revealed - An American Journey of Ambition, Ego, Money and Power written by Michael Kranish and Marc Fisher performed by Campbell Scott on CD (Unabridged)£14.99

A comprehensive biography of Donald Trump, the Republican front runner in the presidential election campaign. Trump Revealed is reported by a team of award-winning Washington Post journalists and coauthored by investigative political reporter Michael Kranish and senior editor Marc Fisher.

Vanity Dies Hard written by Ruth Rendell performed by Eva Haddon on CD (Unabridged)£19.99

Wealthy Alice Whittaker is known for her generosity, and when her friend Nesta vanishes Alice is determined to find her and help her. If that means money, well, Alice has plenty of it. Then the handsome Mr Fielding enters her life, ten years younger than Alice and they marry. But when Alice starts to feel sick ...

Wild Cards Volume 1 written by Various Fiction Authors performed by Luke Daniels on CD (Unabridged)£14.99

There is a secret history of the world--a history in which an alien virus struck the Earth in the aftermath of World War II, endowing a handful of survivors with extraordinary powers. Some were called Aces--those with superhuman mental and physical abilities. Others were termed Jokers--cursed with bizarre mental...

You Can Be Happy No Matter What - Five Principles for Keeping Life in Perspective written by Richard Carlson PhD performed by Richard Carlson PhD on MP3 CD (Unabridged)£14.99

Most of us believe that our happiness depends on the outside world - and that by solving our problems, improving our relationships, or achieving success, we will find contentment. In You Can Be Happy No Matter What, Dr. Richard Carlson shows that happiness has nothing to do with forces beyond our control.

Young Fredle written by Cynthia Voigt performed by Wendy Carter on CD (Unabridged)£19.99

Cynthia Voigt crafts a novel about discovery, perspective, and the meaning of home - all through the eyes of an affable and worried little mouse. Fredle is an earnest young fellow suddenly cast out of his cozy home behind the kitchen cabinets - into the outside. It's a new world of color and texture and grass and...
---
---
---
---
---
---
---
---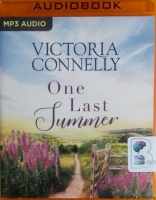 One Last Summer written by Victoria Connelly performed by Jan Cramer on MP3 CD (Unabridged)£14.99
They have the whole summer ahead of them. Is it enough to rekindle the friendship they once shared? Harriet Greenleaf dreams of spending the summer in a beautiful ancient priory on the Somerset coast with her two best friends - but her dream is bittersweet. On the one hand, it's a chance to reconnect three...
---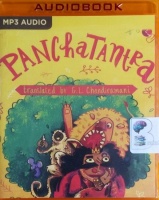 Panchatantra written by Pandit Vishnu Sharma performed by Shernaz Patel on MP3 CD (Unabridged)£9.99
The oldest surviving collection of India fables, the Panchatantra, was probably written around 200 BC by the great Hindu scholar Pandit Vishnu Sharma. The Panchatantra is a book of niti, the wise conduct of life, written in the form a chain of simple stories. Each of these stories has a moral and philosophical...
---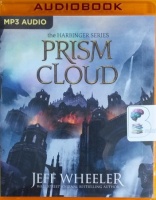 Prism Cloud - The Harbinger Series written by Jeff Wheeler performed by Kate Rudd on MP3 CD (Unabridged)£14.99
Friendship is strained to its breaking point in Wall Street Journal bestselling author Jeff Wheeler's fourth Harbinger novel. When the emperor is assassinated, Sera Fitzempress is the noble most eligible to inherit the empire. Her upcoming marriage to the prince would cement her position. And as a champion for...
---
---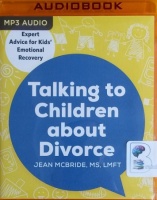 Talking to Children About Divorce - Expert Advice for Kids' Emotional Recovery written by Jean McBride MS LMFT performed by Kristin Price on MP3 CD (Unabridged)£14.99
Marriage and family therapist Jean McBride has helped more than 20,000 families navigate divorce. Now she shares her expertise with an in-depth guide to discussing divorce with your kids so you can support your child's adjustment throughout the entire divorce process. In Talking to Children About Divorce...
---
---
---
---
---
---
---
---
---
---