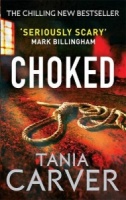 Choked written by Tania Carver performed by Martyn Waites on CD (Abridged)£4.99 - £9.99
'I have something you've lost,' the voice said. 'Your daughter.' He will threaten her. The honeymoon is over for newlywed criminologist Marina Esposito. Her house is in flames. Her cop husband is in a coma. Her baby daughter is missing. And then her phone rings . . .
---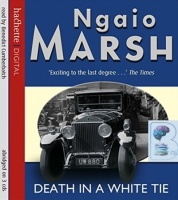 Death in a White Tie written by Ngaio Marsh performed by Benedict Cumberbatch on CD (Abridged)£14.99
A Benedict Cumberbatch Genius Performance!
The season had begun. Débutantes and chaperones were planning their luncheons, teas, dinners, balls. And the blackmailer was planning his strategies, stalking his next victim.
---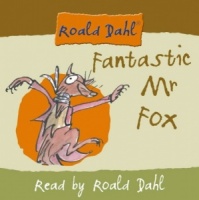 Fantastic Mr Fox written by Roald Dahl performed by Roald Dahl on CD (Unabridged)£3.99 - £4.99
New look for this backlist classic favourite, read by Roald Dahl, himself. Boggis, Bunce and Bean are just about the nastiest and meanest three farmers you could meet – and they hate Mr Fox!
---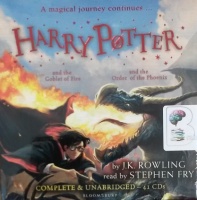 Harry Potter Collection Part 2 - Books 4 and 5 written by J.K. Rowling performed by Stephen Fry on CD (Unabridged)£59.99
The first unabridged Harry Potter audiobook collection left so many wizards, witches and Muggles spellbound and now we are so excited to give you the chance to hear Stephen Fry read Harry Potter and the Goblet of Fire and Harry Potter and the Order of the Phoenix (books 4 and 5 from J.K. Rowling's ...
---
---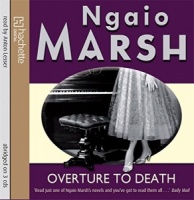 Overture to Death written by Ngaio Marsh performed by Anton Lesser on CD (Abridged)£7.99 - £8.99
A Genius Performance by Anton Lesser!
Inspector Alleyn gets involved when the piano, played by the victim, Miss Campanula, appears to trigger the murdering shot. It was supposed to accompany a play in aid of the piano fund but it has ended with murder. But who loaded the gun and how can Alleyn find him out?
---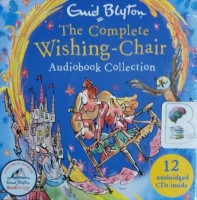 The Complete Wishing-Chair Collection written by Enid Blyton performed by Sarah Ovens on CD (Unabridged)£39.99
Mollie and Peter come across a chair that can fly and grant wishes while out looking for their mother's birthday present and it's not long until they are whisked away to faraway lands and meeting pixies and even Santa Claus!
---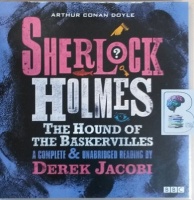 The Hound of the Baskervilles written by Arthur Conan Doyle performed by Derek Jacobi on CD (Unabridged)£19.99 - £24.99
When a country doctor comes to Sherlock Holmes with a far-fetched tale of a sudden death, a devil dog and an ancient curse, Holmes is sceptical. Could the demise of Sir Charles Baskerville really have been caused by the gigantic ghostly hound which is said to have haunted his family for generations?
---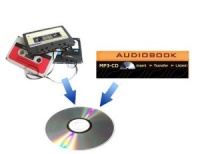 3 Hour Fixed Price Audio Transfer£15.00
This is the fixed price £15 item to be used when ordering conversion of a sub 3 hour Audio Cassette or MP3 CD title.
---
---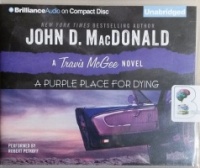 A Purple Place for Dying - A Travis McGee novel written by John D. MacDonald performed by Robert Petkoff on CD (Unabridged)£9.99
John D. MacDonald created a staggering quantity of wonderful books, each rich with characterization, suspense, and an almost intoxicating sense of place. Jonathan Kellerman Travis McGee is taking his retirement in installments while he's still young enough to enjoy it. But sooner or later, his money runs...
---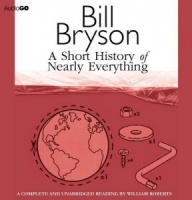 A Short History of Nearly Everything written by Bill Bryson performed by William Roberts on CD (Unabridged)£24.99 - £29.99
In A Short History of Nearly Everything, beloved author Bill Bryson confronts his greatest challenge yet: to understand—and, if possible, answer—the oldest, biggest questions we have posed about the universe and ourselves.
---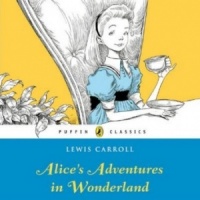 Alice's Adventures in Wonderland written by Lewis Carroll performed by Susan Jameson and James Saxon on CD (Abridged)£5.99
On an ordinary summer's afternoon, Alice tumbles down a hole and an extraordinary adventure begins.
In a strange world with even stranger characters, she meets a rabbit with a pocket watch, joins a Mad Hatter's Tea Party, and plays croquet with the Queen! Lost in this fantasy land, Alice finds herself growing more and more curious by the minute . . .
---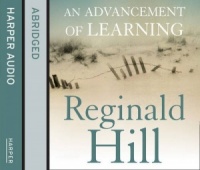 An Advancement of Learning written by Reginald Hill performed by Warren Clarke on CD (Abridged)£4.99 - £14.99
Lecturers having it away with students, witches' sabbaths on the sand dunes, a body buried under a statue in the gardens, and a fresh rash of killings.
---
---
---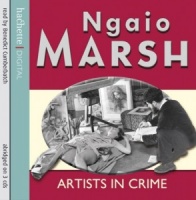 Artists in Crime written by Ngaio Marsh performed by Benedict Cumberbatch on CD (Abridged)£7.99 - £12.99
A Benedict Cumberbatch Genius Performance!
It started as a student exercise, the knife under the drape, the model's pose chalked in place. But before Agatha Troy, artist and instructor, returns to the class, the pose has been re-enacted in earnest....
---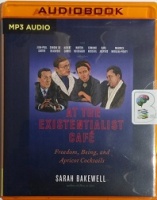 At The Existentialist Cafe written by Sarah Bakewell performed by Antonia Beamish on MP3 CD (Unabridged)£9.99
Named one of the Ten Best Books of 2016 by the New York Times, a spirited account of a major intellectual movement of the twentieth century and the revolutionary thinkers who came to shape it, by the best-selling author of How to Live Sarah Bakewell.
---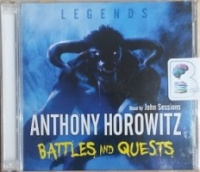 Battles and Quests written by Anthony Horowitz performed by John Sessions on CD (Abridged)£3.99 - £4.99
There was a time when monsters and dragons roamed the earth and the gods walked among us. A time of blood, swords and furious battles. A time of legends, heroes, darkness and death . . . The first in a series of masterful retellings of classic myths from Anthony Horowitz.
---
---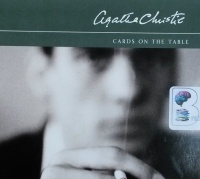 Cards on the Table written by Agatha Christie performed by Geraldine James on CD (Abridged)£4.99
Mr Shaitana was famous as a flamboyant party host. Nevertheless, he was a man of whom everybody was a little afraid. So, when he boasted to Poirot that he considered murder an art form, the detective had some reservations about accepting a party invitation to view Shaitana's private collection.
New In May 2019 Part 1
(in alphabetical order)
5000-1 The Leicester City Story written by Rob Tanner performed by Leighton Pugh on CD (Unabridged)£19.99

In August 2015 bookmakers priced Leicester at 5000-1 to win the Premier League the same odds as Elvis being found alive. On 2 May 2016, Leicester won, to ecstatic celebrations in the city and around the world. Leicester Mercury s chief football writer, Rob Tanner, relives the great escape of 2015 to the ...

A Natural Woman - A Memoir written by Carole King performed by Carole King on CD (Unabridged)£19.99

A memoir by the iconic singer-songwriter chronicling her story from her beginnings in Brooklyn through her remarkable success as one of the world's most acclaimed musical talents

Anticancer Living - Transform Your Life and Health with the Mix of Six written by Lorenzo Cohen PhD and Alison Jefferies MEd performed by Mark Deakins on CD (Unabridged)£29.99

The evidence is in: you can reduce cancer risk and support treatment by focusing on six key areas of health and wellness. The scientific data on the link between lifestyle, environmental factors, and cancer risk has been accumulating at an accelerated rate over the past decade: Every week we learn...

Blind Willow, Sleeping Woman - Volume 2 written by Haruki Murakami performed by Gareth Armstrong, Judy Bennett, Kris Milnes and Hugh Ross on CD (Unabridged)£19.99

A young man accompanies his cousin to the hospital to check an unusual hearing complaint and recalls a story of a woman put to sleep by tiny flies crawling inside her ear; a mirror appears out of nowhere and a nightwatchman is unnerved as his reflection tries to take control of him; a couple's relationship...

Brought in Dead written by Jack Higgins performed by Michael Page on CD (Unabridged)£9.99 - £19.99

The second of two classic police thrillers featuring detective Nick Miller, set in London's seedy underworld. After a long night on the job, Detective Sergeant Nick Miller is on his way home – only to become the first policeman at the scene of a young woman's mysterious suicide. What's odd is that it appears...

Choked written by Tania Carver performed by Martyn Waites on CD (Abridged)£4.99 - £9.99

'I have something you've lost,' the voice said. 'Your daughter.' He will threaten her. The honeymoon is over for newlywed criminologist Marina Esposito. Her house is in flames. Her cop husband is in a coma. Her baby daughter is missing. And then her phone rings . . .

Dombey and Son written by Charles Dickens performed by Ian Hogg, Sylvestra Le Touzel, Samuel West and Lucy Whybrow on Cassette (Abridged)£14.99

A Radio 4 dramatization of Dickens's novel set against the bustle of a mighty city. Humbled and alone, his trading empire in ruins, the cold and uncaring Dombey seems doomed. But the love of his daughter brings redemption and understanding to a man whose only reason for living was Dombey and Son.

Elmet written by Fiona Mozley performed by Joe Jameson on CD (Unabridged)£24.99

In this atmospheric and profoundly moving debut, Cathy and Daniel live with their father, John, in the remote woods of Yorkshire, in a house the three of them built themselves. John is a gentle brute of a man, a former enforcer who fights for money when he has to, but who otherwise just wants to be left ...

Halls of Shadow - Kingdoms of Sand, Book Five written by Daniel Arenson performed by Kevin Kenerly on CD (Unabridged)£34.99

The world reels from the assassination of the Mad Empress. The Aelarian Empire is cracking. From the ashes of a burnt world, warlords, barbarians, and rebels emerge to claim the remains. Outside the walls of Aelar, different factions converge. Tribal warriors prepare to shatter the gates.

Happiness Hacks - 100% Scientific - Curiously Effective written by Alex Palmer performed by Stephanie Spicer on CD (Unabridged)£34.99

Could you be happier at work . . . in love . . . in life? You may not need a total overhaul - just a few good Happiness Hacks! Here are hundreds of shortcuts to brighten your day and boost your mood - and the science behind how they work. Discover why: 57°F (13.9°C) is the happiest temperature Selfies give you...

How to Tell Fate from Destiny and other Skillful Word Distinctions written by Charles Harrington Elster performed by Charles Harrington Elster on CD (Unabridged)£34.99

If you have trouble distinguishing the verbs imitate and emulate, the relative pronouns that and which, or the adjectives pliant, pliable, and supple, never fear-How to Tell Fate from Destiny is here to help! With more than 500 headwords, the book is replete with advice on how to differentiate commonly...

Intuition Pumps and Other Tools for Thinking written by Daniel C. Dennett performed by Jeff Crawford on MP3 CD (Unabridged)£14.99

Over a storied career, Daniel C. Dennett has engaged questions about science and the workings of the mind. His answers have combined rigorous argument with strong empirical grounding. And a lot of fun. Intuition Pumps and Other Tools for Thinking offers seventy-seven of Dennett's most successful...

Just in Time written by Marie Bostwick performed by Emily Sutton-Smith, Kate Marcin and Carol Monda on CD (Unabridged)£24.99

In her most powerful novel yet, New York Times bestselling author Marie Bostwick weaves the uplifting story of three grief support group dropouts—women united in loss and rescued through friendship. Fifteen years ago, Grace Saunders vowed to take her beloved husband for better or worse. Now she's coming...

Let The Children March written by Monica Clark-Robinson performed by Janina Edwards on CD (Unabridged)£9.99

I couldn't play on the same playground as the white kids. I couldn't go to their schools. I couldn't drink from their water fountains. There were so many things I couldn't do. In 1963 Birmingham, Alabama, thousands of African American children volunteered to march for their civil rights after hearing Dr. Martin...

Lifeblood written by N.J. Cooper performed by Julia Franklin on CD (Unabridged)£59.99

Five years ago Randall Gyre was convicted of the brutal rape of a young student, Lizzie Fane, on the Isle of Wight. Handsome, rich, slick-talking, Gyre had avoided prison for years before that, despite a string of accusations. Forensic psychologist Karen Taylor is certain that Gyre will attack again, and this time he..

Maggie Smith - A Biography written by Michael Coveney performed by Sian Thomas on CD (Unabridged)£24.99

No one does glamour, severity, girlish charm or tight-lipped witticism better than Dame Maggie Smith, one of Britain's best-loved actors. This new biography shines the stage lights on the life and career of a truly remarkable performer, one whose stage and screen career spans six decades. From her days as a...

My Days - Happy and Otherwise written by Marion Ross with David Laurell performed by Marion Ross, David Laurell, Ron Howard and Henry Winkler on CD (Unabridged)£24.99

For eleven seasons, Marion Ross was head of one of America's favorite television households. Now meet the lovable real-life woman behind the Happy Days mom. Before she was affectionately known to millions as "Mrs. C.," Marion Ross began her career as a Paramount starlet who went on to appear in nearly...

Neurotribes - The Legacy of Autism and the Future of Neurodiversity written by Steve Silberman performed by William Hughes on CD (Unabridged)£29.99

What is autism: a devastating developmental condition, a lifelong disability, or a naturally occurring form of cognitive difference akin to certain forms of genius? In truth it is all of these things and more - and the future of our society depends on our understanding it. Following on from his groundbreaking...

Own The Moment written by Carl Lentz performed by Carl Lentz on CD (Unabridged)£14.99

When you think of a Christian pastor, you probably don't envision a tattooed 30-something who wears a motorcycle jacket, listens to hip-hop music, references The Walking Dead and Black Lives Matter in his sermons, and every Sunday draws a standing-room only crowd to a venue normally used for rock...

Passage by Night written by Jack Higgins performed by Michael Page on CD (Unabridged)£24.99

The classic bestseller from the master of the game Harry Manning had fled the Cuban revolution, sacrificing everything for freedom and seeking solace on the tranquil waters of the Bahamas. For a time he found solace in the arms of the beautiful Maria and oblivion in alcohol. Then once again his life is ...

Problems of Knowledge and Freedom written by Noam Chomsky performed by Derek Shetterly on CD (Unabridged)£19.99

From interpreting the world to changing it, a synthesis of Chomsky's early work on philosophy, linguistics, and politics. Originally delivered in 1971 as the first Cambridge lectures in memory of Bertrand Russell, Problems of Knowledge and Freedom is a masterful and cogent synthesis of Noam Chomsky's ...

Quentins written by Maeve Binchy performed by Kate Binchy on CD (Unabridged)£99.99

Every table at Quentins Restaurant has a thousand stories to tell: tales of love, betrayal and revenge. Ella Brady wants to make a documentary about the renowned Dublin restaurant that has captured the spirit of a generation and a city in the years it has been open. In Maeve Binchy's magical Quentins, you...

Reader, Come Home - The Reading Brain in a Digital World written by Maryanne Wolf performed by Kirsten Potter on CD (Unabridged)£24.99

From the author of Proust and the Squid, a lively, ambitious, and deeply informative epistolary book that considers the future of the reading brain and our capacity for critical thinking, empathy, and reflection as we become increasingly dependent on digital technologies. A decade ago, Maryanne Wolf's Proust...

Slutever written by Karley Sciortino performed by Karley Sciortino on CD (Unabridged)£19.99

"Slut" is a great word. It just sounds perfect-so sharp and clear and beautiful. It's one of those satisfying four letter words, like cunt and fuck. Slut also happens to be an anagram for lust, which is one of those divine coincidences that makes you wonder if God actually exists. We're lucky that slut is such...

The Consciousness Instinct - Unraveling The Mystery of How The Brain Makes the Mind written by Michael S. Gazzaniga performed by David Colacci on MP3 CD (Unabridged)£19.99

"The father of cognitive neuroscience" illuminates the past, present, and future of the mind-brain problem How do neurons turn into minds? How does physical "stuff" - atoms, molecules, chemicals, and cells - create the vivid and various worlds inside our heads? The problem of consciousness has gnawed...

The Genius of Birds written by Jennifer Ackerman performed by Margaret Strom on CD (Unabridged)£29.99

In The Genius of Birds, acclaimed author Jennifer Ackerman explores the newly discovered brilliance of birds and how it came about. Consider, as Ackerman does, the Clark's nutcracker, a bird that can hide as many as 30,000 seeds over dozens of square miles and remember where it put them several months...

The Operator - Firing the Shots that Killed Osama Bin Laden written by Robert O'Neill performed by Robert O'Neill on CD (Unabridged)£24.99

Stirringly evocative, thought provoking, and often jaw dropping, The Operator ranges across SEAL Team Operator Robert O'Neill's awe-inspiring 400-mission career that included his involvement in attempts to rescue "Lone Survivor" Marcus Luttrell and abducted-by-Somali-pirates Captain Richard Phillips and...

The Passion of Marie Romanov - A Tale of Anastasia's Sister written by Laura Rose performed by Lillian Webb and Travis Smith on CD (Unabridged)£29.99

From the writings of Marie Nicolaevna Romanavna, age 19, July 17, 1918 - Midnight, in bed with her sister, Anastasia (Shvybz), in the Ipatiev Mansion in Ekaterinburg, during the last night of their lives. "So much of my story unfolds by moonlight. This is a tale of midnight wakings and forced marches ...

The Psychopath Whisperer - The Science of Those Without Conscience written by Kent A. Kiehl PhD performed by Kevin Pariseau on CD (Unabridged)£19.99

We know of psychopaths from chilling headlines and stories in the news and movies - from Ted Bundy and John Wayne Gacy, to Hannibal Lecter and Dexter Morgan. As Dr. Kent Kiehl shows, psychopaths can be identified by a checklist of symptoms that includes pathological lying; lack of empathy, guilt...

The Waiting Room written by Emily Bleeker performed by Sophie Amoss on CD (Unabridged)£24.99

From the bestselling author of When I'm Gone and Working Fire comes a gripping novel about a mother, her missing daughter, and the dark secrets that engulf them. Ever since her husband's death collided with the birth of her daughter, postpartum depression has taken hold of Veronica Shelton. She can't...

This Was A Man - Book 7 of The Clifton Chronicles written by Jeffrey Archer performed by Alex Jennings on CD (Unabridged)£19.99 - £29.99

This Was a Man is the seventh and final, captivating instalment of the Clifton Chronicles from master storyteller Jeffrey Archer. This Was a Man opens with a shot being fired, but who pulled the trigger, and who lives and who dies? In Whitehall, Giles Barrington discovers the truth about his wife Karin from...

Top Dog - The Science of Winning and Losing written by Po Bronson and Ashley Merryman performed by Po Bronson on CD (Unabridged)£24.99

The co-authors of the New York Times best-selling NurtureShock turn their attentions to the cutting edge science behind life's triumphs and failures and offer insight from politics, finance, science, sports and economics to tip the odds in your favor.

Unf*ckology - A Field Guide to Living with Guts and Confidence written by Amy Alkon performed by Carrignton MacDuffie on CD (Unabridged)£19.99

Amy Alkon presents Unf*ckology, a "science-help" book that knocks the self-help genre on its unscientific ass. You can finally stop fear from being your boss and put an end to your lifelong social suckage. Have you spent your life shrinking from opportunities you were dying to seize but feel "that's just who I am"?

US Navy SOG Seals - Working with Army, Navy, Marines, Air Force and Coast Guard to Rescue a Downed Pilot in Vietnam written by Keith Mckim performed by Kieth Mckim on CD (Unabridged)£19.99

Based on the true stories of the two US Navy Seals operating behind enemy lines in Vietnam with the super top-secret unit MACV-SOG (Military Assistance Command Vietnam, Special Operations Group) US Navy Seal Lieutenant Tom Norris, on three separate occasions over a four day period, with no sleep...

You Don't Have to Say You Love Me - A Memoir written by Sherman Alexie performed by Sherman Alexie on CD (Unabridged)£19.99 - £24.99

The Instant New York Times Bestseller Shortlisted for the Carnegie Medal for Excellence in Nonfiction A searing, deeply moving memoir about family, love, loss, and forgiveness from the critically acclaimed, bestselling National Book Award-winning author of The Absolutely True Diary of a Part-Time Indian.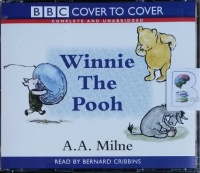 Winnie the Pooh written by A.A. Milne performed by Bernard Cribbins on CD (Unabridged)£14.99 - £29.99
Winnie-the-Pooh may be a bear of very little brain, but thanks to his friends Piglet, Eeyore and, of course, Christopher Robin, he's never far from an adventure. In this story Pooh gets into a tight place, nearly catches a Woozle and heads off on an 'expotition' to the North Pole with the other animals.
---
---
---
Bossypants written by Tina Fey performed by Tina Fey on CD (Unabridged)£29.99
Once in a generation a woman comes along who changes everything. Tina Fey is not that woman, but she met that woman once and acted weird around her. Before 30 Rock, Mean Girls and 'Sarah Palin', Tina Fey was just a young girl with a dream: a recurring stress dream that she was being chased through a ...
---
---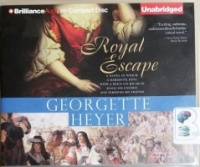 Royal Escape written by Georgette Heyer performed by Cornelius Garrett on CD (Unabridged)£34.99
A fascinating look into a tumultuous interlude in British history and the life of Bonnie Prince Charlie This brilliantly entertaining novel is a fictionalization of the true story of Charles II (May 29, 1630—February 6, 1685), charting his daring flight to France after the Battle of Worcester, where Cromwell and...
---
---
---
---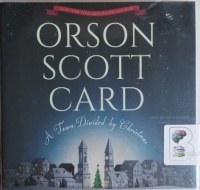 A Town Divided by Christmas written by Orson Scott Card performed by Emily Rankin on CD (Unabridged)£19.99
It began with a quarrel over which newborn should be the baby Jesus in the town's Christmas pageant. Decades later, two scientists arrive to study small-town genetic patterns, only to run up against the invisible walls that split the leading citizens into two congregations that can only be joined by love and...
---
---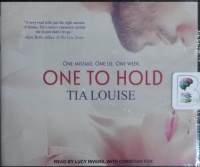 One to Hold written by Tia Louise performed by Lucy Rivers and Christian Fox on CD (Unabridged)£24.99
Derek Alexander is a retired Marine, ex-cop, and the top investigator in his field. Melissa Jones is a small-town girl trying to escape her troubled past. When the two intersect in a bar in Arizona, their sexual chemistry is off the charts. But what is revealed during their "one week stand" only complicates matters...
---
---
---
Timeless written by R.A. Salvatore performed by Victor Bavine on CD (Unabridged)£29.99
At long last, New York Times bestselling author R. A. Salvatore returns with one of fantasy's most beloved and enduring icons, the dark elf Drizzt Do'Urden, in an all-new trilogy full of swordplay, danger, and imaginative thrills. Centuries ago, in the city of Menzoberranzan, the City of Spiders, the city of drow, nestled...
---
---
---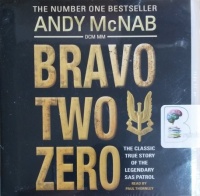 Bravo Two Zero - The Classic True Story of the Legendary SAS Patrol written by Andy McNab performed by Paul Thornley on CD (Unabridged)£19.99
January 1991. IRAQ. Eight members of the SAS regiment embark upon a top secret mission to infiltrate deep behind enemy lines. Under the command of Sergeant Andy McNab, they are to sever a vital underground communication link and to seek and destroy mobile Scud launchers. Their call sign: BRAVO...
---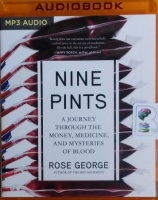 Nine Pints - A Journey Through the Money, Medicine and Mysteries of Blood written by Rose George performed by Karen Cass on MP3 CD (Unabridged)£19.99
An eye-opening exploration of blood, the lifegiving substance with the power of taboo, the value of diamonds and the promise of breakthrough science Blood carries life, yet the sight of it makes people faint. It is a waste product and a commodity pricier than oil. It can save lives and transmit deadly infections.