---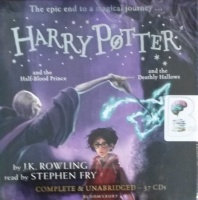 Harry Potter Collection Part 3 - Books 6 and 7 written by J.K. Rowling performed by Stephen Fry on CD (Unabridged)£39.99 - £49.99
Witches and wizards unite as you join the Battle of Hogwarts! Complete the entire series of J.K. Rowling's Harry Potter stories with this enchanting audiobook collection. The 37 CDs cover The Half-Blood Prince and The Deathly Hallows and find Dark Magic rising. Will Harry be able to summon the courage (and the...
---
---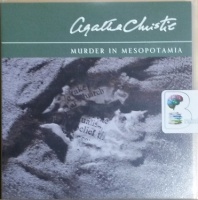 Murder in Mesopotamia written by Agatha Christie performed by Carole Boyd on CD (Abridged)£4.99
An archaeologist's wife is murdered on the shores of the River Tigris in Iraq. It was clear to Amy Leatheran that something sinister was going on at the Hassanieh dig in Iraq; something associated with the presence of 'Lovely Louise', wife of celebrated archaeologist Dr Leidner. In a few days' time Hercule...
---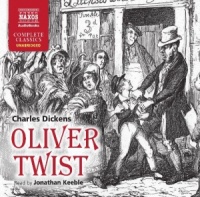 Oliver Twist written by Charles Dickens performed by Jonathan Keeble on CD (Unabridged)£29.99 - £39.99
Oliver Twist, Dickenss second novel, has enthralled generations of readers since its publication in 1838. Orphaned and desolate, Olivers journey to London and subsequent induction into its dingy underworld, is narrated with ceaseless energy by Jonathan Keeble.
---
---
---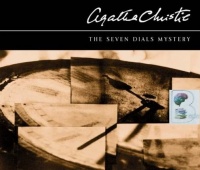 The Seven Dials Mystery written by Agatha Christie performed by Jenny Funnell on CD (Abridged)£4.99
When a practical joke played on Gerry Wade involving alarm clocks turns out to be murder the case is taken up by Lady 'Bundle' Brent and Jimmy Thesiger. Trying to work out the significance of the seven clocks found at the murder scene, they come across the Seven Dials Club.
---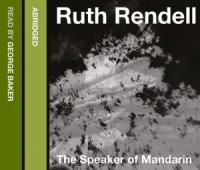 The Speaker of Mandarin written by Ruth Rendell performed by George Baker on CD (Abridged)£4.99 - £9.99
A Genius Performance by George Baker!
China both delighted and frustrated Wexford; the beauty, the history, all of that brought immense pleasure. But the unending attention of Mr Sung of the Chinese Tourist Board was hugely irritating – and that an old woman with bound feet should haunt him was puzzling and slightly frightening, without explanation.
---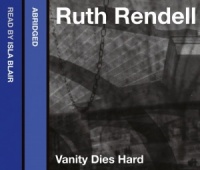 Vanity Dies Hard written by Ruth Rendell performed by George Baker on CD (Abridged)£13.99
A Genius Performance by George Baker!
Who would have believed that Alice Whittaker's life could change? She was 37, rich and dowdy with no career. Her life a lonely failure, she had got by with the one thing she did have - money....
---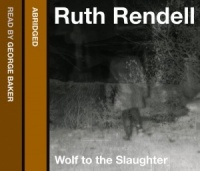 Wolf to the Slaughter written by Ruth Rendell performed by George Baker on CD (Abridged)£5.99 - £9.99
A Genius Performance by George Baker!
Anita Margolis had vanished. There was no body, no crime - nothing more than an anonymous letter and the intriguing name of Smith. According to HQ, it wasn't to be a murder enquiry at all...
---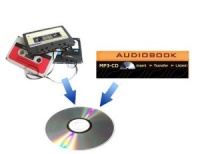 3 Hour Fixed Price Audio Transfer£15.00
This is the fixed price £15 item to be used when ordering conversion of a sub 3 hour Audio Cassette or MP3 CD title.
---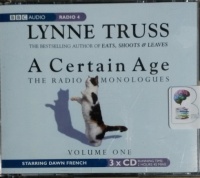 A Certain Age - The Radio Monologues Volume One written by Lynne Truss performed by Dawn French on CD (Abridged)£4.99
The original six radio monologues written by Lynne Truss, author of the phenomenal bestsellers 'Eats, Shoots & Leaves' and 'Talk to the Hand'. In the tradition of Alan Bennett's 'Talking Heads' come Lynne Truss's female monologues: six bittersweet tales of love, romance, friendship and family from the classic BBC...
---
---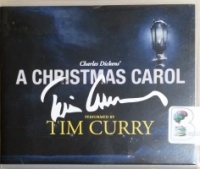 A Christmas Carol written by Charles Dickens performed by Tim Curry on CD (Unabridged)£16.99
This version of Charles Dickens's A Christmas Carol, masterfully narrated by Tim Curry, was available for a limited time last year, and now it's back. This one-of-a-kind performance puts a unique spin on a treasured classic, and served as the inspiration for the exciting new line of Audible Signature Classics...
---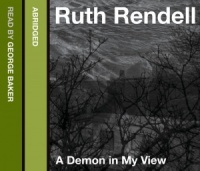 A Demon in My View written by Ruth Rendell performed by George Baker on CD (Abridged)£11.99 - £14.99
Her white face, beautiful, unmarked by any flaw of skin or feature, stared blankly back at him. He fancied that she had cringed, her slim body pressing further into the wall behind her. He didn't speak. He had never known how to talk to women.
---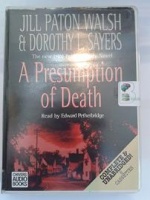 A Presumption of Death written by Jill Paton Walsh and Dorothy L Sayers performed by Edward Petherbridge on Cassette (Unabridged)£29.99 - £39.99
The story opens in 1940. Harriet Vane - now Lady Peter Wimsey - has taken her children to safety in the country. But the war has followed them: glamorous RAF pilots and even more glamorous land-girls scandalise the villagers; the blackout makes the night-time lanes as sinister as the back alleys of London.
---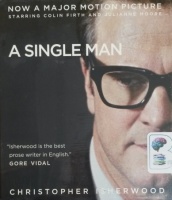 A Single Man written by Christopher Isherwood performed by Simon Prebble on CD (Unabridged)£19.99
Celebrated as a masterpiece from its first publication, A Single Man is the story of George, an English professor in suburban California left heartbroken after the death of his lover, Jim. With devastating clarity and humour, Christopher Isherwood shows George's determination to carry on, evoking the unexpected...
---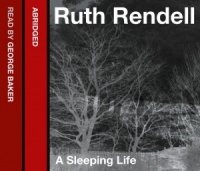 A Sleeping Life written by Ruth Rendell performed by George Baker on CD (Abridged)£19.99
The body found under the hedge was that of a middle-aged woman, biggish and gaunt. The grey eyes were wide and staring, and in them Detective Chief Inspector Wexford thought he saw a sardonic gleam, a glare, even in death, of scorn. But that must have been his imagination...
---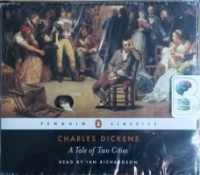 A Tale of Two Cities written by Charles Dickens performed by Ian Richardson on CD (Abridged)£5.99 - £9.99
After 18 years as a political prisoner in the Bastille the aging Dr Manette is finally released and reunited with his daughter in England.
---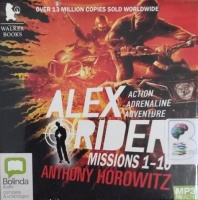 Alex Rider Missions 1 to 10 written by Anthony Horowitz performed by Jonathan Davies on MP3 CD (Unabridged)£29.99
In the number one bestselling series by Anthony Horowitz, 14-year-old Alex Rider is forcibly recruited into the deadly world of espionage and sent on his first mission. But mortal danger is never far away and the reluctant teenage spy soon finds himself in demand again by MI6. The ever popular and explosive...
New In May 2019 Part 1
(in alphabetical order)
5000-1 The Leicester City Story written by Rob Tanner performed by Leighton Pugh on CD (Unabridged)£19.99

In August 2015 bookmakers priced Leicester at 5000-1 to win the Premier League the same odds as Elvis being found alive. On 2 May 2016, Leicester won, to ecstatic celebrations in the city and around the world. Leicester Mercury s chief football writer, Rob Tanner, relives the great escape of 2015 to the ...

A Natural Woman - A Memoir written by Carole King performed by Carole King on CD (Unabridged)£19.99

A memoir by the iconic singer-songwriter chronicling her story from her beginnings in Brooklyn through her remarkable success as one of the world's most acclaimed musical talents

Anticancer Living - Transform Your Life and Health with the Mix of Six written by Lorenzo Cohen PhD and Alison Jefferies MEd performed by Mark Deakins on CD (Unabridged)£29.99

The evidence is in: you can reduce cancer risk and support treatment by focusing on six key areas of health and wellness. The scientific data on the link between lifestyle, environmental factors, and cancer risk has been accumulating at an accelerated rate over the past decade: Every week we learn...

Blind Willow, Sleeping Woman - Volume 2 written by Haruki Murakami performed by Gareth Armstrong, Judy Bennett, Kris Milnes and Hugh Ross on CD (Unabridged)£19.99

A young man accompanies his cousin to the hospital to check an unusual hearing complaint and recalls a story of a woman put to sleep by tiny flies crawling inside her ear; a mirror appears out of nowhere and a nightwatchman is unnerved as his reflection tries to take control of him; a couple's relationship...

Brought in Dead written by Jack Higgins performed by Michael Page on CD (Unabridged)£9.99 - £19.99

The second of two classic police thrillers featuring detective Nick Miller, set in London's seedy underworld. After a long night on the job, Detective Sergeant Nick Miller is on his way home – only to become the first policeman at the scene of a young woman's mysterious suicide. What's odd is that it appears...

Choked written by Tania Carver performed by Martyn Waites on CD (Abridged)£3.99 - £6.99

'I have something you've lost,' the voice said. 'Your daughter.' He will threaten her. The honeymoon is over for newlywed criminologist Marina Esposito. Her house is in flames. Her cop husband is in a coma. Her baby daughter is missing. And then her phone rings . . .

Day of Reckoning written by Jack Higgins performed by Michael Page on CD (Unabridged)£19.99

Sean Dillon in his most spectacular adventure yet, a no-holds-barred battle with a Mafia don. When the Mafia kill a reporter for getting too close, White House security insider Blake Johnson takes it personally. The reporter was his ex-wife, and with the help of undercover enforcer Sean Dillon and his intelligence...

Dombey and Son written by Charles Dickens performed by Ian Hogg, Sylvestra Le Touzel, Samuel West and Lucy Whybrow on Cassette (Abridged)£14.99

A Radio 4 dramatization of Dickens's novel set against the bustle of a mighty city. Humbled and alone, his trading empire in ruins, the cold and uncaring Dombey seems doomed. But the love of his daughter brings redemption and understanding to a man whose only reason for living was Dombey and Son.

Elmet written by Fiona Mozley performed by Joe Jameson on CD (Unabridged)£24.99

In this atmospheric and profoundly moving debut, Cathy and Daniel live with their father, John, in the remote woods of Yorkshire, in a house the three of them built themselves. John is a gentle brute of a man, a former enforcer who fights for money when he has to, but who otherwise just wants to be left ...

Flight of Eagles written by Jack Higgins performed by Michael Page on CD (Unabridged)£19.99

Separated as boys, now military pilots on opposing sides in World War II, two brothers are brought together again by a massive intrigue that forces them to question their deepest loyalties, as the war's outcome hangs in the balance.

Halls of Shadow - Kingdoms of Sand, Book Five written by Daniel Arenson performed by Kevin Kenerly on CD (Unabridged)£34.99

The world reels from the assassination of the Mad Empress. The Aelarian Empire is cracking. From the ashes of a burnt world, warlords, barbarians, and rebels emerge to claim the remains. Outside the walls of Aelar, different factions converge. Tribal warriors prepare to shatter the gates.

Happiness Hacks - 100% Scientific - Curiously Effective written by Alex Palmer performed by Stephanie Spicer on CD (Unabridged)£34.99

Could you be happier at work . . . in love . . . in life? You may not need a total overhaul - just a few good Happiness Hacks! Here are hundreds of shortcuts to brighten your day and boost your mood - and the science behind how they work. Discover why: 57°F (13.9°C) is the happiest temperature Selfies give you...

How to Tell Fate from Destiny and other Skillful Word Distinctions written by Charles Harrington Elster performed by Charles Harrington Elster on CD (Unabridged)£34.99

If you have trouble distinguishing the verbs imitate and emulate, the relative pronouns that and which, or the adjectives pliant, pliable, and supple, never fear-How to Tell Fate from Destiny is here to help! With more than 500 headwords, the book is replete with advice on how to differentiate commonly...

Intuition Pumps and Other Tools for Thinking written by Daniel C. Dennett performed by Jeff Crawford on MP3 CD (Unabridged)£14.99

Over a storied career, Daniel C. Dennett has engaged questions about science and the workings of the mind. His answers have combined rigorous argument with strong empirical grounding. And a lot of fun. Intuition Pumps and Other Tools for Thinking offers seventy-seven of Dennett's most successful...

Just in Time written by Marie Bostwick performed by Emily Sutton-Smith, Kate Marcin and Carol Monda on CD (Unabridged)£24.99

In her most powerful novel yet, New York Times bestselling author Marie Bostwick weaves the uplifting story of three grief support group dropouts—women united in loss and rescued through friendship. Fifteen years ago, Grace Saunders vowed to take her beloved husband for better or worse. Now she's coming...

Let The Children March written by Monica Clark-Robinson performed by Janina Edwards on CD (Unabridged)£9.99

I couldn't play on the same playground as the white kids. I couldn't go to their schools. I couldn't drink from their water fountains. There were so many things I couldn't do. In 1963 Birmingham, Alabama, thousands of African American children volunteered to march for their civil rights after hearing Dr. Martin...

Lifeblood written by N.J. Cooper performed by Julia Franklin on CD (Unabridged)£59.99

Five years ago Randall Gyre was convicted of the brutal rape of a young student, Lizzie Fane, on the Isle of Wight. Handsome, rich, slick-talking, Gyre had avoided prison for years before that, despite a string of accusations. Forensic psychologist Karen Taylor is certain that Gyre will attack again, and this time he..

Maggie Smith - A Biography written by Michael Coveney performed by Sian Thomas on CD (Unabridged)£24.99

No one does glamour, severity, girlish charm or tight-lipped witticism better than Dame Maggie Smith, one of Britain's best-loved actors. This new biography shines the stage lights on the life and career of a truly remarkable performer, one whose stage and screen career spans six decades. From her days as a...

My Days - Happy and Otherwise written by Marion Ross with David Laurell performed by Marion Ross, David Laurell, Ron Howard and Henry Winkler on CD (Unabridged)£24.99

For eleven seasons, Marion Ross was head of one of America's favorite television households. Now meet the lovable real-life woman behind the Happy Days mom. Before she was affectionately known to millions as "Mrs. C.," Marion Ross began her career as a Paramount starlet who went on to appear in nearly...

Neurotribes - The Legacy of Autism and the Future of Neurodiversity written by Steve Silberman performed by William Hughes on CD (Unabridged)£29.99

What is autism: a devastating developmental condition, a lifelong disability, or a naturally occurring form of cognitive difference akin to certain forms of genius? In truth it is all of these things and more - and the future of our society depends on our understanding it. Following on from his groundbreaking...

Own The Moment written by Carl Lentz performed by Carl Lentz on CD (Unabridged)£14.99

When you think of a Christian pastor, you probably don't envision a tattooed 30-something who wears a motorcycle jacket, listens to hip-hop music, references The Walking Dead and Black Lives Matter in his sermons, and every Sunday draws a standing-room only crowd to a venue normally used for rock...

Passage by Night written by Jack Higgins performed by Michael Page on CD (Unabridged)£24.99

The classic bestseller from the master of the game Harry Manning had fled the Cuban revolution, sacrificing everything for freedom and seeking solace on the tranquil waters of the Bahamas. For a time he found solace in the arms of the beautiful Maria and oblivion in alcohol. Then once again his life is ...

Problems of Knowledge and Freedom written by Noam Chomsky performed by Derek Shetterly on CD (Unabridged)£19.99

From interpreting the world to changing it, a synthesis of Chomsky's early work on philosophy, linguistics, and politics. Originally delivered in 1971 as the first Cambridge lectures in memory of Bertrand Russell, Problems of Knowledge and Freedom is a masterful and cogent synthesis of Noam Chomsky's ...

Quentins written by Maeve Binchy performed by Kate Binchy on CD (Unabridged)£99.99

Every table at Quentins Restaurant has a thousand stories to tell: tales of love, betrayal and revenge. Ella Brady wants to make a documentary about the renowned Dublin restaurant that has captured the spirit of a generation and a city in the years it has been open. In Maeve Binchy's magical Quentins, you...

Reader, Come Home - The Reading Brain in a Digital World written by Maryanne Wolf performed by Kirsten Potter on CD (Unabridged)£24.99

From the author of Proust and the Squid, a lively, ambitious, and deeply informative epistolary book that considers the future of the reading brain and our capacity for critical thinking, empathy, and reflection as we become increasingly dependent on digital technologies. A decade ago, Maryanne Wolf's Proust...

Slutever written by Karley Sciortino performed by Karley Sciortino on CD (Unabridged)£19.99

"Slut" is a great word. It just sounds perfect-so sharp and clear and beautiful. It's one of those satisfying four letter words, like cunt and fuck. Slut also happens to be an anagram for lust, which is one of those divine coincidences that makes you wonder if God actually exists. We're lucky that slut is such...

The Consciousness Instinct - Unraveling The Mystery of How The Brain Makes the Mind written by Michael S. Gazzaniga performed by David Colacci on MP3 CD (Unabridged)£19.99

"The father of cognitive neuroscience" illuminates the past, present, and future of the mind-brain problem How do neurons turn into minds? How does physical "stuff" - atoms, molecules, chemicals, and cells - create the vivid and various worlds inside our heads? The problem of consciousness has gnawed...

The Genius of Birds written by Jennifer Ackerman performed by Margaret Strom on CD (Unabridged)£29.99

In The Genius of Birds, acclaimed author Jennifer Ackerman explores the newly discovered brilliance of birds and how it came about. Consider, as Ackerman does, the Clark's nutcracker, a bird that can hide as many as 30,000 seeds over dozens of square miles and remember where it put them several months...

The Operator - Firing the Shots that Killed Osama Bin Laden written by Robert O'Neill performed by Robert O'Neill on CD (Unabridged)£24.99

Stirringly evocative, thought provoking, and often jaw dropping, The Operator ranges across SEAL Team Operator Robert O'Neill's awe-inspiring 400-mission career that included his involvement in attempts to rescue "Lone Survivor" Marcus Luttrell and abducted-by-Somali-pirates Captain Richard Phillips and...

The Passion of Marie Romanov - A Tale of Anastasia's Sister written by Laura Rose performed by Lillian Webb and Travis Smith on CD (Unabridged)£29.99

From the writings of Marie Nicolaevna Romanavna, age 19, July 17, 1918 - Midnight, in bed with her sister, Anastasia (Shvybz), in the Ipatiev Mansion in Ekaterinburg, during the last night of their lives. "So much of my story unfolds by moonlight. This is a tale of midnight wakings and forced marches ...

The Psychopath Whisperer - The Science of Those Without Conscience written by Kent A. Kiehl PhD performed by Kevin Pariseau on CD (Unabridged)£19.99

We know of psychopaths from chilling headlines and stories in the news and movies - from Ted Bundy and John Wayne Gacy, to Hannibal Lecter and Dexter Morgan. As Dr. Kent Kiehl shows, psychopaths can be identified by a checklist of symptoms that includes pathological lying; lack of empathy, guilt...

The Waiting Room written by Emily Bleeker performed by Sophie Amoss on CD (Unabridged)£24.99

From the bestselling author of When I'm Gone and Working Fire comes a gripping novel about a mother, her missing daughter, and the dark secrets that engulf them. Ever since her husband's death collided with the birth of her daughter, postpartum depression has taken hold of Veronica Shelton. She can't...

This Was A Man - Book 7 of The Clifton Chronicles written by Jeffrey Archer performed by Alex Jennings on CD (Unabridged)£19.99 - £29.99

This Was a Man is the seventh and final, captivating instalment of the Clifton Chronicles from master storyteller Jeffrey Archer. This Was a Man opens with a shot being fired, but who pulled the trigger, and who lives and who dies? In Whitehall, Giles Barrington discovers the truth about his wife Karin from...

Top Dog - The Science of Winning and Losing written by Po Bronson and Ashley Merryman performed by Po Bronson on CD (Unabridged)£24.99

The co-authors of the New York Times best-selling NurtureShock turn their attentions to the cutting edge science behind life's triumphs and failures and offer insight from politics, finance, science, sports and economics to tip the odds in your favor.

Unf*ckology - A Field Guide to Living with Guts and Confidence written by Amy Alkon performed by Carrignton MacDuffie on CD (Unabridged)£19.99

Amy Alkon presents Unf*ckology, a "science-help" book that knocks the self-help genre on its unscientific ass. You can finally stop fear from being your boss and put an end to your lifelong social suckage. Have you spent your life shrinking from opportunities you were dying to seize but feel "that's just who I am"?

US Navy SOG Seals - Working with Army, Navy, Marines, Air Force and Coast Guard to Rescue a Downed Pilot in Vietnam written by Keith Mckim performed by Kieth Mckim on CD (Unabridged)£19.99

Based on the true stories of the two US Navy Seals operating behind enemy lines in Vietnam with the super top-secret unit MACV-SOG (Military Assistance Command Vietnam, Special Operations Group) US Navy Seal Lieutenant Tom Norris, on three separate occasions over a four day period, with no sleep...

You Don't Have to Say You Love Me - A Memoir written by Sherman Alexie performed by Sherman Alexie on CD (Unabridged)£19.99 - £24.99

The Instant New York Times Bestseller Shortlisted for the Carnegie Medal for Excellence in Nonfiction A searing, deeply moving memoir about family, love, loss, and forgiveness from the critically acclaimed, bestselling National Book Award-winning author of The Absolutely True Diary of a Part-Time Indian.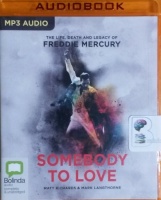 Somebody to Love - The Life, Death and Legacy of Freddie Mercury written by Matt Richards and Mark Langthorne performed by Tim Bruce on MP3 CD (Unabridged)£14.99
When Freddie Mercury died in 1991, aged just 45, the world was rocked by the vibrant and flamboyant star's tragic secret that he had been battling AIDS. The announcement of his diagnosis reached them less than 24-hours before his death, shocking his millions of fans, and fully opening the eyes of the world to...
---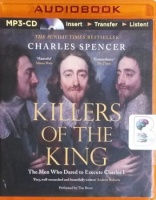 Killers of the King - The Men Who Dared to Execute Charles I written by Charles Spencer performed by Tim Bruce on MP3 CD (Unabridged)£14.99
January, 1649. After seven years of fighting in the bloodiest war in Britain's history, Parliament had overpowered King Charles I and now faced a problem: what to do with a defeated king, a king who refused to surrender?Parliamentarians resolved to do the unthinkable, to disregard the Divine Right of Kings ...
---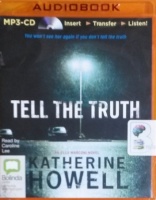 Tell the Truth written by Katherine Howell performed by Caroline Lee and on MP3 CD (Unabridged)£14.99
Detective Ella Marconi has her work cut out for her trying to unravel the lies surrounding her latest, thrilling case. Paramedic Stacey Durham has an idyllic life: her dream job, a beautiful house, and a devoted husband. Until her car is found abandoned and covered in her blood. Detective Ella Marconi knows...
---
---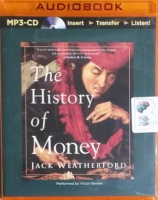 The History of Money written by Jack Weatherford performed by Victor Bevine and on MP3 CD (Unabridged)£24.99
From primitive man's cowrie shells to the electronic cash card, from the markets of Timbuktu to the New York Stock Exchange, The History of Money explores how money and the many forms of exchange have affected us, and how they will continue to shape all aspects of our lives - economic, political, and personal.
---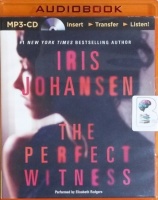 The Perfect Witness written by Iris Johansen performed by Elisabeth Rodgers on MP3 CD (Unabridged)£14.99
From the #1 New York Times bestselling author comes an explosive new thriller She had the perfect life. She had the perfect cover. She was the perfect witness. Until they found her. From the blockbuster bestselling author of the Eve Duncan novels comes a new, stand alone thriller about a woman with a...
---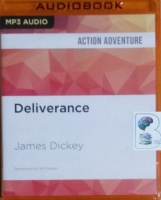 Deliverance written by James Dickey performed by Will Patton on MP3 CD (Unabridged)£14.99
The smash-hit best seller that inspired the acclaimed 1972 film starring Jon Voight, Burt Reynolds, Ned Beatty, and Ronny Cox is now available in unabridged audio for the very first time. The setting is the Georgia wilderness, where the state's most remote white-water river awaits. In the thundering froth of that...
---
---
---
---
---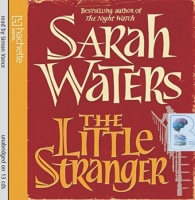 The Little Stranger written by Sarah Waters performed by Simon Vance on CD (Unabridged)£16.99 - £19.99
After her award-winning trilogy of Victorian novels, Sarah Waters turned to the 1940s and wrote THE NIGHT WATCH, a tender and tragic novel set against the backdrop of wartime Britain. Shortlisted for both the Orange and the Man Booker, it went straight to number one in the bestseller chart. In a dusty post-war...
---
---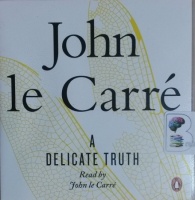 A Delicate Truth written by John le Carre performed by John le Carre on CD (Unabridged)£19.99
A counter-terror operation, codenamed Wildlife, is being mounted in Britain's most precious colony, Gibraltar. Its purpose: to capture and abduct a high-value jihadist arms-buyer.
---
---
---
---
---