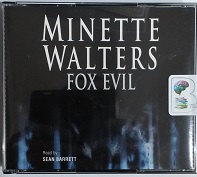 Fox Evil written by Minette Walters performed by Sean Barrett on CD (Abridged)£4.99 - £6.99
When elderly Ailsa Lockyer-Fox is found dead in her garden, dressed only in night clothes and with blood stains on the ground near her body, the finger of suspicion points at her wealthy, landowning husband, Colonel James Lockyer-Fox.
---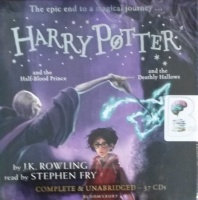 Harry Potter Collection Part 3 - Books 6 and 7 written by J.K. Rowling performed by Stephen Fry on CD (Unabridged)£39.99 - £59.99
Witches and wizards unite as you join the Battle of Hogwarts! Complete the entire series of J.K. Rowling's Harry Potter stories with this enchanting audiobook collection. The 37 CDs cover The Half-Blood Prince and The Deathly Hallows and find Dark Magic rising. Will Harry be able to summon the courage (and the...
---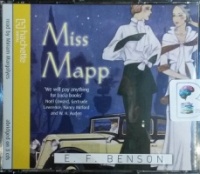 Miss Mapp written by E.F. Benson performed by Miriam Margolyes on CD (Abridged)£4.99
Nothing escapes the snooping opera glasses of Miss Elizabeth Mapp. She whiles away her busy hours observing the small English village of Tilling, and recording the antics in her notebook. But her observations are set to be disrupted by amorous advances of two retired army generals, both vying for her affection.
---
---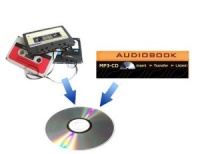 3 Hour Fixed Price Audio Transfer£15.00
This is the fixed price £15 item to be used when ordering conversion of a sub 3 hour Audio Cassette or MP3 CD title.
---
---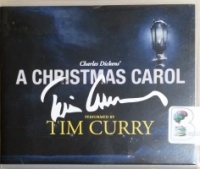 A Christmas Carol written by Charles Dickens performed by Tim Curry on CD (Unabridged)£16.99
This version of Charles Dickens's A Christmas Carol, masterfully narrated by Tim Curry, was available for a limited time last year, and now it's back. This one-of-a-kind performance puts a unique spin on a treasured classic, and served as the inspiration for the exciting new line of Audible Signature Classics...
---
---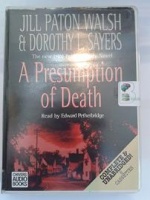 A Presumption of Death written by Jill Paton Walsh and Dorothy L Sayers performed by Edward Petherbridge on Cassette (Unabridged)£29.99 - £39.99
The story opens in 1940. Harriet Vane - now Lady Peter Wimsey - has taken her children to safety in the country. But the war has followed them: glamorous RAF pilots and even more glamorous land-girls scandalise the villagers; the blackout makes the night-time lanes as sinister as the back alleys of London.
---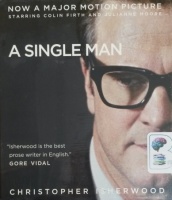 A Single Man written by Christopher Isherwood performed by Simon Prebble on CD (Unabridged)£19.99
Celebrated as a masterpiece from its first publication, A Single Man is the story of George, an English professor in suburban California left heartbroken after the death of his lover, Jim. With devastating clarity and humour, Christopher Isherwood shows George's determination to carry on, evoking the unexpected...
---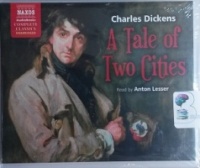 A Tale of Two Cities written by Charles Dickens performed by Anton Lesser on CD (Unabridged)£49.99 - £59.99
It was the best of times and the worst of times'. In one of the most famous openings of any novel, Dickens masterfully presents the turmoil of the French Revolution which is the backdrop for a novel of love, patience, hope and self-sacrifice. It is read by Anton Lesser whose award-winning Dickens... Naxos
---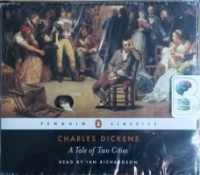 A Tale of Two Cities written by Charles Dickens performed by Ian Richardson on CD (Abridged)£5.99 - £9.99
After 18 years as a political prisoner in the Bastille the aging Dr Manette is finally released and reunited with his daughter in England.
---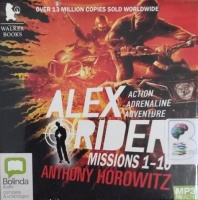 Alex Rider Missions 1 to 10 written by Anthony Horowitz performed by Jonathan Davies on MP3 CD (Unabridged)£29.99
In the number one bestselling series by Anthony Horowitz, 14-year-old Alex Rider is forcibly recruited into the deadly world of espionage and sent on his first mission. But mortal danger is never far away and the reluctant teenage spy soon finds himself in demand again by MI6. The ever popular and explosive...
---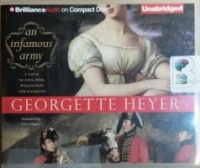 An Infamous Army written by Georgette Heyer performed by Claire Higgins on CD (Unabridged)£24.99 - £34.99
In 1815, beneath the aegis of the Army of Occupation, Brussels is the gayest town in Europe. And the widow Lady Barbara Childe, renowned for being as outrageous as she is beautiful, is at the centre of all that is fashionable and light-hearted. When she meets Charles Audley, dashing aide-de-camp...
---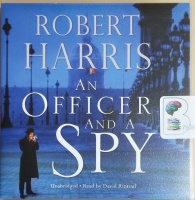 An Officer and a Spy written by Robert Harris performed by David Rintoul on CD (Unabridged)£14.99
They lied to protect their country. He told the truth to save it. A gripping historical thriller from the bestselling author of FATHERLAND. January 1895. On a freezing morning in the heart of Paris, an army officer, Georges Picquart, witnesses a convicted spy, Captain Alfred Dreyfus, being publicly humiliated in front..
---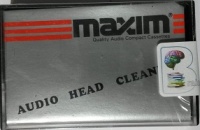 Audio Head Cleaner written by Maxim performed by Maxim on Cassette (Unabridged)£4.99
Very few of us like spending time cleaning. But...... cleaning the head of your tape player can give impressive results. If you haven't used a head cleaner for a significant period of time you should introduce it's use slowly. There may well be an accumulation of deposits on the rubber rollers ...
---
---
Blood Hunt written by Ian Rankin performed by Steven Pacey on CD (Unabridged)£39.99
It begins with a phone call. Gordon Reeve's brother has been found dead in his car in San Diego - the car was locked from the inside, a gun in his hand. In the US to identify the body Gordon comes to realise that his brother has in fact been murdered. What's more, it is soon obvious that his own life is in danger.
---
---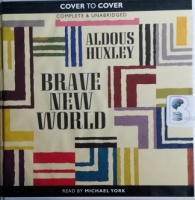 Brave New World written by Aldous Huxley performed by Michael York on CD (Unabridged)£19.99 - £29.99
When Lenina and Bernard visit a savage reservation, we experience how Utopia can destroy humanity. On the 75th anniversary of its publication, this outstanding work of literature is more crucial and relevant today than ever before. Cloning, feel-good drugs, anti-aging programs...
---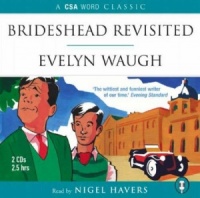 Brideshead Revisited written by Evelyn Waugh performed by Nigel Havers on CD (Abridged)£8.99
It is WW2 and Captain Charles Ryder reflects on his time at Oxford during the twenties and a world now changed. As a lonely student Charles was captivated by the outrageous and decadent Sebastian Flyte and invited to spend time at the Flyte's family home - the magnificent Brideshead.
---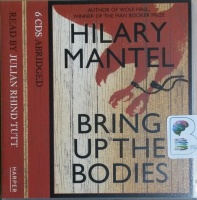 Bring Up The Bodies written by Hilary Mantel performed by Julian Rhind Tutt on CD (Abridged)£9.99
Winner of the Man Booker Prize 2012 Winner of the 2012 Costa Book of the Year Shortlisted for the 2013 Women's Prize for Fiction 'Simply exceptional…I envy anyone who hasn't yet read it'Daily Mail 'A gripping story of tumbling fury and terror'Independent on Sunday With this historic win for Bring Up the Bodies...
---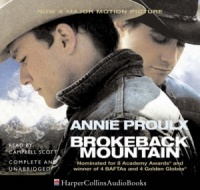 Brokeback Mountain written by Annie Proulx performed by Campbell Scott on CD (Unabridged)£8.99
The film tie-in edition of the story by Annie Proulx, now a movie starring Jake Gyllenhaal, Randy Quaid, Anne Hathaway and Heath Ledger.
Winner of four BAFTAs 2006, including Best Film, Best Performance by an Actor in a Supporting Role, Best Screenplay – Adapted and the David Lean Award for Direction Winner of four Golden Globe Awards 2005, including Best Screenplay, Best Motion Picture and Best Director Winner of the Golden Lion Award for Best Picture, 2005 Venice International Film Festival
New In May 2018 Part 3
(in alphabetical order)
Abraham Lincoln - Vampire Hunter written by Seth Grahame-Smith performed by Scott Holst on CD (Unabridged)£14.99

Indiana, 1818. Moonlight falls through the dense woods that surround a one-room cabin, where a nine-year-old Abraham Lincoln kneels at his suffering mother's bedside. She's been stricken with something the old-timers call "Milk Sickness." "My baby boy..." she whispers before dying.

Agatha H and the Airship City - A Girl Genius Novel written by Phil and Kaja Foglio performed by Angela Dawe on CD (Unabridged)£14.99

The Industrial Revolution has escalated into all-out warfare. Sixteen years have passed since the Heterodyne Boys, benevolent adventurers and inventors, disappeared under mysterious circumstances. Today, Europe is ruled by the Sparks, dynasties of mad scientists ruling over - and terrorizing - the...

Agatha Raisin and the Fairies of Fryfam written by M.C. Beaton performed by Penelope Keith on CD (Unabridged)£19.99

Feeling jilted and cross, Agatha follows a fortune-teller's advice and rents a cottage in the pretty village of Fryfam, where she hopes good fortune and true love will come chasing after her for a change. Unfortunately, her romantic notions are soon dispelled by the strange goings-on in the village.

Agatha Raisin and the Wizard of Evesham written by M.C. Beaton performed by Penelope Keith on CD (Unabridged)£29.99

The local ladies all deem Mr John a wizard, so when Agatha finds a few grey hairs on her head - and the rinse she tries at home turns her hair purple - she makes a beeline for the handsome Evesham hairdresser. And as well as sorting out her hair it soon becomes clear the charming man....

Barchester Towers written by Anthony Trollope performed by Stephen Thorne on MP3 CD (Unabridged)£24.99

Barchester Towers, Trollope's most popular novel, is the second of the six Chronicles of Barsetshire.

Burning Angels - A Will Jaeger Thriller written by Bear Grylls performed by Rupert Degas on MP3 CD (Unabridged)£9.99

A prehistoric corpse entombed within an Arctic glacier, crying tears of blood. A jungle island overrun by rabid primates - escapees from a research laboratory's Hot Zone. A massive seaplane hidden beneath a mountain, packed with a Nazi cargo of mind-blowing evil.

Can You Forgive Her? written by Anthony Trollope performed by Timothy West on MP3 CD (Unabridged)£19.99 - £24.99

* This item is located in my US (New York) warehouse so there will be a 5-7 day delay in dispatch* Can You Forgive Her? is the first of the six in the Palliser series. Trollope inextricably binds together the issues of parliamentary election and marriage, of politics and privacy. The values and aspirations of the...

Cinder written by Marissa Meyer performed by Rebecca Soler on MP3 CD (Unabridged)£19.99

A forbidden romance. A deadly plague. Earth's fate hinges on one girl ... CINDER, a gifted mechanic in New Beijing, is also a cyborg. She's reviled by her stepmother and blamed for her stepsister's sudden illness. But when her life becomes entwined with the handsome Prince Kai's, she finds....

Cobra II - The Inside Story of the Invasion and Occupation of Iraq written by Michael R. Gordon and General Bernard E. Trainor performed by Craig Wasson on CD (Unabridged)£24.99

Informed by unparalleled access to still–secret documents, interviews with top field commanders, and a review of the military's own internal after–action reports, Cobra II is the definitive chronicle of America's invasion and occupation of Iraq—a conflict that could not be lost but one that the...

Cousin Kate written by Georgette Heyer performed by Jilly Bond on CD (Unabridged)£29.99 - £34.99

When young and beautiful governess Kate Malvern finds herself unemployed, she is taken in by Minerva Broome, the aunt she has never met, and whisked away to the majestic country home of Staplewood. However, things are not as they seem: strange things start to happen in the manor....

Cress written by Marissa Meyer performed by Rebecca Soler on MP3 CD (Unabridged)£19.99

Incarcerated in a satellite, an expert hacker and out to save the world – Cress isn't your usual damsel in distress. CRESS grew-up as a prisoner. With only netscreens for company she's forced to do the bidding of the evil Queen Levana. Now that means tracking down Cinder and her ...

Dr. Wortle's School written by Anthony Trollope performed by Timothy West on MP3 CD (Unabridged)£24.99

In this classic tale, author Anthony Trollope dares to question: can it be right to persist in a bigamous marriage? Mr. Peacocke, a classical scholar, has come to Broughtonshire with his beautiful American wife to live as a schoolmaster. But when the blackmailing brother of her first husband a reprobate....

Fairest written by Marissa Meyer performed by Rebecca Soler on MP3 CD (Unabridged)£19.99

Mirror, mirror, on the wall. Who is the Fairest of them all? Pure evil has a name, hides behind a mask of deceit, and uses her 'glamour' to gain power. But who is Queen Levana? Long before she crossed paths with Cinder, Scarlet and Cress in The Lunar Chronicles, Levana lived a very different story...

Framley Parsonage written by Anthony Trollope performed by Timothy West on MP3 CD (Unabridged)£19.99 - £24.99

The Reverend Mark Robarts makes a mistake. Drawn into a social set at odds with his clerical responsibilities, he guarantees the debts of an unscrupulous Member of Parliament. He stands to lose his reputation, and his family, future, and home are all in peril.

Friday's Child written by Georgette Heyer performed by Eve Matheson on CD (Unabridged)£29.99

This story of mistaken love is a romantic fiction set in the English Regency period. It centers on Lord Sheringham who has been rejected by the woman he loves but the woman who has secretly loved him since childhood is waiting.

How Evan Broke His Head written by Garth Stein performed by Oliver Wyman on CD (Unabridged)£19.99

From Garth Stein, the New York Times best-selling author of The Art of Racing in the Rain, Audible presents How Evan Broke His Head and Other Secrets, winner of a Pacific Northwest Bookseller Award-in audio for the first time, and read by one of our most talented narrators, Oliver Wyman.

Keyboard Conversations - The Romanticism of the Russian Soul written by Jeffrey Siegel performed by Jeffrey Siegel on CD (Abridged)£19.99

Keyboard Conversations® with Jeffrey Siegel combine the virtuosity and poetry of a world-class pianist with entertaining commentary to create a magical concert experience. His lively, engaging insights and captivating performances make listening an enthralling experience for all music lovers.

Lady Isabella's Scandalous Marriage written by Jennifer Ashley performed by Angela Dawe on CD (Unabridged)£29.99

Lady Isabella Scranton scandalized London by leaving her husband, notorious artist Lord Mac Mackenzie, after only three turbulent years of marriage. But Mac has a few tricks to get the Lady back in his life, and more importantly, back into his bed.

Phineas Finn written by Anthony Trollope performed by Timothy West on MP3 CD (Unabridged)£24.99

In Phineas Finn, the second of the Palliser novels, Trollope balances the rival demands of public and private life, entangling political ambitions with the experiences of love. Phineas Finn, an irresistible but penniless young Irish barrister, enters Parliament and comes to London, leaving behind him....

Phineas Redux written by Anthony Trollope performed by Timothy West on MP3 CD (Unabridged)£24.99

In the fourth of the Palliser stories, Trollope follows Phineas Finn's return to the dangerous world of Westminster politics after the death of his wife, Mary. His career takes a turn for the worse when his political rival is murdered. With all the circumstantial evidence pointing at Phineas.....

Rules to Break and Laws to Follow written by Don Peppers and Martha Rogers performed by Don Peppers and Martha Rogers on CD (Unabridged)£19.99

Provides twelve laws to help listeners create and recover a level of customer trust and respond to change and innovations in their businesses.

Scarlet written by Marissa Meyer performed by Rebecca Soler on MP3 CD (Unabridged)£19.99

SCARLET BENOIT'S grandmother is missing. The police have closed her case. The only person Scarlet can turn to is Wolf, a street fighter she does not trust, but they are drawn to each other. Meanwhile, in New Beijing, Cinder will become the Commonwealth's most wanted fugitive...

Stars Above written by Marissa Meyer performed by Rebecca Soler on MP3 CD (Unabridged)£19.99

The universe of the Lunar Chronicles holds stories – and secrets – that are wondrous, vicious and romantic. How did Cinder first arrive in New Beijing? How did the brooding soldier Wolf transform from young man to killer? When did Princess Winter and the palace guard Jacin realise their destinies?

The Complete Sherlock Holmes written by Arthur Conan Doyle performed by Simon Vance on MP3 CD (Unabridged)£7.28 £26.99

Winner of the 2014 Audie Award for Classics Sir Arthur Conan Doyle's Sherlock Holmes tales are rightly ranked among the seminal works of mystery and detective fiction. Included in this collection are all four full-length Holmes novels and more than forty short masterpiece.

The Duke's Children written by Anthony Trollope performed by Timothy West on MP3 CD (Unabridged)£19.99 - £24.99

The Duke's Children is the sixth and final audiobook in the Palliser series. Plantagenet Palliser, the Duke of Omnium and former Prime Minister of England, is widowed and wracked by grief. Struggling to adapt to life without his beloved Lady Glencora, he works hard to guide and support his three adult children.

The Eustace Diamonds written by Anthony Trollope performed by Timothy West on MP3 CD (Unabridged)£19.99 - £24.99

The third novel in Trollope's Palliser series, The Eustace Diamonds is a wonderfully absorbing blend of dark cynicism and humor. Before Sir Florian Eustace dies, he gives his beloved wife Lizzie a beautiful and expensive diamond necklace valued over £10,000.

The Fireman written by Joe Hill performed by Kate Mulgrew on MP3 CD (Unabridged)£9.99

Some flames burn too brightly to be extinguished. This exceptional new thriller from Joe Hill is essential reading for 2016 and perfect for fans of Justin Cronin's The Passage. In a world overtaken by a deadly and dramatic new virus, Harper is determined to live long enough to deliver her baby.

The Lords of Discipline written by Pat Conroy performed by Dan John Miller on CD (Unabridged)£24.99 - £29.99

This powerful and breathtaking novel is the story of four cadets who have become bloodbrothers. Together they will encounter the hell of hazing and the rabid, raunchy and dangerously secretive atmosphere of an arrogant and proud military institute. They will experience the violence.

The Man Called Cash - The Life, Love and Faith of an American Legend written by Steve Turner performed by Kris Kristofferson on CD (Abridged)£19.99

One of the most influential figures in American music and pop-culture, Johnny Cash is an icon to people of all ages. Steve Turner sifts the man from the legend and presents a picture of the often contradictory figure with unflinching honesty, getting close to the heart of the performer known ....

The Market Square written by Mrs Dora Saint as Miss Read performed by June Barrie on CD (Unabridged)£39.99

The first charming Caxley tale introduces the deep-rooted camaraderie between Septimus Howard, a calm and controlled man, and Bender North, a confident, successful but gruff ironmonger. Their argumentative sides often clash, displaying moments of fury and forgiveness with wonderful tenderness.

The Memorist - A Novel of Suspense written by M.J. Rose performed by Phil Gigante on CD (Unabridged)£19.99

When she receives a mysterious drawing, Meers Logan leaves the Phoenix Foundation, an institute dedicated to the recovery of past life memories, and journeys to Vienna to find a relic that is rumored to be a portal to the past.

The Nine Tailors written by Dorothy L. Sayers performed by Ian Carmichael on Cassette (Unabridged)£39.99

A Genius Performance by Ian Carmichael! Lord Peter, man about town and amateur sleuth, and his man Bunter, are drawn into a series of intriguing incidents after being stranded in a remote East Anglian village.

The Prime Minister written by Anthony Trollope performed by Timothy West on MP3 CD (Unabridged)£24.99

The Prime Minister is the fifth in Trollope's six-volume Palliser series. Despite his mysterious antecedents, an unscrupulous financial speculator, Ferdinand Lopez, aspires to marry into respectability and wealth and join the ranks of British society. One of the nineteenth century's most memorable....

The Spanish Bride written by Georgette Heyer performed by Alison Skilbeck on Cassette (Unabridged)£24.99

When Brigade-Major Harry Smith met the beautiful Juana María, an instant spark formed between the two fiery, energetic souls. The two fell deeply in love with one another from the first moment and the Spanish bride accompanied him throughout all his campaigns, where she rode freely among the troops.

The Voice of the Buddha written by Buddha and Manjusura performed by Kulananda, Anton Lesser and Sean Barrett on CD (Abridged)£19.99

The Dhammapada is the single most important extant Buddhist text. It is unquestionably 'the voice of the Buddha' where many of his key ideas are presented in a cogent verse form. It opens: 'All that we are is the result of what we have thought' and each of the 26 sections is clearly introduced. Naxos

Wicked - Witch written by Nancy Holder and Debbie Viguie performed by Cassandra Morris on CD (Unabridged)£19.99

Holly Cathers's world shatters when her parents are killed in a rafting accident. She is wrenched from her home in San Francisco and sent to Seattle to live with her aunt, Marie-Claire, and her twin cousins, Amanda and Nicole. But sorrow and grief soon give way to bewildered fascination as, one by one....

Winter written by Marissa Meyer performed by Rebecca Soler on MP3 CD (Unabridged)£19.99

Princess Winter is admired for her grace, kindness and beauty, despite the scars on her face. She's said to be even more breathtaking than her stepmother, Queen Levana ... When Winter develops feelings for the handsome palace guard, Jacin, she fears the evil Queen will crush their romance before...
---
---
---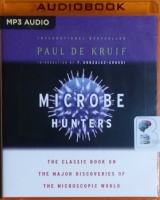 Microbe Hunters - The Classic Book on The Major Discoveries of the Microscopic World written by Paul De Kruif performed by Michael Quinlan on MP3 CD (Unabridged)£19.99
This science classic by Paul de Kruif chronicles the pioneering bacteriological work of the first scientists to see and learn from the microscopic world. Paul de Kruif's Microbe Hunters is a timeless dramatization of the scientists, bacteriologists, doctors, and medical technicians who discovered microbes and ...
---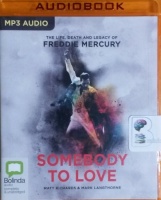 Somebody to Love - The Life, Death and Legacy of Freddie Mercury written by Matt Richards and Mark Langthorne performed by Tim Bruce on MP3 CD (Unabridged)£14.99
When Freddie Mercury died in 1991, aged just 45, the world was rocked by the vibrant and flamboyant star's tragic secret that he had been battling AIDS. The announcement of his diagnosis reached them less than 24-hours before his death, shocking his millions of fans, and fully opening the eyes of the world to...
---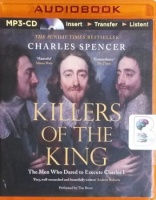 Killers of the King - The Men Who Dared to Execute Charles I written by Charles Spencer performed by Tim Bruce on MP3 CD (Unabridged)£14.99
January, 1649. After seven years of fighting in the bloodiest war in Britain's history, Parliament had overpowered King Charles I and now faced a problem: what to do with a defeated king, a king who refused to surrender?Parliamentarians resolved to do the unthinkable, to disregard the Divine Right of Kings ...
---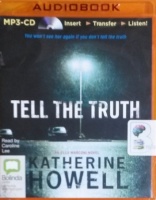 Tell the Truth written by Katherine Howell performed by Caroline Lee and on MP3 CD (Unabridged)£14.99
Detective Ella Marconi has her work cut out for her trying to unravel the lies surrounding her latest, thrilling case. Paramedic Stacey Durham has an idyllic life: her dream job, a beautiful house, and a devoted husband. Until her car is found abandoned and covered in her blood. Detective Ella Marconi knows...
---
---
---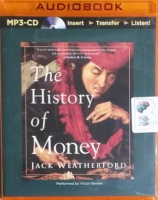 The History of Money written by Jack Weatherford performed by Victor Bevine and on MP3 CD (Unabridged)£24.99
From primitive man's cowrie shells to the electronic cash card, from the markets of Timbuktu to the New York Stock Exchange, The History of Money explores how money and the many forms of exchange have affected us, and how they will continue to shape all aspects of our lives - economic, political, and personal.
---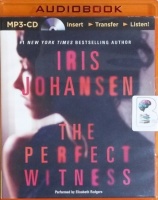 The Perfect Witness written by Iris Johansen performed by Elisabeth Rodgers on MP3 CD (Unabridged)£14.99
From the #1 New York Times bestselling author comes an explosive new thriller She had the perfect life. She had the perfect cover. She was the perfect witness. Until they found her. From the blockbuster bestselling author of the Eve Duncan novels comes a new, stand alone thriller about a woman with a...
---
---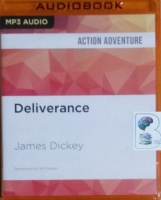 Deliverance written by James Dickey performed by Will Patton on MP3 CD (Unabridged)£14.99
The smash-hit best seller that inspired the acclaimed 1972 film starring Jon Voight, Burt Reynolds, Ned Beatty, and Ronny Cox is now available in unabridged audio for the very first time. The setting is the Georgia wilderness, where the state's most remote white-water river awaits. In the thundering froth of that...
---
---
---
---
---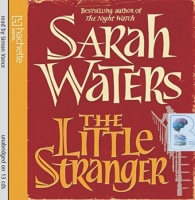 The Little Stranger written by Sarah Waters performed by Simon Vance on CD (Unabridged)£16.99 - £19.99
After her award-winning trilogy of Victorian novels, Sarah Waters turned to the 1940s and wrote THE NIGHT WATCH, a tender and tragic novel set against the backdrop of wartime Britain. Shortlisted for both the Orange and the Man Booker, it went straight to number one in the bestseller chart. In a dusty post-war...
---
---
---