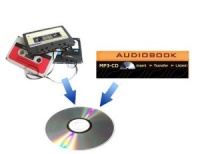 3 Hour Fixed Price Audio Transfer£15.00
This is the fixed price £15 item to be used when ordering conversion of a sub 3 hour Audio Cassette or MP3 CD title.
---
---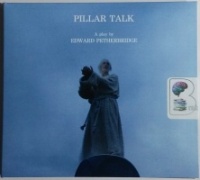 Pillar Talk - A Play written by Edward Petherbridge performed by Edward Petherbridge on CD (Unabridged)£14.99
Exclusive to Brainfood Audiobooks! Esteemed actor Edward (Nicholas Nickleby) Petherbridge uses the story of Symeon Stylites, the 5th century monk who lived on a pillar for thirty-six years, as a framework for an existential inquiry into imagination, belief, doubt, miracles and why one would live 'as I live.'
---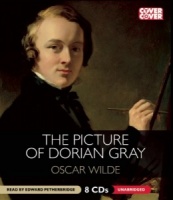 The Picture of Dorian Gray written by Oscar Wilde performed by Edward Petherbridge on CD (Unabridged)£29.99 - £34.99
A Genius Performance by Edward Petherbridge!
Dorian Gray is a child of his time. A young man who is only interested in appearances and, as the story continues, not so much about reality. He has a picture painted and makes a deal with the "devil" so that all the sins he commits are visited on the painting and not on him. This tale has something to say to every generation and is performed by the Genius that is Edward Petherbridge!
---
---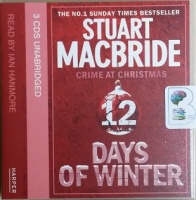 12 Days of Winter written by Stuart MacBride performed by Ian Hanmore on CD (Unabridged)£19.99 - £29.99
A collection of interlinked tales of crime and retribution laced with dark humour, set around the festive season – from the No. 1 bestseller Stuart MacBride
Thieves, drug dealers, lap-dancers, gangsters and even the odd good guy populate these twelve tales exploring the seedier side of life in North East Scotland.
---
---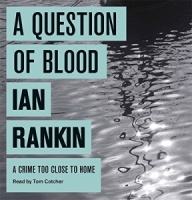 A Question of Blood written by Ian Rankin performed by Tom Cotcher on CD (Unabridged)£29.99
Two seventeen-year-olds are killed by an ex-Army loner who has gone off the rails. The mystery takes Rebus into the heart of a shattered community.
---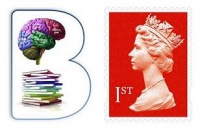 Additional Airmail Postage for Edward Petherbridges Gift to Austrilia£15.00
This is the Additional Postage charge for Edward Petherbridge's audiobook order as one item is required to be sent to Australia.
---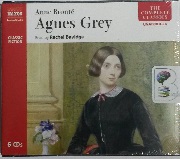 Agnes Grey written by Anne Bronte performed by Rachel Bavidge on CD (Unabridged)£24.99 - £29.99
For all those captivated by the trials of Jane Eyre, Anne Brontës heroine Agnes Grey is the ideal counterpoint. Agnes Grey is widely considered to be the best record of the precarious position of the governess in Victorian society, and the insolence, neglect and dependence that the gentle ....
---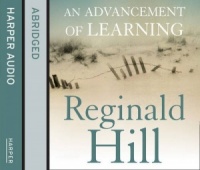 An Advancement of Learning written by Reginald Hill performed by Warren Clarke on CD (Abridged)£4.99 - £14.99
Lecturers having it away with students, witches' sabbaths on the sand dunes, a body buried under a statue in the gardens, and a fresh rash of killings.
---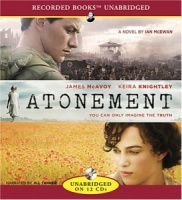 Atonement written by Ian McEwan performed by Jill Tanner on CD (Unabridged)£21.99
On the hottest day of the summer of 1934, thirteen-year-old Briony Tallis sees her sister Cecilia strip off her clothes and plunge into the fountain in the garden of their country house. Watching her is Robbie Turner, her childhood friend who, like Cecilia, has recently come down from Cambridge.
---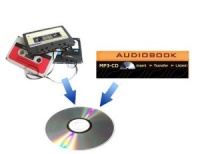 Audio Repair and Audio Transfer for Customers Own Tapes£35.00
Audio Repair and Audio Transfer of Customer Own Tapes
If you have a damaged audio tape that needs repairing and then transferring to Audio CD this is the service for you.
You should place an order for this item for each tape that requires repair and recording.
---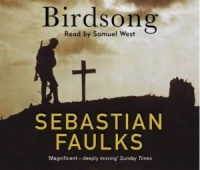 Birdsong written by Sebastian Faulks performed by Samuel West on CD (Abridged)£6.99 - £9.99
A Genius Performance by Samuel West!
Set before and during the Great War, Birdsong captures the drama of that era on both a national and a personal scale. It is the story of Stephen, a young Englishman, who arrives in Amiens in 1910.
---
---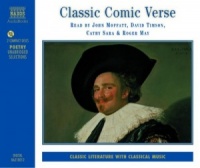 Classic Comic Verse written by Various Famous Poets performed by John Moffat, David Timson, Cathy Sara and Roger May on CD (Abridged)£4.99 - £6.99
Poetry by definition, achieves its effects by rhythm, sound patterns and imagery. One of the most popular areas of audiobooks -- spoken poetic form -- evokes emotions and sensations by bringing the voice of the poet to life in an appropriately intimate way, directly to the ear and mind of the listener.
---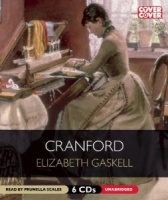 Cranford written by Elizabeth Gaskell performed by Prunella Scales on CD (Unabridged)£19.99
"I'll not listen to reason," she said, now in full possession of her voice, which had been rather choked with sobbing. "Reason always means what someone else has got to say."'
---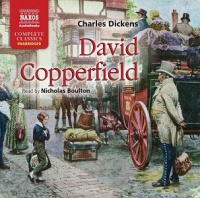 David Copperfield written by Charles Dickens performed by Nicholas Boulton on CD (Unabridged)£69.99
The intensely personal David Copperfield (widely regarded to be the most autobiographical of the authors novels) is one of Dickenss greatest works. We follow David Copperfield from birth and miserable childhood to inevitable tragedies, until he finally finds happiness later in life.
---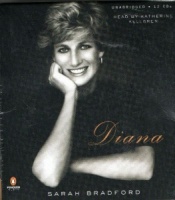 Diana written by Sarah Bradford performed by Katherine Kellgren on CD (Unabridged)£6.99
Sarah Bradford's Diana is a complex and explosive study of the greatest icon of the twentieth century. Glamour. Duty. Tragedy: The Woman Behind the Princess.
After more than a decade interviewing those closest to the Princess and her select circle, Sarah Bradford exposes the real Diana
---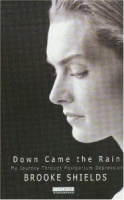 Down Came the Rain written by Brooke Shields performed by Brooke Shields on CD (Abridged)£4.99
When actress Brooke Shields gave birth to a beautiful baby daughter, Rowan, she felt like the luckiest woman in the world. But moments later, everything changed.
---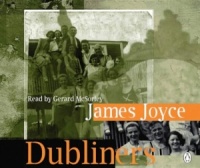 Dubliners written by James Joyce performed by Gerald McSorley on CD (Abridged)£5.99
In his first published work in prose, James Joyce paints vivid portraits of the people of Dublin, his city of birth, in a collection of stories whose larger purpose, he said, was to depict a "moral history of Ireland".
New In May 2018 Part 1
(in alphabetical order)
Alistair Cooke at the BBC written by Alistair Cooke performed by Alistair Cooke on CD (Abridged)£9.99

Alistair Cooke's biographer introduces a selection of archive recordings, including radio and television interviews and extracts from Letter From America, in a fascinating in-depth look at the career of the veteran journalist.

Best of Alexandre Dumas written by Alexandre Dumas performed by Jonathan Hyde and Tim Pigott-Smith on CD (Unabridged)£9.99

A Genius Performance by Tim Pigott-Smith!

This set includes: The Count of Monte-Cristo - Read by Tim Pigott-Smith and The Three Musketeers - Read by Jonathan Hyde

Blakes's 7 - The Early Years - Point of No Return and Eye of The Machine written by James Swallow and Ben Aaronovitch performed by Colin Salmon, Keeley Hawes, Craig Kelly and Geoffrey Palmer on CD (Abridged)£14.99

Avon: Eye of the Machine: Thirty years since the dramatic and shocking finale of the original series, we follow Kerr Avon back to the events which made him the man he was. The University of Oxford, 2230, and the campus is a hotbed of student protest as Roj Blake s Freedom Party seeks to sweep away..

Blue Smoke written by Nora Roberts performed by Joyce Bean on CD (Abridged)£19.99

The blaze that night at her family's pizzeria changed young Reena Hale's life in more ways than one. Neighbors and relatives would pull together to help the Hales get through the crisis and rebuild. The Baltimore authorities would arrest the arsonist responsible.

Born with Teeth - A Memoir written by Kate Mulgrew performed by Kate Mulgrew on CD (Unabridged)£29.99

At 22, Kate Mulgrew gave birth to a daughter. Having already signed the adoption papers, she was allowed only a fleeting glimpse of her child. Three days later, she returned to work as the star of a popular soap opera. Twenty years later, she went in search of the daughter she had given away.

Casting the First Stone written by Francis Fyfield performed by Sean Barrett on MP3 CD (Unabridged)£3.99 - £5.99

A Genius Performance by Sean Barrett!

A year after her husband's death, young widow and art collector Diana Porteous listlessly roams the beach near her home. Her friend and agent Saul takes action, introducing her to his stylish, anarchic sister, Sarah, to pep her up.

Cover Her Face written by P.D. James performed by Roy Marsden on Cassette (Unabridged)£9.99

As if organising St Cedd's church fete were not enough for Mrs Maxie, later that mellow July afternoon her son Stephen sprang the news of his engagement. By morning, Sally Julep, her new parlour-maid - unmarried mother and minor village scandal - was dead.

D is for Deadbeat written by Sue Grafton performed by Lorelei King on CD (Abridged)£9.99

'My name is Kinsey Millhone. I'm a private investigator . . . female, single and self-employed, with a constitutional inability to work for anyone else. I'm a purist when it comes to justice, but I'll lie at the drop of a hat. Inconsistency has never troubled me . . .'

Dancers in Mourning written by Margery Allingham performed by Francis Mathews on Cassette (Unabridged)£24.99

Everyone fell under the spell of Jimmy Sutane, the charming song-and-dance man. Everyone, that is, except the practical joker who put a pin in his stick of grease-paint and pasted 'Last Week' over the 'House Full' notices. But as soon as Albert Campion is called in to investigate, people begin to die.

E is for Evidence written by Sue Grafton performed by Lorelei King on CD (Abridged)£9.99

'Anyone who knows me will tell you that I cherish my unmarried state. I'm female, twice divorced, no kids and no close family ties. I'm perfectly content to do what I do...' It was two days after Christmas when Kinsey Millhone received the bank slip showing a credit for five thousand dollars.

Eleven on Top written by Janet Evanovich performed by Lorelei King on CD (Abridged)£9.99

Trouble seems to find Stephanie everywhere she goes, and once again she's struggling with her tangled love life, chaotic family, and her God-given gift for destroying every car she drives. This time, Plum has decided to quit her job as a bounty hunter. She's tired of creeps, weirdos and stalkers.

Faro's Daughter written by Georgette Heyer performed by Laura Paton on CD (Abridged)£11.99 - £19.99

Fiery, strong-willed Deb Grantham, who runs a gaming house with her aunt, is hardly the perfect wife for the young and naïve Lord Mablethorpe. His lordship's family are scandalised that he proposes to marry one of faro's daughters', and his cousin the proud, wealthy Max Ravenscar....

Henrietta Who? written by Catherine Aird performed by Robin Bailey on Cassette (Unabridged)£19.99

Life for Henrietta Jenkins was a quiet, well-ordered affair - a home with her widowed mother and degree studies at university. But her life changed dramatically when, just before her 21st birthday, her mother's body was found in a quiet road, apparently the victim of a hit-and-run driver.

Murder on the Orient Express written by Agatha Christie performed by Kenneth Branagh on CD (Unabridged)£14.99

Agatha Christie's most famous murder mystery, read by director and star of the hugely anticipated 2017 film adaptation, Kenneth Branagh. Just after midnight, a snowdrift stops the Orient Express in its tracks. The luxurious train is surprisingly full for the time of the year, but by the morning...

Northern Lights written by Nora Roberts performed by Gary Littman on CD (Abridged)£14.99

The town of Lunacy, Alaska, was Nate Burke's last chance. As a Baltimore cop, he'd watched his partner die on the street - and the guilt still haunts him. With nowhere else to go, he accepts the job as chief of police in this tiny, remote Alaskan town.

Passing Strange written by Catherine Aird performed by Bruce Montague on Cassette (Unabridged)£29.99

Things had gone wrong from the very beginning at the Almstone Flower Show, including a missing fortune teller. But events take a decidedly macabre turn when the fortune teller is found and Detective Inspector Sloan and Detective Constable Crosby arrive to investigate a murder...

S is for Silence written by Sue Grafton performed by Lorelei King on CD (Abridged)£9.99

The nineteenth novel in Sue Grafton's ever popular 'alphabet' series featuring PI Kinsey Millhone. Just after Independence Day in July 1953 Violet Sullivan, a local good time girl living in Serena Station Southern California, drives off in her brand new Chevy and is never seen again.

Scarpetta written by Patricia Cornwell performed by Lorelei King on CD (Unabridged)£19.99

A Genius Performance by Lorelei King!

Leaving behind her forensic pathology practice in South Carolina, Kay Scarpetta takes up an assignment in New York City, where the NYPD has asked her to examine an injured patient in a psychiatric ward. The handcuffed and chained patient, Oscar Bane, has specifically asked for her, and when she literally has her gloved hands on him, he begins to talk - and the story he has to tell turns out to be one of the most bizarre she has ever heard.

Sly Moves written by Sylvester Stallone performed by Robb Webb on CD (Unabridged)£11.99 - £14.99

Are you ready to be a contender? Sylvester Stallone's action–oriented program for getting fit and eating right is also a revealing portrait of one of Hollywood's biggest stars. Sly Moves is more than just a handbook on fitness and nutrition.

Sylvester written by Georgette Heyer performed by Richard Armitage on CD (Abridged)£9.99

When Sylvester, the Duke of Salford, first meets Phoebe Marlow, he finds her dull and insipid. She finds him insufferably arrogant. But when a series of unforeseen events leads them to be stranded together in a lonely country inn, they are both forced to reassess their hastily formed opinions....

T is for Trespass written by Sue Grafton performed by Lorelei King on CD (Abridged)£9.99

It was like being in the presence of a snake, first hissing its presence and then coiled in readiness. I didn't dare turn my back or take my eyes off of her. I stood very still. I let go of my fight-or-flight defense and decided to play dead. If you run from a bear, it gives chase. That's the nature of the beast.

The Crime at Black Dudley written by Margery Allingham performed by Francis Mathews on Cassette (Unabridged)£19.99

Murder turns a weekend house party at Black Dudley Manor into a deadly affair when the host is discovered brutally slain. Nor do gruesome rituals, callous interrogations, and perilous traps add to the fun. Fatal mystification might win the day, if Albert Campion were not there to sift through...

The Grand Sophy written by Georgette Heyer performed by Clare Wille on CD (Abridged)£14.99

Resourceful, adventurous and utterly indefatigable, Sophy is hardly the mild-mannered girl that the Rivenhalls expect when they agree to take her in. Kind-hearted Aunt Lizzy is shocked; stern Cousin Charles and his humourless fiancée Eugenia are disapproving.

The Killings at Badger's Drift written by Caroline Graham performed by Hugh Ross on Cassette (Unabridged)£19.99

Badger's Drift is a tranquil English village, home to Miss Emily Simpson, a kindly, well-liked spinster. When she is murdered, Detective Chief Inspector Barnaby is called in to investigate, and soon uncovers a dark side to Badger's Drift.

The Pickwick Papers written by Charles Dickens performed by David Timson on MP3 CD (Unabridged)£19.99

In The Pickwick Papers, his first novel, Dickens displays the talents and skills that became his trademark; observational humour, pathos and social comment abound as we follow Mr Pickwick and Sam Weller, his sharp-tongued cockney servant, travelling around England with his friends....

The Reef written by Nora Roberts performed by Sandra Burr on CD (Abridged)£14.99

The Reef is the story of Tate Beaumont, a beautiful young student of marine archeology - and of Matthew Lassiter, a sea-scarred young man who shares her dream of finding Anguelique's Curse, the jewelled amulet surrounded by legend and said to be long lost at the bottom of the sea.

The Saint - The Golden Days of Radio Drama written by Leslie Charteris performed by Vincent Price on Cassette (Abridged)£9.99

Billed in 1945 as a "Robin Hood of modern crime", Vincent Price recreates the role of freelance sleuth, Simon Templar.

The Tail of Emily Windsnap written by Liz Kessler performed by Teresa Gallagher on CD (Abridged)£9.99

Emily Windsnap lives on a boat, but her mother has always been oddly anxious to keep her out of the water. It is only when Emily has her first school swimming lesson that she discovers why: as soon as she gets into the water, she grows a tail! Soon Emily discovers a glorious underwater...

Theodore Boone - Half the Man, Twice the Lawyer written by John Grisham performed by Richard Thomas on CD (Unabridged)£14.99

Theodore Boone is 13 and wants nothing more than to swap homeroom for the courtroom; he lives for big trials. Now the biggest murder case in his city's history is set to begin. In the packed court, a husband awaits trial for his wife's murder. Is he a dangerous criminal or an innocent victim?

War Child written by Emmanuel Jal performed by Ademola Adeyemo on CD (Unabridged)£9.99

Describes the harrowing youth of Emannuel Jal, who was conscripted at the age of seven into the Christian Sudanese Liberation Army and who as a young man rose to become a hip-hop music star in Kenya and a spokesperson for Amnesty International.

Wild Swans - Three Daughters of China written by Jung Chang performed by Anna Massey on CD (Abridged)£6.99 - £9.99

The publication of Wild Swans in 1991 was a worldwide phenomenon. Not only did it become the best-selling non-fiction book in British publishing history, with sales of well over two million, it was received with unanimous critical acclaim, and was named the winner of the 1993 British Book of the Year Award.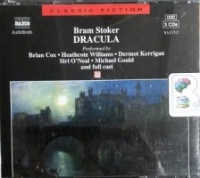 Dracula written by Bran Stoker performed by Brian Cox, Heathcote Williams, Dermot Kerrigan and Full Cast on CD (Abridged)£14.99
"Dracula" is an 1897 Gothic horror novel by Irish author Bram Stoker. Famous for introducing the character of the vampire Count Dracula, the novel tells the story of Dracula's attempt to move from Transylvania to England so he may find new blood and spread undead curse, and the battle between...
---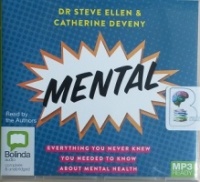 Mental - Everything you Never Knew, you needed to know, about Mental Health written by Dr Steve Ellen and Catherine Deveny performed by Dr Steve Ellen and Catherne Deveny on MP3 CD (Unabridged)£19.99
Psychiatrist Dr Steve Ellen and comedian Catherine Deveny combine forces to demystify the world of mental health. Providing an insider perspective, they share their personal experiences of mental illness and unpack the current knowledge about conditions and treatments. What do we know?
---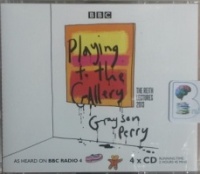 Playing to the Gallery - The Reith Lectures 2013 written by Grayson Perry performed by Grayson Perry on CD (Abridged)£19.99
Turner Prize-winning artist Grayson Perry gives the 2013 Reith Lectures, presented by Sue Lawley. Marcel Duchamp famously declared that a urinal was a work of art. It sometimes seems that anything qualifies, from a pile of sweets on a gallery floor to an Oscar-winning actress asleep in a box.
---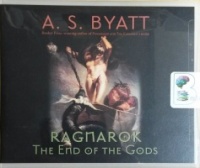 Ragnarok - The End of the Gods written by A.S. Byatt performed by Harriet Walter on CD (Unabridged)£19.99
"Ragnarok" retells the finale of Norse mythology. A story of the destruction of life on this planet and the end of the gods themselves. Just as Wagner used this dramatic and catastrophic struggle for the climax of his Ring Cycle, so A.S. Byatt now reinvents it in all its intensity and glory.
---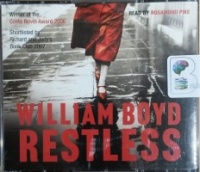 Restless written by William Boyd performed by Rosamund Pike on CD (Abridged)£9.99
Eva Delectorskaya,' I said mystified. ' Who's that?' 'Me,' she said. 'I am Eva Delectorskaya.' What happens to your life when everything you thought you knew about your mother turns out to be an elaborate lie? During the long, hot summer of 1976, Ruth Gilmartin discovers that her very English mother...
---
---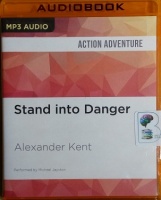 Stand into Danger written by Alexander Kent performed by Michael Jayston on MP3 CD (Unabridged)£19.99
Despatched on a secret mission, the company of a 28-gun frigate must face the hazards of conspiracy, treason, and piracy. And recently appointed third lieutenant Richard Bolitho must learn to accept his new responsibilities as a King's officer.
---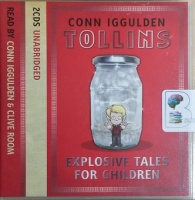 Tollins - Explosive Tales for Children written by Conn Iggulden performed by Conn Iggulden and Clive Room on CD (Unabridged)£9.99
"Tollins are not fairies. Though they both have wings, fairies are delicate creatures and much smaller. Tollins are also a lot less fragile than fairies. In fact, the word 'fragile' can't really be used about them at all. They are about as fragile as a housebrick..." In these three tales, Conn Iggulden introduces...
---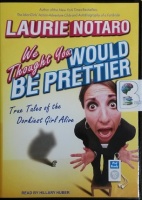 We Thought You Would be Prettier - True Tales of the Dorkiest Girl Alive written by Laurie Notaro performed by Hillary Huber on MP3 CD (Unabridged)£19.99
She thought she'd have more time. Laurie Notaro figured she had at least a few good years yet. But no-it's happened. She has officially lost her marbles. From the kid at the pet-food store checkout line whose coif is so bizarre it makes her seethe "I'm going to kick his hair's ass" to the hapless Sears...
---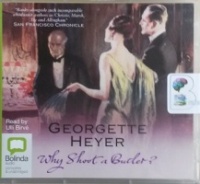 Why Shoot a Butler? written by Georgette Heyer performed by Ulli Birve on CD (Unabridged)£24.99
On a dark night, along a lonely country road, barrister Frank Amberley stops to help a young lady in distress and discovers a sports car with a corpse behind the wheel. The girl protests her innocence, and Amberley believes her – at least until he gets drawn into the mystery and the clues...
---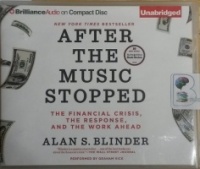 After The Music Stopped - The Financial Crisis, The Response, And the Work Ahead written by Alan S. Blinder performed by Graham Vick on CD (Unabridged)£19.99
Named one of the 10 best books of 2013 by Michiko Kakutani and the New York Times Book Review Alan S. Blinder - esteemed Princeton professor, Wall Street Journal columnist, and former vice chairman of the Federal Reserve Board under Alan Greenspan - is one of our wisest and most...
---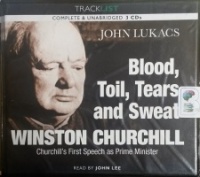 Blood, Toil, Tears and Sweat - Winston Churchill's First Speech as Prime Minister written by John Lukacs performed by John Lee on CD (Unabridged)£19.99
On 13 May 1940, Winston Churchill stood before the House of Parliament to deliver his first speech as prime minister. German troops were advancing across Europe Neville Chamberlain's government had fallen three days earlier. Churchill needed to prove himself an able leader, and he also needed...
---
---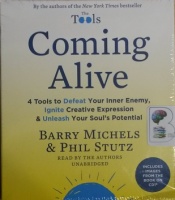 Coming Alive - The Tools - 4 Tools to Defeat Your Inner Enemy written by Barry Michels and Phil Stutz performed by Barry Michels and Phil Stutz on CD (Unabridged)£19.99
Tap into the life force to deepen your emotional and spiritual experience and realize your full potential with this transformative book by the New York Times bestselling authors of The Tools (and the resident shrinks on Goop). In The Tools, Barry Michels and Phil Stutz revolutionized the world ...
---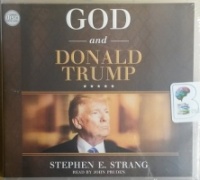 God and Donald Trump written by Stephen E. Strang performed by John Pruden on CD (Unabridged)£19.99
With pundits asking, "How did he win?" this book explores whether there was a supernatural element involved. Christian leaders prophesied before the election that God had raised up Donald Trump to lead the nation through a time of crisis. But could this billionaire reality-TV star actually convince...
---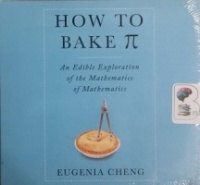 How to Bake Pi written by Eugenia Cheng performed by Tavia Gilbert on CD (Unabridged)£24.99
What is math? And how exactly does it work? In How to Bake Pi, math professor Eugenia Cheng provides and accessible introduction to the logic of mathematics-sprinkled throughout with recipes for everything from crispy duck to cornbread-that illustrates to the general listener the beauty of math.
---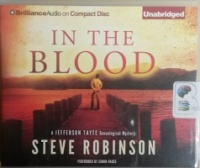 In The Blood - A Jefferson Tayte Genealogical Mystery written by Steve Robinson performed by Simon Vance on CD (Unabridged)£14.99
Two hundred years ago a loyalist family fled to England to escape the American War of Independence and seemingly vanished into thin air. American genealogist Jefferson Tayte is hired to find out what happened, but it soon becomes apparent that a calculated killer is out to stop him.
---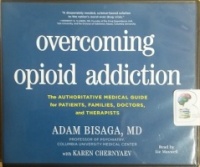 Overcoming Opioid Addiction - The Authoritative Medical Guide for Patients, Families, Doctors and Therapists written by Adam Bisaga MD with Karen Chernyaev performed by Liz Maxwell on CD (Unabridged)£39.99
Drug overdoses are now the leading cause of death for Americans un­der the age of 50, claiming more lives than the AIDS epidemic did at its peak. Opioid abuse accounts for two-thirds of these overdoses, with over 100 Americans dying from opioid overdoses every day. Now Overcoming Opioid Addiction
---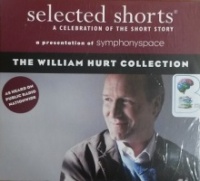 Selected Shorts - The William Hurt Collection written by Various Short Story Authors performed by William Hurt on CD (Unabridged)£9.99
Recorded live at the Peter Norton Symphony Space in New York City and at venues across the United States, these audio anthologies feature short stories from the Selected Shorts program that airs nationwide. More than 300,000 listeners tune in to this offering weekly to hear some of their favorite...