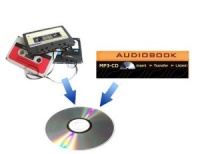 3 Hour Fixed Price Audio Transfer£15.00
This is the fixed price £15 item to be used when ordering conversion of a sub 3 hour Audio Cassette or MP3 CD title.
---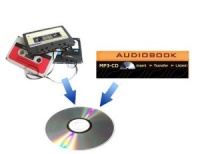 Large Fixed Price Audio Transfer Service£35.00
This is the fixed price £35.00 item to be used when ordering conversion of a 6-9 hour Audio Cassette or MP3 CD title.
---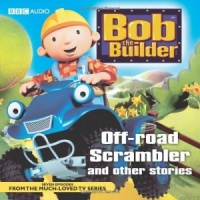 Bob the Builder - Off-Road Scrambler written by Bob the Builder Team performed by Bob the Builder Team on CD (Unabridged)£2.99
This title includes seven episodes from the hugely popular series featuring Bob the Builder, Roley, Lofty, Dizzy, Scoop, Muck and Spud - as seen on BBC TV.
---
---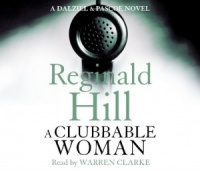 A Clubbable Woman written by Reginald Hill performed by Warren Clarke on CD (Abridged)£9.99 - £11.99
Reginald Hill's first Dalziel and Pascoe novel.
When Connon got back from the Rugby Club, his wife was even more uncommunicative than usual. Five hours later, when she still hadn't moved, Connon noticed that the front of her head had been caved in.
---
---
---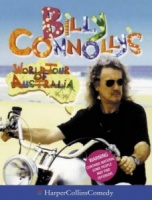 Billy Connolly's World Tour of Australia written by Billy Connolly performed by Billy Connolly on CD (Abridged)£7.99
Travelling by plane, motorbike, boat and foot, Billy Connolly tours the country performing his stage show and delivers and individual commentary on all things Australian.
---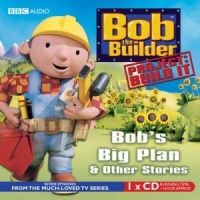 Bob the Builder - Bob's Big Plan written by Bob the Builder Team performed by Bob the Builder Team on CD (Unabridged)£11.99
You'll love these great new stories about "Bob the Builder" and his friends! In "Bob's Big Plan", a special extended episode, Bob hears that Sunflower Valley, where he and his brother Tom used to camp, is being developed.
---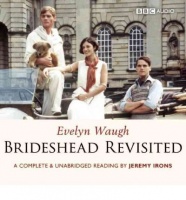 Brideshead Revisited written by Evelyn Waugh performed by Jeremy Irons on CD (Unabridged)£39.99 - £49.99
Brideshead Revisited is Evelyn Waugh's stunning novel of duty and desire set amongst the decadent, faded glory of the English aristocracy in the run-up to the Second World War.
Performed brilliantly by Jeremy Irons
---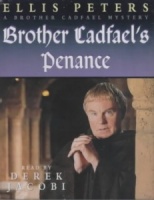 Brother Cadfael's Penance written by Ellis Peters performed by Derek Jacobi on Cassette (Abridged)£4.99
A Genius Performance by Derek Jacobi!
'And in this year of our Lord, 1145, now drawing to its close, chaotic events had seemed to be offering promise, however faint as yet, that even the two cousins battling wearily for the throne must despair of force and look around for another way of settling disputes.'
---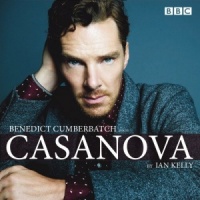 Casanova written by Ian Kelly performed by Benedict Cumberbatch on CD (Abridged)£9.99
Benedict Cumberbatch reads Ian Kelly's biography of one of the most beguiling and controversial individuals of any age.
---
---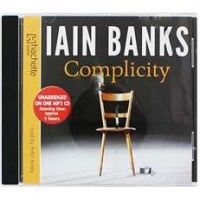 Complicity written by Iain Banks performed by Peter Kenny on MP3 CD (Unabridged)£4.99
An exploration of the morality of greed, corruption and violence. When several prominent people die mysteriously, the police beat a path to the door of an Edinburgh journalist known for his drug abuse and total commitment to computer games.
New In March 2019 Part 6
(in alphabetical order)
Another Kind of Madness - A Journey Through the Stigma and Hope of Mental Illness written by Stepehen P. Hinshaw performed by Sean Pratt on MP3 CD (Unabridged)£24.99

Families are riddled with untold secrets. But Stephen Hinshaw never imagined that a profound secret was kept under lock and key for eighteen years within his family-that his father's mysterious absences, for months at a time, resulted from serious mental illness and involuntary hospitalizations.

Bookshots - Killer Chef written by James Patterson performed by Ari Fliakos on CD (Unabridged)£4.99

Eat, drink and be murdered.

Someone is poisoning diners in New Orleans' best restaurants. Now it's up to chef and homicide cop Caleb Rooney to catch a killer set on revenge – a dish best served cold.

Bookshots Cross Kill written by James Patterson performed by Ruben Santiago Hudson on CD (Unabridged)£4.99

ALEX CROSS, I'm coming for you – even from the grave if I have to. Along Came a Spider killer Gary Soneji has been dead for over ten years. Alex Cross watched him die. But today, Cross saw him gun down his partner. Is Soneji alive? A ghost? Or something even more sinister?

Cell written by Robin Cook performed by George Guidall on CD (Unabridged)£29.99

The New York Times–bestselling author and master of the medical thriller returns with a top-notch fusion of groundbreaking medical science and edge-of-your-seat suspense. George Wilson, M.D., a radiology resident in Los Angeles, is about to enter a profession on the brink of an enormous paradigm shift ...

Code of Conduct written by Brad Thor performed by Armand Schultz on CD (Abridged)£19.99

"Thor tops himself again and again." (BookReporter.com) "Feels like the TV show 24 on the page." (The Associated Press) Includes an extended behind-the-scenes conversation with author Brad Thor and narrator Armand Schultz. Number-one New York Times best-selling author Brad Thor presents his greatest...

Egypt, Greece and Rome written by Charles Freeman performed by Jim Meskimen on MP3 CD (Unabridged)£29.99

Long sources of mystery, imagination, and inspiration, the myths and history of the ancient Mediterranean have given rise to artistic, religious, cultural, and intellectual traditions that span the centuries. In this unique and comprehensive introduction to the region's three major civilizations, Egypt, Greece ...

Emma written by Jane Austen performed by Jenny Agutter on CD (Unabridged)£24.99

Emma Woodhouse is one of Austen's most captivating and vivid characters. Beautiful, spoiled, vain, and irrepressibly witty, Emma organizes the lives of the inhabitants of her sleepy little village, but her attempts at matchmaking lead to misunderstandings and potential heartbreak. Only her friend and ...

Feeling Good Together - The Secret to Making Troubled Relationships Work written by David D. Burns MD performed by Alan Sklar on MP3 CD (Unabridged)£29.99

We all have people in our lives that we just can't seem to get along with. Whether it's our spouse, co-worker or neighbour, something about the relationship just rubs us up the wrong way, and though our natural instinct is to blame the other person, that can just make things worse. In Feeling Good Together...

Ghost Light written by Joseph O'Connor performed by Marcella Riordan on CD (Unabridged)£14.99 - £19.99

Dublin 1907, a city of whispered rumours. An actress still in her teens begins an affair with a damaged older man, the leading playwright at the theatre where she works. Rebellious, irreverent, beautiful, flirtatious, Molly Allgood is a girl of the inner city tenements, dreaming of stardom in America. Witty and ...

Listen Up or Lose Out written by Robert Bolton and Dorothy Grover Bolton performed by Patrick Lawlor on MP3 CD (Unabridged)£11.99

Want better results? Talk less and listen more. Listening might seem like the easiest thing in the world to do. But most people retain only a fraction of what they hear, resulting in miscommunications and lost opportunities. When you actively listen, you learn to gather perspectives, bridge differences, and ...

Mind Wide Open - Your Brain and the Neuroscience of Everyday Life written by Steven Johnson performed by Alan Sklar on MP3 CD (Unabridged)£29.99

In this nationally bestselling, compulsively readable account of what makes brain science a vital component of people's quest to know themselves, acclaimed science writer Steven Johnson subjects his own brain to a battery of tests to find out what's really going on inside. He asks: How do we "read" other people?

My Michael written by Amos Oz performed by Lisa Flanagan on CD (Unabridged)£29.99

One of Amos Oz's earliest and most famous novels, My Michael was a sensation upon its initial publication in 1968 and established Oz as a writer of international acclaim. Like all great books, it has an enduring power to surprise and mesmerize. Set in 1950s Jerusalem, My Michael is the story of a...

Naked Prey written by John Sandford performed by Eric Conger on CD (Abridged)£19.99

A Lucas Davenport thriller by internationally bestselling novelist John Sandford Two bodies are found hanging from a tree in the woods of Northern Minnesota. 'Lynching' is the word everybody is trying not to say. But when the bodies are those of a black man and white woman, it's hard to see how it ...

Reader, Come Home - The Reading Brain in a Digital World written by Maryanne Wolf performed by Kirsten Potter on MP3 CD (Unabridged)£19.99

From the author of Proust and the Squid, a lively, ambitious, and deeply informative epistolary book that considers the future of the reading brain and our capacity for critical thinking, empathy, and reflection as we become increasingly dependent on digital technologies. A decade ago, Maryanne Wolf's...

Rizzoli & Isles - Books 10 and 11 - Last to Die and Die Again written by Tess Gerritsen performed by Tanya Eby on MP3 CD (Unabridged)£14.99

LAST TO DIE For the second time in his short life, Teddy Clock has survived a massacre. Two years ago, he barely escaped when his entire family was slaughtered. Now, at fourteen, in a hideous echo of the past, Teddy is the lone survivor of his foster family's mass murder. DIE AGAIN When Boston ...

Room written by Emma Donoghue performed by Michael Friedman, Ellen Archer, Suzanne Toren and Robert Petkoff on CD (Unabridged)£8.99 - £19.99

It's Jack's birthday, and he's excited about turning five. Jack lives with his Ma in Room, which has a locked door and a skylight, and measures 11 feet by 11 feet. He loves watching TV, and the cartoon characters he calls friends, but he knows that nothing he sees on screen is truly real ...

The Host written by Stephenie Meyer performed by Kate Reading on CD (Unabridged)£9.99

From the #1 bestselling author of the Twilight saga and The Chemist, a gripping story of love and betrayal at the end of the world. Melanie Stryder refuses to fade away. The earth has been invaded by a species that take over the minds of their human hosts while leaving their bodies intact, and most of humanity...

The Lion written by Nelson DeMille performed by Scott Brick on CD (Abridged)£14.99

In this eagerly awaited follow-up to The Lion's Game, John Corey, former NYPD Homicide detective and special agent for the Anti-Terrorist Task Force, is back. And, unfortunately for Corey, so is Asad Khalil, the notorious Libyan terrorist otherwise known as "The Lion." Last we heard from him, Khali had claimed to...

The Old Curiosity Shop written by Charles Dickens performed by Anton Lesser on CD (Abridged)£24.99

The Old Curiosity Shop follows the story of Little Nell who lives with her grandfather in his magical shop of curiosities in London. Her grandfather's attempts to secure an inheritance for Nell lead them into financial trouble with the evil dwarf Quilp. Nell manages to flee and lead her grandfather to safety...

The Poet written by Michael Connelly performed by Buck Schirner on CD (Abridged)£4.99

The apparent suicide of his policeman brother sets Denver crime reporter Jack McEvoy on edge. Surprise at the circumstances of his brother's death prompts Jack to look into a whole series of police suicides and puts him on the trail of a cop-killer whose victims are selected all too carefully.

The Sunborn written by Gregory Benford performed by Gabrielle De Cuir, Richard Gilliland, Susan Hanfield and Stefan Rudnicki on CD (Unabridged)£19.99 - £24.99

The award-winning author of Timescape and Eater returns with a gripping new novel set in the same dynamic future as his wildly popular The Martian Race. Their historic mission to Mars made Julia and Victor the most famous astronauts of all time. Now, decades later, they are ordered by the Consortium to Pluto..

The Telling Room - A Tale of Love, Betrayal, Revenge and the World's Greatest Piece of Cheese written by Michael Paterniti performed by L.J. Ganser on CD (Unabridged)£14.99

In the picturesque village of Guzmán, Spain, in a cave dug into a hillside on the edge of town, an ancient door leads to a cramped limestone chamber known as "the telling room". Containing nothing but a wooden table and two benches, this is where villagers have gathered for centuries to...

The Trial - Women's Murder Club written by James Patterson with Maxine Paetro performed by January LaVoy on CD (Unabridged)£4.99

"I'm not on trial. San Francisco is." An accused murderer called Kingfisher is about to go on trial for his life. Or is he? By unleashing unexpected violence on the lawyers, jurors, and police involved in the case, he has paralyzed the city. Detective Lindsay Boxer and the Women's Murder Club are caught...

Two Little Girls in Blue written by Mary Higgins Clark performed by Jan Maxwell on CD (Abridged)£4.99

Margaret and Steve Frawley celebrate the third birthday of their twin girls, Kelly and Kathy, with an afternoon party in their new home. That evening, Steve and Margaret attend a black-tie dinner in New York. On returning home, the police are in the house, the babysitter has been found unconscious, the children

Warming the Stone Child - Myths and Stories about Abandonment and the Unmothered Child written by Clarissa Pinkola Estes PhD performed by Clarissa Pinkola Estes PhD on CD (Unabridged)£19.99

Healing for the - Unmothered Child - The pain of abandonment, both real and metaphorical, can cast a shadow over our entire adult experience. Warming the Stone Child investigates the abandoned child archetype in world myths and cultures to find clues about the process of healing the unmothered child...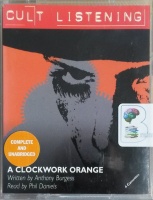 A Clockwork Orange written by Anthony Burgess performed by Phil Daniels on Cassette (Unabridged)£9.99
In this 1962 classic, a novelistic exploration of modern crime and punishment, Alex is the 15-year-old leader of his gang of "droogs" thriving in the ultraviolent future, as prophetically imagined by Burgess. Speaking a bizarre Russian-derived slang, Alex and his friends freely pillage and slash their way across...
---
---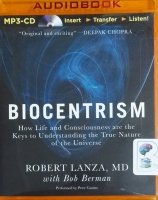 Biocentrism - How Life and Consciousness are the Keys to Understanding the True nature of the Universe written by Robert Lanza MD performed by Peter Ganim on MP3 CD (Unabridged)£19.99
Every now and then, a simple yet radical idea shakes the very foundations of knowledge. The startling discovery that the world was not flat challenged and ultimately changed the way people perceived themselves and their relationships with the world. For most humans of the 15th century, the notion of Earth...
---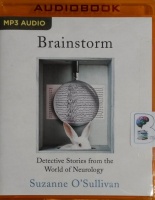 Brainstorm - Detective Stories from the World of Neurology written by Suzanne O'Sullivan performed by Christine Williams on MP3 CD (Unabridged)£19.99
The Brain Always Wins is the practical guide to improving your life through better brain management. It is based on one simple fact: our brain controls and determines everything we do! How we perceive, understand and respond to the world, how we survive, adapt and communicate, how we learn and...
---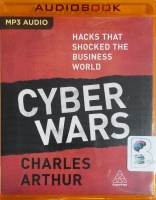 Cyber Wars - Hacks the Shocked the Business World written by Charles Arthur performed by Joe Jameson on MP3 CD (Unabridged)£19.99
Cyber Wars gives you the dramatic inside stories of some of the world's biggest cyber attacks. These are the game-changing hacks that make organisations around the world tremble and leaders stop and consider just how safe they really are. Charles Arthur provides a gripping account of why each hack...
---
---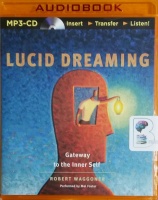 Lucid Dreaming - Gateway to the Inner Self written by Robert Waggoner performed by Mel Foster on MP3 CD (Unabridged)£19.99
Lucid Dreaming: Gateway to the Inner Self is the account of an extraordinarily talented lucid dreamer who goes beyond the boundaries of both psychology and religion. In the process, he stumbles upon the Inner Self. While lucid (consciously aware) in the dream state and able to act and interact with dream...
---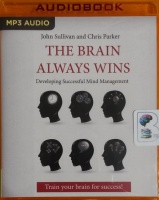 The Brain Always Wins written by John Sullivan and Chris Parker performed by Luke Mullins on MP3 CD (Unabridged)£19.99
The Brain Always Wins is the practical guide to improving your life through better brain management. It is based on one simple fact: our brain controls and determines everything we do! How we perceive, understand and respond to the world, how we survive, adapt and communicate, how we learn...
---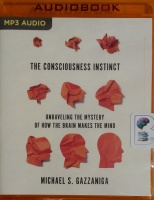 The Consciousness Instinct - Unraveling The Mystery of How The Brain Makes the Mind written by Michael S. Gazzaniga performed by David Colacci on MP3 CD (Unabridged)£19.99
"The father of cognitive neuroscience" illuminates the past, present, and future of the mind-brain problem How do neurons turn into minds? How does physical "stuff" - atoms, molecules, chemicals, and cells - create the vivid and various worlds inside our heads? The problem of consciousness has gnawed...
---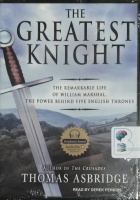 The Greatest Knight written by Thomas Asbridge performed by Derek Perkins on MP3 CD (Unabridged)£29.99
In The Greatest Knight, renowned historian Thomas Asbridge draws upon the thirteenth-century biography and an array of other contemporary evidence to present a compelling account of William Marshal's life and times. Asbridge charts the unparalleled rise to prominence of a man bound to a code of honor...
---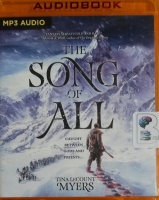 The Song of All written by Tina LeCount Myers performed by Ulf Bjorklund on MP3 CD (Unabridged)£14.99
A former warrior caught between gods and priests must fight for the survival of his family in this dark epic fantasy debut, set in a harsh arctic world inspired by Scandinavian indigenous cultures. On the forbidding fringes of the tundra, where years are marked by seasons of snow, humans war with immortals in...
---
---
X Minus One Vol. 1 - 12 Half Hour Original Radio Broadcasts written by Various Great Sci-Fi Authors performed by Karl Weber, Bob Hastings, Leon Janney and Mandel Kramer on MP3 CD (Unabridged)£24.99
X Minus One, widely regarded as one of the finest science fiction dramas ever produced for radio, was broadcast on NBC from 1955 until 1958. It began as a revival of NBC's Dimension X, which ran for just a year and a half, from 1950 to 1951. Though the first 15 episodes of X Minus One were merely new versions..