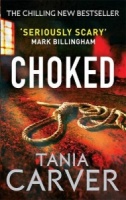 Choked written by Tania Carver performed by Martyn Waites on CD (Abridged)£4.99 - £9.99
'I have something you've lost,' the voice said. 'Your daughter.' He will threaten her. The honeymoon is over for newlywed criminologist Marina Esposito. Her house is in flames. Her cop husband is in a coma. Her baby daughter is missing. And then her phone rings . . .
---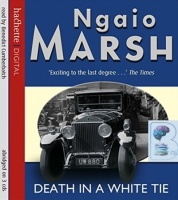 Death in a White Tie written by Ngaio Marsh performed by Benedict Cumberbatch on CD (Abridged)£14.99
A Benedict Cumberbatch Genius Performance!
The season had begun. Débutantes and chaperones were planning their luncheons, teas, dinners, balls. And the blackmailer was planning his strategies, stalking his next victim.
---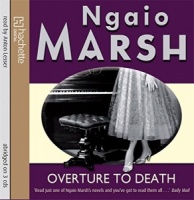 Overture to Death written by Ngaio Marsh performed by Anton Lesser on CD (Abridged)£7.99 - £8.99
A Genius Performance by Anton Lesser!
Inspector Alleyn gets involved when the piano, played by the victim, Miss Campanula, appears to trigger the murdering shot. It was supposed to accompany a play in aid of the piano fund but it has ended with murder. But who loaded the gun and how can Alleyn find him out?
---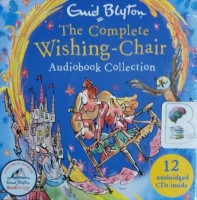 The Complete Wishing-Chair Collection written by Enid Blyton performed by Sarah Ovens on CD (Unabridged)£39.99
Mollie and Peter come across a chair that can fly and grant wishes while out looking for their mother's birthday present and it's not long until they are whisked away to faraway lands and meeting pixies and even Santa Claus!
---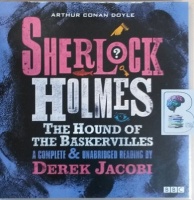 The Hound of the Baskervilles written by Arthur Conan Doyle performed by Derek Jacobi on CD (Unabridged)£19.99 - £24.99
When a country doctor comes to Sherlock Holmes with a far-fetched tale of a sudden death, a devil dog and an ancient curse, Holmes is sceptical. Could the demise of Sir Charles Baskerville really have been caused by the gigantic ghostly hound which is said to have haunted his family for generations?
---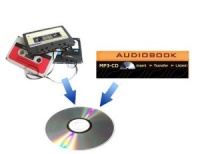 3 Hour Fixed Price Audio Transfer£15.00
This is the fixed price £15 item to be used when ordering conversion of a sub 3 hour Audio Cassette or MP3 CD title.
---
---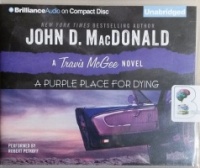 A Purple Place for Dying - A Travis McGee novel written by John D. MacDonald performed by Robert Petkoff on CD (Unabridged)£9.99
John D. MacDonald created a staggering quantity of wonderful books, each rich with characterization, suspense, and an almost intoxicating sense of place. Jonathan Kellerman Travis McGee is taking his retirement in installments while he's still young enough to enjoy it. But sooner or later, his money runs...
---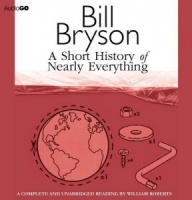 A Short History of Nearly Everything written by Bill Bryson performed by William Roberts on CD (Unabridged)£24.99 - £29.99
In A Short History of Nearly Everything, beloved author Bill Bryson confronts his greatest challenge yet: to understand—and, if possible, answer—the oldest, biggest questions we have posed about the universe and ourselves.
---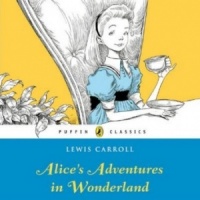 Alice's Adventures in Wonderland written by Lewis Carroll performed by Susan Jameson and James Saxon on CD (Abridged)£5.99
On an ordinary summer's afternoon, Alice tumbles down a hole and an extraordinary adventure begins.
In a strange world with even stranger characters, she meets a rabbit with a pocket watch, joins a Mad Hatter's Tea Party, and plays croquet with the Queen! Lost in this fantasy land, Alice finds herself growing more and more curious by the minute . . .
---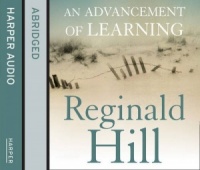 An Advancement of Learning written by Reginald Hill performed by Warren Clarke on CD (Abridged)£4.99 - £14.99
Lecturers having it away with students, witches' sabbaths on the sand dunes, a body buried under a statue in the gardens, and a fresh rash of killings.
---
---
---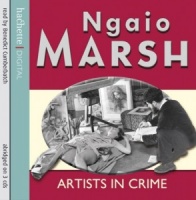 Artists in Crime written by Ngaio Marsh performed by Benedict Cumberbatch on CD (Abridged)£7.99 - £12.99
A Benedict Cumberbatch Genius Performance!
It started as a student exercise, the knife under the drape, the model's pose chalked in place. But before Agatha Troy, artist and instructor, returns to the class, the pose has been re-enacted in earnest....
New In March 2019 Part 6
(in alphabetical order)
Another Kind of Madness - A Journey Through the Stigma and Hope of Mental Illness written by Stepehen P. Hinshaw performed by Sean Pratt on MP3 CD (Unabridged)£24.99

Families are riddled with untold secrets. But Stephen Hinshaw never imagined that a profound secret was kept under lock and key for eighteen years within his family-that his father's mysterious absences, for months at a time, resulted from serious mental illness and involuntary hospitalizations.

Cell written by Robin Cook performed by George Guidall on CD (Unabridged)£29.99

The New York Times–bestselling author and master of the medical thriller returns with a top-notch fusion of groundbreaking medical science and edge-of-your-seat suspense. George Wilson, M.D., a radiology resident in Los Angeles, is about to enter a profession on the brink of an enormous paradigm shift ...

Code of Conduct written by Brad Thor performed by Armand Schultz on CD (Abridged)£19.99

"Thor tops himself again and again." (BookReporter.com) "Feels like the TV show 24 on the page." (The Associated Press) Includes an extended behind-the-scenes conversation with author Brad Thor and narrator Armand Schultz. Number-one New York Times best-selling author Brad Thor presents his greatest...

Egypt, Greece and Rome written by Charles Freeman performed by Jim Meskimen on MP3 CD (Unabridged)£29.99

Long sources of mystery, imagination, and inspiration, the myths and history of the ancient Mediterranean have given rise to artistic, religious, cultural, and intellectual traditions that span the centuries. In this unique and comprehensive introduction to the region's three major civilizations, Egypt, Greece ...

Emma written by Jane Austen performed by Jenny Agutter on CD (Unabridged)£24.99 - £29.99

Emma Woodhouse is one of Austen's most captivating and vivid characters. Beautiful, spoiled, vain, and irrepressibly witty, Emma organizes the lives of the inhabitants of her sleepy little village, but her attempts at matchmaking lead to misunderstandings and potential heartbreak. Only her friend and ...

Feeling Good Together - The Secret to Making Troubled Relationships Work written by David D. Burns MD performed by Alan Sklar on MP3 CD (Unabridged)£29.99

We all have people in our lives that we just can't seem to get along with. Whether it's our spouse, co-worker or neighbour, something about the relationship just rubs us up the wrong way, and though our natural instinct is to blame the other person, that can just make things worse. In Feeling Good Together...

Ghost Light written by Joseph O'Connor performed by Marcella Riordan on CD (Unabridged)£14.99 - £19.99

Dublin 1907, a city of whispered rumours. An actress still in her teens begins an affair with a damaged older man, the leading playwright at the theatre where she works. Rebellious, irreverent, beautiful, flirtatious, Molly Allgood is a girl of the inner city tenements, dreaming of stardom in America. Witty and ...

Listen Up or Lose Out written by Robert Bolton and Dorothy Grover Bolton performed by Patrick Lawlor on MP3 CD (Unabridged)£11.99

Want better results? Talk less and listen more. Listening might seem like the easiest thing in the world to do. But most people retain only a fraction of what they hear, resulting in miscommunications and lost opportunities. When you actively listen, you learn to gather perspectives, bridge differences, and ...

Mind Wide Open - Your Brain and the Neuroscience of Everyday Life written by Steven Johnson performed by Alan Sklar on MP3 CD (Unabridged)£29.99

In this nationally bestselling, compulsively readable account of what makes brain science a vital component of people's quest to know themselves, acclaimed science writer Steven Johnson subjects his own brain to a battery of tests to find out what's really going on inside. He asks: How do we "read" other people?

My Michael written by Amos Oz performed by Lisa Flanagan on CD (Unabridged)£29.99

One of Amos Oz's earliest and most famous novels, My Michael was a sensation upon its initial publication in 1968 and established Oz as a writer of international acclaim. Like all great books, it has an enduring power to surprise and mesmerize. Set in 1950s Jerusalem, My Michael is the story of a...

Naked Prey written by John Sandford performed by Eric Conger on CD (Abridged)£19.99

A Lucas Davenport thriller by internationally bestselling novelist John Sandford Two bodies are found hanging from a tree in the woods of Northern Minnesota. 'Lynching' is the word everybody is trying not to say. But when the bodies are those of a black man and white woman, it's hard to see how it ...

Reader, Come Home - The Reading Brain in a Digital World written by Maryanne Wolf performed by Kirsten Potter on MP3 CD (Unabridged)£19.99

From the author of Proust and the Squid, a lively, ambitious, and deeply informative epistolary book that considers the future of the reading brain and our capacity for critical thinking, empathy, and reflection as we become increasingly dependent on digital technologies. A decade ago, Maryanne Wolf's...

Rizzoli & Isles - Books 10 and 11 - Last to Die and Die Again written by Tess Gerritsen performed by Tanya Eby on MP3 CD (Unabridged)£14.99

LAST TO DIE For the second time in his short life, Teddy Clock has survived a massacre. Two years ago, he barely escaped when his entire family was slaughtered. Now, at fourteen, in a hideous echo of the past, Teddy is the lone survivor of his foster family's mass murder. DIE AGAIN When Boston ...

Room written by Emma Donoghue performed by Michael Friedman, Ellen Archer, Suzanne Toren and Robert Petkoff on CD (Unabridged)£8.99 - £19.99

It's Jack's birthday, and he's excited about turning five. Jack lives with his Ma in Room, which has a locked door and a skylight, and measures 11 feet by 11 feet. He loves watching TV, and the cartoon characters he calls friends, but he knows that nothing he sees on screen is truly real ...

The Host written by Stephenie Meyer performed by Kate Reading on CD (Unabridged)£9.99

From the #1 bestselling author of the Twilight saga and The Chemist, a gripping story of love and betrayal at the end of the world. Melanie Stryder refuses to fade away. The earth has been invaded by a species that take over the minds of their human hosts while leaving their bodies intact, and most of humanity...

The Lion written by Nelson DeMille performed by Scott Brick on CD (Abridged)£14.99

In this eagerly awaited follow-up to The Lion's Game, John Corey, former NYPD Homicide detective and special agent for the Anti-Terrorist Task Force, is back. And, unfortunately for Corey, so is Asad Khalil, the notorious Libyan terrorist otherwise known as "The Lion." Last we heard from him, Khali had claimed to...

The Old Curiosity Shop written by Charles Dickens performed by Anton Lesser on CD (Abridged)£24.99

The Old Curiosity Shop follows the story of Little Nell who lives with her grandfather in his magical shop of curiosities in London. Her grandfather's attempts to secure an inheritance for Nell lead them into financial trouble with the evil dwarf Quilp. Nell manages to flee and lead her grandfather to safety...

The Telling Room - A Tale of Love, Betrayal, Revenge and the World's Greatest Piece of Cheese written by Michael Paterniti performed by L.J. Ganser on CD (Unabridged)£14.99

In the picturesque village of Guzmán, Spain, in a cave dug into a hillside on the edge of town, an ancient door leads to a cramped limestone chamber known as "the telling room". Containing nothing but a wooden table and two benches, this is where villagers have gathered for centuries to...

Warming the Stone Child - Myths and Stories about Abandonment and the Unmothered Child written by Clarissa Pinkola Estes PhD performed by Clarissa Pinkola Estes PhD on CD (Unabridged)£19.99

Healing for the - Unmothered Child - The pain of abandonment, both real and metaphorical, can cast a shadow over our entire adult experience. Warming the Stone Child investigates the abandoned child archetype in world myths and cultures to find clues about the process of healing the unmothered child...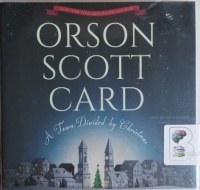 A Town Divided by Christmas written by Orson Scott Card performed by Emily Rankin on CD (Unabridged)£19.99
It began with a quarrel over which newborn should be the baby Jesus in the town's Christmas pageant. Decades later, two scientists arrive to study small-town genetic patterns, only to run up against the invisible walls that split the leading citizens into two congregations that can only be joined by love and...
---
---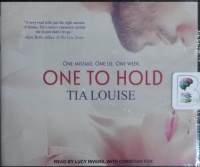 One to Hold written by Tia Louise performed by Lucy Rivers and Christian Fox on CD (Unabridged)£24.99
Derek Alexander is a retired Marine, ex-cop, and the top investigator in his field. Melissa Jones is a small-town girl trying to escape her troubled past. When the two intersect in a bar in Arizona, their sexual chemistry is off the charts. But what is revealed during their "one week stand" only complicates matters...
---
---
---
Timeless written by R.A. Salvatore performed by Victor Bavine on CD (Unabridged)£29.99
At long last, New York Times bestselling author R. A. Salvatore returns with one of fantasy's most beloved and enduring icons, the dark elf Drizzt Do'Urden, in an all-new trilogy full of swordplay, danger, and imaginative thrills. Centuries ago, in the city of Menzoberranzan, the City of Spiders, the city of drow, nestled...
---
---
---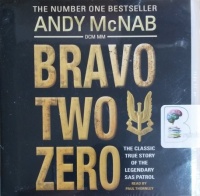 Bravo Two Zero - The Classic True Story of the Legendary SAS Patrol written by Andy McNab performed by Paul Thornley on CD (Unabridged)£19.99
January 1991. IRAQ. Eight members of the SAS regiment embark upon a top secret mission to infiltrate deep behind enemy lines. Under the command of Sergeant Andy McNab, they are to sever a vital underground communication link and to seek and destroy mobile Scud launchers. Their call sign: BRAVO...
---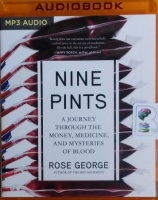 Nine Pints - A Journey Through the Money, Medicine and Mysteries of Blood written by Rose George performed by Karen Cass on MP3 CD (Unabridged)£19.99
An eye-opening exploration of blood, the lifegiving substance with the power of taboo, the value of diamonds and the promise of breakthrough science Blood carries life, yet the sight of it makes people faint. It is a waste product and a commodity pricier than oil. It can save lives and transmit deadly infections.
---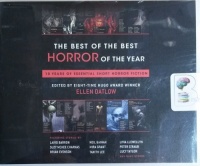 The Best of The Best Horror of the Year - 10 Years of Essential Short Horror Fiction written by Various Famous Horror Authors performed by Tim Campbell and Emily Sutton-Smith on CD (Unabridged)£24.99
***One of Publishers Weekly's "Most Anticipated Books of Fall 2018"*** A group of mountain climbers, caught in the dark, fight to survive their descent; in the British countryside, hundreds of magpies ascend into the sky, higher and higher, until they seem to vanish into the heavens; a professor and his student...
---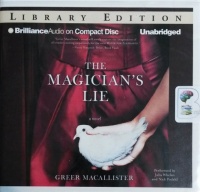 The Magician's Lie written by Greer Macallister performed by Julia Whelan and Nick Podehl on CD (Unabridged)£24.99
Water for Elephants meets The Night Circus in The Magician's Lie, a debut novel in which the country's most notorious female illusionist stands accused of her husband's murder - and she has only one night to convince a small-town policeman of her innocence. The Amazing Arden is the most famous female...
---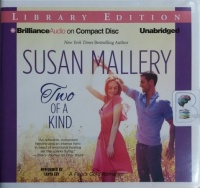 Two of a Kind written by Susan Mallery performed by Tanya Eby on CD (Unabridged)£24.99
Felicia Swift never dreamed she'd hear a deep, sexy voice from her past in tiny Fool's Gold, California. The last time Gideon Boylan whispered in her ear was half a world away…on the morning after the hottest night of her life. Her freaky smarts have limited her close friendships, and romance, but she came to...