---
---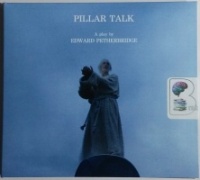 Pillar Talk - A Play written by Edward Petherbridge performed by Edward Petherbridge on CD (Unabridged)£14.99
Exclusive to Brainfood Audiobooks! Esteemed actor Edward (Nicholas Nickleby) Petherbridge uses the story of Symeon Stylites, the 5th century monk who lived on a pillar for thirty-six years, as a framework for an existential inquiry into imagination, belief, doubt, miracles and why one would live 'as I live.'
---
---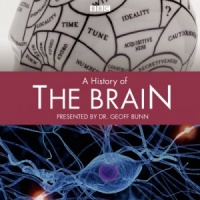 A History of the Brain written by Dr Geoff Bunn performed by Dr Geoff Bunn on CD (Unabridged)£6.99 - £7.29
This set covers 10 x 15 minute series on Radio 4 which was part of a two-week "Brain Season".
It explains in clear terms the latest discoveries in neuroscience. In this unprecedented journey, covering over 2,500 years of development in our understanding of what it is to be human.
---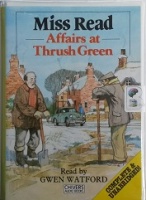 Affairs at Thrush Green written by Mrs Dora Saint as Miss Read performed by Gwen Watford on Cassette (Unabridged)£16.99 - £19.99
When Charles Henstock, rector of Thrush Green, moves a mile downhill to the parish of Lulling, his many friends rejoice in his promotion. But an unfortunate skirmish with one of his wealthy parishioners over the Lady Chapel kneelers saddens him. England, 1930s.
---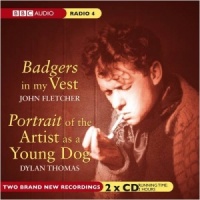 Badgers in My Vest and Portrait of the Artist as a Young Dog written by Dylan Thomas performed by BBC Full Cast Dramatisation on CD (Unabridged)£4.99 - £6.99
Badgers in My Vest is a new, darkly funny play by an acclaimed contemporary playwright, based on a true incident in Dylan Thomas' life.
---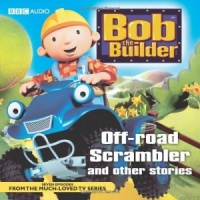 Bob the Builder - Off-Road Scrambler written by Bob the Builder Team performed by Bob the Builder Team on CD (Unabridged)£2.99
This title includes seven episodes from the hugely popular series featuring Bob the Builder, Roley, Lofty, Dizzy, Scoop, Muck and Spud - as seen on BBC TV.
---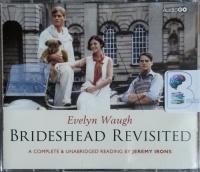 Brideshead Revisited written by Evelyn Waugh performed by Jeremy Irons on CD (Unabridged)£29.99 - £39.99
Brideshead Revisited is Evelyn Waugh's stunning novel of duty and desire set amongst the decadent, faded glory of the English aristocracy in the run-up to the Second World War.
Performed brilliantly by Jeremy Irons
---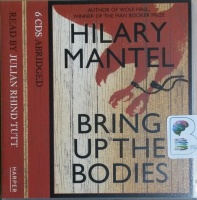 Bring Up The Bodies written by Hilary Mantel performed by Julian Rhind Tutt on CD (Abridged)£5.99
Winner of the Man Booker Prize 2012 Winner of the 2012 Costa Book of the Year Shortlisted for the 2013 Women's Prize for Fiction 'Simply exceptional…I envy anyone who hasn't yet read it'Daily Mail 'A gripping story of tumbling fury and terror'Independent on Sunday With this historic win for Bring Up the Bodies...
---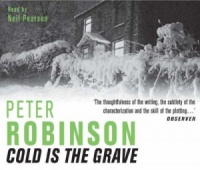 Cold is the Grave written by Peter Robinson performed by Neil Pearson on CD (Abridged)£19.99
Detective Inspector Alan Banks relationship with Chief Constable Riddle has always been strained. So Banks is more than a little surprised when Riddle summons him late one night and begs for his help.
---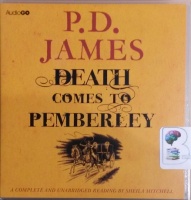 Death Comes to Pemberley written by P.D. James performed by Sheila Mitchell on CD (Unabridged)£4.99 - £9.99
The year is 1803, and Darcy and Elizabeth have been married for six years.
There are now two handsome and healthy sons in the nursery, Elizabeth's beloved sister Jane and her husband Bingley live nearby and the orderly world of Pemberley seems unassailable.
---
---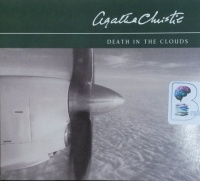 Death in the Clouds written by Agatha Christie performed by David Timson on CD (Abridged)£4.99
From seat No.9, Hercule Poirot was ideally placed to observe his fellow air passengers. Over to his right sat a pretty young woman, ahead, across the gangway in seat No.8, a detective writer was being troubled by an aggressive wasp. What Poirot did not yet realize was that behind him, in seat No.2, sat the ...
---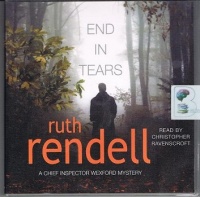 End in Tears written by Ruth Rendell performed by Christopher Ravenscroft on CD (Abridged)£4.99
A lump of concrete dropped deliberately from a little stone bridge kills the wrong person. The young woman in the car behind is spared. But only for a while...
---
---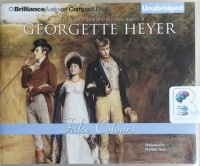 False Colours written by Georgette Heyer performed by Phyllida Nash on CD (Unabridged)£19.99 - £24.99
The honourable Christopher Fancot, on leave from the Diplomatic Service in the summer of 1817, is startled to find his entrancing but incorrigibly extravagant mother on the brink of financial and social ruin - and more than alarmed that his identical twin, Evelyn, Earl of Denville, has disappeared ...
---
---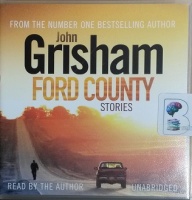 Ford County - Stories written by John Grisham performed by John Grisham on CD (Unabridged)£4.99
In his first collection of short stories John Grisham takes us back to Ford County, Mississippi, the setting of his first novel, A TIME TO KILL. ·Wheelchair-bound Inez Graney and her two older sons, Leon and Butch, take a bizarre road trip through the Mississippi Delta to visit the youngest Graney brother...
---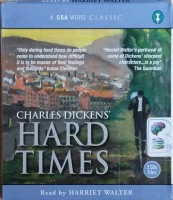 Hard Times written by Charles Dickens performed by Harriet Walter on CD (Abridged)£9.99
Set in the north of England during the 19th century, 'Hard Times' is the story of Thomas Gradgrind, a schoolmaster, who has strong and overbearing views on how his children, Louisa and Tom, should behave in order to become 'models in society'.
---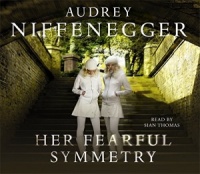 Her Fearful Symmetry written by Audrey Niffenegger performed by Sian Thomas on CD (Abridged)£4.49 - £4.99
dearest e, I told you I would let you know-so here it is-goodbye. I try to imagine what it would feel like if it was you-but it's impossible to conjure the world without you, even though we've been apart so long. I didn't leave you anything. You got to live my life.
---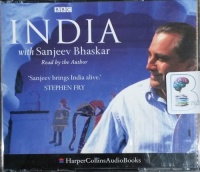 India written by Sanjeev Bhaskar performed by Sanjeev Bhaskar on CD (Unabridged)£9.99
Exotic and diverse, richly colourful and intriguingly complex: India is one of the most exciting countries to visit in the world today. Sanjeev Bhaskar, of Goodness Gracious Me and The Kumars at No. 42, grew up in 70s surburban West London, so his regular family visits to India to see his relatives gave him ...
---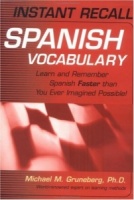 Instant Recall - Spanish Vocabulary written by Michael M. Gruneberg Ph.D. performed by Michael M. Gruneberg, Ph.D. on CD (Unabridged)£4.99
The Instant Recall series presents a technique for learning vocabulary that has been scientifically proven up to three times more effective than conventional methods.
Ideal for travelers or students as young as 10, these programs will teach 200 key words...
---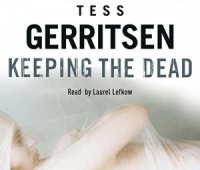 Keeping the Dead written by Tess Gerritsen performed by Laurel Lefkow on CD (Abridged)£4.99 - £7.99
She's Pilgrim Hospital's most unusual patient, and on this Saturday night, a media circus is gathered to record every minute of her visit to the X-ray department.
---
New In March 2019 Part 5
(in alphabetical order)
A Burnable Book written by Bruce Holsinger performed by Simon Vance on CD (Unabridged)£29.99

A stunning debut historical thriller set in the turbulent 14th century, for fans of C. J. Sansom, The Name of the Rose, and An Instance of the Fingerpost. London, 1385: A city of shadows and fear, in a kingdom ruled by the headstrong young King Richard II, haunted by the spectre of revolt. A place of poetry...

A Curious Mind - The Secret to a Bigger Life written by Brian Grazer and Charles Fishman performed by Norbert Leo Butz and Brian Grazer on CD (Unabridged)£22.99 - £24.99

From Academy Award-winning producer Brian Grazer and acclaimed business journalist Charles Fishman comes a brilliantly entertaining peek into the weekly "curiosity conversations" that have inspired Grazer to create some of America's favorite and iconic movies and television shows -

A History of Fascism 1914-1945 written by Stanley G. Payne performed by Michael Kramer on MP3 CD (Unabridged)£29.99

Focusing mostly on Italy and Germany but also considering Spain, Romania, Japan, and movements in other countries, Payne (history, University of Wisconsin) describes fascism as revolutionary ultranationalism based on national rebirth, extreme elitism, mass mobilization, and the promotion of...

Albert Einstein - Historic Recordings from 1930 to 1947 written by Albert Einstein performed by Albert Einstein on CD (Abridged)£9.99

To celebrate 'Einstein Year' the British Library is proud to release a selection of rare recordings of the celebrated physicist as he talks about his life and work, the Jewish people and the world of science. This CD includes a live recording of the historic fund-raising dinner on behalf of Jewish charities at the...

All Gone - A Memoir of My Mother's Dementia with Refreshments written by Alex Witchel performed by Alex Witchel on CD (Unabridged)£14.99

"Haunting, unflinching and at times unexpectedly hilarious...A powerful affirmation of family bonds." -The New York Times Book Review A daughter's longing love letter to a mother who has slipped beyond reach. Just past seventy, Alex Witchel's smart, adoring, ultracapable mother began to exhibit undeniable..

Ancient Rome - From Romulus to Justinian written by Thomas R. Martin performed by John Lescault on CD (Unabridged)£29.99

With commanding skill, Thomas R. Martin tells the remarkable and dramatic story of how a tiny, poor, and threatened settlement grew to become, during its height, the dominant power in the Mediterranean world for five hundred years. Encompassing the period from Rome's founding in the eighth century...

And the Band Played On - Politics, People and the AIDS Epidemic written by Randy Shilts performed by Victor Bevine on CD (Unabridged)£19.99

By the time Rock Hudson's death in 1985 alerted all America to the danger of the AIDS epidemic, the disease had spread across the nation, killing thousands of people and emerging as the greatest health crisis of the 20th century. America faced a troubling question: What happened? How was this epidemic...

Black Dog Summer written by Miranda Sherry performed by Jilly Bond on CD (Unabridged)£19.99

In this extraordinary debut novel reminiscent of The Lovely Bones and Little Bee, a mother watches from the afterlife as her teenage daughter recovers amidst the startling dysfunction of her extended family.Compulsively readable and stylistically stunning, Black Dog Summer begins with a murder...

Bleak House written by Charles Dickens performed by Sean Barrett and Teresa Gallagher on CD (Abridged)£29.99

The long, drawn-out case of Jarndyce versus Jarndyce provides the background to this novel which takes us into a world of impoverished street-dwellers, lovers fallen on hard times and the grand riches of the upper classes. A generous abridgement spanning 9 CDs

Brave written by Rose McGowan performed by Rose McGowan on CD (Unabridged)£29.99

A revealing memoir and empowering manifesto - a voice for generations. Rose McGowan was born in one cult and came of age in another more visible cult: Hollywood. In a strange world where she was continually on display, stardom soon became a personal nightmare of constant exposure and sexualisation.

Clockwork Fairy Tales - A Collection of Steampunk Fables written by Various Steampunk Authors performed by John Lee, Robertson Dean, Kaleo Griffith and Anne Flosnik on CD (Unabridged)£24.99

Inspired by Hans Christian Andersen's "The Red Shoes," New York Times bestselling author K. W. Jeter's "La Valse" forges a fable about love, the decadence of technology, and a gala dance that becomes the obsession of a young engineer-and the doom of those who partake in it.In "You Will Attend Until...

Coming Alive - The Tools - 4 Tools to Defeat Your Inner Enemy written by Barry Michels and Phil Stutz performed by Barry Michels and Phil Stutz on CD (Unabridged)£19.99

Tap into the life force to deepen your emotional and spiritual experience and realize your full potential with this transformative book by the New York Times bestselling authors of The Tools (and the resident shrinks on Goop). In The Tools, Barry Michels and Phil Stutz revolutionized the world ...

Drinking - A Love Story written by Caroline Knapp performed by Gabra Zackman on CD (Unabridged)£24.99

Fifteen million Americans a year are plagued with alcoholism. Five million of them are women. Many of them, like Caroline Knapp, started in their early teens and began to use alcohol as "liquid armor", a way to protect themselves against the difficult realities of life. In this extraordinarily candid and revealing..

Everlife written by Gena Showalter performed by Emma Galvin, Zachary Webber, Barrie Kreinik and James Fouhey on CD (Unabridged)£19.99

Don't miss the epic conclusion to the Everlife novels, a series fans calls "vividly unique", "unforgettable", and "exhilarating". New from Gena Showalter, author of the New York Times best-selling The White Rabbit Chronicles, comes a series finale that will keep you on the edge of your seat rooting for the...

Every Little Step - My Story written by Bobby Brown with Nick Chiles performed by Bobby Brown, Lisa Renee Pitts and T.J. Storm on CD (Unabridged)£29.99

NEW YORK TIMES BESTSELLER In Every Little Step, Brown will for the first time tell the full story of his life and set the record straight, particularly about his relationship with Whitney Houston. Bobby Brown has been one of the most compelling American artists of the past thirty years, a magnetic and talented...

Fallout - Disasters, Lies and the Legacy of the Nuclear Age written by Fred Pearce performed by Simon Vance on CD (Unabridged)£19.99

From Hiroshima to Chernobyl, Fukushima to the growing legacy of lethal radioactive waste, humanity's struggle to conquer atomic energy is rife with secrecy, deceit, human error, blatant disregard for life, short-sighted politics and fear. Fallout is an eye-opening odyssey through the first eight decades of...

FInance Basics - 20 Minute Manager written by Harvard Business Review performed by James Edward Thomas on CD (Unabridged)£14.99

Intimidated by corporate finance? The numbers (and the jargon) can feel overwhelming but you have to understand them to manage effectively. Finance Basics explains the fundamentals simply and quickly, introducing you to key terms and concepts such as:

Grunt - The Curious Science of Humans at War written by Mary Roach performed by Abby Elvidge on CD (Unabridged)£19.99

Bestselling author Mary Roach explores the science of keeping human beings intact, awake, sane, uninfected, and uninfested in the bizarre and extreme circumstances of war. Grunt tackles the science behind some of a soldier's most challenging adversaries—panic, exhaustion, heat, noise—and introduces...

How to Grow Old - Ancient Wisdom for the Second Half of Life written by Marcus Tullius Cicero performed by Roger Clark on CD (Unabridged)£19.99

Worried that old age will inevitably mean losing your libido, your health, and possibly your marbles too? Well, Cicero has some good news for you. In How to Grow Old, the great Roman orator and statesman eloquently describes how you can make the second half of life the best part of all-and why you...

If Our Bodies Could Talk written by James Hamblin performed by James Hamblin on CD (Unabridged)£49.99

"If you want to understand the strange workings of the human body, and the future of medicine, you must read this illuminating, engaging book." —Siddhartha Mukherjee, author of The Gene In 2014, James Hamblin launched a series of videos for The Atlantic called "If Our Bodies Could Talk."

Jagannath Stories written by Karin Tidbeck performed by Kirsten Potter on CD (Unabridged)£19.99

A child is born in a tin can. A switchboard operator finds himself in hell. Three corpulent women float somewhere beyond time. Welcome to the weird world of Karin Tidbeck, the visionary Swedish author of literary sci-fi, speculative fiction, and mind-bending fantasy who has captivated readers around the world.

Julius Caesar written by William Shakespeare performed by Oregon Shakespeare Festival Team on CD (Unabridged)£19.99

TOO MUCH POWER IN ONE MAN'S HANDSJulius Caesar is a marked man. Adoring commoners celebrate his battlefield victories, but those higher up the Roman political ladder worry that his ambition has grown too large. On a stormy night full of alarming sights and ominous portents, Cassius...

Kickflip Boys - A Memoir of Freedom, Rebellion and the Chaos of Fatherhood written by Neal Thompson performed by Joe Knezevich on CD (Unabridged)£24.99

What makes a good father, and what makes one a failure? Does less-is-more parenting inspire independence and strength, or does it encourage defiance and trouble? Kickflip Boys is the story of a father's struggle to understand his willful skateboarder sons, challengers of authority and convention, to accept his ...

Kintsugi Wellness written by Candice Kumai performed by Caitlin Kelly on CD (Unabridged)£29.99

From the author of Clean Green Eats, a Japanese-inspired guide to finding balance, joy, and good health-A Life-Changing Magic of Tidying Up for wellness-that emphasizes a simple, streamlined method for cleaning up your eating habits and offers modern-day applications of ancient Japanese healing practices...

Kitty - Book 7 of the Regency Love Series written by Marion Chesney performed by Lindy Nettleton on CD (Unabridged)£19.99

In any given glittering social season, Edwardian London s dizzying whirl had its share of surprises. The latest was Kitty Harrison, once achingly poor, suddenly an heiress and now, thanks to her determined mother, she was about to become a baroness. From the moment Kitty set eyes on Lord Chesworth she...

One Beautiful Dream - The Rollicking Tale of Family Chaos, Personal Passions and Saying Yes to them Both written by Jennifer Fulwiler performed by Jennifer Fulwiler on CD (Unabridged)£19.99

Pursue your passions, love your family, and say goodbye to guilt—pipe dream or possibility? Work and family, individuality and motherhood, the creative life and family life—women are told constantly that they can't have it all. One Beautiful Dream is the deeply personal, often humorous tale of what happened..

Only Killers and Thieves written by Paul Howarth performed by David Linski on CD (Unabridged)£19.99

Two brothers are exposed to the brutal realities of life and the seductive cruelty of power in this riveting debut novel - a story of savagery and race, injustice and honour, set in the untamed frontier of 1880s Australia - reminiscent of Philipp Meyer's The Son and the novels of Cormac McCarthy.

Prater Violet written by Christopher Isherwood performed by J. Paul Boehmer on CD (Unabridged)£19.99

Isherwood's story centers on the production of the vacuous fictional melodrama Prater Violet, set in nineteenth-century Vienna, providing ironic counterpoint to tragic events as Hitler annexes the real Vienna of the 1930s. The novel features the vivid portraits of imperious, passionate, and witty Austrian...

Raising Trump written by Ivana Trump performed by Alison Fraser and Ivana Trump on CD (Unabridged)£24.99

In Raising Trump, Ivana Trump reflects on her extraordinary life and the raising of her three children—Donald Jr., Eric, and Ivanka—and recounts the lessons she taught her children as they were growing up. As her former husband takes his place as the 45th President of the United States, his children have...

Raylan written by Elmore Leonard performed by Brian D'Arcy James on CD (Unabridged)£19.99

After discovering his quarry naked in the bathtub, doped up and missing his kidneys, Federal Marshall Raylan Givens becomes involved, both literally and figuratively, in a case involving the harvesting of organs for sale on the black market where this time the bad guys are girls.

Service Fanatics - How to Build Superior Patient Experience the Cleveland Clinic Way written by James Merlino MD performed by Tim Lundeen on CD (Unabridged)£19.99

The proven model for driving positive organizational change Cleveland Clinic has long been recognized for driving some of the best clinical outcomes in the nation, but it was not always a leader in patient experience. There was a time when this revered organization ranked among the lowest in the country in...

Shock Value - How a Few Eccentric Outsiders Gave Use Nightmares, Conquered Hollywood and Invented Modern Horror written by Jason Zinoman performed by Pete Larkin on CD (Unabridged)£24.99

Much has been written about the storied New Hollywood of the 1970s, but while Martin Scorsese, Steven Spielberg, and Francis Ford Copola were making their first classic movies, a parallel universe of directors gave birth to the modern horror film-aggressive, raw, and utterly original. Based on unprecedented..

The Available Parent written by Dr. John Duffy performed by David Colacci on CD (Unabridged)£19.99

We have a tendency today to over-parent, micro-manage, and under-appreciate our adolescents. Dr. John Duffy's The Available Parent is a revolutionary approach to taking care of teens and tweens. Teenagers are often left feeling unheard and misunderstood, and parents are left feeling bewildered by...

The Compassionate Connection - The Healing Power of Empathy and Mindful Listening written by David Rakel performed by Stephen Bel Davies on CD (Unabridged)£24.99

Why is it so hard for us to connect on a deep level with others, particularly those who are suffering? We constantly find ourselves interrupted and inundated with tasks and stresses. We are disconnected, sleepwalking through our lives, unable to help even ourselves. There is a better way. Dr. David Rakel draws...

The Dragon Queen written by William Andrews performed by Todd McLaren and Janet Song on CD (Unabridged)£19.99

From the bestselling author of Daughters of the Dragon comes the story of one of the most extraordinary queens in history. As tensions rise on the Korean peninsula, US diplomat Nate Simon is sent to Seoul to gauge the political situation and advise the president. He also needs to find out why someone sent...

The Dragons of Dorcastle written by Jack Campbell performed by MacLeod Andrews on CD (Unabridged)£19.99

The first book in a thrilling new epic fantasy saga, written exclusively for Audible by Jack Campbell, the New York Times best-selling author of "The Lost Fleet" series! For centuries, the two Great Guilds have controlled the world of Dematr. The Mechanics and the Mages have been bitter rivals, agreeing only ...

The Essential Laws of Fearless Living written by Guy Finley performed by Fred Stella on CD (Unabridged)£19.99

Discover your true purpose on earth. Participate in creation. Live peace. Love without fear. Give yourself what you really want. The Essential Laws of Fearless Living is a step-by-step manual for all who aspire to realize their ultimate potential as a human being. In its seven chapters of 40 concise essays...

The Lady in Gold - The Extraordinary Tale of Gustav Klimt's Masterpiece written by Anne-Marie O'Connor performed by Coleen Marlo on CD (Unabridged)£39.99

The Lady in Gold, considered an unforgettable masterpiece, one of the twentieth century's most recognizable paintings, made headlines all over the world when Ronald Lauder bought it for $135 million a century after Klimt, the most famous Austrian painter of his time, completed the society portrait.

The Name of God is Mercy written by Pope Francis performed by Arthur Morey and Fred Sanders on CD (Unabridged)£14.99

The Name of God Is Mercy, Pope Francis' exploration of the universal theme of mercy is a spiritual inspiration to both followers of Christianity and non-Christians around the world. Drawing on his own experience as a priest and shepherd, Pope Francis discusses mercy, a subject of central importance in his...

The Nature Fix - Why Nature Makes Us Happier, Healthier and More Creative written by Florence Williams performed by Emily Woo Zeller on CD (Unabridged)£24.99

For centuries, poets and philosophers extolled the benefits of a walk in the woods: Beethoven drew inspiration from rocks and trees; Wordsworth composed while tromping over the heath; Nikola Tesla conceived the electric motor while visiting a park. Intrigued by our storied renewal in the natural world...

The Red Word written by Sarah Henstra performed by Emily Woo Zeller on CD (Unabridged)£14.99

A smart, dark, and take-no-prisoners look at rape culture and the extremes to which ideology can go, The Red Word is a campus novel like no other. As her sophomore year begins, Karen enters into the back-to-school revelry particularly at a fraternity called GBC. When she wakes up one morning on the lawn...

The Woman who Breathed Two Worlds written by Selina Siak Chin Yoke performed by Christine Rendel on CD (Unabridged)£19.99

Facing challenges in an increasingly colonial world, Chye Hoon, a rebellious young girl, must learn to embrace her mixed Malayan-Chinese identity as a Nyonya - and her destiny as a cook, rather than following her first dream of attending school like her brother. Amidst the smells of chillies and garlic frying,

The Wonder of Birds - What They Tell Us About Ourselves, The World and a Better Future written by Jim Robbins performed by Danny Campbell on MP3 CD (Unabridged)£24.99

Birds, Jim Robbins posits, are our most vital connection to nature. They compel us to look to the skies, both literally and metaphorically; draw us out into nature to seek their beauty; and let us experience vicariously what it is like to be weightless. Birds have helped us in so many of our human endeavors...

The Year of Our Lord 1943 - Christian Humanism in An Age of Crisis written by Alan Jacobs performed by Paul Boehmer and on CD (Unabridged)£24.99

By early 1943, it had become increasingly clear that the Allies would win the Second World War. Around the same time, it also became increasingly clear to many Christian intellectuals on both sides of the Atlantic that the soon-to-be-victorious nations were not culturally or morally prepared for their success.

They Say, I Say - The Moves that Matter in Academic Writing written by Gerald Graff and Cathy Birkenstein performed by Cyndee Maxwell and Tony Craine on CD (Unabridged)£29.99

"They Say / I Say" identifies the key rhetorical moves in academic writing, showing students how to frame their arguments in the larger context of what others have said and providing templates to help them make those moves. And, because these moves are central across all disciplines, the audiobook ...

Tomorrow the Glory written by Heather Graham performed by Shannon McManus on CD (Unabridged)£9.99

Previously published under the pen name Shannon Drake, so this is the first time it will be available under the Heather Graham name. THE WOMAN She is Kendall Moore - a spirited southern belle as proud as she is beautiful, driven by a cruel marriage-bed betrayal to risk her life in a dangerous gamble...
---
---
---
---
---
---
---
---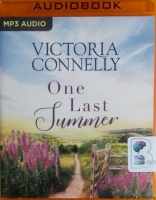 One Last Summer written by Victoria Connelly performed by Jan Cramer on MP3 CD (Unabridged)£14.99
They have the whole summer ahead of them. Is it enough to rekindle the friendship they once shared? Harriet Greenleaf dreams of spending the summer in a beautiful ancient priory on the Somerset coast with her two best friends - but her dream is bittersweet. On the one hand, it's a chance to reconnect three...
---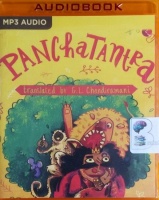 Panchatantra written by Pandit Vishnu Sharma performed by Shernaz Patel on MP3 CD (Unabridged)£9.99
The oldest surviving collection of India fables, the Panchatantra, was probably written around 200 BC by the great Hindu scholar Pandit Vishnu Sharma. The Panchatantra is a book of niti, the wise conduct of life, written in the form a chain of simple stories. Each of these stories has a moral and philosophical...
---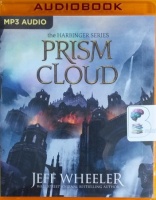 Prism Cloud - The Harbinger Series written by Jeff Wheeler performed by Kate Rudd on MP3 CD (Unabridged)£14.99
Friendship is strained to its breaking point in Wall Street Journal bestselling author Jeff Wheeler's fourth Harbinger novel. When the emperor is assassinated, Sera Fitzempress is the noble most eligible to inherit the empire. Her upcoming marriage to the prince would cement her position. And as a champion for...
---
---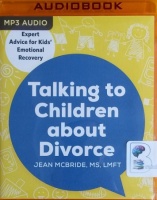 Talking to Children About Divorce - Expert Advice for Kids' Emotional Recovery written by Jean McBride MS LMFT performed by Kristin Price on MP3 CD (Unabridged)£14.99
Marriage and family therapist Jean McBride has helped more than 20,000 families navigate divorce. Now she shares her expertise with an in-depth guide to discussing divorce with your kids so you can support your child's adjustment throughout the entire divorce process. In Talking to Children About Divorce...
---
---
---
---
---
---
---
---
---