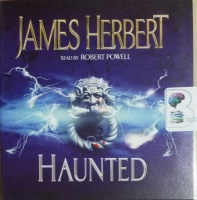 Haunted written by James Herbert performed by Robert Powell on CD (Abridged)£4.99
A ghostly twist. Three nights of terror at the house called Edbrook. Three nights in which David Ash, there to investigate a haunting, will be victim of horrifying games. Three nights in which he will face the blood-chilling enigma of his own past.
---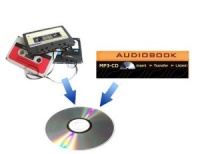 Large Fixed Price Audio Transfer Service£35.00
This is the fixed price £35.00 item to be used when ordering conversion of a 6-9 hour Audio Cassette or MP3 CD title.
---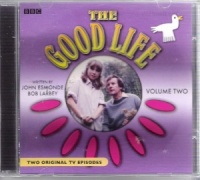 The Good Life written by John Esmonde and Bob Larbey performed by Richard Briers and Felicity Kendal on CD (Abridged)£3.99
Two episodes of the wonderful TV show!
---
---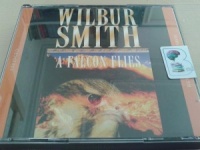 A Falcon Flies written by Wilbur Smith performed by Martin Jarvis on CD (Abridged)£4.99 - £8.99
A Falcon Flies is the first bestselling novel in Wilbur Smith's epic tale of Africa, The Ballantyne Novels. In search of a father they barely remember, Zouga and Dr Robyn Ballantyne board Mungo St John's magnificent clipper to speed them to Africa.
---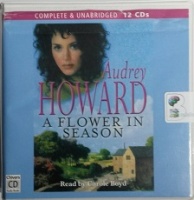 A Flower in Season written by Audrey Howard performed by Carole Boyd on CD (Unabridged)£14.99 - £24.99
Briony Marsden has led a hard life, forced to do the work of a grown man while enduring her drunkard father's taunts and blows. But when he goes too far one day, her fate becomes even worse as she makes her way alone in a heartless world.
---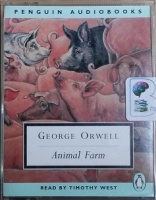 Animal Farm written by George Orwell performed by Timothy West on Cassette (Unabridged)£9.99
All animals are equal - but some are more equal than others' When the downtrodden animals of Manor Farm overthrow their master Mr Jones and take over the farm themselves, they imagine it is the beginning of a life of freedom and equality.
---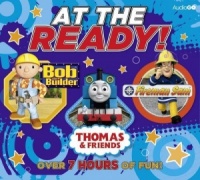 At The Ready! written by Various Childrens Authors performed by Various Famous Actors on CD (Abridged)£39.99
This box set contains over 7 hours of fun from Bob the Builder, Fireman Sam and Tomas the Tank Engine! This would make a brilliant gift that will last considerably longer than the New Year!
---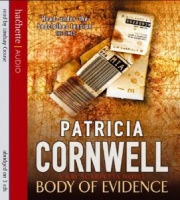 Body of Evidence written by Patricia Cornwell performed by Lindsay Crouse on CD (Abridged)£9.99
A reclusive writer is dead. And her final manuscript has disappeared ...Someone is stalking Beryl Madison.
---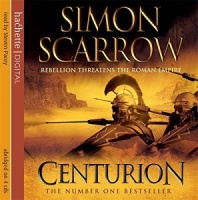 Centurion - Rebellion Threatens the Roman Empire written by Simon Scarrow performed by Steven Pacey on CD (Abridged)£17.99 - £18.99
In the first century AD the Roman Empire faces a new threat from its long-standing enemy Parthia. Parthia is vying with Rome for control of Palmyra an officially neutral kingdom.
---
---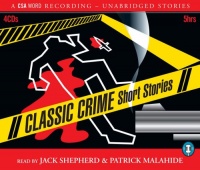 Classic Crime Short Stories written by Various Famous Crime Writers performed by Jack Shepherd and Patrick Malahide on CD (Unabridged)£4.99 - £9.99
Discover a world of heroes and villains, suspense and intrigue. This riveting and comprehensive collection brings together some of the best crime writing of all time.
---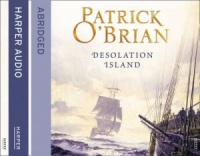 Desolation Island written by Patrick O'Brian performed by Robert Hardy on CD (Abridged)£8.99
A Genius Performance by Robert Hardy!
Commissioned to rescue Governor Bligh of Bounty fame, Captain Jack Aubrey and his friend and surgeon, Stephen Maturin, sail the Leopard to Australia with a hold full of convicts. Among them is a beautiful and dangerous spy — and a treacherous disease which decimates the crew.
---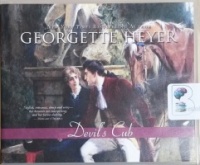 Devil's Cub written by Georgette Heyer performed by Michael Drew on CD (Unabridged)£24.99
The excesses of the young Marquis of Vidal are even wilder than his father's before him. Not for nothing is the reckless duellist and gamester called "the Devil's Cub". But when he is forced to leave the country, Mary Challoner discovers his fiendish plan to abduct her sister. Any only by daring to impersonate...
---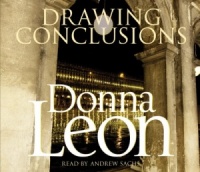 Drawing Conclusions written by Donna Leon performed by Andrew Sachs on CD (Abridged)£4.99 - £5.99
A Genius Performance by Andrew Sachs! When Anna Maria Giusti finds her elderly neighbour Constanza Altavilla dead, with blood on the floor near her head, she calls the police. Brunetti is called to the scene and it seems the woman has suffered a heart attack. Patta, the Vice-Questore, is eager to dismiss the case...
---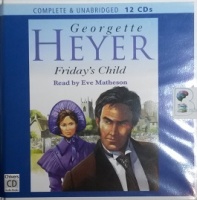 Friday's Child written by Georgette Heyer performed by Eve Matheson on CD (Unabridged)£29.99
This story of mistaken love is a romantic fiction set in the English Regency period. It centers on Lord Sheringham who has been rejected by the woman he loves but the woman who has secretly loved him since childhood is waiting.
---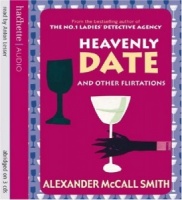 Heavenly Date and Other Flirtations written by Alexander McCall-Smith performed by Anton Lesser on CD (Abridged)£5.99
A Genius Performance by Anton Lesser!
Alexander McCall-Smith's short stories show the interest and intrigue, complexity and completeness that can come from the briefest meeting or a life long love. A lovely set of stories that have something for everyone.
---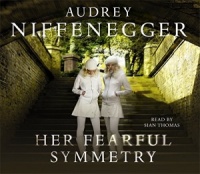 Her Fearful Symmetry written by Audrey Niffenegger performed by Sian Thomas on CD (Abridged)£4.49 - £4.99
dearest e, I told you I would let you know-so here it is-goodbye. I try to imagine what it would feel like if it was you-but it's impossible to conjure the world without you, even though we've been apart so long. I didn't leave you anything. You got to live my life.
---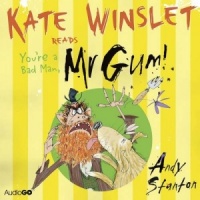 Kate Winslet reads You're a Bad Man Mr Gum written by Andy Stanton performed by Kate Winslet on CD (Unabridged)£6.99 - £8.99
Good evening. Mr Gum is a complete horror who hates children, animals, fun and corn on the cob. This book's all about him. And an angry fairy who lives in his bathtub. And Jake the dog, and a little girl called Polly. And there's heroes and sweets and adventures and EVERYTHING.
---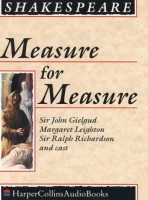 Measure for Measure written by William Shakespeare performed by Sir John Gielgud, Margaret Leighton and Sir Ralph Richardson on Cassette (Unabridged)£19.99
This is one of Shakespeare's so-called black comedies. This thought-provoking play poses the stark question: when a young woman is offered the choice of saving a man's life at the price of her own chastity, what should she do?
New In March 2019 Part 4
(in alphabetical order)
1984 written by George Orwell performed by Andrew Wincott on CD (Unabridged)£19.99

BIG BROTHER IS WATCHING YOU . . . 1984 is the year in which it happens. The world is divided into three superstates. In Oceania, the Party's power is absolute. Every action, word, gesture and thought is monitored under the watchful eye of Big Brother and the Thought Police. In the Ministry of Truth...

A Cruelty Special to Our Species written by Emily Jungmin Yoon performed by Emily Jungmin Yoon on CD (Unabridged)£14.99

A piercing debut collection of poems exploring gender, race, and violence from a sensational new talent. In her arresting collection, urgently relevant for our times, poet Emily Jungmin Yoon confronts the histories of sexual violence against women, focusing in particular on Korean so-called "comfort women,"

A Journey of Discovery in Ireland written by Pete McCarthy performed by Pete McCarthy on Cassette (Abridged)£4.99

McCARTHY'S BAR is the result of a lifelong love affair with Ireland. Written and read by the presenter of Channel 4's Travelog, it is both an entertaining journey and a personal investigation into a past, and a country populated by hundreds of McCarthys, where Christian Brothers rub shoulders with Van Morrison...

Accessing the Media - How to Get Good Press written by Jill Osborn performed by Teri Schnaubelt on CD (Unabridged)£14.99

Accessing the Media takes the listener behind the scenes to understand how best to work with press to get publicity. Perfect for politicians, business leaders, lobbyists, and media junkies, this reference provides an insider's look at how the modern newsroom works, detailing the different roles of reporters...

Angels by My Side - Stories and Glimpses of These Heavenly Helpers written by Betty Malz performed by Melanie Ewbank on CD (Unabridged)£9.99

God knows your needs - and He has His angels ready to help you! Have you ever had a close call? Do you sometimes sense that you are not alone? Do you wonder if you have ever met an angel "unaware"? When Betty Malz was a young mom, she suffered a ruptured appendix and, after many fatal ...

Ben-Hur written by Lew Wallace performed by Radio Theatre Team on CD (Unabridged)£9.99

An unforgettable account of betrayal, revenge, redemption, Focus on the Family Radio Theatre's production of Ben-Hur tells the tale of a nobleman who fell from Roman favor and was sentenced to live as a slave all at the hands of his childhood friend, Messala. Once nearly brothers, any hope of reconciliation...

Bone Music written by Christopher Rice performed by Lauren Ezzo on CD (Unabridged)£19.99

There's more than one way to stoke the flames of revenge... Charlotte Rowe spent the first seven years of her life in the hands of the only parents she knew - a pair of serial killers who murdered her mother and tried to shape Charlotte in their own twisted image. If only the nightmare had ended when she...

Captain Alatriste written by Arturo Perez-Reverte performed by Scott Brick on CD (Unabridged)£24.99

In Madrid in the 1620s, a man must live by his wits, and often by his sword. For this is a time when court intrigue is high, when the decadent young king has dragged the country into a series of disastrous wars, and citizens live in fear of the infamous Spanish Inquisition. In this political hotbed of hired assassins...

Cracking The Aging Code - The New Science of Growing Old and What It Means for Staying Young written by Josh Mitteldorf and Dorion Sagan performed by Stephen McLaughlin on CD (Unabridged)£39.99

A revolutionary examination of why we age, what it means for our health, and how we just might be able to fight it. In Cracking the Aging Code, theoretical biologist Josh Mitteldorf and award-winning writer and ecological philosopher Dorion Sagan reveal that evolution and aging are even more complex...

Dominion - The History of England from The Battle of Waterloo to Victoria's Diamond Jubilee written by Peter Ackroyd performed by Derek Perkins on CD (Unabridged)£29.99

Dominion, the fifth volume in Peter Ackroyd's masterful History of England, begins in 1815 as national glory following the Battle of Waterloo gives way to a post-war depression and ends with the death of Queen Victoria in January 1901. Spanning the end of the Regency, Ackroyd takes listeners from the ..

Driving Mr. Albert - A Trip Across America with Einstein's Brain written by Michael Paterniti performed by Casey Jones on CD (Unabridged)£19.99

This extraordinary travel book tells the true story of how in 1997 writer Michael Paterniti agreed to take a road trip from New Jersey to California, reuniting the preserved brain of the great scientist Albert Einstein (1879-1955) with his granddaughter Evelyn. Paterniti's improbable travelling companion is...

Empress - The Astonishing Reign of Nur Jahan written by Ruby Lal performed by Suzanne Toren on CD (Unabridged)£24.99

In 1611, thirty-four-year-old Nur Jahan, daughter of a Persian noble and widow of a subversive official, became the twentieth and favorite wife of the Emperor Jahangir, who ruled the vast Mughal Empire. An astute politician as well as a devoted partner, she issued imperial orders; coins of the realm bore her name.

Fierce Conversations - Achieving Success at Work and In Life, One Conversation at a Time written by Susan Scott performed by Susan Scott on CD (Unabridged)£19.99

Fierce Conversations is a way of conducting business. An attitude. A way of life. Communications expert Susan Scott maintains that a single conversation can change the trajectory of a career, marriage or life. Whether these are conversations with yourself, partner, colleagues, customers, family or friends...

Fire Shut Up in My Bones written by Charles M. Blow performed by Charles M. Blow on CD (Unabridged)£19.99

A gorgeous, moving memoir of how one of America's most innovative and respected journalists found his voice by coming to terms with a painful past New York Times columnist Charles M. Blow mines the compelling poetry of the out-of-time African-American Louisiana town where he grew up a place...

Fire Shut Up in My Bones written by Charles M. Blow performed by Charles M. Blow on MP3 CD (Unabridged)£19.99

A gorgeous, moving memoir of how one of America's most innovative and respected journalists found his voice by coming to terms with a painful past New York Times columnist Charles M. Blow mines the compelling poetry of the out-of-time African-American Louisiana town where he grew up a place...

Formerly Known As Food - How the Industrial Food System Is Changing Our Minds, Bodies and Culture written by Kristin Lawless performed by Jennywren Walker on CD (Unabridged)£29.99

One of Bustle's "17 Best Nonfiction Books Coming Out In June 2018" - One of The Revelator's "16 New Environmental Books for June" - One of Equinox's "5 Books High Performers Should Read in June" - One of Foodtank's "18 Books Making a Splash This Summer" - One of CivilEats' "22 Noteworthy Food ...

Glimpse written by Jonathan Maberry performed by Emma Galvin on CD (Unabridged)£29.99

Best-selling author Jonathan Maberry's Glimpse is a chilling audiobook thriller that explores what happens when reality and nightmares converge, and how far one will go to protect the innocent when their own brain is a threat. Rain Thomas is a mess. Seven years an addict and three difficult years clean.

Green Hills of Africa written by Ernest Hemingway performed by Josh Lucas on CD (Unabridged)£24.99

His second major venture into non fiction (after Death in the Afternoon, 1932), Green Hills of Africais Ernest Hemingway's lyrical journal of a month on safari in the great game country of East Africa, where he and his wife Pauline journeyed in December of 1933. Hemingway's well-known interest in and fascination...

In The Valley of the Shadow - On The Foundations of Religious Belief written by James L. Kugel performed by George K. Wilson on CD (Unabridged)£39.99

When James L. Kugel, one of the world's leading biblical scholars, was diagnosed with an aggressive, likely fatal form of cancer, he said, "I was, of course, disturbed and worried. But the main change in my state of mind was that the background music suddenly stopped. Now I was just down to myself...

Just Say the Word written by Carla Salvo performed by Carla Salvo on CD (Unabridged)£29.99

When her boyfriend is naively sucked into the Mob, young Rita Napapolus spends years trying to reconcile her days as a school teacher against her nights as a mob mistress. Eventually, the distraught young woman flees the familiarity of the east coast with her daughter to begin a new life in Seattle.

Life in Motion - An Unlikely Ballerina written by Misty Copeland performed by Lisa Renee Pitts on CD (Unabridged)£29.99

"Picture a ballerina in a tutu and toe shoes. What does she look like?"As the only African-American soloist dancing with the prestigious American Ballet Theatre, Misty Copeland has made history. But when she first placed her hands on the barre at an after-school community center, no one expected...

Mama Black Widow written by Iceberg Slim performed by Bobby Spears Jr. on CD (Unabridged)£24.99

Mama Black Widow tells the story of Otis Tilson, a comely and tragic homosexual queen adrift with his brothers and sisters in the dark, labyrinthine world of pimping, tricking, violence, and petty crime. Written in the jagged, vivid, and always authentic language of the homosexual underworld and the black ghetto..

Marion Zimmer Bradley's Sword of Avalon written by Diana L. Paxson performed by Lorna Raver on CD (Unabridged)£29.99

Epic in its sweep and peopled by the remarkable women who have always inhabited Avalon, Marion Zimmer Bradley's Sword of Avalon expands the legendary saga that has enchanted millions of readers over the years and is sure to please Bradley's loyal readership and anyone who loves wonderfully...

Me, Myself and Us - The Science of Personality and the Art of Well-being written by Brian R. Little performed by Patrick Lawlor on CD (Unabridged)£19.99

In the past few decades, personality psychology has made considerable progress in raising new questions about human nature—and providing some provocative answers. New scientific research has transformed old ideas about personality based on the theories of Freud, Jung, and the humanistic...

Mrs Pringle written by Miss Read performed by Gwen Watford on Cassette (Unabridged)£19.99

Mrs Pringle, the lugubrious school cleaner, has always been a favourite character in the Fairacre series. Here we trace Maud Pringle's life from childhood visits to the village from her Caxley home, through her working days before her marriage to Fred Pringle, and on to her long association with Fariacre School, and we meet again many old friends as they cross Mrs

New - Understanding Our Need for Novelty and Change written by Winifred Gallagher performed by Laural Merlington on CD (Unabridged)£34.99

Offers insight into the psychological drive to pursue new things, sharing advice for aficionados of new experiences on how to embrace today's dynamic and creative culture while living sensibly and satisfyingly.

Pride and Prejudice written by Jane Austen performed by Emilia Fox on CD (Unabridged)£24.99

Jane Austen's most popular novel, originally published in 1813, some 17 years after it was first written, presents the Bennet family of Longbourn. Against the background of gossipy Mrs Bennet and the detached Mr Bennet, the quest is on for husbands for the five daughters.

Rock Breaks Scissors written by William Poundstone performed by Joel Richards on CD (Unabridged)£14.99

A practical guide to outguessing everything from multiple-choice tests to the office football pool to the stock market. People are predictable even when they try not to be. William Poundstone demonstrates how to turn this fact to personal advantage in scores of everyday situations, from playing the lottery...

Running with the Mind of Meditation - Lessons for Training Body and Mind written by Sakyong Mipham performed by Neil Hellegers on CD (Unabridged)£19.99

As a Tibetan lama and leader of Shambhala (an international community of 165 meditation centers), Sakyong Mipham has found physical activity to be essential for spiritual well-being. He's been trained in horsemanship and martial arts but has a special love for running. Here he incorporates his...

The Danish Girl written by David Ebershoff performed by Jeff Woodman on CD (Unabridged)£24.99

Inspired by the true story of Danish painter Einar Wegener and his California-born wife, this tender portrait of a marriage asks: what do you do when someone you love wants to change? It starts with a question, a simple favor asked of a husband by his wife on an afternoon chilled by the Baltic wind...

The Education of a Coroner - Lessons in Investigating Death written by John Bateson performed by Kirby Heyborne on CD (Unabridged)£29.99

Marin County, California is a study in contradictions. Its natural beauty attracts thousands of visitors every year, yet the county also is home to San Quentin Prison, one of the oldest and largest penitentiaries in the country. Marin ranks in the top one percent of counties nationwide in terms of affluence and...

The Husband Hunters - American Heiresses Who Married in the British Aristocracy written by Anne De Courcy performed by Clare Corbett on CD (Unabridged)£24.99 - £29.99

A deliciously told group biography of the young, rich, American heiresses who married into the impoverished British aristocracy at the turn of the twentieth century - The real women who inspired Downton Abbey Towards the end of the nineteenth century and for the first few years of the twentieth...

The Invisible Order - The Fire King written by Paul Crilley performed by Katherine Kellgren on CD (Unabridged)£24.99

With humans threatened by otherworldly creatures, orphans Emily and William Snow, and their friends - the pickpocket Spring-Heeled Jack and the wisecracking Corrigan - find themselves 200 years in the past, trapped in the London of 1666. Desperately in need of help, they go in search of...

The Lost Fleet - Victorious written by Jack Campbell performed by Christian Rummel on CD (Unabridged)£34.99

The Lost Fleet: Relentless found its way onto the New York Times best-seller list...Now Victoriousleads the charge again - and "Black Jack" Geary is in command.... As war continues to rage between the Alliance and Syndicate Worlds, Captain "Black Jack" Geary is promoted to admiral - even though the...

The Mind of God - Neuroscience, Faith, and a Search For the Soul written by Dr. Jay Lombard performed by David Acord on MP3 CD (Unabridged)£19.99

For fans of Deepak Chopra, Rudy Tanzi, and Andrew Newberg. A renowned behavioral neurologist provides insights to some of the most curious spiritual questions we all face. Is there a God? It's a question billions of people have asked since the dawn of time. You would think by now we'd have a satisfactory...

The Power of Meaning - Crafting a Life That Matters written by Emily Esfahani Smith performed by Mozhan Marno on CD (Unabridged)£29.99

There is a myth in our culture that to find meaning, you have to travel to a distant monastery or wade through dusty volumes to figure out life's great secret. The truth is there are untapped sources of meaning all around us: right here, right now. Drawing on the latest research in positive psychology; on insights...

The Sunborn written by Gregory Benford performed by Gabrielle De Cuir, Richard Gilliland, Susan Hanfield and Stefan Rudnicki on CD (Unabridged)£19.99 - £24.99

The award-winning author of Timescape and Eater returns with a gripping new novel set in the same dynamic future as his wildly popular The Martian Race. Their historic mission to Mars made Julia and Victor the most famous astronauts of all time. Now, decades later, they are ordered by the Consortium to Pluto..

This Boy's Life - A Memoir written by Tobias Wolff performed by Oliver Wyman on CD (Unabridged)£19.99

The author of "The Barracks Thief" and "Hunters in the Snow" recreates his boyhood experiences, relating how he and his mother travelled throughout the United States, and tracing his experiences and changes from young boy to manhood against the background of a violent and wildly optimistic America.

Working with Difficult People written by William Lundin, PhD and Kathleen Lundin and Michael S. Dobson performed by Full Cast Performance on CD (Unabridged)£9.99

Working with difficult people can reduce your morale, threaten your productivity, deplete your energy, and waste your time. But you don't have to be helpless in the face of other people's craziness! Knowing how to handle coworkers' disruptive behavior is one of the most important career skills ...

You Might Be A Zombie and Other Bad News written by Cracked Editors performed by Johnny Heller on CD (Unabridged)£29.99

You're going to wish you never picked up this book. Some facts are too terrifying to teach in school. Unfortunately, Cracked.com is more than happy to fill you in:A zombie apocalypse? It could happen. 50% of humans are infected with a parasite that can take over your brain. The FDA wouldn't let you eat bugs, right?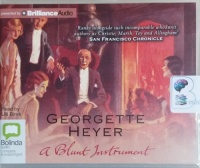 A Blunt Instrument written by Georgette Heyer performed by Ulli Birve on CD (Unabridged)£24.99
When Ernest Fletcher is found bludgeoned to death in his study, everyone is shocked and mystified: Ernest was well liked and respected, so who would have a motive for killing him? Enter Superintendent Hannasyde who, with consummate skill, begins to uncover the complexities of Fletcher's life. It seems the ...
---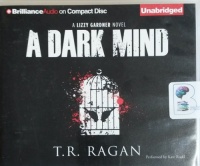 A Dark Mind written by T.R. Ragan performed by Kate Rudd on CD (Unabridged)£12.99
They call him the Lovebird Killer, a merciless fiend unleashing a flood of unspeakable cruelty upon Sacramento's most loving couples, young and old. This real-life monster's reign of terror has left the city's residents paralyzed with fear. All but Lizzy Gardner. Because hiding from monsters isn't Lizzy's style, not...
---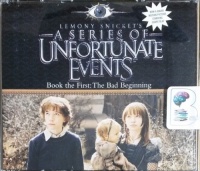 A Series of Unfortunate Events - Book The First: The Bad Beginning written by Lemony Snicket performed by Tim Curry on CD (Unabridged)£6.99
Like a car alarm, bagpipe music, or a doorbell ringing in the middle of the night, hearing this all-new audio edition of The Bad Beginning will only upset you. This unique multi-voice recording brings the first book in Lemony Snicket's alarming A Series of Unfortunate Events to such terrible life that no one should...
---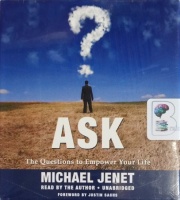 Ask - The Questions to Empower Your Life written by Michael Jenet performed by Michael Jenet on CD (Unabridged)£9.99
WHY? Why do some people live happier, successful, and more fulfilling lives while others are miserable, struggling and empty? ASK gives you the answer. As Jenet says, "Life is meant to be lived, not endured". In an easy-to-read, humorous, conversational style, peppered with logical explanations, simple steps ...
---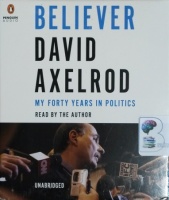 Believer - My Forty Years in Politics written by David Axelrod performed by David Axelrod on CD (Unabridged)£14.99
The great strategist who masterminded Obama's historic election campaigns opens up about his years as a young journalist, political consultant, and ultimately senior adviser to the president The man behind some of the greatest political changes of the last decade, David Axelrod has devoted a lifetime to...
---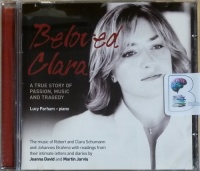 Beloved Clara written by Robert and Clara Schumann and Joahnnes Brahms performed by Joanna David, Martin Jarvis and Lucy Parham (Piano) on CD (Abridged)£9.99
Through their music and readings from their intimate letters and diaries, this album recounts the highly-charged story of the relationships between Robert and Clara Schumann and Johannes Brahms, between whom one of the most famed love triangles existed. The readings are by Martin Jarvis & Joanna David...
---
---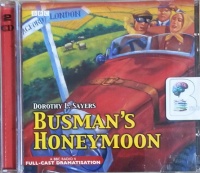 Busman's Honeymoon - BBC Dramatisation written by Dorothy L. Sayers performed by Ian Carmichael, Sarah Badel, Peter Jones and Rosemary Leach on CD (Abridged)£7.99
Society's eligible women are in mourning. Lord Peter Wimsey has married at last, having finally succeeded in his ardent pursuit of the lovely mystery novelist Harriet Vane. The two depart for a tranquil honeymoon in a country farmhouse but find, instead of a well-prepared love nest, the place left in a shambles by...
---
---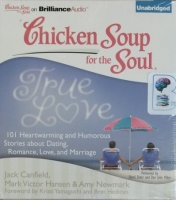 Chicken Soup for the Soul - True Love 101 Heartwarming and Humorous Stories about Dating, Romance, Love and Marriage written by Jack Canfield, Mark Victor Hansen and Amy Newmark performed by Sherri Slater and Dan John Miller on CD (Unabridged)£6.99
Everyone loves a good love story. And we all love stories about how the love started and blossomed. This fun new book about dating, romance, love, and marriage, will make you laugh and make you cry, and is guaranteed to inspire you to renew that search for your soul mate or open your heart a little more ...
---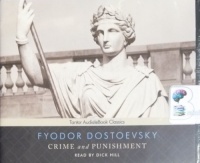 Crime and Punishment written by Fyodor Dostoevsky performed by Dick Hill on CD (Unabridged)£39.99
A desperate young man plans the perfect crime-the murder of a despicable pawnbroker, an old woman no one loves and no one will mourn. Is it not just, he reasons, for a man of genius to commit such a crime-to transgress moral law-if it will ultimately benefit humanity? So begins one of the greatest novels ever...
---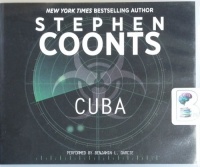 Cuba written by Stephen Coonts performed by Benjamin L. Darcie on CD (Unabridged)£19.99
The hero of six New York Times bestsellers by Stephen Coonts, author of Flight of the Intruder and Fortunes of War, returns as the United States and Cuba engage in a terrifying game of brinksmanship, a gamble that could break the last military taboo and destroy both countries. In Cuba, an ailing Fidel Castro ...
---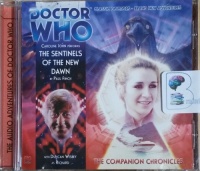 Dr Who - The Sentinels of the New Dawn written by Paul French performed by Caroline John and Duncan Wisbey on CD (Unabridged)£4.99
Some time after leaving UNIT, Liz Shaw calls the Doctor to Cambridge University, where scientists are experimenting with time dilation. A device hurls them to the year 2014, and a meeting with Richard Beauregard, heir to the Beauregard estate.
---
---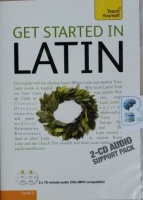 Get Started In Latin written by The Teach Yourself Team performed by Mark Espiner, Carmen Plaza, Paul Price and George Sharpley on CD (Abridged)£9.99
If you are an absolute beginner or simply looking for a solid foundation to your language studies for school, work or travel, this engaging course will help get you on your way to speaking, writing, reading and understanding Latin in no time. Through culture notes, clear language presentations, and extensive...
---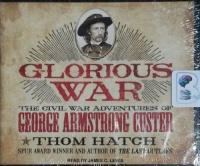 Glorious War - The Civil War Adventures of George Armstrong Custer written by Thom Hatch performed by James C. Lewis on CD (Unabridged)£24.99
Glorious War, the thrilling and definitive biography of George Armstrong Custer's Civil War years, is nothing short of a heart-pounding cavalry charge through the battlefield heroics that thrust the gallant young officer into the national spotlight in the midst of the country's darkest hours. From West Point to the...
---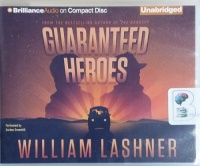 Guaranteed Heroes written by William Lashner performed by Gordon Greenhill on CD (Unabridged)£19.99
In a nation still recovering from the nuclear tragedies of forty years earlier, Clyde is working a dead-end guaranteed job at a diner, and Moonis is incarcerated in a Labor Camp for the Malcontented. But when Moonis's sister, Cecily, goes missing, the old friends escape their prisons to search for her in post-fallout...
---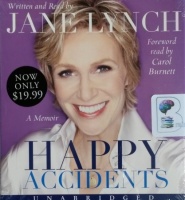 Happy Accidents written by Jane Lynch performed by Jane Lynch on CD (Unabridged)£14.99
Best-known as Glee's sharp-tongued Sue Sylvester, Jane Lynch's on-screen persona is someone that many love to hate. But when she's not prowling the corridors in Sue's shiny tracksuit, who is the real Jane Lynch and how did this Golden Globe and Emmy winner learn to channel such delicious nastiness?