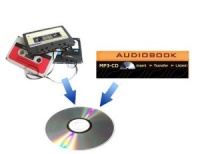 3 Hour Fixed Price Audio Transfer for Customers Own Tapes£25.00
This is the fixed price £25.00 item to be used by Customers when ordering conversion of their own sub 3 hour Audio Cassette or MP3 CD title.
---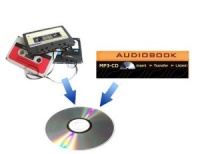 3 Hour Fixed Price Audio Transfer£15.00
This is the fixed price £15 item to be used when ordering conversion of a sub 3 hour Audio Cassette or MP3 CD title.
---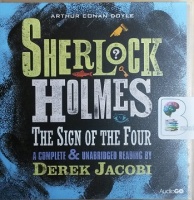 Sherlock Holmes The Sign of the Four written by Arthur Conan Doyle performed by Derek Jacobi on CD (Unabridged)£7.99 - £9.99
A Genius Performance by Derek Jacobi!
Mary Morstan reports two seemingly unconnected and inexplicable events: the disappearance of her father, a British Indian Army Captain, and the arrival of pearls by post from an unknown sender.
---
---
---
---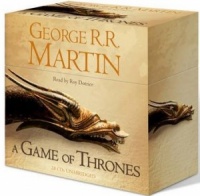 A Game of Thrones written by George R.R. Martin performed by Roy Dotrice on CD (Unabridged)£38.99
This first volume in the hugely popular and highly acclaimed epic fantasy series A SONG OF ICE AND FIRE is unabridged on 28 CDs.
---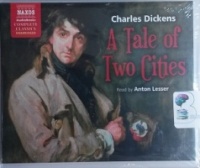 A Tale of Two Cities written by Charles Dickens performed by Anton Lesser on CD (Unabridged)£29.99 - £39.99
It was the best of times and the worst of times'. In one of the most famous openings of any novel, Dickens masterfully presents the turmoil of the French Revolution which is the backdrop for a novel of love, patience, hope and self-sacrifice. It is read by Anton Lesser whose award-winning Dickens... Naxos
---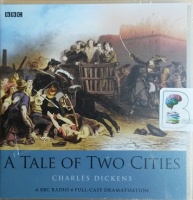 A Tale of Two Cities written by Charles Dickens performed by BBC Full Cast Dramatisation and Robert Lindsay on CD (Abridged)£24.99 - £34.99
Robert Lindsay stars in this BBC Radio 4 full-cast dramatisation of the classic novel by Charles Dickens. From the echo of the first line 'It was the best of times, it was the worst of times' to the final 'It is a far better thing that I do than I have ever done', Dickens' classic novel of the French revolution...
---
---
---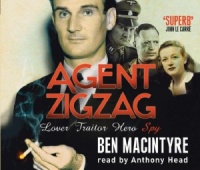 Agent Zigzag written by Ben Macintyre performed by Anthony Head on CD (Abridged)£23.99
Eddie Chapman: rogue, criminal, confidence trickster, hero to both sides and betrayer of all. At the start of the Second World War, Chapman was recruited by the German Secret Service. He was a highly prized Nazi agent.
---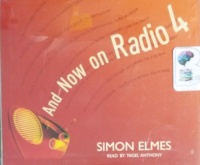 And Now on Radio 4 written by Simon Elmes performed by Nigel Anthony on CD (Abridged)£9.99
And Now on Radio 4 offers an enthusiast's guide to the shows that have made Radio 4 what it is, and also explores some of the wonderful corners of the network's history that are long forgotten by all but a few. Who, for instance, now recalls Ronnie Barker's starring role on Radio 4 in a sophisticated ...
---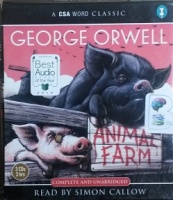 Animal Farm written by George Orwell performed by Simon Callow on CD (Unabridged)£19.99
George Orwell's 1945 satire on the perils of Stalinism has proved magnificently long-lived as a parable about totalitarianism anywhere and has given the world at least one immortal phrase: "Everyone is equal, but some are more equal than others."
---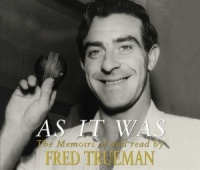 As It Was written by Fred Trueman performed by Fred Trueman on CD (Abridged)£28.99
Fred Trueman was a national treasure, a legend not only to cricket fans the world over but also to those who only ever took a passing interest in the game.
---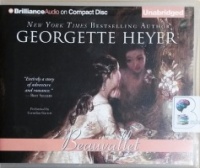 Beauvallet written by Georgette Heyer performed by Cornelius Garrett on CD (Unabridged)£24.99
Sir Nicholas Beauvallet has fallen in love with a Spanish noblewoman. She and her father were aboard a galleon captured by Sir Nicholas. He vows to make her his bride even though it means returning the pair to Spain and entering the lion's den.
---
---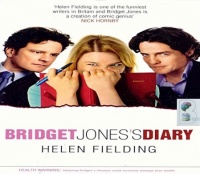 Bridget Jones's Diary written by Helen Fielding performed by Tracie Bennett on CD (Abridged)£4.99
Bridget Jones wants to have it all - and once she's given up smoking and got down to 8st 7 she will.
Based on Helen Fielding's diary in the Independent newspaper, this is a novel about a year in the life of a single girl on an optimistic but doomed quest for self-improvement and Inner Poise.
---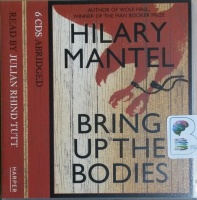 Bring Up The Bodies written by Hilary Mantel performed by Julian Rhind Tutt on CD (Abridged)£9.99
Winner of the Man Booker Prize 2012 Winner of the 2012 Costa Book of the Year Shortlisted for the 2013 Women's Prize for Fiction 'Simply exceptional…I envy anyone who hasn't yet read it'Daily Mail 'A gripping story of tumbling fury and terror'Independent on Sunday With this historic win for Bring Up the Bodies...
---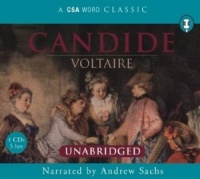 Candide written by Voltaire performed by Andrew Sachs on CD (Unabridged)£19.99
A Genius Performance by Andrew Sachs!
Candide and his tutor Pangloss journey the earth, following the philosophy: All is for the best in this, the best of all possible worlds - A point made by Liebnitz and earlier by Aquinas. This adage, however, is disproved at many turns, with the characters encountering opposition to their outlook. The initially naive Candide realises some of the dark truths of the eighteenth-century world, but could there be any light at the end of the tunnel?
New In March 2019 Part 4
(in alphabetical order)
A Cruelty Special to Our Species written by Emily Jungmin Yoon performed by Emily Jungmin Yoon on CD (Unabridged)£14.99

A piercing debut collection of poems exploring gender, race, and violence from a sensational new talent. In her arresting collection, urgently relevant for our times, poet Emily Jungmin Yoon confronts the histories of sexual violence against women, focusing in particular on Korean so-called "comfort women,"

A Journey of Discovery in Ireland written by Pete McCarthy performed by Pete McCarthy on Cassette (Abridged)£4.99

McCARTHY'S BAR is the result of a lifelong love affair with Ireland. Written and read by the presenter of Channel 4's Travelog, it is both an entertaining journey and a personal investigation into a past, and a country populated by hundreds of McCarthys, where Christian Brothers rub shoulders with Van Morrison...

Accessing the Media - How to Get Good Press written by Jill Osborn performed by Teri Schnaubelt on CD (Unabridged)£14.99

Accessing the Media takes the listener behind the scenes to understand how best to work with press to get publicity. Perfect for politicians, business leaders, lobbyists, and media junkies, this reference provides an insider's look at how the modern newsroom works, detailing the different roles of reporters...

Angels by My Side - Stories and Glimpses of These Heavenly Helpers written by Betty Malz performed by Melanie Ewbank on CD (Unabridged)£9.99

God knows your needs - and He has His angels ready to help you! Have you ever had a close call? Do you sometimes sense that you are not alone? Do you wonder if you have ever met an angel "unaware"? When Betty Malz was a young mom, she suffered a ruptured appendix and, after many fatal ...

Ben-Hur written by Lew Wallace performed by Radio Theatre Team on CD (Unabridged)£9.99

An unforgettable account of betrayal, revenge, redemption, Focus on the Family Radio Theatre's production of Ben-Hur tells the tale of a nobleman who fell from Roman favor and was sentenced to live as a slave all at the hands of his childhood friend, Messala. Once nearly brothers, any hope of reconciliation...

Bone Music written by Christopher Rice performed by Lauren Ezzo on CD (Unabridged)£19.99

There's more than one way to stoke the flames of revenge... Charlotte Rowe spent the first seven years of her life in the hands of the only parents she knew - a pair of serial killers who murdered her mother and tried to shape Charlotte in their own twisted image. If only the nightmare had ended when she...

Captain Alatriste written by Arturo Perez-Reverte performed by Scott Brick on CD (Unabridged)£24.99

In Madrid in the 1620s, a man must live by his wits, and often by his sword. For this is a time when court intrigue is high, when the decadent young king has dragged the country into a series of disastrous wars, and citizens live in fear of the infamous Spanish Inquisition. In this political hotbed of hired assassins...

Cracking The Aging Code - The New Science of Growing Old and What It Means for Staying Young written by Josh Mitteldorf and Dorion Sagan performed by Stephen McLaughlin on CD (Unabridged)£39.99

A revolutionary examination of why we age, what it means for our health, and how we just might be able to fight it. In Cracking the Aging Code, theoretical biologist Josh Mitteldorf and award-winning writer and ecological philosopher Dorion Sagan reveal that evolution and aging are even more complex...

Dominion - The History of England from The Battle of Waterloo to Victoria's Diamond Jubilee written by Peter Ackroyd performed by Derek Perkins on CD (Unabridged)£29.99

Dominion, the fifth volume in Peter Ackroyd's masterful History of England, begins in 1815 as national glory following the Battle of Waterloo gives way to a post-war depression and ends with the death of Queen Victoria in January 1901. Spanning the end of the Regency, Ackroyd takes listeners from the ..

Driving Mr. Albert - A Trip Across America with Einstein's Brain written by Michael Paterniti performed by Casey Jones on CD (Unabridged)£19.99

This extraordinary travel book tells the true story of how in 1997 writer Michael Paterniti agreed to take a road trip from New Jersey to California, reuniting the preserved brain of the great scientist Albert Einstein (1879-1955) with his granddaughter Evelyn. Paterniti's improbable travelling companion is...

Empress - The Astonishing Reign of Nur Jahan written by Ruby Lal performed by Suzanne Toren on CD (Unabridged)£24.99

In 1611, thirty-four-year-old Nur Jahan, daughter of a Persian noble and widow of a subversive official, became the twentieth and favorite wife of the Emperor Jahangir, who ruled the vast Mughal Empire. An astute politician as well as a devoted partner, she issued imperial orders; coins of the realm bore her name.

Fierce Conversations - Achieving Success at Work and In Life, One Conversation at a Time written by Susan Scott performed by Susan Scott on CD (Unabridged)£19.99

Fierce Conversations is a way of conducting business. An attitude. A way of life. Communications expert Susan Scott maintains that a single conversation can change the trajectory of a career, marriage or life. Whether these are conversations with yourself, partner, colleagues, customers, family or friends...

Fire Shut Up in My Bones written by Charles M. Blow performed by Charles M. Blow on CD (Unabridged)£19.99

A gorgeous, moving memoir of how one of America's most innovative and respected journalists found his voice by coming to terms with a painful past New York Times columnist Charles M. Blow mines the compelling poetry of the out-of-time African-American Louisiana town where he grew up a place...

Fire Shut Up in My Bones written by Charles M. Blow performed by Charles M. Blow on MP3 CD (Unabridged)£19.99

A gorgeous, moving memoir of how one of America's most innovative and respected journalists found his voice by coming to terms with a painful past New York Times columnist Charles M. Blow mines the compelling poetry of the out-of-time African-American Louisiana town where he grew up a place...

Formerly Known As Food - How the Industrial Food System Is Changing Our Minds, Bodies and Culture written by Kristin Lawless performed by Jennywren Walker on CD (Unabridged)£29.99

One of Bustle's "17 Best Nonfiction Books Coming Out In June 2018" - One of The Revelator's "16 New Environmental Books for June" - One of Equinox's "5 Books High Performers Should Read in June" - One of Foodtank's "18 Books Making a Splash This Summer" - One of CivilEats' "22 Noteworthy Food ...

Green Hills of Africa written by Ernest Hemingway performed by Josh Lucas on CD (Unabridged)£24.99

His second major venture into non fiction (after Death in the Afternoon, 1932), Green Hills of Africais Ernest Hemingway's lyrical journal of a month on safari in the great game country of East Africa, where he and his wife Pauline journeyed in December of 1933. Hemingway's well-known interest in and fascination...

In The Valley of the Shadow - On The Foundations of Religious Belief written by James L. Kugel performed by George K. Wilson on CD (Unabridged)£39.99

When James L. Kugel, one of the world's leading biblical scholars, was diagnosed with an aggressive, likely fatal form of cancer, he said, "I was, of course, disturbed and worried. But the main change in my state of mind was that the background music suddenly stopped. Now I was just down to myself...

Just Say the Word written by Carla Salvo performed by Carla Salvo on CD (Unabridged)£29.99

When her boyfriend is naively sucked into the Mob, young Rita Napapolus spends years trying to reconcile her days as a school teacher against her nights as a mob mistress. Eventually, the distraught young woman flees the familiarity of the east coast with her daughter to begin a new life in Seattle.

Life in Motion - An Unlikely Ballerina written by Misty Copeland performed by Lisa Renee Pitts on CD (Unabridged)£29.99

"Picture a ballerina in a tutu and toe shoes. What does she look like?"As the only African-American soloist dancing with the prestigious American Ballet Theatre, Misty Copeland has made history. But when she first placed her hands on the barre at an after-school community center, no one expected...

Mama Black Widow written by Iceberg Slim performed by Bobby Spears Jr. on CD (Unabridged)£24.99

Mama Black Widow tells the story of Otis Tilson, a comely and tragic homosexual queen adrift with his brothers and sisters in the dark, labyrinthine world of pimping, tricking, violence, and petty crime. Written in the jagged, vivid, and always authentic language of the homosexual underworld and the black ghetto..

Marion Zimmer Bradley's Sword of Avalon written by Diana L. Paxson performed by Lorna Raver on CD (Unabridged)£29.99

Epic in its sweep and peopled by the remarkable women who have always inhabited Avalon, Marion Zimmer Bradley's Sword of Avalon expands the legendary saga that has enchanted millions of readers over the years and is sure to please Bradley's loyal readership and anyone who loves wonderfully...

Me, Myself and Us - The Science of Personality and the Art of Well-being written by Brian R. Little performed by Patrick Lawlor on CD (Unabridged)£19.99

In the past few decades, personality psychology has made considerable progress in raising new questions about human nature—and providing some provocative answers. New scientific research has transformed old ideas about personality based on the theories of Freud, Jung, and the humanistic...

Murder in Mesopotamia written by Agatha Christie performed by Carole Boyd on CD (Abridged)£4.99

An archaeologist's wife is murdered on the shores of the River Tigris in Iraq. It was clear to Amy Leatheran that something sinister was going on at the Hassanieh dig in Iraq; something associated with the presence of 'Lovely Louise', wife of celebrated archaeologist Dr Leidner. In a few days' time Hercule...

New - Understanding Our Need for Novelty and Change written by Winifred Gallagher performed by Laural Merlington on CD (Unabridged)£34.99

Offers insight into the psychological drive to pursue new things, sharing advice for aficionados of new experiences on how to embrace today's dynamic and creative culture while living sensibly and satisfyingly.

Pride and Prejudice written by Jane Austen performed by Emilia Fox on CD (Unabridged)£24.99

Jane Austen's most popular novel, originally published in 1813, some 17 years after it was first written, presents the Bennet family of Longbourn. Against the background of gossipy Mrs Bennet and the detached Mr Bennet, the quest is on for husbands for the five daughters.

Rock Breaks Scissors written by William Poundstone performed by Joel Richards on CD (Unabridged)£14.99

A practical guide to outguessing everything from multiple-choice tests to the office football pool to the stock market. People are predictable even when they try not to be. William Poundstone demonstrates how to turn this fact to personal advantage in scores of everyday situations, from playing the lottery...

Running with the Mind of Meditation - Lessons for Training Body and Mind written by Sakyong Mipham performed by Neil Hellegers on CD (Unabridged)£19.99

As a Tibetan lama and leader of Shambhala (an international community of 165 meditation centers), Sakyong Mipham has found physical activity to be essential for spiritual well-being. He's been trained in horsemanship and martial arts but has a special love for running. Here he incorporates his...

The Danish Girl written by David Ebershoff performed by Jeff Woodman on CD (Unabridged)£24.99

Inspired by the true story of Danish painter Einar Wegener and his California-born wife, this tender portrait of a marriage asks: what do you do when someone you love wants to change? It starts with a question, a simple favor asked of a husband by his wife on an afternoon chilled by the Baltic wind...

The Education of a Coroner - Lessons in Investigating Death written by John Bateson performed by Kirby Heyborne on CD (Unabridged)£29.99

Marin County, California is a study in contradictions. Its natural beauty attracts thousands of visitors every year, yet the county also is home to San Quentin Prison, one of the oldest and largest penitentiaries in the country. Marin ranks in the top one percent of counties nationwide in terms of affluence and...

The Husband Hunters - American Heiresses Who Married in the British Aristocracy written by Anne De Courcy performed by Clare Corbett on CD (Unabridged)£24.99 - £29.99

A deliciously told group biography of the young, rich, American heiresses who married into the impoverished British aristocracy at the turn of the twentieth century - The real women who inspired Downton Abbey Towards the end of the nineteenth century and for the first few years of the twentieth...

The Invisible Order - The Fire King written by Paul Crilley performed by Katherine Kellgren on CD (Unabridged)£24.99

With humans threatened by otherworldly creatures, orphans Emily and William Snow, and their friends - the pickpocket Spring-Heeled Jack and the wisecracking Corrigan - find themselves 200 years in the past, trapped in the London of 1666. Desperately in need of help, they go in search of...

The Lost Fleet - Victorious written by Jack Campbell performed by Christian Rummel on CD (Unabridged)£34.99

The Lost Fleet: Relentless found its way onto the New York Times best-seller list...Now Victoriousleads the charge again - and "Black Jack" Geary is in command.... As war continues to rage between the Alliance and Syndicate Worlds, Captain "Black Jack" Geary is promoted to admiral - even though the...

The Mind of God - Neuroscience, Faith, and a Search For the Soul written by Dr. Jay Lombard performed by David Acord on MP3 CD (Unabridged)£19.99

For fans of Deepak Chopra, Rudy Tanzi, and Andrew Newberg. A renowned behavioral neurologist provides insights to some of the most curious spiritual questions we all face. Is there a God? It's a question billions of people have asked since the dawn of time. You would think by now we'd have a satisfactory...

The Power of Meaning - Crafting a Life That Matters written by Emily Esfahani Smith performed by Mozhan Marno on CD (Unabridged)£29.99

There is a myth in our culture that to find meaning, you have to travel to a distant monastery or wade through dusty volumes to figure out life's great secret. The truth is there are untapped sources of meaning all around us: right here, right now. Drawing on the latest research in positive psychology; on insights...

The Sunborn written by Gregory Benford performed by Gabrielle De Cuir, Richard Gilliland, Susan Hanfield and Stefan Rudnicki on CD (Unabridged)£19.99 - £24.99

The award-winning author of Timescape and Eater returns with a gripping new novel set in the same dynamic future as his wildly popular The Martian Race. Their historic mission to Mars made Julia and Victor the most famous astronauts of all time. Now, decades later, they are ordered by the Consortium to Pluto..

This Boy's Life - A Memoir written by Tobias Wolff performed by Oliver Wyman on CD (Unabridged)£19.99

The author of "The Barracks Thief" and "Hunters in the Snow" recreates his boyhood experiences, relating how he and his mother travelled throughout the United States, and tracing his experiences and changes from young boy to manhood against the background of a violent and wildly optimistic America.

Working with Difficult People written by William Lundin, PhD and Kathleen Lundin and Michael S. Dobson performed by Full Cast Performance on CD (Unabridged)£9.99

Working with difficult people can reduce your morale, threaten your productivity, deplete your energy, and waste your time. But you don't have to be helpless in the face of other people's craziness! Knowing how to handle coworkers' disruptive behavior is one of the most important career skills ...

You Might Be A Zombie and Other Bad News written by Cracked Editors performed by Johnny Heller on CD (Unabridged)£29.99

You're going to wish you never picked up this book. Some facts are too terrifying to teach in school. Unfortunately, Cracked.com is more than happy to fill you in:A zombie apocalypse? It could happen. 50% of humans are infected with a parasite that can take over your brain. The FDA wouldn't let you eat bugs, right?
---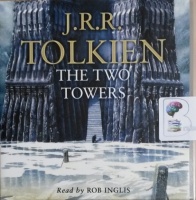 Lord of the Rings - Part 2 The Two Towers written by J.R.R. Tolkien performed by Rob Inglis on CD (Unabridged)£24.99
The Two Towers is the second part of JRR Tolkien's epic masterpiece The Lord of the Rings. Frodo and the Companions of the Ring have been beset by danger during their quest to prevent the Ruling Ring from falling into the hands of the Dark Lord by destroying it in the Cracks of Doom. They have lost the wizard...
---
---
The Fictional Woman written by Tara Moss performed by Tara Moss on CD (Unabridged)£29.99
Tara Moss has worn many labels in her time, including author, model, gold-digger, commentator, inspiration, dumb blonde, feminist, and mother, among many others. Now, in her first work of nonfiction, she blends memoir and social analysis to examine the common fictions about women. She traces key...
---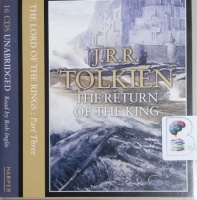 The Lord of the Rings - Part 3 The Return of the King written by J.R.R. Tolkien performed by Rob Inglis on CD (Unabridged)£24.99
The climactic volume of the trilogy, wherein the little hobbit and his trusty companions make a terrible journey to the heart of the land of the Shadow in a final reckoning with the power of Sauron. The climactic volume of the trilogy, wherein the little hobbit and his trusty companions make a terrible journey to...
---
---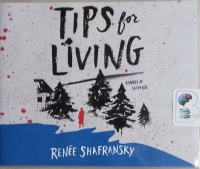 Tips for Living written by Renee Shafransky performed by Susan Bennett on CD (Unabridged)£29.99
On the day Nora discovered that her husband, Hugh, had gotten another woman pregnant, she made a vow: I will come back to life no matter how long it takes… It's taken Nora three years. With the help of her best friend, she fled New York City for a small resort town, snagged a job as the advice columnist for...
---
---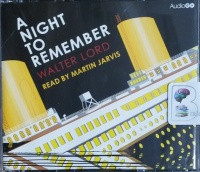 A Night to Remember written by Walter Lord performed by Martin Jarvis on CD (Unabridged)£9.99
There is no danger that Titanic will sink. The boat is unsinkable and nothing but inconvenience will be suffered by the passengers.' - Phillip Franklin, White Star Line Vice-President
---
---
---
---
---
---
---
---
---