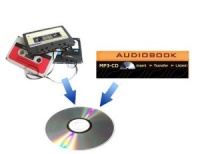 3 Hour Fixed Price Audio Transfer for Customers Own Tapes£25.00
This is the fixed price £25.00 item to be used by Customers when ordering conversion of their own sub 3 hour Audio Cassette or MP3 CD title.
---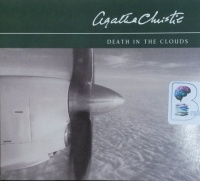 Death in the Clouds written by Agatha Christie performed by David Timson on CD (Abridged)£4.99
From seat No.9, Hercule Poirot was ideally placed to observe his fellow air passengers. Over to his right sat a pretty young woman, ahead, across the gangway in seat No.8, a detective writer was being troubled by an aggressive wasp. What Poirot did not yet realize was that behind him, in seat No.2, sat the ...
---
---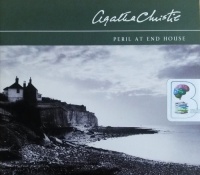 Peril at End House written by Agatha Christie performed by Hugh Fraser on CD (Abridged)£3.99 - £4.99
Nick Buckley was an unusual name for a pretty young woman. But then she had led an unusual life. First, on a treacherous Cornish hillside, the brakes on her car failed. Then, on a coastal path, a falling boulder missed her by inches. Later, an oil painting fell and almost crushed her in bed.
---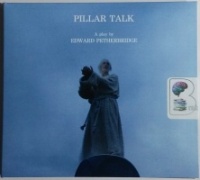 Pillar Talk - A Play written by Edward Petherbridge performed by Edward Petherbridge on CD (Unabridged)£14.99
Exclusive to Brainfood Audiobooks! Esteemed actor Edward (Nicholas Nickleby) Petherbridge uses the story of Symeon Stylites, the 5th century monk who lived on a pillar for thirty-six years, as a framework for an existential inquiry into imagination, belief, doubt, miracles and why one would live 'as I live.'
---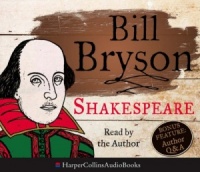 Shakespeare written by Bill Bryson performed by Bill Bryson on CD (Unabridged)£6.99 - £7.99
This short biography of William Shakespeare by world famous writer Bill Bryson brims with the authorís inimitable wit and intelligence.
---
---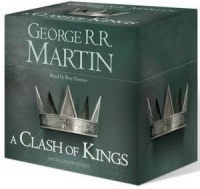 A Clash of Kings written by George R.R. Martin performed by Roy Dotrice on CD (Unabridged)£38.99
George R. R. Martinís superb fantasy epic continues in consummate style as bloodshed and alchemy lay waste the Seven Kingdoms. This second volume of A Song of Ice and Fire is unabridged and on 30 CDs.
---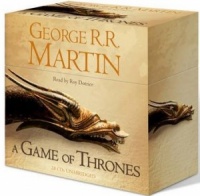 A Game of Thrones written by George R.R. Martin performed by Roy Dotrice on CD (Unabridged)£38.99
This first volume in the hugely popular and highly acclaimed epic fantasy series A SONG OF ICE AND FIRE is unabridged on 28 CDs.
---
---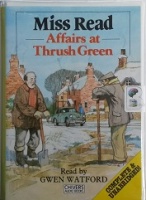 Affairs at Thrush Green written by Mrs Dora Saint as Miss Read performed by Gwen Watford on Cassette (Unabridged)£16.99 - £19.99
When Charles Henstock, rector of Thrush Green, moves a mile downhill to the parish of Lulling, his many friends rejoice in his promotion. But an unfortunate skirmish with one of his wealthy parishioners over the Lady Chapel kneelers saddens him. England, 1930s.
---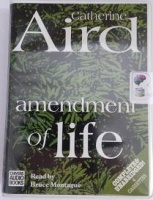 Amendment of Life written by Catherine Aird performed by Bruce Montague on Cassette (Unabridged)£13.99
The new Detective Inspector Sloan mystery from the mistress of cosy English crime Tidying up the famous yew hedge maze at Aumerle Court was never Peter Carter's favourite job.
---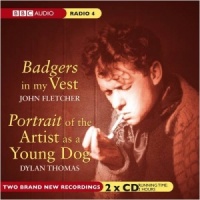 Badgers in My Vest and Portrait of the Artist as a Young Dog written by Dylan Thomas performed by BBC Full Cast Dramatisation on CD (Unabridged)£4.99 - £6.99
Badgers in My Vest is a new, darkly funny play by an acclaimed contemporary playwright, based on a true incident in Dylan Thomas' life.
---
New In March 2018 Part 6
(in alphabetical order)
Are these my basoomas I see before me? written by Louise Rennison performed by Louise Rennison on CD (Unabridged)£9.99

Ohmygiddygodspyjamas! The tenth marvy book in the Confessions of Georgia Nicolson is here! Get ready to laugh like a loon on loon tablets. It's the FINAL instalment of Georgia's fab and hilarious diary! Does Georgia escape the cakeshop of luuurve? Can there be more heartbreaknosity in store?

Bad Ideas? An Arresting History of Inventions written by Robert Winston performed by Robert Winston on CD (Abridged)£9.99

We are born with the instinct to create and invent. Indeed our ability to do so is what separates we humans from the rest of the animal world. The moment man first converted a stone to a useful tool set him on a relentless path toward greater control and power over his environment.

Before I Die written by Jenny Downham performed by Charlotte Parry on CD (Unabridged)£19.99

Tessa has just a few months to live. Fighting back against hospital visits, endless tests, drugs with excruciating side-effects, Tessa compiles a list. It's her Ten Things To Do Before I Die list. And Number One is sex. Released from the constraints of 'normal' life, Tessa tastes new experiences to make her feel...

Bob the Builder - Off-Road Scrambler written by Bob the Builder Team performed by Bob the Builder Team on CD (Unabridged)£2.99

This title includes seven episodes from the hugely popular series featuring Bob the Builder, Roley, Lofty, Dizzy, Scoop, Muck and Spud - as seen on BBC TV.

Cover Your Eyes written by Adele Geras performed by Alex Tregear on CD (Unabridged)£19.99

Eva Conway has spent a lifetime hiding from a ghost in the mirror - Eva was once a legendary fashion designer. Now widowed, she lives with her family in Salix House. Megan is a journalist working in London who interviewed Eva for a magazine. Torn apart by the brutal end of a love affair...

D-Day Despatches written by BBC Radio Archive performed by Robin Duff, Chester Wilmot, Colin Wills and Richard Dimbleby on CD (Abridged)£4.99

This programme focuses on the largest sea-borne invasion in modern history and one of the world's most tightly kept secrets. It brings together despatches from the BBC War Correspondents who brought up-to-the-minute, graphic descriptions of the events to the listening public.

Flashman on the March written by George MacDonald Fraser performed by Toby Stephens on CD (Abridged)£14.99

Harry Flashman: the unrepentant bully of Tom Brown's schooldays, now with a Victoria Cross, has three main talents – horsemanship, facility with foreign languages and fornication. A reluctant military hero, Flashman plays a key part in most of the defining military campaigns of the 19th century....

Fry's English Delight written by Stephen Fry performed by Stephen Fry on CD (Abridged)£3.99

A Genius Performance by Stephen Fry!

"Current Puns": Why does our language groan with the weight of puns? What exactly is a pun? And who, or what, is the Thief of Bad Gags? "Metaphor".

Hello Ladies... LIVE! written by Stephen Merchant performed by Stephen Merchant on CD (Unabridged)£2.99

Stephen Merchant, the Emmy, BAFTA and Golden Globe award winning co-creator of The Office and Extras in his first ever live stand-up comedy tour and it has been well worth the wait. The Guardian says "his performance is priceless...he can do funny just by being there" and The Times states that "the man is hilarious".

In the Ravine and other Short Stories written by Anton Chekhov performed by Kenneth Branagh on CD (Unabridged)£19.99

Anton Chekhov is regarded by many as the most outstanding short story writer. This may be a surprise at the first encounter with even his most famous stories, because they are rarely driven by plot or anticipation. They are often gentle in character, elusive in purpose;

Iron Hand written by Charlie Fletcher performed by Charlie Fletcher on CD (Abridged)£9.99

Edie,' said George, 'we're going to do this together. I'll be right there with you. Anything, anyone trying to get you is going to have to come past me first.' But when George makes his promise he is not aware that high on the rooftops an unseen gargoyle is watching them hungrily....

Italian for Beginners written by Language Lab Team performed by Language Lab Team on CD (Abridged)£4.99

The set consists of a 64 page book and 1 CD. The audio deals with 300 key words and phrases. It includes 18 short lessons dealing with common situations. Each lesson is narrated by a native speaker, showing the correct pronunciation and accent so you appreciate both the manner ...

Jurassic Park written by Michael Crichton performed by Scott Brick on CD (Unabridged)£19.99

Audie Award, Science Fiction, 2016 An astonishing technique for recovering and cloning dinosaur DNA has been discovered. Now humankind's most thrilling fantasies have come true. Creatures extinct for eons roam Jurassic Park with their awesome presence and profound mystery....

Last Orders written by Graham Swift performed by Kenneth Cranham on CD (Abridged)£6.99

Set in Southeast England, friendship and love among a group of men whose lives have been intertwined since World War II. When one dies, the survivors are brought together and are forced to take stock of the paths their lives have taken since the war. Winner of the 1996 Booker Prize.

Moondust written by Andrew Smith performed by Andrew Smith on CD (Abridged)£9.99

In 1999, Andrew Smith was interviewing Charlie Duke, astronaut and moon walker, for the Sunday Times. During the course of the interview, which took place at Duke's Texan home, the telephone rang and Charlie left the room to answer it. When he returned, some twenty minutes later, he seemed visibly upset.

Out of the Dark written by Adele Geras performed by Ben Allen on CD (Unabridged)£11.99 - £14.99

Rob Stone comes back from the horrors of the First World War with a ruined face and a broken heart. Lonely, unable to forget the things he has seen, and haunted by the ghost of his dead Captain, all that Rob has left is a picture of the Captain's family.

Property written by Valerie Martin performed by Liza Ross on CD (Abridged)£19.99

Property is Valerie Martin's powerful, startling novel set in America's deep South in the early nineteenth century: a story of freedom, both political and personal. Manon Gaudet is unhappily married to the owner of a Louisiana sugar plantation.

Return of the Hundred-Mile-An-Hour-Dog written by Jeremy Strong performed by Christopher Timothy on CD (Unabridged)£4.99

When Streaker knocks the beautiful Melinda Boffington-Orr into the mud, Trevor is told to train his dog by her father, the local Police Superintendent. Then the dreadful Charlie Smugg bets Trevor that Streaker can't beat his Alsatians in the agility test at the local dog show.

The Best of American Poetry written by Various American Poets performed by Various Famous Actors on CD (Abridged)£3.99

A wonderful variety of American Poetry including readings from Emerson, Longfellow, Dickinson, Frost, Pound and Edgar Alan Poe.

The Bourne Supremacy written by Robert Ludlum performed by Jeff Harding on CD (Abridged)£9.99

Washington, London and Peking - terror sweeps the globe. The Vice-Premier of the People's Republic has been brutally murdered by a legendary assassin and everyone is asking the same fearful questions: Why has Bourne come back? Who is paying him? Who is next on his death list?

The City of Falling Angels written by John Berendt performed by John Berendt on CD (Abridged)£3.99

Taking the fire that destroyed the Fenice theatre in 1996 as his starting point, John Berendt creates a unique and unforgettable portrait of Venice

The Darkening Hour written by Penny Hancock performed by Adjoa Andoh and Anna Bentinck on CD (Unabridged)£14.99

Mona, a migrant domestic worker is employed by London housewife, Theodora. At first Theodora only asks Mona to clean and occasionally cook for her, but as unwanted pressures from a demanding elderly father and a lazy, unemployed son begin to take their toll, Theodora deflects these onto Mona.

The Devil's Feather written by Minette Walters performed by Saskia Wickham on CD (Abridged)£6.99

Devil's feather – [derivation Turkish] - a woman who stirs a man's interest without realising it; the unwitting cause of sexual arousal] With private security firms supplying bodyguards in every theatre of war, who will notice the emergence of a sexual psychopath from the ranks of the mercenaries?

The Fourth Bear written by Jasper Fforde performed by Jasper Fforde on CD (Abridged)£19.99

The Gingerbreadman - psychopath, sadist, convicted murderer and cake/biscuit - is loose on the streets of Reading. It isn't Jack Spratt's case. Despite the success of the Humpty Dumpty investigation, the well publicised failure to prevent Red Riding-Hood and her Gran being eaten once again ....

The Fugitive written by Marcel Proust performed by Neville Jason on CD (Abridged)£9.99

Albertine has finally escaped her 'imprisonment' from Marcel's Paris apartment... Not only is Marcel quite unprepared for the effect her flight has on him, but also soon he is devastated by news of an even more irreversible loss.

the funny thing is ... written by Ellen DeGeneres performed by Ellen DeGeneres on CD (Unabridged)£14.99

Ellen DeGeneres published her first book of comic essays, the #1 bestselling My Point...and I Do Have One, way back in 1996. Not one to rest on her laurels, the witty star of stage and screen has since dedicated her life to writing a hilarious new book. That book is this audiobook.

The Gladiator written by Simon Scarrow performed by Steven Pacey on CD (Abridged)£4.99

The Gladiator is the compelling ninth novel in Simon Scarrow's best-selling Eagles of the Empire series. A must read for fans of Bernard Cornwell. While centurions Macro and Cato are returning to Rome from a harrowing campaign against the Parthians, their transport ship is almost capsized by a tidal wave.

The Real Food Revolution written by Tim Ryan performed by Tim Ryan on CD (Unabridged)£14.99

For most of history, Americans have lived close to the land, their food was accessed locally and they processed it in their own kitchens. But as the US population and economy boomed in the last century, they industrialized their food system - with food coming far from home and processed...

Turn Towards the Beautiful - Creativity as a Path of Liberation written by Jack Kornfield performed by Jack Kornfield on CD (Abridged)£7.99

The play of sunlight through leaves...the songs of the wind...the arc of a brush stroke on paper. To be awake, reflects Jack Kornfield, is to discover the beauty hidden in all things and to express that beauty ourselves. With Turn Toward the Beautiful, this lyrical writer and teacher inspires us...

Women's Short Stories - Volume 1 written by Various Famous Authors performed by Eve Karpf and Liza Ross on CD (Abridged)£9.99

This 2 CD set includes 7 short stories - 1 - A Dill Pickle by Katherine Mansfield preformed by Eva Karpf, 2 The Storm by Kate Chopin performed by Liza Ross, 3 The Sexton's Hero - Elizabeth Gaskell performed by Eva Karpf and 4 Solid Objects by Virginia Woolf performed by Eve Karpf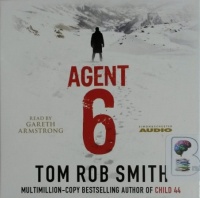 Agent 6 written by Tom Rob Smith performed by Gareth Armstrong on CD (Unabridged)£14.99 - £19.99
Former Soviet Secret Service agent Leo Demidov has built himself a new life as a civilian with his wife Raisa, and their two teenage daughters, Elena and Zoya. The Soviet Union is a country trying to reassert itself after the murderous excesses of Stalin and the chaos of the following years, and as the Cold War...
---
---
---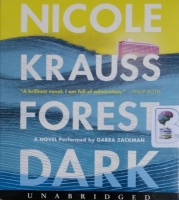 Forest Dark written by Nicole Krauss performed by Gabra Zackman on CD (Unabridged)£9.99
From the best-selling, twice Orange Prize-short-listed, National Book Award-nominated author comes a vibrant tale of transformation: of a man in his later years and a woman novelist, each drawn to the Levant on a journey of self-discovery. Jules Epstein has vanished from the world. He leaves no trace but a...
---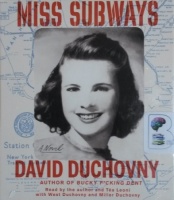 Miss Subways written by David Duchovny performed by David Duchovny, Tea Leoni, West Duchovny and Miller Duchovny on CD (Unabridged)£19.99
New York Times best-selling author David Duchovny reimagines the Irish mythological figure of Emer in Miss Subways, a darkly comic fantasy love story set in New York City. Emer is just a woman living in New York City who takes the subway, buys ice cream from the bodega on the corner, has writerly aspirations...
---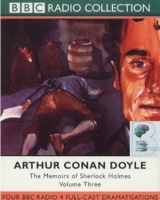 Sherlock Holmes The Memoirs of Sherlock Holmes Vol 3 written by Arthur Conan Doyle performed by BBC Full Cast Dramatisation, Clive Merrison and Michael Williams on Cassette (Abridged)£9.99
The Memoirs of Sherlock Holmes: The Greek Interpreter/The Naval Treaty/The Final Problem.
---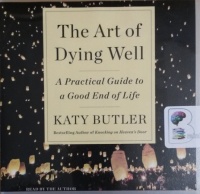 The Art of Dying Well - A Practical Guide to a Good End of Life written by Katy Butler performed by Katy Butler on CD (Unabridged)£34.99
An inspiring, informative, and practical guide to navigating end-of-life issues, by a groundbreaking expert in the field and the New York Times best-selling author of Knocking on Heaven's Door. In the mid-1400s, an unnamed Catholic monk composed a self-help book called Ars Moriendi or The Art of Dying.
---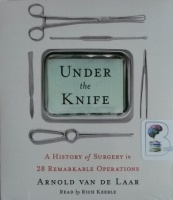 Under the Knife - A History of Surgery in 28 Remarkable Operations written by Arnold Van De Laar performed by Rich Keeble on CD (Unabridged)£39.99
The history of surgery in 28 famous operations - from Louis XIV to JFK, and from Einstein to Houdini. In Under the Knife, surgeon Arnold Van de Laar uses his own experience and expertise to tell the witty history of the past, present and future of surgery. From the story of the desperate man from 17th-century...
---
---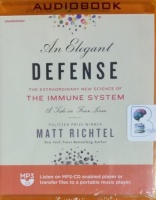 An Elegant Defense - The Extraordinary New Science of the Immune System - A Tale of Four Lives written by Matt Richtel performed by Fred Sanders on MP3 CD (Unabridged)£34.99
A magnificently reported and soulfully crafted exploration of the human immune system - the key to health and wellness, life and death. An epic, first-of-its-kind audiobook, entwining leading-edge scientific discovery with the intimate stories of four individual lives, by the Pulitzer Prize-winning New York Times...
---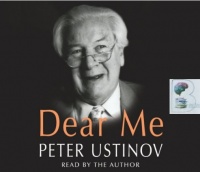 Dear Me written by Peter Ustinov performed by Peter Ustinov on CD (Abridged)£4.99 - £9.99
Sir Peter Ustinov's beautifully crafted autobiography is told with exquisite wit and insight. From his birth in April 1921, it spans his extraordinary career as actor, playwright, film star and director, confirming his early belief that he is 'irrevocably betrothed to laughter'.
---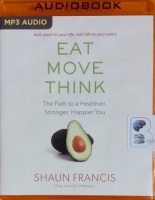 Eat, Move, Think - The Path to a Healthier, Stronger and Happier You written by Shaun Francis performed by Josh Goodman on MP3 CD (Unabridged)£14.99
Eat, Move, Think is the essential guide to living a longer, more active, and more fulfilled life - full of answers to your most pressing health and wellness questions. Doctors everywhere have the same goal: healthier and happier lives for their patients. And yet, no two medical professionals give the same advice.
---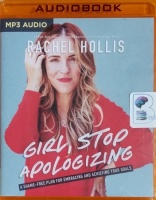 Girl, Stop Apologizing - A Shame-Free Plan for Embracing and Achieving Your Goals written by Rachel Hollis performed by Rachel Hollis on MP3 CD (Unabridged)£14.99
"I believe we can change the world. But first, we've got to stop living in fear of being judged for who we are." Rachel Hollis has seen it too often: women not living into their full potential. They feel a tugging on their hearts for something more, but they're afraid of embarrassment, of falling short of perfection, of ...
---