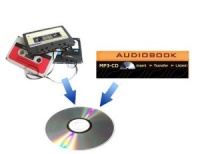 Very Large Fixed Price Audio Transfer Service£40.00
This is the fixed price £40.00 item to be used when ordering conversion of a 10-14 hour Audio Cassette or MP3 CD title.
---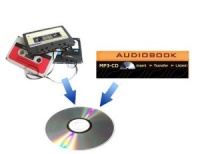 3 Hour Fixed Price Audio Transfer£15.00
This is the fixed price £15 item to be used when ordering conversion of a sub 3 hour Audio Cassette or MP3 CD title.
---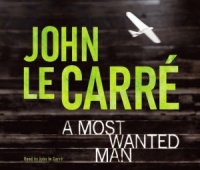 A Most Wanted Man written by John le Carre performed by John le Carre on CD (Abridged)£9.99
A half-starved young Russian man in a long black overcoat is smuggled into Hamburg at dead of night. He has an improbable amount of cash secreted in a purse round his neck. He is a devout Muslim. Or is he? He says his name is Issa.
---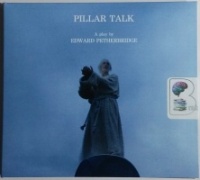 Pillar Talk - A Play written by Edward Petherbridge performed by Edward Petherbridge on CD (Unabridged)£14.99
Exclusive to Brainfood Audiobooks! Esteemed actor Edward (Nicholas Nickleby) Petherbridge uses the story of Symeon Stylites, the 5th century monk who lived on a pillar for thirty-six years, as a framework for an existential inquiry into imagination, belief, doubt, miracles and why one would live 'as I live.'
---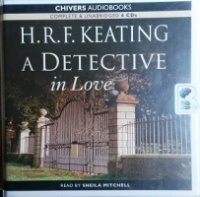 A Detective in Love written by H.R.F. Keating performed by Sheila Mitchell on CD (Unabridged)£9.99 - £14.99
DCI Harriet Martens is nicknamed the Hard Detective. But for Harriet, love proves more dangerous than any of her cases… Britain's number one tennis star, the beautiful Bubbles Xingara, has been murdered in the grounds of her luxurious house.
---
---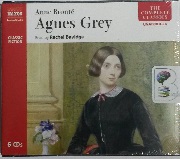 Agnes Grey written by Anne Bronte performed by Rachel Bavidge on CD (Unabridged)£24.99 - £29.99
For all those captivated by the trials of Jane Eyre, Anne Brontës heroine Agnes Grey is the ideal counterpoint. Agnes Grey is widely considered to be the best record of the precarious position of the governess in Victorian society, and the insolence, neglect and dependence that the gentle ....
---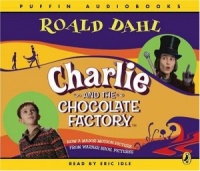 Charlie and the Chocolate Factory written by Roald Dahl performed by Eric Idle on CD (Unabridged)£4.99
This is a special audio edition of Charlie and the Chocolate Factory, read by Eric Idle, which will be published at the same time as the Warner Bros film.
Charlie Bucket thinks he's the luckiest boy alive when he unwraps one of Willy Wonka's Whipple-Scrumptious Fudgemallow Delights to find the last golden ticket.
---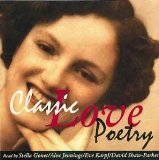 Classic Love Poetry written by Various Famous Poets performed by Various Famous Actors on CD (Abridged)£3.99 - £4.99
From "My True Love Hath My Heart" to September by Ted Hughes - there are 40 poems selected from the last millennia.
All performed by Stella Gonet, David Shaw-Parker, Alex Jennings and Eve Karpf.
---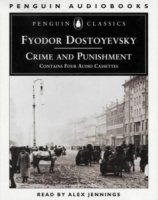 Crime and Punishment written by Fyodor Dostoyevsky performed by Alex Jennings on Cassette (Abridged)£6.99
Crime and Punishment is a novel by the Russian author Fyodor Dostoyevsky. It was first published in the literary journal The Russian Messenger in twelve monthly installments during 1866. It was later published in a single volume.
---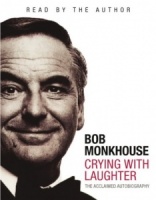 Crying with Laughter written by Bob Monkhouse performed by Bob Monkhouse on Cassette (Abridged)£18.99
Bob Monkhouse has been a star in show business for over 40 years during which time he has known both triumph and tragedy.
His first son was born disabled with cerebral palsy; he has suffered a life-long estrangement from his brother and he was arrested in 1978.
---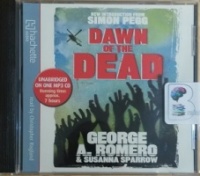 Dawn of the Dead written by George A. Romero and Susanna Sparrow performed by Christopher Ragland on MP3 CD (Unabridged)£4.99
When there is no more room in hell, the dead will walk the Earth. George A. Romero's iconic film and novel terrified generations. Now Dawn of the Dead is back to terrify once more. The world is being devastated by zombies. No one knows how far they have spread, or how to stop them.
---
---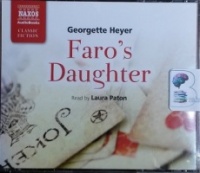 Faro's Daughter written by Georgette Heyer performed by Laura Paton on CD (Abridged)£11.99 - £19.99
Fiery, strong-willed Deb Grantham, who runs a gaming house with her aunt, is hardly the perfect wife for the young and naïve Lord Mablethorpe. His lordship's family are scandalised that he proposes to marry one of faro's daughters', and his cousin the proud, wealthy Max Ravenscar....
New In March 2018 Part 6
(in alphabetical order)
A Trick of the Mind written by Penny Hancock performed by Laura Kirman on CD (Unabridged)£19.99

Have you committed a crime ... or are you the victim of one? Driving down to the cottage in Southwold she's newly inherited from her Aunty May, Ellie senses she is on the edge of something new. The life she's always dreamed of living as a successful artist seems as though it is about to begin.

Are these my basoomas I see before me? written by Louise Rennison performed by Louise Rennison on CD (Unabridged)£9.99

Ohmygiddygodspyjamas! The tenth marvy book in the Confessions of Georgia Nicolson is here! Get ready to laugh like a loon on loon tablets. It's the FINAL instalment of Georgia's fab and hilarious diary! Does Georgia escape the cakeshop of luuurve? Can there be more heartbreaknosity in store?

Before I Die written by Jenny Downham performed by Charlotte Parry on CD (Unabridged)£19.99

Tessa has just a few months to live. Fighting back against hospital visits, endless tests, drugs with excruciating side-effects, Tessa compiles a list. It's her Ten Things To Do Before I Die list. And Number One is sex. Released from the constraints of 'normal' life, Tessa tastes new experiences to make her feel...

Bob the Builder - Off-Road Scrambler written by Bob the Builder Team performed by Bob the Builder Team on CD (Unabridged)£2.99

This title includes seven episodes from the hugely popular series featuring Bob the Builder, Roley, Lofty, Dizzy, Scoop, Muck and Spud - as seen on BBC TV.

Cover Your Eyes written by Adele Geras performed by Alex Tregear on CD (Unabridged)£19.99

Eva Conway has spent a lifetime hiding from a ghost in the mirror - Eva was once a legendary fashion designer. Now widowed, she lives with her family in Salix House. Megan is a journalist working in London who interviewed Eva for a magazine. Torn apart by the brutal end of a love affair...

D-Day Despatches written by BBC Radio Archive performed by Robin Duff, Chester Wilmot, Colin Wills and Richard Dimbleby on CD (Abridged)£4.99

This programme focuses on the largest sea-borne invasion in modern history and one of the world's most tightly kept secrets. It brings together despatches from the BBC War Correspondents who brought up-to-the-minute, graphic descriptions of the events to the listening public.

Flashman on the March written by George MacDonald Fraser performed by Toby Stephens on CD (Abridged)£14.99

Harry Flashman: the unrepentant bully of Tom Brown's schooldays, now with a Victoria Cross, has three main talents – horsemanship, facility with foreign languages and fornication. A reluctant military hero, Flashman plays a key part in most of the defining military campaigns of the 19th century....

Fry's English Delight written by Stephen Fry performed by Stephen Fry on CD (Abridged)£3.99

A Genius Performance by Stephen Fry!

"Current Puns": Why does our language groan with the weight of puns? What exactly is a pun? And who, or what, is the Thief of Bad Gags? "Metaphor".

Hello Ladies... LIVE! written by Stephen Merchant performed by Stephen Merchant on CD (Unabridged)£2.99

Stephen Merchant, the Emmy, BAFTA and Golden Globe award winning co-creator of The Office and Extras in his first ever live stand-up comedy tour and it has been well worth the wait. The Guardian says "his performance is priceless...he can do funny just by being there" and The Times states that "the man is hilarious".

In the Ravine and other Short Stories written by Anton Chekhov performed by Kenneth Branagh on CD (Unabridged)£19.99

Anton Chekhov is regarded by many as the most outstanding short story writer. This may be a surprise at the first encounter with even his most famous stories, because they are rarely driven by plot or anticipation. They are often gentle in character, elusive in purpose;

Iron Hand written by Charlie Fletcher performed by Charlie Fletcher on CD (Abridged)£9.99

Edie,' said George, 'we're going to do this together. I'll be right there with you. Anything, anyone trying to get you is going to have to come past me first.' But when George makes his promise he is not aware that high on the rooftops an unseen gargoyle is watching them hungrily....

It's Not About the Tapas written by Polly Evans performed by Lucy Scott on CD (Unabridged)£19.99

After working for four years at a leading London book publisher, Polly Evans moved to Hong Kong where she spent many happy hours as a senior editor on the city's biggest entertainment weekly. But fighting deadlines from a twizzly office chair and free use of the coffee machine seemed just too easy.

Italian for Beginners written by Language Lab Team performed by Language Lab Team on CD (Abridged)£4.99

The set consists of a 64 page book and 1 CD. The audio deals with 300 key words and phrases. It includes 18 short lessons dealing with common situations. Each lesson is narrated by a native speaker, showing the correct pronunciation and accent so you appreciate both the manner ...

Jurassic Park written by Michael Crichton performed by Scott Brick on CD (Unabridged)£19.99

Audie Award, Science Fiction, 2016 An astonishing technique for recovering and cloning dinosaur DNA has been discovered. Now humankind's most thrilling fantasies have come true. Creatures extinct for eons roam Jurassic Park with their awesome presence and profound mystery....

Killer Instinct written by Joseph Finder performed by Scott Brick on CD (Abridged)£3.99

Jason Steadman is a thirty-year-old sales executive living in Boston. He's a witty, charismatic guy who's well liked at the office, but he lacks the 'killer instinct' necessary to reach the top. To the chagrin of his ambitious wife, it looks as if his career has hit a ceiling: Jason's been sidelined.

Last Orders written by Graham Swift performed by Kenneth Cranham on CD (Abridged)£6.99

Set in Southeast England, friendship and love among a group of men whose lives have been intertwined since World War II. When one dies, the survivors are brought together and are forced to take stock of the paths their lives have taken since the war. Winner of the 1996 Booker Prize.

Moondust written by Andrew Smith performed by Andrew Smith on CD (Abridged)£9.99

In 1999, Andrew Smith was interviewing Charlie Duke, astronaut and moon walker, for the Sunday Times. During the course of the interview, which took place at Duke's Texan home, the telephone rang and Charlie left the room to answer it. When he returned, some twenty minutes later, he seemed visibly upset.

On a Hoof and a Prayer - Around Argentina at a Gallop written by Polly Evans performed by Lucy Scott on CD (Unabridged)£19.99

At the age of 34, Polly Evans decides to fulfil a childhood dream - to learn how to ride a horse. So she goes to Argentina and saddles up among the gauchos! Overcoming battered limbs, Polly canters through Andean vineyards and gallops beneath snow-capped Patagonian peaks.

Out of the Dark written by Adele Geras performed by Ben Allen on CD (Unabridged)£11.99 - £14.99

Rob Stone comes back from the horrors of the First World War with a ruined face and a broken heart. Lonely, unable to forget the things he has seen, and haunted by the ghost of his dead Captain, all that Rob has left is a picture of the Captain's family.

Property written by Valerie Martin performed by Liza Ross on CD (Abridged)£19.99

Property is Valerie Martin's powerful, startling novel set in America's deep South in the early nineteenth century: a story of freedom, both political and personal. Manon Gaudet is unhappily married to the owner of a Louisiana sugar plantation.

Return of the Hundred-Mile-An-Hour-Dog written by Jeremy Strong performed by Christopher Timothy on CD (Unabridged)£4.99

When Streaker knocks the beautiful Melinda Boffington-Orr into the mud, Trevor is told to train his dog by her father, the local Police Superintendent. Then the dreadful Charlie Smugg bets Trevor that Streaker can't beat his Alsatians in the agility test at the local dog show.

The Best of American Poetry written by Various American Poets performed by Various Famous Actors on CD (Abridged)£3.99

A wonderful variety of American Poetry including readings from Emerson, Longfellow, Dickinson, Frost, Pound and Edgar Alan Poe.

The Bourne Supremacy written by Robert Ludlum performed by Jeff Harding on CD (Abridged)£9.99

Washington, London and Peking - terror sweeps the globe. The Vice-Premier of the People's Republic has been brutally murdered by a legendary assassin and everyone is asking the same fearful questions: Why has Bourne come back? Who is paying him? Who is next on his death list?

The City of Falling Angels written by John Berendt performed by John Berendt on CD (Abridged)£3.99

Taking the fire that destroyed the Fenice theatre in 1996 as his starting point, John Berendt creates a unique and unforgettable portrait of Venice

The Darkening Hour written by Penny Hancock performed by Adjoa Andoh and Anna Bentinck on CD (Unabridged)£14.99

Mona, a migrant domestic worker is employed by London housewife, Theodora. At first Theodora only asks Mona to clean and occasionally cook for her, but as unwanted pressures from a demanding elderly father and a lazy, unemployed son begin to take their toll, Theodora deflects these onto Mona.

The Devil's Feather written by Minette Walters performed by Saskia Wickham on CD (Abridged)£6.99

Devil's feather – [derivation Turkish] - a woman who stirs a man's interest without realising it; the unwitting cause of sexual arousal] With private security firms supplying bodyguards in every theatre of war, who will notice the emergence of a sexual psychopath from the ranks of the mercenaries?

The Fourth Bear written by Jasper Fforde performed by Jasper Fforde on CD (Abridged)£19.99

The Gingerbreadman - psychopath, sadist, convicted murderer and cake/biscuit - is loose on the streets of Reading. It isn't Jack Spratt's case. Despite the success of the Humpty Dumpty investigation, the well publicised failure to prevent Red Riding-Hood and her Gran being eaten once again ....

The Fugitive written by Marcel Proust performed by Neville Jason on CD (Abridged)£9.99

Albertine has finally escaped her 'imprisonment' from Marcel's Paris apartment... Not only is Marcel quite unprepared for the effect her flight has on him, but also soon he is devastated by news of an even more irreversible loss.

the funny thing is ... written by Ellen DeGeneres performed by Ellen DeGeneres on CD (Unabridged)£14.99

Ellen DeGeneres published her first book of comic essays, the #1 bestselling My Point...and I Do Have One, way back in 1996. Not one to rest on her laurels, the witty star of stage and screen has since dedicated her life to writing a hilarious new book. That book is this audiobook.

The Gladiator written by Simon Scarrow performed by Steven Pacey on CD (Abridged)£4.99

The Gladiator is the compelling ninth novel in Simon Scarrow's best-selling Eagles of the Empire series. A must read for fans of Bernard Cornwell. While centurions Macro and Cato are returning to Rome from a harrowing campaign against the Parthians, their transport ship is almost capsized by a tidal wave.

The Real Food Revolution written by Tim Ryan performed by Tim Ryan on CD (Unabridged)£14.99

For most of history, Americans have lived close to the land, their food was accessed locally and they processed it in their own kitchens. But as the US population and economy boomed in the last century, they industrialized their food system - with food coming far from home and processed...

Turn Towards the Beautiful - Creativity as a Path of Liberation written by Jack Kornfield performed by Jack Kornfield on CD (Abridged)£7.99

The play of sunlight through leaves...the songs of the wind...the arc of a brush stroke on paper. To be awake, reflects Jack Kornfield, is to discover the beauty hidden in all things and to express that beauty ourselves. With Turn Toward the Beautiful, this lyrical writer and teacher inspires us...

Women's Short Stories - Volume 1 written by Various Famous Authors performed by Eve Karpf and Liza Ross on CD (Abridged)£9.99

This 2 CD set includes 7 short stories - 1 - A Dill Pickle by Katherine Mansfield preformed by Eva Karpf, 2 The Storm by Kate Chopin performed by Liza Ross, 3 The Sexton's Hero - Elizabeth Gaskell performed by Eva Karpf and 4 Solid Objects by Virginia Woolf performed by Eve Karpf
---
---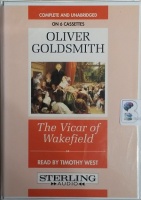 The Vicar of Wakefield written by Oliver Goldsmith performed by Timothy West on Cassette (Unabridged)£29.99
Another Genius Performance by Timothy West! The story opens in the country parsonage of Dr. Primrose, a kindly man who has a good heart, a good family, and a good income. Suddenly, his idyllic life is cruelly devastated by a series of misfortunes, and he ends up in prison. Yet, despite all this...
---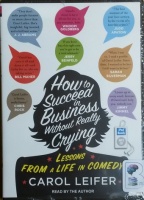 How to Succeed In Business Without Really Crying - Lessons From A Life in Comedy written by Carol Leifer performed by Carol Leifer and on MP3 CD (Unabridged)£19.99
For many years, television comedy was an exclusive boys' club-until a brilliant comedian named Carol Leifer came along, blazing a trail for funny women everywhere. From Late Night with David Letterman and Saturday Night Live to Seinfeld, The Ellen Show, and Modern Family, Carol has written for...
---
---
---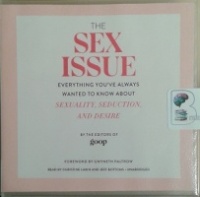 The Sex Issue - Everything You've Always Wanted to Know About Sexuality, Seduction and Desire written by Goop - The Editors performed by Christine Lakin and Jeff Bottoms on CD (Unabridged)£29.99
An eye-catching, conversation-sparking book that answers all your questions on sexuality, seduction, and sex by the editors of GOOP A beautifully illustrated, gift-y, sometimes shocking, fact-filled book that explores everything we've always wondered about sex and relationships, but may have been...
---
---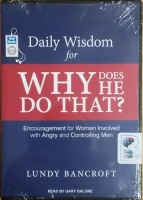 Daily Wisdom for Why Does He Do That? - Encouragement for Women Involved with Angry and Controlling Men written by Lundy Bancroft performed by Gary Galone on MP3 CD (Unabridged)£34.99
Even if you've read Why Does He Do That?, it may be hard to see the truth of what is happening to you. You may feel overwhelmed by confusion, loss, and fear, and find yourself looking away from the truth and falling back into traumatic patterns.Like a constant friend, this collection of meditations is a...
---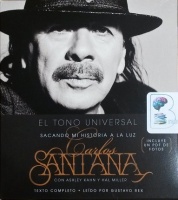 El Tono Universal - Sacando Mi Historia a La Luz (Spanish) written by Carlos Santana con Ashley Kahn y Hal Miller performed by Gustavo Rex on CD (Unabridged)£24.99
(Performed in Spanish) The intimate and long-awaited autobiography of a legend In 1967 in San Francisco, just a few weeks after the Summer of Love, a young Mexican guitarist took the stage at the Fillmore Auditorium and played a blistering solo that announced the arrival of a prodigious musical talent.
---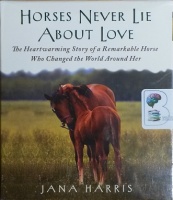 Horses Never Lie About Love - The Heartwarming Story of a Remarkable Horse Who Changed the World Around Her written by Jana Harris performed by Susanna Burney on CD (Unabridged)£24.99
An award-winning poet and founder of the Switched-on Gutenberg electronic poetry journal recounts her 24-year relationship with a beautiful feral mare who in spite of a troubled past has conveyed help and healing to all humans and horses she has encountered. Read by Susanna Burney.
---
---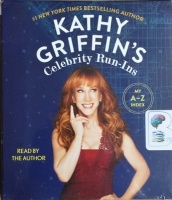 Kathy Griffin's Celebrity Run-Ins - My A-Z Index written by Kathy Griffin performed by Kathy Griffin on CD (Unabridged)£19.99
From #1 New York Times bestselling author Kathy Griffin, an A-Z compendium of her celebrity run-ins, and the jaw-dropping, charming, and sometimes bizarre anecdotes only she can tell about them. Kathy Griffin's Celebrity Run-Ins is Kathy's funny, juicy index of all of the celebrities she has met during...
---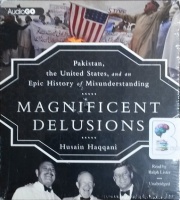 Magnificent Delusions - Pakistan, the United States, and an Epic History of Misunderstanding written by Husain Haqqani performed by Ralph Lister on CD (Unabridged)£19.99
A history of the alliance between America and Pakistan documents each nation's mutual misunderstandings while explaining how each sees the other, in an account that traces the author's firsthand witness to their turbulent partnership.