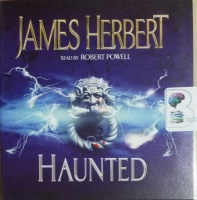 Haunted written by James Herbert performed by Robert Powell on CD (Abridged)£4.99
A ghostly twist. Three nights of terror at the house called Edbrook. Three nights in which David Ash, there to investigate a haunting, will be victim of horrifying games. Three nights in which he will face the blood-chilling enigma of his own past.
---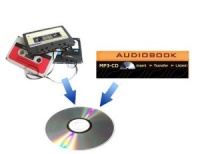 Large Fixed Price Audio Transfer Service£35.00
This is the fixed price £35.00 item to be used when ordering conversion of a 6-9 hour Audio Cassette or MP3 CD title.
---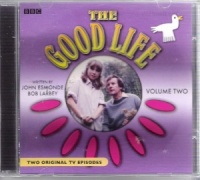 The Good Life written by John Esmonde and Bob Larbey performed by Richard Briers and Felicity Kendal on CD (Abridged)£3.99
Two episodes of the wonderful TV show!
---
---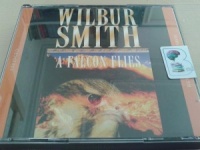 A Falcon Flies written by Wilbur Smith performed by Martin Jarvis on CD (Abridged)£4.99 - £8.99
A Falcon Flies is the first bestselling novel in Wilbur Smith's epic tale of Africa, The Ballantyne Novels. In search of a father they barely remember, Zouga and Dr Robyn Ballantyne board Mungo St John's magnificent clipper to speed them to Africa.
---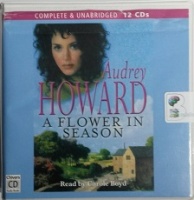 A Flower in Season written by Audrey Howard performed by Carole Boyd on CD (Unabridged)£14.99 - £24.99
Briony Marsden has led a hard life, forced to do the work of a grown man while enduring her drunkard father's taunts and blows. But when he goes too far one day, her fate becomes even worse as she makes her way alone in a heartless world.
---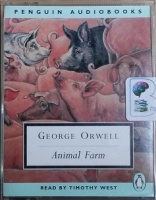 Animal Farm written by George Orwell performed by Timothy West on Cassette (Unabridged)£9.99
All animals are equal - but some are more equal than others' When the downtrodden animals of Manor Farm overthrow their master Mr Jones and take over the farm themselves, they imagine it is the beginning of a life of freedom and equality.
---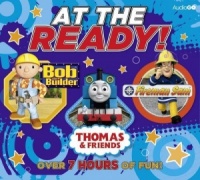 At The Ready! written by Various Childrens Authors performed by Various Famous Actors on CD (Abridged)£39.99
This box set contains over 7 hours of fun from Bob the Builder, Fireman Sam and Tomas the Tank Engine! This would make a brilliant gift that will last considerably longer than the New Year!
---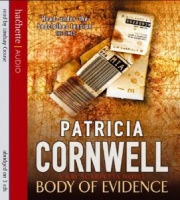 Body of Evidence written by Patricia Cornwell performed by Lindsay Crouse on CD (Abridged)£9.99
A reclusive writer is dead. And her final manuscript has disappeared ...Someone is stalking Beryl Madison.
---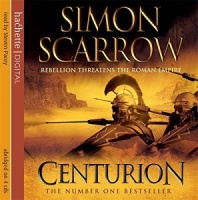 Centurion - Rebellion Threatens the Roman Empire written by Simon Scarrow performed by Steven Pacey on CD (Abridged)£17.99 - £18.99
In the first century AD the Roman Empire faces a new threat from its long-standing enemy Parthia. Parthia is vying with Rome for control of Palmyra an officially neutral kingdom.
---
---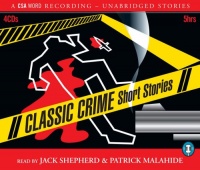 Classic Crime Short Stories written by Various Famous Crime Writers performed by Jack Shepherd and Patrick Malahide on CD (Unabridged)£4.99 - £9.99
Discover a world of heroes and villains, suspense and intrigue. This riveting and comprehensive collection brings together some of the best crime writing of all time.
---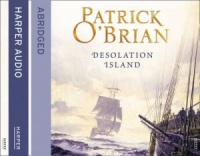 Desolation Island written by Patrick O'Brian performed by Robert Hardy on CD (Abridged)£8.99
A Genius Performance by Robert Hardy!
Commissioned to rescue Governor Bligh of Bounty fame, Captain Jack Aubrey and his friend and surgeon, Stephen Maturin, sail the Leopard to Australia with a hold full of convicts. Among them is a beautiful and dangerous spy — and a treacherous disease which decimates the crew.
---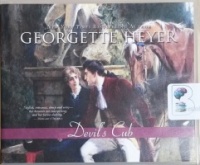 Devil's Cub written by Georgette Heyer performed by Michael Drew on CD (Unabridged)£24.99
The excesses of the young Marquis of Vidal are even wilder than his father's before him. Not for nothing is the reckless duellist and gamester called "the Devil's Cub". But when he is forced to leave the country, Mary Challoner discovers his fiendish plan to abduct her sister. Any only by daring to impersonate...
---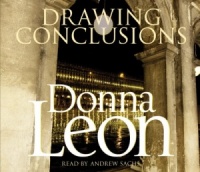 Drawing Conclusions written by Donna Leon performed by Andrew Sachs on CD (Abridged)£4.99 - £5.99
A Genius Performance by Andrew Sachs! When Anna Maria Giusti finds her elderly neighbour Constanza Altavilla dead, with blood on the floor near her head, she calls the police. Brunetti is called to the scene and it seems the woman has suffered a heart attack. Patta, the Vice-Questore, is eager to dismiss the case...
---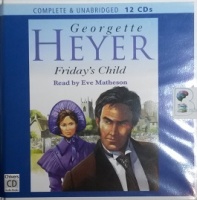 Friday's Child written by Georgette Heyer performed by Eve Matheson on CD (Unabridged)£29.99
This story of mistaken love is a romantic fiction set in the English Regency period. It centers on Lord Sheringham who has been rejected by the woman he loves but the woman who has secretly loved him since childhood is waiting.
---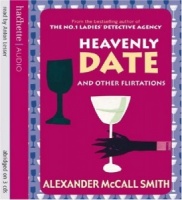 Heavenly Date and Other Flirtations written by Alexander McCall-Smith performed by Anton Lesser on CD (Abridged)£5.99
A Genius Performance by Anton Lesser!
Alexander McCall-Smith's short stories show the interest and intrigue, complexity and completeness that can come from the briefest meeting or a life long love. A lovely set of stories that have something for everyone.
New In March 2018 Part 5
(in alphabetical order)
A Breach of Promise written by Anne Perry performed by Simon Jones on Cassette (Abridged)£14.99

When Anne Perry sets her magic pen to paper, Victorian England awakens from her long sleep to vibrant, teeming life. Firelight flickers in luxurious withdrawing rooms. Ambitious ladies gossip and scheme. Horse-drawn carriages clatter over cobblestones while cries of flower sellers ....

Ade written by Rebecca Walker performed by Janina Edwards on MP3 CD (Unabridged)£19.99

In this stunning debut novella, Rebecca Walker turns her attention to the power of love and the limitations of the human heart. When Farida, a sophisticated college student, falls in love with Ade, a young Swahili man living on an idyllic island off the coast of Kenya....

Ages of Man written by William Shakespeare performed by John Gielgud on Cassette (Abridged)£19.99

Here are some of Shakespeare's finest speeches performed by one of the greatest Shakespearean actors of this century. It ranges from the youth of Jaques' introduction to life, 'All the world's a stage!' in "As You Like It" to the aged Prospero's goodbye to Ariel and Shakespeare's own farewell to his muse..

Aristotle written by Hugh Griffith performed by Hugh Ross and Roy McMillan on CD (Abridged)£11.99

Aristotle was the third key figure among the philosophers of Ancient Greece following Socrates and Plato. Here, extensive sections of the main works for which he is still respected are given following introductions setting the scene.

Barnaby Rudge written by Charles Dickens performed by Sean Barrett on CD (Unabridged)£59.99

Dickens' first historical novel is set in 1780s England at the time of the Gordon Riots. In a case of mistaken identification, Barnaby Rudge, a pale half-wit with long red hair who dresses all in green and carries a large raven on his back, is arrested as the leader of a mob of anti-Catholic rioters. Naxos

Bomber written by Len Deighton performed by BBC Full Cast Dramatisation, Tom Baker, Frank Windsor and Samuel West on Cassette (Abridged)£7.99 - £9.99

A Genius Performance by Samuel West!

A reissue of the acclaimed BBC Radio 4 dramatization of Len Deighton's story, recounting the horror unleashed by RAF bombers on a town in Germany in the summer of 1943. This edition is part of the BBC's range of modern classics.

Brave New World written by Aldous Huxley performed by Michael York on CD (Unabridged)£29.99

When Lenina and Bernard visit a savage reservation, we experience how Utopia can destroy humanity. On the 75th anniversary of its publication, this outstanding work of literature is more crucial and relevant today than ever before. Cloning, feel-good drugs, anti-aging programs...

Hannibal Rising written by Thomas Harris performed by Thomas Harris on CD (Unabridged)£8.99

Hannibal Lecter emerges from the nightmare of the Eastern Front, a boy in the snow, mute, with a chain around his neck. He seems utterly alone, but he has brought his demons with him.

How to Communicate Effectively - Audio Training Programme written by Bert Decker performed by Kogan Page Team on Cassette (Abridged)£9.99

The skills presented in this cassette relate to spoken communication and the visible means of conveying a message: posture, appearance and gesture. Exercises are provided to help the reader improve nine relevant basic behavioral skills: eye communication, posture and movement, gestures ...

Quest for the Lost World written by Brian Blessed performed by Brian Blessed on Cassette (Abridged)£14.99 - £19.99

This book is about fulfilling a childhood dream. A Dream of reaching and exploring the plateau of Mount Roraima - the fabled 'lost world' in South America. A brilliant listen!

selected shorts - Are We There Yet? written by Selected Shorts (ed.) performed by Keith Szarabajka, Mia Dillon, Sonia Manzano and James Naughton on CD (Unabridged)£19.99

Recorded live at Peter Norton Symphony Space in New York City and at venues across the United States, these audio anthologies feature short stories from the Selected Shorts program that airs nationwide. More than 300,000 listeners tune in to this offering weekly to hear spellbinding tales read ....

Seriously....I'm Kidding written by Ellen Degeneres performed by Ellen Degeneres on CD (Unabridged)£19.99

"I've experienced a whole lot the last few years, and I have a lot to share. So I hope that you'll take a moment to sit back, relax, and enjoy the words I've put together for you in this book. I think you'll find I've left no stone unturned, no door unopened, no window unbroken, no rug unvacuumed,

Strong Poison written by Dorothy L. Sayers performed by Michael Cochrane on Cassette (Abridged)£9.99

Harriet Vane is awaiting a second trial for the murder of Philip Boyes, the man she once loved. Despite Harriet's admission that she had bought arsenic, later shown to be the cause of Philip's death, the first jury could not agree on her guilt. Lord Peter Wimsey has fallen in love with the prisoner ...

The Canterbury Tales written by Geoffrey Chaucer performed by Bill Willis, Ric Jerrom, Mark Meadows and Cameron Stewart on CD (Unabridged)£29.99 - £39.99

During his life, Geoffrey Chaucer (born c.1340) was courtier, diplomat, revenue collector, administrator, negotiator, overseer of building projects, landowner and knight of the shire. He was servant, retainer, husband, friend and father, but is now mainly known as a ....

The Classic Collection written by Michael Morpurgo performed by Michael Morpurgo, Jenny Agutter, Emilia Fox and Ian McKellen on CD (Unabridged)£7.99

Three unforgettable novels have been turned into fantastic audiobooks written by the award-winning former Children's Laureate, Michael Morpurgo. Actors reading include Sir Ian MacKellen, Emilia Fox, Jenny Agutter, Tim Pigott-Smith and the author himself.

The Complete Sherlock Holmes written by Arthur Conan Doyle performed by Simon Vance on MP3 CD (Unabridged)£7.28 £26.99

Winner of the 2014 Audie Award for Classics Sir Arthur Conan Doyle's Sherlock Holmes tales are rightly ranked among the seminal works of mystery and detective fiction. Included in this collection are all four full-length Holmes novels and more than forty short masterpiece.

The Daughter of Time written by Josephine Tey performed by Derek Jacobi on Cassette (Unabridged)£29.99 - £34.99

Josephine Tey's classic novel about Richard III, the hunchback king, whose skeleton was discovered in a council carpark, and who was buried in March 2015 in state in Leicester Cathedral. The Daughter of Time investigates his role in the death of his nephews, the princes in the Tower, and his own death at the Battle of Bosworth.

The Household Spirit written by Tod Wodicka performed by Robert Fass on CD (Unabridged)£29.99

There's something wrong next door. At least, that's what neighbors Howie Jeffries and Emily Phane both think. Since his daughter and wife moved out, Howie has been alone, an accidental recluse content with his fishing and his dreams of someday sailing away from himself on a boat.

The Last Summer written by Judith Kinghorn performed by Jane Wymark on CD (Unabridged)£19.99

1914, a long hot summer. THE LAST SUMMER is a sweepingly epic and gloriously intimate commercial debut - a beautiful and haunting story of lost innocence and a powerful, enduring love. Clarissa is almost seventeen when the spell of her childhood is broken.

The Leaving of Liverpool written by Maureen Lee performed by Jacqueline King on CD (Abridged)£4.99

It is a cold February night in 1925 when two teenage sisters - Mollie and Annemarie - escape from their home in a tiny Irish village. Their beloved mother has died and the girls have suffered shocking abuse at the hands of their father.

The Looking Glass War written by John le Carre performed by BBC Full Cast Dramatisation and Simon Russell Beale on CD (Abridged)£4.99 - £9.99

When word reaches The Department - an ailing section of British military intelligence - that Soviet missiles are being installed close to the West German border, it seems the perfect opportunity to show Control and Smiley, their rivals over at the Circus, that The Department still has value.

The Novice - Volume 2 written by Trudi Canavan performed by Samantha Bond on CD (Abridged)£4.99 - £6.99

Sonea knows the other novices in the Magicians' Guild all come from powerful families, but she also knows she can turn to Rothen and Dannyl for help when she needs it.

The Romanovs - The Final Chapter written by Robert K. Massie performed by Robert O'Keefe on Cassette (Abridged)£14.99

The compelling quest to solve a great mystery of the twentieth century: the ultimate fate of Russia's last tsar and his family. In July 1991, nine skeletons were exhumed from a shallow grave near Ekaterinburg, Siberia, a few miles from the infamous cellar where the last tsar and his family ....

Torrents of Spring written by Ivan Turgenev performed by Neville Jason on CD (Unabridged)£14.99

When young Russian aristocrat Dimitri Sanin, on his way home from Italy, enters a patisserie in Frankfurt, he little dreams it will alter the course of his entire life. Faced with Gemma, the most beautiful girl he has ever seen, he is blown away by the spring torrents of love.

Twelfth Night written by William Shakespeare performed by Arkangel Full Cast Production on Cassette (Unabridged)£4.99

The tale of Sebastian and Viola, twins who are separated when they are shipwrecked off the coast of Illyria. Viola assumes another identity in order to take up service as a page boy, while Sebastian is saved by Antonio.

Wartime - Britain 1939-1945 written by Juliet Gardiner performed by Fiona Shaw on CD (Abridged)£29.99

Half the British Army never left Britain during the Second World War and became, with the civilian population, the Home Front. In WARTIME the danger, courage, deprivation, exhaustion, fear, humour and, sometimes, boredom that the population endured for six years is vividly brought to life....
---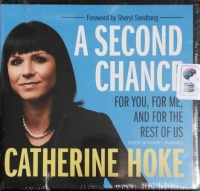 A Second Chance - For You, For Me and For the Rest of US written by Catherine Hoke performed by Catherine Hoke on CD (Unabridged)£9.99
What if you were only known for the worst thing you've ever done? For millions of Americans, this isn't just a hypothetical nightmare. Not only does the United States have the highest rate of incarceration in the world, it also makes certain that the stigma of a felony conviction follows people who have already..
---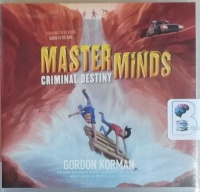 Masterminds - Criminal Destiny written by Gordon Korman performed by Ramon De Campo, Tarah Consoli, Kelly Jean Badgley and Mike Rylander on CD (Unabridged)£9.99
The clones of Project Osiris are free - but they're being hunted.... After their narrow escape from their "perfect" hometown, Eli, Tori, Amber, and Malik are finally in the real world and determined to expose the leaders of Serenity. They decide to track down Tamara Dunleavy, the mysterious billionaire and ...
---
---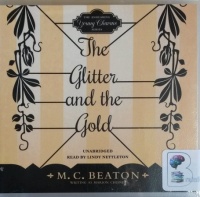 The Glitter and the Gold - Young Charms Series written by M.C. Beaton writing as Marion Chesney performed by Lindy Nettleton on CD (Unabridged)£19.99
Fanny and her bridegroom had been tricked. Both sets of parents had decided to recoup their familes' losses by marrying their children to a wealthy neighbour. But niether family had a penny to their name. As they set out to help each other find a partner with money, they discover that true love might...
---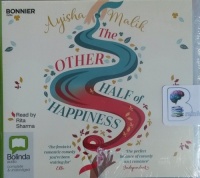 The Other Half of Happiness written by Ayisha Malik performed by Rita Sharma on CD (Unabridged)£9.99
The hilarious new novel from the acclaimed author of Sofia Khan Is Not Obliged. Sofia Khan is just married. But no-one told her life was going to be this way.... Her living situation is in dire straits, her husband Conall is distant and his annoyingly attractive colleague is ringing all sorts of alarm bells.
---
---
---
---
---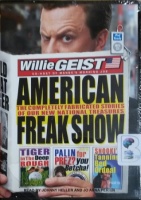 American Freak Show - The Completely Fabricated Stories of Our New National Treasures written by Willie Geist performed by Johnny Heller and Jo Anna Perrin on MP3 CD (Unabridged)£24.99
In just three short years, Willie Geist has gone from behind-the-scenes producer at MSNBC to rising on-air star, as the host of Way Too Early with Willie Geist and cohost of Morning Joe. He's fast, he's funny-something of an early-morning Jon Stewart.Now, in his first book, Geist focuses on America's ongoing parade...
---
---
---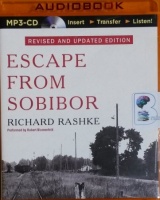 Escape from Sobibor - Revised and Updated written by Richard Rashke performed by Robert Blumenfeld on MP3 CD (Unabridged)£14.99
On October 14, 1943, 600 Jews imprisoned in Sobibor, a secret Nazi death camp in eastern Poland, revolted. They killed a dozen SS officers and guards, trampled the barbed wire fences, and raced across an open field filled with anti-tank mines. Against all odds, more than three hundred made it safely into ...
---
---
---