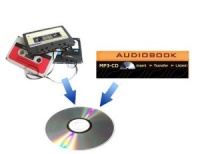 3 Hour Fixed Price Audio Transfer£10.00
This is the fixed price £10 item to be used when ordering conversion of a sub 3 hour Audio Cassette or MP3 CD title.
---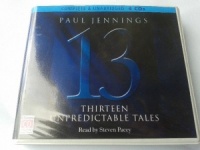 13 Unpredictable Tales written by Paul Jennings performed by Steven Pacey on CD (Unabridged)£29.99
A selection of the best short stories from Paul Jennings' earlier Puffin titles. Everyone is entirely different but all are wacky and extraordinary. Subjects range from the longest kiss ever, to a boy who becomes transparent - and the stories are all unpredictable!
---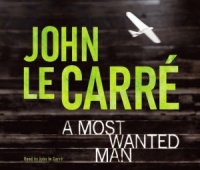 A Most Wanted Man written by John le Carre performed by John le Carre on CD (Abridged)£9.99
A half-starved young Russian man in a long black overcoat is smuggled into Hamburg at dead of night. He has an improbable amount of cash secreted in a purse round his neck. He is a devout Muslim. Or is he? He says his name is Issa.
---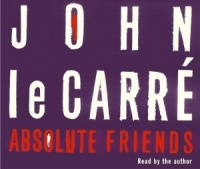 Absolute Friends written by John le Carre performed by John le Carre on CD (Abridged)£6.99
Absolute Friends is a superbly paced novel spanning fifty-six years, a theatrical masterstroke of tragi-comic writing, and a savage fable of our times, almost of our hours.
---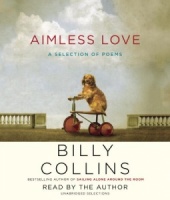 Aimless Love written by Billy Collins performed by Billy Collins on CD (Unabridged)£12.99
From the two-term Poet Laureate of the United States Billy Collins comes his first compilation of new and selected poems in twelve years. Aimless Love combines new poems with selections from four previous books—Nine Horses, The Trouble with Poetry, Ballistics, and Horoscopes for the Dead.
---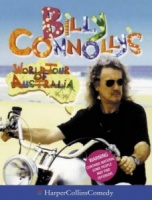 Billy Connolly's World Tour of Australia written by Billy Connolly performed by Billy Connolly on CD (Abridged)£7.99
Travelling by plane, motorbike, boat and foot, Billy Connolly tours the country performing his stage show and delivers and individual commentary on all things Australian.
---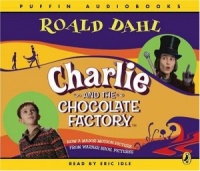 Charlie and the Chocolate Factory written by Roald Dahl performed by Eric Idle on CD (Unabridged)£4.99
This is a special audio edition of Charlie and the Chocolate Factory, read by Eric Idle, which will be published at the same time as the Warner Bros film.
Charlie Bucket thinks he's the luckiest boy alive when he unwraps one of Willy Wonka's Whipple-Scrumptious Fudgemallow Delights to find the last golden ticket.
---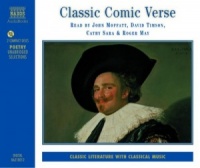 Classic Comic Verse written by Various Famous Poets performed by John Moffat, David Timson, Cathy Sara and Roger May on CD (Abridged)£4.99 - £6.99
Poetry by definition, achieves its effects by rhythm, sound patterns and imagery. One of the most popular areas of audiobooks -- spoken poetic form -- evokes emotions and sensations by bringing the voice of the poet to life in an appropriately intimate way, directly to the ear and mind of the listener.
---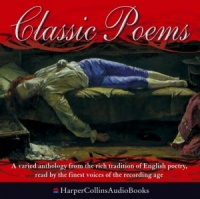 Classic Poems written by Various performed by Sir Ralph Richardson, Dylan Thomas and James Mason on CD (Abridged)£7.99
A Genius Performance by Ralph Richardson and Sir John Gielgud plus many more!
A varied anthology of poets – including Eliot and Auden – reading their own words, and favorite poems by Keats, Browning, Kipling, Tennyson and many more read by the finest voices of the recording age.
---
---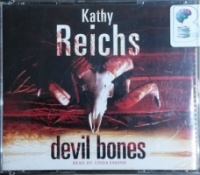 Devil Bones written by Kathy Reichs performed by Linda Emond on CD (Abridged)£4.99 - £5.99
An underground chamber is exposed in a seedy, dilapidated house with sagging trim and peeling paint... When a careless plumber accidentally knocks through a wall, he is horrified by what he uncovers. Called to the scene is forensic anthropologist Dr Temperance Brennan.
---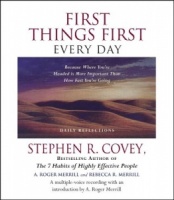 First Things First Every Day written by Stephen R. Covey performed by Stephen R. Covey, A. Roger Merrill and Rebecca R. Merril on CD (Abridged)£9.99
A lovely collection of powerful thoughts with which to start your day! This cd set has become a regular event on our CD player.
---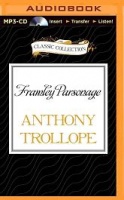 Framley Parsonage written by Anthony Trollope performed by Timothy West on MP3 CD (Unabridged)£19.99
The Reverend Mark Robarts makes a mistake. Drawn into a social set at odds with his clerical responsibilities, he guarantees the debts of an unscrupulous Member of Parliament. He stands to lose his reputation, and his family, future, and home are all in peril.
---
---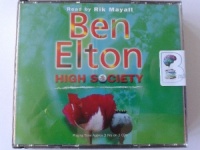 High Society written by Ben Elton performed by Rik Mayall on CD (Abridged)£4.99
The war on drugs has been lost but for want of the courage to face the fact that the whole world is rapidly becoming one vast criminal network. From pop stars and princes to crack whores and street kids. From the Groucho Club toilets to the poppy fields of Afghanistan, we are all partners in crime.
---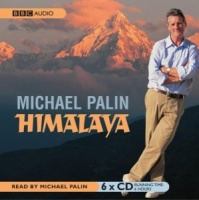 Himalaya written by Michael Palin performed by Michael Palin on CD (Abridged)£4.99
Michael Palin reads his own entertainingly written account of his journey accross the countries of the Himalayas, accompanying a major BBC TV series in 2004.
---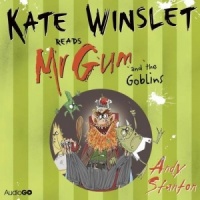 Kate Winslet reads Mr Gum and the Goblins written by Andy Stanton performed by Kate Winslet on CD (Unabridged)£4.99 - £6.99
Shabba me whiskers! It's one of those Mr Gum books by Andy Stanton. They're only the craziest, funnest most amazing books for children in the world.
New In March 2018 Part 5
(in alphabetical order)
A Breach of Promise written by Anne Perry performed by Simon Jones on Cassette (Abridged)£14.99

When Anne Perry sets her magic pen to paper, Victorian England awakens from her long sleep to vibrant, teeming life. Firelight flickers in luxurious withdrawing rooms. Ambitious ladies gossip and scheme. Horse-drawn carriages clatter over cobblestones while cries of flower sellers ....

A Presumption of Death written by Jill Paton Walsh and Dorothy L Sayers performed by Edward Petherbridge on Cassette (Unabridged)£29.99 - £39.99

The story opens in 1940. Harriet Vane - now Lady Peter Wimsey - has taken her children to safety in the country. But the war has followed them: glamorous RAF pilots and even more glamorous land-girls scandalise the villagers; the blackout makes the night-time lanes as sinister as the back alleys of London.

Ade written by Rebecca Walker performed by Janina Edwards on MP3 CD (Unabridged)£19.99

In this stunning debut novella, Rebecca Walker turns her attention to the power of love and the limitations of the human heart. When Farida, a sophisticated college student, falls in love with Ade, a young Swahili man living on an idyllic island off the coast of Kenya....

Ages of Man written by William Shakespeare performed by John Gielgud on Cassette (Abridged)£19.99

Here are some of Shakespeare's finest speeches performed by one of the greatest Shakespearean actors of this century. It ranges from the youth of Jaques' introduction to life, 'All the world's a stage!' in "As You Like It" to the aged Prospero's goodbye to Ariel and Shakespeare's own farewell to his muse..

Aristotle written by Hugh Griffith performed by Hugh Ross and Roy McMillan on CD (Abridged)£11.99

Aristotle was the third key figure among the philosophers of Ancient Greece following Socrates and Plato. Here, extensive sections of the main works for which he is still respected are given following introductions setting the scene.

Barnaby Rudge written by Charles Dickens performed by Sean Barrett on CD (Unabridged)£59.99

Dickens' first historical novel is set in 1780s England at the time of the Gordon Riots. In a case of mistaken identification, Barnaby Rudge, a pale half-wit with long red hair who dresses all in green and carries a large raven on his back, is arrested as the leader of a mob of anti-Catholic rioters.

Bomber written by Len Deighton performed by BBC Full Cast Dramatisation, Tom Baker, Frank Windsor and Samuel West on Cassette (Abridged)£7.99 - £9.99

A Genius Performance by Samuel West!

A reissue of the acclaimed BBC Radio 4 dramatization of Len Deighton's story, recounting the horror unleashed by RAF bombers on a town in Germany in the summer of 1943. This edition is part of the BBC's range of modern classics.

Brave New World written by Aldous Huxley performed by Michael York on CD (Unabridged)£29.99

When Lenina and Bernard visit a savage reservation, we experience how Utopia can destroy humanity. On the 75th anniversary of its publication, this outstanding work of literature is more crucial and relevant today than ever before. Cloning, feel-good drugs, anti-aging programs...

Dry Bones that Dream written by Peter Robinson performed by Neil Pearson on CD (Abridged)£14.99

It was 2.47 a.m. when Chief Inspector Alan Banks arrived at the barn and saw the body of Keith Rothwell for the first time. Only hours earlier two masked men had walked the mild-mannered accountant out of his farmhouse and clinically blasted him with a shotgun.

Elizabeth written by David Starkey performed by Patricia Hodge on CD (Abridged)£9.99

An abused child, yet confident of her destiny to reign, a woman in a man's world, passionately sexual yet, she said, a virgin, Elizabeth I was to be famed as England's most successful ruler. This absorbing book, by concentrating on her early years from her birth in 1533 to her accession in 1558...

Hannibal Rising written by Thomas Harris performed by Thomas Harris on CD (Unabridged)£8.99

Hannibal Lecter emerges from the nightmare of the Eastern Front, a boy in the snow, mute, with a chain around his neck. He seems utterly alone, but he has brought his demons with him.

How to Communicate Effectively - Audio Training Programme written by Bert Decker performed by Kogan Page Team on Cassette (Abridged)£9.99

The skills presented in this cassette relate to spoken communication and the visible means of conveying a message: posture, appearance and gesture. Exercises are provided to help the reader improve nine relevant basic behavioral skills: eye communication, posture and movement, gestures ...

Quest for the Lost World written by Brian Blessed performed by Brian Blessed on Cassette (Abridged)£14.99 - £19.99

This book is about fulfilling a childhood dream. A Dream of reaching and exploring the plateau of Mount Roraima - the fabled 'lost world' in South America. A brilliant listen!

selected shorts - Are We There Yet? written by Selected Shorts (ed.) performed by Keith Szarabajka, Mia Dillon, Sonia Manzano and James Naughton on CD (Unabridged)£19.99

Recorded live at Peter Norton Symphony Space in New York City and at venues across the United States, these audio anthologies feature short stories from the Selected Shorts program that airs nationwide. More than 300,000 listeners tune in to this offering weekly to hear spellbinding tales read ....

Seriously....I'm Kidding written by Ellen Degeneres performed by Ellen Degeneres on CD (Unabridged)£19.99

"I've experienced a whole lot the last few years, and I have a lot to share. So I hope that you'll take a moment to sit back, relax, and enjoy the words I've put together for you in this book. I think you'll find I've left no stone unturned, no door unopened, no window unbroken, no rug unvacuumed,

Strong Poison written by Dorothy L. Sayers performed by Michael Cochrane on Cassette (Abridged)£9.99

Harriet Vane is awaiting a second trial for the murder of Philip Boyes, the man she once loved. Despite Harriet's admission that she had bought arsenic, later shown to be the cause of Philip's death, the first jury could not agree on her guilt. Lord Peter Wimsey has fallen in love with the prisoner ...

Tales from a Long Room written by Peter Tinniswood performed by Robin Bailey on Cassette (Abridged)£9.99

10 Tales of the Brigadier. Dry as an Outback outfield, sly as a Barbadian googly, sharp as a full toss on the funny bone, that's the cricket humour of Peter Tinniswood.

The Canterbury Tales written by Geoffrey Chaucer performed by Bill Willis, Ric Jerrom, Mark Meadows and Cameron Stewart on CD (Unabridged)£29.99 - £39.99

During his life, Geoffrey Chaucer (born c.1340) was courtier, diplomat, revenue collector, administrator, negotiator, overseer of building projects, landowner and knight of the shire. He was servant, retainer, husband, friend and father, but is now mainly known as a ....

The Classic Collection written by Michael Morpurgo performed by Michael Morpurgo, Jenny Agutter, Emilia Fox and Ian McKellen on CD (Unabridged)£7.99

Three unforgettable novels have been turned into fantastic audiobooks written by the award-winning former Children's Laureate, Michael Morpurgo. Actors reading include Sir Ian MacKellen, Emilia Fox, Jenny Agutter, Tim Pigott-Smith and the author himself.

The Complete Sherlock Holmes written by Arthur Conan Doyle performed by Simon Vance on MP3 CD (Unabridged)£26.99

Winner of the 2014 Audie Award for Classics Sir Arthur Conan Doyle's Sherlock Holmes tales are rightly ranked among the seminal works of mystery and detective fiction. Included in this collection are all four full-length Holmes novels and more than forty short masterpiece.

The Daughter of Time written by Josephine Tey performed by Derek Jacobi on Cassette (Unabridged)£29.99

Josephine Tey's classic novel about Richard III, the hunchback king, whose skeleton was discovered in a council carpark, and who was buried in March 2015 in state in Leicester Cathedral. The Daughter of Time investigates his role in the death of his nephews, the princes in the Tower, and his own death at the Battle of Bosworth.

The Household Spirit written by Tod Wodicka performed by Robert Fass on CD (Unabridged)£29.99

There's something wrong next door. At least, that's what neighbors Howie Jeffries and Emily Phane both think. Since his daughter and wife moved out, Howie has been alone, an accidental recluse content with his fishing and his dreams of someday sailing away from himself on a boat.

The Last Summer written by Judith Kinghorn performed by Jane Wymark on CD (Unabridged)£19.99

1914, a long hot summer. THE LAST SUMMER is a sweepingly epic and gloriously intimate commercial debut - a beautiful and haunting story of lost innocence and a powerful, enduring love. Clarissa is almost seventeen when the spell of her childhood is broken.

The Leaving of Liverpool written by Maureen Lee performed by Jacqueline King on CD (Abridged)£4.99

It is a cold February night in 1925 when two teenage sisters - Mollie and Annemarie - escape from their home in a tiny Irish village. Their beloved mother has died and the girls have suffered shocking abuse at the hands of their father.

The Looking Glass War written by John le Carre performed by BBC Full Cast Dramatisation and Simon Russell Beale on CD (Abridged)£4.99 - £9.99

When word reaches The Department - an ailing section of British military intelligence - that Soviet missiles are being installed close to the West German border, it seems the perfect opportunity to show Control and Smiley, their rivals over at the Circus, that The Department still has value.

The Novice - Volume 2 written by Trudi Canavan performed by Samantha Bond on CD (Abridged)£4.99 - £6.99

Sonea knows the other novices in the Magicians' Guild all come from powerful families, but she also knows she can turn to Rothen and Dannyl for help when she needs it.

The Romanovs - The Final Chapter written by Robert K. Massie performed by Robert O'Keefe on Cassette (Abridged)£14.99

The compelling quest to solve a great mystery of the twentieth century: the ultimate fate of Russia's last tsar and his family. In July 1991, nine skeletons were exhumed from a shallow grave near Ekaterinburg, Siberia, a few miles from the infamous cellar where the last tsar and his family ....

Torrents of Spring written by Ivan Turgenev performed by Neville Jason on CD (Unabridged)£14.99

When young Russian aristocrat Dimitri Sanin, on his way home from Italy, enters a patisserie in Frankfurt, he little dreams it will alter the course of his entire life. Faced with Gemma, the most beautiful girl he has ever seen, he is blown away by the spring torrents of love.

Treasure Island written by Robert Louis Stevenson performed by Anthony Bate on Cassette (Abridged)£4.99

Jim Hawkins, a young cabin boy battles the pirate Long John Silver for a buried treasure. One of the most frequently dramatized novels of all time. The influence of Treasure Island on popular perceptions of pirates is enormous, including treasure maps marked with an "X", schooners,..

Twelfth Night written by William Shakespeare performed by Arkangel Full Cast Production on Cassette (Unabridged)£4.99

The tale of Sebastian and Viola, twins who are separated when they are shipwrecked off the coast of Illyria. Viola assumes another identity in order to take up service as a page boy, while Sebastian is saved by Antonio.

Wartime - Britain 1939-1945 written by Juliet Gardiner performed by Fiona Shaw on CD (Abridged)£14.99

Half the British Army never left Britain during the Second World War and became, with the civilian population, the Home Front. In WARTIME the danger, courage, deprivation, exhaustion, fear, humour and, sometimes, boredom that the population endured for six years is vividly brought to life....

Why Men Lie and Women Cry written by Allan Pease and Barbara Pease performed by Allan Pease and Barbara Pease on CD (Abridged)£14.99

Allan and Barbara Pease are the world's foremost experts in personal relationships. Their books, seminars and TV programmes have made them household names from Australia to the UK and from the USA to Japan. In this, their first new book since the multi-million selling Why Men Don't Listen...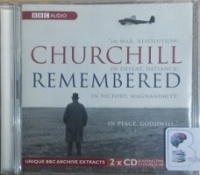 Churchill Remembered written by BBC Radio Archive performed by Winston Churchill and Tim Piggot-Smith on CD (Abridged)£19.99
'We Churchills die at forty,' said Winston in 1908, 'and I want to put something more on the slate before then.' By the time he died in 1965, the slate was full. From his earliest days Churchill was an ambitious character, eager for action. He achieved fame and popularity through his dispatches from the...
---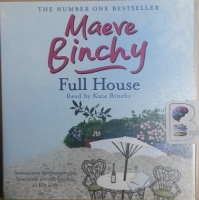 Full House written by Maeve Binchy performed by Kate Binchy on CD (Unabridged)£24.99
Dee loves her children very much, but now they are all grown up, shouldn't they leave home? Rosie moved out when she got married, but it didn't work out, so now she is back with her parents. Helen is a teacher, and doesn't earn enough for a place of her own.
---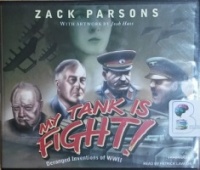 My Tank is Fight! written by Zack Parsons performed by Patrick Lawlor on CD (Unabridged)£24.99
My Tank Is Fight! contains a humorous and exciting examination of twenty real inventions from World War II that never saw the light of day. Each entry includes full technical details, a complete development history, in-depth analysis, and a riveting fictionalized account of the invention's success...
---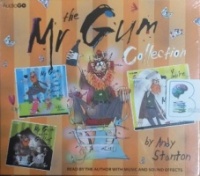 The Mr Gum Collection Volume 1 written by Andy Stanton performed by Andy Stanton on CD (Unabridged)£19.99
6 CD boxed set read by the author Andy Stanton ~ Includes ; You're a Bad Man Mr Gum! ~ Mr Gum and the Biscuit Billionaire ~ Mr Gum and the Goblins ~
---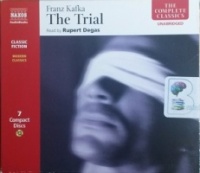 The Trial written by Franz Kakfa performed by Rupert Degas on CD (Unabridged)£19.99
Josef K, 30, lives in a large town in an unspecified country. He is summonsed to answer a charge and appears in the court room for his trial. Franz Kafka evokes all the reality of trial without any of the specifics in a society that seems to have degraded into chaos: squalid environment, rats, yellow...
---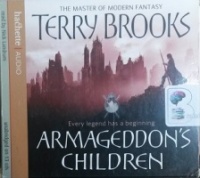 Armageddon's Children written by Terry Brooks performed by Nick Landrum on CD (Unabridged)£19.99
Terry Brooks' Shannara series, launched in 1977 with THE SWORD OF SHANNARA, is a landmark in the fantasy genre and remains one of the bestselling fantasy series of all time. With this new series, a new chapter in the Shannara legend begins.
---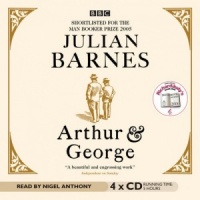 Arthur and George written by Julian Barnes performed by Nigel Anthony on CD (Abridged)£4.99
A Genius Performance by Nigel Anthony! Julian Barnes' Man Booker Prize-shortlisted novel is based on Arthur Conan Doyle's extraordinary real-life fight for justice. 'Julian Barnes...has taken the bones of a long-dead history and imbued them with vivid and memorable life' - "Observer".
---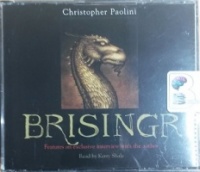 Brisingr - Part 3 of the Inheritance Cycle Series written by Christopher Paolini performed by Kerry Shale on CD (Abridged)£9.99
Part 3 of the Inheritance Cycle Series. Following the colossal battle against the Empire's warriors, Eragon and Saphira narrowly escaped with their lives. But more awaits the Rider and his dragon, as Eragon finds himself bound by promises he may not be able to keep, including his oath to....
---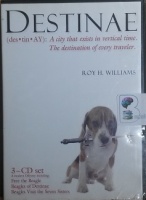 Destinae written by Roy H. Williams performed by Roy H. Williams on CD (Abridged)£29.99
Book 1: Free the Beagle Book 2: Beagles of Destinae Book 3: Beagles Visit the Seven Sisters Three books containing the epic story of a lawyer named Intellect and a beagle named Intuition on the road to self-discovery. What will they find?
---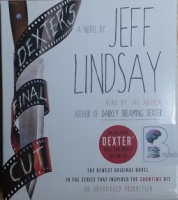 Dexter's Final Cut written by Jeff Lindsay performed by Jeff Lindsay on CD (Unabridged)£39.99
With 1.7 million copies of the Dexter novels sold, and ever-increasing critical acclaim, Jeff Lindsay returns to his groundbreaking and beloved character with his most entertaining book yet. Get ready for a grisly send-up of Hollywood, and a full dose of dark Dexter wit. Lights. Camera. Mayhem.
---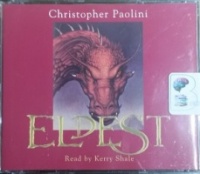 Eldest - Part 2 of the Inheritance Cycle Series written by Christopher Paolini performed by Kerry Shale on CD (Abridged)£9.99
Eragon and his dragon, Saphira, have just saved the rebel state from destruction by the mighty forces of King Galbatorix, cruel ruler of the Empire. Now Eragon must travel to Ellesméra, land of the elves, for further training in magic and swordsmanship, the vital skills of the Dragon Rider.
---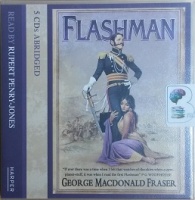 Flashman written by George MacDonald Fraser performed by Rupert Penry-Jones on CD (Abridged)£29.99
Harry Flashman: the unrepentant bully of Tom Brown's schooldays, now with a Victoria Cross, has three main talents – horsemanship, facility with foreign languages and fornication. A reluctant military hero, Flashman plays a key part in most of the defining military campaigns of the 19th century....
---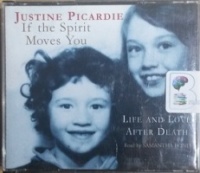 If the Spirit Moves You - Life and Love after Death written by Justine Picardie performed by Samantha Bond on CD (Abridged)£9.99
In September 1997 Justine Picardie's sister, Ruth, died of breast cancer. In this remarkable book, Justine tells the story of life after death - a year in her own life after Ruth's death; and of a search for the afterlife in the age of reason, of scepticism, of science.
---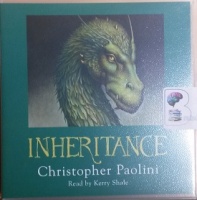 Inheritance - Part 4 of the Inheritance Cycle Series written by Christopher Paolini performed by Kerry Shale on CD (Abridged)£14.99
It began with Eragon . . . It ends with Inheritance. Not so very long ago, Eragon-Shadeslayer, Dragon Rider-was nothing more than a poor farm boy, and his dragon, Saphira, only a blue stone in the forest. Now, the fate of an entire civilization rests on their shoulders.
---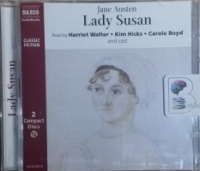 Lady Susan written by Jane Austen performed by Harriet Walter, Kim Hicks, Carole Boyd and Full Cast on CD (Abridged)£9.99
An epistolary novel in 18th-century style, this novel tells the story of the recently-widowed Lady Susan Vernon, intelligent but highly manipulative, who is intent on gaining financially secure relationships for both herself and her wayward daughter Frederica.
---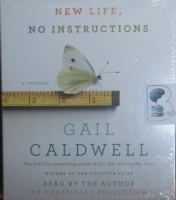 New Life, No Instructions written by Gail Caldwell performed by Gail Caldwell on CD (Unabridged)£19.99
"New Life, No Instructions" is about the surprising way life can begin again. Within the pages of this memoir, Gail Caldwell explores topics such as what to do when your personal story changes in midlife, how change starts and stays, how we are connected to our loved ones, and finally a discussion on hope.
---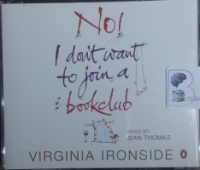 No! I don't want to join a bookclub written by Virginia Ironside performed by Sian Thomas on CD (Abridged)£9.99
"Certainly not!" said Marie Sharp, when a friend suggests she join a bookclub when she turns sixty. "Bookclub people always seem to have to wade through Captain Corelli's Mandolin or, groan, The God of Small Things. They feel they've forever got to poke their brain with a pointed stick to keep it working.