---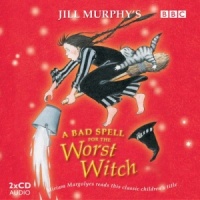 A Bad Spell for the Worst Witch written by Jill Murphy performed by Miriam Margolyes on CD (Abridged)£13.99
Mildred gets off to a good start in her second year at Miss Cackle's Academy, but her sworn enemy, Ethel Hallow, is plotting misfortune, setting Mildred up for a very bad spell, indeed.
---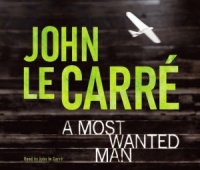 A Most Wanted Man written by John le Carre performed by John le Carre on CD (Abridged)£9.99
A half-starved young Russian man in a long black overcoat is smuggled into Hamburg at dead of night. He has an improbable amount of cash secreted in a purse round his neck. He is a devout Muslim. Or is he? He says his name is Issa.
---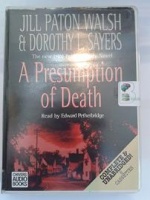 A Presumption of Death written by Jill Paton Walsh and Dorothy L Sayers performed by Edward Petherbridge on Cassette (Unabridged)£29.99 - £39.99
The story opens in 1940. Harriet Vane - now Lady Peter Wimsey - has taken her children to safety in the country. But the war has followed them: glamorous RAF pilots and even more glamorous land-girls scandalise the villagers; the blackout makes the night-time lanes as sinister as the back alleys of London.
---
---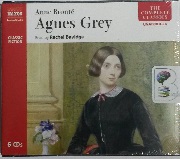 Agnes Grey written by Anne Bronte performed by Rachel Bavidge on CD (Unabridged)£19.99
For all those captivated by the trials of Jane Eyre, Anne Brontës heroine Agnes Grey is the ideal counterpoint. Agnes Grey is widely considered to be the best record of the precarious position of the governess in Victorian society, and the insolence, neglect and dependence that the gentle ....
---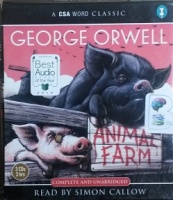 Animal Farm written by George Orwell performed by Simon Callow on CD (Unabridged)£19.99
George Orwell's 1945 satire on the perils of Stalinism has proved magnificently long-lived as a parable about totalitarianism anywhere and has given the world at least one immortal phrase: "Everyone is equal, but some are more equal than others."
---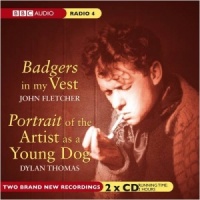 Badgers in My Vest and Portrait of the Artist as a Young Dog written by Dylan Thomas performed by BBC Full Cast Dramatisation on CD (Unabridged)£4.99 - £6.99
Badgers in My Vest is a new, darkly funny play by an acclaimed contemporary playwright, based on a true incident in Dylan Thomas' life.
---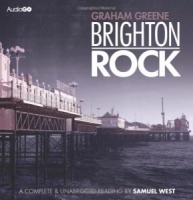 Brighton Rock written by Graham Greene performed by Samuel West on CD (Unabridged)£29.99 - £39.99
A truely Genius Performance by Samuel West!
His reading of this book makes it come alive in a way none of us have ever heard before - a Must Listen if ever we heard one!
A gang war is raging through the dark underworld of Brighton. Untouched by human feeling, Pinkie is isolated, a figure of pure evil. Believing he can escape retribution, he is unprepared for the courageous, life-embracing Ida Arnold, who is determined to avenge Hale's death.
---
---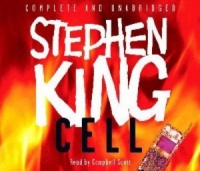 Cell written by Stephen King performed by Campbell Scott on CD (Unabridged)£39.99
'Civilization slipped into its second dark age on an unsurprising track of blood but with a speed that could not have been foreseen by even the most pessimistic futurist. By Halloween, every major city from New York to Moscow stank to the empty heavens and the world as it had been was a memory.
---
---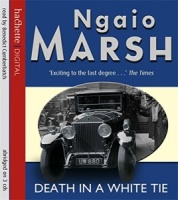 Death in a White Tie written by Ngaio Marsh performed by Benedict Cumberbatch on CD (Abridged)£7.99 - £11.99
A Benedict Cumberbatch Genius Performance!
The season had begun. Débutantes and chaperones were planning their luncheons, teas, dinners, balls. And the blackmailer was planning his strategies, stalking his next victim.
---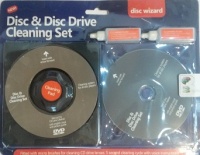 Disk and Disk Drive Cleaning Set written by Disk Wizard performed by Disk Wizard on CD (Unabridged)£4.99
This is an excellent tool to maintain your CD player or computer CD/DVD drive in tip-top condition. Regular use of this disk will ensure you maximise the life of your CD listening device.
---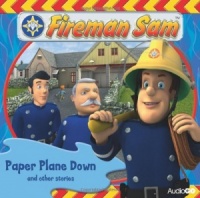 Fireman Sam - Paper Plane Down written by BBC Childrens Team performed by BBC Childrens on CD (Abridged)£4.99 - £9.99
This title includes seven episodes from the hugely popular all-new animated series featuring Fireman Sam and his friends from Pontypandy - as seen on TV.
It includes "Paper Plane Down Hot", "Cold Running Sniffer Dog"; "Perilous Path"; "The New Hero Next Door"; "Santa Overboard"; "Best Foot Forward"; and, "Baa Baa Baby".
---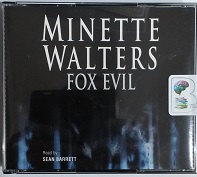 Fox Evil written by Minette Walters performed by Sean Barrett on CD (Abridged)£4.99 - £6.99
When elderly Ailsa Lockyer-Fox is found dead in her garden, dressed only in night clothes and with blood stains on the ground near her body, the finger of suspicion points at her wealthy, landowning husband, Colonel James Lockyer-Fox.
---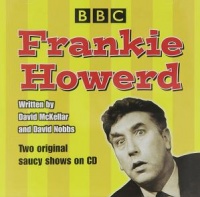 Frankie Howard written by David McKellar and David Nobbs performed by Frankie Howerd on CD (Abridged)£4.49 - £4.99
Titter ye lots with two saucy shows from the golden age of comedy. After a 40 year career, until his death in 1992, Frankie Howerd made people laugh - Also with June Whitfield!
New In March 2018 Part 5
(in alphabetical order)
A Breach of Promise written by Anne Perry performed by Simon Jones on Cassette (Abridged)£14.99

When Anne Perry sets her magic pen to paper, Victorian England awakens from her long sleep to vibrant, teeming life. Firelight flickers in luxurious withdrawing rooms. Ambitious ladies gossip and scheme. Horse-drawn carriages clatter over cobblestones while cries of flower sellers ....

A Presumption of Death written by Jill Paton Walsh and Dorothy L Sayers performed by Edward Petherbridge on Cassette (Unabridged)£29.99 - £39.99

The story opens in 1940. Harriet Vane - now Lady Peter Wimsey - has taken her children to safety in the country. But the war has followed them: glamorous RAF pilots and even more glamorous land-girls scandalise the villagers; the blackout makes the night-time lanes as sinister as the back alleys of London.

Ade written by Rebecca Walker performed by Janina Edwards on MP3 CD (Unabridged)£19.99

In this stunning debut novella, Rebecca Walker turns her attention to the power of love and the limitations of the human heart. When Farida, a sophisticated college student, falls in love with Ade, a young Swahili man living on an idyllic island off the coast of Kenya....

Ages of Man written by William Shakespeare performed by John Gielgud on Cassette (Abridged)£19.99

Here are some of Shakespeare's finest speeches performed by one of the greatest Shakespearean actors of this century. It ranges from the youth of Jaques' introduction to life, 'All the world's a stage!' in "As You Like It" to the aged Prospero's goodbye to Ariel and Shakespeare's own farewell to his muse..

Aristotle written by Hugh Griffith performed by Hugh Ross and Roy McMillan on CD (Abridged)£11.99

Aristotle was the third key figure among the philosophers of Ancient Greece following Socrates and Plato. Here, extensive sections of the main works for which he is still respected are given following introductions setting the scene.

Barnaby Rudge written by Charles Dickens performed by Sean Barrett on CD (Unabridged)£59.99

Dickens' first historical novel is set in 1780s England at the time of the Gordon Riots. In a case of mistaken identification, Barnaby Rudge, a pale half-wit with long red hair who dresses all in green and carries a large raven on his back, is arrested as the leader of a mob of anti-Catholic rioters.

Bomber written by Len Deighton performed by BBC Full Cast Dramatisation, Tom Baker, Frank Windsor and Samuel West on Cassette (Abridged)£7.99 - £9.99

A Genius Performance by Samuel West!

A reissue of the acclaimed BBC Radio 4 dramatization of Len Deighton's story, recounting the horror unleashed by RAF bombers on a town in Germany in the summer of 1943. This edition is part of the BBC's range of modern classics.

Brave New World written by Aldous Huxley performed by Michael York on CD (Unabridged)£29.99

When Lenina and Bernard visit a savage reservation, we experience how Utopia can destroy humanity. On the 75th anniversary of its publication, this outstanding work of literature is more crucial and relevant today than ever before. Cloning, feel-good drugs, anti-aging programs...

Dry Bones that Dream written by Peter Robinson performed by Neil Pearson on CD (Abridged)£14.99

It was 2.47 a.m. when Chief Inspector Alan Banks arrived at the barn and saw the body of Keith Rothwell for the first time. Only hours earlier two masked men had walked the mild-mannered accountant out of his farmhouse and clinically blasted him with a shotgun.

Elizabeth written by David Starkey performed by Patricia Hodge on CD (Abridged)£9.99

An abused child, yet confident of her destiny to reign, a woman in a man's world, passionately sexual yet, she said, a virgin, Elizabeth I was to be famed as England's most successful ruler. This absorbing book, by concentrating on her early years from her birth in 1533 to her accession in 1558...

Hannibal Rising written by Thomas Harris performed by Thomas Harris on CD (Unabridged)£8.99

Hannibal Lecter emerges from the nightmare of the Eastern Front, a boy in the snow, mute, with a chain around his neck. He seems utterly alone, but he has brought his demons with him.

How to Communicate Effectively - Audio Training Programme written by Bert Decker performed by Kogan Page Team on Cassette (Abridged)£9.99

The skills presented in this cassette relate to spoken communication and the visible means of conveying a message: posture, appearance and gesture. Exercises are provided to help the reader improve nine relevant basic behavioral skills: eye communication, posture and movement, gestures ...

Quest for the Lost World written by Brian Blessed performed by Brian Blessed on Cassette (Abridged)£14.99 - £19.99

This book is about fulfilling a childhood dream. A Dream of reaching and exploring the plateau of Mount Roraima - the fabled 'lost world' in South America. A brilliant listen!

selected shorts - Are We There Yet? written by Selected Shorts (ed.) performed by Keith Szarabajka, Mia Dillon, Sonia Manzano and James Naughton on CD (Unabridged)£19.99

Recorded live at Peter Norton Symphony Space in New York City and at venues across the United States, these audio anthologies feature short stories from the Selected Shorts program that airs nationwide. More than 300,000 listeners tune in to this offering weekly to hear spellbinding tales read ....

Seriously....I'm Kidding written by Ellen Degeneres performed by Ellen Degeneres on CD (Unabridged)£19.99

"I've experienced a whole lot the last few years, and I have a lot to share. So I hope that you'll take a moment to sit back, relax, and enjoy the words I've put together for you in this book. I think you'll find I've left no stone unturned, no door unopened, no window unbroken, no rug unvacuumed,

Strong Poison written by Dorothy L. Sayers performed by Michael Cochrane on Cassette (Abridged)£9.99

Harriet Vane is awaiting a second trial for the murder of Philip Boyes, the man she once loved. Despite Harriet's admission that she had bought arsenic, later shown to be the cause of Philip's death, the first jury could not agree on her guilt. Lord Peter Wimsey has fallen in love with the prisoner ...

Tales from a Long Room written by Peter Tinniswood performed by Robin Bailey on Cassette (Abridged)£9.99

10 Tales of the Brigadier. Dry as an Outback outfield, sly as a Barbadian googly, sharp as a full toss on the funny bone, that's the cricket humour of Peter Tinniswood.

The Canterbury Tales written by Geoffrey Chaucer performed by Bill Willis, Ric Jerrom, Mark Meadows and Cameron Stewart on CD (Unabridged)£29.99 - £39.99

During his life, Geoffrey Chaucer (born c.1340) was courtier, diplomat, revenue collector, administrator, negotiator, overseer of building projects, landowner and knight of the shire. He was servant, retainer, husband, friend and father, but is now mainly known as a ....

The Classic Collection written by Michael Morpurgo performed by Michael Morpurgo, Jenny Agutter, Emilia Fox and Ian McKellen on CD (Unabridged)£7.99

Three unforgettable novels have been turned into fantastic audiobooks written by the award-winning former Children's Laureate, Michael Morpurgo. Actors reading include Sir Ian MacKellen, Emilia Fox, Jenny Agutter, Tim Pigott-Smith and the author himself.

The Complete Sherlock Holmes written by Arthur Conan Doyle performed by Simon Vance on MP3 CD (Unabridged)£26.99

Winner of the 2014 Audie Award for Classics Sir Arthur Conan Doyle's Sherlock Holmes tales are rightly ranked among the seminal works of mystery and detective fiction. Included in this collection are all four full-length Holmes novels and more than forty short masterpiece.

The Daughter of Time written by Josephine Tey performed by Derek Jacobi on Cassette (Unabridged)£29.99

Josephine Tey's classic novel about Richard III, the hunchback king, whose skeleton was discovered in a council carpark, and who was buried in March 2015 in state in Leicester Cathedral. The Daughter of Time investigates his role in the death of his nephews, the princes in the Tower, and his own death at the Battle of Bosworth.

The Household Spirit written by Tod Wodicka performed by Robert Fass on CD (Unabridged)£29.99

There's something wrong next door. At least, that's what neighbors Howie Jeffries and Emily Phane both think. Since his daughter and wife moved out, Howie has been alone, an accidental recluse content with his fishing and his dreams of someday sailing away from himself on a boat.

The Last Summer written by Judith Kinghorn performed by Jane Wymark on CD (Unabridged)£19.99

1914, a long hot summer. THE LAST SUMMER is a sweepingly epic and gloriously intimate commercial debut - a beautiful and haunting story of lost innocence and a powerful, enduring love. Clarissa is almost seventeen when the spell of her childhood is broken.

The Leaving of Liverpool written by Maureen Lee performed by Jacqueline King on CD (Abridged)£4.99

It is a cold February night in 1925 when two teenage sisters - Mollie and Annemarie - escape from their home in a tiny Irish village. Their beloved mother has died and the girls have suffered shocking abuse at the hands of their father.

The Looking Glass War written by John le Carre performed by BBC Full Cast Dramatisation and Simon Russell Beale on CD (Abridged)£4.99 - £9.99

When word reaches The Department - an ailing section of British military intelligence - that Soviet missiles are being installed close to the West German border, it seems the perfect opportunity to show Control and Smiley, their rivals over at the Circus, that The Department still has value.

The Novice - Volume 2 written by Trudi Canavan performed by Samantha Bond on CD (Abridged)£4.99 - £6.99

Sonea knows the other novices in the Magicians' Guild all come from powerful families, but she also knows she can turn to Rothen and Dannyl for help when she needs it.

The Romanovs - The Final Chapter written by Robert K. Massie performed by Robert O'Keefe on Cassette (Abridged)£14.99

The compelling quest to solve a great mystery of the twentieth century: the ultimate fate of Russia's last tsar and his family. In July 1991, nine skeletons were exhumed from a shallow grave near Ekaterinburg, Siberia, a few miles from the infamous cellar where the last tsar and his family ....

Torrents of Spring written by Ivan Turgenev performed by Neville Jason on CD (Unabridged)£14.99

When young Russian aristocrat Dimitri Sanin, on his way home from Italy, enters a patisserie in Frankfurt, he little dreams it will alter the course of his entire life. Faced with Gemma, the most beautiful girl he has ever seen, he is blown away by the spring torrents of love.

Treasure Island written by Robert Louis Stevenson performed by Anthony Bate on Cassette (Abridged)£4.99

Jim Hawkins, a young cabin boy battles the pirate Long John Silver for a buried treasure. One of the most frequently dramatized novels of all time. The influence of Treasure Island on popular perceptions of pirates is enormous, including treasure maps marked with an "X", schooners,..

Twelfth Night written by William Shakespeare performed by Arkangel Full Cast Production on Cassette (Unabridged)£4.99

The tale of Sebastian and Viola, twins who are separated when they are shipwrecked off the coast of Illyria. Viola assumes another identity in order to take up service as a page boy, while Sebastian is saved by Antonio.

Wartime - Britain 1939-1945 written by Juliet Gardiner performed by Fiona Shaw on CD (Abridged)£14.99

Half the British Army never left Britain during the Second World War and became, with the civilian population, the Home Front. In WARTIME the danger, courage, deprivation, exhaustion, fear, humour and, sometimes, boredom that the population endured for six years is vividly brought to life....

Why Men Lie and Women Cry written by Allan Pease and Barbara Pease performed by Allan Pease and Barbara Pease on CD (Abridged)£14.99

Allan and Barbara Pease are the world's foremost experts in personal relationships. Their books, seminars and TV programmes have made them household names from Australia to the UK and from the USA to Japan. In this, their first new book since the multi-million selling Why Men Don't Listen...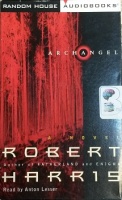 Archangel written by Robert Harris performed by Anton Lesser on Cassette (Abridged)£4.99
While in Moscow, historian Fluke Kelso is approached by someone claiming to have been present when Stalin died, but a simple check into the old man's story turns into a murderous chase into the dark forests of northern Russia near the White Sea port of Archangel.
---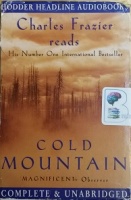 Cold Mountain written by Charles Frazier performed by Charles Frazier on Cassette (Unabridged)£19.99
A soldier wounded in the Civil War, Inman turns his back on the carnage of the battlefield and begins the treacherous journey home to Cold Mountain, and to Ada, the woman he loved before the war began. As Inman attempts to make his way across the mountains, through the devastated landscape....
---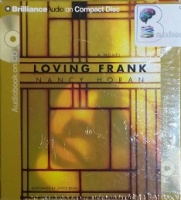 Loving Frank written by Nancy Horan performed by Joyce Bean on CD (Abridged)£9.99
In the internationally bestselling vein of The Paris Wife and Z: a novel of Zelda Fitzgerald this biographical novel is set in the early 1900s when polite Chicago society was rocked by terrible scandal when renowned architect, Frank Lloyd Wright, ran off with Mamah Cheney, a client's wife.
---
---
---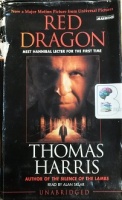 Red Dragon written by Thomas Harris performed by Alan Sklar on Cassette (Unabridged)£14.99
A quiet summer night...a neat suburban house...and another happy family is shattered -- the latest victims of a grisly series of hideous sacrificial killings that no one understands, and no one can stop. Nobody lives to tell of the unimaginable carnage. Only the blood-stained walls bear witness.
---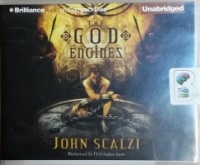 The God Engines written by John Scalzi performed by Christopher Lane on CD (Unabridged)£19.99
Captain Ean Tephe is a man of faith, whose allegiance to his lord and to his ship is uncontested. The Bishopry Militant knows this - and so, when it needs a ship and crew to undertake a secret, sacred mission to a hidden land, Tephe is the captain to whom the task is given.
---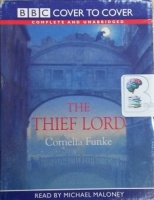 The Thief Lord written by Cornelia Funke performed by Michael Maloney on Cassette (Unabridged)£14.99
Two orphaned children are on the run, hiding among the crumbling canals and misty alleyways of the city. Befriended by a gang of street children and their mysterious leader, the Thief Lord, they shelter in an old, disused cinema. On their trail is a bungling detective, obsessed with disguises and the health...
---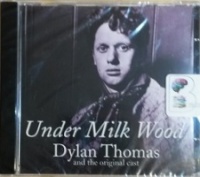 Under Milk Wood written by Dylan Thomas performed by Dylan Thomas and Original Cast on CD (Unabridged)£9.99
Dylan Thomas' fantastic reading of 'Under Milk Wood' performed by Dylan Thomas and a remarkable cast available for the first time on CD. Under Milk Wood was originally a radio play and later a stage play and film which was written and delivered to the BBC in 1953.
---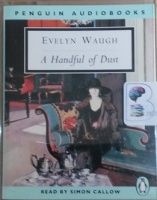 A Handful of Dust written by Evelyn Waugh performed by Simon Callow on Cassette (Abridged)£14.99
After seven years of marriage, Lady Brenda is bored with country life at Hetton Abbey. She drifts into an affair with shallow young socialite John Beaver and forsakes her unsuspecting husband Tony as she becomes more and more involved with the glamorous Belgravia set.
---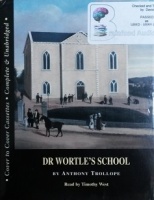 Dr Wortle's School written by Anthony Trollope performed by Timothy West on Cassette (Unabridged)£19.99
Can it be right to persist in a bigamous marriage? Mr. Peacocke, a classical scholar, has come to Broughtonshire with his beautiful American wife to live as a schoolmaster. But when the blackmailing brother of her first husband - a reprobate from Louisiana - appears at the school gates...
---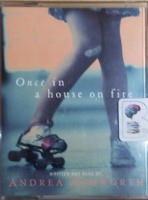 Once in a House on Fire written by Andrea Ashworth performed by Andrea Ashworth on Cassette (Abridged)£4.99
Andrea Ashworth's father stopped on the way home from work one night to take a leak. He slipped in some mud, hit his head on a rock and drowned face-down in a stream less than four inches deep. Andrea was five years old; her sister was three; her mother was twenty-five.
---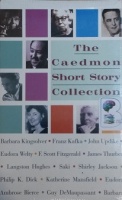 The Caedmon Short Story Collection written by Various Great Modern Authors performed by David McCallum, Claire Bloom, Celia Johnson and John Updike on Cassette (Abridged)£19.99
This collection, culled from the Caedmon archives of the past fifty years, includes such selections as John Updike's "Persistence of Desire" and Eudora Welty's "Why I Live at the P.O.," both read by the respective authors.
---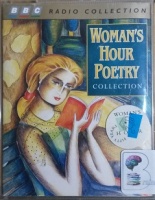 Women's Hour Poetry Collection written by Various Famous Poets performed by Jan Francis, Hannah Gordon, Trevor Nichols and Maggie Steed on Cassette (Abridged)£4.99
This anthology contains work by over 80 female poets, including Elizabeth Barrett Browning, Emily Bronte, Emily Dickinson, Fiona Pitt-Kethley and Liz Lochead.
---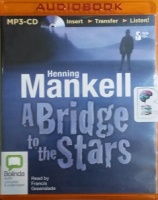 A Bridge to the Stars written by Henning Mankell performed by Francis Greenslade on MP3 CD (Unabridged)£9.99
This poignant novel explores how a unilateral decision can change a life. Two things are hard for Joel Gustafson to cope with: not knowing why, and not being able to do anything about it. Joel's father was once a sailor who lived by the sea. Joel's mother once lived with them.
---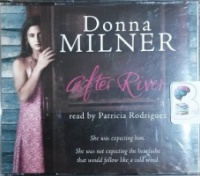 After River written by Donna Milner performed by Patricia Rodriguez on CD (Abridged)£4.99
Growing up on a dairy farm in the mountains of British Columbia in the 1960s, three kilometres north of the American border, Natalie Ward knew little of the outside world. But she had her family. A family so close and loving that Natalie believed they were the envy of the nearby town....
---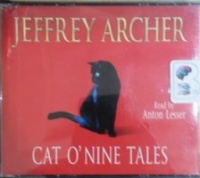 Cat O'Nine Tales written by Jeffrey Archer performed by Anton Lesser on CD (Unabridged)£19.99
Cat O' Nine Tales is the sixth collection of irresistible short stories from the master storyteller,illustrated by the internationally acclaimed artist, Ronald Searle, creator of Molesworth. These twelve yarns are satisfying and ingeniously plotted, featuring richly drawn characters and Jeffrey Archer's ...