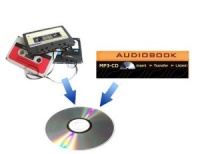 3 Hour Fixed Price Audio Transfer£10.00
This is the fixed price £10 item to be used when ordering conversion of a sub 3 hour Audio Cassette or MP3 CD title.
---
---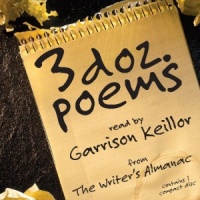 3 doz. poems written by Various Famous Poets performed by Garrison Keillor on CD (Abridged)£5.99
This is a well-planned collection of simple, direct poems read by Garrison Keillor, a much-loved speaker with a soothing and ultimately expressive voice.
---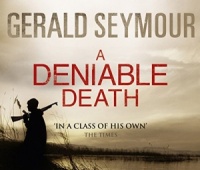 A Deniable Death written by Gerald Seymour performed by Rupert Degas on CD (Abridged)£7.99
C.R.O.P.: Covert Rural Observation Posts are places where men like Danny 'Badger' Baxter hide for endless, motionless hours, secretly recording criminal or terrorist activity. But now Badger has a bigger job than photographing dissident Republicans in muddy Ulster fields or Islamic extremists on rainswept Yorkshire moors.
---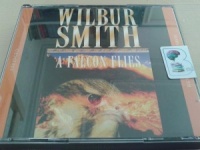 A Falcon Flies written by Wilbur Smith performed by Martin Jarvis on CD (Abridged)£4.99 - £8.99
A Falcon Flies is the first bestselling novel in Wilbur Smith's epic tale of Africa, The Ballantyne Novels. In search of a father they barely remember, Zouga and Dr Robyn Ballantyne board Mungo St John's magnificent clipper to speed them to Africa.
---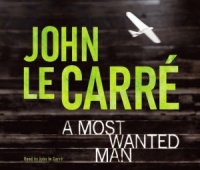 A Most Wanted Man written by John le Carre performed by John le Carre on CD (Abridged)£9.99
A half-starved young Russian man in a long black overcoat is smuggled into Hamburg at dead of night. He has an improbable amount of cash secreted in a purse round his neck. He is a devout Muslim. Or is he? He says his name is Issa.
---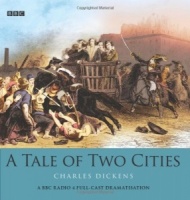 A Tale of Two Cities written by Charles Dickens performed by BBC Full Cast Dramatisation and Robert Lindsay on CD (Abridged)£29.99 - £34.99
Robert Lindsay stars in this BBC Radio 4 full-cast dramatisation of the classic novel by Charles Dickens.
---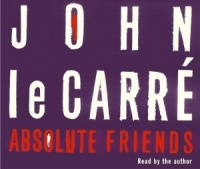 Absolute Friends written by John le Carre performed by John le Carre on CD (Abridged)£6.99
Absolute Friends is a superbly paced novel spanning fifty-six years, a theatrical masterstroke of tragi-comic writing, and a savage fable of our times, almost of our hours.
---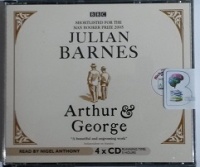 Arthur and George written by Julian Barnes performed by Nigel Anthony on CD (Abridged)£4.99
Julian Barnes' Man Booker Prize-shortlisted novel is based on Arthur Conan Doyle's extraordinary real-life fight for justice. 'Julian Barnes...has taken the bones of a long-dead history and imbued them with vivid and memorable life' - "Observer". "Arthur and George" is based on the true story of two men.
---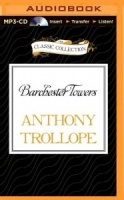 Barchester Towers written by Anthony Trollope performed by Stephen Thorne on MP3 CD (Unabridged)£19.99
Barchester Towers, Trollope's most popular novel, is the second of the six Chronicles of Barsetshire.
---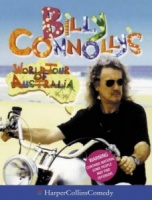 Billy Connolly's World Tour of Australia written by Billy Connolly performed by Billy Connolly on CD (Abridged)£7.99
Travelling by plane, motorbike, boat and foot, Billy Connolly tours the country performing his stage show and delivers and individual commentary on all things Australian.
---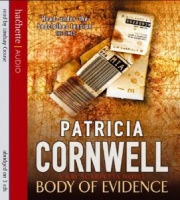 Body of Evidence written by Patricia Cornwell performed by Lindsay Crouse on CD (Abridged)£9.99
A reclusive writer is dead. And her final manuscript has disappeared ...Someone is stalking Beryl Madison.
---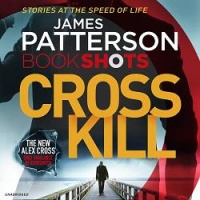 Bookshots Cross Kill written by James Patterson performed by Ruben Santiago Hudson on CD (Unabridged)£4.99
ALEX CROSS, I'm coming for you – even from the grave if I have to. Along Came a Spider killer Gary Soneji has been dead for over ten years. Alex Cross watched him die. But today, Cross saw him gun down his partner. Is Soneji alive? A ghost? Or something even more sinister?
---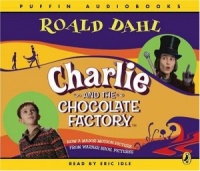 Charlie and the Chocolate Factory written by Roald Dahl performed by Eric Idle on CD (Unabridged)£4.99
This is a special audio edition of Charlie and the Chocolate Factory, read by Eric Idle, which will be published at the same time as the Warner Bros film.
Charlie Bucket thinks he's the luckiest boy alive when he unwraps one of Willy Wonka's Whipple-Scrumptious Fudgemallow Delights to find the last golden ticket.
---
---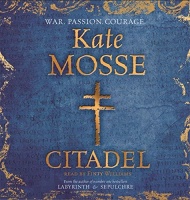 Citadel written by Kate Mosse performed by Finty Williams on CD (Unabridged)£9.99
1942, Nazi-occupied France. Sandrine, a spirited and courageous nineteen-year-old, finds herself drawn into a Resistance group in Carcassonne - codenamed 'Citadel' - made up of ordinary women who are prepared to risk everything for what is right.
---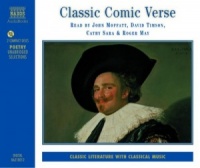 Classic Comic Verse written by Various Famous Poets performed by John Moffat, David Timson, Cathy Sara and Roger May on CD (Abridged)£4.99 - £6.99
Poetry by definition, achieves its effects by rhythm, sound patterns and imagery. One of the most popular areas of audiobooks -- spoken poetic form -- evokes emotions and sensations by bringing the voice of the poet to life in an appropriately intimate way, directly to the ear and mind of the listener.
New In March 2018 Part 4
(in alphabetical order)
A Dark Devotion written by Clare Francis performed by Lindsay Duncan on CD (Abridged)£4.99

The Norfolk marshes. A winter storm. A woman is missing, a beautiful and virtuous woman with no enemies.

A Simple Life written by Rosie Thomas performed by Jenny Agutter on Cassette (Abridged)£4.99

A new saga from the author of OTHER PEOPLE'S MARRIAGES, about a woman living in America, who has a happy, normal family life, but who also has a secret connected with England which could tear her marriage apart.

An Evening with Ranulph Fiennes written by Ranulph Fiennes performed by Ranulph Fiennes on CD (Abridged)£4.99

Sir Ranulph Fiennes has been described by The Guinness Book of Records as 'the world's greatest living explorer'.

Classic Women's Short Stories written by Various Female Authors performed by Carole Boyd, Liza Ross and Teresa Gallagher on CD (Abridged)£4.99

This collection includes five stories by influential women writers from the close of the 19th century and the first decades of the 20th century.

Don Quixote written by Miguel de Cervantes performed by George Guidall on MP3 CD (Unabridged)£19.99

Don Quixote is the classic story. Called the first modern novel, this marvelous book has stood the test of time to become irrevocably intertwined with the fabric of society. Sixteenth-century Spanish gentleman Don Quixote, fed by his own delusional fantasies, takes to the road in search...

Fried Green Tomatoes at the Whistle Stop Cafe written by Fannie Flagg performed by Fannie Flagg on CD (Abridged)£4.99

Fried Green Tomatoes at the Whistle Stop Cafe is the story of two women in the 1980s, of gray-headed Mrs. Threadgoode telling her life story to Evelyn, who is in the sad slump of middle age. The tale she tells is also of two women-of the irrepressibly daredevilish tom boy Idgie and her friend Ruth,

Gardener's Question Time - The Four Seasons written by BBC Radio Collection performed by The Gardener's Question time Team on CD (Abridged)£4.99

Gardeners' Question Time is the perenially popular Radio 4 programme, broadcast on Sunday afternoons, in which a regular panel of gardening experts visit a different town each week and answer the local gardening enthusiasts' questions. On this specially recorded release...

J written by Howard Jacobson performed by Colin Mace and Adjoa Andoh on CD (Unabridged)£6.99

Two people fall in love. Kevern doesn't know why his father always drew two fingers across his lips when he said a world starting with a J. Ailinn too has grown up in the dark about where she came from. On their first date Kevern kisses the bruises under her eyes. He doesn't ask who hurt her.

Last Letters Home written by Tamsin Day-Lewis performed by Tamasin Day-Lewis on CD (Abridged)£4.99

For many of those who lived through it, the Second World War was the most exciting, dynamic and frightening time of their lives. This wonderful collection of contemporary letters tells their stories – from the battlefields of Europe to the bombed out back streets of London, from the conflict in....

Lost and Found - My Story written by Lynda Bellingham performed by Lynda Bellingham on CD (Unabridged)£14.99

Lynda Bellingham is much-loved as the warm and quick-witted panellist on Loose Women. In Lost and Found, Lynda tells the story of how she recovered from two destructive marriages, and many other challenging experiences. Yet her sense of humour has never left her and along...

Moab is my Washpot written by Stephen Fry performed by Stephen Fry on Cassette (Unabridged)£6.99 - £14.99

**** This item's insert has been damaged and, subsequently, removed. This is therefore a set of the four original tapes in new boxes and has been graded as Acceptable **** Stephen Fry was born in 1957, and after a year or so of comparative silence, began to talk coherently in 1960.

Nineteen Eighty-Four written by George Orwell performed by Timothy West on Cassette (Unabridged)£29.99 - £39.99

Big Brother is watching you...1984 is the year in which it happens.The world is divided into three great powers: Oceania, Eurasia, and Eastasia, each perpetually at war with the other. Throughout Oceania 'The Party' rules by the agency of four ministries whose power is absolute and where every action, word, gesture and thought is monitored. In The Ministry of Truth, which deals in propaganda, Winston Smith's job is to edit the past.

Running Wild written by Michael Morpurgo performed by Michael Morpurgo on CD (Unabridged)£5.99

For Will and his mother, going to Indonesia isn't just a holiday. It's an escape, a new start, a chance to put things behind them - things like the death of Will's father. And to begin with, it seems to be just what they both needed. But then Oona, the elephant Will is riding on the beach, begins acting...

Samuel Pepys - The Unequalled Self written by Claire Tomalin performed by Jill Balcon on CD (Abridged)£14.99

Samuel Pepys kept a diary in which he wrote with astonishing candour about the life he saw around him in London in the 1660s, and about his private desires and ambitions. The diary was kept for fewer than 10 years of his long life: Claire Tomalin tells the whole story of the Fleet Street tailor's....

Shakespeare Without the Boring Bits written by Humphrey Carpenter performed by Carole Boyd on CD (Unabridged)£9.99

These modern re-tellings pick out the very best of Shakespeare. This is a very different look at some of the Bard's stories, each told from a minor character's point of view. Here's a humorous look at Romeo and Juliet, A Midsummer's Night Dream, Julius Caesar, Macbeth, Henry V and others.

Sparkling Cyanide - BBC Dramatisation written by Agatha Christie performed by BBC Full Cast Dramatisation on CD (Abridged)£4.99

'There's Rosemary, that's for remembrance.' Published in 1945, Sparkling Cyanide is all about remembrance. It begins with six characters recalling the horrific death of Rosemary Barton, a beautiful but shallow young heiress poisoned by a cyanide-spiked glass of champagne whilst celebrating...

Stiff Upper Lip, Jeeves written by P.G. Wodehouse performed by Jonathan Cecil on Cassette (Unabridged)£19.99 - £39.99

Gussie Fink-Nottle simply must marry Madeline Bassett or Bertrand Wooster will be obliged to proffer the ring in his stead. In a daring attempt at securing the engagement, Jeeves and Bertie visit a rural leper colony.

Teach Yourself - Singing written by Rick Guard performed by Rick Guard on CD (Abridged)£6.99

Whether you are an absolute beginner, a pop wannabe, a karaoke crooner, or want to add singing to your repertoire, SINGING is for you. Friendly advice from your very own instructor will help you develop your voice and enable your talent to flourish. First learn the theory and technique on CD1...

The Fire Eaters written by David Almond performed by David Almond on CD (Unabridged)£6.99

There he was, below the bridge, half-naked, eyes blazing. He had a pair of burning torches. He ran them back and forth across his skin. He sipped from a bottle, breathed across a torch, and fire and fumes leapt from his lips. The air was filled with the scent of paraffin.

The Great Gatsby written by F. Scott Fitzgerald performed by William Hope on CD (Abridged)£3.99 - £4.99

Gatsby, famous for his prodigious wealth, glittering parties and murky background, harbors a poignant dream. As his dream is realized, the sordid underbelly of a society devoid of morality is realized as well.

The Hippopotamus written by Stephen Fry performed by Stephen Fry on Cassette (Unabridged)£9.99

You can't expect an arse like me to tell a story competently. It's all I can bloody do to work this foul machine. I've counted up the words processed, a thing I do every hour and, if technology can be trusted, it looks as if you're in for 93, 682 of them. Good luck to you.

The History of English Literature written by Perry Keenlyside performed by Derek Jacobi on CD (Abridged)£9.99

The remarkable story of the world's richest literary resource, the story telling, poetry, the growth of the novel and the greatest histories and essays, which have informed the language and the imagination wherever English is spoken.

The Looking Glass War written by John le Carre performed by BBC Full Cast Dramatisation and Simon Russell Beale on CD (Abridged)£4.99 - £9.99

When word reaches The Department - an ailing section of British military intelligence - that Soviet missiles are being installed close to the West German border, it seems the perfect opportunity to show Control and Smiley, their rivals over at the Circus, that The Department still has value.

The Man Who Mistook His Wife for a Hat and Other Clinical Tales written by Oliver Sacks performed by Jonathan Davies on MP3 CD (Unabridged)£14.99

In this extraordinary book, Dr. Oliver Sacks recounts the stories of patients struggling to adapt to often bizarre worlds of neurological disorder. Here are people who can no longer recognize everyday objects or those they love; who are stricken with violent tics or shout involuntary obscenities...

The Road to Wigan Pier written by George Orwell performed by Alex Jennings on Cassette (Abridged)£24.99

A graphic and biting polemic that still holds a fierce political relevance and impact despite being written over half a century ago. First published in 1937 it charts George Orwell's observations of working-class life during the 1930s in the industrial heartlands of Yorkshire and Lancashire. His depictions of social injustice and rising unemployment, the dangerous working conditions in the mines amid general squalor and hunger also bring together many of the ideas explored in his later works

The Silver Donkey written by Sonya Hartnett performed by Richard Aspel on CD (Unabridged)£14.99

One bright spring morning in the woods of France, a soldier, blinded by the war, is found by a little girl named Coco, and her older sister Marcelle. In return for their kindness, the soldier tells the sisters marvellous tales, each story connected to the keepsake he carries in his pocket: a perfect, tiny silver donkey.

The Tiger's Prey written by Wilbur Smith performed by Mike Grady on CD (Unabridged)£19.99

The Malabar coast is full of dangers: greedy tradesmen, fearless pirates, and men full of vengeance. But for a Courtney, the greatest danger might just be his own family.... Francis Courtney flees the comfort of his Devonshire estate when his stepfather's gambling debts leave him penniless and at risk.

The White Tiger written by Aravind Adiga performed by Kerry Shale on CD (Abridged)£4.99

Meet Balram Halwal, the 'White Tiger': servant, philosopher, entrepreneur, murderer. Over the course of seven nights, by the scattered light of a preposterous chandelier, Balram tells his story... Born in a village in the dark heart of India, the son of a rickshaw puller, Balram is taken out....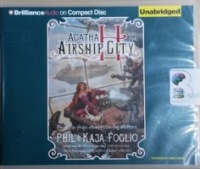 Agatha H and the Airship City - A Girl Genius Novel written by Phil and Kaja Foglio performed by Angela Dawe on CD (Unabridged)£14.99
The Industrial Revolution has escalated into all-out warfare. Sixteen years have passed since the Heterodyne Boys, benevolent adventurers and inventors, disappeared under mysterious circumstances. Today, Europe is ruled by the Sparks, dynasties of mad scientists ruling over - and terrorizing - the...
---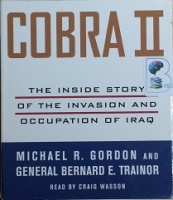 Cobra II - The Inside Story of the Invasion and Occupation of Iraq written by Michael R. Gordon and General Bernard E. Trainor performed by Craig Wasson on CD (Unabridged)£24.99
Informed by unparalleled access to still–secret documents, interviews with top field commanders, and a review of the military's own internal after–action reports, Cobra II is the definitive chronicle of America's invasion and occupation of Iraq—a conflict that could not be lost but one that the...
---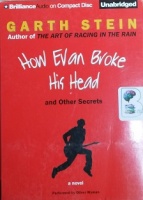 How Evan Broke His Head written by Garth Stein performed by Oliver Wyman on CD (Unabridged)£19.99
From Garth Stein, the New York Times best-selling author of The Art of Racing in the Rain, Audible presents How Evan Broke His Head and Other Secrets, winner of a Pacific Northwest Bookseller Award-in audio for the first time, and read by one of our most talented narrators, Oliver Wyman.
---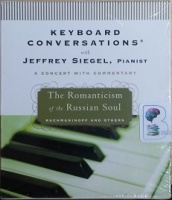 Keyboard Conversations - The Romanticism of the Russian Soul written by Jeffrey Siegel performed by Jeffrey Siegel on CD (Abridged)£19.99
Keyboard Conversations® with Jeffrey Siegel combine the virtuosity and poetry of a world-class pianist with entertaining commentary to create a magical concert experience. His lively, engaging insights and captivating performances make listening an enthralling experience for all music lovers.
---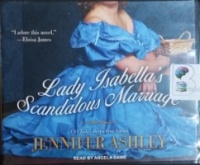 Lady Isabella's Scandalous Marriage written by Jennifer Ashley performed by Angela Dawe on CD (Unabridged)£29.99
Lady Isabella Scranton scandalized London by leaving her husband, notorious artist Lord Mac Mackenzie, after only three turbulent years of marriage. But Mac has a few tricks to get the Lady back in his life, and more importantly, back into his bed.
---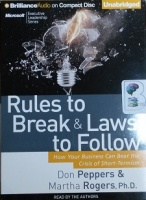 Rules to Break and Laws to Follow written by Don Peppers and Martha Rogers performed by Don Peppers and Martha Rogers on CD (Unabridged)£19.99
Provides twelve laws to help listeners create and recover a level of customer trust and respond to change and innovations in their businesses.
---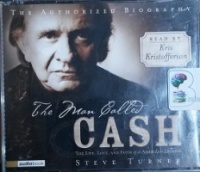 The Man Called Cash - The Life, Love and Faith of an American Legend written by Steve Turner performed by Kris Kristofferson on CD (Abridged)£19.99
One of the most influential figures in American music and pop-culture, Johnny Cash is an icon to people of all ages. Steve Turner sifts the man from the legend and presents a picture of the often contradictory figure with unflinching honesty, getting close to the heart of the performer known ....
---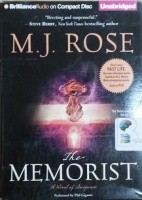 The Memorist - A Novel of Suspense written by M.J. Rose performed by Phil Gigante on CD (Unabridged)£19.99
When she receives a mysterious drawing, Meers Logan leaves the Phoenix Foundation, an institute dedicated to the recovery of past life memories, and journeys to Vienna to find a relic that is rumored to be a portal to the past.
---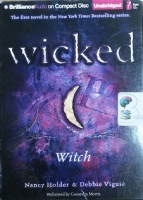 Wicked - Witch written by Nancy Holder and Debbie Viguie performed by Cassandra Morris on CD (Unabridged)£19.99
Holly Cathers's world shatters when her parents are killed in a rafting accident. She is wrenched from her home in San Francisco and sent to Seattle to live with her aunt, Marie-Claire, and her twin cousins, Amanda and Nicole. But sorrow and grief soon give way to bewildered fascination as, one by one....
---
---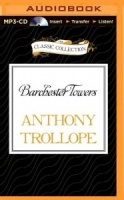 Barchester Towers written by Anthony Trollope performed by Stephen Thorne on MP3 CD (Unabridged)£19.99
Barchester Towers, Trollope's most popular novel, is the second of the six Chronicles of Barsetshire.
---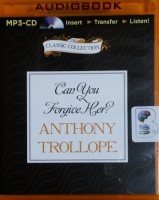 Can You Forgive Her? written by Anthony Trollope performed by Timothy West on MP3 CD (Unabridged)£24.99
Can You Forgive Her? is the first of the six in the Palliser series. Trollope inextricably binds together the issues of parliamentary election and marriage, of politics and privacy. The values and aspirations of the governing stratum of Victorian society are ruthlessly examined, and none remains unscathed.
---
---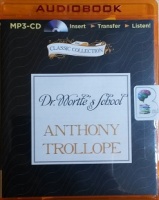 Dr. Wortle's School written by Anthony Trollope performed by Timothy West on MP3 CD (Unabridged)£24.99
In this classic tale, author Anthony Trollope dares to question: can it be right to persist in a bigamous marriage? Mr. Peacocke, a classical scholar, has come to Broughtonshire with his beautiful American wife to live as a schoolmaster. But when the blackmailing brother of her first husband a reprobate....
---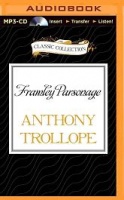 Framley Parsonage written by Anthony Trollope performed by Timothy West on MP3 CD (Unabridged)£19.99
The Reverend Mark Robarts makes a mistake. Drawn into a social set at odds with his clerical responsibilities, he guarantees the debts of an unscrupulous Member of Parliament. He stands to lose his reputation, and his family, future, and home are all in peril.
---
---