---
---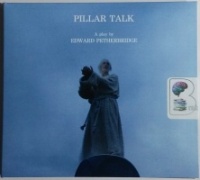 Pillar Talk - A Play written by Edward Petherbridge performed by Edward Petherbridge on CD (Unabridged)£14.99
Exclusive to Brainfood Audiobooks! Esteemed actor Edward (Nicholas Nickleby) Petherbridge uses the story of Symeon Stylites, the 5th century monk who lived on a pillar for thirty-six years, as a framework for an existential inquiry into imagination, belief, doubt, miracles and why one would live 'as I live.'
---
---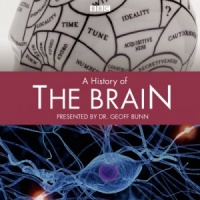 A History of the Brain written by Dr Geoff Bunn performed by Dr Geoff Bunn on CD (Unabridged)£6.99 - £7.29
This set covers 10 x 15 minute series on Radio 4 which was part of a two-week "Brain Season".
It explains in clear terms the latest discoveries in neuroscience. In this unprecedented journey, covering over 2,500 years of development in our understanding of what it is to be human.
---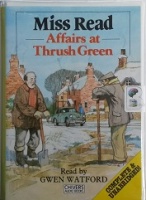 Affairs at Thrush Green written by Mrs Dora Saint as Miss Read performed by Gwen Watford on Cassette (Unabridged)£16.99 - £19.99
When Charles Henstock, rector of Thrush Green, moves a mile downhill to the parish of Lulling, his many friends rejoice in his promotion. But an unfortunate skirmish with one of his wealthy parishioners over the Lady Chapel kneelers saddens him. England, 1930s.
---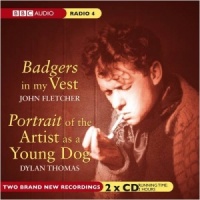 Badgers in My Vest and Portrait of the Artist as a Young Dog written by Dylan Thomas performed by BBC Full Cast Dramatisation on CD (Unabridged)£4.99 - £6.99
Badgers in My Vest is a new, darkly funny play by an acclaimed contemporary playwright, based on a true incident in Dylan Thomas' life.
---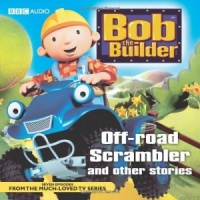 Bob the Builder - Off-Road Scrambler written by Bob the Builder Team performed by Bob the Builder Team on CD (Unabridged)£2.99
This title includes seven episodes from the hugely popular series featuring Bob the Builder, Roley, Lofty, Dizzy, Scoop, Muck and Spud - as seen on BBC TV.
---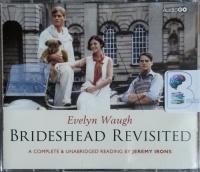 Brideshead Revisited written by Evelyn Waugh performed by Jeremy Irons on CD (Unabridged)£29.99 - £39.99
Brideshead Revisited is Evelyn Waugh's stunning novel of duty and desire set amongst the decadent, faded glory of the English aristocracy in the run-up to the Second World War.
Performed brilliantly by Jeremy Irons
---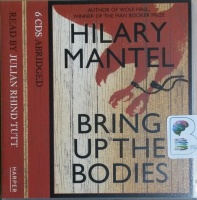 Bring Up The Bodies written by Hilary Mantel performed by Julian Rhind Tutt on CD (Abridged)£5.99
Winner of the Man Booker Prize 2012 Winner of the 2012 Costa Book of the Year Shortlisted for the 2013 Women's Prize for Fiction 'Simply exceptional…I envy anyone who hasn't yet read it'Daily Mail 'A gripping story of tumbling fury and terror'Independent on Sunday With this historic win for Bring Up the Bodies...
---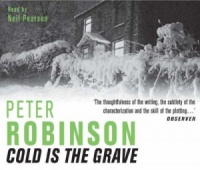 Cold is the Grave written by Peter Robinson performed by Neil Pearson on CD (Abridged)£19.99
Detective Inspector Alan Banks relationship with Chief Constable Riddle has always been strained. So Banks is more than a little surprised when Riddle summons him late one night and begs for his help.
---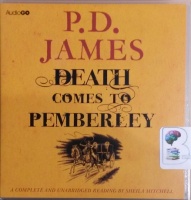 Death Comes to Pemberley written by P.D. James performed by Sheila Mitchell on CD (Unabridged)£4.99 - £9.99
The year is 1803, and Darcy and Elizabeth have been married for six years.
There are now two handsome and healthy sons in the nursery, Elizabeth's beloved sister Jane and her husband Bingley live nearby and the orderly world of Pemberley seems unassailable.
---
---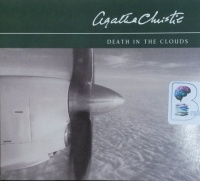 Death in the Clouds written by Agatha Christie performed by David Timson on CD (Abridged)£4.99
From seat No.9, Hercule Poirot was ideally placed to observe his fellow air passengers. Over to his right sat a pretty young woman, ahead, across the gangway in seat No.8, a detective writer was being troubled by an aggressive wasp. What Poirot did not yet realize was that behind him, in seat No.2, sat the ...
---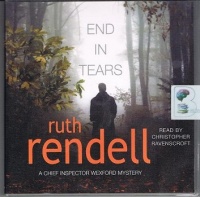 End in Tears written by Ruth Rendell performed by Christopher Ravenscroft on CD (Abridged)£4.99
A lump of concrete dropped deliberately from a little stone bridge kills the wrong person. The young woman in the car behind is spared. But only for a while...
---
---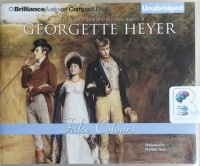 False Colours written by Georgette Heyer performed by Phyllida Nash on CD (Unabridged)£19.99 - £24.99
The honourable Christopher Fancot, on leave from the Diplomatic Service in the summer of 1817, is startled to find his entrancing but incorrigibly extravagant mother on the brink of financial and social ruin - and more than alarmed that his identical twin, Evelyn, Earl of Denville, has disappeared ...
New In March 2018 Part 4
(in alphabetical order)
A Simple Life written by Rosie Thomas performed by Jenny Agutter on Cassette (Abridged)£4.99

A new saga from the author of OTHER PEOPLE'S MARRIAGES, about a woman living in America, who has a happy, normal family life, but who also has a secret connected with England which could tear her marriage apart.

An Evening with Ranulph Fiennes written by Ranulph Fiennes performed by Ranulph Fiennes on CD (Abridged)£9.99

Sir Ranulph Fiennes has been described by The Guinness Book of Records as 'the world's greatest living explorer'.

Don Quixote written by Miguel de Cervantes performed by George Guidall on MP3 CD (Unabridged)£19.99

Don Quixote is the classic story. Called the first modern novel, this marvelous book has stood the test of time to become irrevocably intertwined with the fabric of society. Sixteenth-century Spanish gentleman Don Quixote, fed by his own delusional fantasies, takes to the road in search...

Gardener's Question Time - The Four Seasons written by BBC Radio Collection performed by The Gardener's Question time Team on CD (Abridged)£4.99

Gardeners' Question Time is the perenially popular Radio 4 programme, broadcast on Sunday afternoons, in which a regular panel of gardening experts visit a different town each week and answer the local gardening enthusiasts' questions. On this specially recorded release...

J written by Howard Jacobson performed by Colin Mace and Adjoa Andoh on CD (Unabridged)£6.99

Two people fall in love. Kevern doesn't know why his father always drew two fingers across his lips when he said a world starting with a J. Ailinn too has grown up in the dark about where she came from. On their first date Kevern kisses the bruises under her eyes. He doesn't ask who hurt her.

Last Letters Home written by Tamsin Day-Lewis performed by Tamasin Day-Lewis on CD (Abridged)£4.99

For many of those who lived through it, the Second World War was the most exciting, dynamic and frightening time of their lives. This wonderful collection of contemporary letters tells their stories – from the battlefields of Europe to the bombed out back streets of London, from the conflict in....

Moab is my Washpot written by Stephen Fry performed by Stephen Fry on Cassette (Unabridged)£6.99 - £14.99

**** This item's insert has been damaged and, subsequently, removed. This is therefore a set of the four original tapes in new boxes and has been graded as Acceptable **** Stephen Fry was born in 1957, and after a year or so of comparative silence, began to talk coherently in 1960.

Nineteen Eighty-Four written by George Orwell performed by Timothy West on Cassette (Unabridged)£29.99 - £39.99

Big Brother is watching you...1984 is the year in which it happens.The world is divided into three great powers: Oceania, Eurasia, and Eastasia, each perpetually at war with the other. Throughout Oceania 'The Party' rules by the agency of four ministries whose power is absolute and where every action, word, gesture and thought is monitored. In The Ministry of Truth, which deals in propaganda, Winston Smith's job is to edit the past.

Running Wild written by Michael Morpurgo performed by Michael Morpurgo on CD (Unabridged)£5.99

For Will and his mother, going to Indonesia isn't just a holiday. It's an escape, a new start, a chance to put things behind them - things like the death of Will's father. And to begin with, it seems to be just what they both needed. But then Oona, the elephant Will is riding on the beach, begins acting...

Samuel Pepys - The Unequalled Self written by Claire Tomalin performed by Jill Balcon on CD (Abridged)£14.99

Samuel Pepys kept a diary in which he wrote with astonishing candour about the life he saw around him in London in the 1660s, and about his private desires and ambitions. The diary was kept for fewer than 10 years of his long life: Claire Tomalin tells the whole story of the Fleet Street tailor's....

Shakespeare Without the Boring Bits written by Humphrey Carpenter performed by Carole Boyd on CD (Unabridged)£9.99

These modern re-tellings pick out the very best of Shakespeare. This is a very different look at some of the Bard's stories, each told from a minor character's point of view. Here's a humorous look at Romeo and Juliet, A Midsummer's Night Dream, Julius Caesar, Macbeth, Henry V and others.

Stiff Upper Lip, Jeeves written by P.G. Wodehouse performed by Jonathan Cecil on Cassette (Unabridged)£19.99 - £39.99

Gussie Fink-Nottle simply must marry Madeline Bassett or Bertrand Wooster will be obliged to proffer the ring in his stead. In a daring attempt at securing the engagement, Jeeves and Bertie visit a rural leper colony.

Teach Yourself - Singing written by Rick Guard performed by Rick Guard on CD (Abridged)£6.99

Whether you are an absolute beginner, a pop wannabe, a karaoke crooner, or want to add singing to your repertoire, SINGING is for you. Friendly advice from your very own instructor will help you develop your voice and enable your talent to flourish. First learn the theory and technique on CD1...

The Fire Eaters written by David Almond performed by David Almond on CD (Unabridged)£6.99

There he was, below the bridge, half-naked, eyes blazing. He had a pair of burning torches. He ran them back and forth across his skin. He sipped from a bottle, breathed across a torch, and fire and fumes leapt from his lips. The air was filled with the scent of paraffin.

The Great Gatsby written by F. Scott Fitzgerald performed by William Hope on CD (Abridged)£3.99 - £4.99

Gatsby, famous for his prodigious wealth, glittering parties and murky background, harbors a poignant dream. As his dream is realized, the sordid underbelly of a society devoid of morality is realized as well.

The Hippopotamus written by Stephen Fry performed by Stephen Fry on Cassette (Unabridged)£9.99

You can't expect an arse like me to tell a story competently. It's all I can bloody do to work this foul machine. I've counted up the words processed, a thing I do every hour and, if technology can be trusted, it looks as if you're in for 93, 682 of them. Good luck to you.

The Looking Glass War written by John le Carre performed by BBC Full Cast Dramatisation and Simon Russell Beale on CD (Abridged)£4.99 - £9.99

When word reaches The Department - an ailing section of British military intelligence - that Soviet missiles are being installed close to the West German border, it seems the perfect opportunity to show Control and Smiley, their rivals over at the Circus, that The Department still has value.

The Man Who Mistook His Wife for a Hat and Other Clinical Tales written by Oliver Sacks performed by Jonathan Davies on MP3 CD (Unabridged)£14.99

In this extraordinary book, Dr. Oliver Sacks recounts the stories of patients struggling to adapt to often bizarre worlds of neurological disorder. Here are people who can no longer recognize everyday objects or those they love; who are stricken with violent tics or shout involuntary obscenities...

The Road to Wigan Pier written by George Orwell performed by Alex Jennings on Cassette (Abridged)£24.99

A graphic and biting polemic that still holds a fierce political relevance and impact despite being written over half a century ago. First published in 1937 it charts George Orwell's observations of working-class life during the 1930s in the industrial heartlands of Yorkshire and Lancashire. His depictions of social injustice and rising unemployment, the dangerous working conditions in the mines amid general squalor and hunger also bring together many of the ideas explored in his later works

The Silver Donkey written by Sonya Hartnett performed by Richard Aspel on CD (Unabridged)£14.99

One bright spring morning in the woods of France, a soldier, blinded by the war, is found by a little girl named Coco, and her older sister Marcelle. In return for their kindness, the soldier tells the sisters marvellous tales, each story connected to the keepsake he carries in his pocket: a perfect, tiny silver donkey.

The Tiger's Prey written by Wilbur Smith performed by Mike Grady on CD (Unabridged)£19.99

The Malabar coast is full of dangers: greedy tradesmen, fearless pirates, and men full of vengeance. But for a Courtney, the greatest danger might just be his own family.... Francis Courtney flees the comfort of his Devonshire estate when his stepfather's gambling debts leave him penniless and at risk.
---
---
---
---
---
---
---
---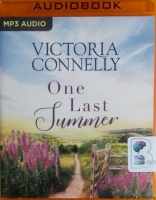 One Last Summer written by Victoria Connelly performed by Jan Cramer on MP3 CD (Unabridged)£14.99
They have the whole summer ahead of them. Is it enough to rekindle the friendship they once shared? Harriet Greenleaf dreams of spending the summer in a beautiful ancient priory on the Somerset coast with her two best friends - but her dream is bittersweet. On the one hand, it's a chance to reconnect three...
---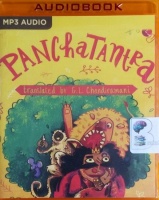 Panchatantra written by Pandit Vishnu Sharma performed by Shernaz Patel on MP3 CD (Unabridged)£9.99
The oldest surviving collection of India fables, the Panchatantra, was probably written around 200 BC by the great Hindu scholar Pandit Vishnu Sharma. The Panchatantra is a book of niti, the wise conduct of life, written in the form a chain of simple stories. Each of these stories has a moral and philosophical...
---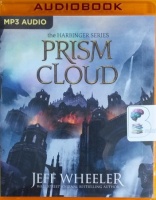 Prism Cloud - The Harbinger Series written by Jeff Wheeler performed by Kate Rudd on MP3 CD (Unabridged)£14.99
Friendship is strained to its breaking point in Wall Street Journal bestselling author Jeff Wheeler's fourth Harbinger novel. When the emperor is assassinated, Sera Fitzempress is the noble most eligible to inherit the empire. Her upcoming marriage to the prince would cement her position. And as a champion for...
---
---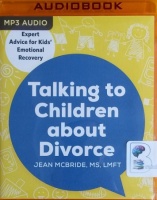 Talking to Children About Divorce - Expert Advice for Kids' Emotional Recovery written by Jean McBride MS LMFT performed by Kristin Price on MP3 CD (Unabridged)£14.99
Marriage and family therapist Jean McBride has helped more than 20,000 families navigate divorce. Now she shares her expertise with an in-depth guide to discussing divorce with your kids so you can support your child's adjustment throughout the entire divorce process. In Talking to Children About Divorce...
---
---
---
---