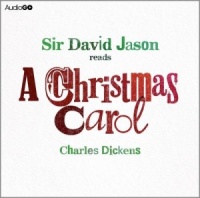 A Christmas Carol written by Charles Dickens performed by David Jason on CD (Abridged)£9.99
Dickens's story of solitary miser Ebenezer Scrooge, who is taught the true meaning of Christmas by the three ghosts of Christmas past, present and future, has been adapted into countless film and stage versions and is today the most famous and loved of all Christmas tales.
---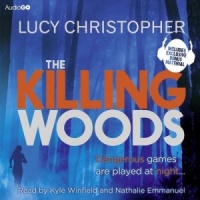 The Killing Woods written by Lucy Christopher performed by Kyle Winfield and Nethalie Emmanuel on CD (Unabridged)£4.99
Emily's dad is accused of murdering a teenage girl in the woods behind her house, the place she played in as a child.
She's sure he's innocent, but what did happen? Determined to find out, and afraid of what she might discover, Emily seeks out the boyfriend of the murdered girl.
---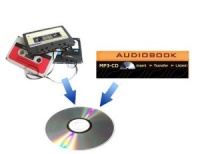 3 Hour Fixed Price Audio Transfer£10.00
This is the fixed price £10 item to be used when ordering conversion of a sub 3 hour Audio Cassette or MP3 CD title.
---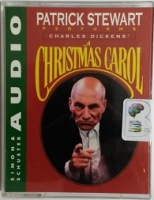 A Christmas Carol written by Charles Dickens performed by Patrick Stewart on Cassette (Abridged)£4.99
A wonderful dramatisation of this classic story. Discover the meanness of Scrooge, a man unable to participate in the joy of Christmas, his cruelty to Bob Cratchit and Tiny Tim, and his eventual redemption after the ghosts of Marley, Christmas Past, Present and Future visit him.
---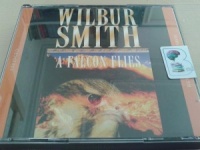 A Falcon Flies written by Wilbur Smith performed by Martin Jarvis on CD (Abridged)£4.99 - £8.99
A Falcon Flies is the first bestselling novel in Wilbur Smith's epic tale of Africa, The Ballantyne Novels. In search of a father they barely remember, Zouga and Dr Robyn Ballantyne board Mungo St John's magnificent clipper to speed them to Africa.
---
---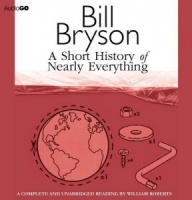 A Short History of Nearly Everything written by Bill Bryson performed by William Roberts on CD (Unabridged)£24.99 - £29.99
In A Short History of Nearly Everything, beloved author Bill Bryson confronts his greatest challenge yet: to understand—and, if possible, answer—the oldest, biggest questions we have posed about the universe and ourselves.
---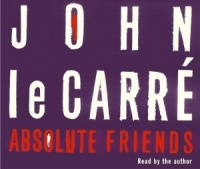 Absolute Friends written by John le Carre performed by John le Carre on CD (Abridged)£6.99
Absolute Friends is a superbly paced novel spanning fifty-six years, a theatrical masterstroke of tragi-comic writing, and a savage fable of our times, almost of our hours.
---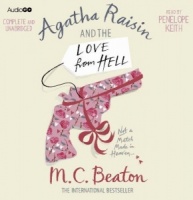 Agatha Raisin and the Love from Hell written by M.C. Beaton performed by Penelope Keith on CD (Unabridged)£9.99 - £24.99
A Genius performance by Penelope Keith!
No happily ever after for her! Recently married to neighbour James Lacey, Agatha quickly finds that love is not all it's cracked up to be - soon the newly-weds are living in separate cottages and accusing each other of infidelity.
---
---
---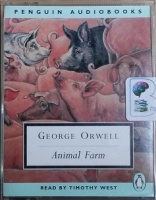 Animal Farm written by George Orwell performed by Timothy West on Cassette (Unabridged)£9.99
All animals are equal - but some are more equal than others' When the downtrodden animals of Manor Farm overthrow their master Mr Jones and take over the farm themselves, they imagine it is the beginning of a life of freedom and equality.
---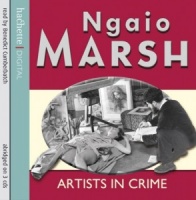 Artists in Crime written by Ngaio Marsh performed by Benedict Cumberbatch on CD (Abridged)£7.99 - £12.99
A Benedict Cumberbatch Genius Performance!
It started as a student exercise, the knife under the drape, the model's pose chalked in place. But before Agatha Troy, artist and instructor, returns to the class, the pose has been re-enacted in earnest....
---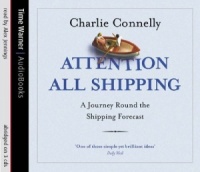 Attention All Shipping written by Charlie Connelly performed by Alex Jennings on CD (Abridged)£9.99
This solemn, rhythmic intonation of the shipping forecast on BBC radio is as familiar as the sound of Big Ben chiming the hour.
Since its first broadcast in the 1920s it has inspired poems, songs and novels in addition to its intended objective of warning generations of seafarers of impending storms and gales.
---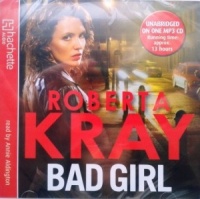 Bad Girl written by Roberta Kray performed by Annie Aldington on MP3 CD (Unabridged)£4.99
The Quinns are one of the most feared criminal gangs in London's East End.
So the reaction of Joe Quinn to the news that his daughter Lynsey is involved with a policeman is predictable and swift, and a pregnant Lynsey finds herself out on the street, bruised and alone.
---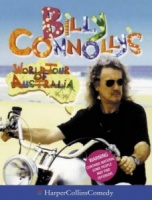 Billy Connolly's World Tour of Australia written by Billy Connolly performed by Billy Connolly on CD (Abridged)£7.99
Travelling by plane, motorbike, boat and foot, Billy Connolly tours the country performing his stage show and delivers and individual commentary on all things Australian.
---
New In March 2018 Part 4
(in alphabetical order)
A Simple Life written by Rosie Thomas performed by Jenny Agutter on Cassette (Abridged)£4.99

A new saga from the author of OTHER PEOPLE'S MARRIAGES, about a woman living in America, who has a happy, normal family life, but who also has a secret connected with England which could tear her marriage apart.

An Evening with Ranulph Fiennes written by Ranulph Fiennes performed by Ranulph Fiennes on CD (Abridged)£4.99

Sir Ranulph Fiennes has been described by The Guinness Book of Records as 'the world's greatest living explorer'.

Don Quixote written by Miguel de Cervantes performed by George Guidall on MP3 CD (Unabridged)£19.99

Don Quixote is the classic story. Called the first modern novel, this marvelous book has stood the test of time to become irrevocably intertwined with the fabric of society. Sixteenth-century Spanish gentleman Don Quixote, fed by his own delusional fantasies, takes to the road in search...

Fried Green Tomatoes at the Whistle Stop Cafe written by Fannie Flagg performed by Fannie Flagg on CD (Abridged)£4.99

Fried Green Tomatoes at the Whistle Stop Cafe is the story of two women in the 1980s, of gray-headed Mrs. Threadgoode telling her life story to Evelyn, who is in the sad slump of middle age. The tale she tells is also of two women-of the irrepressibly daredevilish tom boy Idgie and her friend Ruth,

Gardener's Question Time - The Four Seasons written by BBC Radio Collection performed by The Gardener's Question time Team on CD (Abridged)£4.99

Gardeners' Question Time is the perenially popular Radio 4 programme, broadcast on Sunday afternoons, in which a regular panel of gardening experts visit a different town each week and answer the local gardening enthusiasts' questions. On this specially recorded release...

J written by Howard Jacobson performed by Colin Mace and Adjoa Andoh on CD (Unabridged)£6.99

Two people fall in love. Kevern doesn't know why his father always drew two fingers across his lips when he said a world starting with a J. Ailinn too has grown up in the dark about where she came from. On their first date Kevern kisses the bruises under her eyes. He doesn't ask who hurt her.

Last Letters Home written by Tamsin Day-Lewis performed by Tamasin Day-Lewis on CD (Abridged)£4.99

For many of those who lived through it, the Second World War was the most exciting, dynamic and frightening time of their lives. This wonderful collection of contemporary letters tells their stories – from the battlefields of Europe to the bombed out back streets of London, from the conflict in....

Lost and Found - My Story written by Lynda Bellingham performed by Lynda Bellingham on CD (Unabridged)£14.99

Lynda Bellingham is much-loved as the warm and quick-witted panellist on Loose Women. In Lost and Found, Lynda tells the story of how she recovered from two destructive marriages, and many other challenging experiences. Yet her sense of humour has never left her and along...

Moab is my Washpot written by Stephen Fry performed by Stephen Fry on Cassette (Unabridged)£6.99 - £14.99

**** This item's insert has been damaged and, subsequently, removed. This is therefore a set of the four original tapes in new boxes and has been graded as Acceptable **** Stephen Fry was born in 1957, and after a year or so of comparative silence, began to talk coherently in 1960.

Nineteen Eighty-Four written by George Orwell performed by Timothy West on Cassette (Unabridged)£29.99 - £39.99

Big Brother is watching you...1984 is the year in which it happens.The world is divided into three great powers: Oceania, Eurasia, and Eastasia, each perpetually at war with the other. Throughout Oceania 'The Party' rules by the agency of four ministries whose power is absolute and where every action, word, gesture and thought is monitored. In The Ministry of Truth, which deals in propaganda, Winston Smith's job is to edit the past.

Running Wild written by Michael Morpurgo performed by Michael Morpurgo on CD (Unabridged)£5.99

For Will and his mother, going to Indonesia isn't just a holiday. It's an escape, a new start, a chance to put things behind them - things like the death of Will's father. And to begin with, it seems to be just what they both needed. But then Oona, the elephant Will is riding on the beach, begins acting...

Shakespeare Without the Boring Bits written by Humphrey Carpenter performed by Carole Boyd on CD (Unabridged)£9.99

These modern re-tellings pick out the very best of Shakespeare. This is a very different look at some of the Bard's stories, each told from a minor character's point of view. Here's a humorous look at Romeo and Juliet, A Midsummer's Night Dream, Julius Caesar, Macbeth, Henry V and others.

Stiff Upper Lip, Jeeves written by P.G. Wodehouse performed by Jonathan Cecil on Cassette (Unabridged)£19.99 - £39.99

Gussie Fink-Nottle simply must marry Madeline Bassett or Bertrand Wooster will be obliged to proffer the ring in his stead. In a daring attempt at securing the engagement, Jeeves and Bertie visit a rural leper colony.

Teach Yourself - Singing written by Rick Guard performed by Rick Guard on CD (Abridged)£6.99

Whether you are an absolute beginner, a pop wannabe, a karaoke crooner, or want to add singing to your repertoire, SINGING is for you. Friendly advice from your very own instructor will help you develop your voice and enable your talent to flourish. First learn the theory and technique on CD1...

The Fire Eaters written by David Almond performed by David Almond on CD (Unabridged)£6.99

There he was, below the bridge, half-naked, eyes blazing. He had a pair of burning torches. He ran them back and forth across his skin. He sipped from a bottle, breathed across a torch, and fire and fumes leapt from his lips. The air was filled with the scent of paraffin.

The Great Gatsby written by F. Scott Fitzgerald performed by William Hope on CD (Abridged)£3.99 - £4.99

Gatsby, famous for his prodigious wealth, glittering parties and murky background, harbors a poignant dream. As his dream is realized, the sordid underbelly of a society devoid of morality is realized as well.

The Hippopotamus written by Stephen Fry performed by Stephen Fry on Cassette (Unabridged)£9.99

You can't expect an arse like me to tell a story competently. It's all I can bloody do to work this foul machine. I've counted up the words processed, a thing I do every hour and, if technology can be trusted, it looks as if you're in for 93, 682 of them. Good luck to you.

The History of English Literature written by Perry Keenlyside performed by Derek Jacobi on CD (Abridged)£9.99

The remarkable story of the world's richest literary resource, the story telling, poetry, the growth of the novel and the greatest histories and essays, which have informed the language and the imagination wherever English is spoken.

The Looking Glass War written by John le Carre performed by BBC Full Cast Dramatisation and Simon Russell Beale on CD (Abridged)£4.99 - £9.99

When word reaches The Department - an ailing section of British military intelligence - that Soviet missiles are being installed close to the West German border, it seems the perfect opportunity to show Control and Smiley, their rivals over at the Circus, that The Department still has value.

The Man Who Mistook His Wife for a Hat and Other Clinical Tales written by Oliver Sacks performed by Jonathan Davies on MP3 CD (Unabridged)£14.99

In this extraordinary book, Dr. Oliver Sacks recounts the stories of patients struggling to adapt to often bizarre worlds of neurological disorder. Here are people who can no longer recognize everyday objects or those they love; who are stricken with violent tics or shout involuntary obscenities...

The Road to Wigan Pier written by George Orwell performed by Alex Jennings on Cassette (Abridged)£24.99

A graphic and biting polemic that still holds a fierce political relevance and impact despite being written over half a century ago. First published in 1937 it charts George Orwell's observations of working-class life during the 1930s in the industrial heartlands of Yorkshire and Lancashire. His depictions of social injustice and rising unemployment, the dangerous working conditions in the mines amid general squalor and hunger also bring together many of the ideas explored in his later works

The Silver Donkey written by Sonya Hartnett performed by Richard Aspel on CD (Unabridged)£14.99

One bright spring morning in the woods of France, a soldier, blinded by the war, is found by a little girl named Coco, and her older sister Marcelle. In return for their kindness, the soldier tells the sisters marvellous tales, each story connected to the keepsake he carries in his pocket: a perfect, tiny silver donkey.

The Tiger's Prey written by Wilbur Smith performed by Mike Grady on CD (Unabridged)£19.99

The Malabar coast is full of dangers: greedy tradesmen, fearless pirates, and men full of vengeance. But for a Courtney, the greatest danger might just be his own family.... Francis Courtney flees the comfort of his Devonshire estate when his stepfather's gambling debts leave him penniless and at risk.
---
---
---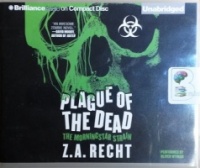 Plague of the Dead - The Morningstar Strain written by Z.A. Recht performed by Oliver Wyman on CD (Unabridged)£9.99
The end begins with a viral outbreak unlike anything mankind has ever encountered before. The infected are subject to delirium, fever, a dramatic increase in violent behavior, and a one-hundred percent mortality rate. Death. But it doesn't end there. The victims return from death to walk the earth.
---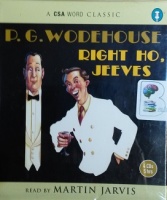 Right Ho, Jeeves written by P.G. Wodehouse performed by Martin Jarvis on CD (Abridged)£19.99
Can Bertie Wooster become Jeeves, at least in the problem-solving department? The odds aren't good, given the mess he makes of everybody's love life when he starts playing rescuer. Gussie Fink-Nottle, who's in love with Madeline Basset, and Tuppy Glossop, who's sometimes engaged to...
---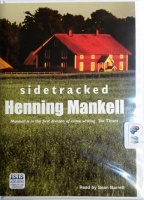 Sidetracked written by Henning Mankell performed by Sean Barrett on Cassette (Unabridged)£29.99
Midsummer approaches, and Wallander prepares for a holiday with the new woman in his life, hopeful that his wayward daughter and his ageing father will cope without him. But his summer is ruined when a girl commits suicide before his eyes, and a former minister of justice is butchered in the...
---
---
---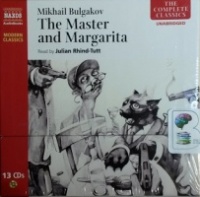 The Master and Margarita written by Mikhail Bulgakov performed by Julian Rhind-Tutt on CD (Unabridged)£39.99
The Devil comes to Moscow; but he isn't all bad. Pontius Pilate sentences a charismatic leader to his death, but yearns for redemption; and a writer tries to destroy his greatest tale, but discovers that manuscripts don't burn. Multilayered and entrancing, blending sharp satire with glorious fantasy...
---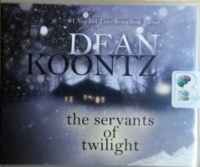 The Servents of Twilight written by Dean Koontz performed by Angela Dawe on CD (Unabridged)£14.99
An ordinary parking lot in southern California. Christine Scavello and her six-year-old son are accosted by a strange old woman. "I know who you are," the woman snaps at the boy. "I know what you are." A scream, a threat - and then a grotesque act of violence. Suddenly Christine's pride and joy...
---
---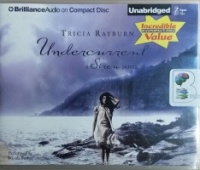 Undercurrent - A Siren Novel written by Tricia Rayburn performed by Nicola Barber on CD (Unabridged)£19.99
The sirens are back, but Vanessa may be the biggest threat of all.... Nothing has been normal since Vanessa Sands learned that her sister was murdered by siren femme fatales of the watery depths and that everything she believed about her family was a lie. Her boyfriend, Simon, has been the only...
---
---
---
---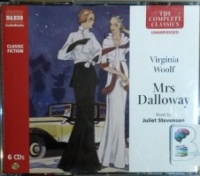 Mrs Dalloway written by Virginia Woolf performed by Juliet Stevenson on CD (Unabridged)£14.99
Virginia Woolfs masterwork Mrs Dalloway was at the vanguard of experimental, modernist novel-writing, and remains one of the supreme examples today. As Clarissa Dalloway prepares for a party in the evening, seemingly trivial incidents prompt her to undertake a searching reconnaissance into her...
---