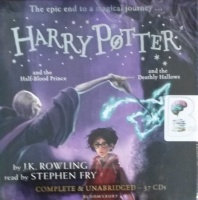 Harry Potter Collection Part 3 - Books 6 and 7 written by J.K. Rowling performed by Stephen Fry on CD (Unabridged)£39.99 - £59.99
Witches and wizards unite as you join the Battle of Hogwarts! Complete the entire series of J.K. Rowling's Harry Potter stories with this enchanting audiobook collection. The 37 CDs cover The Half-Blood Prince and The Deathly Hallows and find Dark Magic rising. Will Harry be able to summon the courage (and the...
---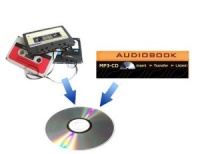 3 Hour Fixed Price Audio Transfer£15.00
This is the fixed price £15 item to be used when ordering conversion of a sub 3 hour Audio Cassette or MP3 CD title.
---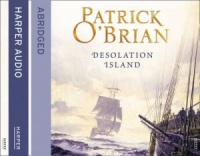 Desolation Island written by Patrick O'Brian performed by Robert Hardy on CD (Abridged)£8.99
A Genius Performance by Robert Hardy!
Commissioned to rescue Governor Bligh of Bounty fame, Captain Jack Aubrey and his friend and surgeon, Stephen Maturin, sail the Leopard to Australia with a hold full of convicts. Among them is a beautiful and dangerous spy — and a treacherous disease which decimates the crew.
---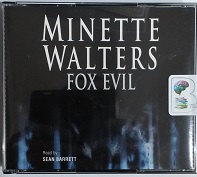 Fox Evil written by Minette Walters performed by Sean Barrett on CD (Abridged)£4.99 - £6.99
When elderly Ailsa Lockyer-Fox is found dead in her garden, dressed only in night clothes and with blood stains on the ground near her body, the finger of suspicion points at her wealthy, landowning husband, Colonel James Lockyer-Fox.
---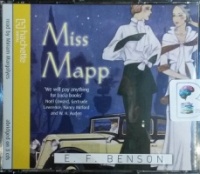 Miss Mapp written by E.F. Benson performed by Miriam Margolyes on CD (Abridged)£4.99
Nothing escapes the snooping opera glasses of Miss Elizabeth Mapp. She whiles away her busy hours observing the small English village of Tilling, and recording the antics in her notebook. But her observations are set to be disrupted by amorous advances of two retired army generals, both vying for her affection.
---
---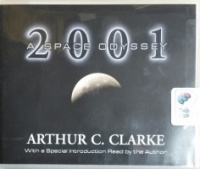 2001 - A Space Odyssey written by Arthur C. Clarke performed by Arthur C. Clarke and Dick Hill on CD (Unabridged)£19.99
It has been more than forty years since the publication of this classic science fiction novel that changed the way we look at the stars and ourselves. From the savannas of Africa at the dawn of mankind to the rings of Saturn as man adventures to the outer rim of our solar system, 2001: A Space Odyssey is a ...
---
---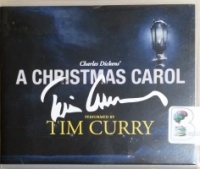 A Christmas Carol written by Charles Dickens performed by Tim Curry on CD (Unabridged)£16.99
This version of Charles Dickens's A Christmas Carol, masterfully narrated by Tim Curry, was available for a limited time last year, and now it's back. This one-of-a-kind performance puts a unique spin on a treasured classic, and served as the inspiration for the exciting new line of Audible Signature Classics...
---
---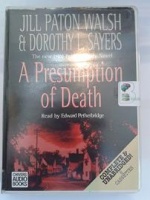 A Presumption of Death written by Jill Paton Walsh and Dorothy L Sayers performed by Edward Petherbridge on Cassette (Unabridged)£29.99 - £39.99
The story opens in 1940. Harriet Vane - now Lady Peter Wimsey - has taken her children to safety in the country. But the war has followed them: glamorous RAF pilots and even more glamorous land-girls scandalise the villagers; the blackout makes the night-time lanes as sinister as the back alleys of London.
---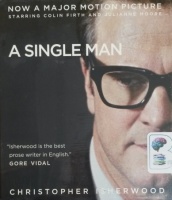 A Single Man written by Christopher Isherwood performed by Simon Prebble on CD (Unabridged)£19.99
Celebrated as a masterpiece from its first publication, A Single Man is the story of George, an English professor in suburban California left heartbroken after the death of his lover, Jim. With devastating clarity and humour, Christopher Isherwood shows George's determination to carry on, evoking the unexpected...
---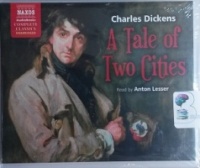 A Tale of Two Cities written by Charles Dickens performed by Anton Lesser on CD (Unabridged)£49.99 - £59.99
It was the best of times and the worst of times'. In one of the most famous openings of any novel, Dickens masterfully presents the turmoil of the French Revolution which is the backdrop for a novel of love, patience, hope and self-sacrifice. It is read by Anton Lesser whose award-winning Dickens... Naxos
---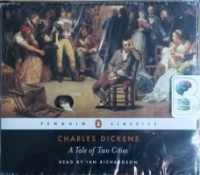 A Tale of Two Cities written by Charles Dickens performed by Ian Richardson on CD (Abridged)£5.99 - £9.99
After 18 years as a political prisoner in the Bastille the aging Dr Manette is finally released and reunited with his daughter in England.
---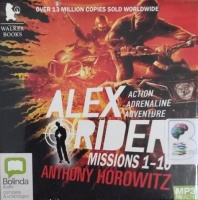 Alex Rider Missions 1 to 10 written by Anthony Horowitz performed by Jonathan Davies on MP3 CD (Unabridged)£29.99
In the number one bestselling series by Anthony Horowitz, 14-year-old Alex Rider is forcibly recruited into the deadly world of espionage and sent on his first mission. But mortal danger is never far away and the reluctant teenage spy soon finds himself in demand again by MI6. The ever popular and explosive...
---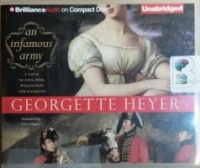 An Infamous Army written by Georgette Heyer performed by Claire Higgins on CD (Unabridged)£24.99 - £34.99
In 1815, beneath the aegis of the Army of Occupation, Brussels is the gayest town in Europe. And the widow Lady Barbara Childe, renowned for being as outrageous as she is beautiful, is at the centre of all that is fashionable and light-hearted. When she meets Charles Audley, dashing aide-de-camp...
---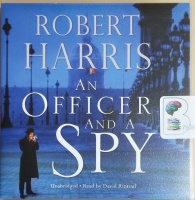 An Officer and a Spy written by Robert Harris performed by David Rintoul on CD (Unabridged)£14.99
They lied to protect their country. He told the truth to save it. A gripping historical thriller from the bestselling author of FATHERLAND. January 1895. On a freezing morning in the heart of Paris, an army officer, Georges Picquart, witnesses a convicted spy, Captain Alfred Dreyfus, being publicly humiliated in front..
New In March 2018 Part 3
(in alphabetical order)
A Detective in Love written by H.R.F. Keating performed by Sheila Mitchell on CD (Unabridged)£9.99 - £14.99

DCI Harriet Martens is nicknamed the Hard Detective. But for Harriet, love proves more dangerous than any of her cases… Britain's number one tennis star, the beautiful Bubbles Xingara, has been murdered in the grounds of her luxurious house.

A History of the World in 100 Objects written by Neil MacGregor performed by Neil MacGregor on CD (Unabridged)£14.99 - £29.99

In 2010, the BBC and the British Museum embarked on an ambitious project: to tell the story of two million years of human history using one hundred objects selected from the Museum's vast and renowned collection. Presented by the British Museum's Director Neil MacGregor....

Around the World in Eighty Days written by Jules Verne performed by Bill Homewood on CD (Unabridged)£29.99

Undoubtedly one of the most celebrated tales of all time, this is both high-octane thriller and fascinating travelogue. Phileas Fogg, intrepid Victorian gentleman-about-town, accepts a wager that he cannot travel around the world in 80 days.

Battles and Quests written by Anthony Horowitz performed by John Sessions on CD (Abridged)£3.99 - £4.99

There was a time when monsters and dragons roamed the earth and the gods walked among us. A time of blood, swords and furious battles. A time of legends, heroes, darkness and death . . . The first in a series of masterful retellings of classic myths from Anthony Horowitz.

Birds in Town and Village written by W.H. Hudson performed by Neville Jason on CD (Unabridged)£19.99

William Henry Hudson was a founding member of the Royal Society for the Protection of Birds (RSPB). Though born in Argentina, Hudson came to England in 1874, where he remained until his death in 1922. Absorbed by nature, and in particular by the lives and activities of birds....

Cousin Kate written by Georgette Heyer performed by Jilly Bond on CD (Unabridged)£29.99 - £34.99

When young and beautiful governess Kate Malvern finds herself unemployed, she is taken in by Minerva Broome, the aunt she has never met, and whisked away to the majestic country home of Staplewood. However, things are not as they seem: strange things start to happen in the manor....

Dirk Gently's Holistic Detective Agency - BBC Dramatisation written by Douglas Adams performed by BBC Full Cast Dramatisation, Billy Boyd, Andrew Sachs and Jim Carter on CD (Abridged)£29.99

This is the first of three 6 x 30 minute full-cast dramatisations from the author and production team that brought us the most recent three series of "The Hitchhiker's Guide to the Galaxy". This first production is based on Douglas Adams' novel of the same name, adapted by Mike Stott....

Hold Tight written by Harlan Coben performed by Tim Machin on CD (Abridged)£3.99 - £4.99

Tia and Mike Baye never imagined they'd become the type of overprotective parents who spy on their kids. But their 16-year-old son Adam has been unusually distant lately, and after the suicide of his classmate Spencer, they can't help but worry.

Last Post written by Max Arthur performed by Max Arthur, Paul McGann and Clive Mantle on CD (Abridged)£6.99 - £28.99

A Genius Performance by Clive Mantle!

This book deals with the last 21 living British veterans of the First World War. These interviews, conducted in 2004, will never be repeated, as the youngest was 106 years old, and most are now gone. These first-person accounts follow the young soldiers from their homes throughout Britain to the raging battles while in the service of the Royal Field Artillery, Black Watch, Royal Navy, and others.

Life, the Universe and Everything written by Douglas Adams performed by Douglas Adams on Cassette (Unabridged)£19.99

After a series of events which have involved Arthur Dent being alternately blown up and insulted in more bizarre regions of the Galaxy than he has ever dreamt existed, he finds himself stranded on Prehistoric Earth. Luckily an amazing rescue by Ford Prefect and a time eddy, cleverly ....

Orphan of Angel Street written by Annie Murray performed by Frances Barber on CD (Abridged)£4.99

Abandoned at birth, little Mercy Hanley shows a fierce determination few others can match. Her inner fire burns brightly, even in the harsh conditions of turn-of-the-century Birmingham. For behind Mercy's pale and haunting face, there is a mind of steel, as her harsh foster mother,...

Paradise Lost written by John Milton performed by Anton Lesser on CD (Abridged)£7.99

A Genius Performance by Anton Lesser! Paradise Lost is the greatest epic poem in the English language. In words remarkable for their richness of rhythm and imagery, Milton tells the story of Man's creation, fall and redemption - to "justify the ways of God to men" Naxos.

Paradise Lost written by John Milton performed by Anton Lesser on CD (Unabridged)£24.99 - £39.99

A Genius Performance by Anton Lesser! Paradise Lost is the greatest epic poem in the English language. In words remarkable for their richness of rhythm and imagery, Milton tells the story of Man's creation, fall and redemption - to "justify the ways of God to men". Naxos

Paradise Lost written by John Milton performed by Simon Vance on MP3 CD (Unabridged)£19.99

John Milton's Paradise Lost is one of the greatest epic poems in the English language. It tells the story of the Fall of Man, a tale of immense drama and excitement, of rebellion and treachery, of innocence pitted against corruption, in which God and Satan fight a bitter battle for control of mankind's destiny.

Rapid Russian Vol 1 written by Earworms performed by Berlitz on CD (Unabridged)£14.99

Musical Audio Language Learning / On CD with supporting booklet earworms Musical Brain Tranier Rapid Languages: Volume 1 deals with the essentials for a visit abroad looking at typical situations like; taking a taxi, at the hotel, at the restaurant, requesting, polite phrases .....

Science Fiction Writers written by British Library performed by Douglas Adams, Brian Aldiss, Isaac Asimov and J G Ballard on CD (Abridged)£7.99 - £9.99

What is science fiction? Are science fiction writers under-appreciated compared to literary novelists? Is their prime mission to predict the future or to comment on the present? These and other questions are discussed by major writers including Isaac Asimov, Douglas Adams, Brian Aldiss, .....

Stoneheart written by Charlie Fletcher performed by Charlie Fletcher on CD (Abridged)£4.99

When George breaks the dragon's head outside the Natural History Museum in London, he awakens an ancient power, which hunts him down with a terrifying wrath, trapping him and his friend Edie in a world of danger.

Suffer the Little Children written by Donna Leon performed by Andrew Sachs on CD (Abridged)£4.99

When Commissario Brunetti is summoned to the hospital bedside of a senior paediatrician whose skull has been fractured, he is confronted with more questions than answers. Three men, a Carabinieri captain and two privates from out of town, have burst into the doctor's apartment....

Thanks, Johnners - An Affectionate Tribute to a Broadcasting Legend written by Jonathan Agnew performed by Jonathan Agnew and Stephen Fry on CD (Unabridged)£9.99

Read by Jonathan Agnew with a foreword read by the magnificent Stephen Fry with surprise contributions from Jonathan's test-match special colleagues! Perfect for cricket fans everywhere, Thanks Johnners is a warm and witty tribute to Brian Johnston and his time at the helm of Test Match Special.

The Elephant Keeper written by Chris Nicholson performed by Roger May on CD (Unabridged)£19.99

In the middle of the 18th century, a ship docks at Bristol with an extraordinary cargo: two young elephants. Bought by a wealthy landowner, they are taken to his estate in the English countryside. A stable boy, Tom Page, is given the task of caring for them.

The Goldfinch written by Donna Tartt performed by David Pittu on CD (Unabridged)£39.99

Winner of the Pulitzer Prize For Fiction 2014 Aged 13, Theo Decker, son of a devoted mother and a reckless, largely absent father, survives an accident that otherwise tears his life apart. Alone and rudderless in New York, he is taken in by the family of a wealthy friend.

The Immortalists - Charles Lindbergh and Dr. Alexis Carrel and their quest to Live Forever written by David M. Friedman performed by Todd McLaren on CD (Unabridged)£19.99

For all the attention lavished on Charles Lindbergh, one story has remained untold until now: his macabre scientific collaboration with Dr Alexis Carrel. Together this oddest of couples – one a brilliant surgeon turned social engineer, the other a failed dirt farmer turned hero of the skies ....

The Kalevala written by Elias Lonnrot performed by Keith Bosley on CD (Unabridged)£49.99

A compelling insight into the myths and folklore of Finland, The Kalevala is often compared to such epic poems as Homer's Odyssey. Drawing from oral storytelling traditions, Elias Lönnrot made this collection in the 19th-century, and it helped to cement Finnish identity in the turmoil of the 20th-century.

The Last Empress written by Anchee Min performed by Alexandra O'Karma on CD (Unabridged)£19.99 - £29.99

At the end of the nineteenth century China is rocked by humiliating foreign attacks and local rebellions. The only constant is the power wielded by one woman: the resilient, ever-resourceful Tzu Hsi, also known as Empress Orchid.

The Master and Margarita written by Mikhail Bulgakov performed by Julian Rhind-Tutt on CD (Unabridged)£34.99

The Devil comes to Moscow; but he isn't all bad. Pontius Pilate sentences a charismatic leader to his death, but yearns for redemption; and a writer tries to destroy his greatest tale, but discovers that manuscripts don't burn.

The Red and The Black written by Stendal performed by Bill Homewood on CD (Abridged)£24.99

The tale of social-climbing arriviste Julien Sorel brilliantly captures the contradictions and hypocrisies permeating French society under the Bourbon Restoration. Using his formidable intellect, innate cunning and charm, Julien clambers his way to the top, manipulating and seducing those who ....

The Triple Package - How Three Unlikely Traits Explain the Rise and Fall of Cultural Groups in America written by Amy Chua and Jed Rubenfeld performed by Jonathan Todd Ross on CD (Unabridged)£19.99

It may be taboo to say, but some groups in America do better than others. Mormons have recently risen to astonishing business success. Cubans in Miami climbed from poverty to prosperity in a generation. Nigerians earn doctorates at stunningly high rates.

Young Stalin written by Simon Sebag Montefiore performed by Sean Barrett on CD (Abridged)£9.99 - £14.99

Young Stalin is a remarkable adventure story about an exceptional, turbulent young man, born in exoticism, raised in the church, fancying himself a poet, then embracing revolutionary idealism and thereby finding his romantic Messianic mission in life.
---
---
---
Dillinger written by Jack Higgins performed by Dick Hill on CD (Unabridged)£39.99
The dramatic final moments of the legendary outlaw's career - retold by the world's master storyteller, Jack Higgins. Early March 1934, America's most notorious criminal makes his spectacular escape from Lake County Jail, Indiana. Three months later, John Dillinger, the last American outlaw, is gunned down..
---
---
---
---
---
---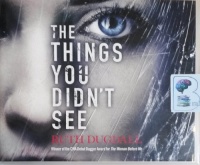 The Things You Didn't See written by Ruth Dugdall performed by Elizabeth Knowelden on CD (Unabridged)£39.99
Her instincts are telling her something isn't right... On a chilly morning in rural Suffolk, Cassandra Hawke is woken by a gunshot. Her mother is clinging on to her life, the weapon still lying nearby. Everyone thinks it's attempted suicide - but none of it makes any sense to Cass. She's certain there's more to it than...
---
---
---
---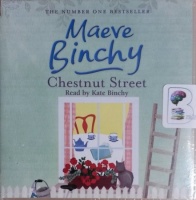 Chestnut Street written by Maeve Binchy performed by Kate Binchy on CD (Unabridged)£19.99
Just round the corner from St Jarlath's Crescent (featured in MINDING FRANKIE) is Chestnut Street. Here, the lives of the residents are revealed in Maeve Binchy's wonderfully compelling tales: Bucket Maguire, the window cleaner, who must do more than he bargained for to protect his son. Nessa Byrne...
---
---
---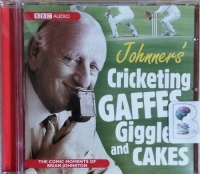 Johnners' Cricketing Gaffes, Giggles and Cakes written by Brian Johnston performed by Brian Johnston on CD (Abridged)£4.99 - £9.99
A compilation of cricketing moments including the letter from William H Tit, the streakers commentaries, the chocolate cake mouthfuls, Johnners numerous scoring mix ups, the resemblance between Fred Trueman and a turnip, cricket for the blind, Jim'll Fix it voiceover, Ned Sherrin interviewing Johnners on his...